Chocolate Peppermint Meringue Sandwiches make a wonderfully fun addition to your festive dessert options. The crispy shells give way to a soft mallowy meringue & a cool white chocolate centre. The sprinkling of crushed candy canes is both divinely pretty and deliciously minty.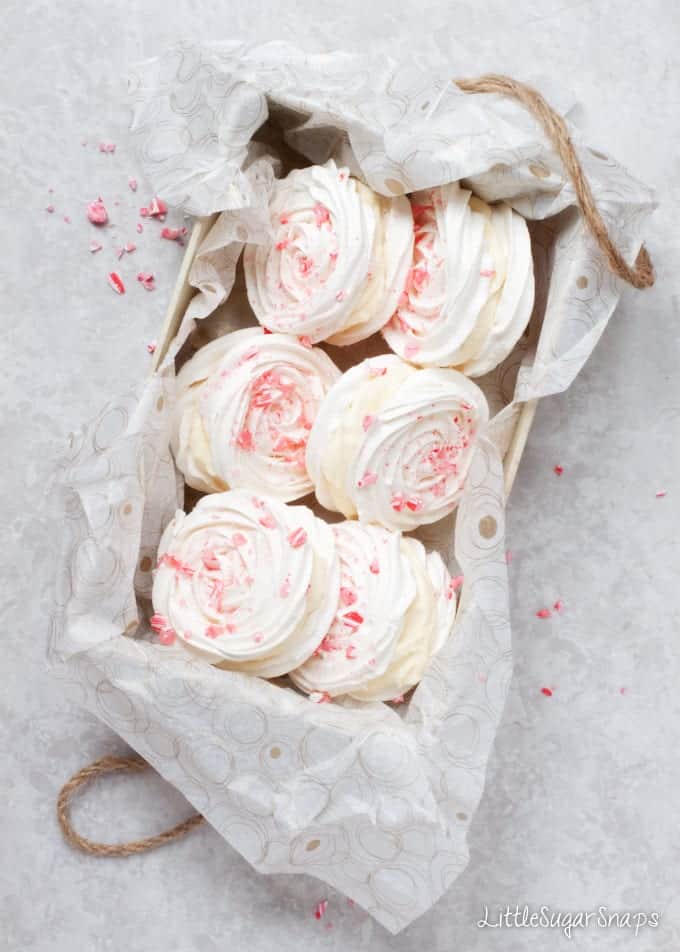 Meringues are one of life's little wonders that have grown on me in adult life. As a kid I could take them or leave them. Unless my Mum's Lemon Meringue Pie was on offer and then I would take, take, take. But as I've progressed in baking and made my own meringues, I've learned how vastly superior the homemade version is to the oh-so-sweet store bought ones that sit on the supermarket shelf for months… possibly years.
A good meringue is sweet, yes. But it's more complicated than that. It is crisp, yet soft inside and the sweetness is surprisingly subtle. Homemade meringue is also incredibly adaptable. You can flavour it, colour it and shape it exactly as you see fit.
Brilliance.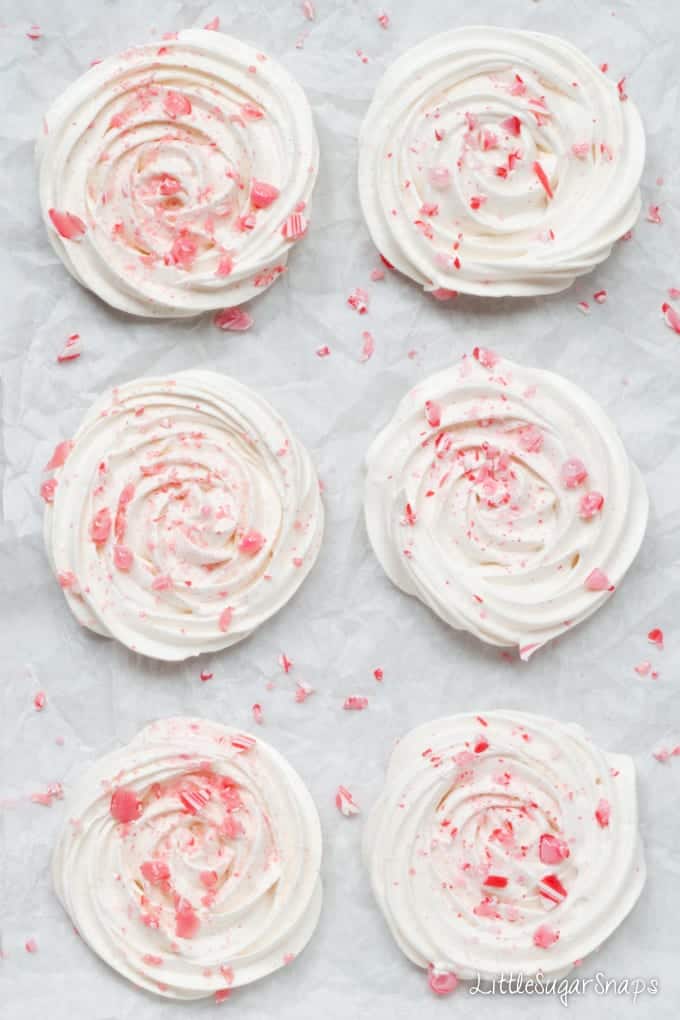 Now, my girls have a soft spot for candy canes – every year they put one on their list to Santa. They also adore meringue, but Santa does not deliver that (too fragile – think of the crumbs). So last New Year I decided to dive in and create something pretty, minty and meringue-ified for them. The result was these Chocolate Peppermint Meringue Sandwiches: classic French meringues first dusted with crushed peppermint candy canes then lavishly sandwiched together with a white chocolate & mascarpone cream.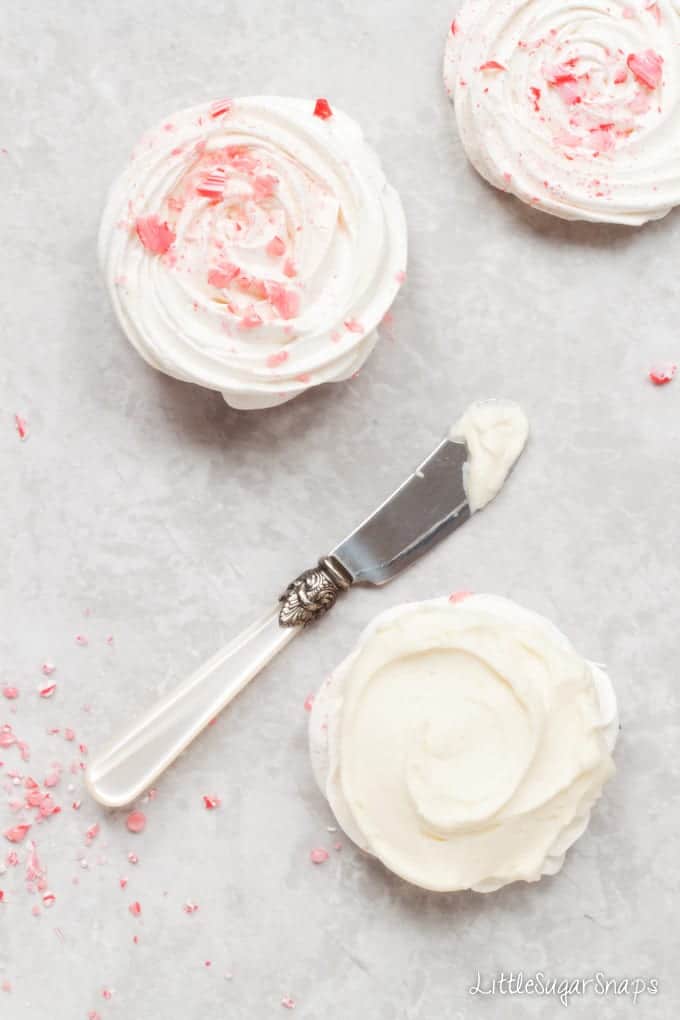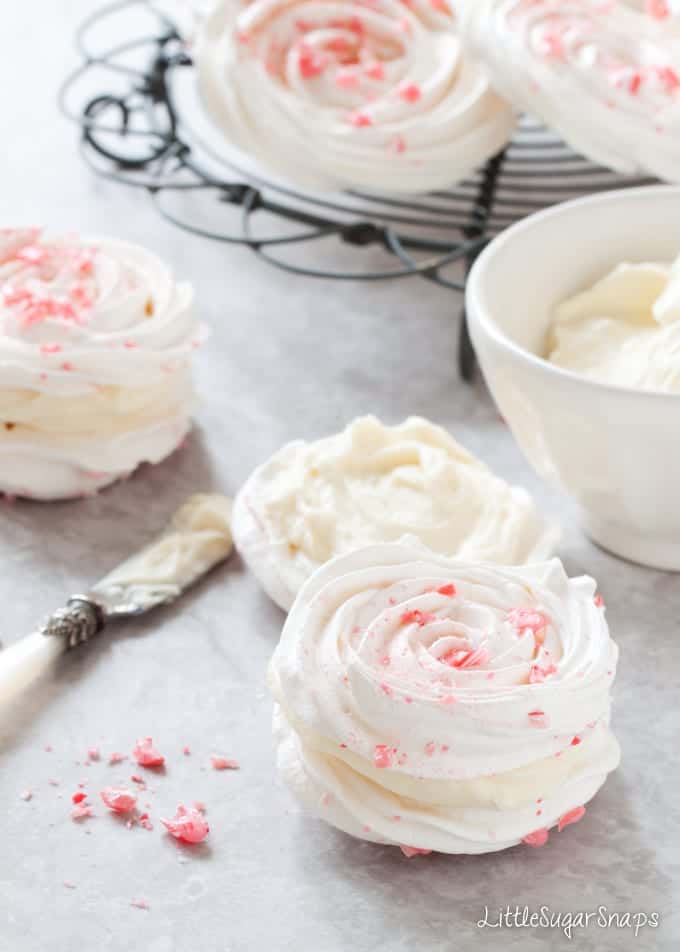 The meringues have a delicate crisp shell, yielding to a soft and pillowy middle. The hit of peppermint balances the sweetness from the meringues and the creamy centre perfectly.
Make them large or small, it's really up to you, but don't make the mistake of thinking these Chocolate Peppermint Meringue Sandwiches are just for the kids. They are a marriage of quality homemade meringue, creamy heaven and a large dose of fun. All in all, they are a cheeky union that adults must not miss out on.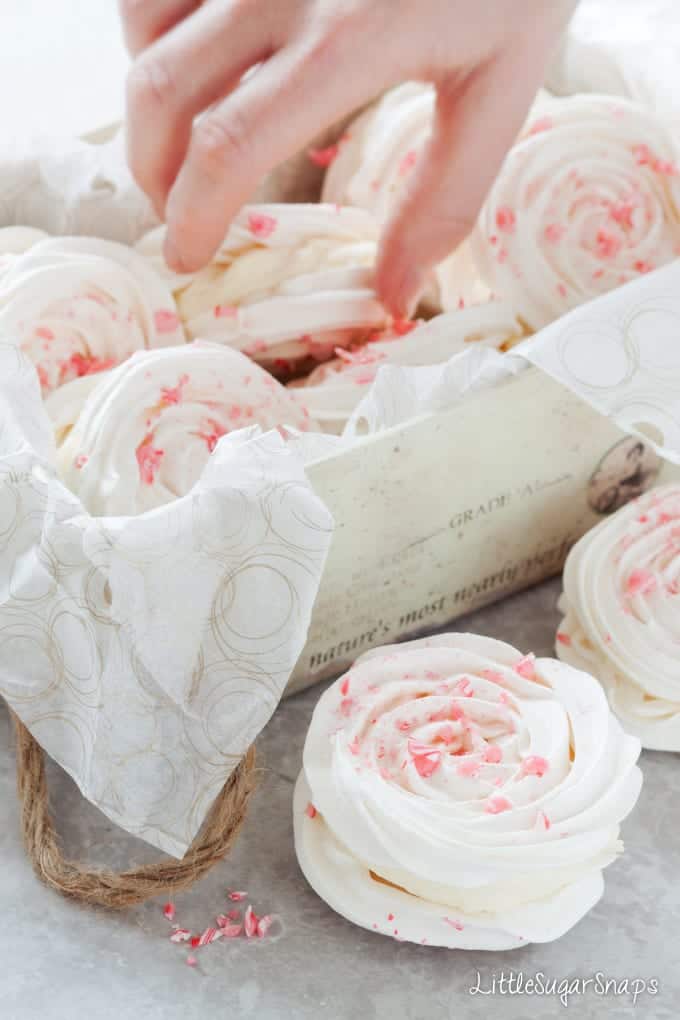 Of course, you can skip the filling and just make the meringues – any size you want. Personally, I think they are gorgeous as tiny meringue kisses that could be served after a meal with coffee or perhaps to top a cream-loaded hot chocolate.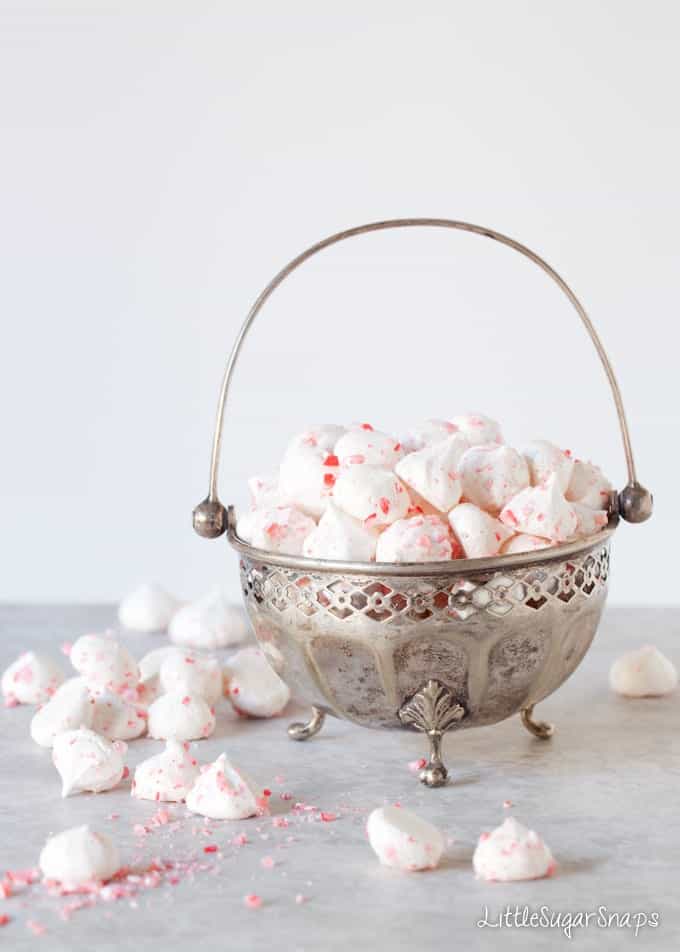 I mentioned that these Chocolate Peppermint Meringue Sandwiches use classic French meringue. Which begs the question: what is French meringue? As it's Christmas, I thought I'd spoil you by helping to de-mystify meringues. I've compiled a quick low-down of the most common types of meringue out there and some helpful baking tips to take you to the top of the meringue masterclass.
A quick lesson in Meringues
Types of meringue
All meringue contain similar ingredients but differ in terms of the mixing, cooking or baking methods required. The results can be very different depending on the type of meringue baked:
French meringue is the easiest and quickest to prepare and for that reason, it comes as no surprise to find that it is the most commonly baked meringue. French (cold) meringue is made by whisking egg whites until the soft peak stage then adding the sugar a teaspoon at a time, whilst continuously whisking until all of the sugar has been incorporated and the meringue is glossy, thick and smooth. It can be spread or piped but it must be baked immediately after mixing to prevent the egg whites and sugar from separating. Use to create dessert shells, cake layers and pavlova bases.
Swiss meringue is prepared by gently beating egg whites and sugar in a bain marie. Once the sugar has dissolved, the meringue is whisked until cool, by which time the meringue will be firm and glossy. It is smooth & silky and makes a great base for a luxurious buttercream icing. It can also be piped into cookies or made into other shapes, then baked like French meringue.
Italian meringue is made using boiling sugar syrup in place of caster sugar. The hot syrup is drizzled into softly whipped egg whites and whipped until the meringue is stiff and cool. Italian meringue is much more stable than French Meringue – there is much less chance of the ingredients separating. This type of meringue can be eaten without being cooked further and is great to decorate pies or cakes. Alternatively, it can be used to cover Baked Alaska and cooked briefly until it colours.
Tips for Making Meringue
It is important to keep your egg whites and all of your equipment grease free – spotlessy clean mixing bowls and beaters are essential. On this note, avoid plastic mixing bowls, since these tend to cling onto grease. Glass, stainless steel, ceramic or copper bowls are much better.
Be careful to avoid drops of egg yolk in the whites since the yolk contains fat – break and separate each egg into a small mixing bowl and transfer the white to the main bowl once the yolk has been successfully removed
Likewise, ensure your equipment is dry
Be patient. To help the sugar dissolves completely, add it in very gradually – a teaspoon at a time. The final meringue should be silky and not at all grainy (which would mean you still have undissolved sugar). Rub a little between your fingers — it should feel smooth and creamy
Some recipes add a little cream of tartar to help reduce the risk of splitting. It helps stabilise the mix
Adding a little vinegar and cornflour also stabilises the mix and creates meringue with a soft & mallowy centre
The French meringue used in my Chocolate Peppermint Meringue Sandwiches is the easiest of all meringues to master – just allow yourself sufficient time to whip in the sugar and crisp, snow white shells will be your winter reward.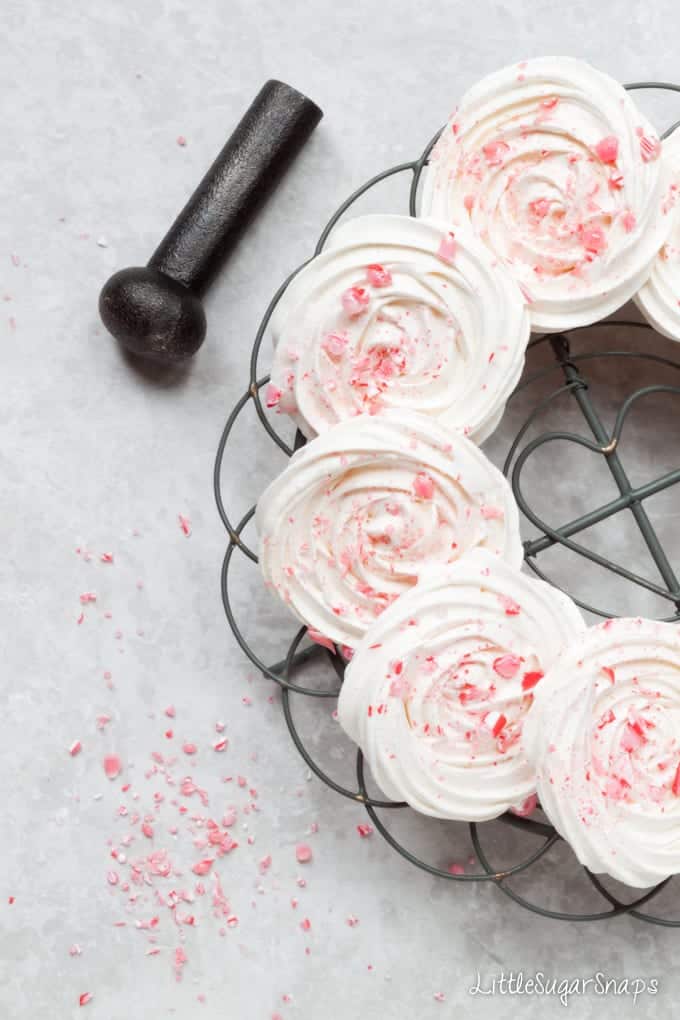 Chocolate Peppermint Meringue Sandwich
Servings
:
8
-10 sandwiches
Ingredients
For the Peppermint Meringues

135

g/ 2/3 cup caster sugar

2

egg whites - from large eggs

1/2

tsp

cider vinegar or white wine vinegar

1

tsp

cornflour

(cornstarch)

1

large peppermint candy cane

(mine weighed 35g)
For the White Chocolate Cream
115

g/ 1/2 cup mascarpone cheese

115

ml/ 1/2 cup double

(heavy) cream

115

g/ 2/3 cup white chocolate
Instructions
Preheat your oven to 100C/ 210F/ GM 1/4

Line 2-3 baking sheets with baking parchment

Crush the candy cane in a pestle and mortar or use a rolling pin

Put the egg whites into a large bowl and whisk to the soft peak stage

Whisk in the vinegar, followed by the cornflour

Add the sugar 1 teaspoon at a time, whisking continuously. You may need to scrape the side of the bowl occasionally. It will take about 10 minutes - be patient and you will be rewarded with better meringues

Continue to whisk until the meringue is really thick, glossy and grain-free. The meringue is now ready to pipe
Tip: if your parchment keeps rolling up dab the baking sheet corners with a little meringue to act as glue
Peppermint Meringue Kisses
Use a plain or star nozzle to pipe 1.5cm 'kisses' onto your baking sheet, leaving a 1cm space between each one

Scatter with the crushed candy cane and bake for 40 minutes

Let cool completely in the oven, then store in an airtight container for up to 5 days

The recipe will make around 300 kisses
Chocolate Peppermint Meringue Sandwiches
Use a large closed star nozzle (like

this one

) to pipe 5cm discs onto the baking sheets. Leave a little gap between each circle. Aim for 16 - 20 discs

Scatter with the crushed candy cane and bake for 90 minutes

Let cool completely in the oven, then store in an airtight container for up to 5 days until ready to assemble
Make the White Chocolate Cream
Chop the white chocolate finely and put into a heat proof bowl

Heat the mascarpone and half of the cream in a pan, stirring until smooth. Heat until hot but do not allow the mix to boil

Pour over the white chocolate, and, after 1 minute, stir until smooth

Cover the top with clingfilm and chill for 2-3 hours until set

Whisk the remaining cream to the soft peak stage and fold into the white chocolate mixture. Whisk briefly if a few lumps remain, but be careful not to over-beat the mix as it will be too think to spread

Chill until ready to assemble
Assemble the Sandwiches
When ready to serve sandwich together the meringues with the white chocolate filling and eat within 1-2 hours

Any leftover sandwiches can be stored in the fridge for a day or so but the meringue will soften (still tasty)
Recipe Notes
The meringues and the creamy filling can both be made in advance
Once filled the sandwiches are best eaten within a couple of hours since the meringue will begin soften
Leftovers can be chilled for up to 2 days, but the meringue will soften significantly. They are certainly still edible and just as delicious, but you will need a spoon!
(Visited 55 times, 2 visits today)