Tropical Vegan French Toast is a dazzling plateful of happy breakfast food. Stacks of yellow & golden fried bread, flavoured with mango & coconut come topped with griddled pineapple, coconut, strawberries and syrup. This fruity and colourful breakfast recipe is an incredibly cheerful way to start your day.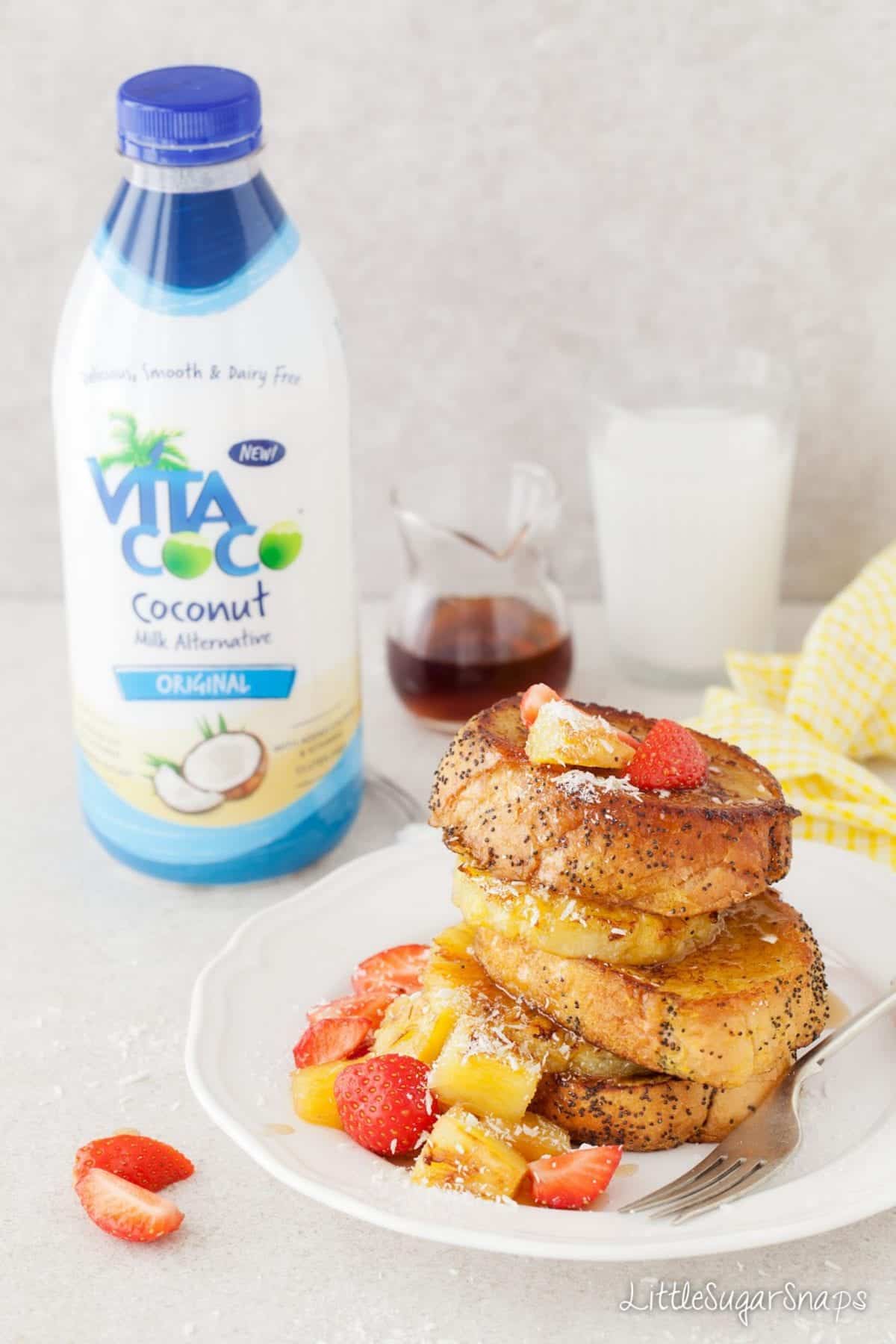 This recipe is an entry into the Dairy Free Style Your Breakfast challenge with Vita Coco and Foodies100. See more great breakfast ideas at http://vitacoco.com/uk/
I like to challenge myself in the kitchen. Wait. Didn't I say that last week too? Well, I'm on a roll. My self challenge this week was inspired by an opportunity I came across to come up with an original breakfast recipe using Vita Coco Coconut Milk Alternative for a competition.
I like competitions.
I could have opted for a healthy smoothie or a comforting bowl of porridge quite easily. But no. I decided to push myself that little bit further. I settled on French Toast. Vegan French Toast to be precise.
Confession: This is my first proper dalliance with vegan food. Although numerous recipes on LittleSugarSnaps are vegan, this Tropical French Toast is the first intentionally vegan recipe that I have created. The rest were all just lucky flukes.
At the heart of any French Toast recipe is a good batter. My vegan batter is made using Vita Coco Coconut Milk Alternative, fresh mango and a few extra flavours.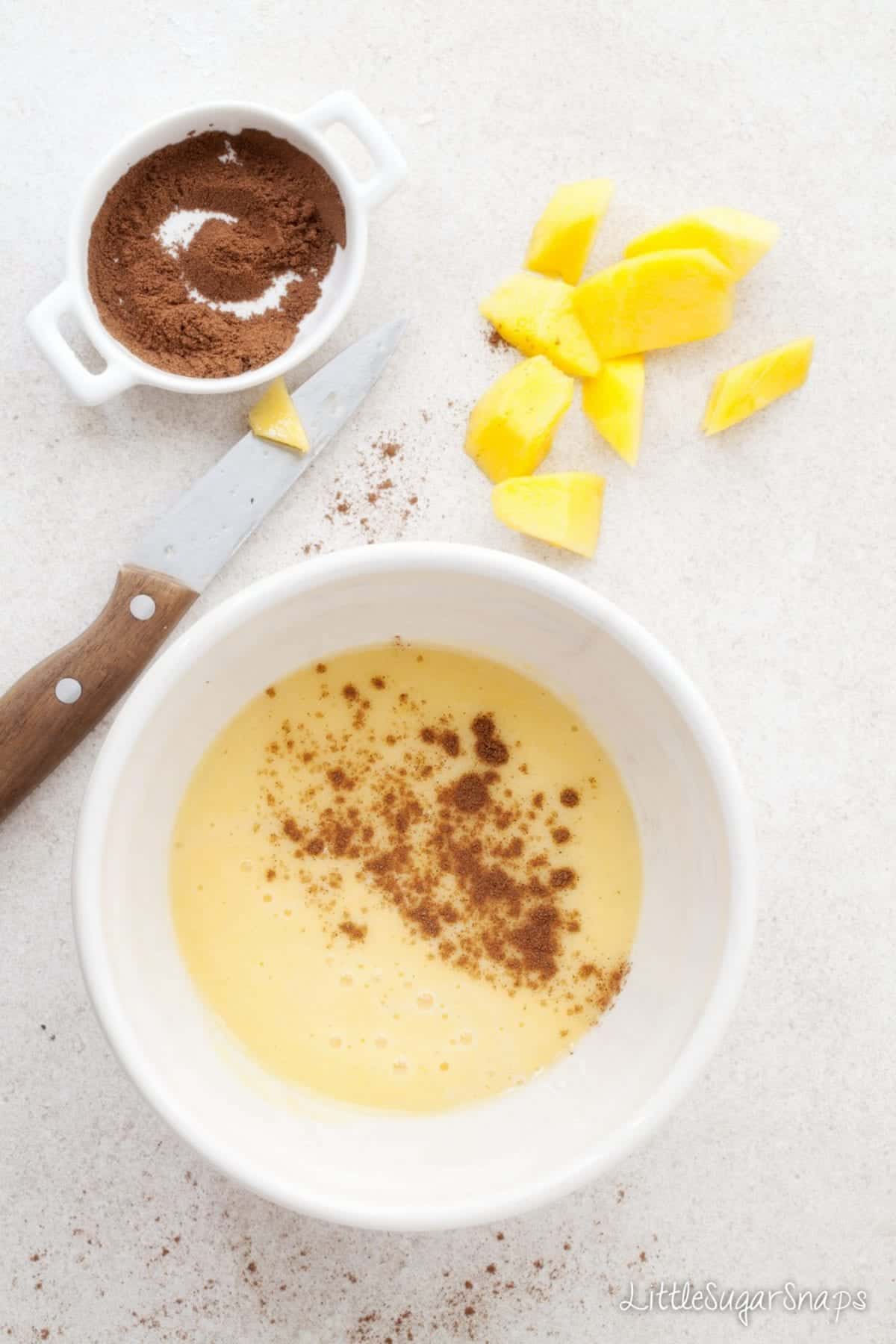 Made from a blend of coconut cream and coconut water, Vita Coco Coconut Milk Alternative is naturally smooth, creamy, dairy free and vegan. It also contains plenty of calcium, which is just what I'm looking for in a milk substitute (I try to look after my aching bones).
The fresh mango is pureed into the Vita Coco Coconut Milk Alternative to add extra flavour and to thicken the liquid. This combination of creamy coconut and fresh, tangy & floral mango makes the perfect vegan batter to soak rustic bread into.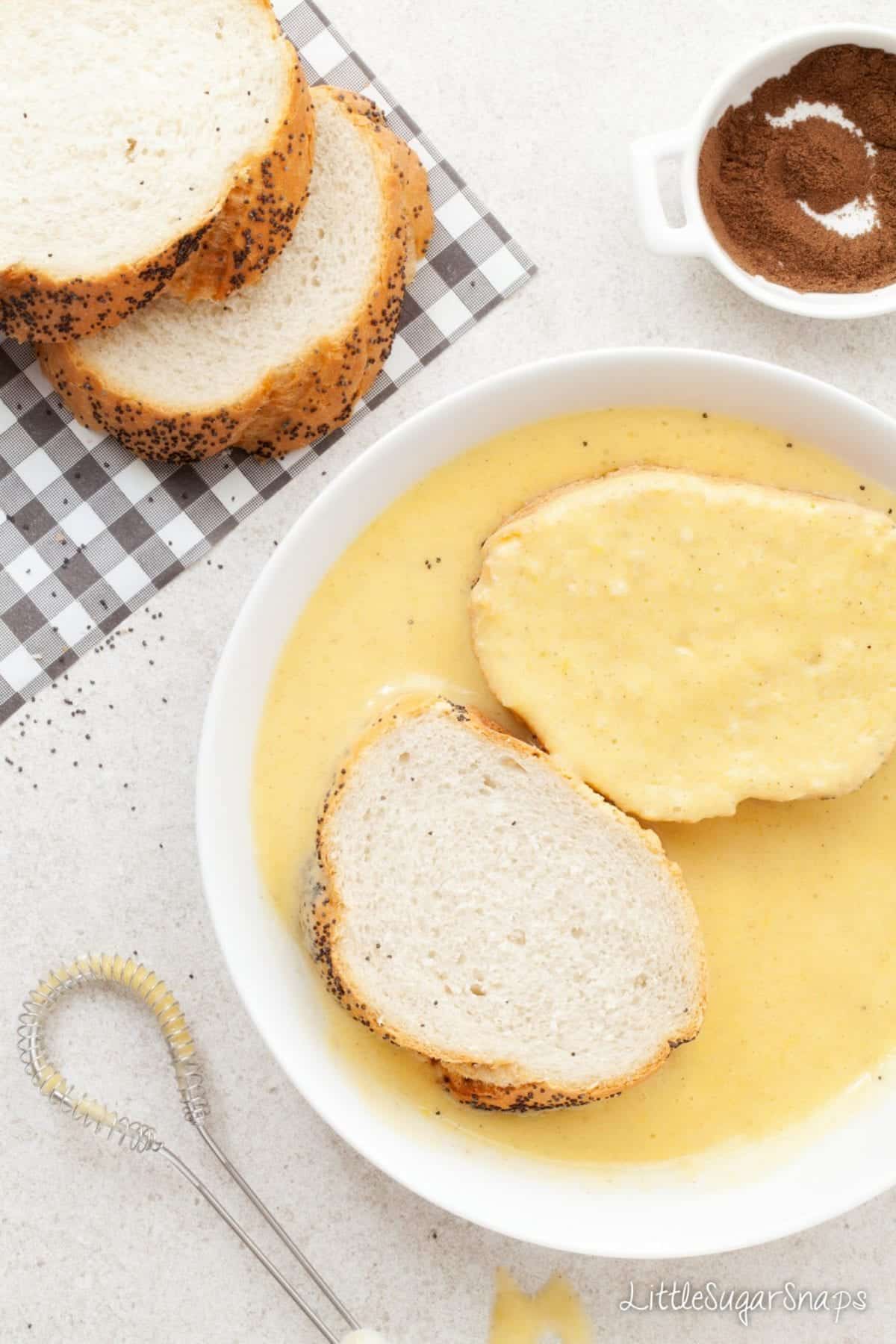 Once fried, the end result is a gloriously bright and cheerful Vegan French Toast that is packed full of fruity flavour.
Just look at that colour.
I've teamed my French Toast up with griddled fresh pineapple, chopped fresh strawberries, a sprinkle of dessicated coconut and a drizzle of maple syrup. The result is a dazzling stack of happy breakfast food.
My Tropical Vegan French Toast is all of these things:
Egg free
Dairy Free
Fruity
Punchy
Gently spiced
Sweet
Satisfying
Slightly crisp, not soggy
Yellow – very yellow
Bright & Cheerful
Now I've talked up this French Toast, it's time I gave you a handful of vital pointers to help you recreate my recipe successfully:
First of all, the choice of bread is vital – limp, regular white sandwich bread is not what you need. Use this and you will end up with a soggy mess in your pan – trust me, I tried it once. Instead pick sturdy, unsliced white bread and cut it thick (1-1.5 cm)
Use the best pan you have to cook it in – I recommend using a non stick pan that you know performs well
Do not be tempted to poke, prod, move or otherwise disturb the toast as it cooks. The less meddling you can manage before flipping it over to cook the other side the crisper and more golden the end result will be
Oh, and my bonus tip (which I can't believe I've overlooked all my adult years). When it comes to preparing the fresh pineapple, cookie cutters come in very handy. If you have a set of circular cutters, then just pick the size that fits your pineapple and get cutting. Perfect rings are yours for the taking.
I do not follow a vegan or even a dairy free diet. My diet is just about as ordinary as can be. But I'm so pleased I pushed myself a little bit further for this self imposed challenge. Tropical Vegan French Toast is one breakfast treat that should not be overlooked. It is relatively healthy (depending how much syrup you choose to consume), incredibly tasty and a decidedly colourful way to start your day.
Tropical Vegan French Toast with Mango & Pineapple
Ingredients
6

Thick slices day-old robust vegan white bread - DO NOT use regular white sliced sandwich bread - it will be soggy and stick to your pan

(see notes)

150

g

Fresh mango

(peeled and removed from stone)

150

ml

Vita Coco Coconut Milk Alternative

1 1/2

tsp

Vanilla extract

1/8 - 1/4

tsp

Ground allspice

(optional/ to taste - I used 1/4 tsp))

5

slices

Fresh pineapple

6

Strawberries - quartered

1

tsp

Dessicated coconut/ coconut flakes

Maple syrup - to taste

Coconut Oil
Instructions
Preheat the oven 120C/ 250F/ GM 1/2

Begin by preparing the pineapple - if using a whole fresh pineapple slice off the spiky end, then cut into 3/4 cm rounds. Remove the skin and the hard centre of each slice. I find the easiest way to do this is to use circular cookie cutters - use a small one to remove the tough centre and a larger one to separate the flesh from the skin (see my photo above)

Put 1 tsp coconut oil into the frying/ griddle pan. Melt over a medium-high heat then add the pineapple in a single layer (cook in batches if necessary). Let cook for 2-3 minutes each side until it turns golden. Turn onto a plate and keep warm in the oven

Put the fresh mango, allspice, vanilla extract and coconut milk into a jug or bowl and blitz with a stick blender until smooth. Pour the batter into a shallow bowl

Place the bread into the bowl and allow to sit for 1 minute. Flip over and allow to sit in the batter again for 1 more minute (you may need to do this in several batches)

Return the pan to the heat, add 2 tsp coconut oil then carefully place the soaked bread into the pan. Do not overcrowd the pan - cook in batches. Let cook for around 3 minutes, completely UNDISTURBED (see notes). By this stage the batter should have taken on a golden colour and be crisping up. Carefully flip and let the second side cook for around 3 minutes too. Once cooked, transfer to another plate and keep warm in the oven while you cook any remaining toast, adding more coconut oil as necessary

Assemble the plates - put 1 round of toast onto each plate and top with a ring of pineapple. Add another slice of toast and another slice of pineapple. Add a third piece of toast to each plate. Chop the remaining pineapple ring and divide between the plates, along with the strawberries. Scatter the coconut over the fruit

Serve immediately, with a jug of maple syrup
Recipe Notes
It is essential to use robust, sturdy, thick white bread - I used a poppyseed white bloomer, but ciabatta, sourdough or a wide baguette would work. Whatever you do, DO NOT resort to using thin, floppy regular sandwich bread - the result will be a mushy mess in your pan (I know because I used such bread on my first test of this recipe). Use the best pan you have to cook it - I recommend a non stick pan that you know performs well. Also, ensure you allow the bread to cook undisturbed for 2-3 minutes on each side to allow the batter to cook and stay attached to the bread. Constantly poking or moving the bread as it cooks will result in a mess. Once one side is cooked to golden brown flip carefully.
More recipes for your Vita Coco Coconut Milk Alternative:
Pin This Recipe: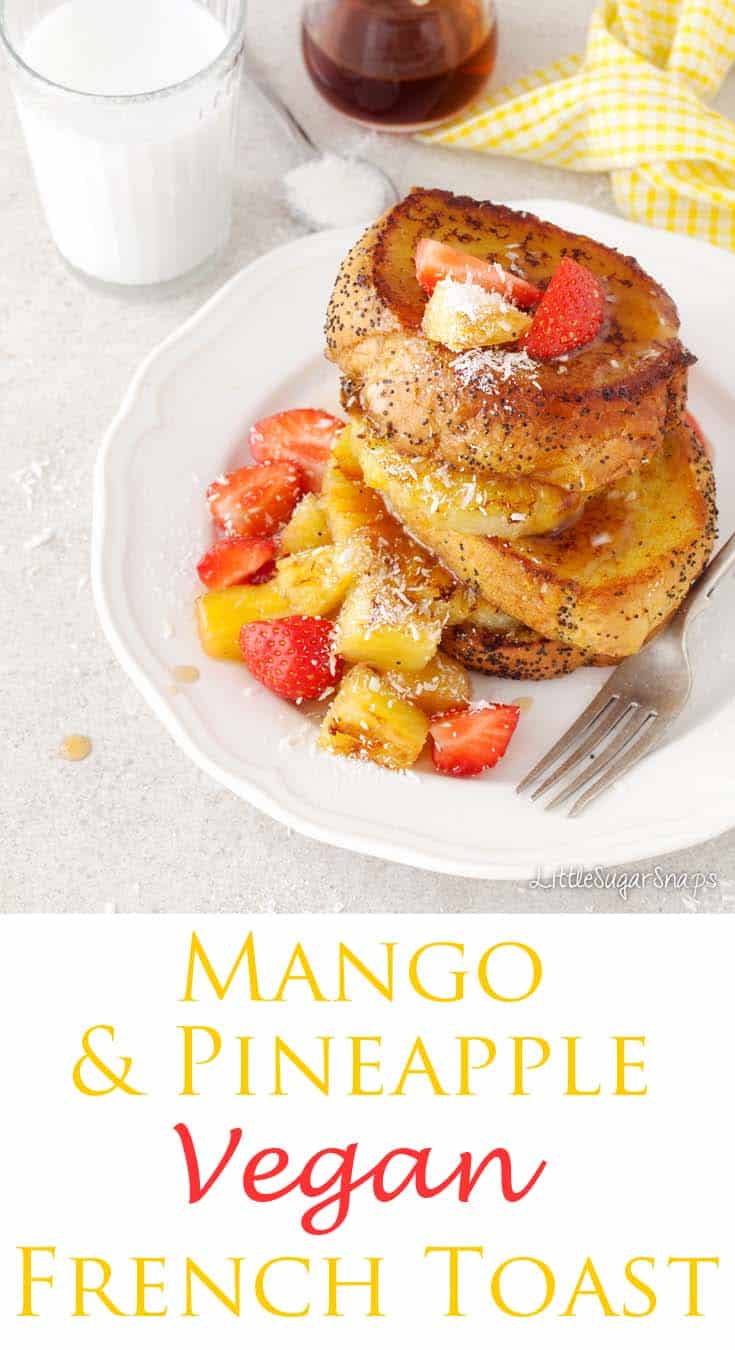 (Visited 80 times, 1 visits today)