Chilli Mango Punch is a drink to linger over. Spicy notes are tempered by sweet and floral tropical flavours. This drink is sure to impress anybody slightly spice obsessed.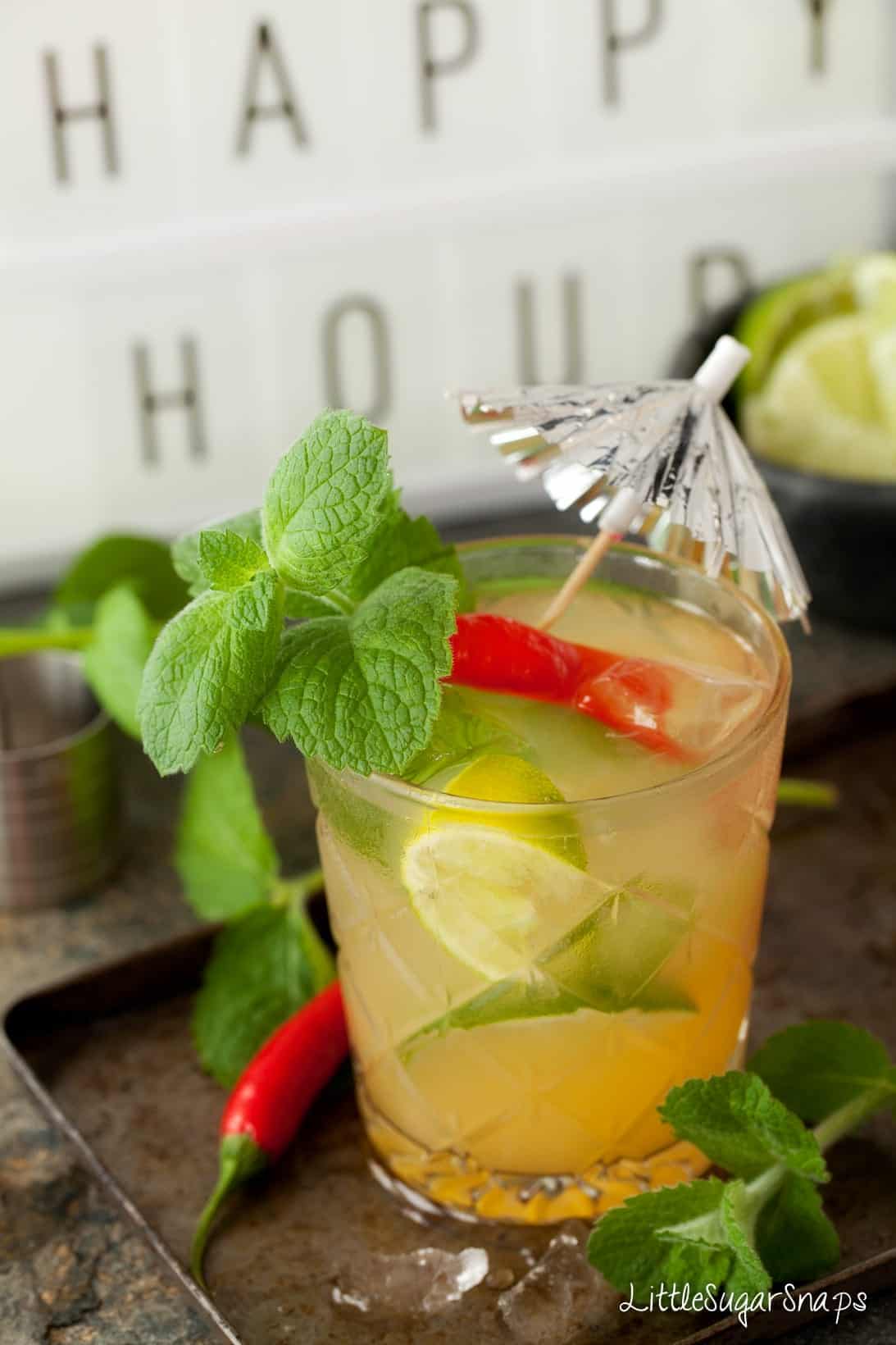 Today it is the Summer Solstice. So that must mean it's cocktail time – right? When the days are hot and the evenings are long and balmy what I really like to do is find time to sit in my comfy rocking deckchair, cocktail in hand and admire the garden that my husband works so hard to make lush and vibrant.
Way back last summer, when we were on holiday in Italy, we watched some late night fireworks on the beach. Walking back to our mobile home, Chris gave me the idea for a fantastic cocktail involving Chilli Vodka. This Chilli Mango Punch is not that cocktail.
That cocktail was going to arrive on here today, but I got sidetracked by the photos for this Chilli Mango Punch. I think the light-box sign (borrowed from my daughter) and the kitschy cocktail umbrella (um… mine) had me sold. It's not my usual photography style at all, but I had so much fun shooting this cocktail…
… I even made an accompanying video – spur of the moment.
Confession: two days previously I made a video for meringues. It was a hopeless mess. It was even worse than my first video.  Vile. Pathetic. Humiliatingly atrocious. In fact, I'd categorise it as so bad I may just trash it. Me and videos – not naturals together. So making this – somewhat more visually pleasing video – was a major achievement for me. This is my new benchmark.
Anyway, the cocktail. First off, it has a little heat. That's from my homemade Chilli Vodka (which you can customise to your own preferred spicy heat level). But it also has a delectable tropical fruitiness from some sweet and floral mango liqueur and a generous splash of pineapple juice. To round things off, I've added a gentle sparkle to the blend with lemonade.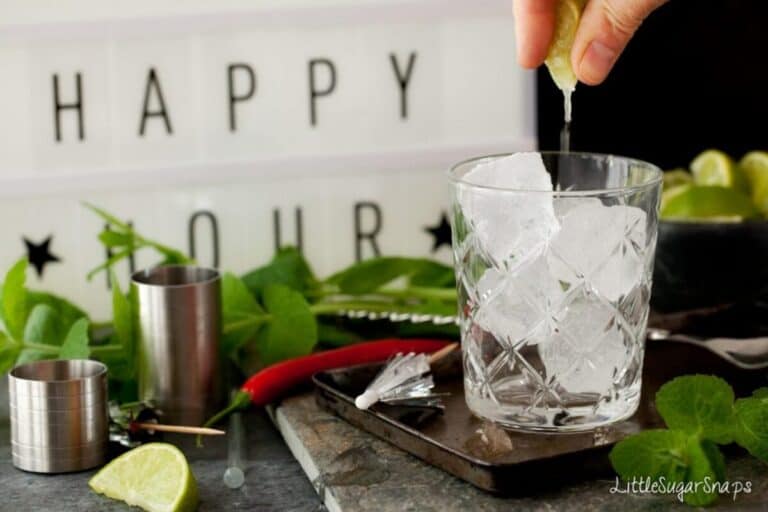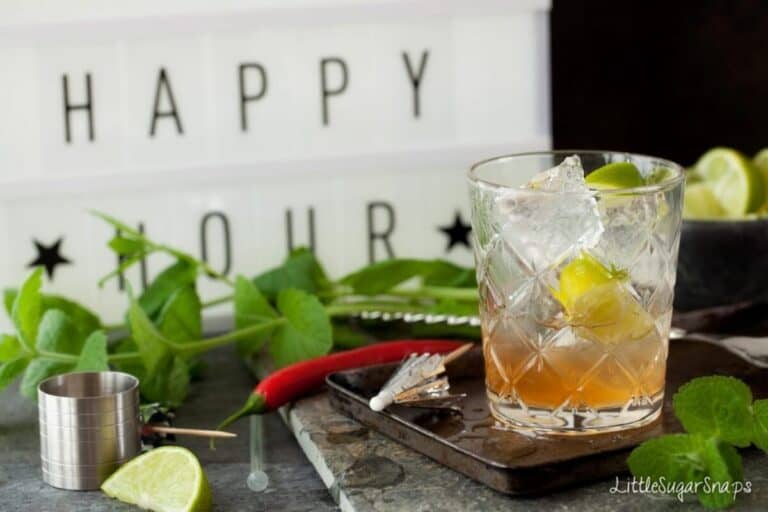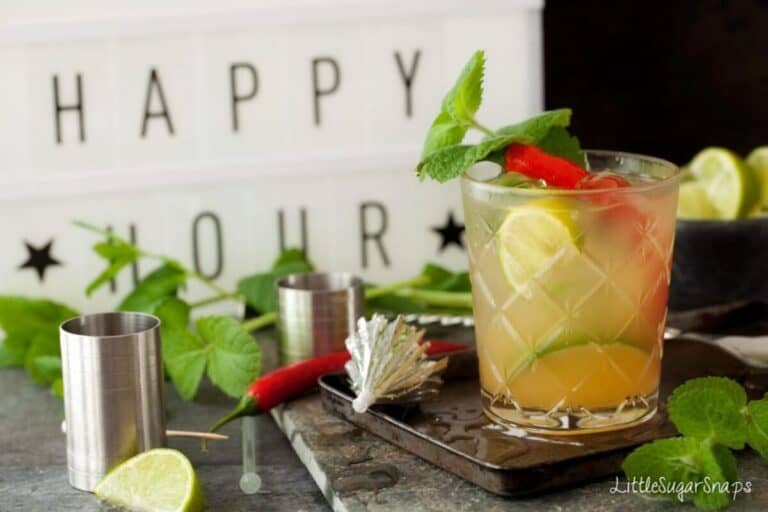 This cocktail is definitely a drink to linger over. The heat of the chilli vodka makes this drink one to sip rather than gulp down. You won't fail to notice the chilli notes in your first sip. But that fieriness is softened by the sweetness from the other ingredients.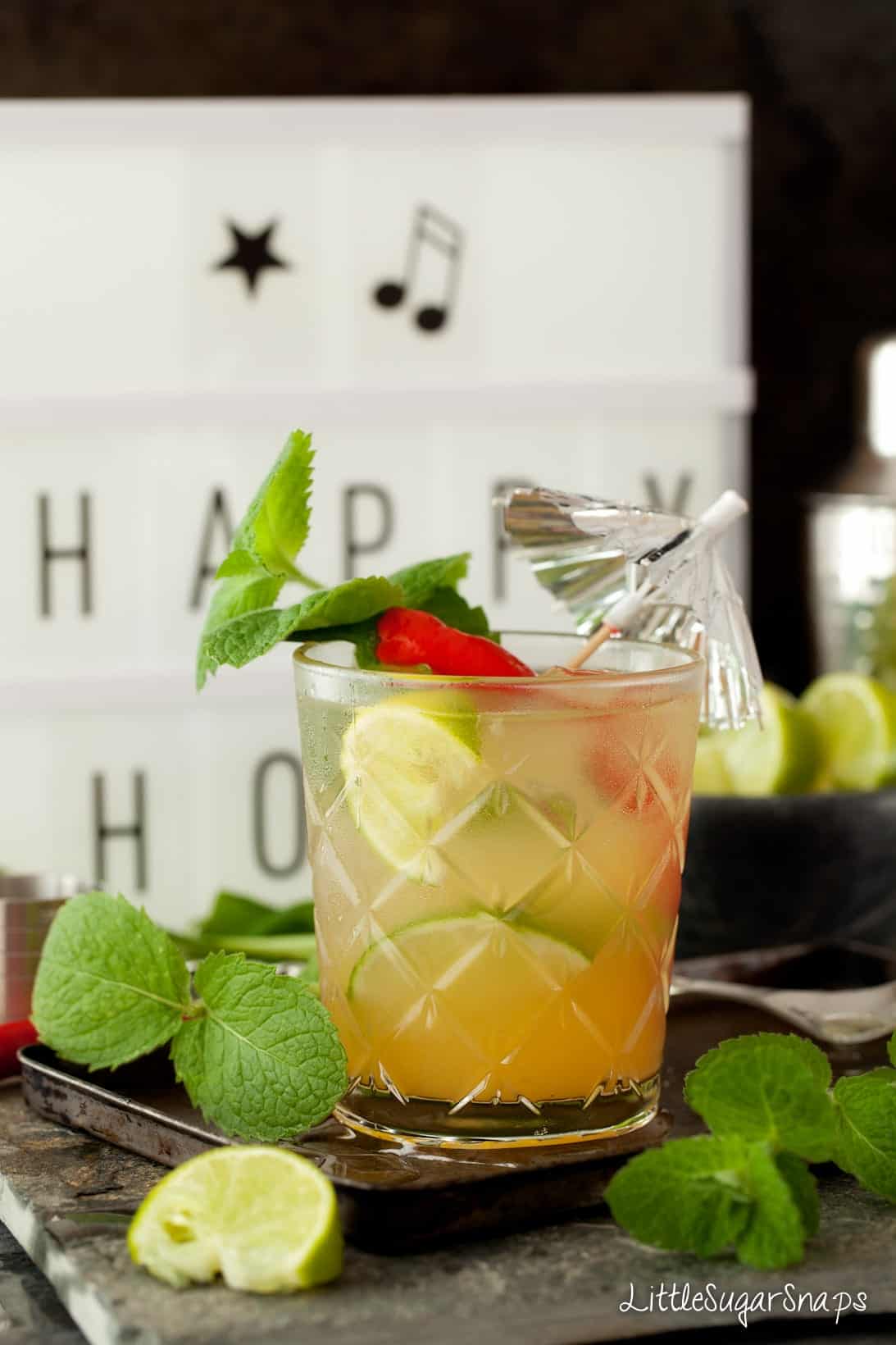 Chilli Mango Punch is a great drink to serve when you have adventurous foodie friends coming over. Or when you want a long drink that you really can dawdle over.
That just about sums this drink up. I'm leaving you with my latest video (the one I like, not the trash one). I've made it as fun as possible to match the general mood my photography lead me down. Enjoy.
Chilli Mango Punch (Video)
Chilli Mango Punch is a drink to linger over. Spicy notes are tempered by sweet and floral tropical flavours. This drink is sure to impress anybody slightly spice obsessed.
Course:
Cocktail, Drink, Drink - alcoholic
Keyword:
chilli cocktail, chilli drink, chilli vodka, fruit punch, mango punch, vodka punch
Ingredients
45ml/ 1 1/2 fl oz

Chilli Vodka - store bought or homemade is fine

(you can get my recipe here)

25ml/ 1 fl oz

Mango liqueur

(I used Briottet)

45ml/ 1 1/2 fl oz

Pineapple juice

45ml/ 1 1/2 fl oz

Lemonade

1/4

Lime - cut into 2 wedges
Instructions
Put a handful of ice into a tumbler

Squeeze both lime wedges over the ice then toss them into the glass

Pour the vodka and the mango liqueur over the ice, followed by the pineapple juice and lemonade

Stir briefly and garnish with a red chilli and mint leaves

Serve immediately
DISCLOSURE: THIS POST CONTAINS AFFILIATE LINKS, WHICH MEANS THAT IF YOU PURCHASE THE ITEMS I RECOMMEND THROUGH THE LINKS I PROVIDE, I GET A SMALL COMMISSION AT NO EXTRA COST TO YOU. FOR MORE INFO, PLEASE SEE MY DISCLOSURE POLICY. THANKS FOR SUPPORTING LITTLESUGARSNAPS.
Pin Chilli Mango Punch:
(Visited 107 times, 2 visits today)