Maraschino Cherry Cupcakes with White Chocolate Buttercream are exceptionally smart but easy to make. Appealing to all ages and perfect for any occasion worth celebrating.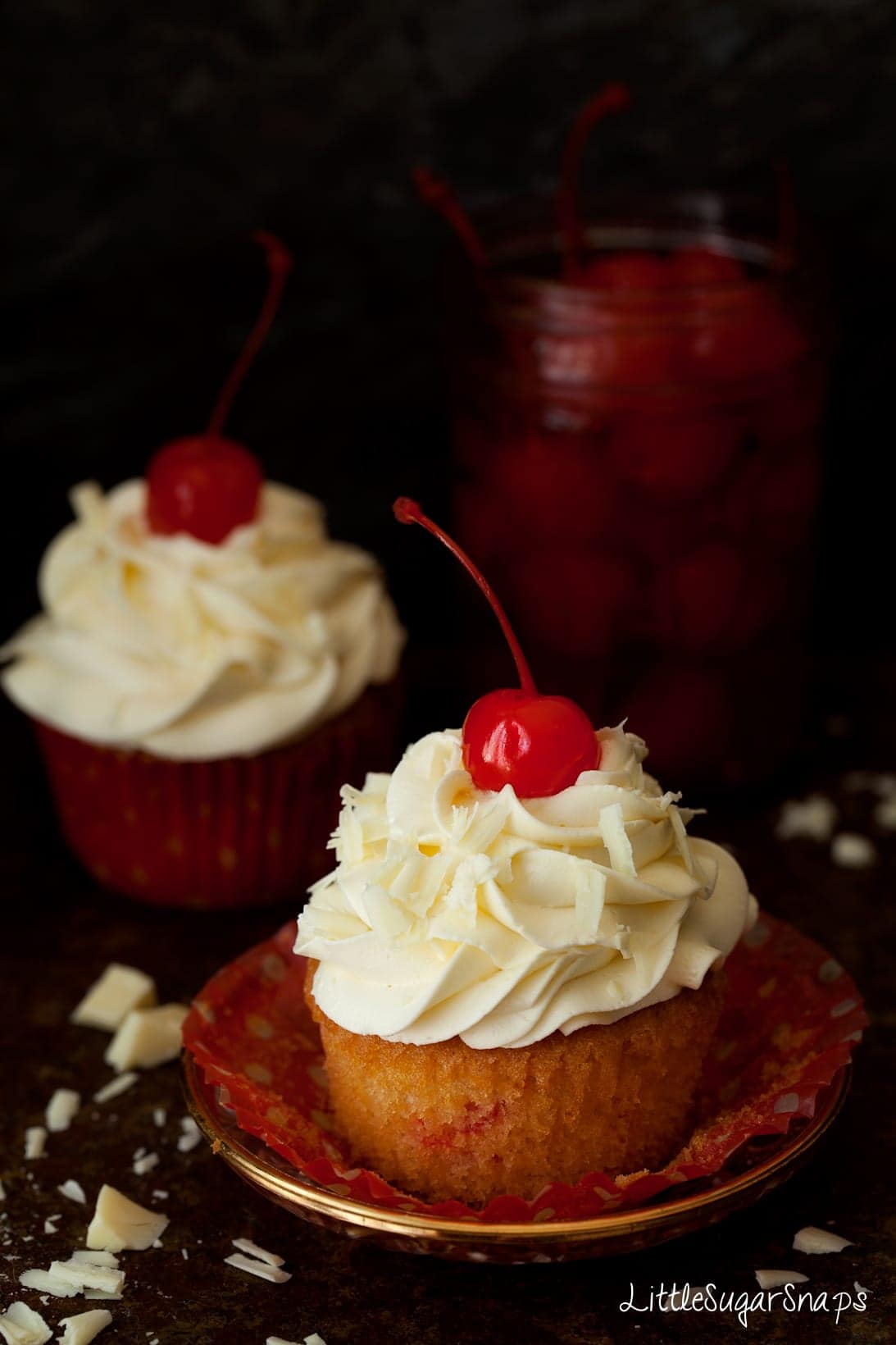 This week marks a milestone in my family life. My older child leaves primary school. That event, which is now only a couple of days away, fills me with a great many emotions.
The last 7 years have been more than good for my daughter. When she leaves her school for the last time on Friday she comes out armed with firm friends, happy memories and a positive attitude towards the next stage in her life. I come out with a bunch of extra friends too. Along with a slight feeling of annoyance that those primary years are over so swiftly.
I clearly recall the first day we took Hannah to school. All of the year 6 kids looked so big and their parents, well, they were veterans (aka much older). I felt inexperienced, slightly green at the edges and a little tearful at the sight of my daughter marching into school so happily.
Of course, 7 years later and now I'm the veteran.
Let's take a diversion.
An occasion such as leaving primary school should be celebrated. It is a milestone in life. And what better way for a bunch of kids to celebrate than to make a lot of noise and eat cake. Lots of cake. Tomorrow I'll be heading to my kitchen to produce a vast quantity of chocolate and vanilla cupcakes for the grand finale: the 2017 leavers party.
So it's only fitting that this week I serve up cake on LittleSugarSnaps.
These Cherry Cupcakes come speckled with finely chopped Maraschino cherries within the sponge, along with a lip-smacking swirl of white chocolate buttercream on top.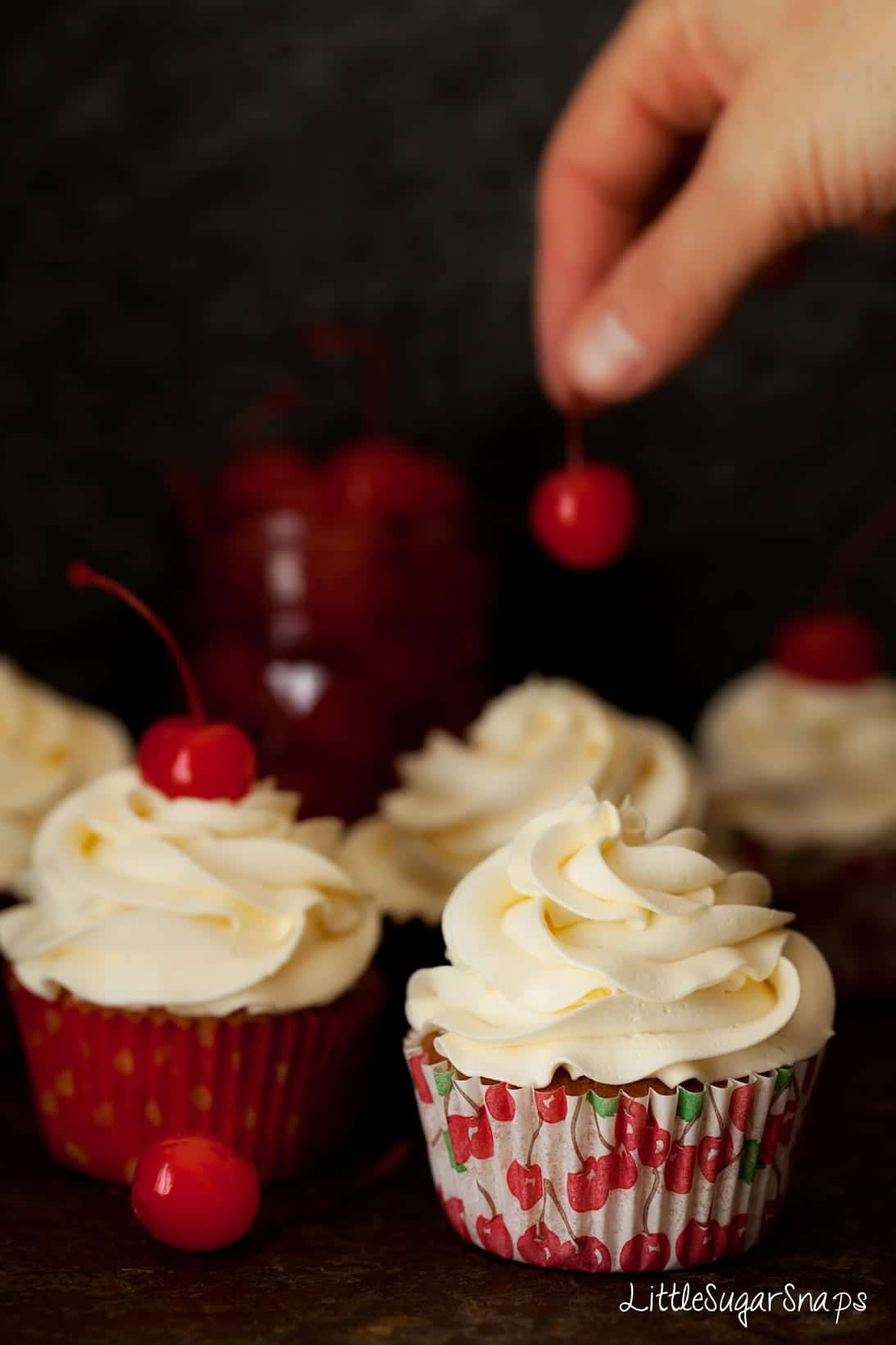 To finish things off, I've topped each cake with a little grated chocolate and the crowning glory, a whole Maraschino cherry.
Sigh… oh how I can sigh…
Despite their smart appearance, these Cherry Cupcakes are very easy to make: it's a simple sponge cake recipe with the cherries added in.
I was almost tempted to use vanilla buttercream, but in the end I couldn't resist taking that extravagant plunge and opting for a white chocolate version instead. White chocolate and cherries seem to work in harmony.
The overall effect is one pretty cupcake. The flavours will appeal to children and adults alike. And let's face it, who could resist a cupcake with a Maraschino Cherry on the top.
So here's to all kids about to embark on the next chapter of their lives… and their veteran parents.
Maraschino Cherry Cupcakes with White Chocolate Buttercream
Ingredients
For the Cupcakes
125g/ 4 1/2 oz

Butter (unsalted) - softened

125g/ 4 1/2 oz

Plain (all purpose) flour

125g/ 4 1/2 oz

Caster sugar

3/4 tsp

Baking powder

2

Eggs (large, free range)

1 tsp

Vanilla extract

1 tbsp

Whole (full fat) milk

12

Maraschino Cherries
For the Buttercream
250g/ 9oz

Butter (unsalted) - softened

200g/ 7oz

Icing (confectionary) sugar

200g/ 7oz

White chocolate

1/2 tsp

Vanilla extract
For Decoration
12

Maraschino Cherries

A little

white chocolate - grated
Instructions
Make the Cupcakes
Preheat the oven 170C/ 325F/ GM3 and line a cupcake tray with paper cake cases

Take 12 Maraschino cherries out of a jar and allow to drain on kitchen paper

Using electric beater, beat the butter and caster sugar together until light, fluffy and pale yellow in colour

Add the eggs, one at a time, beating well

Add the vanilla extract and milk then beat again

Sift the flour and baking powder into the bowl and gently stir in, using a large metal spoon until throughly combined. Take care not to overwork the batter though

Chop each cherry into 16 pieces then gently fold the cherries through the cake batter

Divid between the cupcake cases - filling each case around 2/3 full - and bake for approximately 22 minutes

Test that the cupcakes are baked through: poke a cocktail stick into one of the cakes - if it comes out clean then the cakes are ready. If not, return to the oven for a couple more minutes, then test again

Once out of the oven remove from the baking tin and allow to cool completely on a wire rack
Make the Buttercream
Chop the white chocolate and melt (either in the microwave or over a bain marie). Stir until smooth then set aside to cool to room temperature

Put the butter into a medium bowl and beat until smooth and soft

Sieve in the icing sugar 1 tbsp at a time and beat well between each addition

Once all of the icing sugar has been mixed in, beat in the vanilla extract

Test the chocolate has come to room temperature - do not add to the buttercream until it has done so, otherwise the heat from the chocolate will melt the butter

Once it has cooled sufficiently, beat the melted chocolate into the buttercream until thoroughly combined

Use straight away to decorate the cupcakes or chill until required (bring back to room temperature before using)
Decorating the Cupcakes
Take 12 Maraschino cherries out of a jar and allow to drain on kitchen paper

Either pipe or spread the buttercream on top of the cupcakes - there should be enough to cover 12 cakes

Grate a little white chocolate and sprinkle over the cakes

Top each cupcake with a cherry

Keep in an airtight container for up to 3 days
Need more cake?
Pin the Recipe for Cherry Cupcakes
(Visited 59 times, 1 visits today)