Wholesome ingredients and no refined sugar make these Cherry Bakewell Almond Energy Balls one delicious way to satisfy a sugar craving whilst maintaining a healthy diet. Bliss.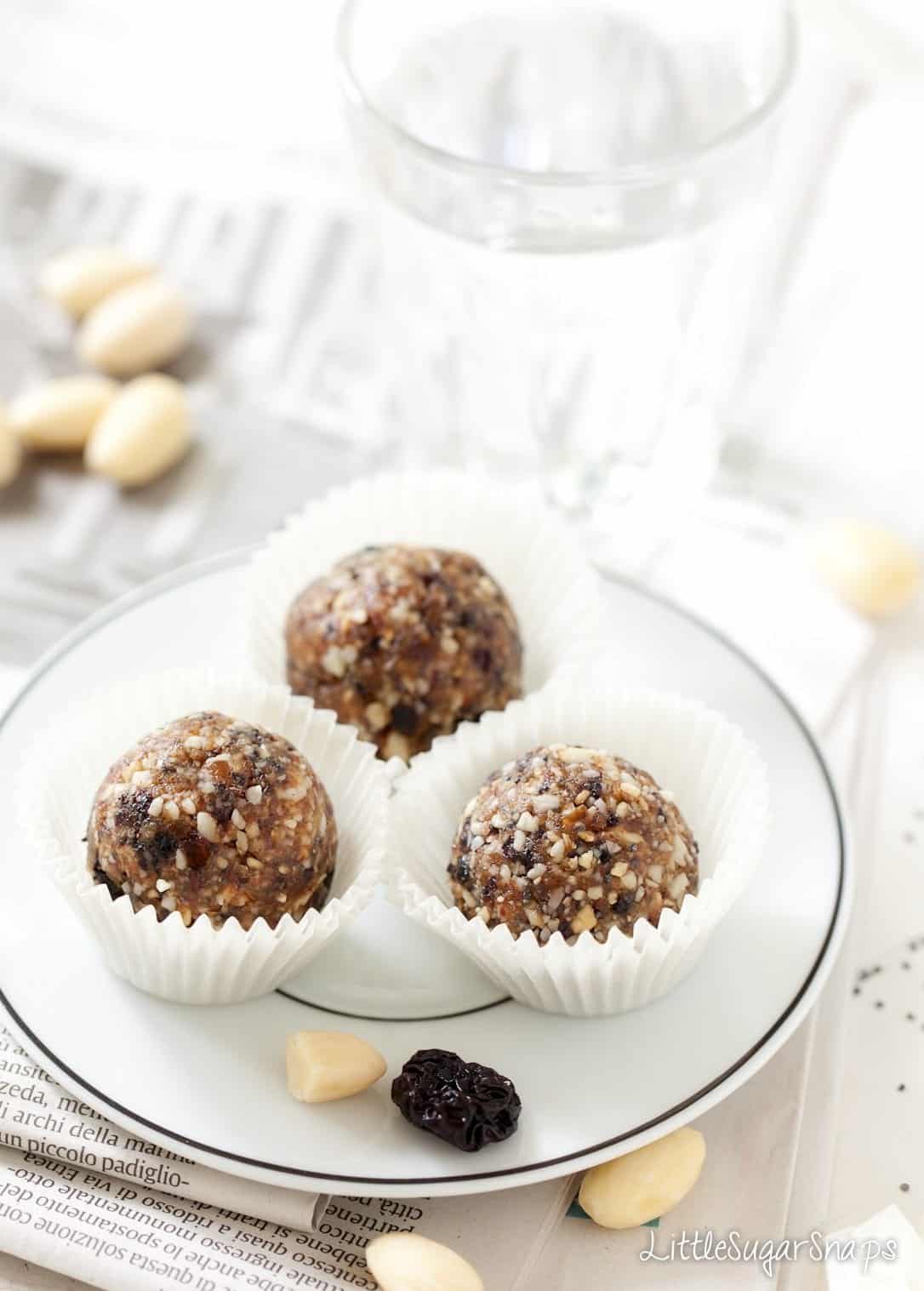 Summer time is still in full swing here in the UK. Looking out of the window at the rain today, it's a little hard to believe, but the seasons don't officially change until late September. So excuse me for sticking with summer vibes – even if it is a bit chilly and damp outside.
I actually think that, despite all of the salads and fresh fruit on offer, summer is one of the hardest seasons to eat healthily in. Temptation is at every turn with ice creams, refreshing fruity drinks, cream laden pavlova and the star of the British summertime – strawberries with clotted cream – high on our radars. When the kids are on their summer holidays it can be a running battle to keep their diets vaguely sensible thanks to days out and visits to friends and family.
That's why I'm such a fan of energy balls.
Energy balls are sneaky. They pretend to be sweet treats but manage to be not only sweet, tempting and delicious, but also nutritionally sound. By nature, energy balls made purely out of nuts, seeds and fruits are generally:
Free from refined sugar
A good source of protein (from the nuts)
Free from bad cholesterol
These Cherry Bakewell Almond Energy Balls are perfect candidates for all of these attributes. They are also vegan and can be ready in just 15 minutes. Winners on so many levels.
I really have Mr Kipling to thank for the inspiration behind these almond and cherry flavoured energy balls – who can resist Cherry Bakewell in the summertime? I'm thinking: blue skies… rolling hills…. picnics… an individual treat in a foil wrapper with a magnificent cherry on the top.
But let's snap out of daydream mode and move back to healthier thoughts. Each energy ball delivers a sweet, nutty flavour vaguely akin to marzipan – perhaps because I maxed out on the almonds by using blanched almonds and almond butter. There's also a burst of tart fruitiness from the dried cherries.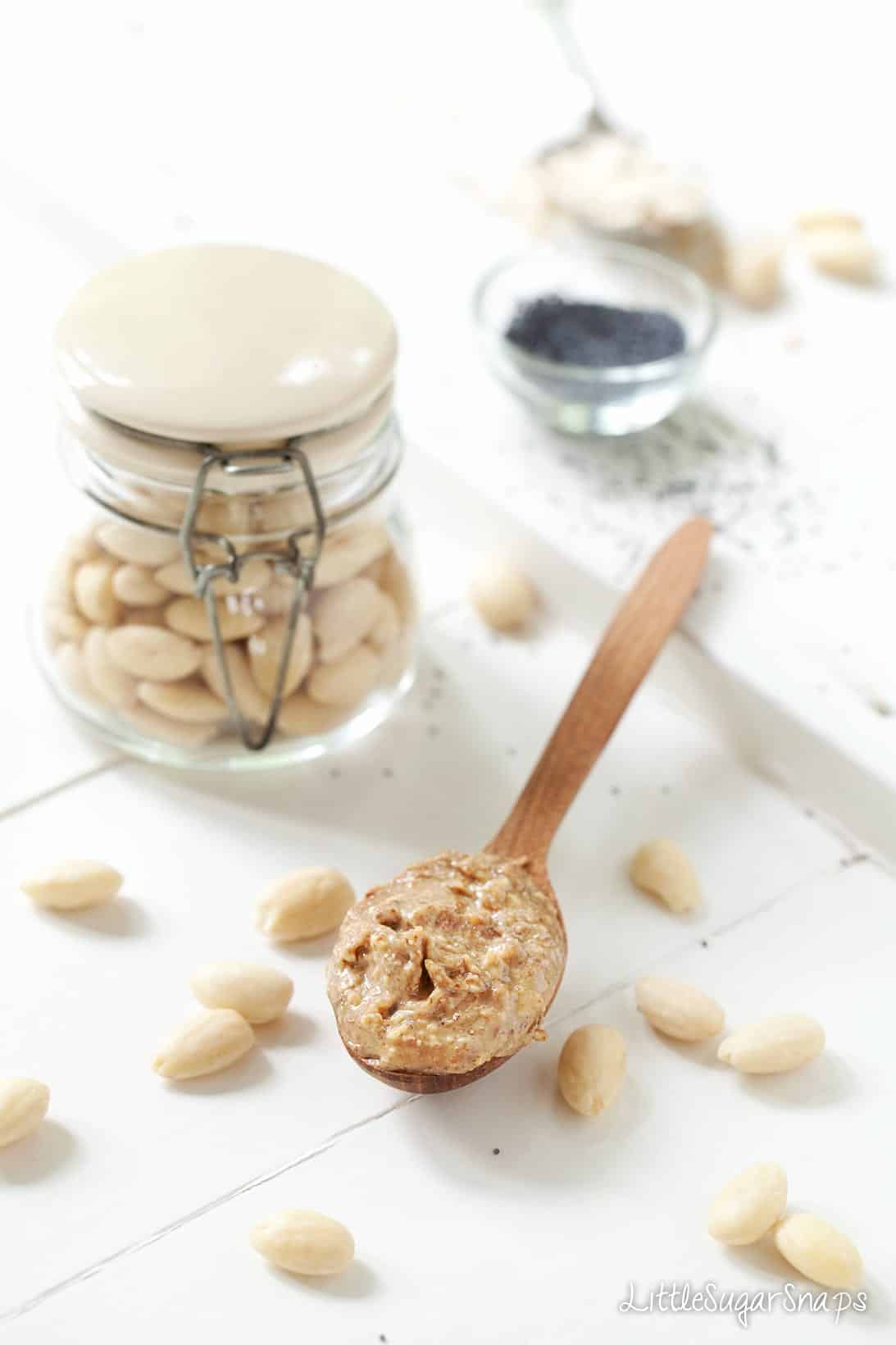 These Almond Energy Balls are as close to a Cherry Bakewell as you're likely to get in healthy format. These balls are sweet, tenderly soft and really quite irresistible. They also travel far better than a Cherry Bakewell, making them ideal for lunchboxes and picnics.
Confession: The first time I made energy balls for my girls I shied away from the words 'nut' and 'healthy' when explaining what they were. I let my kids decide what they really thought about them first. Obviously they went down well, because, let's face it, dried fruit and nuts are a classic love affair. Afterwards, neither girl winced when I mentioned the 'nut' word. I was a little surprised, but they were genuinely hooked. In fact, I'd say that energy balls have positively influenced their views on nuts generally.
These days, whenever I run up a batch of energy balls my kids know all of the ingredients beforehand and are always eager to dive in. These nutritionally rich Cherry Bakewell Almond Energy Balls were very well received.
Sneaky.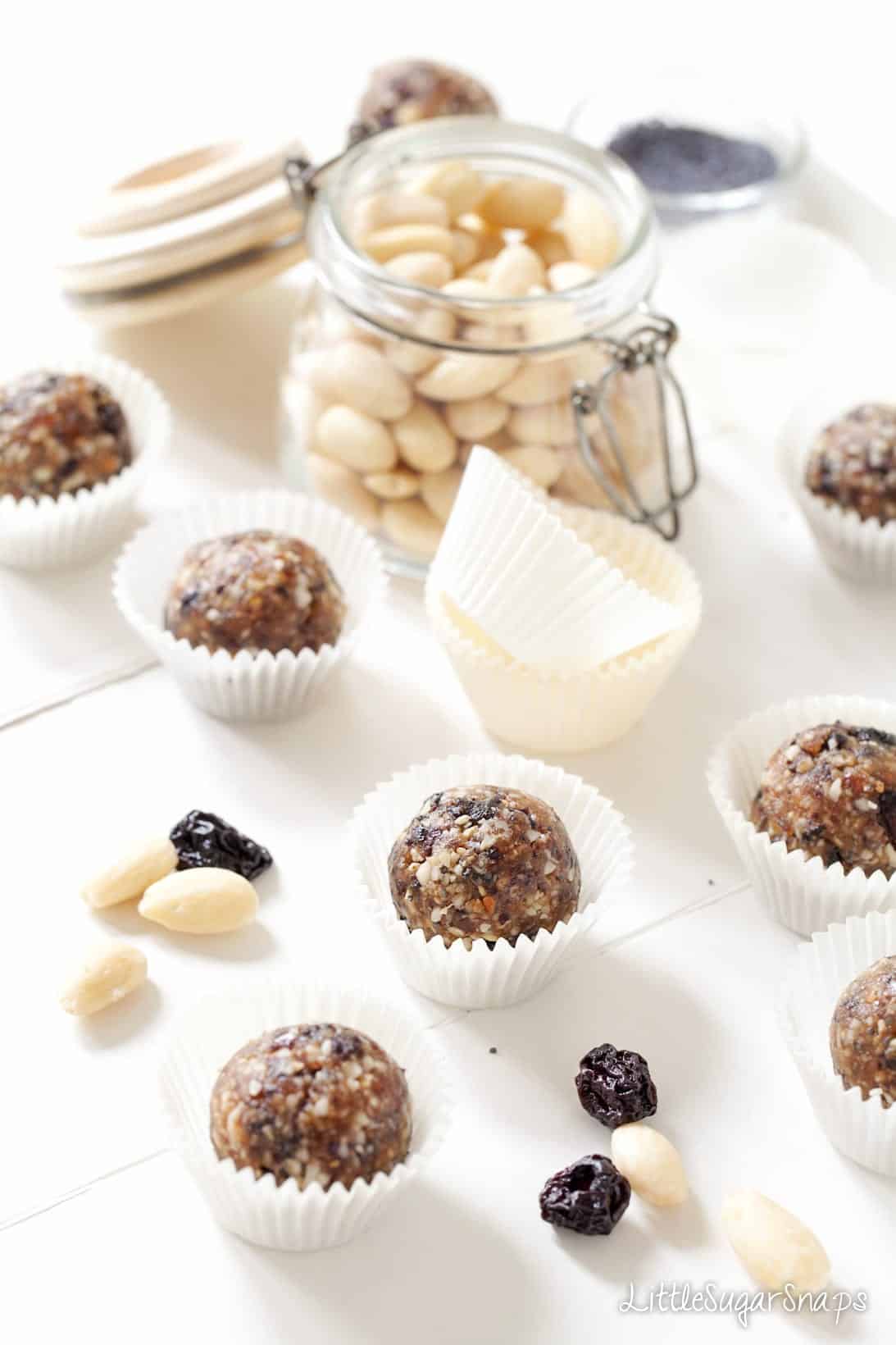 Cherry Bakewell Almond Energy Balls
Ingredients
75g/ 1/2 cup

Blanched almonds (or 50:50 almonds & cashew nuts)

125g/ 2/3 cup

Pitted dates

50g / 1/2 cup

Dried cherries

1 tsp

Vanilla Extract

2 tbsp

Rolled Oats

2 tsp

Poppy seeds

3 tbsp

Almond butter

1 pinch

Salt

1/2 tsp

lemon jiuce
Instructions
Put the nuts into a food processor and process until chopped medium - not too finely though

Add the remaining ingredients and continue to process until a sticky dough is formed - you may need to scrape down the sides of the food processor a couple of times

Divide the mixture into 16 equal portions weighing approximately 20g each

Firmly squeeze each portion into a rough ball then roll each ball between the palms of your hands to achieve a smoother finish - you may need to wash your hands several times during rolling if they get too sticky

Store in an airtight container in the fridge for up to 1 week
Pin this recipe:

(Visited 260 times, 3 visits today)