These Bramble truffles are inspired by the classic Bramble cocktail. Flavoured with gin, blackberry and a hint of lemon, these wonderfully soft truffles are encased in a thin milk chocolate shell and dusted in icing sugar. They are sure to impress your next house guest.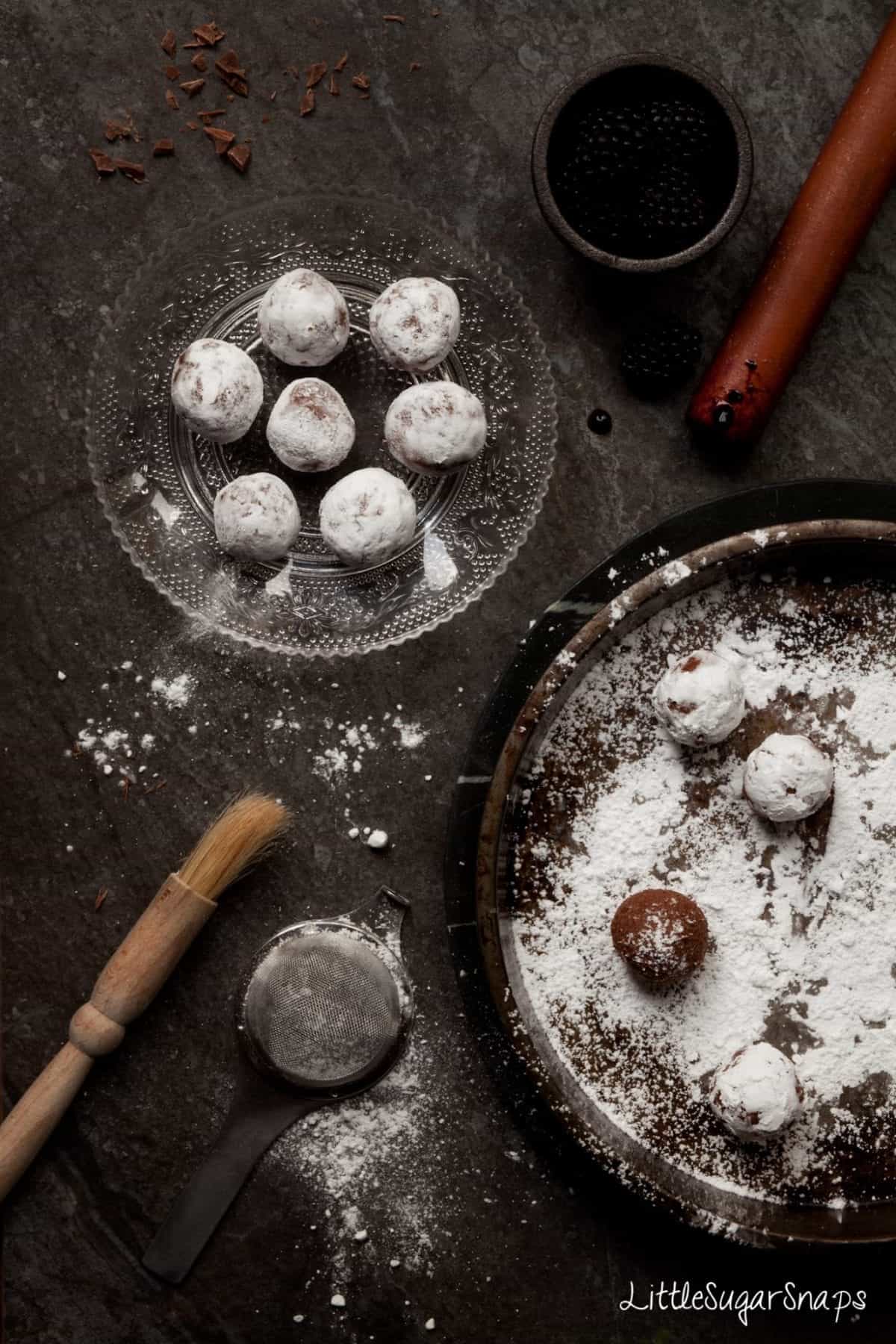 It's already day three of my ultimate personal challenge to post five cocktail inspired truffle recipes in five days and today I'm bringing with me some Bramble truffles – based on the classic gin cocktail The Bramble.
Have you ever sipped on a Bramble? It's a punchy mix of gin, creme de mure (blackberry liqueur) and lemon juice all served over crushed ice. This drink manages to be strong, fruity and tangy all in one go. It's also a bit of a beauty to look at too – get that colour.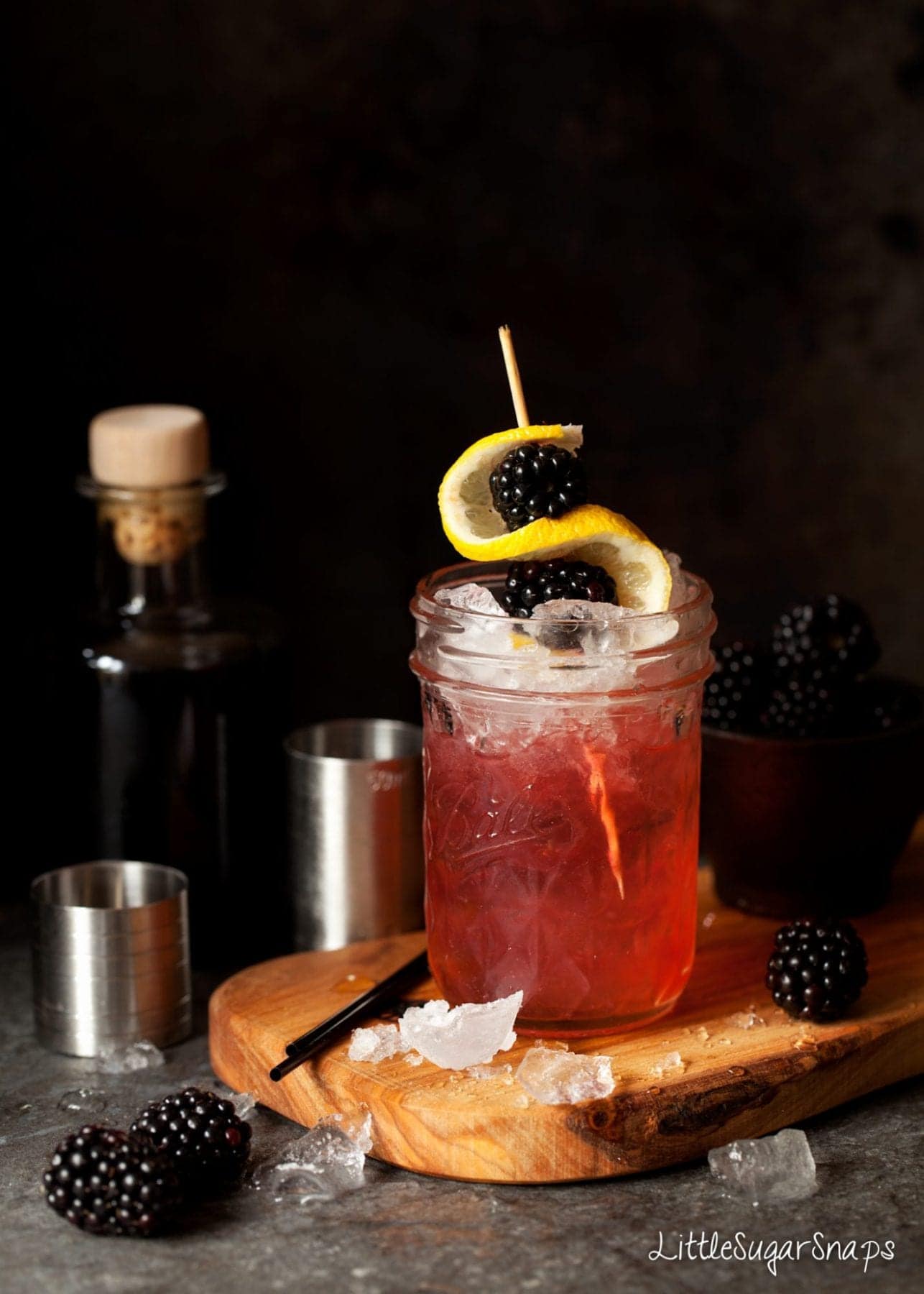 Though I was tempted to go with white chocolate for these Bramble truffles to try to hang onto that pretty pink blush, in the end my tastebuds led me down the milk chocolate route.
The actual ganache for these truffles is wonderfully soft set and it's as smooth as velvet. As irresistible as this silky soft ganache is, the loose texture does make it a total nightmare to roll into balls and dust in icing sugar. But…. the truth is that I fell so deeply in love with this sumptuous ganache than I really did not want to adjust the recipe to thicken it up. Instead, I decided to use my freezer to help firm up the truffle mix enough to roll it into balls and then a double coating of incredibly thin milk chocolate to hold it all together. A quick roll in icing sugar and these Bramble Truffles are seriously exquisite morsels. I doubt many people would believe they are homemade..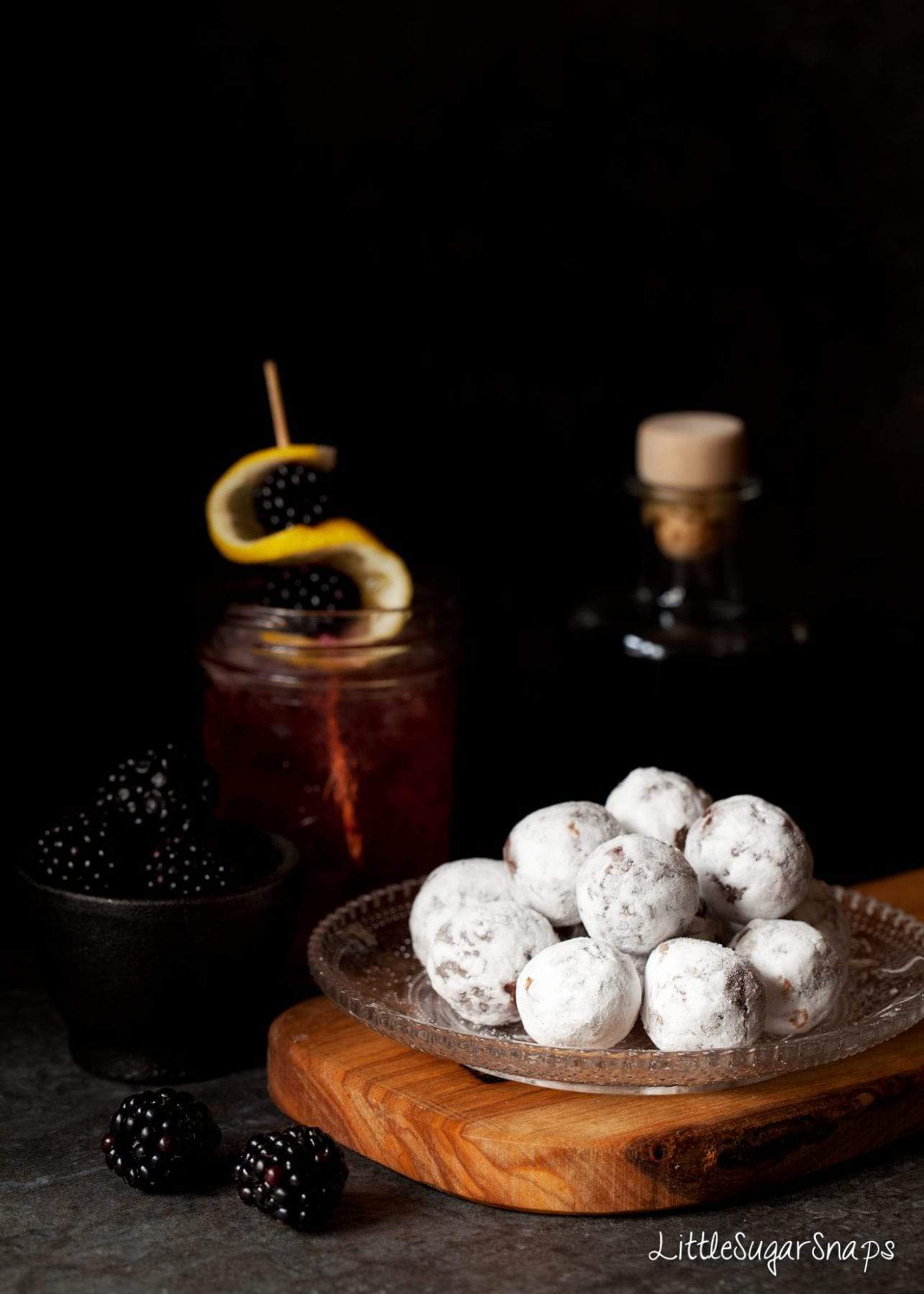 The shelf life of these little bites is not long – you have just a couple of days to eat them in top condition. After that the icing sugar does tend to crystalise a little bit. They are still gorgeous though and perfectly edible.
So make yourself a round of Bramble truffles along with a Bramble cocktail to keep them company. Then sit back and marvel at how amazing you are in the kitchen and how delightful that soft and gooey chocolate centre is.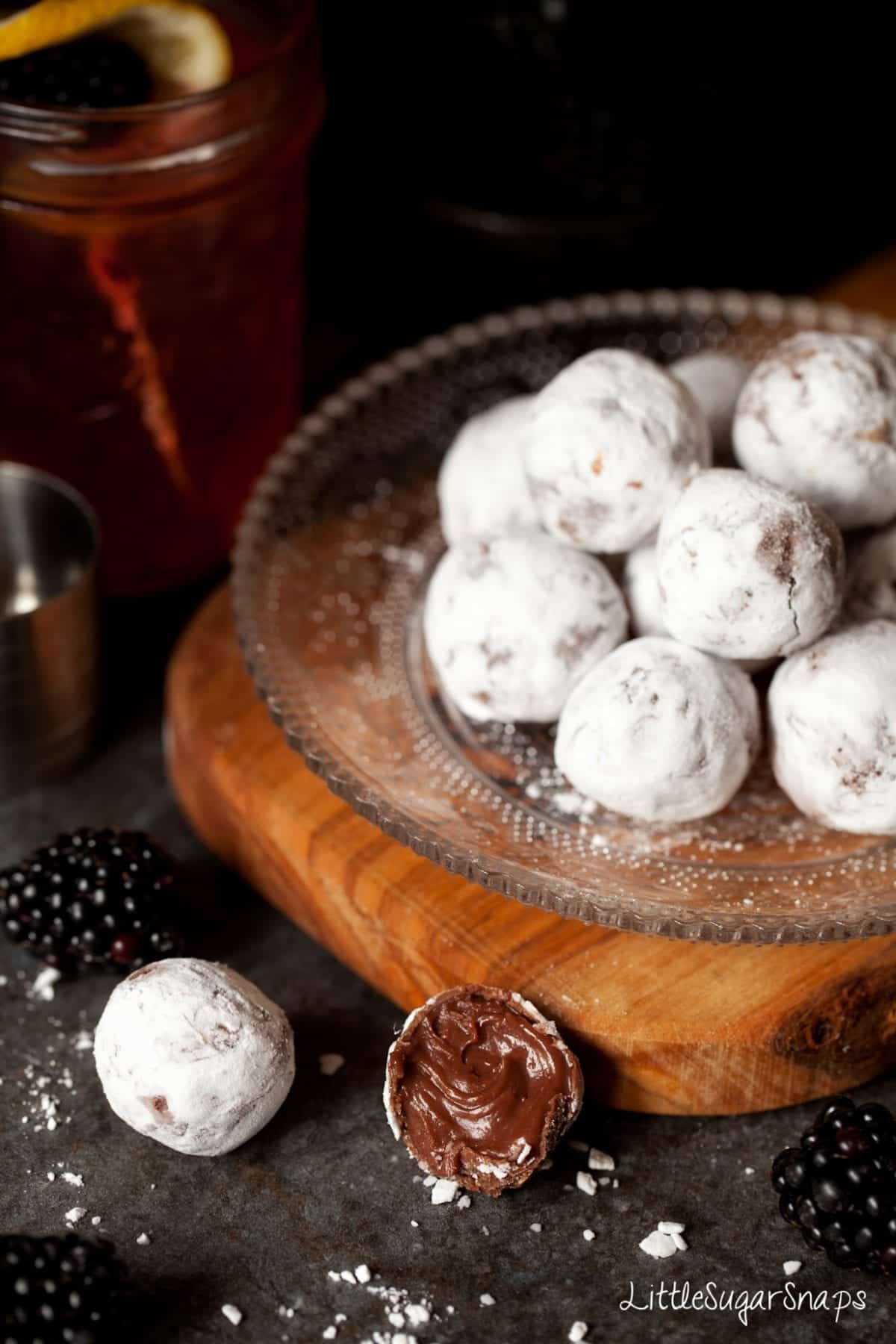 Oh and if you fancy a change from the classic Bramble, check out this Mulberry Bramble from Michelle over at Giraffes Can Bake. Michelle, knows a thing or two about fancy cocktails and she has plenty more inventive cocktails to keep you amused.
DISCLOSURE: THIS POST CONTAINS AFFILIATE LINKS, WHICH MEANS THAT IF YOU PURCHASE THE ITEMS I RECOMMEND THROUGH THE LINKS I PROVIDE, I GET A SMALL COMMISSION AT NO EXTRA COST TO YOU. FOR MORE INFO, PLEASE SEE MY DISCLOSURE POLICY. THANKS FOR SUPPORTING LITTLESUGARSNAPS.
Bramble Truffles (Gin & Blackberry)
Ingredients
110g

/ 5/8 cup

Milk chocolate

20g

Butter

(approx 4 1/4 tsp)

1

tbsp

Double (heavy) cream

4

tsp

Gin

1

tsp

Creme de Mure

1/2

tsp

Lemon juice

6

Fresh blackberries
Coating the Truffles
120

g/ 2/3 cup

Milk chocolate

5

tbsp

Icing (confectionary) sugar
Instructions
In a small jug measure the gin, creme de mure and lemon juice. Add the blackberries and, using a cocktail muddler or the end of a rolling pin, squash them to release the juice. Strain through a fine meshed sieve and discard the pulp & seeds. Set aside

Gently melt the chocolate over a Bain Marie. Once melted stir until completely smooth

Cut the butter into small chunks and stir in until fully melted and incorporated

Stir in the cream followed by the alcohol mix

Let cool, cover and transfer to the fridge to firm up for at least 4 hours

Line a small tin or plate with baking parchment. Take teaspoonfuls of the ganache and drop onto the parchment. Place the tin/ plate in the coldest part of the freezer for 1 hour

Remove from freezer and roll the truffles into balls using the palms of your hands. Put the truffles back on the parchment. Wash & dry your hands after rolling a few truffles if your hands get too sticky to roll the remaining truffles well. When all truffles have been rolled into balls return to the freezer for another hour

Melt the remaining chocolate and allow to cool for 5 minutes, then remove the truffles from the freezer

Take a 1/2 tsp chocolate and put it into the palm of your hand. Roll a truffle in the chocolate to coat - take care to ensure the entire truffle is covered. Set aside on clean parchment. Repeat for all truffles. Leave to firm up for 10 minutes (keep the chocolate warm over a pan of hot water)

Sieve the icing sugar into a flat bowl

After 10 minutes roll the truffles in another layer of chocolate, using the same process as before. Roll in icing sugar and leave to dry. Repeat with remaining truffles

Using a fine brush, dust off the excess icing sugar. Take care to work very gently to avoid cracking the chocolate

Store in an airtight container for up to 2 days
Have you spotted the rest of the recipes in this Cocktail Inspired Truffle Series:
There are still 2 more recipes to come to complete this series. Sit tight…
Pin these Bramble Truffles

(Visited 38 times, 1 visits today)