These Manhattan Truffles are bold in flavour. They are downright boozy but also brilliantly well balanced and mellow, bringing out the best of whisky and chocolate together. Serve them with a Manhattan cocktail or alongside coffee for an after dinner nibble.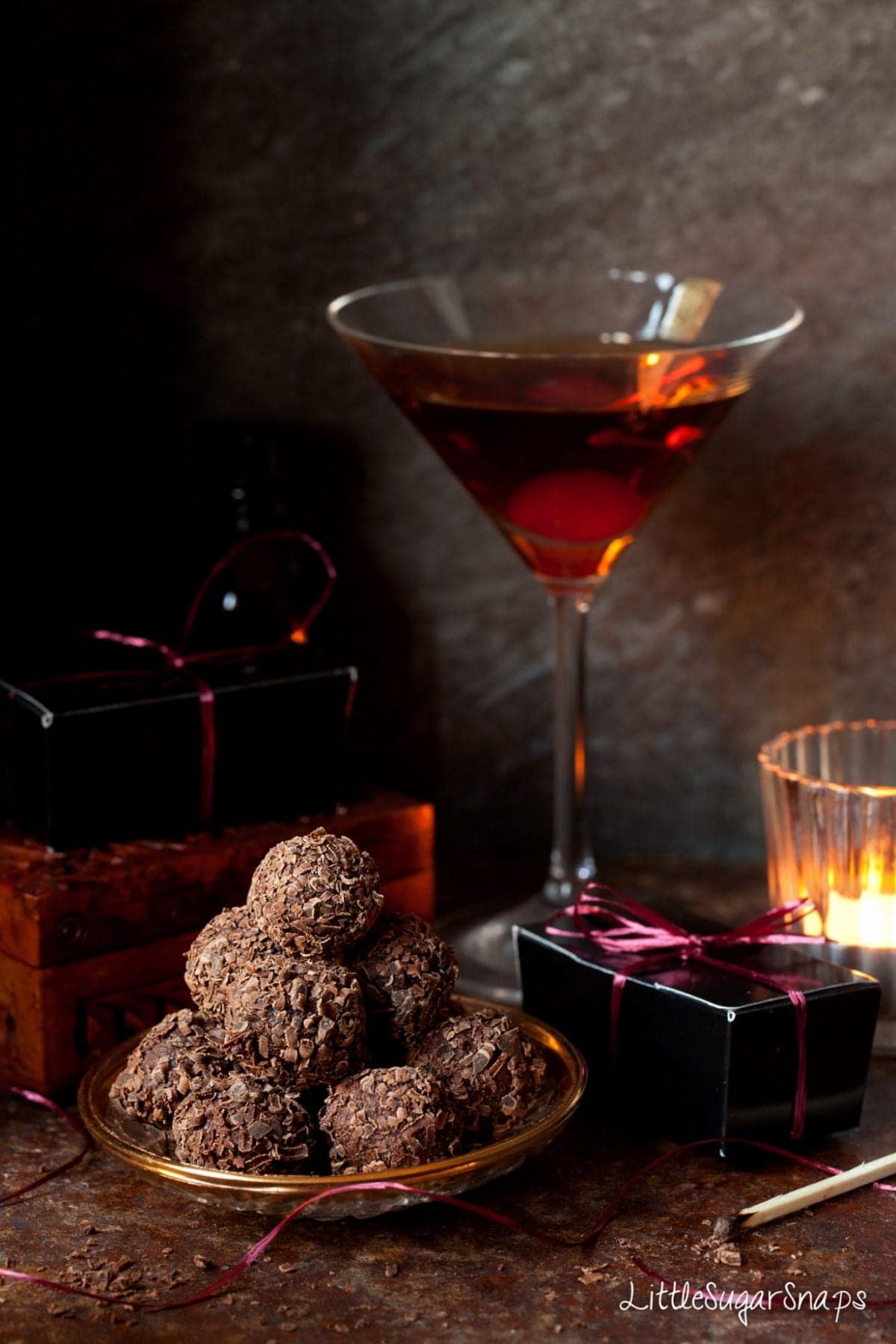 I'm coming at you with recipe number 4 in my mini series of chocolate truffles inspired by cocktails. Today it's the turn of Manhattan Truffles to take centre stage.
Unbelievably, the Manhattan cocktail is relatively new to me. I don't know why since I like strong cocktails I can take my time over. I think I was always a little scared of whisky – I blame my Dad (Hi Dad) who used to occasionally drink it with orange squash (cordial) when I was a child. But a while back my husband won a quality bottle of whisky so I decided to try it out. It was nothing like I imagined it would be. I was expecting harsh, bitter flavours, but what I got was mellow and smoky. Strong, yes, but warming and pleasant.
Friday night is usually cocktail night in our house. This tradition is getting increasingly interrupted these days since I'm often found acting as the resident taxi driver for minors or hosting sleepovers for those same minors on Friday nights. But on those free Friday nights, out come the board games and out pops the cocktail shaker. (Hooray). I've been slowly working my way through a number of whisky cocktail recipes recently, but the Manhattan really stands out.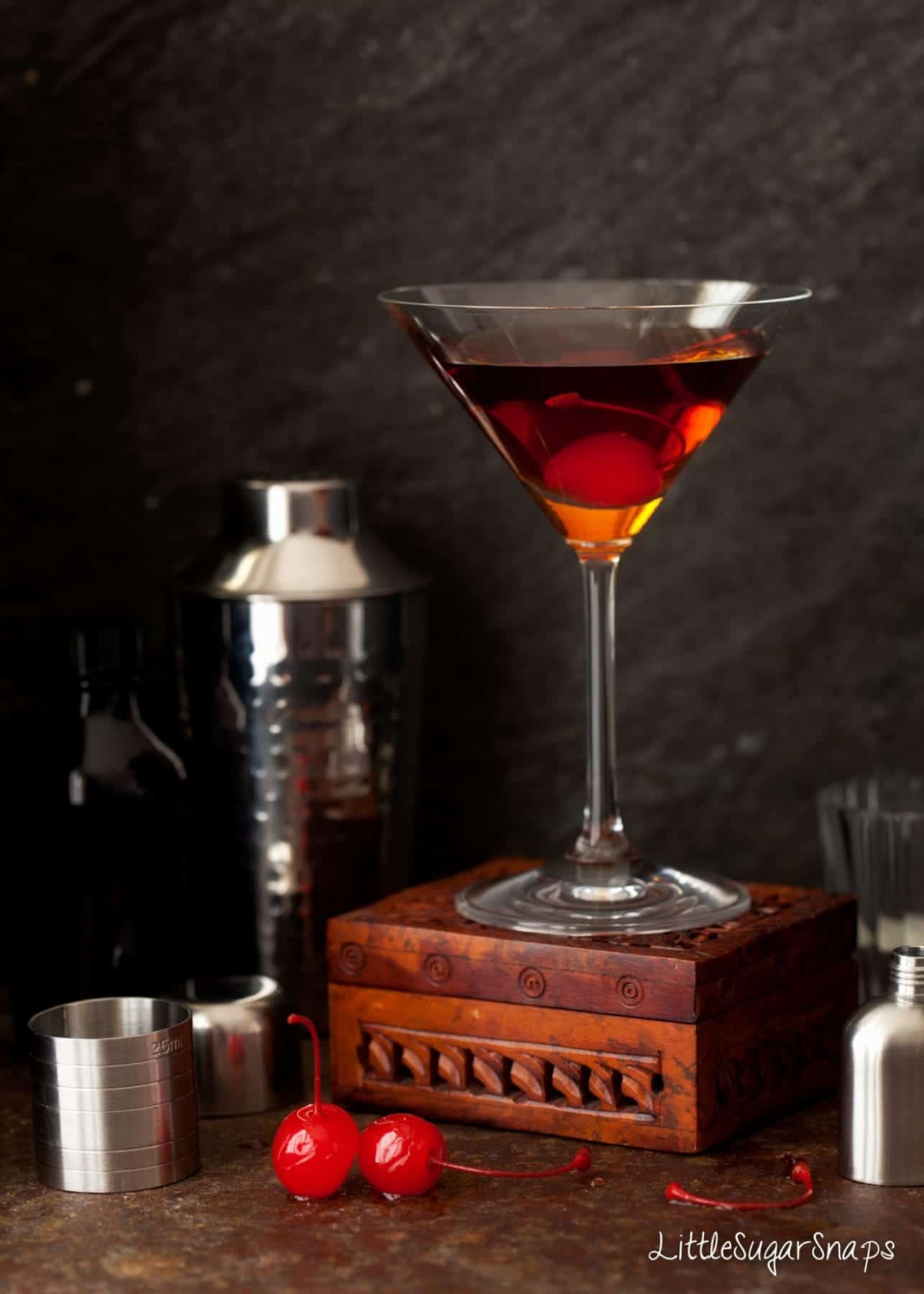 That mix of heady rye whisky with a touch of sweet vermouth and exotic bitters ticks all the boxes for me. Especially since I can legitimately get away with dropping a cherry into the glass. Me and my cherry obsession… you may call me childish if you wish and I will not be offended. Just don't confiscate my jar of cherries. Ever.
Thanks.
Okay.  Leaving aside those cherries, all in all, it's really little wonder that this drink made it onto my list of cocktails ripe for turning into chocolate truffles. So it's just as well that chocolate and whisky are best buddies too.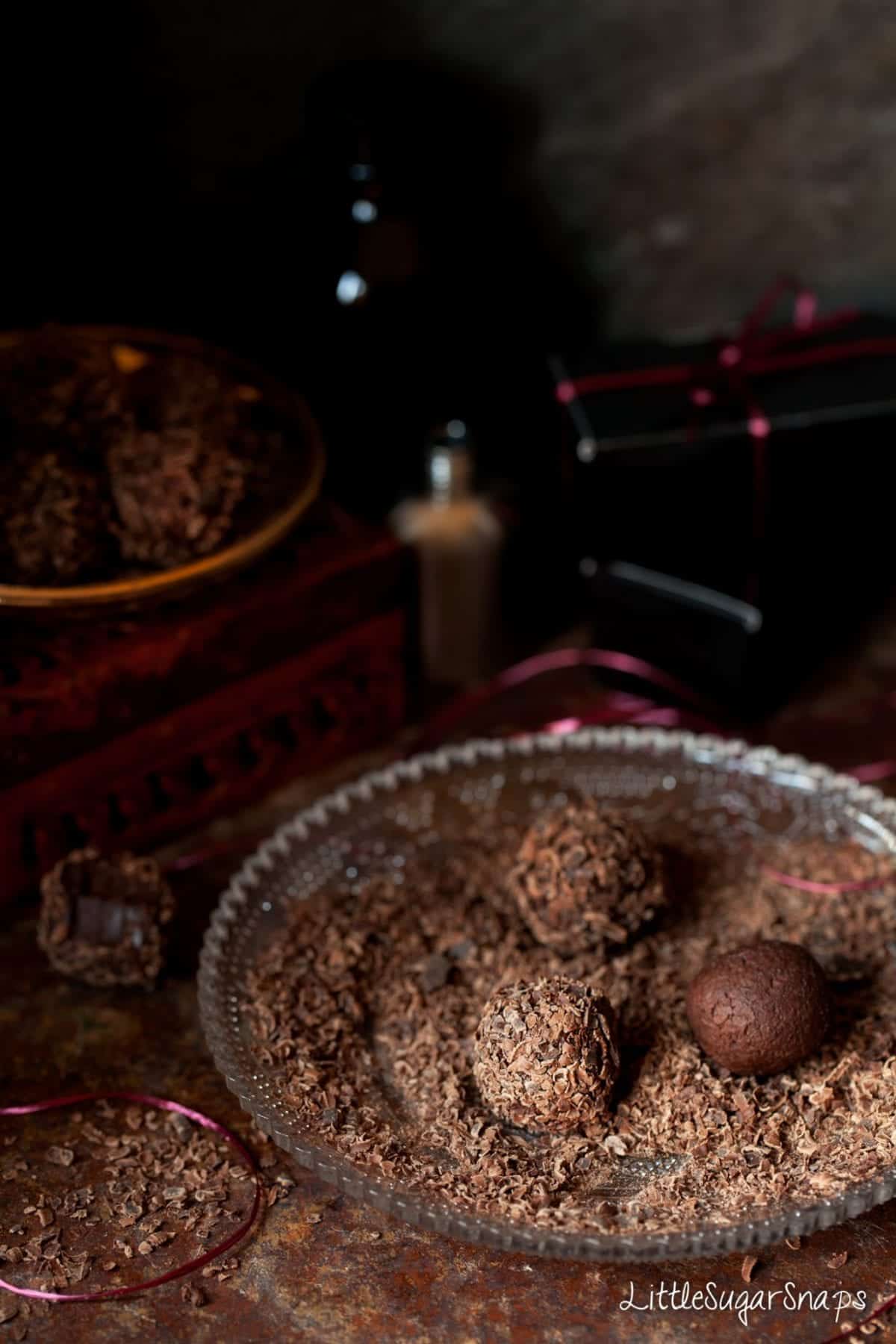 These Manhattan Truffles are like the cocktail – you will know you are consuming alcohol. They are bold. But. like the whisky itself, these truffles offer more than just a big boozy hit. They are full-bodied yet so very mellow. And the flavour blends effortlessly with the dark chocolate. They really would make a fantastic gift for the whisky lover in your life.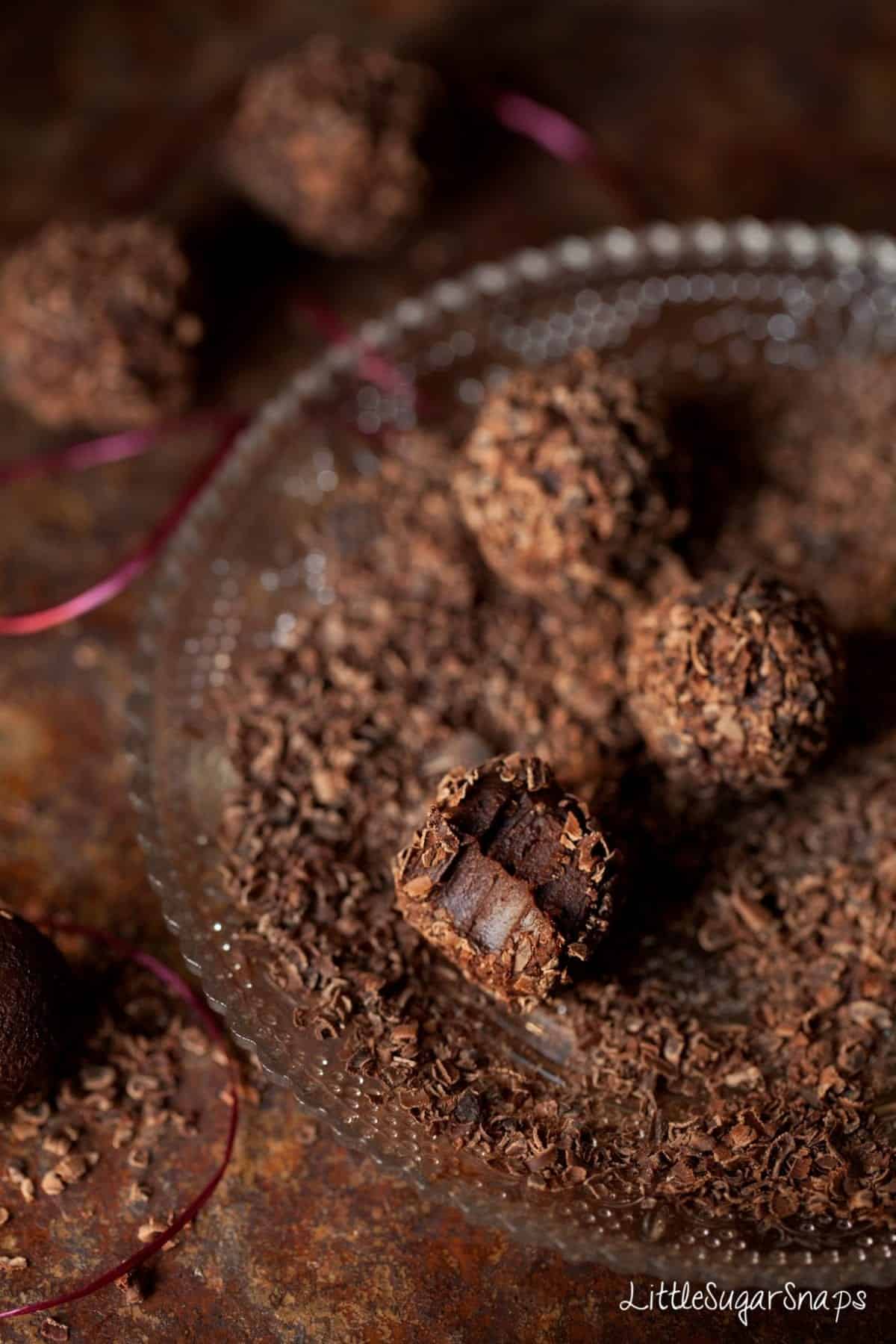 That's the Manhattan Truffle all wrapped up. But don't despair – I still have one more recipe lined up for you tomorrow. And in case you missed my earlier posts here are the rest of the recipes featuring in this mini series:
Manhattan Truffles
Ingredients
120

g/ 4 1/4 oz

Dark chocolate

7

tsp

Double (heavy) cream

20

g/ 4 1/4 tsp

Butter

4

dashes

Angostura bitters

4

tsp

rye whisky

1 1/2

tsp

Red vermouth (rosso)

1

tsp

Sugar cane syrup

or agave
45

g/ 1 1/2 oz

Grated dark chocolate
Instructions
Gently melt the chocolate over a Bain Marie. Once melted stir until completely smooth

Cut the butter into small chunks and stir in until fully melted and incorporated

Stir in the cream followed by the alcohols, bitters and syrup

Let cool, cover and transfer to the fridge to firm up for at least 4 hours

Sprinkle the grated chocolate into a small shallow bowl

Take teaspoonfuls (approx 10g each) of the ganache and roll into balls. Gently roll the truffles in the grated chocolate until fully coated. Wash & dry your hands after rolling a few truffles if your hands get too sticky to roll the remaining truffles well

Store in the fridge for up to 5 days. Bring the truffles out an hour before serving to bring them back to room temperature
Pin these Manhattan Truffles:

(Visited 147 times, 1 visits today)