This Gluten Free Cherry Almond Traybake has great texture mixed with wonderful flavours. Fresh, roasted cherries add a delightfully intense fruity burst of spirit to the cake that is hard to resist.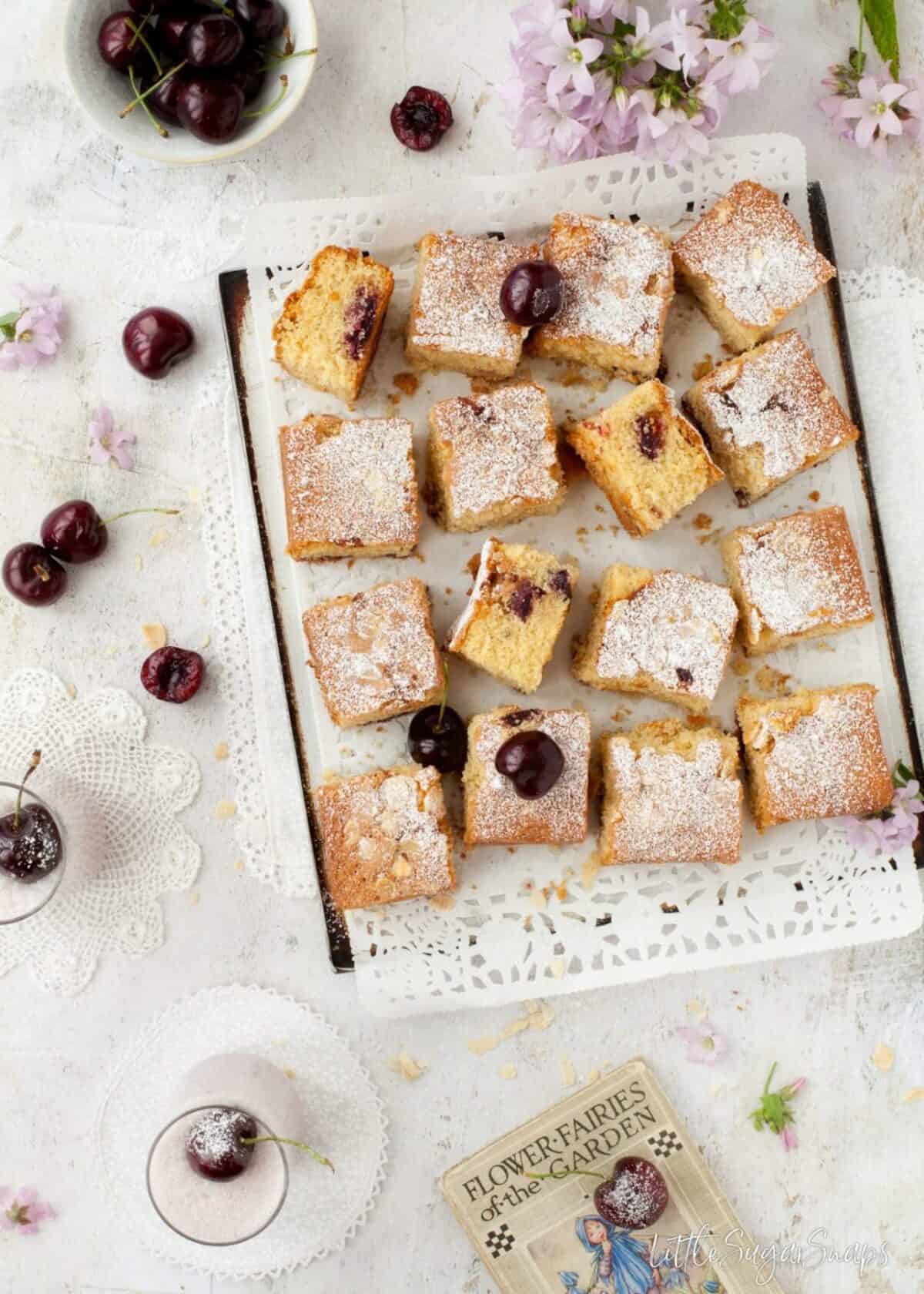 Every so often I hear of another friend, family member or acquaintance that has been advised to follow a gluten-free diet. It makes me sad, not just because it means that person has been unwell, but also because it means they will most likely miss out at some point. Although restaurants have rallied over the last decade, offering gluten-free, nut-free, vegan and vegetarian options, sooner or later the gluten-free amongst us will wind up at a party or event that doesn't cater for their dietary needs.
When a person close to my heart was diagnosed as gluten intolerant late last year, I decided that it was high time I learned a few new kitchen skills and attempted to develope a few trusty gluten-free and vegan bakes. I never want to be the hostess who has failed to provide for all of my guests. As it happens, I created a great winter gluten-free bake for my friend, but that recipe is parked until the weather cools significantly… stay tuned.
Today it's all about the cherries.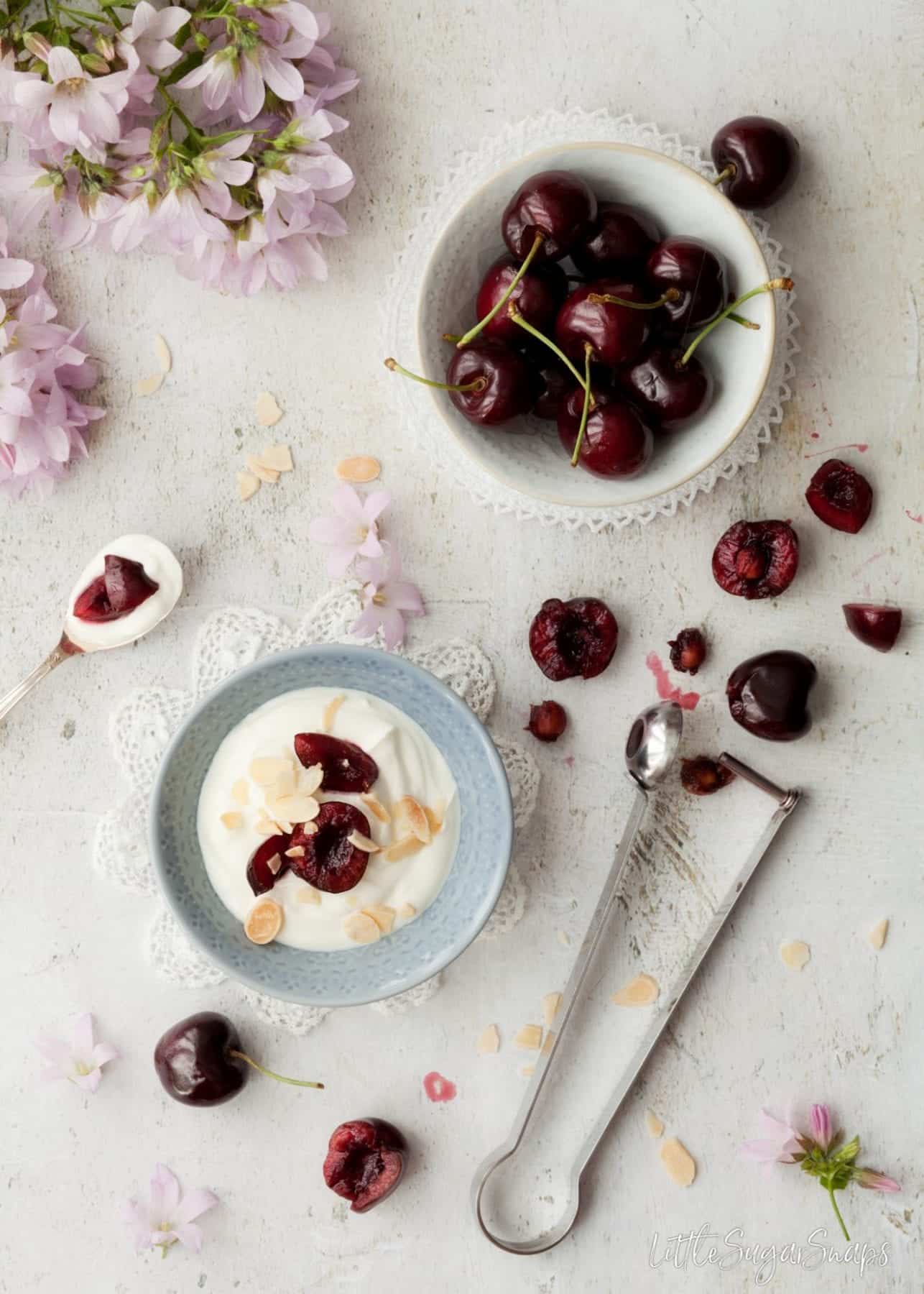 I could never let cherry season pass by without creating a treat with them and this Gluten Free Cherry Almond Traybake is it. But there's a twist. Of course, there's a twist. I've switched out the more typical glacé cherries for fresh sweet cherries that have been roasted to intensify their flavour. They add a burst of pure flavour to the cake that's a total delight. Believe me, this simple switch-in knocks a cake made with glace cherries out of the park. Don't get me wrong, this traybake is still lovely made with glacé cherries, but it's just on another level entirely when made with freshly roasted cherries instead.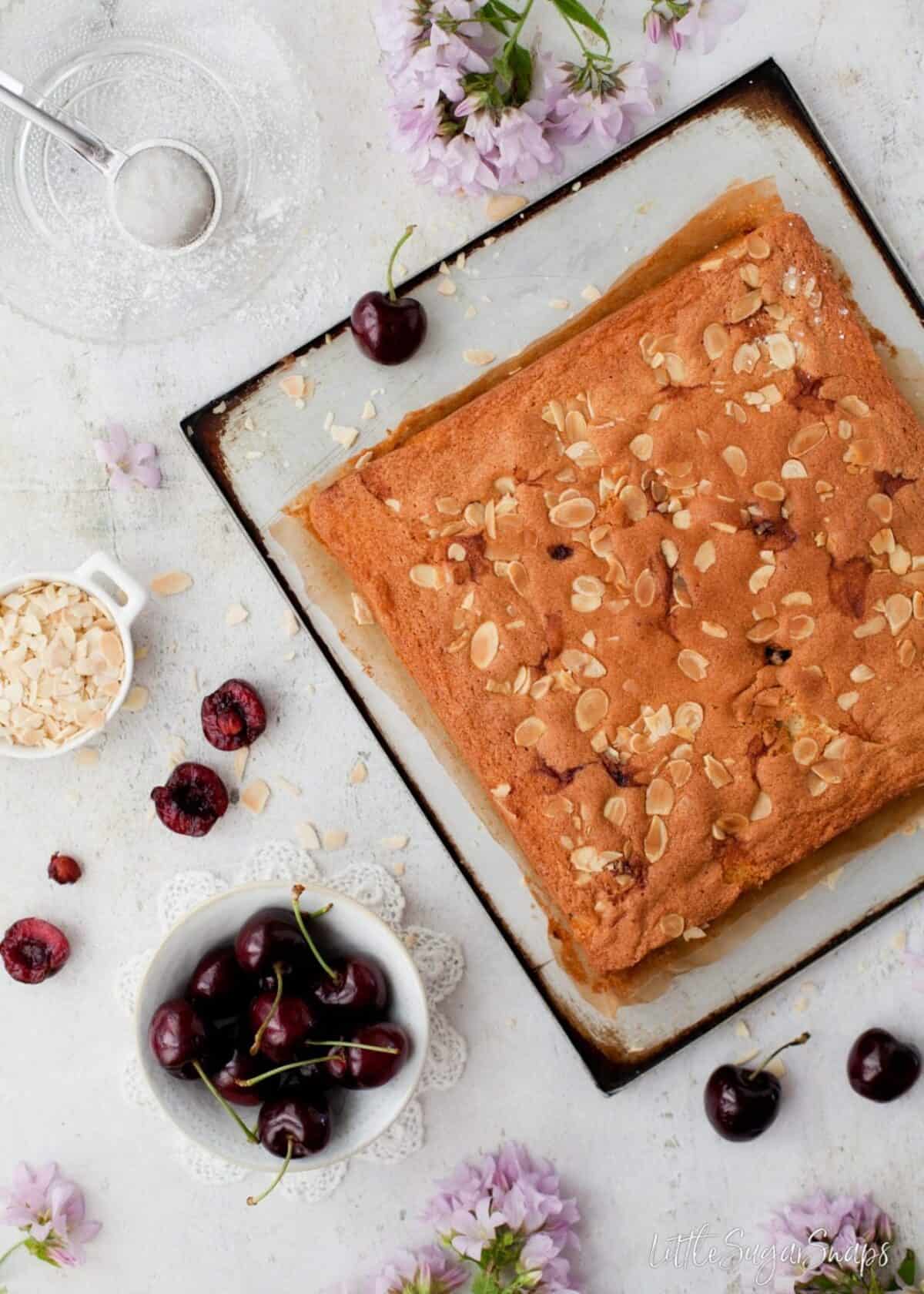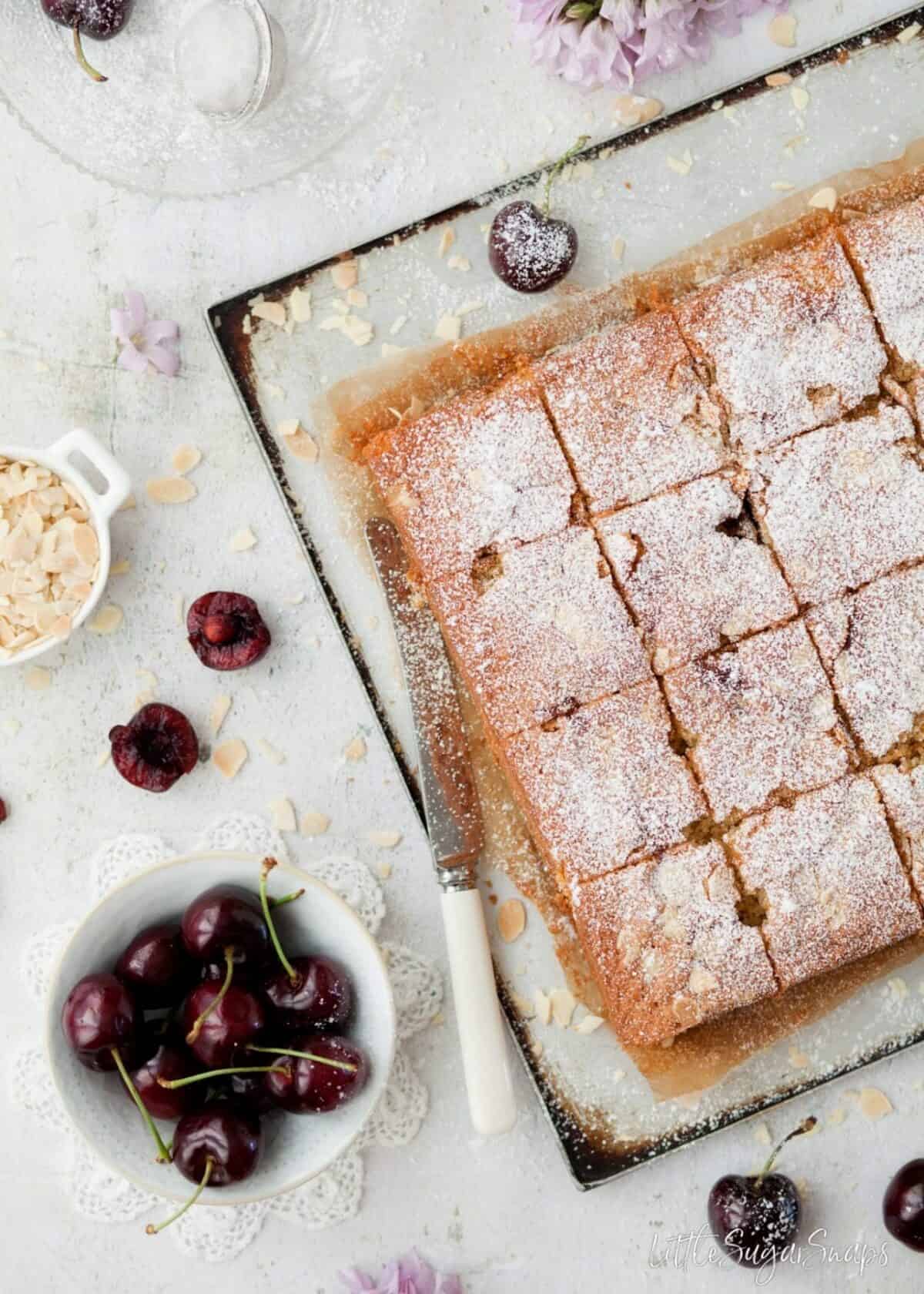 I've made this Gluten Free Cherry Almond Traybake at least 4 times in the last 3 weeks. I've tried this cake with both the roasted cherries and glacé cherries. I farmed chunks out to friends. You could say it's been well tested.
What this Gluten Free Cherry Almond Traybake delivers (apart from those glorious cherries) is a light, bouncy and moist cake. I've used equal parts gluten-free flour and ground almonds. The result is a great textured cake with a gentle almond flavour that is just perfect when paired with those (sigh…) roasted cherries. It's a wonderful cake to make whilst the season allows and for the rest of the year we can resort to those glacé cherries.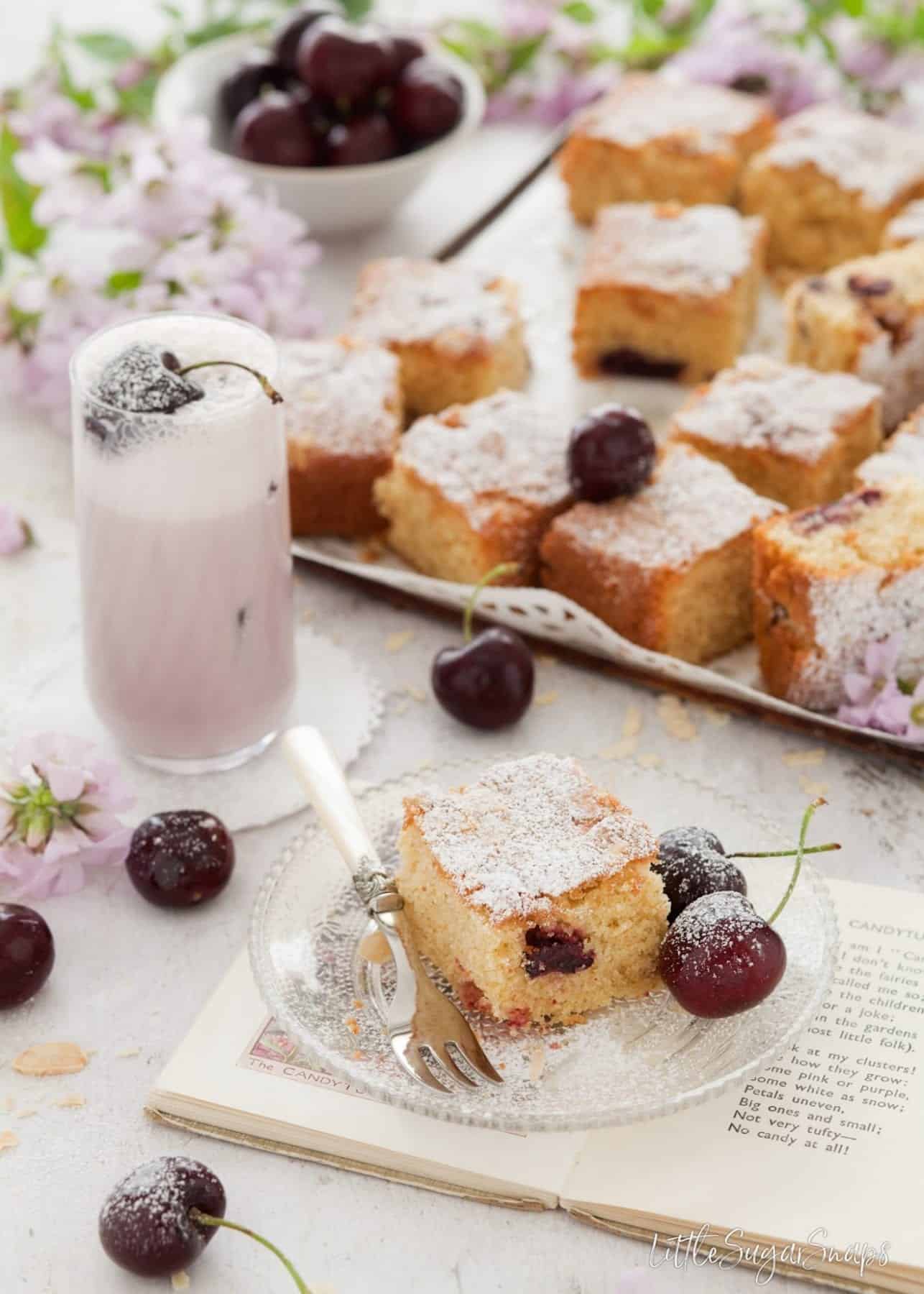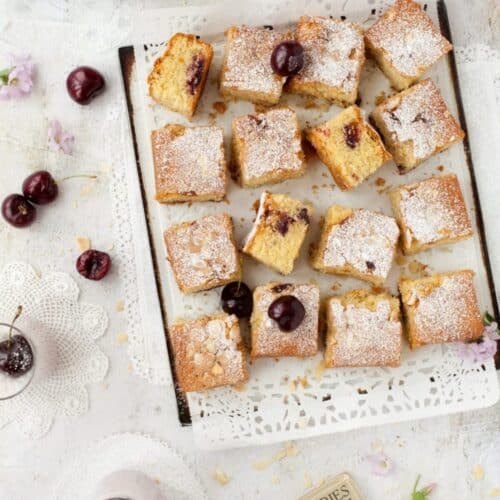 Gluten Free Cherry Almond Traybake with Roasted Cherries
Keyword:
cherry almond sheet cake, cherry almond traybake, gluten free cherry almond sheet cake, gluten free cherry almond traybake, gluten free cherry cake, gluten free sheet cake, gluten free traybake
Ingredients
For the Roasted Cherries
350

g/ 12 1/2oz

Fresh cherries (about 35)

1

tbsp

Caster sugar
For the Cake
180

g/ 3/4 cup

Butter - softened

100

g/ 1/2 cup

Golden caster sugar

80

g/ 1/3 cup

Light brown sugar

120

g/ 1 cup (4 1/4 oz)

Gluten free Plain flour (I used Dove's Farm)

120

g/ 1 cup (4 1/4oz)

Ground almonds

3/8

tsp

Xantham Gum (omit if your flour blend already contains xanthan gum)

1 1/2

tsp

Baking powder (Gluten free)

3

Large eggs (preferably free range)

3

tbsp

Whole (full fat) milk

3/4

tsp

Vanilla extract

30

g/ 1/3 cup

Flaked almonds
Instructions
For the Roasted Cherries
Preheat the oven to 150C/ 300F/ GM2 and line a baking tin with parchment

Pit the cherries, cut in half and drop into the baking tin

Sprinkle the sugar over the cherries and bake for 45 minutes. They will be slightly shrivelled and syrupy. Set aside to cool
Make the cake
Preheat the oven to 180C/ 350F/ GM4 and line a deep sided square (8" x 8") baking tin with parchment

Weight out the flour, ground almonds, xantham gum and baking powder into a bowl and mix

In a medium bowl cream the butter and sugars together using electric beaters

Crack the eggs into a jug, beat with a fork, then add to the creamed butter & sugar a little at a time, beating well between additions (this helps reduce the risk of the batter splitting)

Add the milk and vanilla extract and beat again

Tip the flour mix into the batter and beat gently and briefly, until just combined

Spoon 1/3 of the mix into the tin, level using the back of a metal spoon and top with 1/3 of the roasted cherries

Repeat with another 1/3 of batter and cherries, then top with the remaining batter and fruit. Scatter the almonds over the top of the cake and bake for 25-30 minutes, until a skewer poked into the centre of the cake comes out clean

Allow to cool completely in the tin, then carefully remove from the tin and loosen the parchment

Just before serving dredge with icing sugar and cut into squares

Keeps for 2 days in an airtight container. Store in a cool place (but not the fridge)
Pin this Gluten Free Cherry Almond Tray Bake: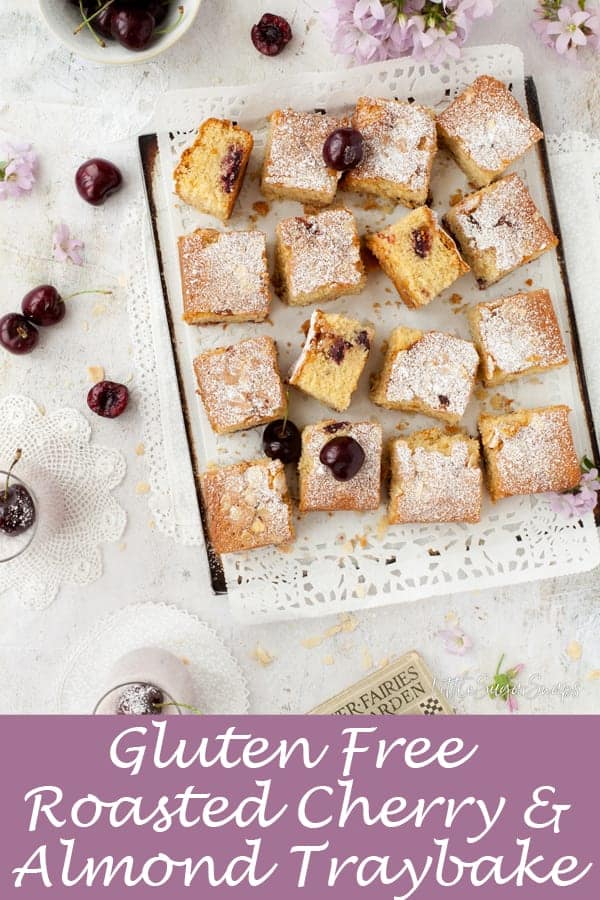 (Visited 266 times, 1 visits today)