These Carrot, Coconut & Spelt Cupcakes are a great twist on classic carrot cake. Topped with a just-sweet blend of Mascarpone & Cream they are cupcake perfection.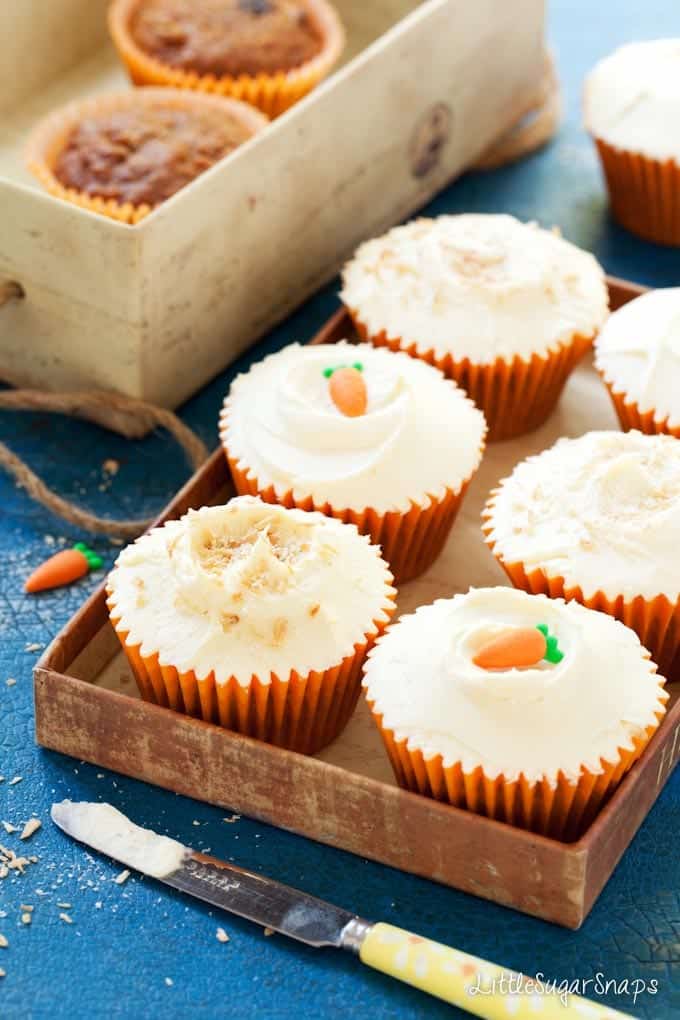 I'm back in baking mode this week and just in time to celebrate a brand new look for LittleSugarSnaps. These Carrot, Coconut & Spelt Cupcakes have been making me so very happy over the last week. Maybe it's the buttermilk. Maybe it's the indulgent topping of Mascarpone and double cream that I've slathered on. Or perhaps it's this big pile of wonderful ingredients all jumbled together: sweet carrot, juicy raisins, tropical, chewy coconut and comforting autumn spices.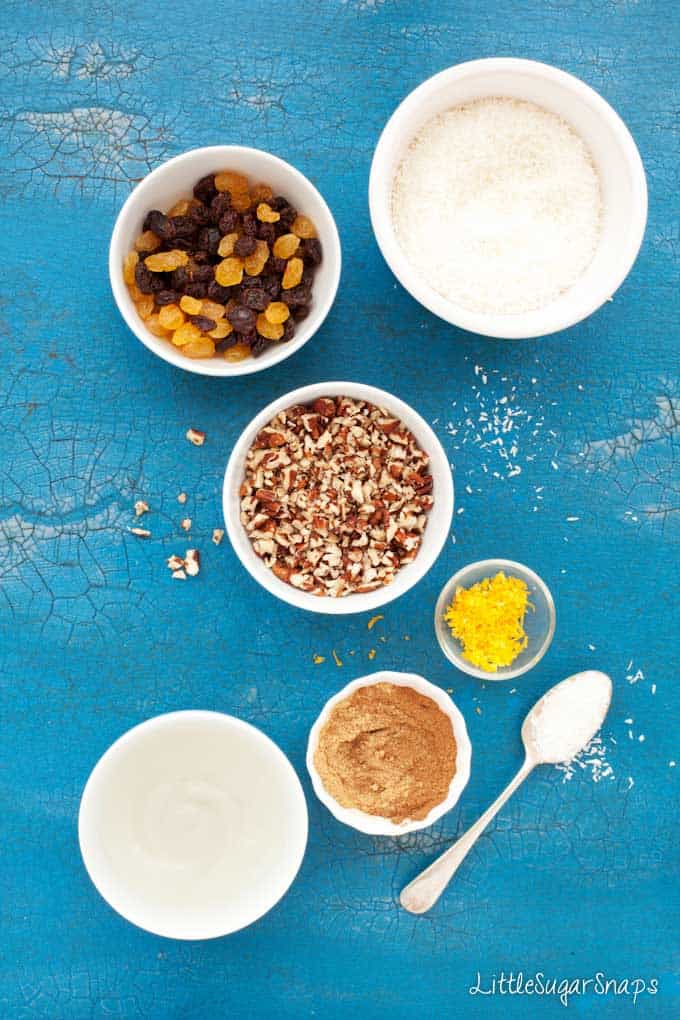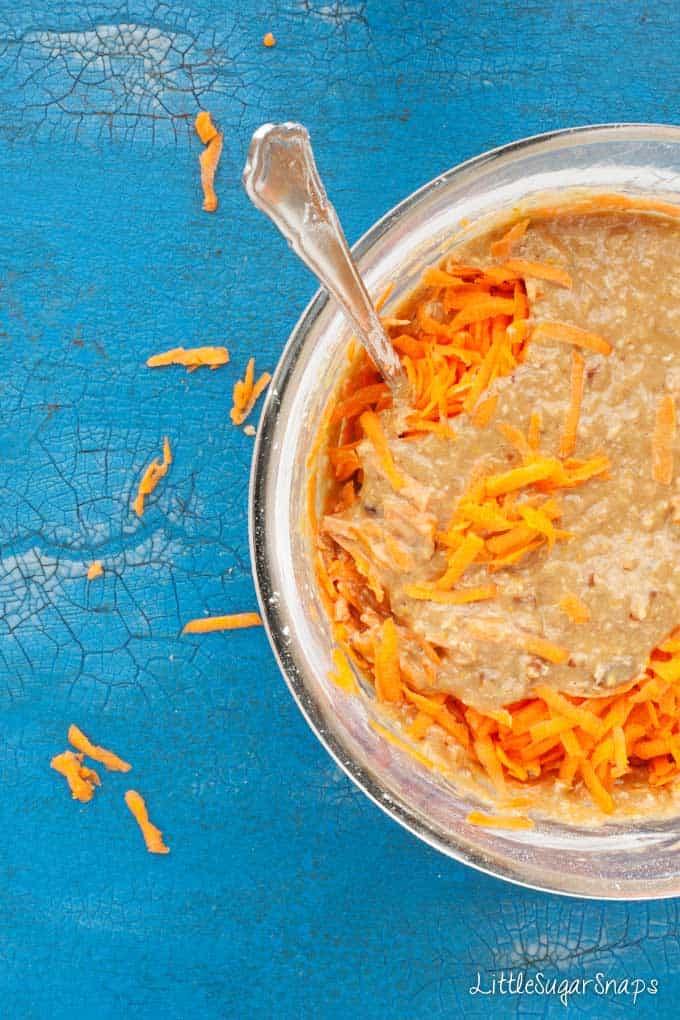 Did I also mention that they're made with spelt flour? Oh yes….
Though I've used spelt in bread and scones before, this is my first venture into cake baking with it. I have to say, I have not been disappointed.
I've now made these Carrot, Coconut & Spelt Cupcakes a number of times – sometimes using spelt and sometimes using plain flour. Both cake mixes behave in the same manner, producing well risen, light, fluffy cupcakes. They also look almost identical, with just a slight variation in colour depth. So the only question remaining is whether or not there is any difference in the way they taste.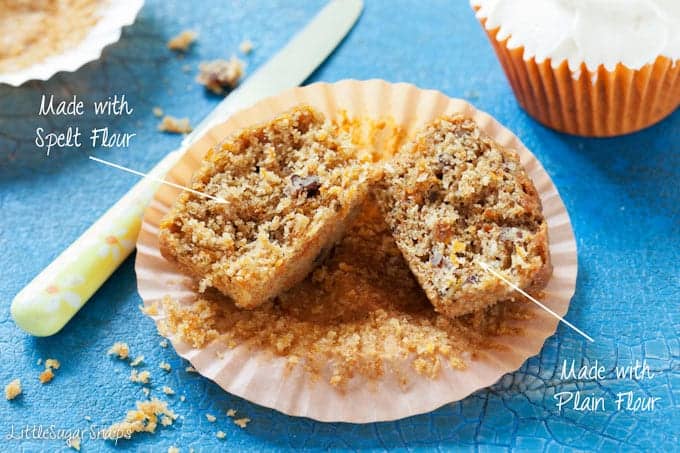 Now, I'll happily confess to being a big fan of spelt, but I did force myself to be unbiased when it came to the taste test.
Obviously the spelt version won. 😉

The medley of sweet, nutty undertones that the spelt flour imparts really does marry well with the classic flavours of the carrot cake. Though both versions tasted excellent, I honestly felt that the flavours in the spelt version were superior.
Take my advice: get yourself some spelt flour in.
I'll stop mithering on about spelt now and get back to the cupcake in hand. Just as long as you promise to get some spelt asap.
Over the last few years I've come to realise that everybody's idea of the perfect carrot cake is not the same thing. It's not uncommon for apples to play a part. For some people, nuts and seeds feature in abundance. Some think that raisins are essential, whilst others (my Mother included) cannot understand why anybody would ever put dried fruit into the mix. I, however, think that fat, juicy raisins make the carrot cake perfect, so I've included them in my recipe.
Perhaps more unusually, I've added a little coconut, as I wanted to develop a touch more texture and bite to the sponge. Besides, flavour-wise carrot and coconut mingle so naturally together it's a shame not to take advantage.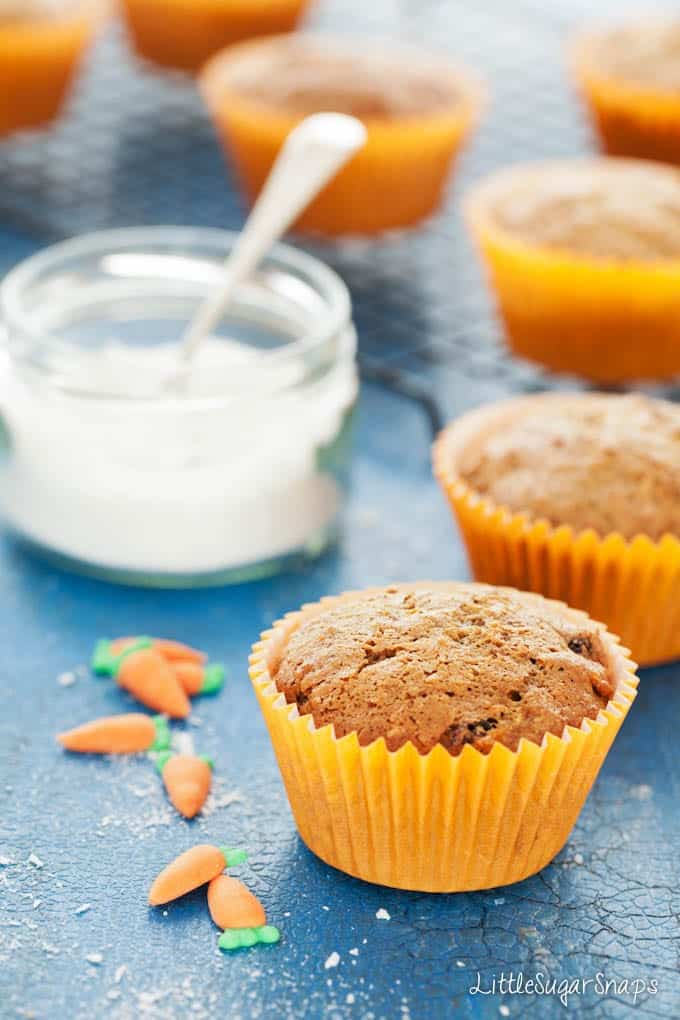 As far as the icing goes, all of my life I've loved the classic, ultra sweet, cream cheese variety. Then a few months ago I tasted an alternative that was only slightly sweet. I was both majorly surprised and majorly impressed. I'd never considered a less sweet alternative (um, why would I?). But it really was the icing on the plump, squidgy, rather large slice of carrot cake that I'd been given.
Needless to say, that's what I'm giving you here: a luscious blend of Mascarpone & cream with just a hint of sweetness. It's the perfect match to all of the flavours and textures going on in these Carrot, Coconut and Spelt Cupcakes.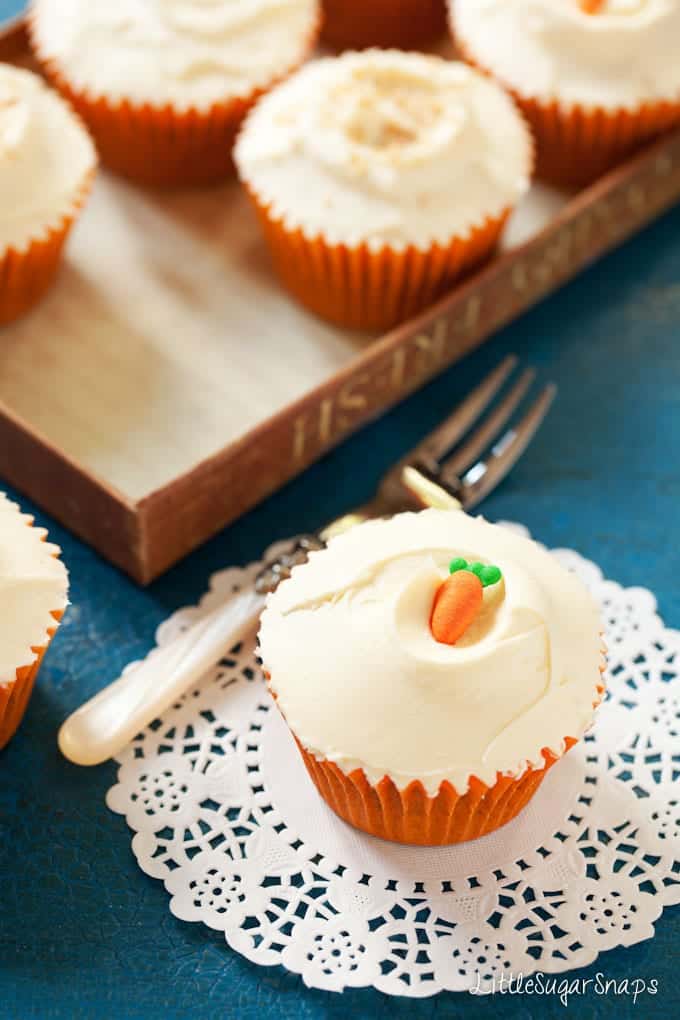 Before I leave you today, I must share with you this fun foodie quiz all about carrots. Give it a go when you're tucking into one of your freshly baked Carrot, Coconut & Spelt Cupcakes. Bet you can beat my carrot knowledge (66%). Now, what are you waiting for, go get that spelt flour and get baking.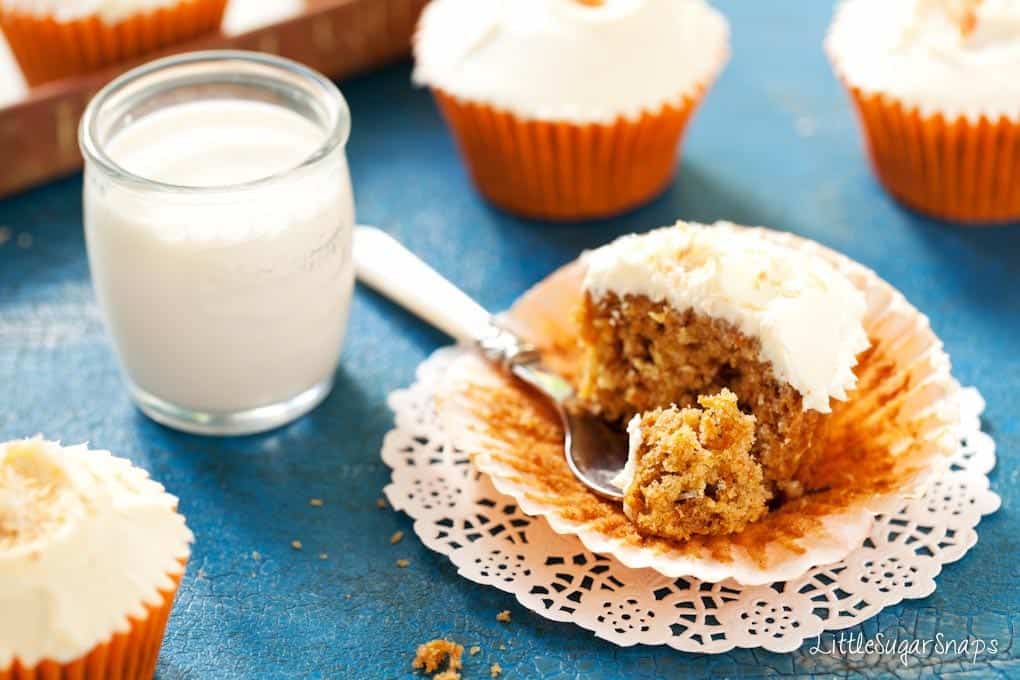 More Daringly Different Cupcakes to Try: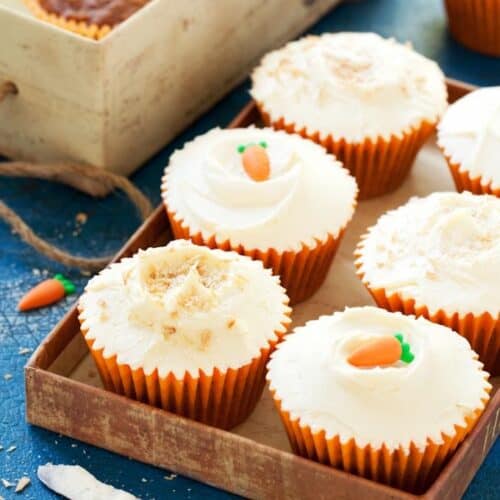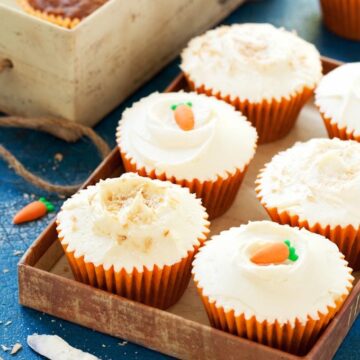 Carrot, Coconut & Spelt Cupcakes
These Carrot, Coconut & Spelt Cupcakes are a great twist on classic carrot cake. Topped with a just-sweet blend of Mascarpone & Cream they are cupcake perfection.
Print
Pin
Rate
Ingredients
For the cupcakes
125

ml/ 1/2cup + 1tsp

Sunflower oil

200

g/ 7oz

White spelt flour or plain (all purpose) flour

200

g/ 7oz

Light muscovado sugar

2

Large eggs

1

Orange – zest from it all and the juice from half

1

tsp

Ground cinnamon

1/2

tsp

Ground ginger

1/2

tsp

Ground nutmeg

1

tsp

Baking powder

3/4

tsp

Bicarbonate of soda

Pinch of salt

1/4

tsp

Vanilla extract

150

g/ 5oz

Carrots

(peeled and coarsely grated)

60

g/ 2 1/2 oz

Pecan nuts

(finely chopped)

60

g/ 2 1/2 oz

Raisins

(optional)

60

g/ 2 1/2 oz

Dessicated coconut

60

ml/ 4 tbsp

Buttermilk
For the frosting
250

g/ 9ox

Mascarpone cheese

75

g/ 3oz

Icing (confectionary) sugar

250

ml/ 1 cup

Double cream

Toasted coconut or novelty edible carrots
Instructions
Make the cupcakes
Preheat the oven to 170°C/ 325°F/ GM 3 and line the cupcake baking tins with 16 paper cupcake cases in the cavities

Begin by sieving the flour, spices, baking powder, bicarbonate of soda and salt into a medium bowl

Next mix the vanilla extract and orange juice into the buttermilk

Now you're ready to start mixing. Using electric beaters on a medium speed, combine the sugar with the oil until it is well combined and has lightened in colour (this should take 2-3 minutes)

Break in an egg and mix well. Then add the second egg and mix again

With a metal spoon, stir in half of the flour mix, then stir in the buttermilk mixture. Add the remaining flour mix and stir again until thoroughly combined

Add the orange zest, grated carrots, nuts, raisins and coconut and gentle fold through until evenly distributed

Share the batter between the paper cases, filling each one around 2/3 full. Bake for 20-25 minutes until risen and golden. They are ready when the sponge bounces back when lightly pressed

Remove from the baking tin and allow to cool completely on a wire rack
Decorating
Once the cupcakes are cool make the frosting: using the lowest setting on your electric beaters, mix the icing sugar with the mascarpone, until just combined. Pour in the cream and beat, on low-medium, until thoroughly incorporated and the frosting has thickened to a spreadable consistency

Spread around 1 tablespoon of frosting onto each cupcake and top with either toasted coconut or a novelty edible carrot for that retro carrot cake look
Notes
Do remember that once these cupcakes have been topped with the frosting they will need to be stored in the fridge. Just bring out 30-45 minutes before serving to allow them to come to room temperature. Alternatively, the frosting can be kept chilled and the actual cakes stored separately until you are ready to decorate and serve them.
(Visited 206 times, 1 visits today)