These saffron infused Orange Thyme Macarons are crisp on the outside, soft and chewy on the inside and they come laden with a generous scoop of a rich, buttery filling in between the shells. They make a gorgeous & dainty edible gift.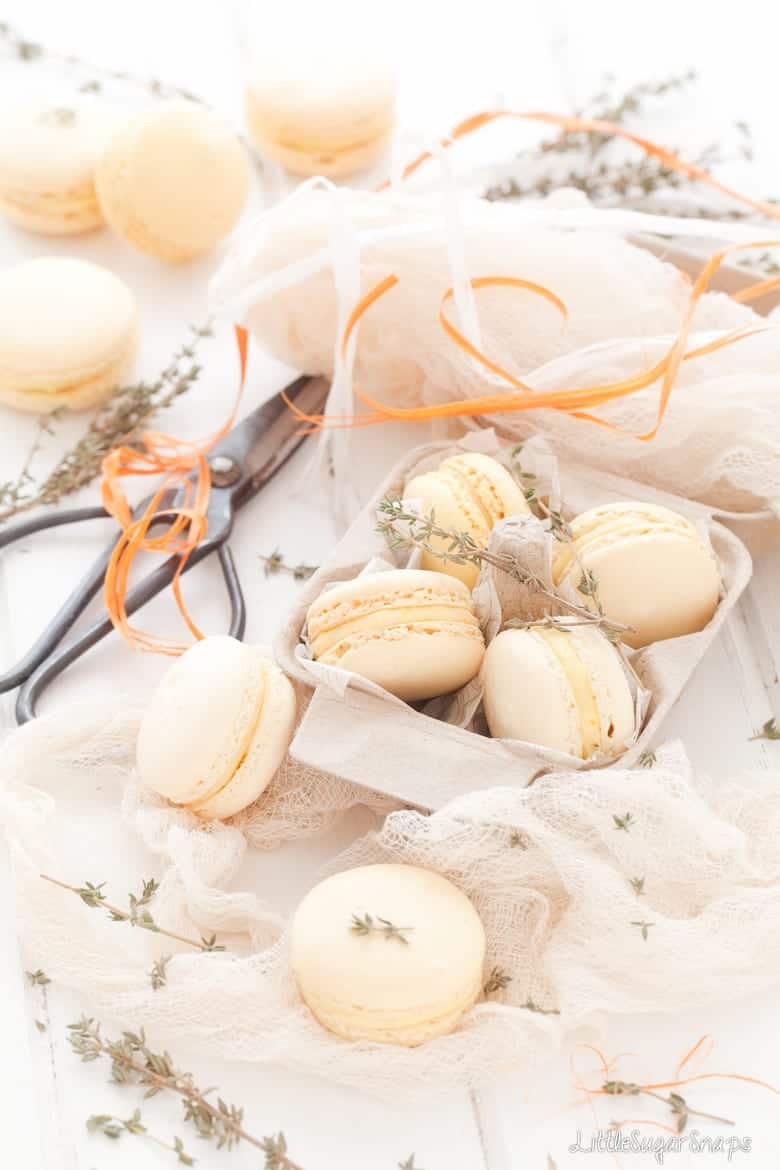 Sometimes I just get the urge to bake and nothing is going to stop me. I love such days and last Sunday was one of them. I was tired from a late Saturday night, didn't fancy doing anything I should be doing (like ironing) and so I decided to head into the kitchen instead. These Orange Thyme Macarons are the result of my ironing diversion tactic and they are the perfect recipe for me to kick off my 2018 baking because macarons have always been a challenge for me.
Let me explain. Towards the back end of last year, I came to the conclusion that my baking recipes had got stuck in a rut. I have a soft spot for cupcakes and layer cakes and perhaps that was beginning to show here on LittleSugarSnaps. Madeleines, macarons, pies, tarts, creamy desserts, cheesecakes… I see you all trying to grab my attention. So I decided that the coming year would be all about expanding the recipes I'm offering up and making LittleSugarSnaps baking more inclusive to specialist diets such as gluten free and vegan.
I'm quite excited by this notion. For one thing, it means I've challenged myself to get more creative in the kitchen and perfect some of the recipes that have presented obstacles to me in the past. And that brings me neatly back around to the star of today, these Orange Thyme Macarons….