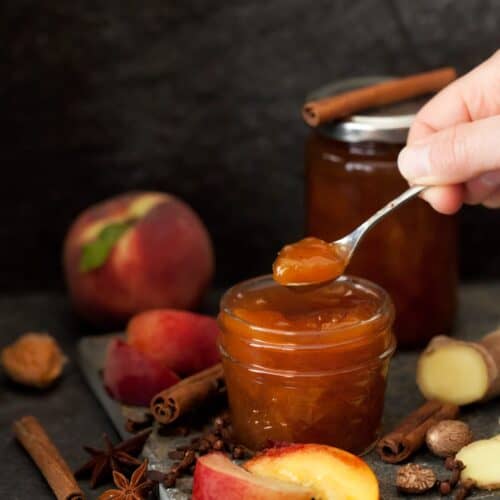 Print Recipe
Spiced Peach Jam
Full of summer colour and flavour with a kick of sweet spice, this Spiced Peach Jam tastes good all year round. Make a batch up and enjoy it through all of the seasons.
Remove the peaches from their stone and dice the flesh (size of chunks is up to you)

Put water, lemon juice, peaches and sugar into a medium, heavy based pan

Snap the cinnamon stick in half and add to the pan

Slit the vanilla pod open and scape the seeds into the pan. Toss in the pod too

Add the remaining ingredients (star anise, cloves, ginger & nutmeg) to the pan

Simmer gently, stirring frequently, for 30 minutes then bring to a rapid boil to reach the setting point (see below)

Take off the heat and remove the whole spices and the vanilla pod

Let cool for 10 minutes before pouring into sterilised jars. Cover with a wax disc and seal

Store for at least 4 weeks (and up to 1 year) before opening to allow the flavours to develop

Once open store in the fridge and bring to room temperature before serving - eat within 2 weeks
The setting point for jam is 105c (220F) - use a sugar thermometer or a Thermapen to check the temperature. You can also check for the setting point using the "wrinkle" test. Before you start making the jam put a couple of small heatproof plates in the freezer. Once your jam has boiled for several minutes, take the pan off the heat and spoon a blob of jam onto one of the cold plates. Let it stand for a minute then push the jam with your finger. If the surface wrinkles then it has set. If it is still quite liquid then put the pan back on the heat and boil the jam for another 3 to 5 minutes before testing again.