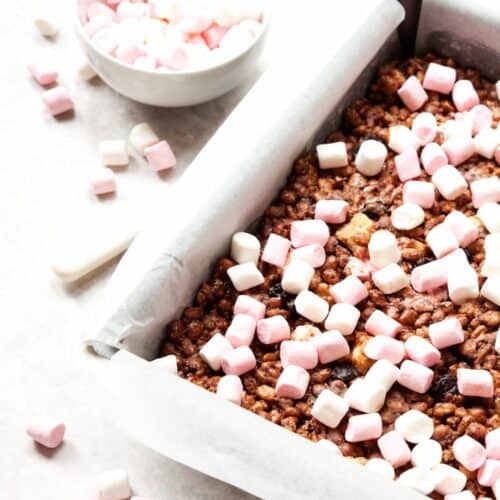 Loaded with goodies such as nuts, shortbread, coconut & cherries these easy No-Bake Rocky Road Rice Krispie Treats are a chocolate lover's dream come true.
Keyword:
chocolate krispie treats, chocolate krispies, krispie treat, rocky road
Preparation - see notes
Grease and line a deep 20cm x 20cm tin with baking parchment

Sieve the cocoa into a small bowl

Roughly chop the nuts and put into a separate small bowl along with the coconut

Chop the cherries in half and put into another bowl along with the chocolate chips and the Rice Krispies

Split the mini marshmallows into 2 bowls - one containing 25g, the other containing 50g
Begin to bake
Start by putting the butter and large marshmallows into a large, heavy based saucepan, put onto a moderate heat and alow everything to melt, stirring frequently to prevent burning

Once the marshmallows have melted and are thoroughly combined with the butter tip in the sieved cocoa and stir with a wooden spoon, until mixed in (if any lumps remain give a quick beat with a mini hand whisk)

Working quickly as the mix will begin to set, tip in the nuts and coconut. Stir briefly

Add the Rice Krispies, cherries and chocolate chips. Stir until well mixed

Add the 25g bowl of mini marshmallows and stir through

Tip the mix into the baking tin and press it firmly down, so that it spreads into all of the corners and you get a compact, level surface. (I find I can spread the mixture well if I use the cellophane wrapper from the marshmallows)

Once level scatter the reaming 50g mini marshmallows onto the top and press them down with your hands to help them stick

Set aside for 30-45 minutes until completely cold then cut into 16 squares

Store in an airtight container for up to 5 days
The mixture does set quickly. I weigh out all of my ingredients before I start to cook so I can add them quickly to the rice krispie mixture and transfer to the pan while it is still soft enough to spread out.