This easy lemon bundt cake is brimming with poppy seeds, thyme, flavour and texture. The delicate lemon sponge is topped with classic crunchy lemon drizzle as well as a zesty lemon icing.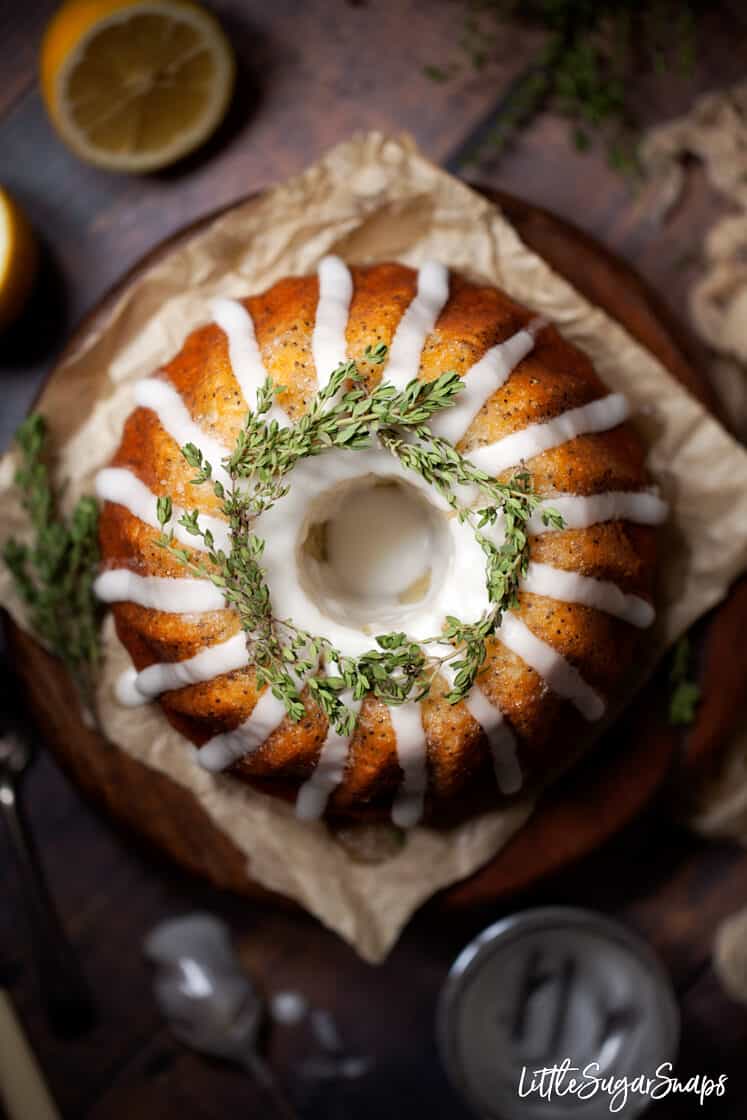 This post contains affiliate links. As an Amazon Associate, I earn from qualifying purchases.
As the calendar rolls into October, I'm finding myself in the mood for cake frequently. There's something about a home-bake that really brightens up a dull day and it's just what I crave as the memories of summer fade and darker days set in.
Since I've been keen to put another bundt cake recipe out for a while, I've been testing out various versions of this lemon bundt cake on my family over the last few weeks. Now I've got the recipe perfected, it's time to share it.
This lemon drizzle bundt cake has a well-structured, moist crumb that holds its form well when sliced. The sponge contains a subtle buzz of lemon and comes speckled with poppy seeds and thyme (optional). Topping off this trio of flavours is a zesty classic lemon drizzle and a sweet & fresh-tasting lemon icing. All in all, this lemon bundt cake is tangy and sweet, without being over the top. It's also really rather stunning to look at.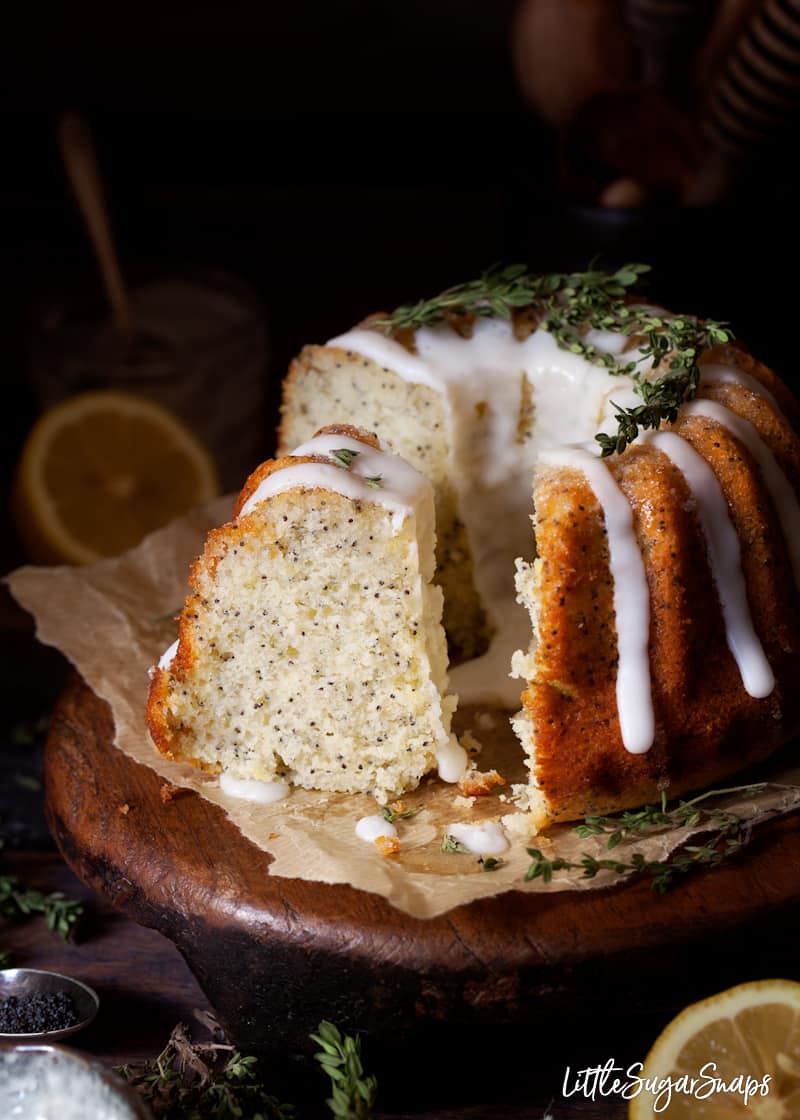 What is Lemon Drizzle Cake?
Lemon drizzle cake is a real classic. It is essentially a lemon sponge cake topped with a crunchy lemon drizzle icing made from granulated sugar and lemon juice. The traditional lemon drizzle does not include the white lemon icing.
Lemon drizzle cakes are often baked in loaf tins, but bundt tins are a fine choice for anybody wishing to conjure up an easy yet impressive alternative look for this simple to make bake.
This lemon drizzle bundt cake can be made as a regular drizzle – the thyme can be left out and it is tasty even without the lemon icing.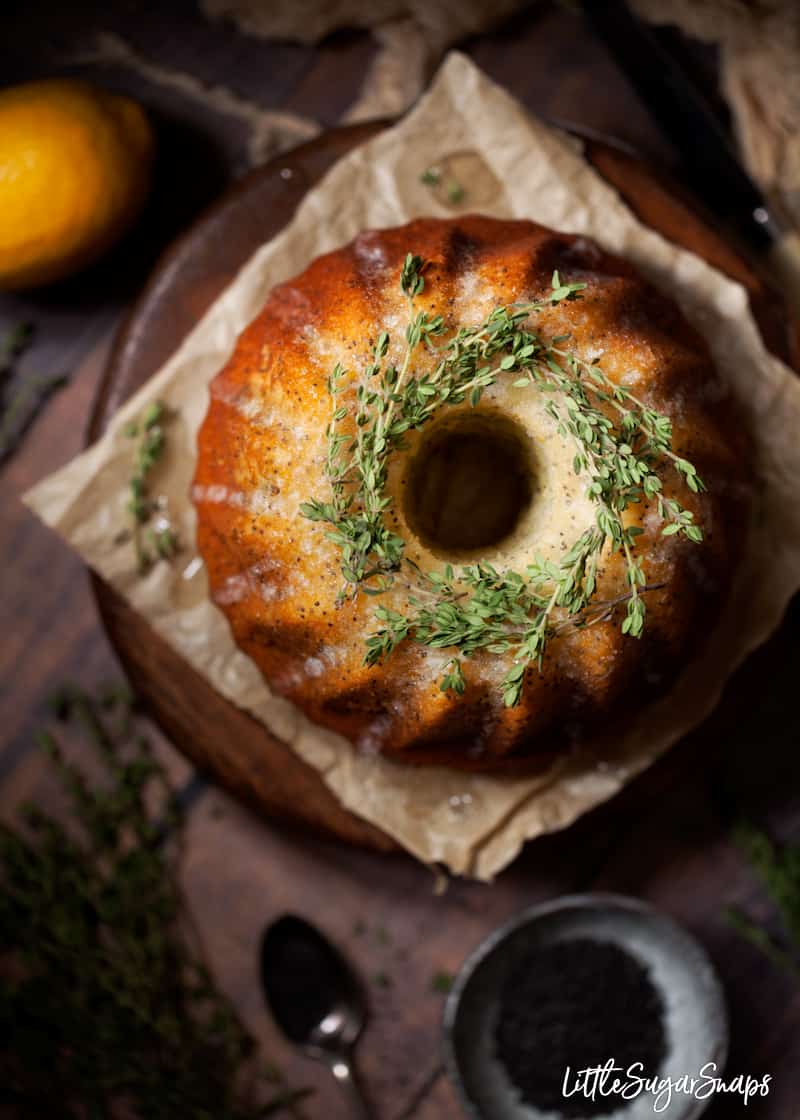 Step-by-Step Instructions
It is a straightforward process to make this lemon drizzle bundt cake. No fancy equipment (apart from the tin) or skill is needed. Just follow these steps:
Begin by preparing the bundt tin. I use a

cake release spray

to grease my bundt tin as it can easily coat every nook and cranny the average bundt tin can throw my way
Next, rub the lemon zest into the caster sugar to help release essential oils which will intensify the citrussy aroma of this cake
Cream the butter and sugar together, then add the eggs, one at a time, beating well between each addition
Next add greek yoghurt, followed by lemon juice and the poppy seeds and thyme (if using). Mix briefly
Sift the flour with the baking soda, blend into the cake batter and then spoon into the bundt tin and bake
Once out of the oven unmold the cake from the tin (see tips below) and prick with a cocktail pick
Mix the granulated sugar and lemon juice and spoon over the cake whilst it is still hot
Leave to cool and then spoon or pipe the lemon icing over the cake
Garnish with fresh thyme and/ or lemon zest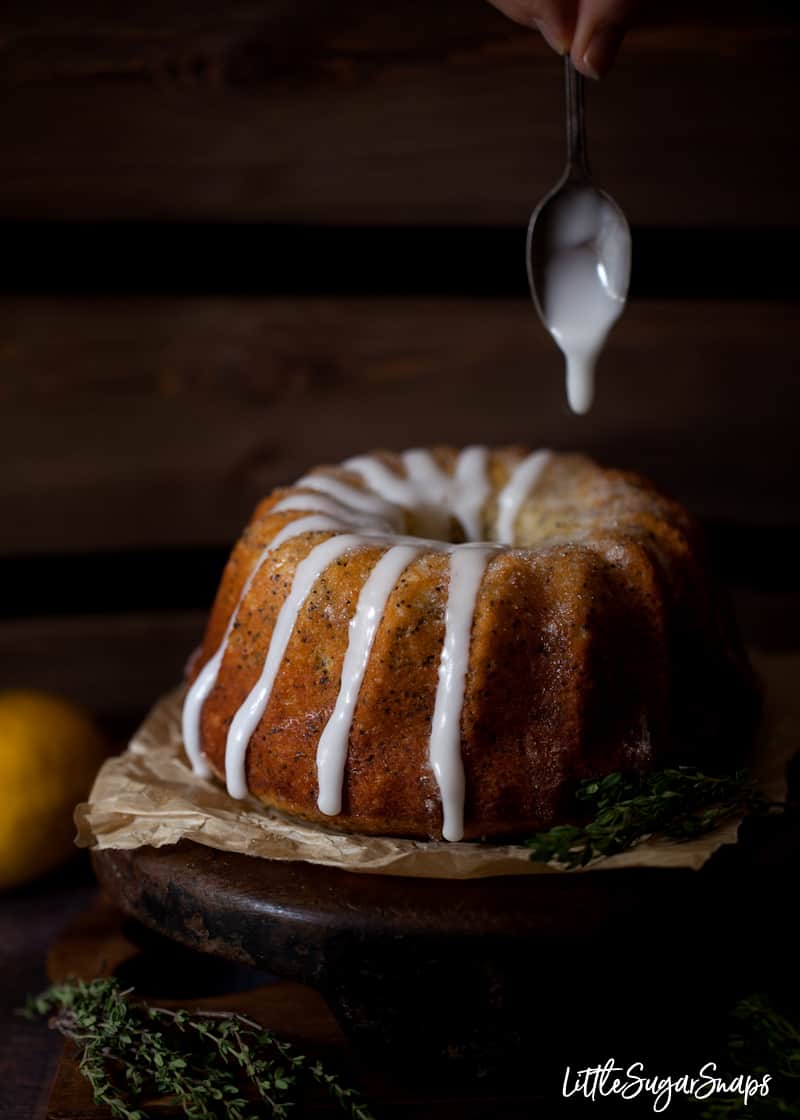 Why Use Yoghurt in Baking?
Remember I said that this lemon bundt cake has a wonderful crumb structure? Well, the reason for this is that I've included a generous amount of Greek yoghurt in the cake batter. In fact, I've replaced around half of the butter I would typically use in a regular cake batter with yoghurt. Why? Well, there are quite a few reasons:
Greek yoghurt imparts a delightfully tangy flavour to baked goods. It's often one of the ingredients listed in any cake labelled old fashioned and in the case of this lemon poppy seed cake that tanginess is an ideal partner for the citrussy flavour
As far as cake baking goes, yoghurt helps produce a light and fluffy texture whilst also delivering an irresistibly moist crumb. What's not to like about that?
The natural acidity of yoghurt helps activate baking soda, leading to a light and bouncy sponge
Yoghurt contains less fat than butter. Though I struggle to class any cake as healthy, this yoghurt-for-butter substitution does make a cake slightly less unhealthy than it would ordinarily be. And that's without compromising on taste or texture – quite the opposite, in fact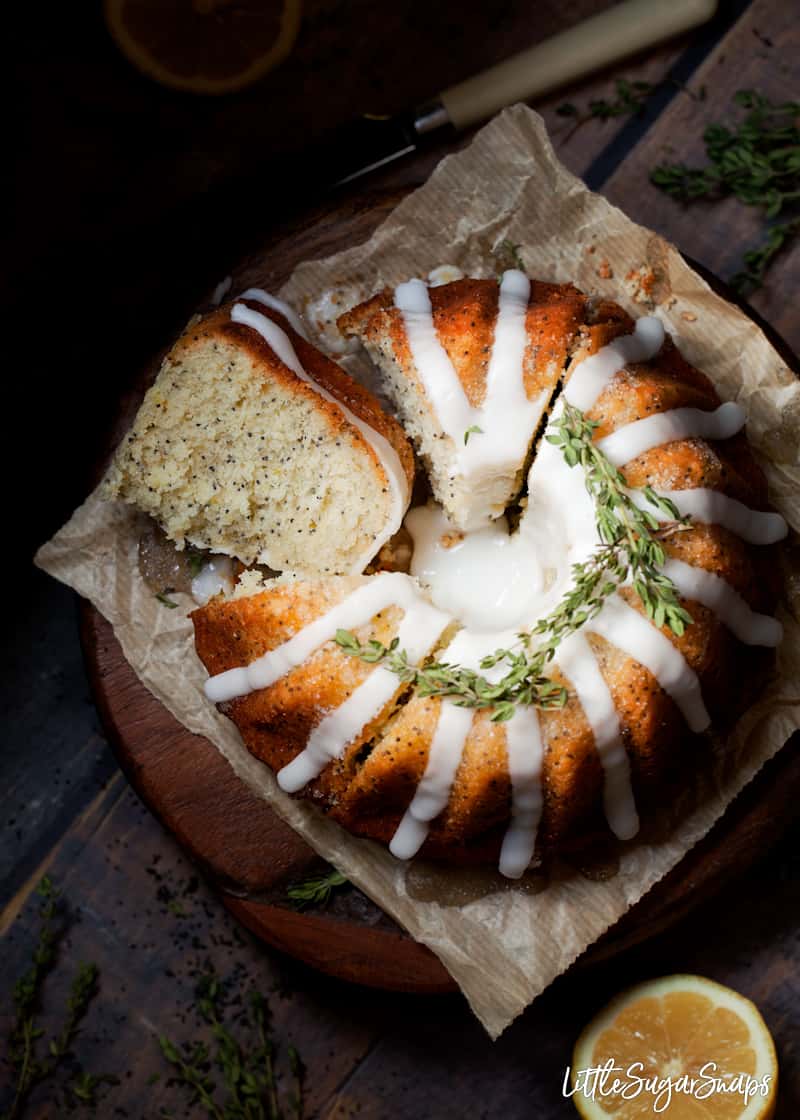 How to remove cakes from a bundt tin
Have you ever baked the perfect bundt cake only to have it fall apart when you try to unmold it from the tin? Me too. Even during the baking of this lemon bundt cake I struggled to get it out of my beautiful bundt tin. They are tricky beasts. But fear not, I have a few tips on how remove cakes from a bundt tin:
Prepare your tin by greasing it thoroughly. I use a cake release spray to ensure that every inner surface, nook and cranny of the bundt tin is well greased
Once cooked, let the cake rest for 10 minutes out of the oven
Next, invert the cake tin over a cooling rack and leave for another 5 minutes
After 5 minutes try to lift the tin – if you are lucky, it will just fall out
If not, hold the side of the tin and the cooling rack and give the tin a few shakes from side to side to help ease it out
Still no joy? Don't' despair – try tapping the tin firmly. To do this I put on my oven gloves and give a few thumps to the tin at every angle
If the cake still refuses to budge put it back into the cooling oven for 2 minutes. The residual oven heat will often help the cake to re-soften and fall away from the sides of the pan
Repeat steps 5-7 as necessary until the cake comes away from the tin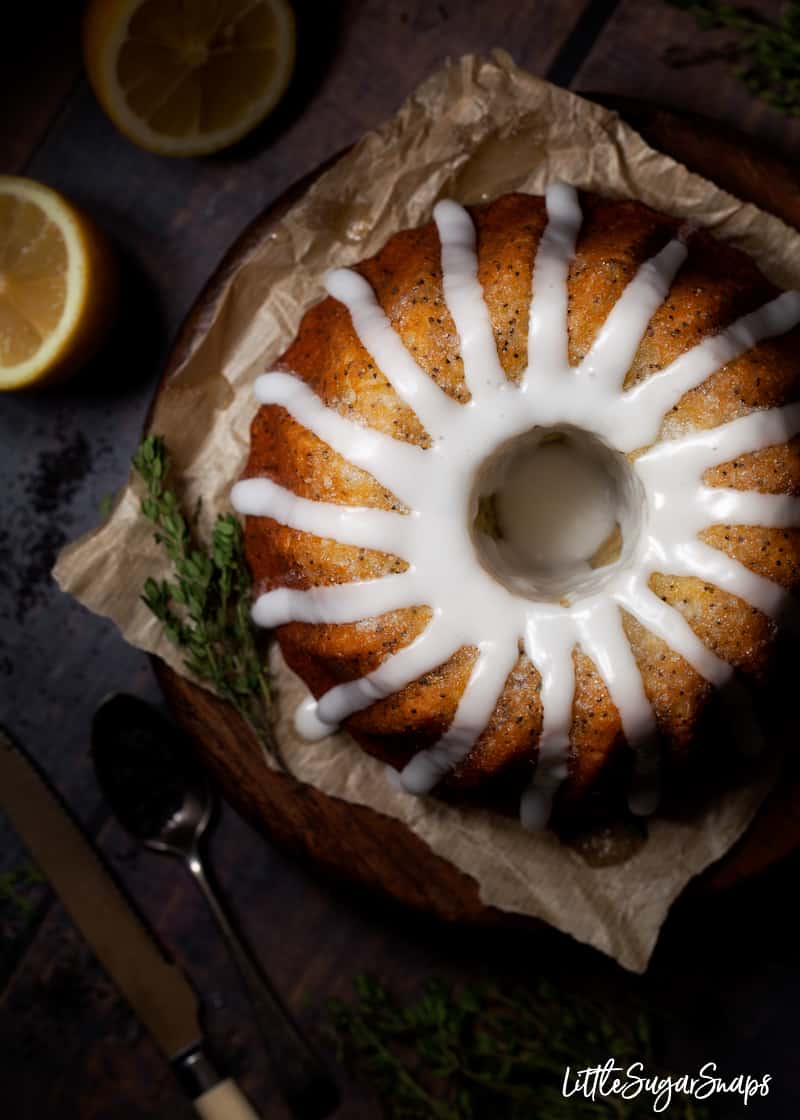 Can I freeze lemon drizzle cake?
This lemon drizzle bundt cake stays fresh for up to 4 days. However, it can be baked ahead of time wrapped and frozen for up to 2 months. I recommend adding the lemon icing after the cake has been fully defrosted to ensure the icing looks its best.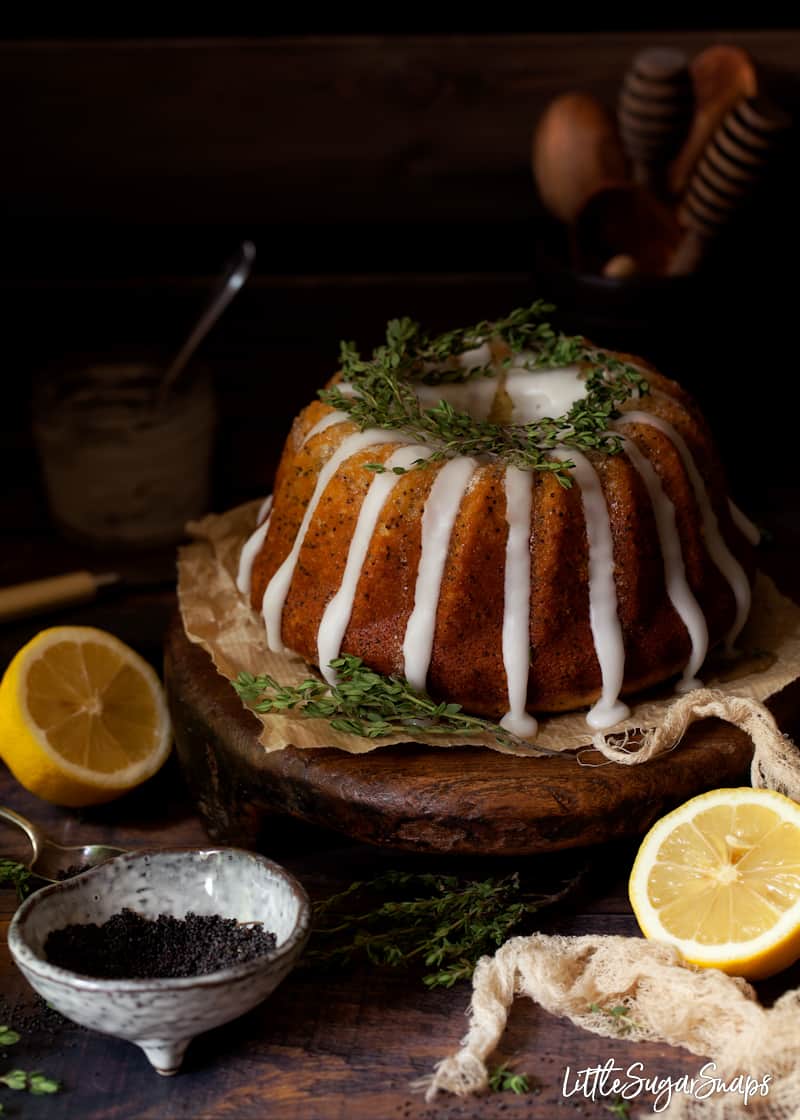 Looking for more bundt cakes?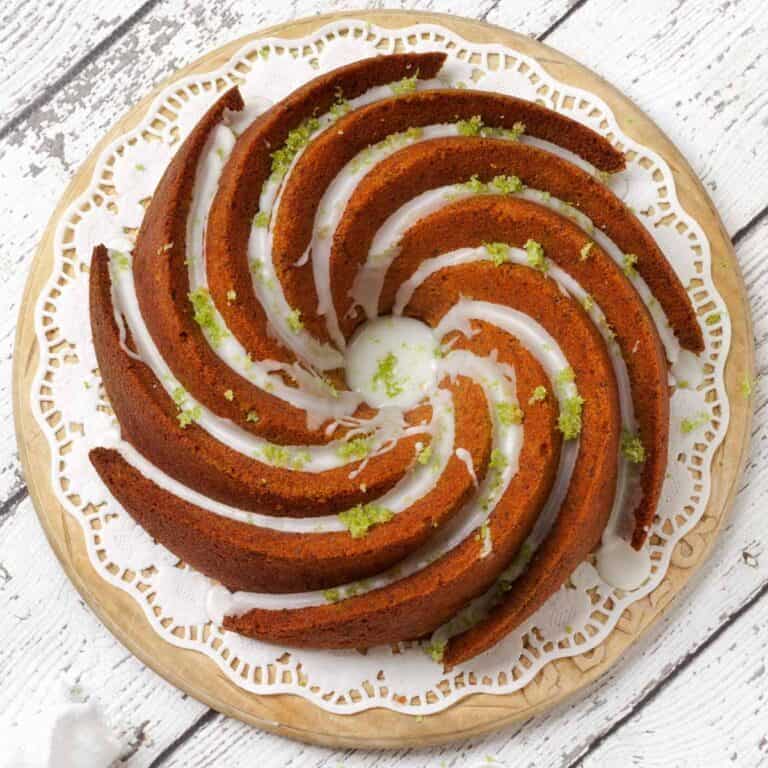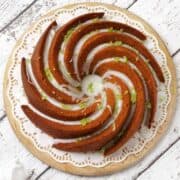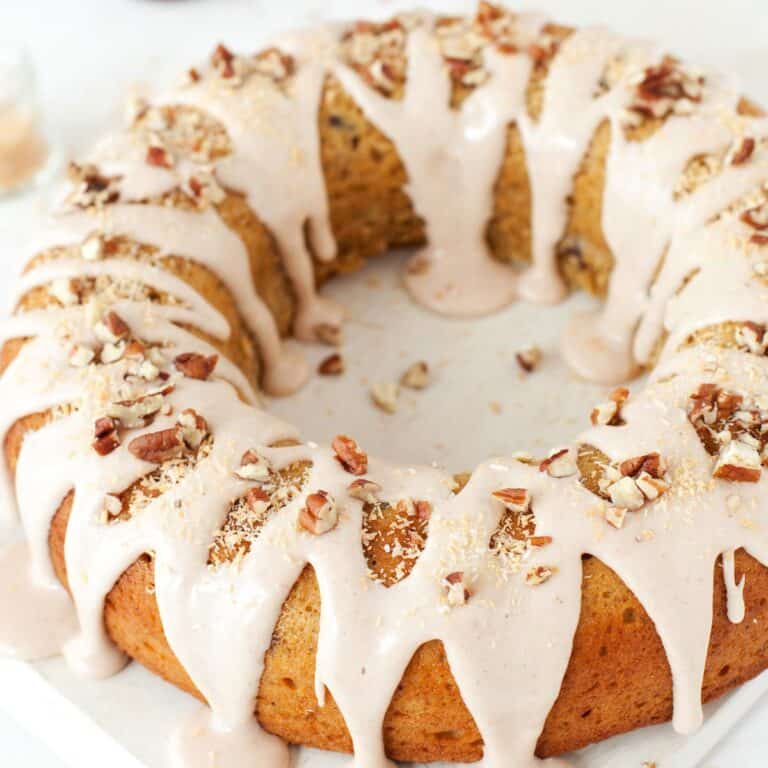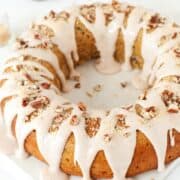 Have you made this lemon bundt cake recipe? If you have please give it a rating or leave a comment – I love to hear how you get along with my creations.
Why not sign up to receive LittleSugarSnaps newsletters to hear when new recipes are published? You'll get a free welcome e-book with my top baking tips and 5 favourite cake recipes. Or stay in touch on Facebook, Instagram or Pinterest.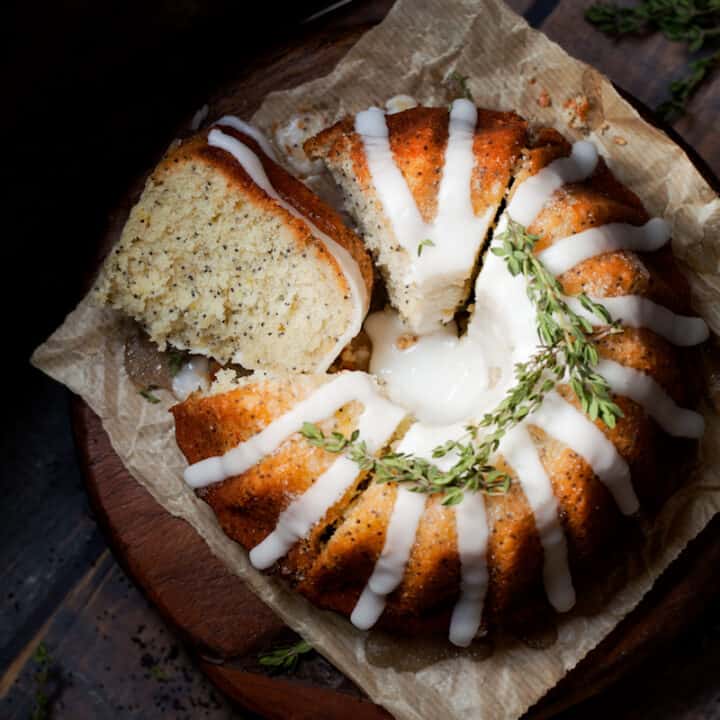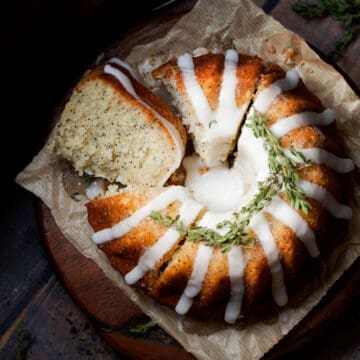 Lemon Bundt Cake
This easy lemon bundt cake is brimming with poppy seeds, thyme, flavour and texture. The delicate lemon sponge is topped with classic crunchy lemon drizzle as well as a zesty lemon icing.
Print
Pin
Rate
Equipment
Small Bundt tin measuring approx 18cm Diameter and 8.5cm Height
Ingredients
For the Lemon Drizzle Bundt Cake
175

g/ 6 oz

Caster sugar

175

g/ 6 oz

Plain flour

90

g/ 3 oz

Butter – softened

90

g/ 6 oz

Greek yoghurt

3

Eggs

large, free-range

¼

teaspoon

Baking soda

Zest from 1 Lemon

2

tablespoon

Lemon juice

1 ½

tablespoon

Poppy seeds

1 ½

tablespoon

Fresh thyme leaves (stripped from stems)
For the Lemon Drizzle
2 ½

tablespoon

Lemon juice

5

tablespoon

Granulated sugar
For the Lemon Icing
100

g/ 3 ½ oz

Icing sugar

1 ½

teaspoon

Lemon juice

1 ½

teaspoon

Cold water
Instructions
Make the Lemon and Poppy Seed Cake
Preheat the oven to 180C/ 350F/ GM 4

Prepare the bundt tin. I use a cake release spray to grease my bundt tin as it can easily coat every nook and cranny the average bundt tin can throw my way

Measure the sugar into a large mixing bowl and finely grate the zest from the lemon. Rub the lemon zest into the caster sugar to help release essential oils which will intensify the citrus aroma of this cake

Next, add the butter and cream the butter and sugar together, using electric beaters, until light and fluffy

Add the eggs, one at a time, beating well between each addition

Next add the Greek yoghurt and mix in

Stir through 2 tablespoon lemon juice along with the poppy seeds and thyme (if using)

Sift the flour with the baking soda and mix into the cake batter and then spoon into the bundt tin and bake for 35-40 minutes until golden and a cocktail stick comes out clean when poked into the cake

Let sit in the tin for 10 minutes, before inverting the tin over a cake rack and letting sit for 5 more minutes. Try to remove the tin. If the cake does not come out easily, give the tin a shake or tap to help it fall out of the tin (see my notes regarding this)

Once the cake is out of the tin proceed to the lemon drizzle stage
Add the Lemon Drizzle
Once the cake is ready, prick it all over with a cocktail stick. This helps the drizzle penetrate the cake

Mix the granulated sugar and lemon juice together and spoon over the cake whilst it is still hot. Leave to cool completely
Make the Lemon Icing
Once the cxake is cool, blend the icing sugar with the lemon juice and water to make a smooth paste that should fall off the spoon slowly. If it is too runny add a little more icing sugar. If it is too thick, add a drop lemon lemon juice or water

Spoon or pipe the lemon icing over the cake and garnish with fresh thyme and/ or lemon zest

This cake keeps well in an airtight container for up to 4 days
Notes
Have you ever baked the perfect bundt cake only to have it fall apart when you try to unmold it from the tin? Me too. They are tricky beasts. But fear not, I have a few tips on how remove cakes from a bundt tin:
Prepare your tin by greasing it thoroughly. I use a cake release spray to ensure that every inner surface, nook and cranny of the bundt tin is well greased
Once cooked, let the cake rest for 10 minutes out of the oven
Next, invert the cake tin over a cooling rack and leave for another 5 minutes
After 5 minutes try to lift the tin – if you are lucky, it will just fall out
If not, hold the side of the tin and the cooling rack and give the tin a few shakes from side to side to help ease it out
Still no joy? Don't' despair – try tapping the tin firmly. To do this I put on my oven gloves and give a few thumps to the tin at every angle
If the cake still refuses to budge put it back into the cooling oven for 2 minutes. The residual oven heat will often help the cake to re-soften and fall away from the sides of the pan
Repeat steps 5-7 as necessary until the cake comes away from the tin
Nutrition Per Serving (Approximate)
Calories:
367
kcal
|
Carbohydrates:
61
g
|
Protein:
6
g
|
Fat:
12
g
|
Saturated Fat:
7
g
|
Cholesterol:
86
mg
|
Sodium:
144
mg
|
Potassium:
71
mg
|
Fiber:
1
g
|
Sugar:
42
g
|
Vitamin A:
439
IU
|
Vitamin C:
6
mg
|
Calcium:
58
mg
|
Iron:
2
mg
(Visited 505 times, 2 visits today)