This quick & easy orange semolina cake recipe is oven-ready in just 15 minutes and it produces an impressive bake. The cake is full of flavour, deliciously moist and it comes topped with zesty orange and mint drizzle. This is the easiest flourless orange cake recipe you could wish for.
This recipe was first published in May 2020 and updated with step-by-step instructions, tips and frequently asked questions in June 2021.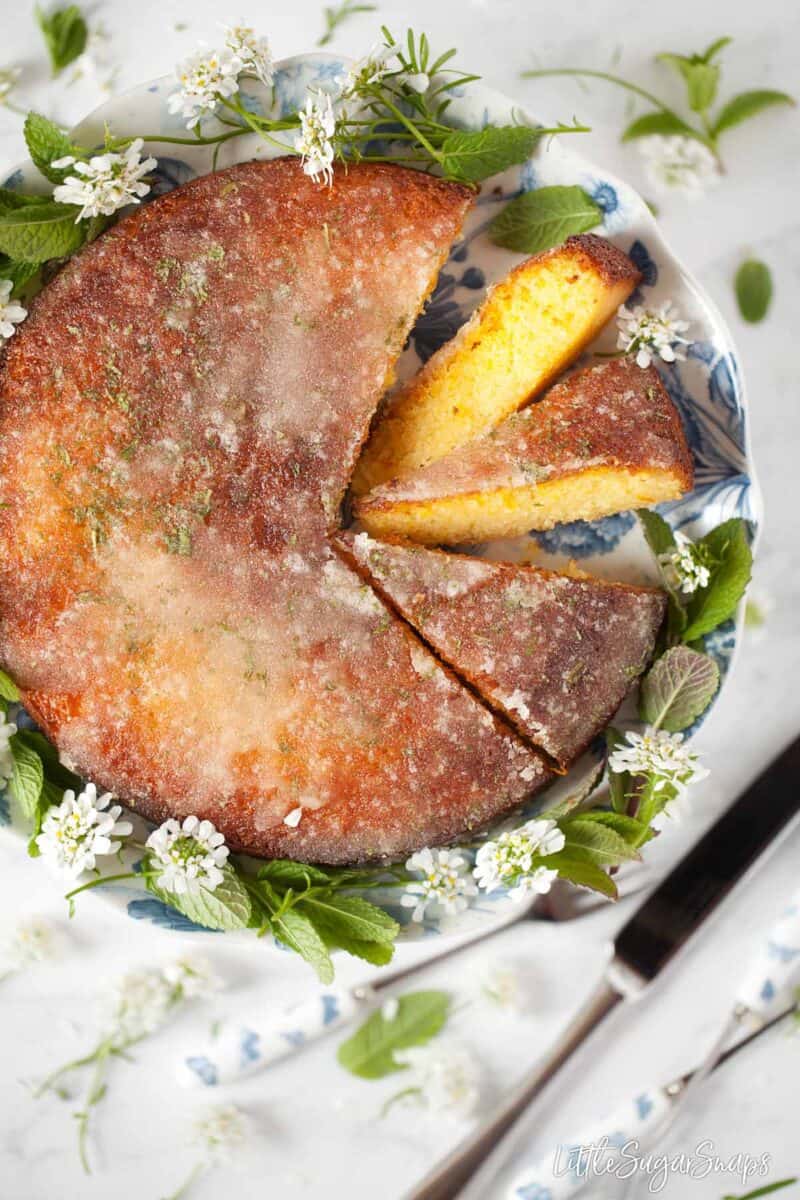 I'm going to be honest, when I first made this orange semolina cake recipe, I wasn't sure it had worked. That's perhaps because I didn't know what to expect from a completely flourless cake.
Though initially stunned by its relatively flat and unassuming appearance, I was soon won over once I sliced into it. Slim, though it is, this flourless orange cake is bursting with flavour, texture and deliciousness.
And since this orange semolina cake is made without flour and uses just one egg, it's a great recipe to have to hand when a baking urge hits but the pantry baking shelf is looking somewhat depleted.
Why This Cake is Worth Making
This orange semolina cake is of very humble origin. Ingredients are simple and, if I dare admit it, rather unglamorous. But they are also likely to be knocking around a reasonably well-stocked kitchen and they do combine to create a fantastic cake that is:
delicately sweet
moist
with a tender crumb
bursting with citrus flavour
naturally colourful
slightly chewy (that's the semolina effect)
and slightly crunchy (that's the drizzle topping)
Aside from all of these tempting features, this bake is equally delicious served just as it is alongside a cup of tea or turned into a swoon-worthy dessert when topped with chantilly cream. The latter option is my preference, especially when orange zest has been folded into the cream.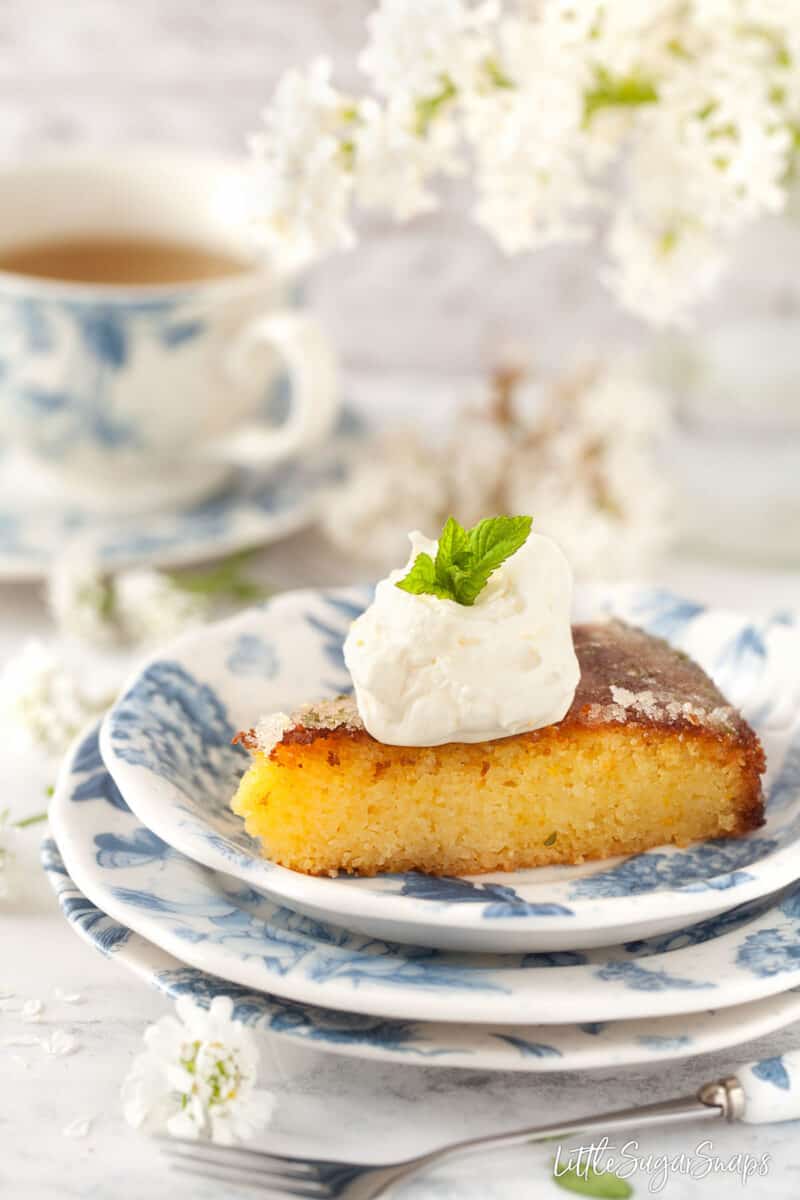 If you are into drizzle cakes take a look at my lemon drizzle bundt cake recipe too.
What is Semolina?
This is a completely flourless orange cake recipe. In place of the flour, I've used a mixture of semolina and ground almonds.
Semolina is ground durum wheat. It is coarser than flour and typically looks golden yellow. It is available in both fine and coarse grind and can usually be found in the baking aisle of supermarkets.
The most common uses for semolina is in the making of pasta and couscous since it is very high in gluten and keeps its shape extremely well during cooking. But semolina can be used to bake cakes and breads too with great success - this orange semolina cake is a prime example.
Ingredients for Flourless Orange Cake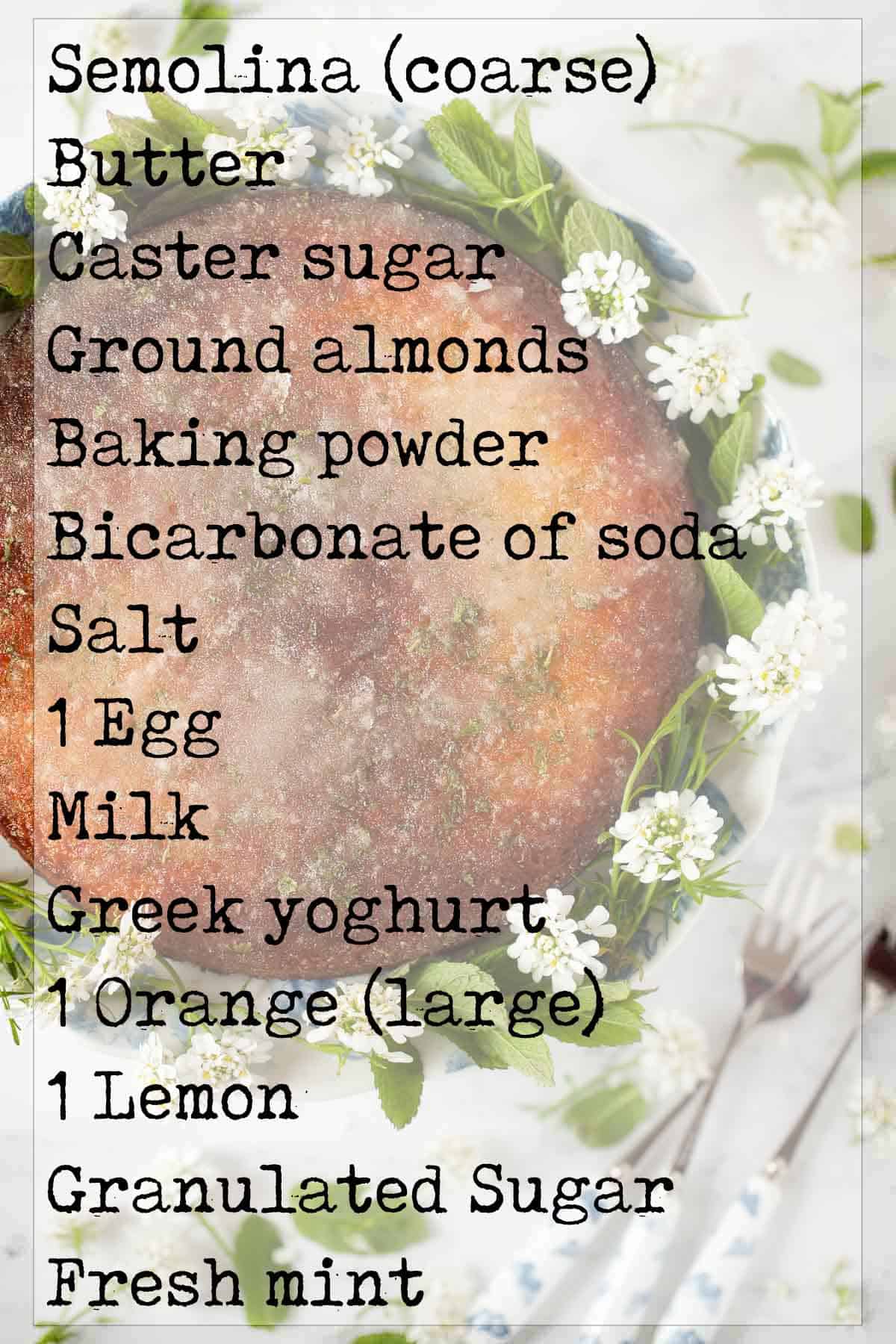 For this semolina cake recipe ensure that you select coarse ground durum wheat semolina.
Just occasionally, you might stumble across rice semolina or corn semolina. These are not truly semolina, and should be not be used for this recipe. They have been given the semolina name tag since they are coarse-grained like semolina but cannot be relied upon to act the same way as the real thing during baking.
I've added a boost to the orange drizzle by including a little lemon juice, but it can be made entirely with orange if preferred. It can also be adapted to become a lemon cake by substituting all of the orange juice and zest in the recipe for lemon instead.
Since I have herbs growing in my garden, I included a gentle hint of mint in the drizzle topping. Feel free to replace with rosemary or thyme, or leave out the herb altogether.
Step by Step Instructions
This flourless orange cake might just be the easiest bake I've ever created. It can be in the oven in less than 15 minutes and requires just a couple of bowls and a balloon whisk for mixing:
1. Put the dry ingredients into a medium bowl and stir with a balloon whisk
2. In a small bowl mix together the yoghurt, egg and milk
3. Pour the wet ingredients into the dry ingredients & mix until smooth
4. Whisk in orange juice & zest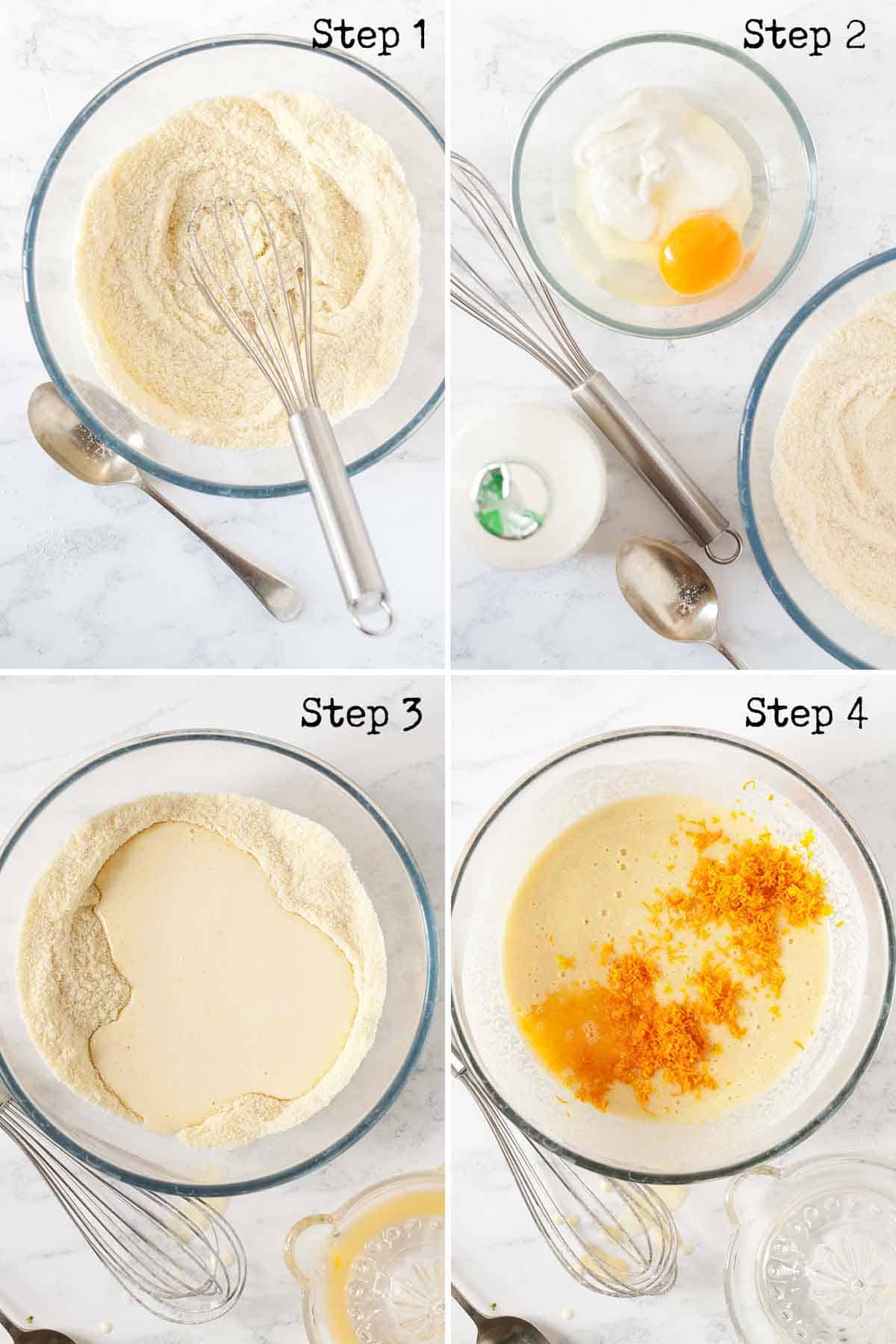 5. Next whisk in the melted butter until well combined
6. Pour into a prepared tin & bake in a preheated oven for 45-50 minutes until the top is dark golden in colour
7. As the cake approaches the end of its cooking time, mix the orange and lemon juice together and blitz the mint leaves in, using a stick blender, until they are finely broken down. As soon as the cake comes out of the oven, add the sugar to the juice, stirring only briefly
8. Poke holes all over the cake using a cocktail stick and spoon the drizzle topping evenly over the cake and leave to cool completely in the baking tin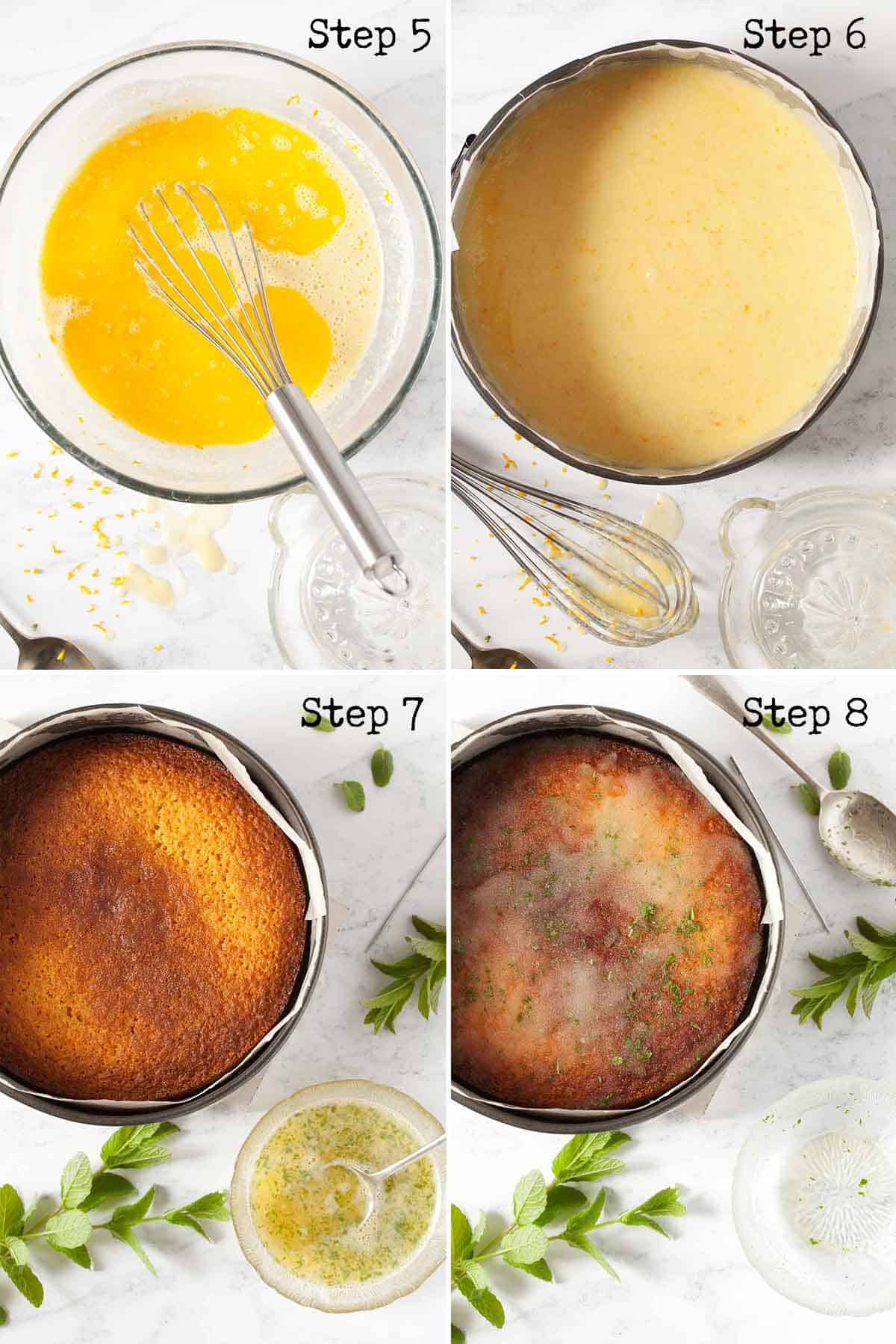 Expert Tips
Use digital scales for this recipe as they are so much more accurate than the cup system. Cups are notoriously inaccurate because they can vary in size and one person's method of filling a cup can be quite different to another person's
The drizzle topping must be poured over the cake as soon as possible once it comes out of the oven, so that it is absorbed well by the cake. Make sure you prepare the citrus juice and mint so that all you have to do once the cake comes out of the oven is stir in the sugar, poke holes in the cake and pour the drizzle over
When making the drizzle don't be tempted to swap granulated sugar for caster sugar. The coarser texture of granulated sugar is what helps give the drizzle that lovely crunch that we all appreciate
Likewise, resist the urge to stir the drizzle topping too much as this will encourage the sugar to dissolve, which is not what we want to do
Let the cake cool completely before slicing
Try serving this flourless orange cake with a spoonful of Greek yoghurt for a tangy alternative to the chantilly cream already suggested
Frequently Asked Questions
Can I use fine ground semolina?
I don't recommend it for this recipe. Although there are cakes out there that do use fine ground semolina, part of the beauty of this orange semolina cake is the unique texture caused by the use of coarse ground semolina. It's not like a regular sponge cake. Instead, it has real bite and a great chewiness about it.
Is this cake gluten-free?
Semolina does contain gluten, so although this cake contains no flour it is not gluten-free. If you are looking for a similar gluten-free cake try this one.
How long will it last?
If stored in an airtight container at room temperature, this cake should stay fresh for 3 days. After this time it will begin to dry out - perhaps serve it with runny cream at this stage.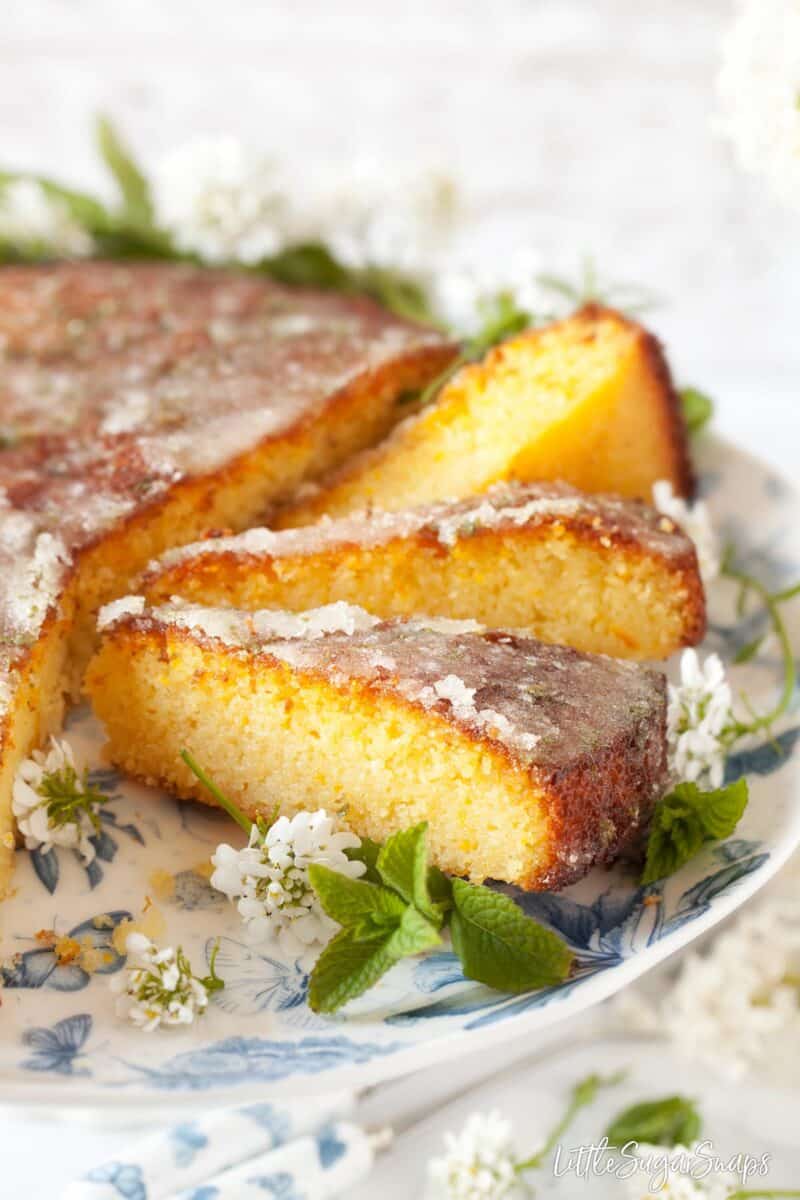 More Recipes Featuring Orange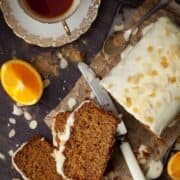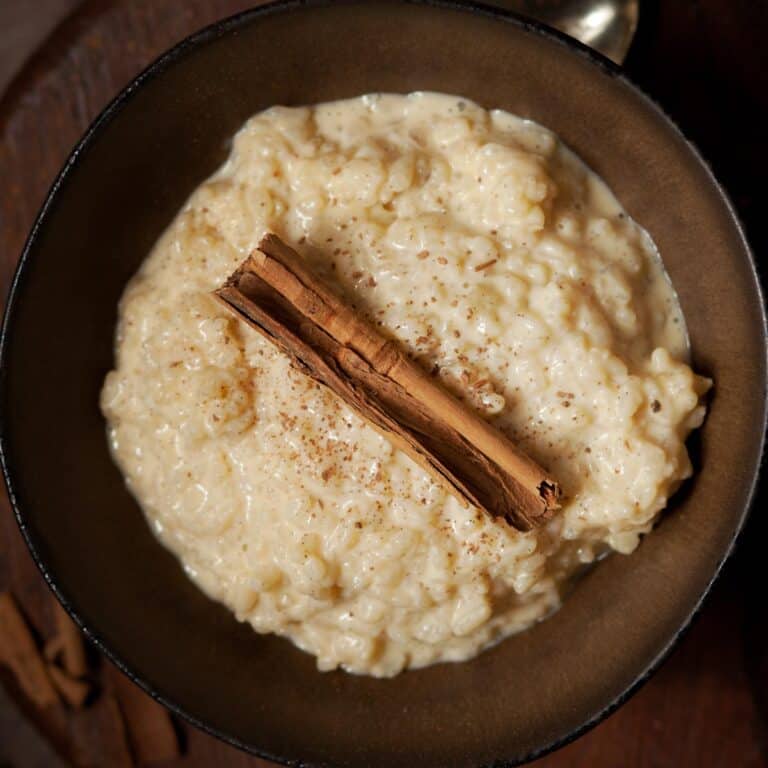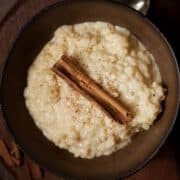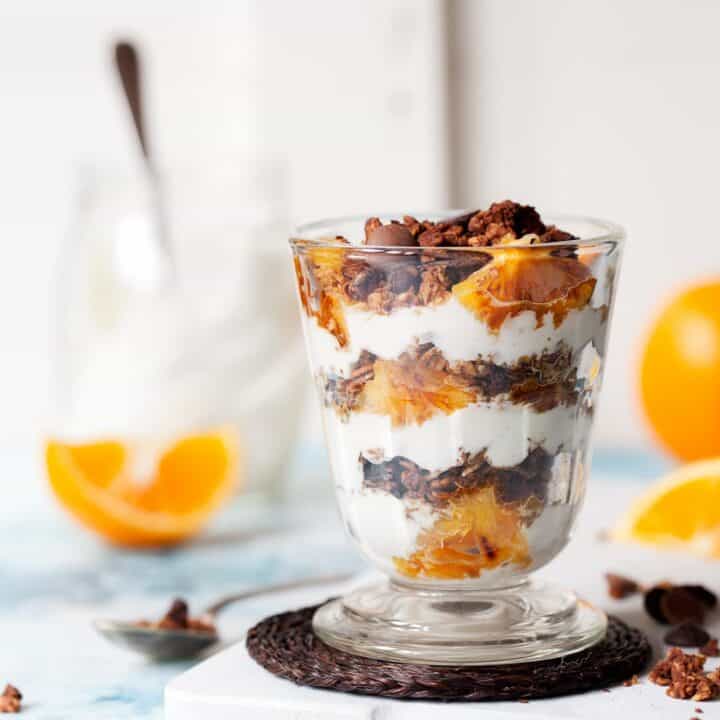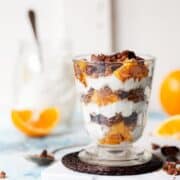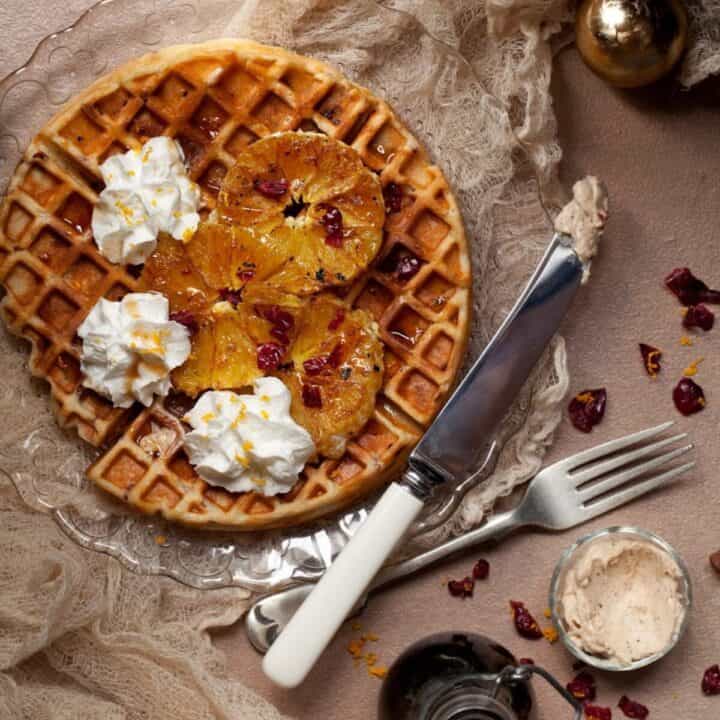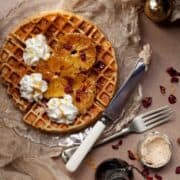 Have you made these sugared doughnuts? Please give it a rating or leave a comment - I love to hear how you get along with my creations.
Why not sign up to receive LittleSugarSnaps newsletters to hear when new recipes are published? You'll get a free welcome e-book with my top baking tips and 5 favourite cake recipes. Or stay in touch on Facebook, Instagram or Pinterest.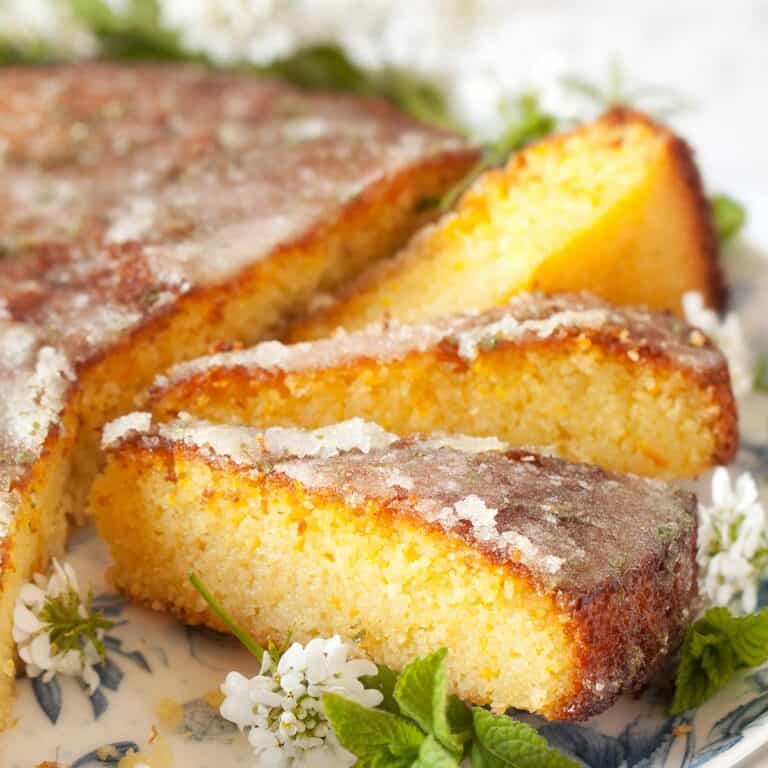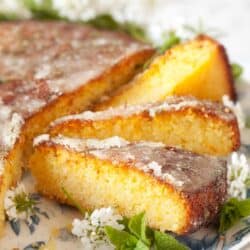 Orange Semolina Cake with Orange & Mint Drizzle
This quick & easy orange semolina cake recipe is oven-ready in just 15 minutes and it produces an impressive bake. The cake is full of flavour, deliciously moist and it comes topped with zesty orange and mint drizzle. This is the easiest flourless orange cake recipe you could wish for.
Print
Pin
Rate
Ingredients
Cake Ingredients
100

g

Semolina

coarse (do not use fine ground)

100

g

Caster sugar

50

g

Ground almonds

(almond meal)

1

teaspoon

Baking powder

¼

teaspoon

Bicarbonate of Soda

(baking soda)

¼

teaspoon

Salt

1

Egg

large, free-range

120

g

Greek yoghurt

90

ml

Milk

Whole (full fat)

2

tablespoon

Orange zest

see notes

1

tablespoon

Orange juice

see notes

110

g

Butter

Melted
Orange Drizzle Topping Ingredients
45

ml

Orange juice

15

ml

Lemon juice

8

Mint leaves

100

g

Granulated sugar

(do not use caster sugar)
Instructions
Preheat oven to 180C/ 350F/ Gm 4 and grease and line an 8 inch springform cake tin

Put the dry ingredients (semolina, sugar, almond, salt, baking powder and baking soda into a medium bowl. Stir with a balloon whisk

In a small bowl mix together the yoghurt, egg and milk, then pour into the dry ingredients

Mix until smooth, using the balloon whisk

Next, whisk in the orange juice & zest

Finally, add the melted butter and mix again

Pour into the prepared tin & bake for 45-50 minutes until the top is dark golden in colour and a skewer poked into the centre comes out clean

When the cake is almost cooked, start preparing the drizzle topping by mixing the orange and lemon juice together and blitzing the mint leaves in, using a stick blender until they are finely broken down

As soon as the cake comes out of the oven, add the sugar to the juice, stiring only briefly

Poke holes all over the cake using a cocktail stick and spoon the drizzle topping evenly over the cake

Leave the cake to cool completely in the baking tin, then carefully release the cake tin and remove the baking parchment

Store for up to 3 days, well wrapped, at room temeperature
Notes
Use digital scales for this recipe as they are so much more accurate than the cup system. Cups are notoriously inaccurate because they can vary in size and one person's method of filling a cup can be quite different to another person's
Semolina does contain gluten, so although this cake contains no flour it is not gluten-free
You should be able to get the required amount of zest and juice from 1 large orange or 2 smaller ones
I don't recommend the use of finely ground semolina in this recipe. Although there are cakes out there that do use fine ground semolina, part of the beauty of this orange semolina cake is the unique texture caused by the use of coarse ground semolina. It's not like a regular sponge cake. Instead, it has real bite and a great chewiness about it
The drizzle topping must be poured over the cake as soon as possible once it comes out of the oven so that it is absorbed well by the cake. Make sure you prepare the citrus juice and mint so that all you have to do once the cake comes out of the oven is stir in the sugar, poke holes in the cake and pour the syrup over
When making the topping don't be tempted to swap granulated sugar for caster sugar. The coarser texture of granulated sugar is what helps give the drizzle that lovely crunch that we all appreciate
Likewise, resist the urge to stir the drizzle topping too much as this will dissolve the sugar
Let the cake cool completely before slicing
If stored in an airtight container at room temperature, this cake should stay fresh for 3 days. After this time it will begin to dry out - perhaps serve it with runny cream at this stage
Nutrition Per Serving (Approximate)
Calories:
308
kcal
|
Carbohydrates:
38
g
|
Protein:
6
g
|
Fat:
16
g
|
Saturated Fat:
8
g
|
Cholesterol:
52
mg
|
Sodium:
225
mg
|
Potassium:
126
mg
|
Fiber:
1
g
|
Sugar:
27
g
|
Vitamin A:
460
IU
|
Vitamin C:
7
mg
|
Calcium:
84
mg
|
Iron:
1
mg
(Visited 4,357 times, 7 visits today)