Cranberry Orange Waffles are a great addition to your Christmas breakfast repertoire. Full of fruity flavours and served with cinnamon spiked whipped butter you can't go wrong.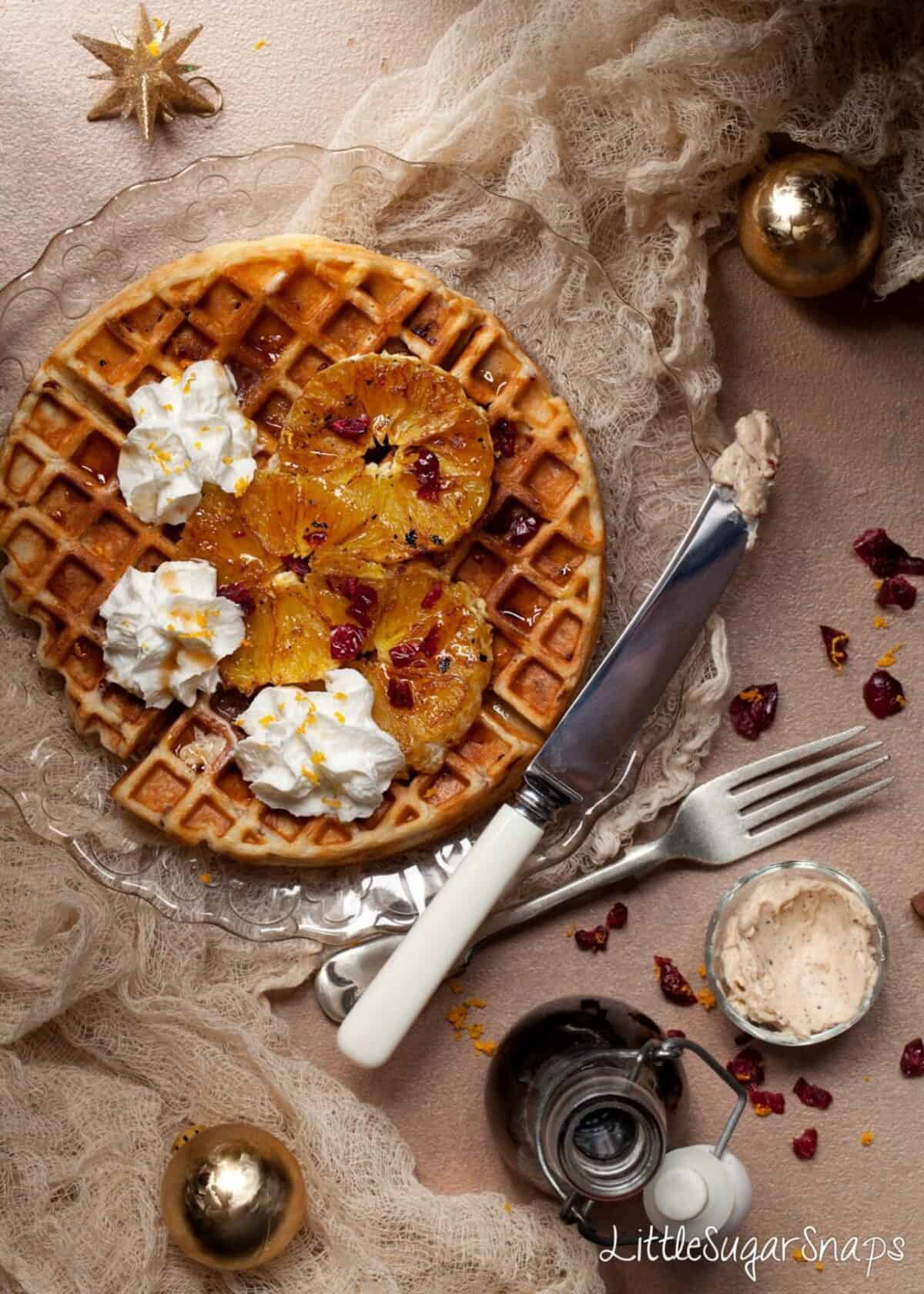 This post contains affiliate links. As an Amazon Associate, I earn from qualifying purchases.
Oh my. Somehow I've lost a week or two. I've been merrily drifting along, thinking I still had plenty of time to write up the three Christmas themed recipes I have lined-up and ready publish. I was planning on one recipe a week, but by this time next week the school holidays will have already begun and that is my cue to settle down into slumber mode with my family for a couple of weeks.
So, let's revise my plan: 3 recipes in 6 days. That's more than do-able. In fact, it sounds like child's play after my truffle-extravaganza of last week. Regardless, let's not waste time, I have some delightfully festive Cranberry Orange Waffles to talk about.
The life of a food blogger is such that dreaming up and trialling Christmas recipes in the summer is not unusual. I've been tweaking the recipe for these Cranberry Orange Waffles since August and I'm pleased to finally be sharing them with you today. These waffles are full of festive flavours and, although they can be eaten at anytime of the year, they do make a particularly spectacular breakfast or brunch over the Christmas and New Year period.
The waffle batter contains dried cranberries along with orange zest and there's a generous helping of griddled orange slices on top of each waffle. I like griddling oranges for waffles, pancakes, French toast and the like since this process removes some of the moisture from the fruit that would otherwise soak into these breakfasts and turn them soggy.
I don't do soggy.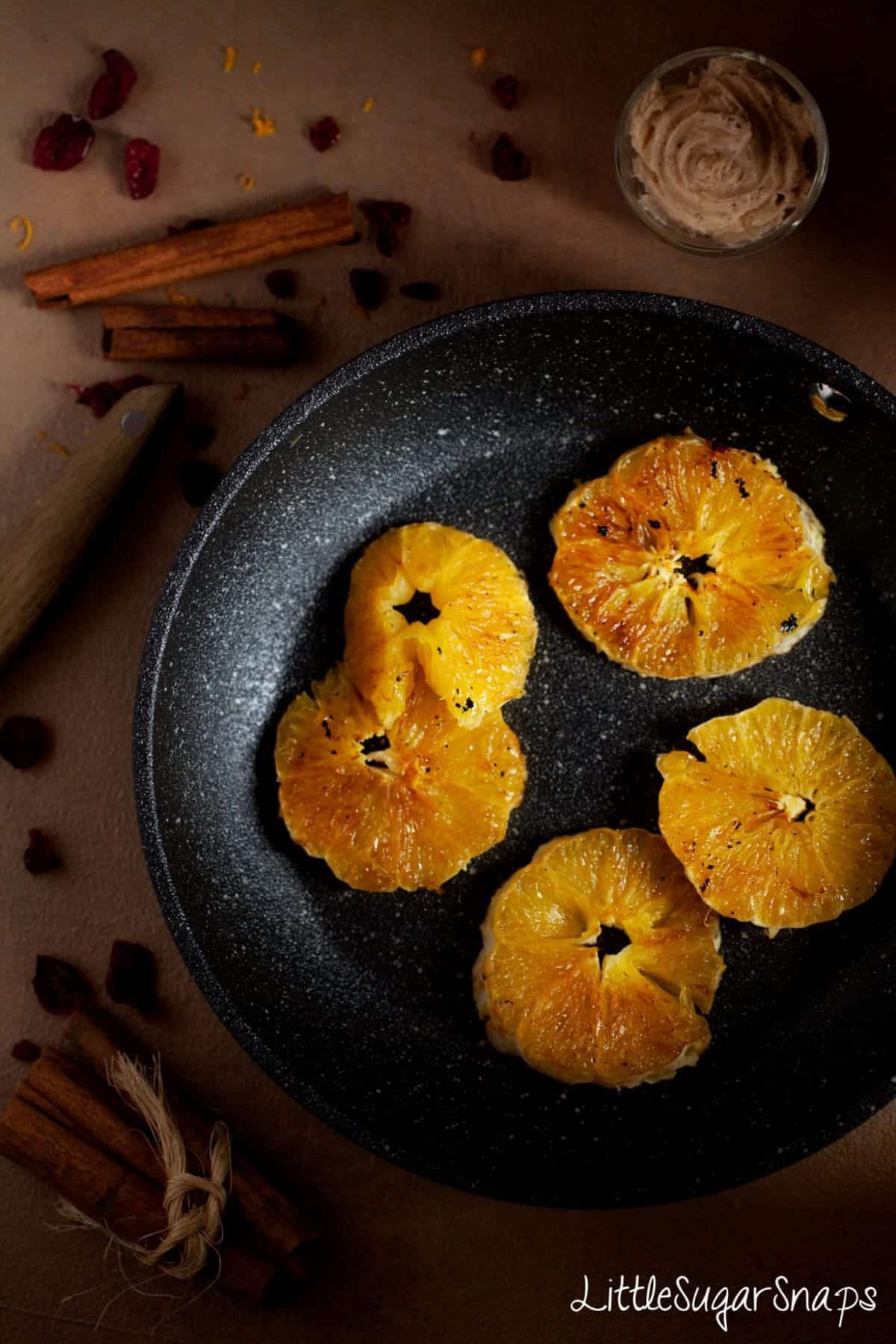 Of course, a smidge of cream and a drizzle of maple syrup are fine additions to these waffles, but I've got some cinnamon whipped butter up my sleeve too. Whipping butter with a dash of milk makes it light & airy and the perfect vessel for adding flavours to. As I'm in the Christmas mood I went with cinnamon since it pairs so well with the season and the fruit in these Cranberry Orange Waffles.
If there is any of the whipped butter left after the waffles have been scoffed it makes a delicious topping for toast and crumpets too.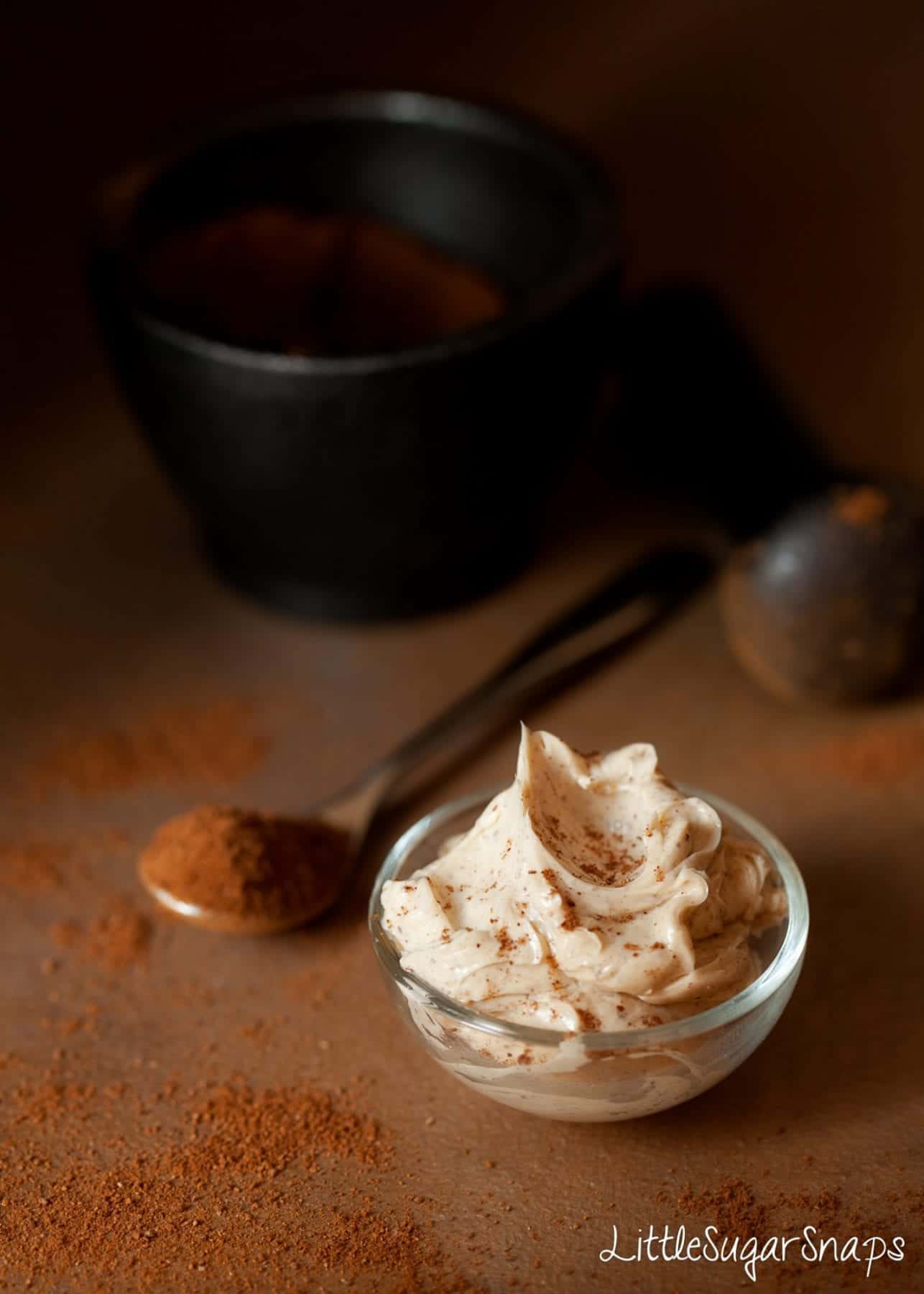 I've had a thing about waffles since my days as a student at the University of South Florida. Stuck with the often ropey food at the campus canteen, weekend breakfasts were something of a highlight. That's when the waffle makers came out. Crisp, fresh waffles cooked to order – what could be better?
But that was a long time ago. Since then, without a waffle maker of my own, I've been stuck with the pre-cooked waffles available from the supermarket. Sadly, these just pale in comparison to the real thing. But on my birthday, earlier this year, I finally became the proud (and somewhat excited) owner of a waffle maker (this one). I've been delighted with it and used it much more than I expected to. Being able to finally develop a few waffle recipes of my own is just an added bonus.
So, might I suggest slipping a waffle maker into your basket if you've still got some Christmas shopping to do for that special food obsessed someone in your life? Whilst waffle makers are not a kitchen essential, they can make a fine gift. And don't forget you could benefit too – tantalise the recipient of your gift with the recipe for these fresh & festive Cranberry Orange Waffles and you might just wind up with a plateful in front of you too.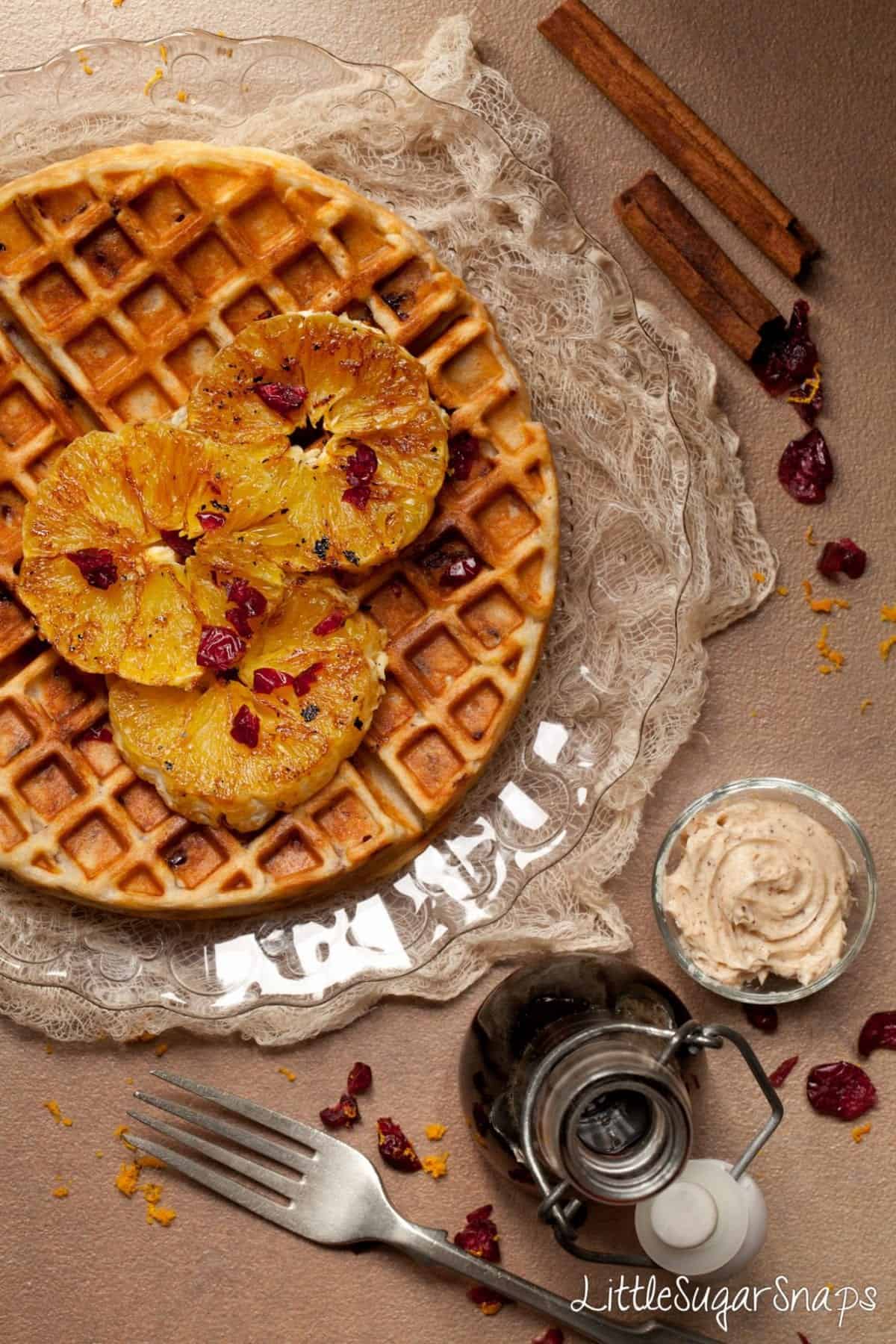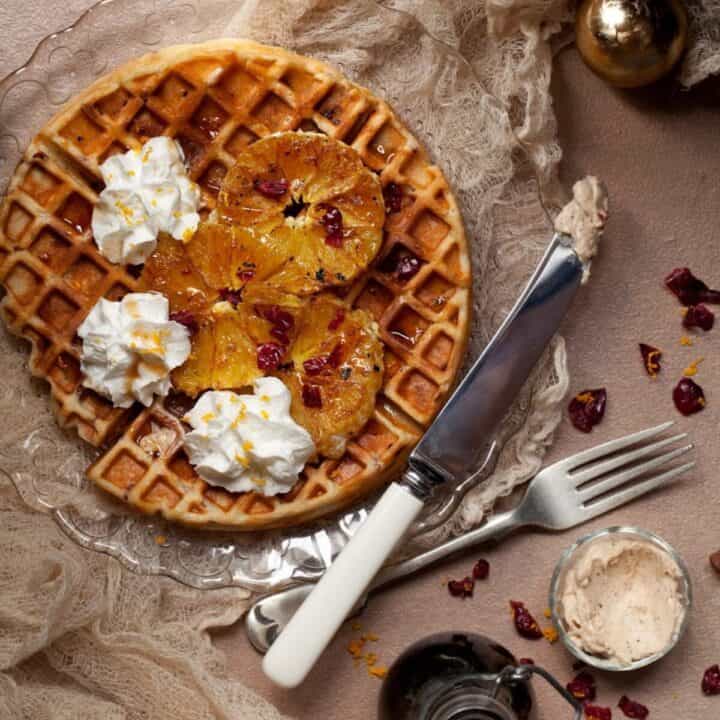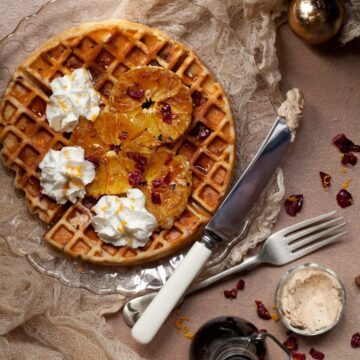 Cranberry Orange Waffles with Cinnamon Whipped Butter
Cranberry Orange Waffles are a great addition to your Christmas breakfast repertoire. Full of fruity flavours and served with cinnamon spiked whipped butter you can't go wrong.

Makes 4 circular waffles of approx 6.5″ diameter
Print
Pin
Rate
Ingredients
For the Waffles
150

g/ 1 ¼ cup

Plain (all purpose) flour

1

tablespoon

Caster sugar

¼

teaspoon

Salt

1

teaspoon

Baking powder

60g

/ ½ cup

Dried cranberries

1

Egg (large)

284

ml/ 9 ½ fl oz

Buttermilk

60

g/ ¼ cup

Unsalted butter

1-2

tablespoon

Whole (full fat) milk

4

Oranges
For the Cinnamon Whipped Butter
50g

Unsalted butter (softened)

1

teaspoon

Whole (full fat) milk

¼

teaspoon

Ground cinnamon
Instructions
For the Cinnamon Whipped Butter
Put all ingredients into a small bowl and beat, with electric beaters until light a fluffy
For the Waffles
Plug in your waffle maker and leave to heat up (having greased it if necessary)

Weight the flour, sugar, salt & baking powder into a medium mixing bowl

Finely grate the zest from 1 orange and add to the dry ingredients

Finely chop the cranberries and add to the bowl (leaving 2 teaspoon out for garnish)

Melt the butter. Mix with the egg, buttermilk & 1 tablespoon milk. Pour into the dry ingredients. Using a wooden spoon mix until just combined – do not over stir

Add the additional 1 tablespoon milk if you think the mixture is too thick (flours vary). You are aiming for a loose but not runny batter (think cake batter consistency)

Peel the oranges and slice each one into 4-5 thick rounds

Put ¼ batter into the waffle maker and cook according to instructions

Whilst the waffle cooks, griddle the first serving of orange slices – lay them in a dry (or very lightly oiled) frying pan and cook over a high heat for 2 minutes each side

When the waffle is cooked, transfer to plate, top with the orange slices and serve with whipped cream, maple syrup, cinnamon whipped butter and a few of the reserved cranberries. Serve immediately
Notes
Makes 4 circular waffles of approx 6.5″ diameter
(Visited 753 times, 1 visits today)