Disaronno sour is a classic cocktail using Amaretto liqueur. The addition of bourbon turns this version of the Amaretto sour into a gorgeous, well-balanced libation that has its sweet and sourness perfectly in tune with each other.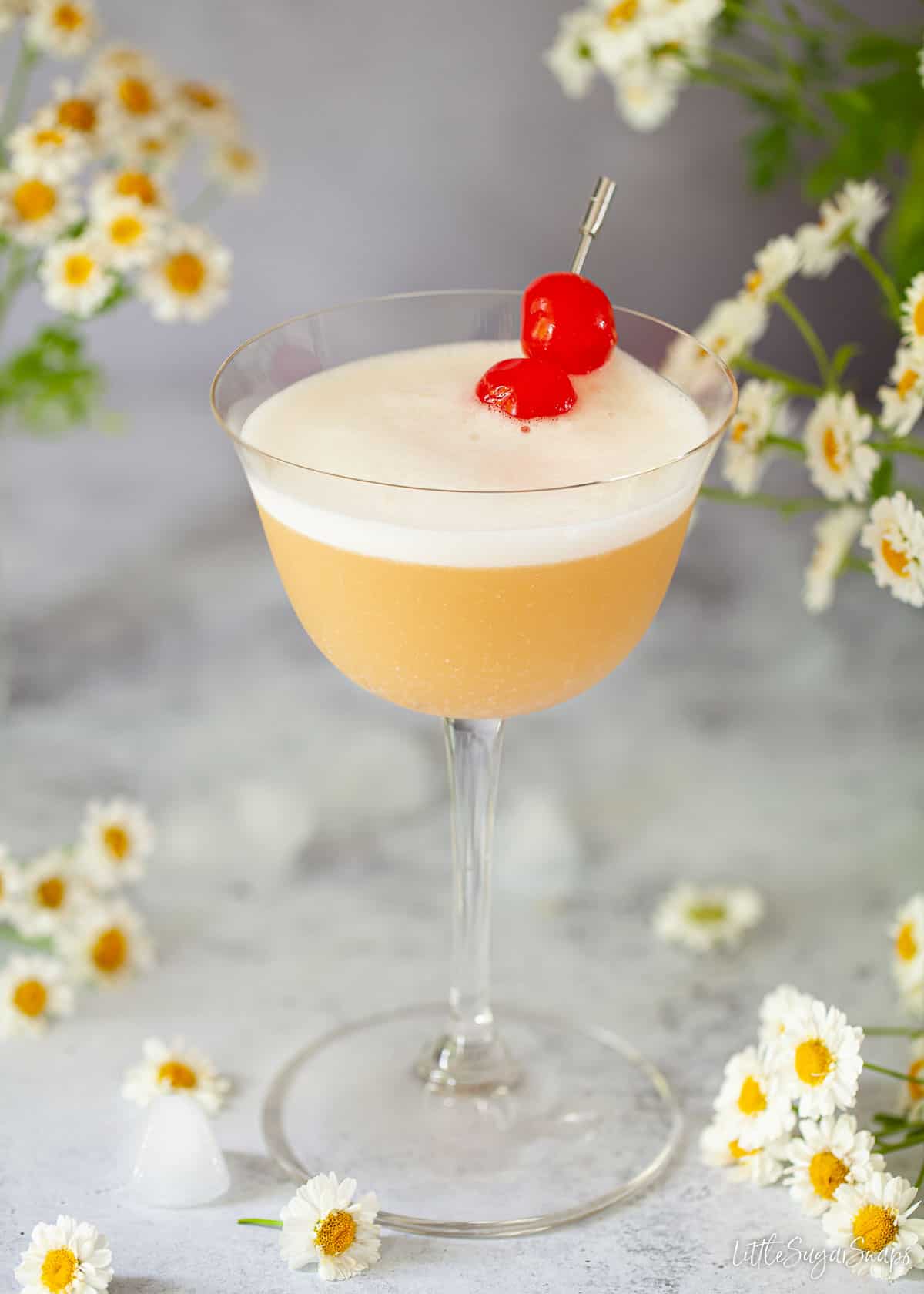 This post contains affiliate links. As an Amazon Associate, I earn from qualifying purchases.
Often falling foul of being overly sweetened and ruined by pre-made sour mix, the Disaronno Sour is a drink that often gets a bad press. But when made with quality ingredients and a cautious approach to any added sweetener, it can be a true delight.
My recipe today is exactly that. This Amaretto sour is a luscious blend of sweet Amaretto, robust bourbon and a gentle injection of fresh lemon juice. Quality ingredients ensure this Disaronno sour cocktail is just sweet (and sour) enough whilst maintaining plenty of exciting flavour.
I may not be the first person to discover the delight of adding bourbon to this classic Amaretto cocktail (I think that was Jeffrey Morganthaler), but I do agree, it's a very welcome addition.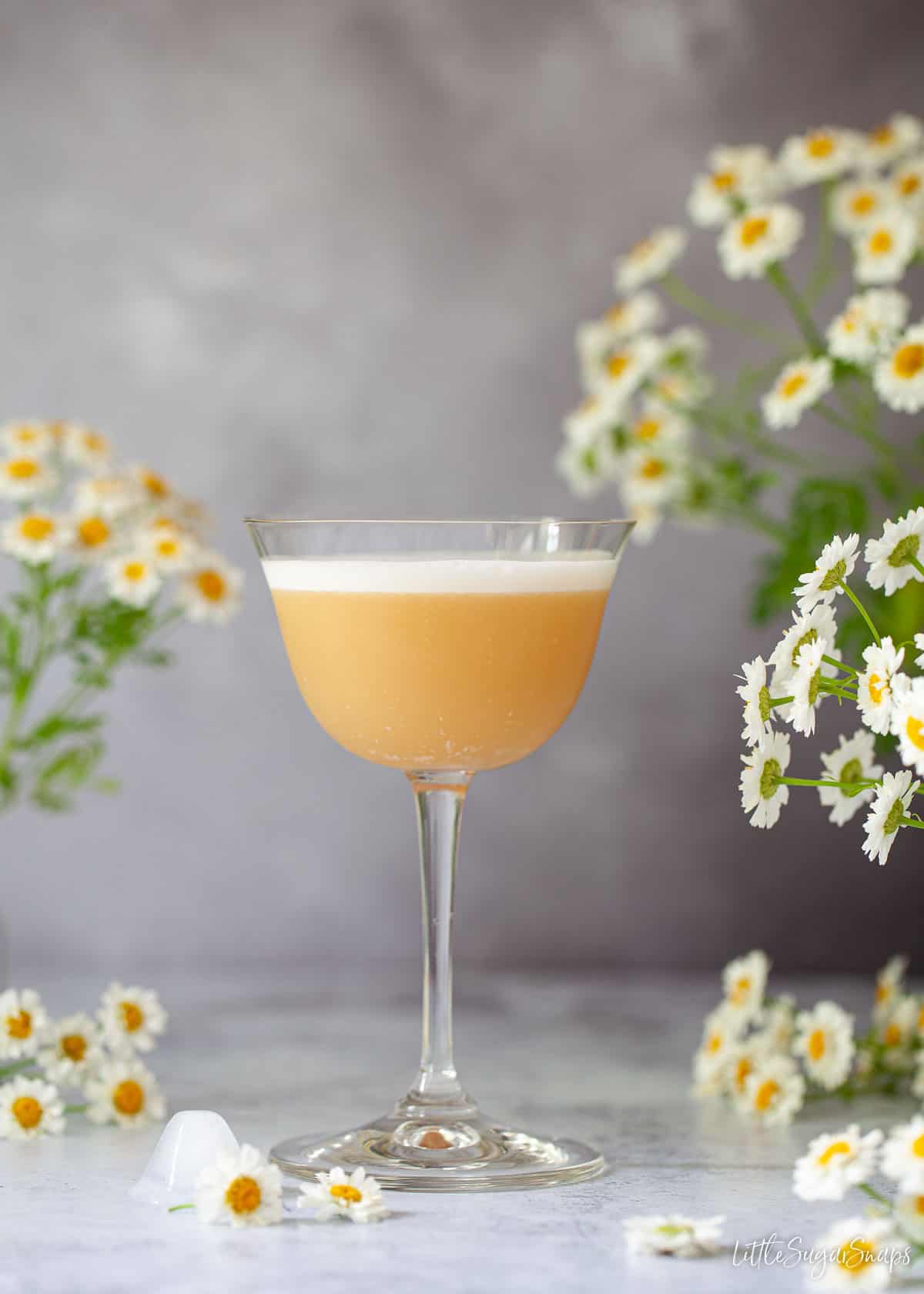 If you enjoy sours cocktails do give my rum sour a try. It's just as delicious as this cocktail.
Reasons to Make a Disaronno Sour
It's quick and easy to make
It's tangy with the tart lemon flavour balancing the sweetness from the liqueur
The inclusion of a little bourbon stops this Amaretto sour from being too sweet
Sugar syrup is entirely optional (take a sip before adding any to your drink)
Bourbon also adds a burst of boozy oomph to this easygoing drink
In the recipe card, I have included 2 Disaronno sour recipes. There's the version with bourbon (my favourite) and the more classic version, without bourbon. Try them both and see which one you prefer.
What is Amaretto?
Amaretto is an Italian liqueur renown for having a sweet almond flavour reminiscent of marzipan and Battenberg cakes. Depending on the brand, it may be made from apricot kernels, bitter almonds, peach stones, or almonds.
It is frequently enjoyed on its own, over ice, in coffee or mixed into cocktails. But it can also be the star ingredient in baking recipes. See my Italian cheesecake or Tiramisu for proof.
I'm very picky when it comes to Amaretto and will only ever use Disaronno. Why? Because I've tried several alternative brands and the flavour has not compared favourably.
Ingredients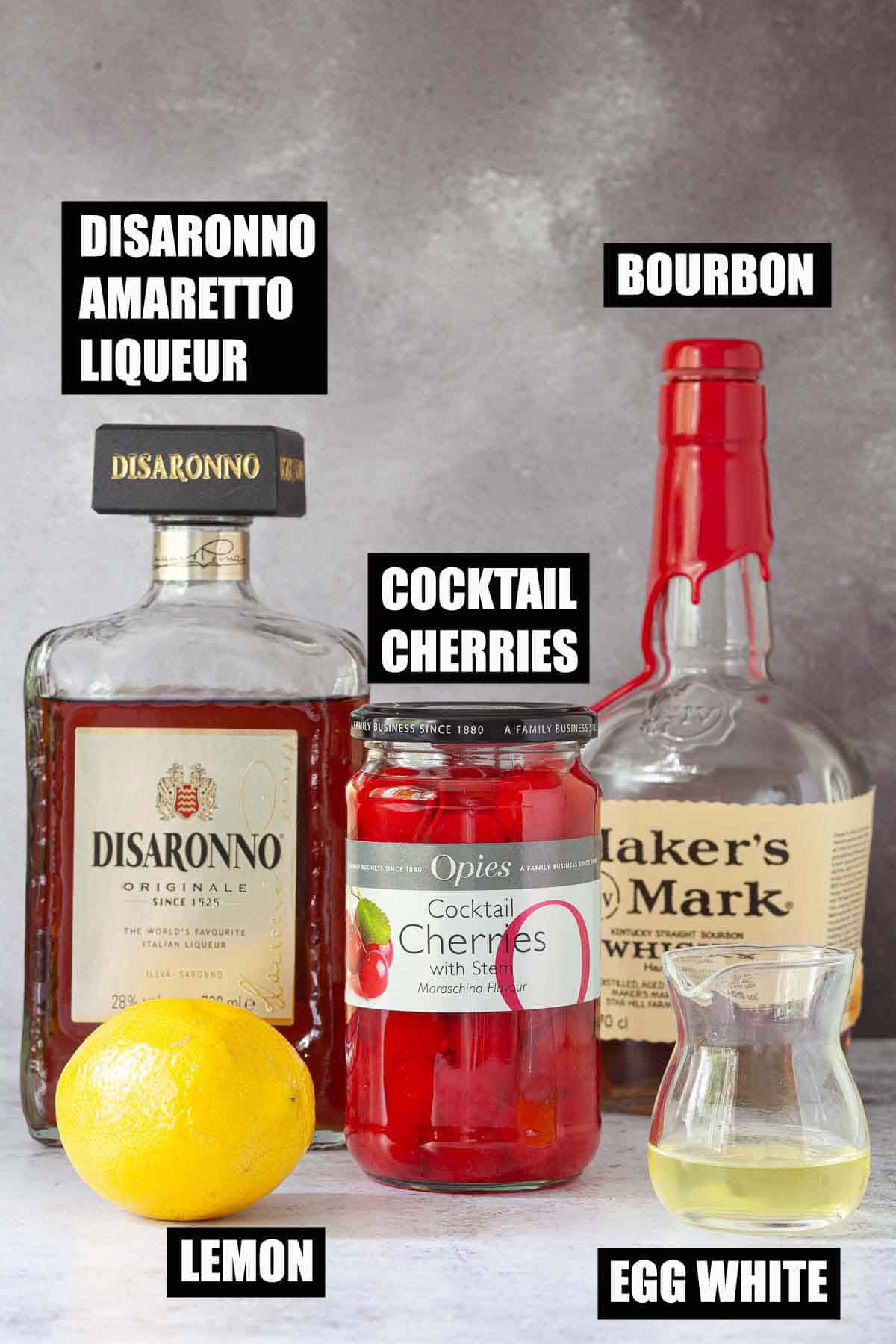 Choose your Amaretto wisely. Disaronno is 28% abv and many alternatives are much lower (20%). This difference is especially important when it comes to the Amaretto sour listed here, as the recipe has been developed with a 28% Amaretto in mind. It's well worth hunting one out.
The egg white creates that wonderfully foamy top that looks so good on the top of cocktails. Use it if you can as the overall mouthfeel of the cocktail is enhanced remarkably by this ingredient too. For readers following a vegan or egg-free diet, it can be left out or substituted for aquafaba (the liquid from a can of chickpeas).
Step-by-Step Instructions
Making this Disaronno sour recipe is very simple and takes mere minutes:
Pour the Disaronno Amaretto, bourbon (if using), lemon juice and egg white into a cocktail shaker. Do not add ice
Secure the lid and shake hard for 30 seconds
Now add the ice
Shake for a further 30 seconds
Strain into a cocktail glass, garnish with the cherries and serve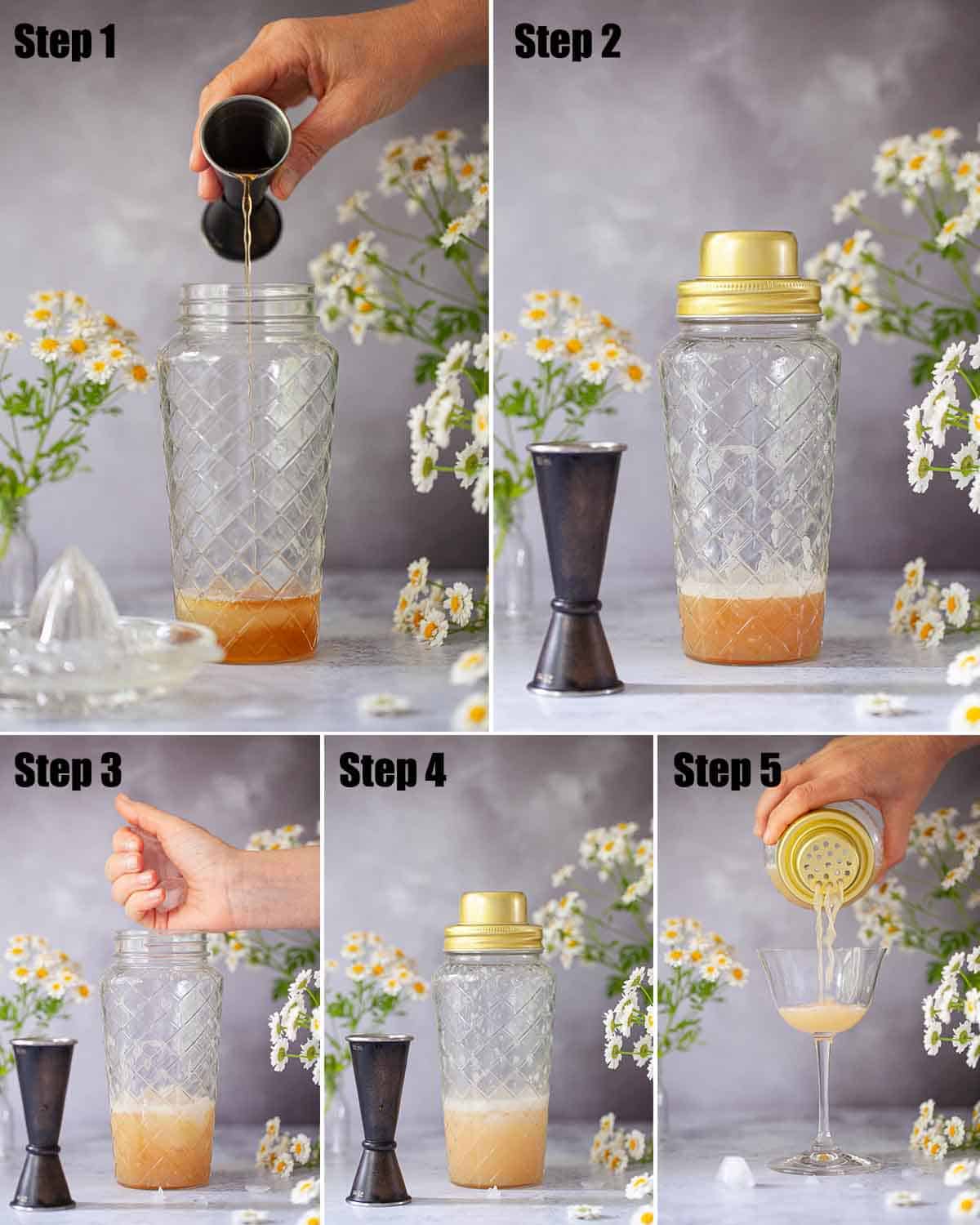 Expert Tips
Decide what glass you would like to serve this drink in. Opt for a sours glass (as pictured) if you do not want to serve it over ice. Alternatively, load a tumble with large ice cubes and pour it in
Use an Amaretto with an abv level of 28% such as Disaronno. This cocktail recipe has been devised based on this type of Amaretto and using a weaker one may not yield the best balance of flavours
Use plenty of ice to ensure the drink is well chilled
If you do not own a cocktail shaker use a large glass jar with a screwtop lid instead
Once mixed take a sip before pouring. Adjust the flavours to suit your own requirements:

if it's too sour add a little sugar syrup
if it's too sweet add a little more lemon and/ or bourbon
Frequently Asked Questions
Why is there no sugar syrup in this sour cocktail?
Typically sours cocktails do include sugar syrup to tone down the harshness of the alcohol and the citrus juice. However, the Amaretto in the Disaronno sour is sweet enough to render sugar syrup unnecessary for the majority of drinkers.

If you have a very sweet tooth it is, of course, perfectly acceptable to add sugar syrup to taste. Shake up the drink as instructed, take a small taste and then add in sugar syrup as required. Don't forget to reshake the cocktail if sugar syrup is added.
Why do I shake this cocktail twice?
Whenever egg white is used in a cocktail, it is to create texture in the drink itself and a gorgeous foamy top. It's best to perform a dry shake (without ice) first to let the protein in the egg begin to form foam and then to shake again, after ice has been added, to cool and dilute the drink and strengthen the foam.
Can I leave out the egg white?
Of course. The drink will have a slightly different, less velvety texture, but it will still be tasty. In this case, simply add all liquid ingredients to the cocktail shaker along with ice, then shake, pour and garnish with the cherries.

Aquafaba can be used in place of the egg white for a vegan alternative. Try adding 2 tablespoons.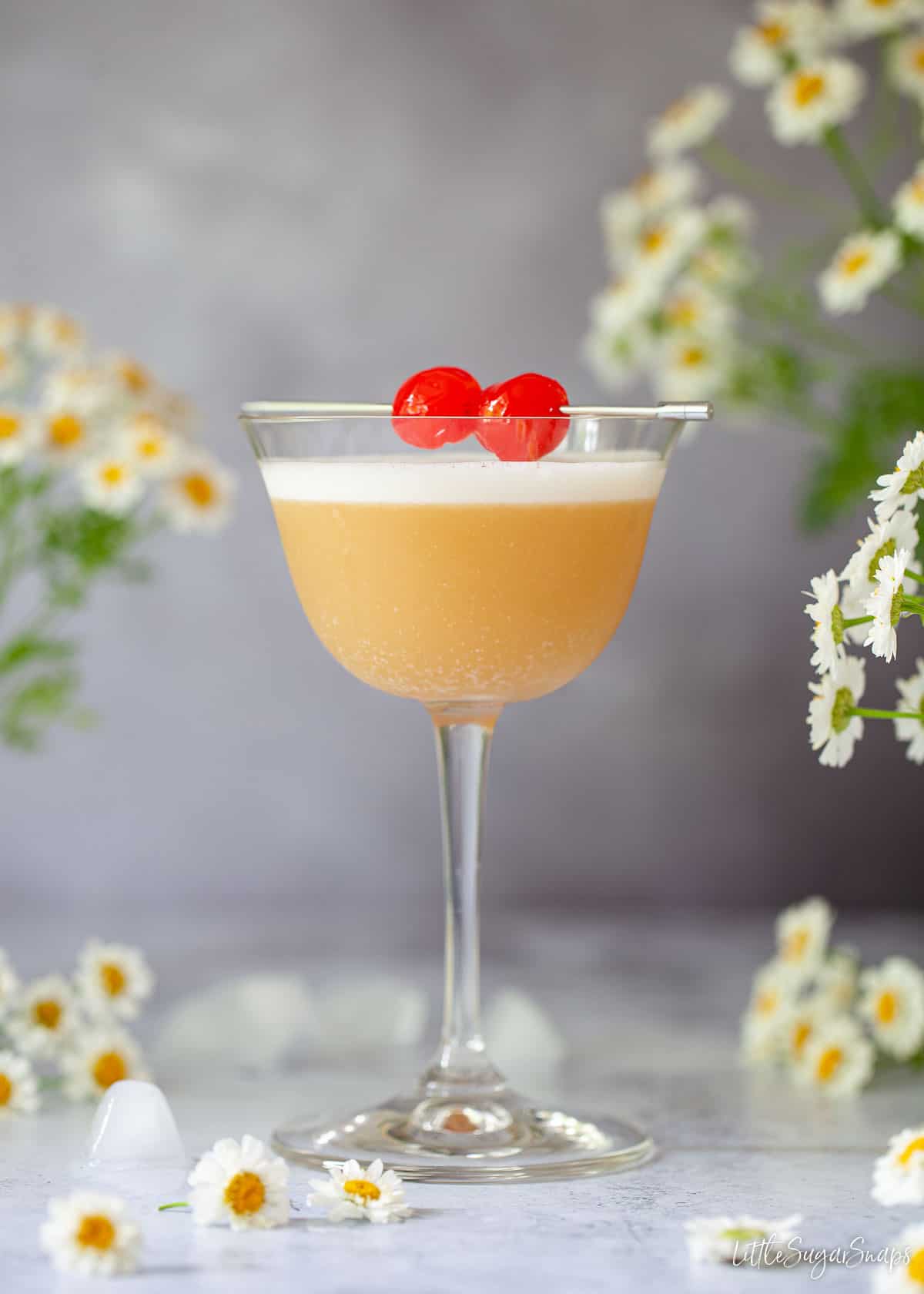 More Sour Cocktails
Due to the very nature of Disaronno, this Amaretto sour is a relatively sweet sours cocktail. If you are after something a little sharper one of these sours may appeal: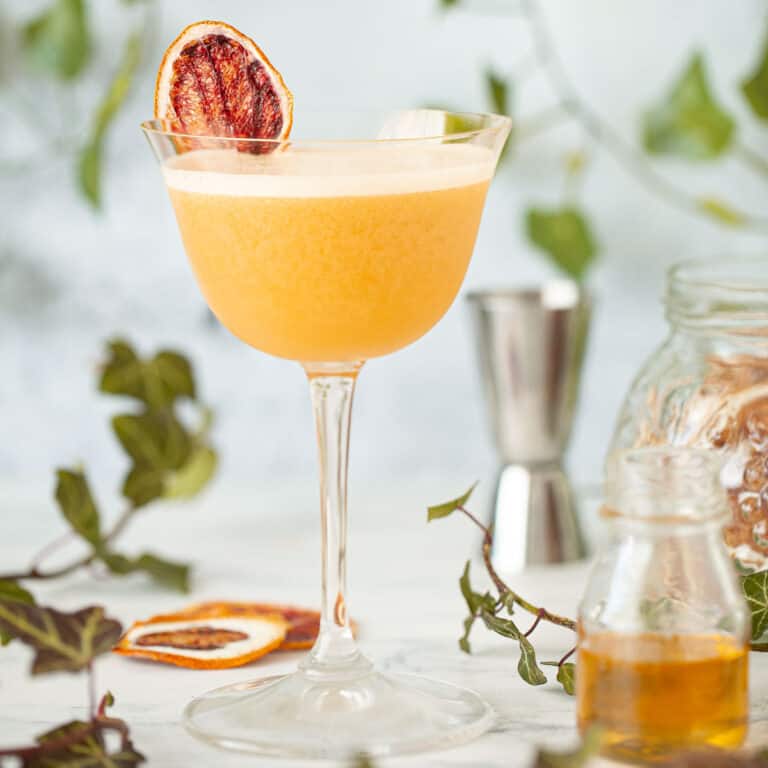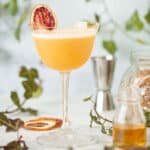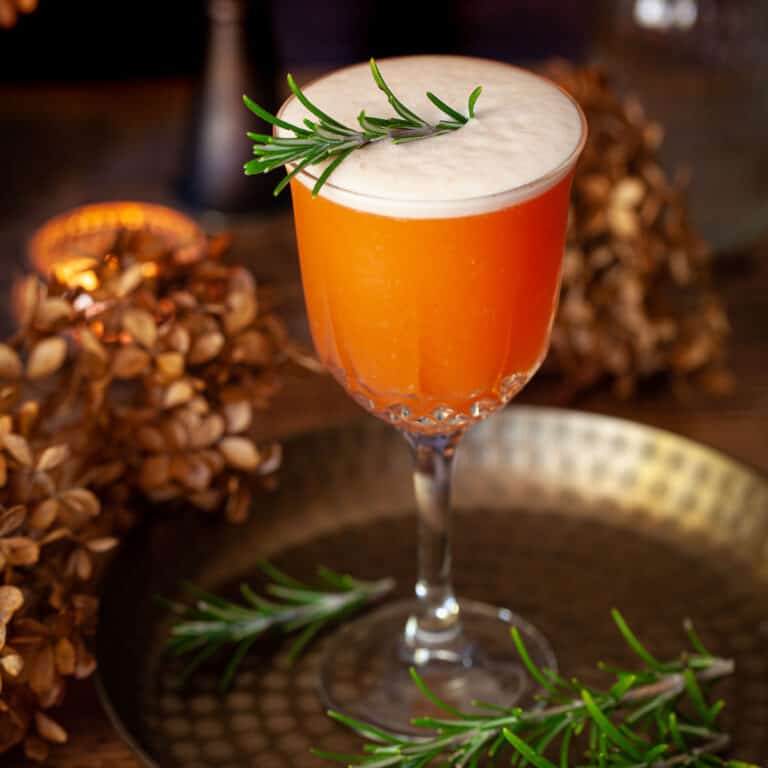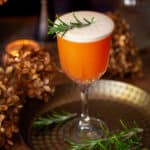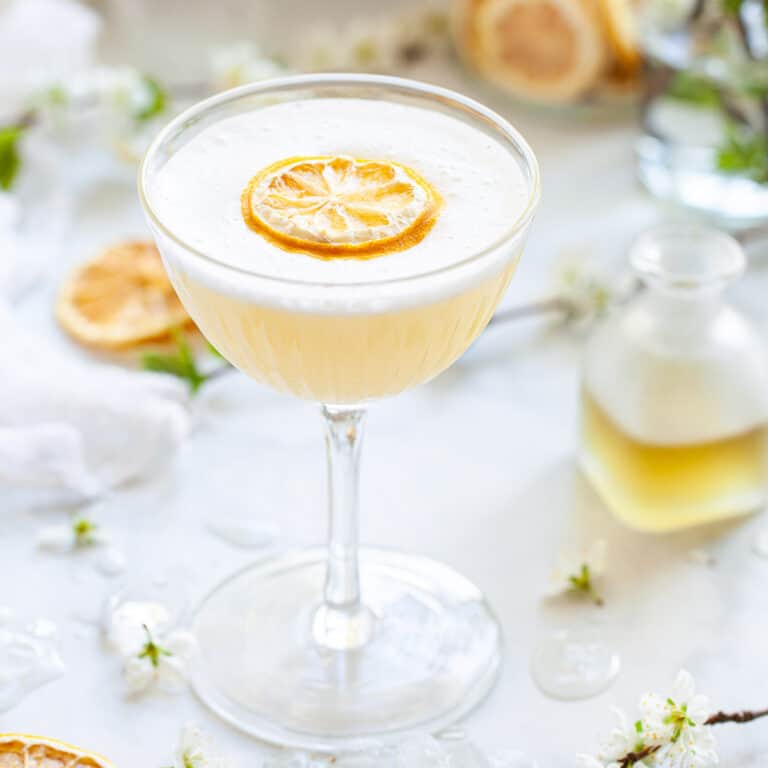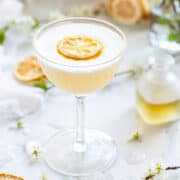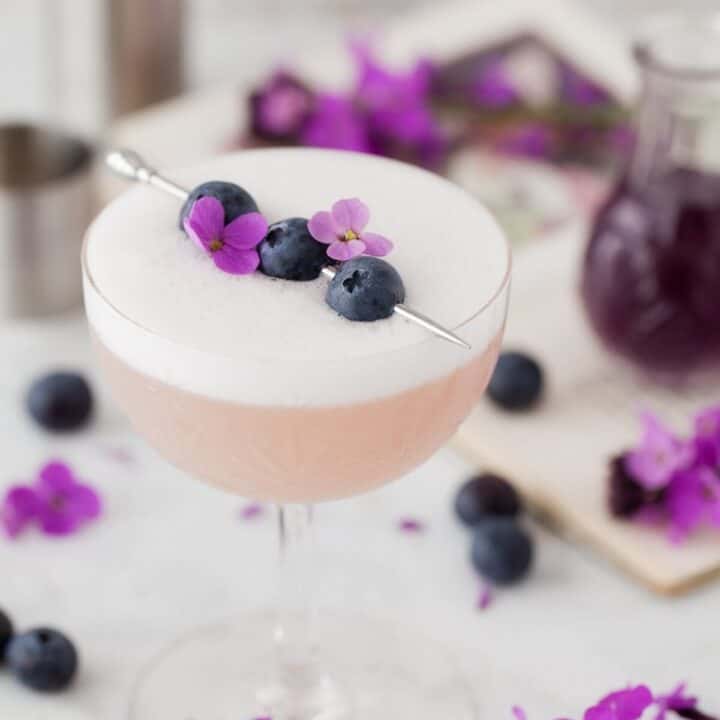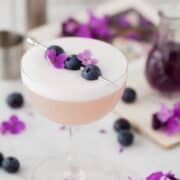 If you have tried this Disaronno sour recipe please give it a rating or leave a comment – I love to hear how you get along with my creations.
Why not sign up to receive LittleSugarSnaps newsletters to hear when new recipes are published? You'll get a free welcome e-book with my top baking tips and 5 favourite cake recipes. Or stay in touch on Facebook, Instagram or Pinterest.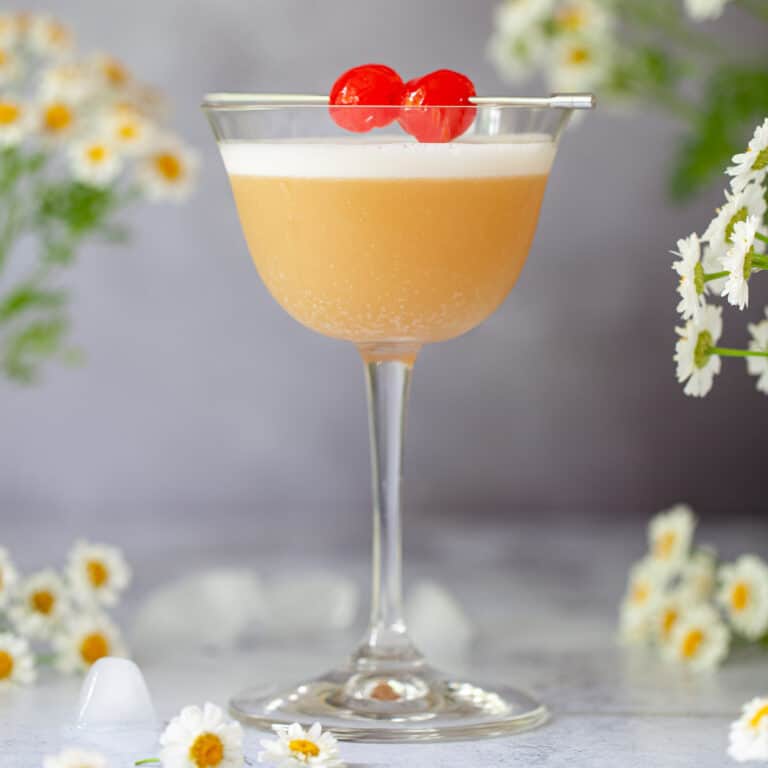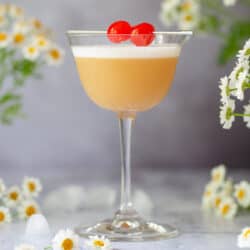 Disaronno Sour (Amaretto Sour)
Disaronno sour is a classic cocktail using Amaretto liqueur. The addition of bourbon turns this version of the Amaretto sour into a gorgeous, well-balanced libation that has its sweet and sourness perfectly in tune with each other.
Print
Pin
Rate
Equipment
A cocktail shaker or a large jar with a screwtop lid
Ingredients
Disaronno Sour with Bourbon
40

ml

Disaronno Amaretto

or alternative Amaretto liqueur with 28% abv, 2 parts

20

ml

Bourbon

1 part

20

ml

Lemon juice

1 part

20

ml

Egg white

1 part

2

Maraschino cocktail cherries

Ice
Disaronno Sour without Bourbon
60

ml

Disaronno amaretto

6 parts

30

ml

Lemon juice

3 parts

20

ml

Egg white

2 parts

2

Maraschino cocktail cherries

Ice
Instructions
Pour the Disaronno, bourbon (if using), lemon juice and egg white into a cocktail shaker – do not add ice at this stage

Secure the lid of the cocktail shaker and shake hard for 30 seconds (this is the dry shake)

Now add the ice and put the lid back on

Shake for a further 30 seconds (this is the wet shake)

Strain into a cocktail glass, garnish with the cherries and serve
Notes
Decide what glass you would like to serve this drink in. Opt for a sours glass (as pictured) if you do not want to serve it over ice. Alternatively, load a tumble with large ice cubes and pour it in
Use an Amaretto with an abv level of 28% such as Disaronno. This cocktail recipe has been devised based on this type of Amaretto and using a weaker one may not yield the best balance of flavours
Use plenty of ice to ensure the drink is well chilled
If you do not own a cocktail shaker use a large glass jar with a screwtop lid instead
This Disaronno sour is sweet enough to render sugar syrup unnecessary for the majority of drinkers. It is, of course, perfectly acceptable to add sugar syrup to taste. Shake up the drink as instructed, take a small taste and then add in sugar syrup as required. Don't forget to reshake the cocktail if sugar syrup is added
Alternatively, if the cocktail is too sweet for your liking, add a little more lemon and/ or bourbon
Don't skip the dry shake – this enables the protein in the egg white to begin to form foam. Once ice has been added a second shake then serves to cool and dilute the drink and strengthen the foam
For a vegan/ egg-free version, simply leave out the egg white or use aquafaba (the liquid from a can of chickpeas) in place of the egg white. Try adding 2 tablespoons
Note: Nutritional values are calculated on the basis of the Disaronno sour with bourbon
Nutrition Per Serving (Approximate)
Calories:
201
kcal
|
Carbohydrates:
19
g
|
Protein:
2
g
|
Fat:
1
g
|
Saturated Fat:
1
g
|
Polyunsaturated Fat:
1
g
|
Monounsaturated Fat:
1
g
|
Sodium:
37
mg
|
Potassium:
68
mg
|
Fiber:
1
g
|
Sugar:
17
g
|
Vitamin A:
6
IU
|
Vitamin C:
8
mg
|
Calcium:
8
mg
|
Iron:
1
mg
(Visited 38,999 times, 64 visits today)