Wonderfully refreshing on a hot summers day, the Aperol Spritz is a Venetian classic. Serve over ice with a slice of orange and an olive.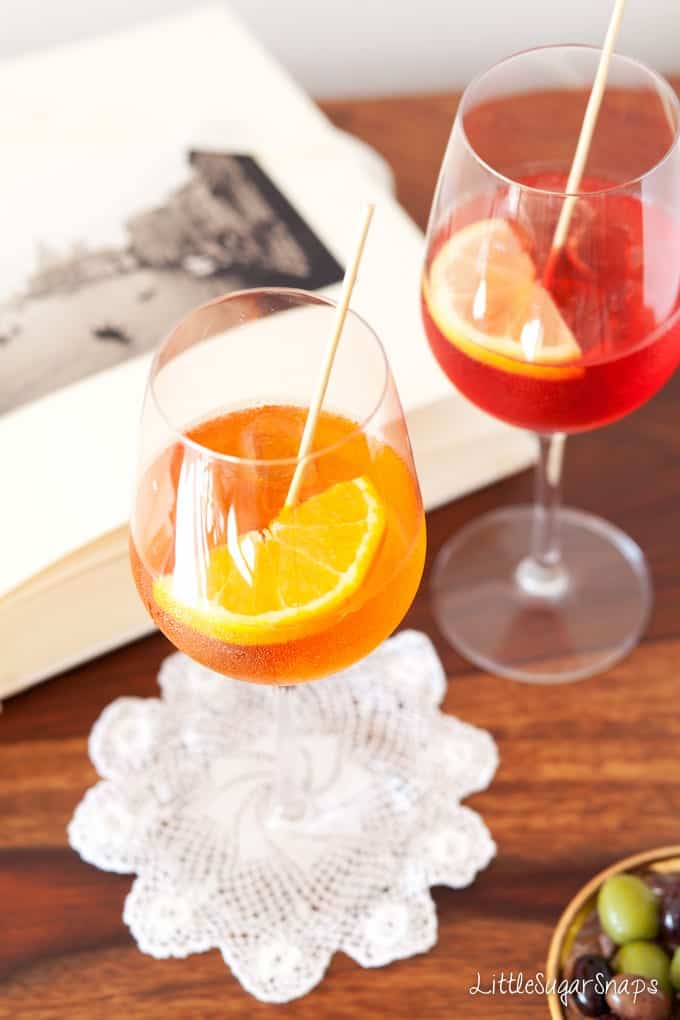 I have a theme running through my next three recipes – Venice. I've recently enjoyed my third visit to this splendid city and well, to be honest, I still haven't finished with it. I find that this city is pure relaxation. My favourite kind of holiday is one that let's me wander around at my own pace finding things to photograph and exciting goodies to eat & drink. I can do plenty of these activities in Venice.
The drawback of wandering around Southern European cities in the summer is that the days are hot. Very hot. And that is where the wonderfully refreshing Venetian Spritz comes in handy.
There are many variations on this classic Venetian aperitif, dependent on the liqueur used:
Aperol Spritz (orange flavoured)
Campari Spritz (herbal with a slight fruitiness)
Cynar Spritz (herbal)
The one thing these liqueurs have in common (apart from the last one) is that they are all bitter. Don't ask me how an alcohol drink made with a bitter liqueur at the heart of it can be refreshing on a hot, hot day, but it is.
It really is.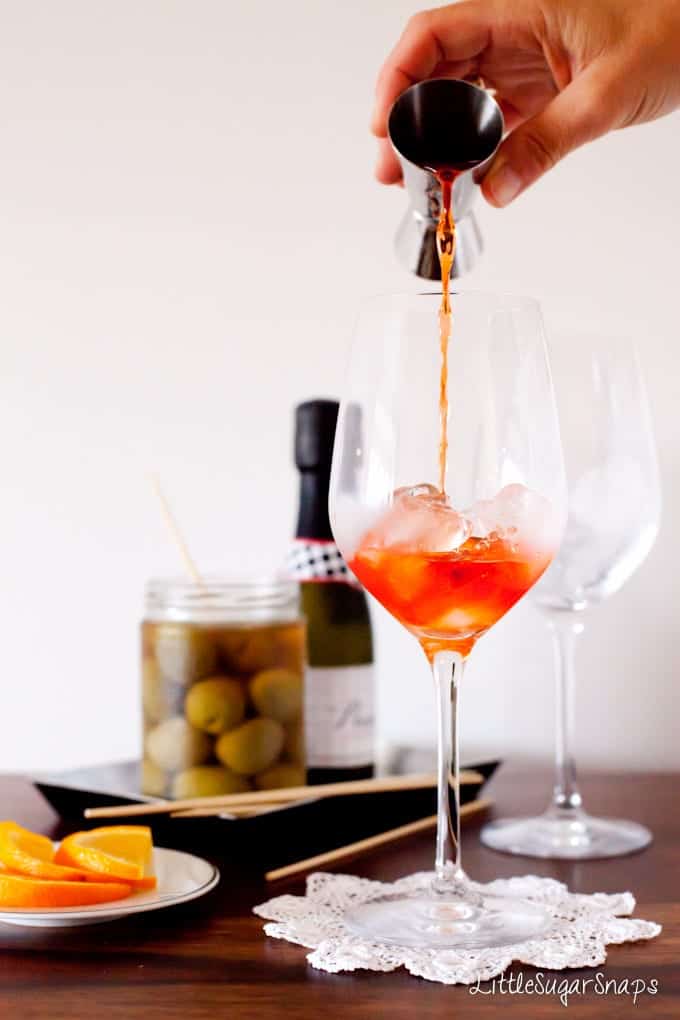 The Venetians seem to love their Spritz. Every bar, café and restaurant seems to have it on the menu. And let's face it, when you can sit in a cosy bar sipping something as colourful and thirst-quenching as the Spritz in the company of friends, that is no bad thing. I have yet to find an alcoholic drink more satisfying than the Spritz on a scorching day.
The Aperol Spritz is by far the most common variant of Spritz on offer throughout Venice, but waiters are always willing to sub in Campari or Cynar if asked. If I'm being honest, although Chris is quite happy with the Aperol Spritz I always ask for a Campari Spritz. I like both, don't get me wrong. But Campari is slightly more bitter and that extra twang of bitterness wins hands down for me. That's why I've highlighted the variations on offer – I wouldn't want you to miss out on your perfect Spritz for want of asking.
Whichever spirit you choose as your base, do ensure it is served with a slice of orange (great with the Aperol Spritz) or lemon (great with the Campari Spritz) and a big, fat, juicy green olive.
The olive is essential – miss it out at your peril.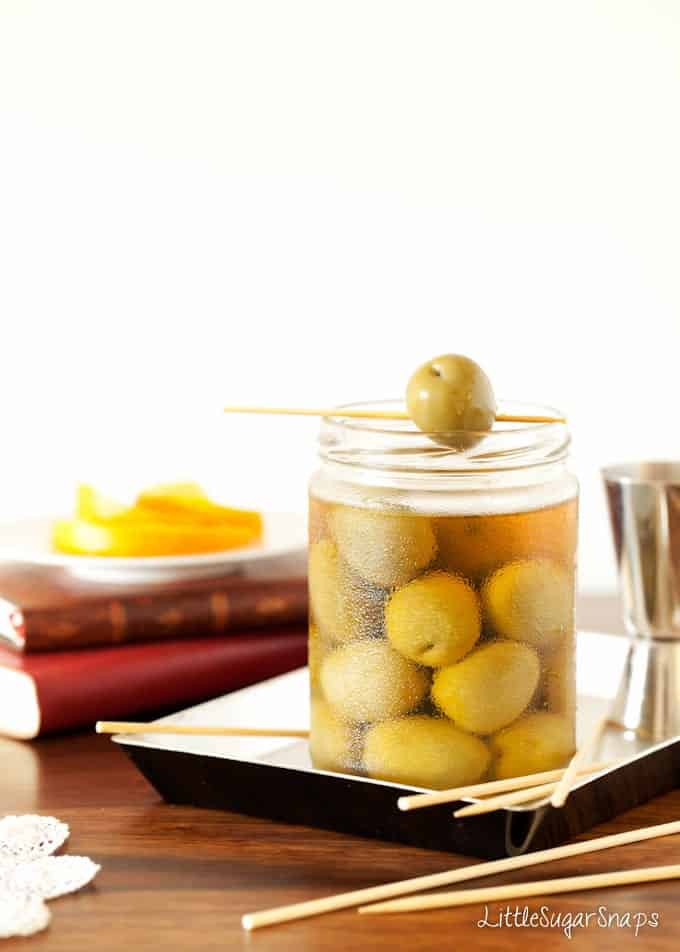 Before I go, I wanted to share with you a photograph of Venice. Obviously, prime tourist season, during the busiest times of the day, with kids in tow, is not the best time to photograph Venice. Instead, I'm sharing with you a photograph taken by myself and my husband a few years back on a previous visit. Back then we did get up early to avoid the crowds and catch the gentle morning light. We also stayed out late to catch the best that the end of the day had to offer. One day we'll do that again. But for now, we'll take our excursions at the pace of our kids. (When is it time for an ice cream?)
Over my next two posts I'll be sharing a lip-smackingly fresh, invigorating fruit juice and some quick & simple Crostini. I may also dig out some more scenic Venice images from my family archive.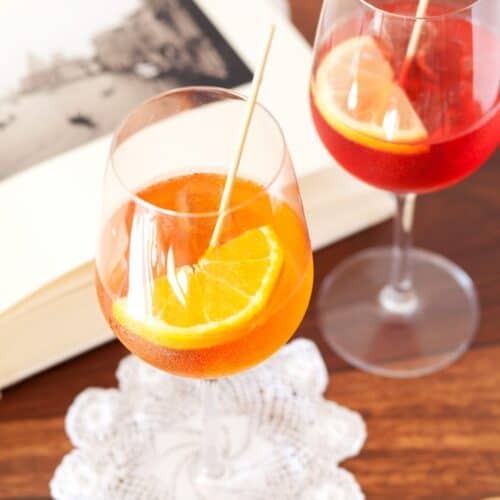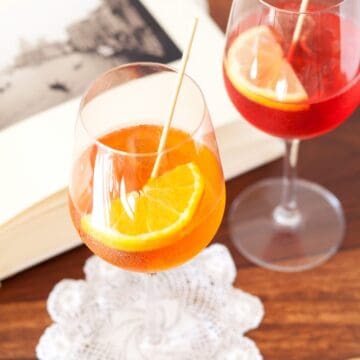 Venetian Aperol Spritz
Wonderfully refreshing on a hot summers day, the Aperol Spritz is a Venetian classic. Serve over ice with a slice of orange and an olive.
Print
Pin
Rate
Ingredients
40

ml

Aperol or Campari or Cynar

60

ml

Prosecco

20

ml

Soda water

1

slice

Orange or lemon

1

Large green olive

(see notes)

Ice cubes
Instructions
Put a handful of ice cubes into a large wine glass or tumbler

Pour the Aperol/ Campari/ Cynar over the ice

Top up with Processo and soda water

Skewer an olive onto a long cocktail stick add to the glass and stir briefly

Garnish with the orange or lemon
Notes
1. Choose olives preserved in brine rather than oil – otherwise you'll end up with an oily drink. 2. I found Queen Olives at my local Waitrose – they are the biggest I've seen in the UK
(Visited 1,954 times, 3 visits today)