No other drink rings out the arrival of the festive season quite like vin brulé does. This deeply warming and comforting Italian mulled wine is easy to prepare, serves a crowd and screams of Christmas.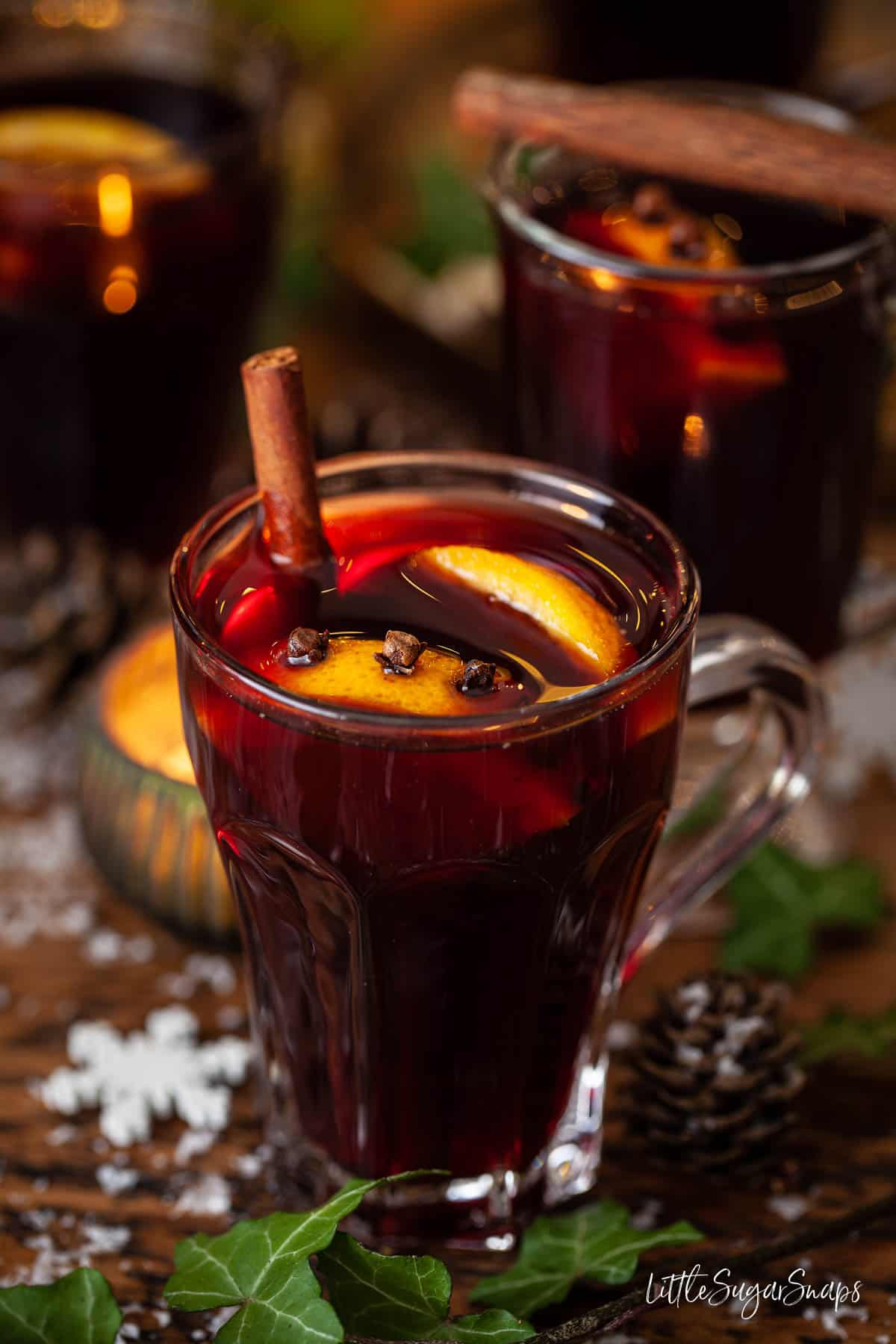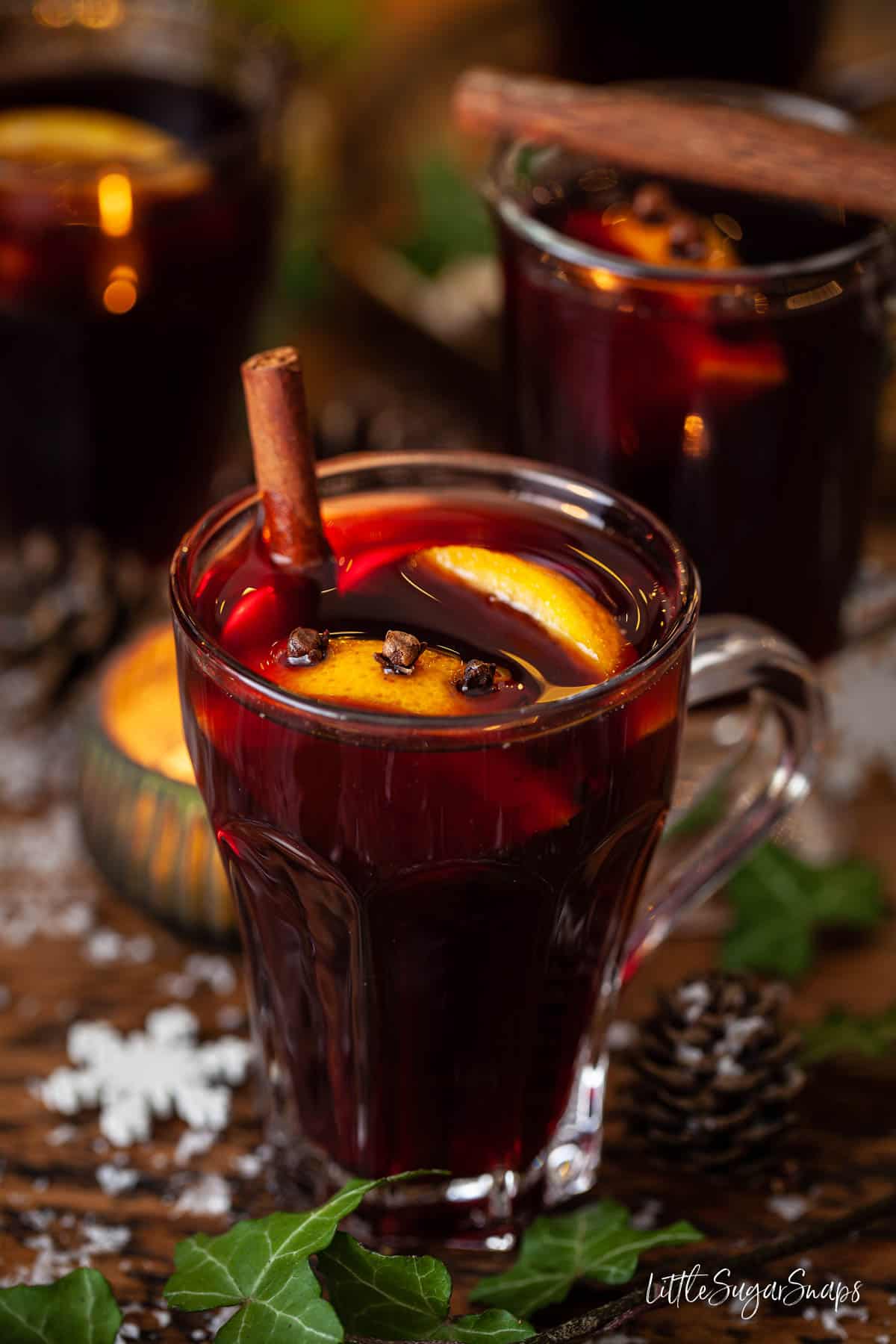 This post contains affiliate links. As an Amazon Associate, I earn from qualifying purchases.
For me, nothing quite says that Christmas is on its way until I've sipped on my first glass of vin brulé – aka Italian mulled wine.
I tend to start enjoying this tipple anytime from early December and I find that it's a universally popular drink to serve to guests at this time of the year.
It's an added bonus that this drink can be made in advance – it stores well for 5 days and it is easy to reheat.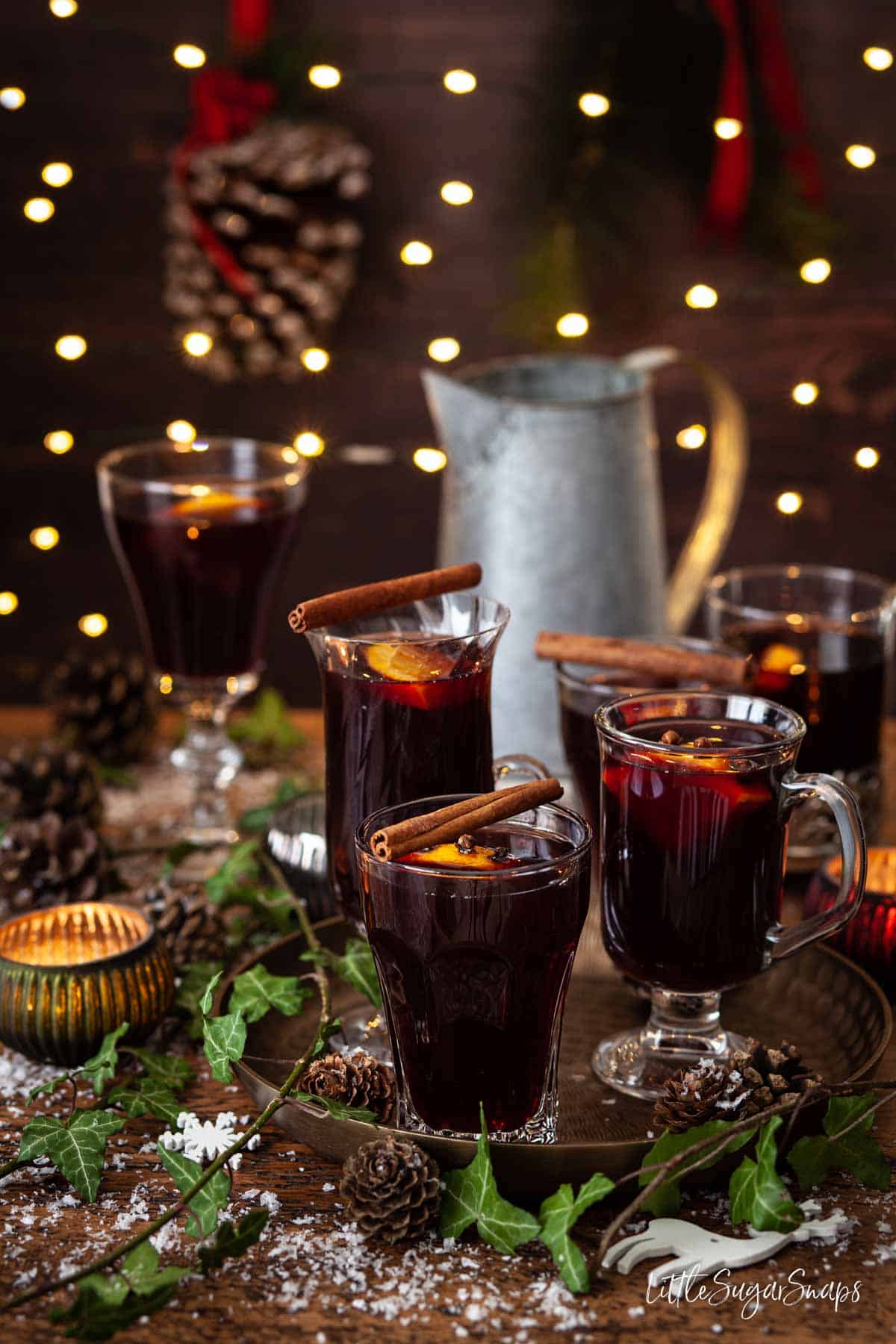 What Makes this Vin Brulé so Good?
I've been making Italian mulled wine for 10+ years, having first latched onto a recipe in Taste Italia magazine in 2007 (sadly no longer in publication).
Over the years I've adapted and changed the recipe, but have still kept the integral parts (honey, citrus & clove) the same. These ingredients add depth, freshness and a mellow quality to the vin brulé.
Teamed with some quality spirits, this drink is an absolute treat and not as light-weight as mulled wine can sometimes be.
Ingredients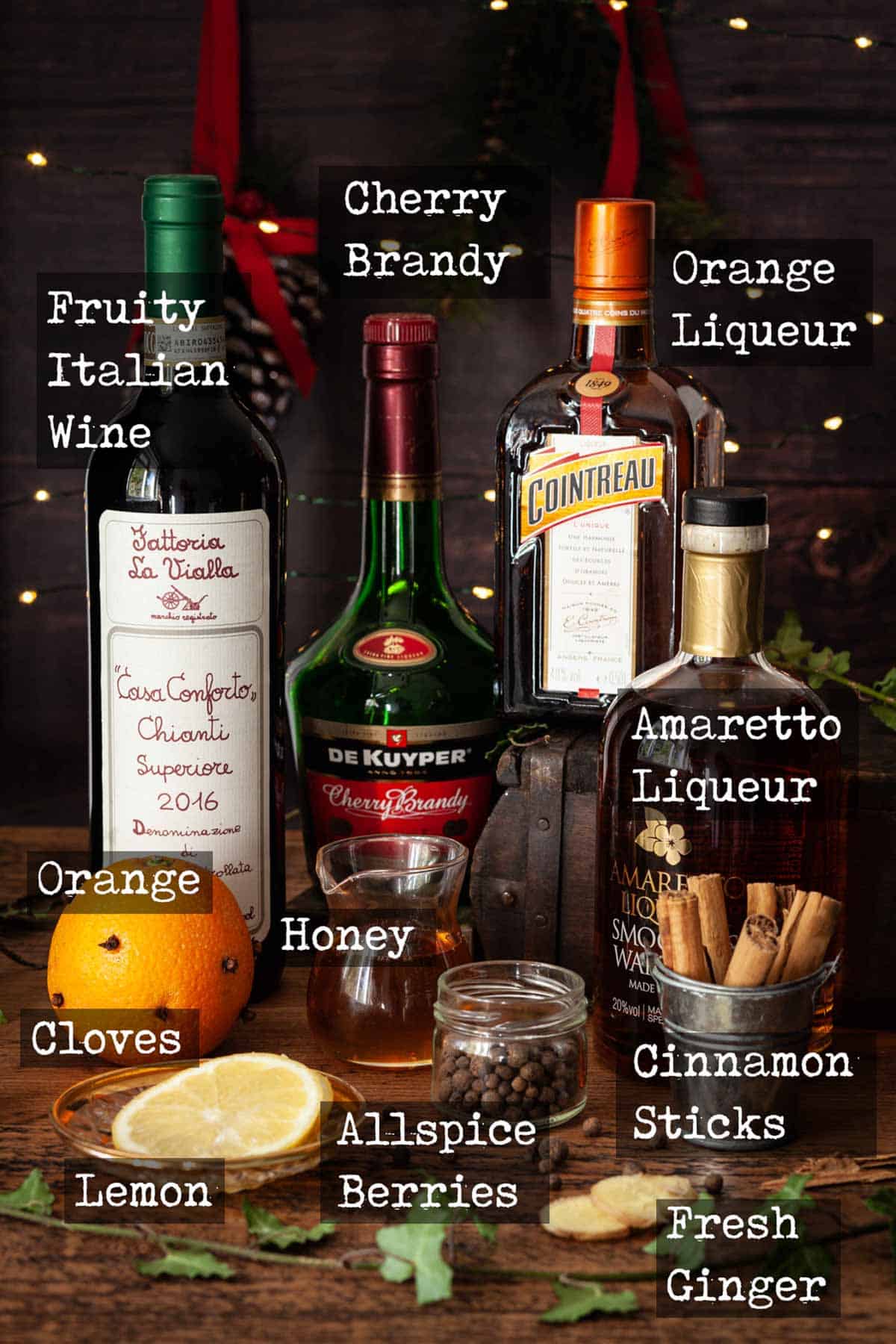 Though there are many variations of mulled wine the world over, Vin Brulé, rather unsurprisingly, insists upon Italian red wine.
This recipe calls for an inexpensive fruity red wine, which, lucky for us, the Italians do so well. I've used Chianti here as I had a bottle that needed using up, but Sangiovese, Merlot and Primitivo are all good options.
I've used Cointreau for my orange liqueur, but Grand Marnier makes a fine alternative.
Amaretto is an optional extra, but it does add another nod to Italy in the ingredients list. If you don't have any to hand, replace with more cherry brandy and orange liqueur.
Instructions
Step 1: Poke the cloves into the orange and put into a large saucepan, then pour in the wine and heat, gently until steaming but not boiling
Step 2: Remove from the heat and add the honey, lemon, allspice, cinnamon and ginger. Set aside to steep for at least 30 minutes but up up 1 hour (the longer the spices are left in, the more pronounced the flavours will be)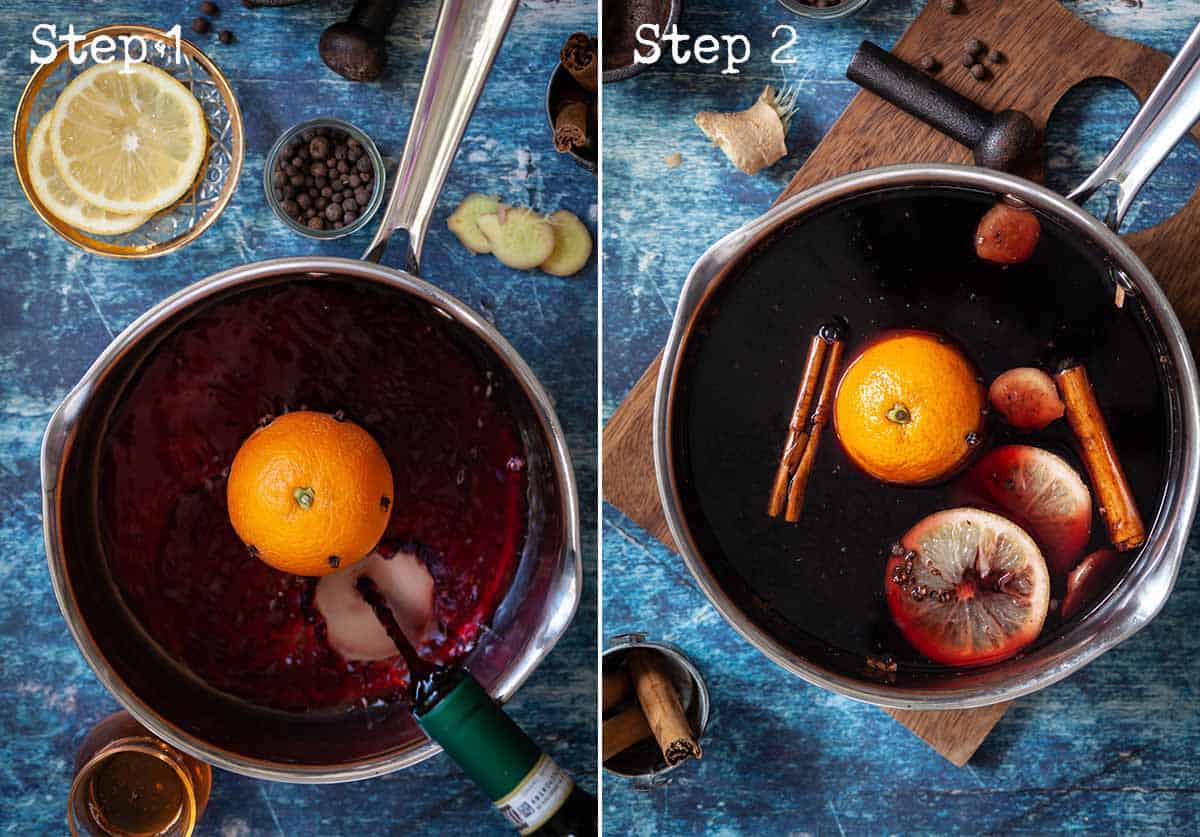 Step 3: Strain through a fine-meshed sieve to remove the fruit and spices. Pour into a clean pan.
Step 4: Add the liqueurs and water. Reheat gently and serve, garnished with orange slices and cinnamon sticks
Tips and Frequently Asked Questions
Tips
There is absolutely no need to spend a fortune on the wine in this recipe. I usually pick up whatever is on special at the supermarket for my vin brulé
Mulled wine does not need to be served piping hot. In fact, it is best served at a lower temperature to allow the complex flavour profile to sparkle
Never let your wine simmer or boil as it cooks – this will destroy the flavours
Don't leave your wine to 'keep warm' for hours on end. This will also lead to the flavour deteriorating
Frequently Asked Questions
How strong is mulled wine?
That varies, depending on the recipe and how much it is cooked/ kept warm for (alcohol begins to evaporate when heated).

What I can tell you is that my vin brulé is fairly potent, since it contains an entire bottle of wine plus 3 liqueurs. Yes, I've added water to help balance this out, but I certainly wouldn't class this drink as light in terms of alcohol.
Can I leave the liqueurs out?
I'll confess I've always much preferred my mulled wine with the addition of liqueurs, since they add another element to the flavour profile (in this case cherries, orange and almonds) and they ramp up the feeling of a boozy hug in a mug.

However, you could reduce the amount of liqueurs – try ½ or even ¼ of the quantities listed or leave them out altogether should you be after a simpler affair. Don't forget to reduce the water accordingly too.
Can I make in advance and reheat?
Yes, you certainly can. Just follow the recipe and then, when cooled, decant into suitable storage bottles. You can then reheat portions of mulled wine as required.

If intending to warm up it all up in one go, just pour the mulled wine back into a pan and heat gently. Keep warm for 1-2 hours, but not much longer as the flavour will deteriorate.
More Mulled Drinks
Why stop at vin brulé when there are so many more warm and cosy mulled drinks on offer? Give these drinks a try too:
And if you're all mulled out, take a look through my hot drinks collection for further ideas.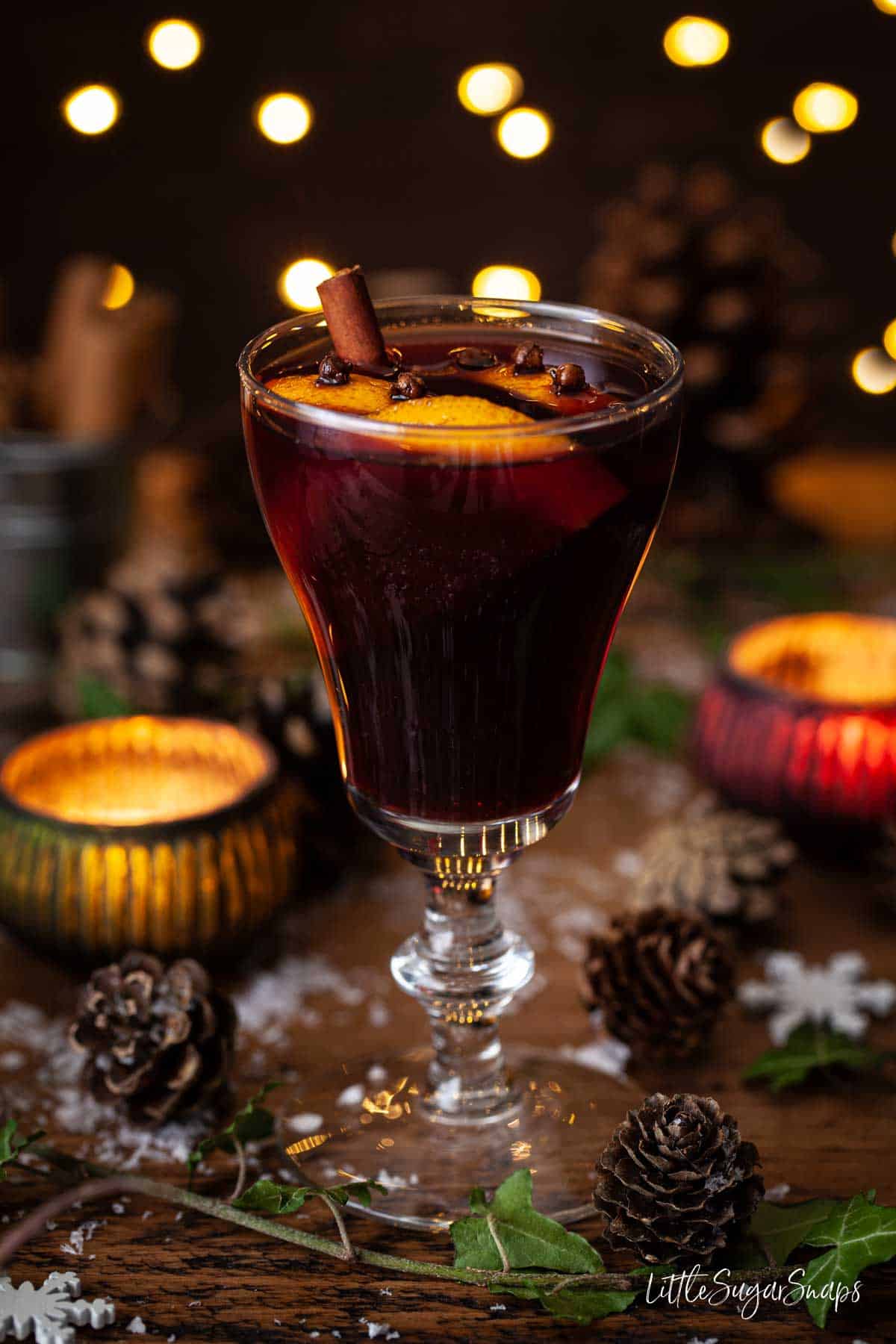 Have you made my vin brulé? I really hope you enjoyed it – drop me a note below or rate the recipe so I can see how you got along. Or post a picture on Instagram and tag me @jane_littlesugarsnaps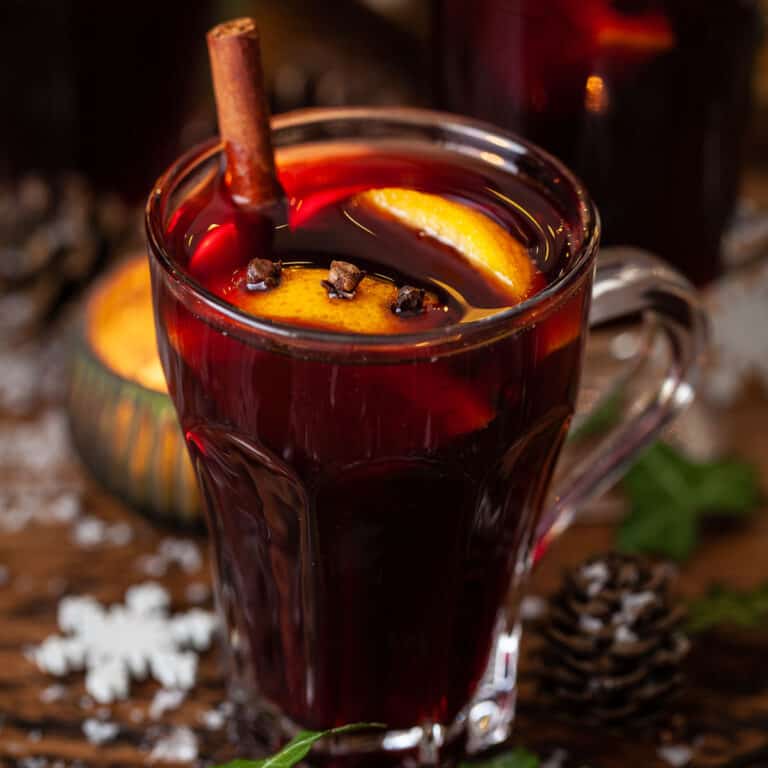 Vin Brulé – Italian Mulled Wine
No other drink rings out the arrival of the festive season like vin brulé. This deeply warming and comforting Italian mulled wine is easy to prepare, serves a crowd and screams of Christmas.
Print
Pin
Rate
Ingredients
70

cl

Fruity Italian red wine

1

Orange

12

Cloves

4

tablespoon

Honey

2

Lemon slices

3

Slices fresh ginger

no need to peal

2

Cinnamon sticks

each 10cm long

3

Allspice berries

lightly crushed

100

ml

Cointreau Orange liqueur

or Grand Marnier

100

ml

Cherry brandy

100

ml

Amaretto

500

ml

Water
Instructions
Poke the cloves into the orange and put into a large saucepan, then pour in the wine and heat, gently until steaming but not boiling

Remove from the heat and add the honey, lemon, allspice, cinnamon and ginger. Set aside to steep for at least 30 minutes but up up 1 hour (the longer the spices are left in, the more pronounced the flavours will be)

Strain through a fine-meshed sieve to remove the fruit and spices. Pour into a clean pan.

Add the liqueurs and water. Reheat gently and serve, garnished with orange slices and cinnamon sticks
Notes
There is absolutely no need to spend a fortune on the wine in this recipe. I usually pick up whatever is on special at the supermarket for my vin brulé

This drink should not be served boiling hot like tea or coffee. It is best served at a lower temperature to allow the complex flavour profile to sparkle

Never let your wine simmer or boil as it cooks – this will destroy the flavours

Don't leave your wine to 'keep warm' for hours on end. This will also lead to the flavour deteriorating

For a less strong mulled wine you could reduce the amount of liqueurs – try ½ or even ¼ of the quantities listed or leave them out altogether should you be after a simpler affair. Don't forget to reduce the water accordingly too
Nutrition Per Serving (Approximate)
Calories:
176
kcal
|
Carbohydrates:
27
g
|
Protein:
1
g
|
Fat:
1
g
|
Saturated Fat:
1
g
|
Sodium:
9
mg
|
Potassium:
94
mg
|
Fiber:
2
g
|
Sugar:
23
g
|
Vitamin A:
37
IU
|
Vitamin C:
23
mg
|
Calcium:
26
mg
|
Iron:
1
mg
(Visited 1,246 times, 2 visits today)