These puff pastry mince pies are light and crisp with a deliciously fruity filling and come adorned with a delectable and truly unique Warninks advocaat butter. You'll be proud to serve these up to family and friends over Christmas.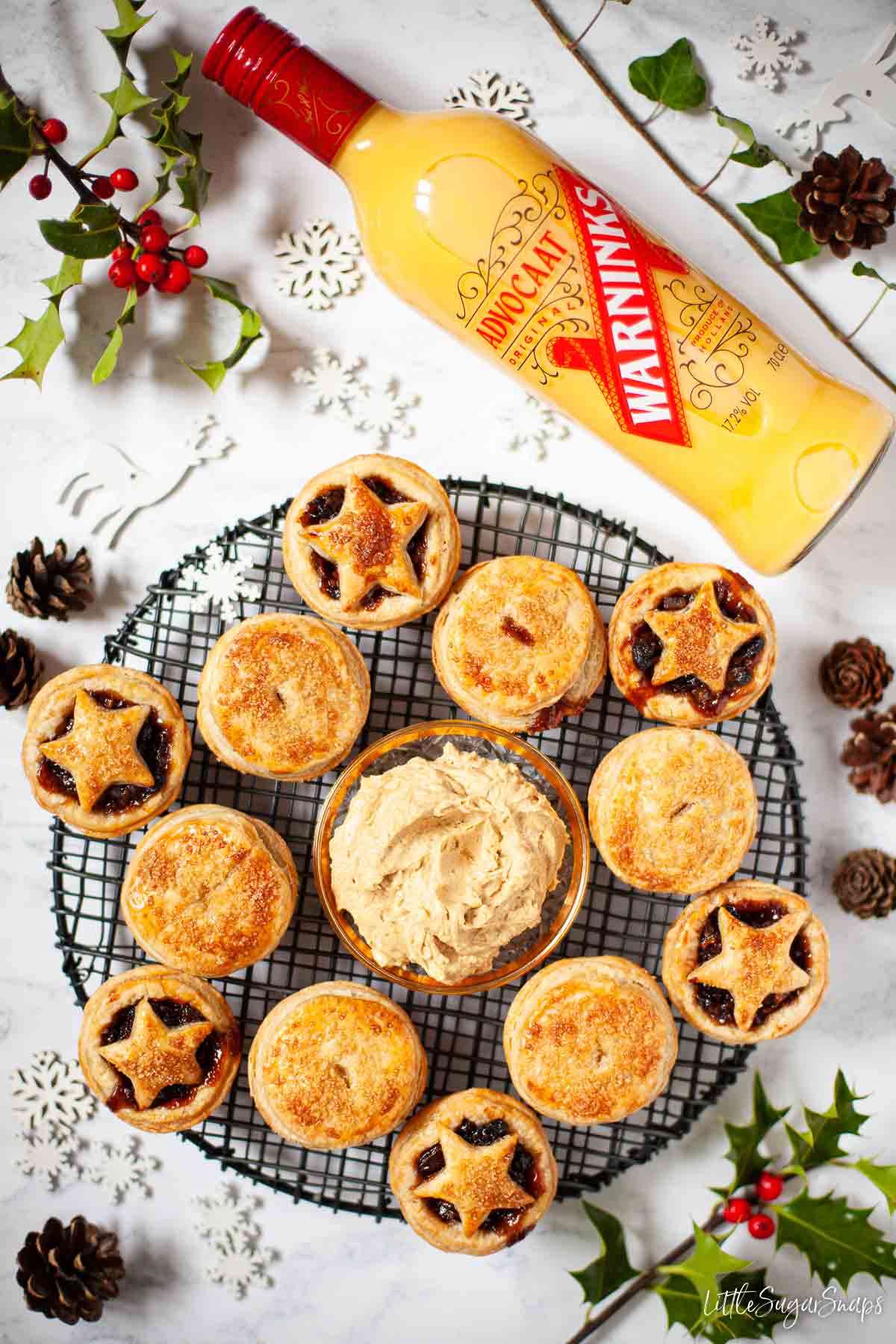 This post is sponsored by Warninks. All thoughts and opinions are my own.
If you love festive baking, then you really should try these quick puff pastry mince pies. It's unusual to find this British bake served in anything but shortcrust pastry, but trust me, puff pastry works just as well.

But it's not just the alternative pastry that adds excitement to this bake – it's the Warninks advocaat butter served alongside it too. If you have a soft spot for advocaat this is the bake for you to get your teeth into this year.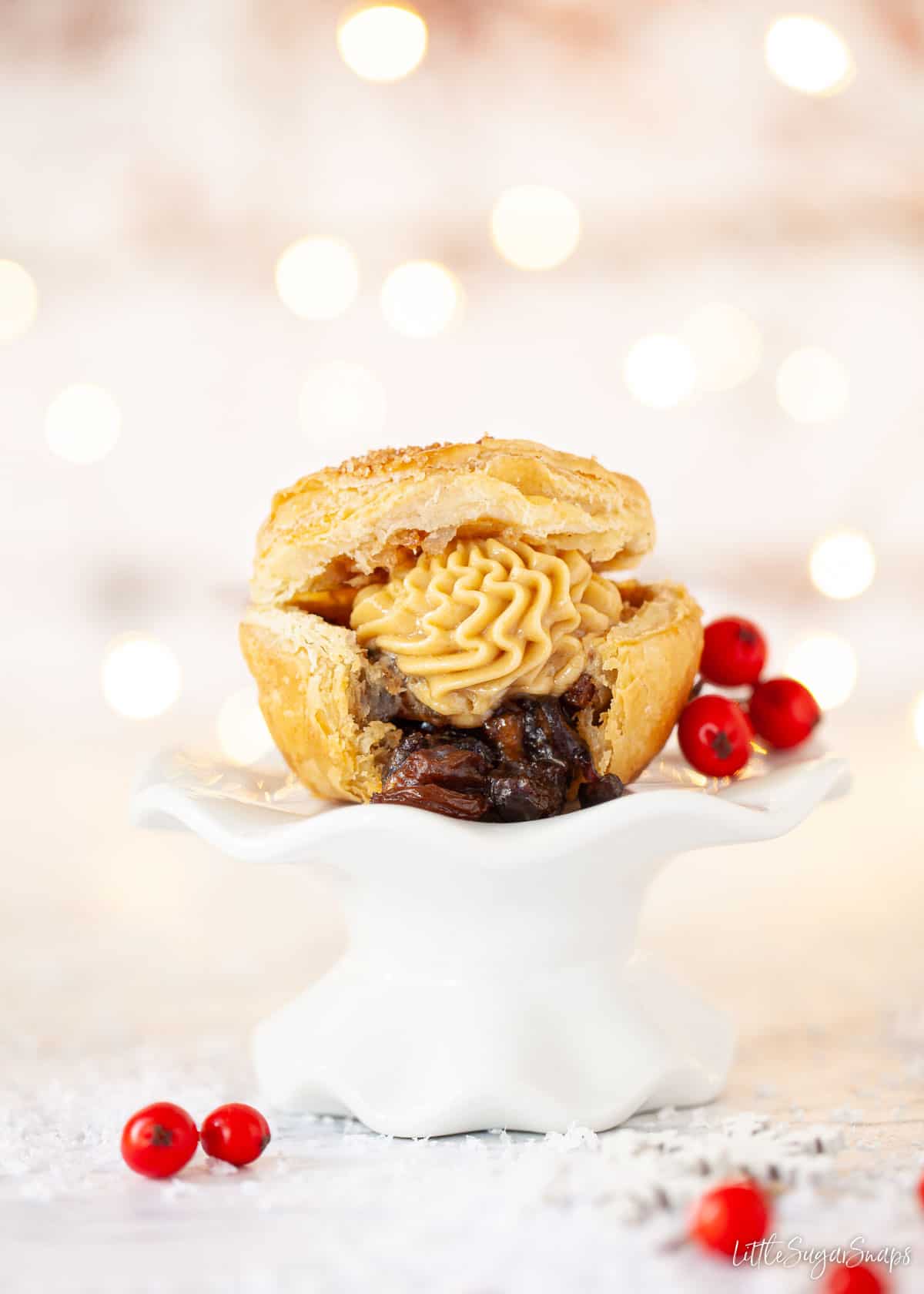 Why make these pies?
These quick puff pastry mince pies are bound to become one of your favourite festive bakes:
The rough puff pastry recipe is easy to achieve and takes just 20 minutes to prepare
But it's up to you whether to make the pastry or use store-bought instead – the pies will turn out wonderfully either way
You get to pick your favourite mincemeat, whether that's store-bought or homemade
The advocaat butter is totally unexpected. Guests will love this unique touch
They can be made in advance and frozen, ready to bake
Try serving them with a festive tipple such as a Snowball or a glass of Bombardino – a warm advocaat drink. Either drink complements this treat exceedingly well.
What is Advocaat butter?
Advocaat butter is just like brandy butter but with advocaat replacing much of the brandy. It's simply a mixture of butter, sugar, advocaat and a drop of brandy.

Why use Warninks advocaat? Well, Snowball cocktails, made from advocaat, are so synonymous with Christmas it seemed a natural pairing. And the vanilla custard flavour of Warninks advocaat liqueur does excel in this sweet boozy butter.

Just like brandy butter, advocaat butter is the perfect partner to mince pies, whether they are served warm or cold. It adds that extra level of indulgence to this festive treat, so I urge you to whip up a batch to serve with these puff pastry mince pies.
Ingredients notes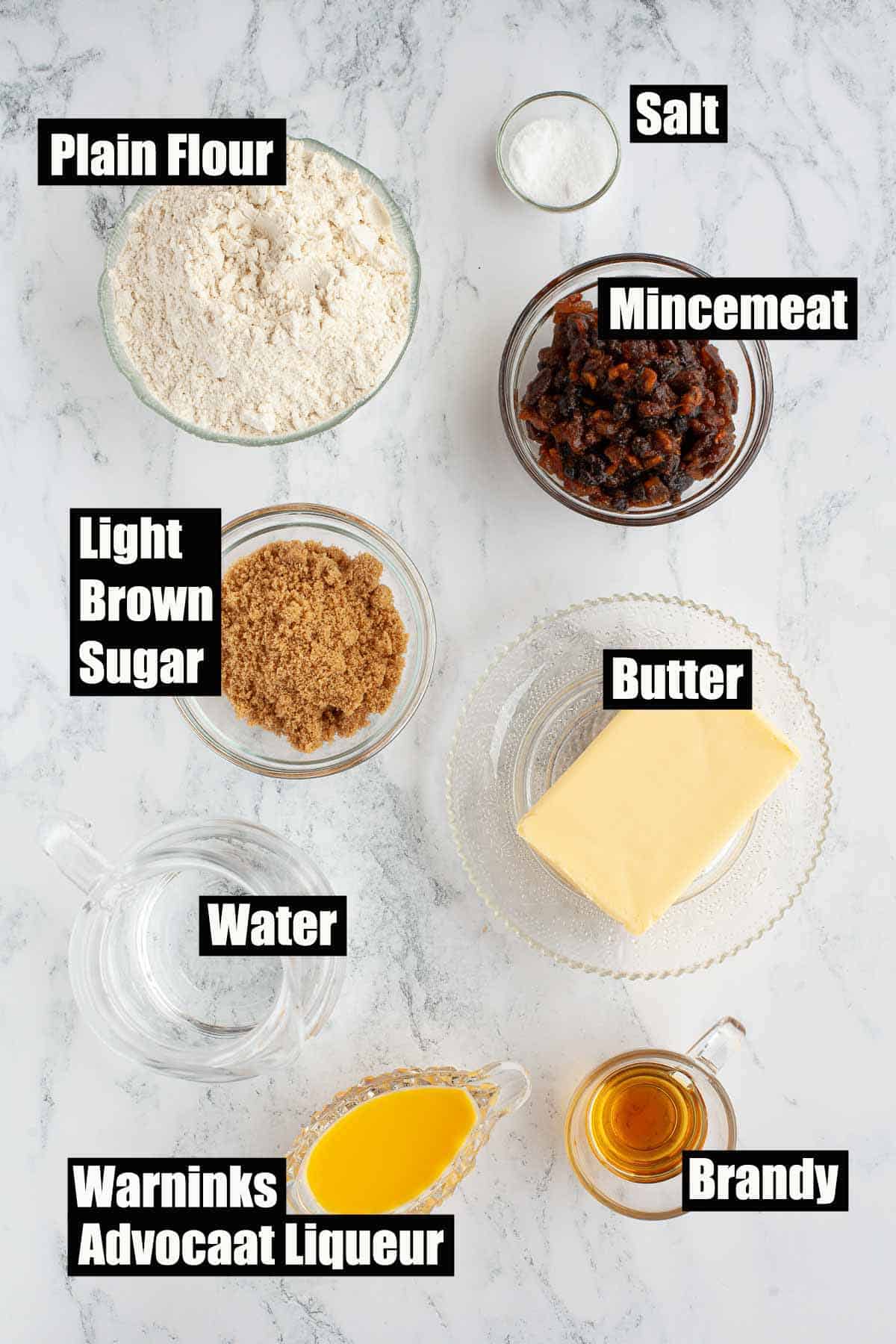 Use real butter for both the advocaat butter and the pastry. The taste will be rich and full on both counts. Furthermore, butter contains more fat and less water than baking margarine and therefore creates superior quality pastry with a lovely flaky texture and impressive lift.
Plain white flour has been used for the pastry. Although we want the pastry to lift, this is caused by the butter trapped in the dough. It is not the result of a raising agent, so self-raising flour should not be used in this recipe.
I used Warninks advocaat for the boozy butter. Made from egg yolks, sugar, vanilla and brandy, Warninks is highly regarded in the world of advocaat because of its high quality combined with a purse-friendly price point. I wouldn't contemplate using any other brand.
It's common to find brandy butter recipes using caster, powdered or brown sugar. I opted for light brown sugar for my advocaat butter to provide a lovely mellow depth of flavour to complement the advocaat.
Step-by-step instructions
Keep in mind that although it only takes 20 minutes to make the pastry, it does then need to chill for an hour before you can get on with cutting out and baking these puff pastry mince pies.
Divide the butter into 4 portions
Put the flour and salt into a bowl and stir briefly then add 1 portion of the butter (cubed) and rub in
Pour in ¾ of the water and mix, with a blunt knife, to a soft dough, adding more water as necessary (do not add so much that the dough turns sticky)
Roll the dough into a long rectangle on a lightly floured worktop to approx 4mm thick. Take another portion of the butter, cube it and scatter over ⅔ of the dough, leaving the final ⅓ empty
Fold the empty third of the dough over the top of the dough, bringing it to the centre. Fold the other end of the pastry over the top, then rotate the pastry 90 degrees
Repeat steps 4-5 twice more to incorporate the remaining 2 portions of butter
When all of the butter has been used, rotate the pastry and roll out once more, then fold it and repeat. Fold up again then wrap before chilling for 1 hour in the fridge
Remove from the fridge, roll out pastry to 3mm thick and use a round cutter (about 8½cm) to cut out 12 bases and place them into muffin trays. Fill with mincemeat
Cut 12 lids using a smaller cutter to fit your pies, brush the underside with beaten egg and press them on top to seal. Glaze with the beaten egg, sprinkle with demerara sugar (optional), make a small cut in the tops and bake for 20 minutes
Let cool in the muffin tin
Meanwhile make the advocaat butter by creaming the butter using electric beaters until smooth. Add the sugar and mix again. Add the brandy, 1 teaspoon at a time, beating well between each addition. Then add the advocaat in the same way.
Keep on adding the alcohol in small icrements until it is all incorporated. Set aside or chill until required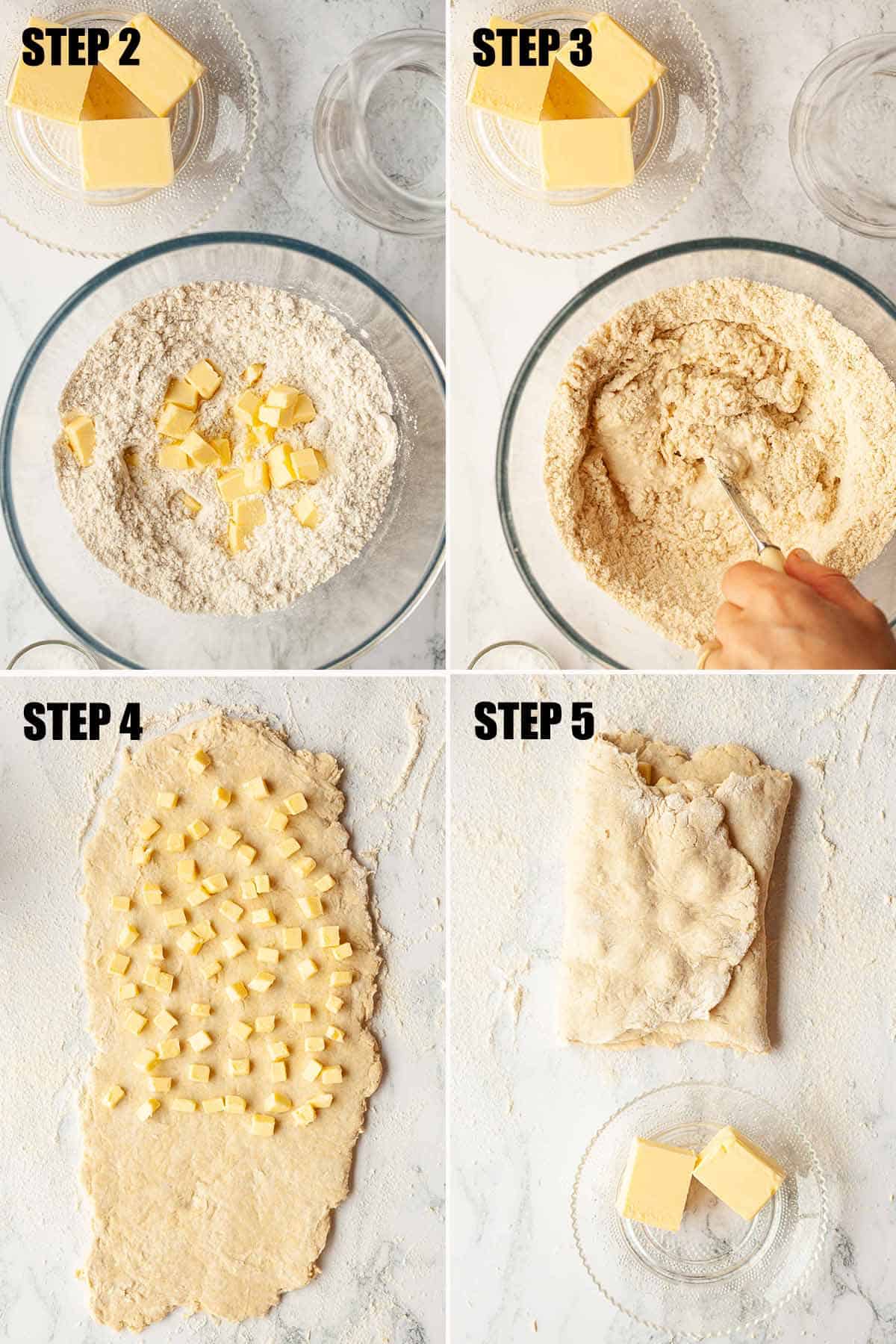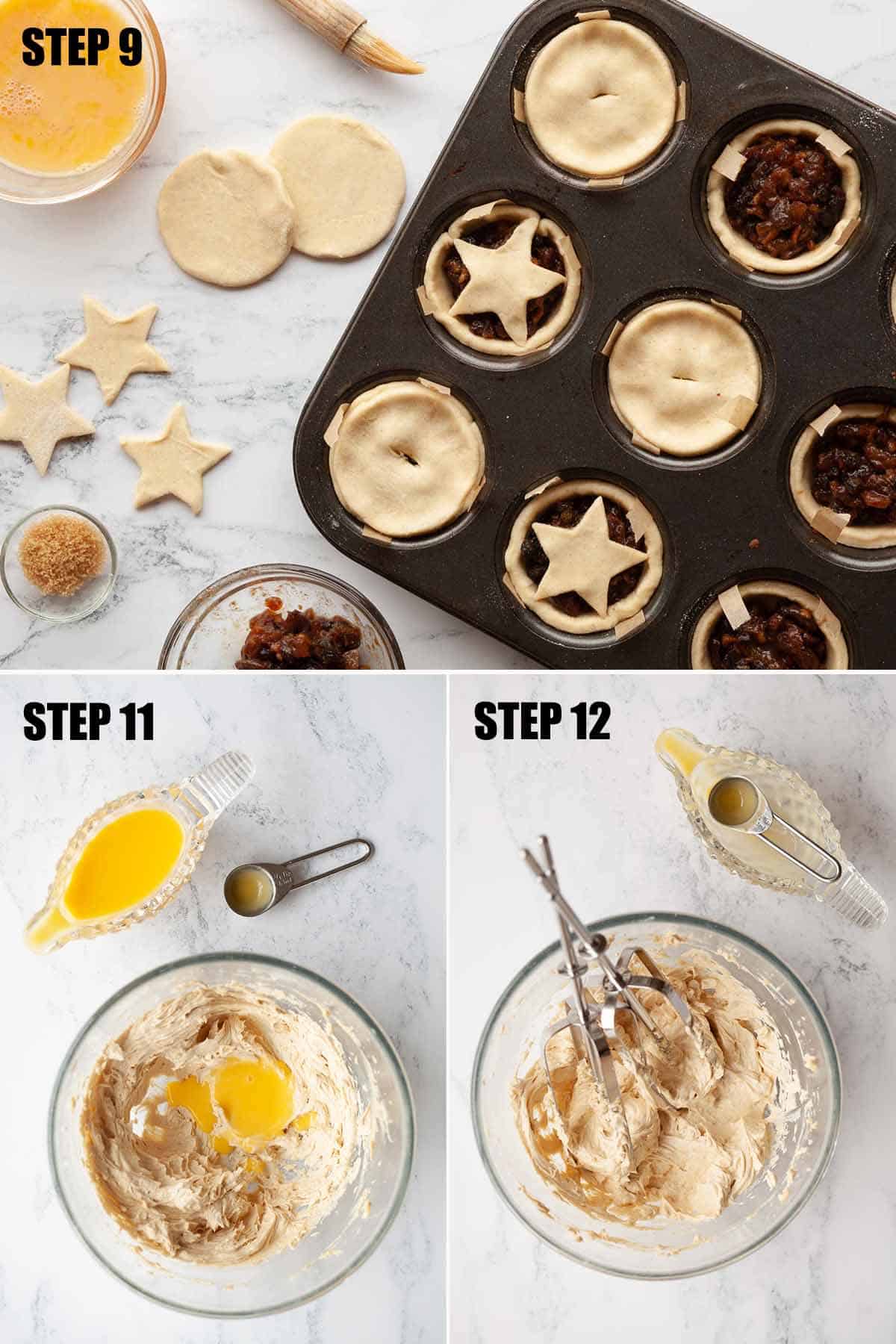 Expert Tips
If you don't enjoy making pastry or need to save time, storebought puff pastry can be used in this recipe. You'll need a 500g block
Remember to chill the pastry dough properly. It is easier to handle when sufficiently chilled and will bake to a superior texture
Puff pastry can be re-rolled but it is important not to scoop the offcuts up and squeeze them together. Instead stack the offcuts on top of each other and then re-roll. This helps to preserve the lamination built up in the making process that helps the pastry puff up when baked
To ensure your mince pies don't get stuck in the tin cut strips of baking parchment and push them into the holes underneath the pastry. When it comes to removing the pies simply lift them out using the overhanging parchment
Use a mixture of circles and stars to top the mince pies for visual interest
Use room temperature butter when making the advocaat butter as it is less likely to split
These puff pastry mince pies will stay fresh for up to 3 days when stored in an airtight container at room temperature
Frequently asked questions
Why has my advocaat butter split?
The butter will split if the alcohol is added too quickly, so it's best to add the brandy and advocaat one teaspoon at a time.

It can also split if too much alcohol is added, so stick to the quantities listed in the recipe card – it has a lovely boozy taste anyway.

If your butter does split, try beating in some more sugar and it should come back to a smooth and creamy consistency.
What else can I use the advocaat butter for?
It's not just for mince pies – try this butter with Christmas pudding. Alternatively, let it melt into warm cinnamon and raisin rolls for an easy festive breakfast.
Can the advocaat butter be frozen?
The butter can be kept in the fridge for 2-3 weeks, but it can also be frozen for up to 3 months. When ready to use, let it defrost in the fridge overnight and consume within a week.
Can cooked mince pies be frozen?
Yes, they can. It's best to freeze them as soon as possible after baking.

Alternatively, mince pies can be frozen before they are cooked. In this instance, freeze them in the baking tin then, once frozen solid, remove them from the tin and keep them in a freezer bag for up to 3 months. When ready to bake, put them back into the baking tin and cook from frozen until puffed and golden. Don't forget to brush with beaten egg before sliding them into the oven.
More ways to include advocaat in cooking and baking
If you are looking for more advocaat recipes aside from drinks and cocktails take a look at these ingenious ideas:
Of course, the word snowball features a lot here. It's the drink synonymous with advocaat after all. You might well enjoy my twist on the classic Warninks Snowball cocktail and the hardcore Snowball fans amongst us will be delighted to hear that Warninks have created the Snowball in a ready-to-drink can. Hoorah! You can find them in Sainsbury's, Waitrose and Morrisons.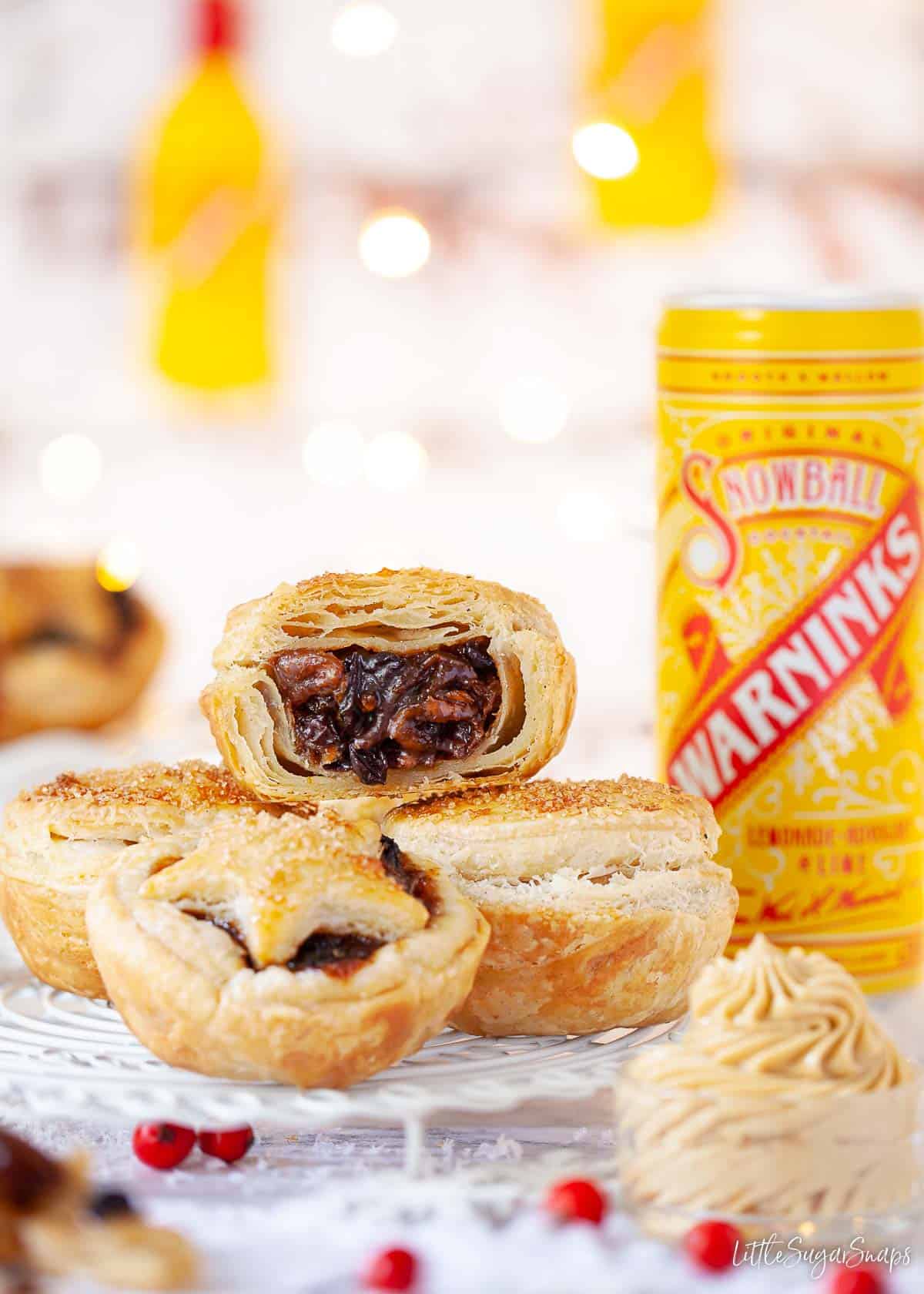 Have you made these quick puff pastry mince pies with Warninks advocaat butter? Please give it a rating or leave a comment – I love to hear how you get along with my creations.
Why not sign up to receive LittleSugarSnaps newsletters to hear when new recipes are published? You'll get a free welcome e-book with my top baking tips and 5 favourite cake recipes. Or stay in touch on Facebook, Instagram or Pinterest.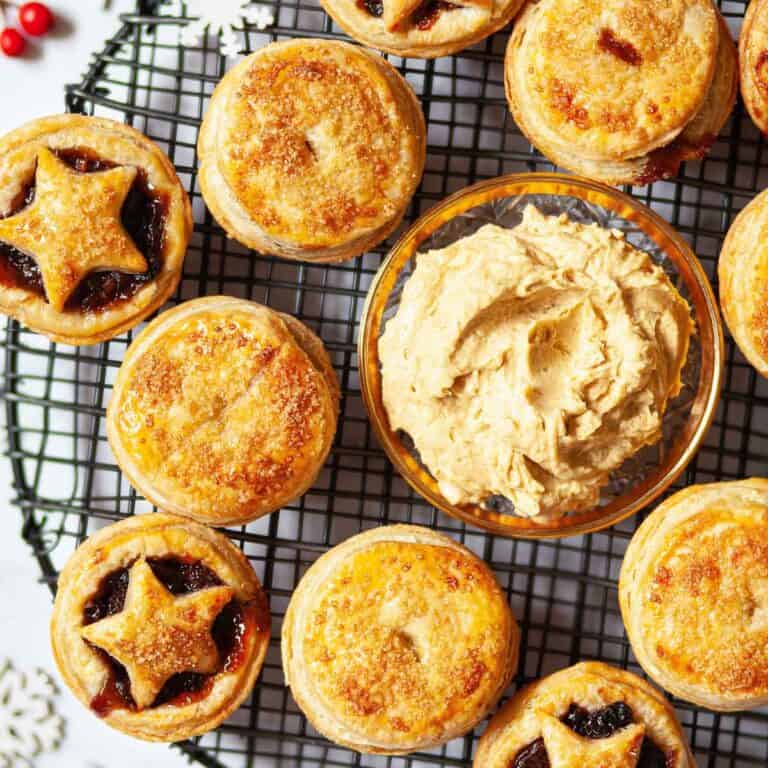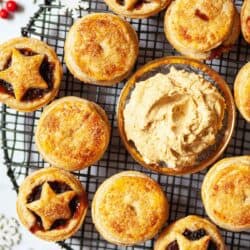 Quick Puff Pastry Mince Pies with Warninks Advocaat Butter
These puff pastry mince pies are light and crisp with a deliciously fruity filling and come adorned with a delectable and truly unique Warninks advocaat butter. You'll be proud to serve these up to family and friends over Christmastime.
Print
Pin
Rate
Ingredients
For the Mince Pies
225

g

Plain flour

(all-purpose)

175

g

Butter

straight from the fridge

¼

teaspoon

Salt

150

ml

Water

ice cold

8

tablespoons

Mincemeat

A little beaten egg

2

teaspoons

Demerara sugar

optional
For the Advocaat Butter
75

g

Butter

room temperature

50

g

Light brown sugar

2

teaspoons

Brandy

2

tablespoons

Warninks Advocaat liqueur
Instructions
Make the Mince Pies
Divide the butter into 4 portions

Put the flour and salt into a bowl, stir briefly then add 1 portion of the butter (cubed) and rub in with your fingertips

Pour in ¾ of the water and mix, with a blunt knife, to a soft dough, adding more water as necessary (do not add so much that the dough turns sticky)

Roll the dough into a long rectangle on a lightly floured worktop to approx 4mm thick. Take another portion of the butter, cube it and scatter over ⅔ of the dough, leaving the final ⅓ empty

Fold the empty third of the dough over the top of the dough, bringing it to the centre. Fold the other end of the pastry over the top, then rotate the pastry 90 degrees

Repeat steps 4-5 twice more to incorporate the remaining 2 portions of butter

When all of the butter has been used, rotate the pastry and roll out once more, then fold it and repeat. Fold up again then wrap before chilling for 1 hour in the fridge

Meanwhile preheat the oven to 200C/ 400F/ GM 6

Remove from the fridge, roll out the pastry to 3mm thick and use a round cutter (about 8½cm) to cut out 12 bases and place them into muffin trays. Fill with mincemeat (around 2 teaspoons per pie)

Cut 12 lids using a smaller cutter to fit, brush the underside with beaten egg and place them on top of the mincemeat. Gently press the pastry lids to the side of the pies to seal them

Glaze with the beaten egg, sprinkle with demerara sugar (optional), make a small cut in the tops and bake for 10 minutes then turn the oven temperature down to 180C/ 350F/ GM 4 and bake for another 10 minutes

Let cool in the muffin tin
Make the Advocaat Butter
Cream the osft butter using electric beaters until smooth

Add the sugar and mix again

Add the brandy, 1 teaspoon at a time, beating well between each addition. Then add the advocaat in the same way. Set aside or chill until required
Notes
If you don't enjoy making pastry or need to save time, storebought puff pastry can be used in this recipe. You'll need a 500g block
Remember to chill the pastry dough properly. It is easier to handle when sufficiently chilled and will bake to a superior texture
Puff pastry can be re-rolled but it is important not to scoop the offcuts up and squeeze them together. Instead stack the offcuts on top of each other and then re-roll. This helps to preserve the lamination built up in the making process that helps the pastry puff up when baked
To ensure your mince pies don't get stuck in the tin cut strips of baking parchment and push them into the holes underneath the pastry. When it comes to removing the pies simply lift them out using the overhanging parchment
Use a mixture of circles and stars to top the mince pies for visual interest
Use room temperature butter when making the advocaat butter as it is less likely to split
these puff pastry mince pies will stay fresh for up to 3 days when stored in an airtight container at room temperature
The butter will split if the alcohol is added too quickly, so it's best to add the brandy and advocaat one teaspoon at a time
It can also split if too much alcohol is added, so stick to the quantities listed in the recipe card – it has a lovely boozy taste anyway
If your butter does split, try beating in some more sugar and it should come back to a smooth and creamy consistency
Nutrition Per Serving (Approximate)
Calories:
285
kcal
|
Carbohydrates:
30
g
|
Protein:
3
g
|
Fat:
17
g
|
Saturated Fat:
11
g
|
Polyunsaturated Fat:
1
g
|
Monounsaturated Fat:
4
g
|
Trans Fat:
1
g
|
Cholesterol:
45
mg
|
Sodium:
274
mg
|
Potassium:
31
mg
|
Fiber:
1
g
|
Sugar:
14
g
|
Vitamin A:
521
IU
|
Calcium:
12
mg
|
Iron:
1
mg
(Visited 206 times, 1 visits today)