This Mincemeat tart is really a giant luxury frangipane mince pie designed for sharing. Serve warm or cold for an easy and comforting Christmas dessert.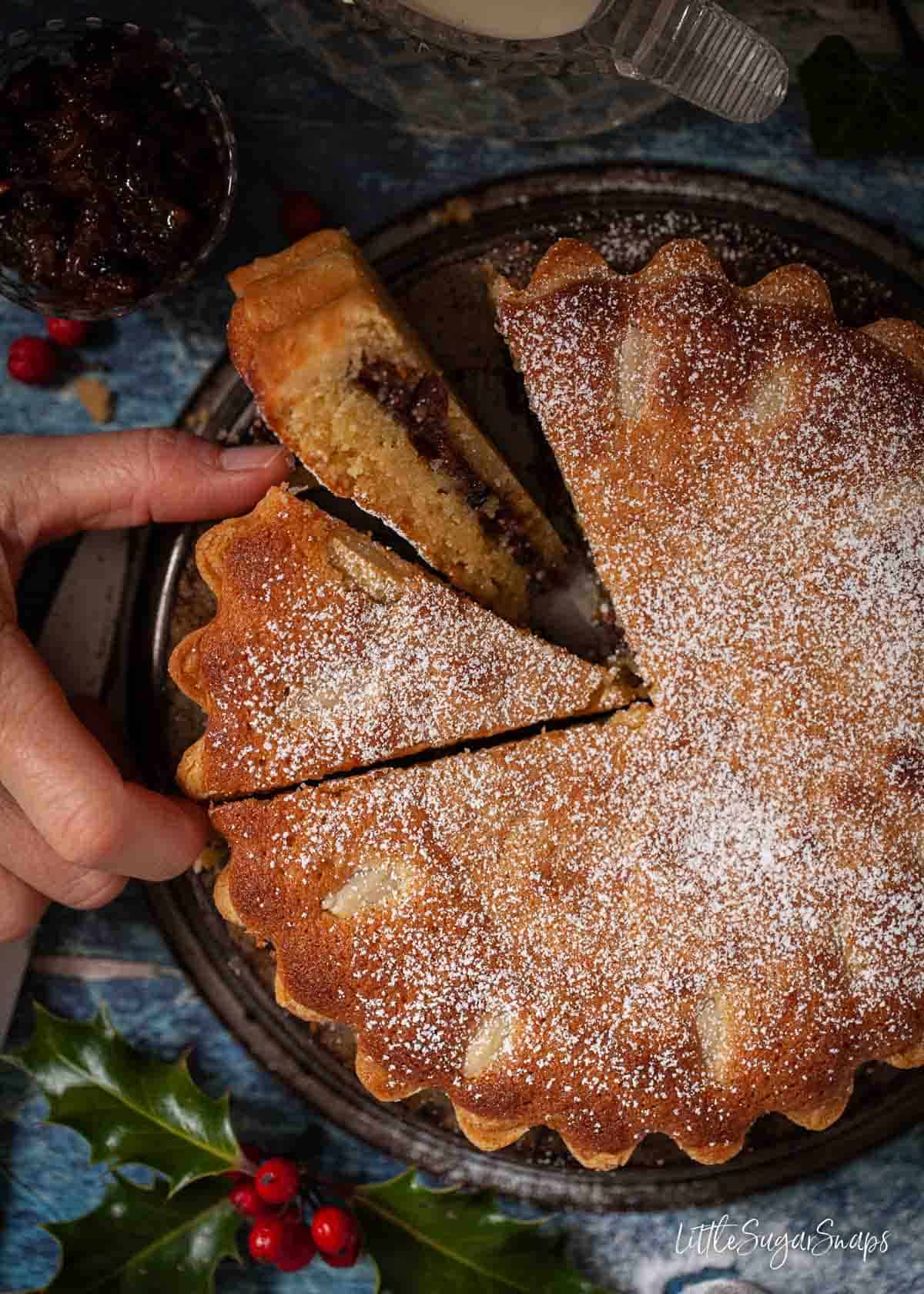 This post contains affiliate links. As an Amazon Associate, I earn from qualifying purchases.
It's not the festive season until I've had my first mince pie. This year, I've gone one better and come up with the ultimate sharing frangipane mince pie.
This mincemeat tart serves 8-10 people and looks rather splendid when served at the end a sit-down meal.
This suitably comforting winter tart will prove popular throughout the festive season and well into January when you're perhaps looking for ways to use up the last of your mincemeat supply.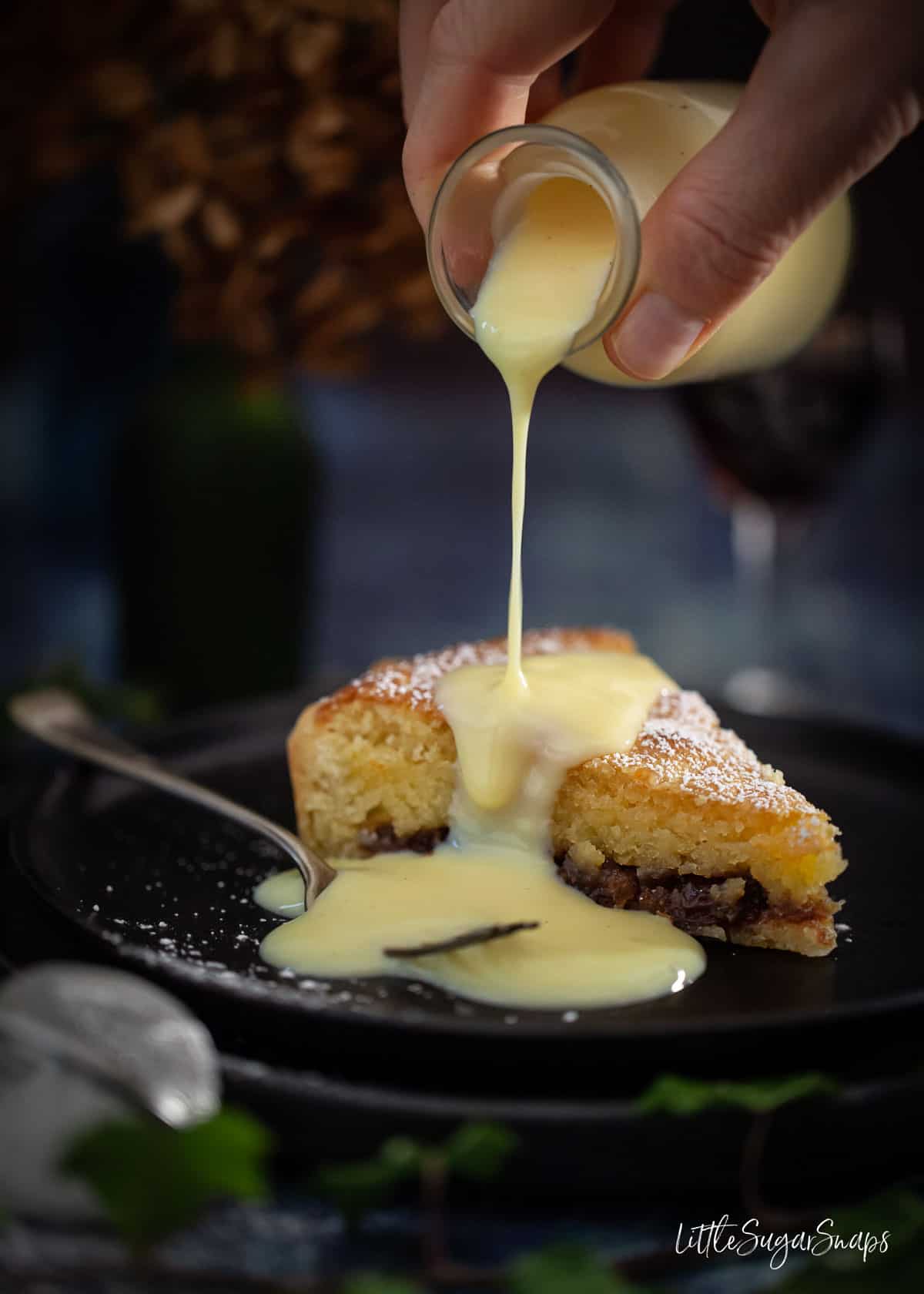 What Makes This Recipe Special?
Quite simply, the combination of sweet, buttery pastry, intensely festive mincemeat and sweet, yet light frangipane topping is enough to win my heart over every time.
This mincemeat tart is really a fancy and very large frangipane mince pie. It's ideal to bring to the table when a fairly traditional dessert is called for.
It is certainly satisfying to serve it sliced and drizzled with custard, cream or, dare I suggest it(?), clotted cream.
If you wanted to, you could alternatively make a dozen or so individual frangipane mince pies using the recipe detailed here instead.
Ingredients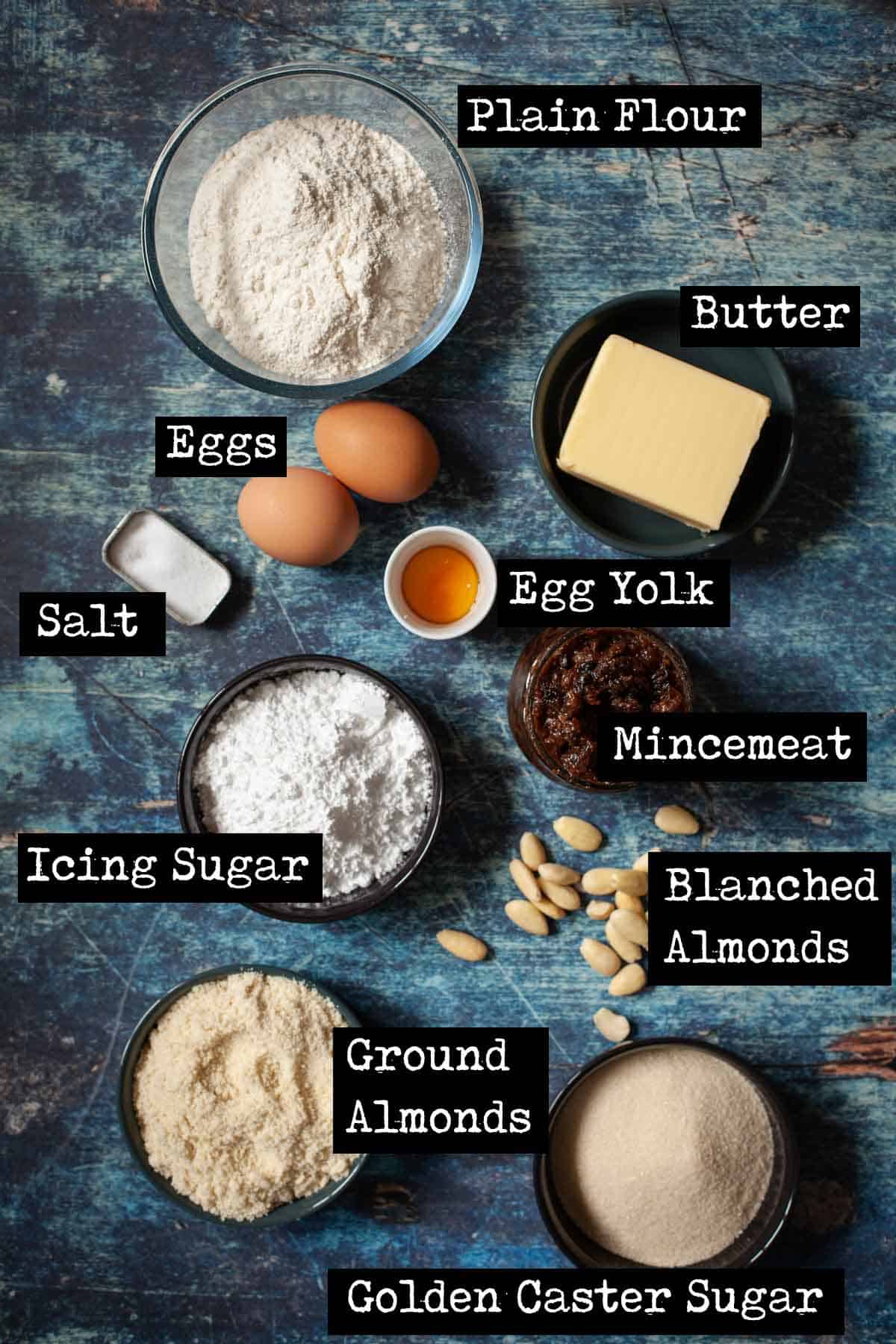 I'm always surprised that as rich and flavourful as frangipane tart might be, it required very basic ingredients. This mincemeat tart is no exception.
With this recipe, do use proper butter over baking margarine. You will be rewarded with a fuller flavour, both in the pastry and the frangipane topping.
And when it comes to the mincemeat, pick quality. In all honesty, I much prefer homemade mincemeat to store-bought. The flavours just seem more mellow, balanced and a whole lot less sharp than even the luxury brands can manage.
Step By Step Instructions
There are three stages to complete when preparing this mincemeat tart:
Make the pastry and blind bake it in the tart case
Make the frangipane topping
Assemble and bake
None of these stages are too challenging, but here's a fuller breakdown:
Step 1: Sieve the icing sugar, salt and flour together then rub in the butter until it resembles fine breadcrumbs
Step 2: Add the egg yolk and 2 tablespoon water and stir with a blunt knife until the ingredients start to come together. If the dough feels dry add a drop more water as necessary, but don't add too much as the dough should be soft but not sticky. Use your hands to press the dough into a ball and knead briefly
Step 3: Flatten the dough into a disc, wrap and chill in the fridge for 30 minutes, then roll out to 2-3mm depth and use to line your baking tin. Prick the base, cover and chill again for another 30 minutes, before filling with parchment and baking beans and blind baking. Then let cool.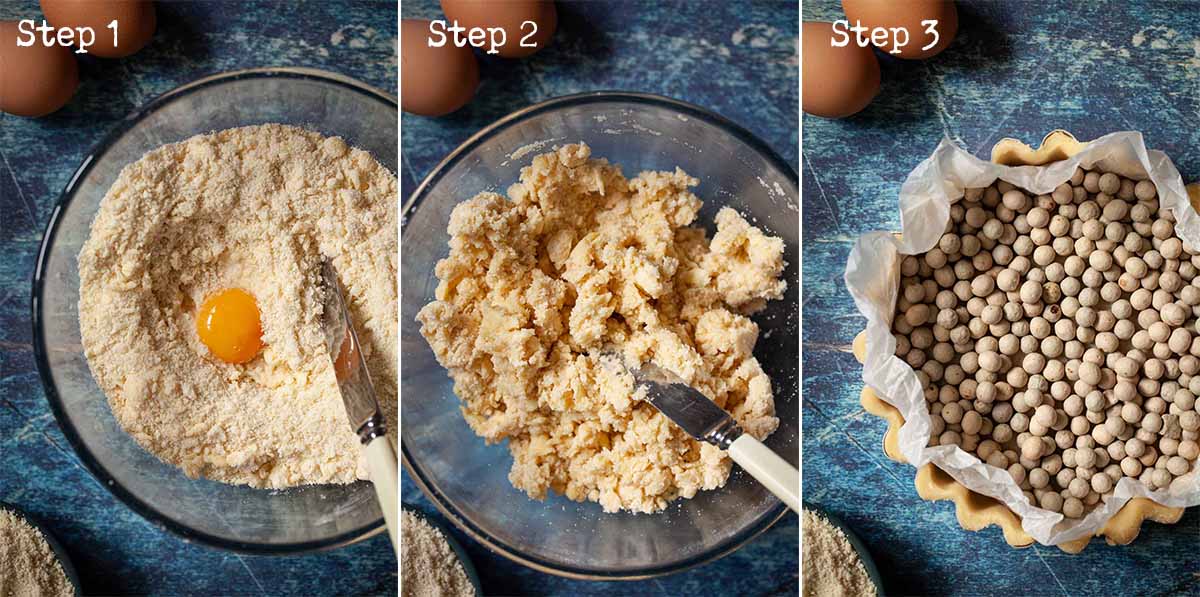 How to Blind bake: Cook for 15 minutes, then remove the beans and parchment and return to the oven for a further 5 minutes. It helps if you put a baking sheet into the oven to warm up and then put your tart tin onto this. The extra heat on the base helps kickstart the cooking.
Step 4: To make the frangipane filling, firstly cream the butter and sugar, then add the eggs, one at a time and finally beat in the ground almonds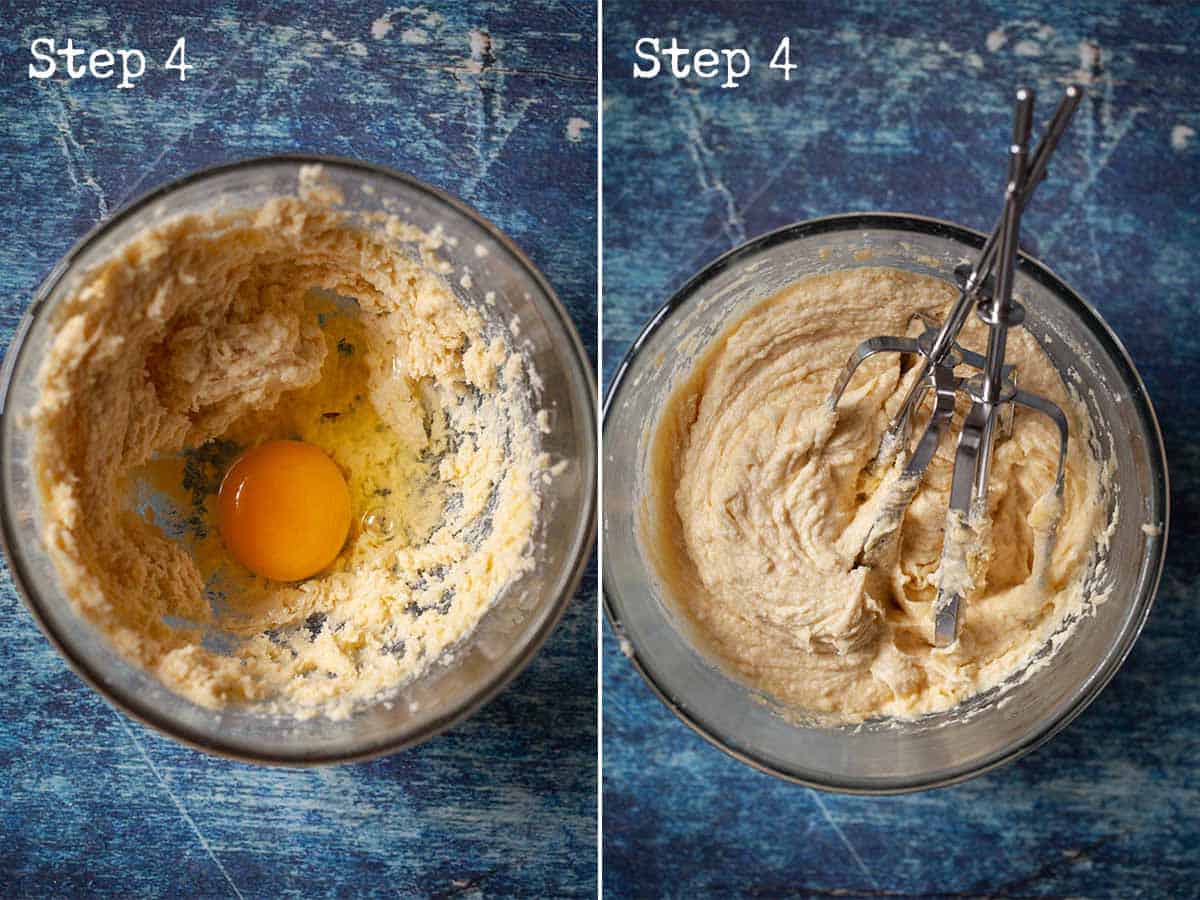 Step 5: Spread the mincemeat over the base of the tart case and top with the frangipane. Use a blunt knife to push it to the edge of the pastry case to minimise any mincemeat bubbling up. Finally, decorate with 12-16 almonds and bake until golden and set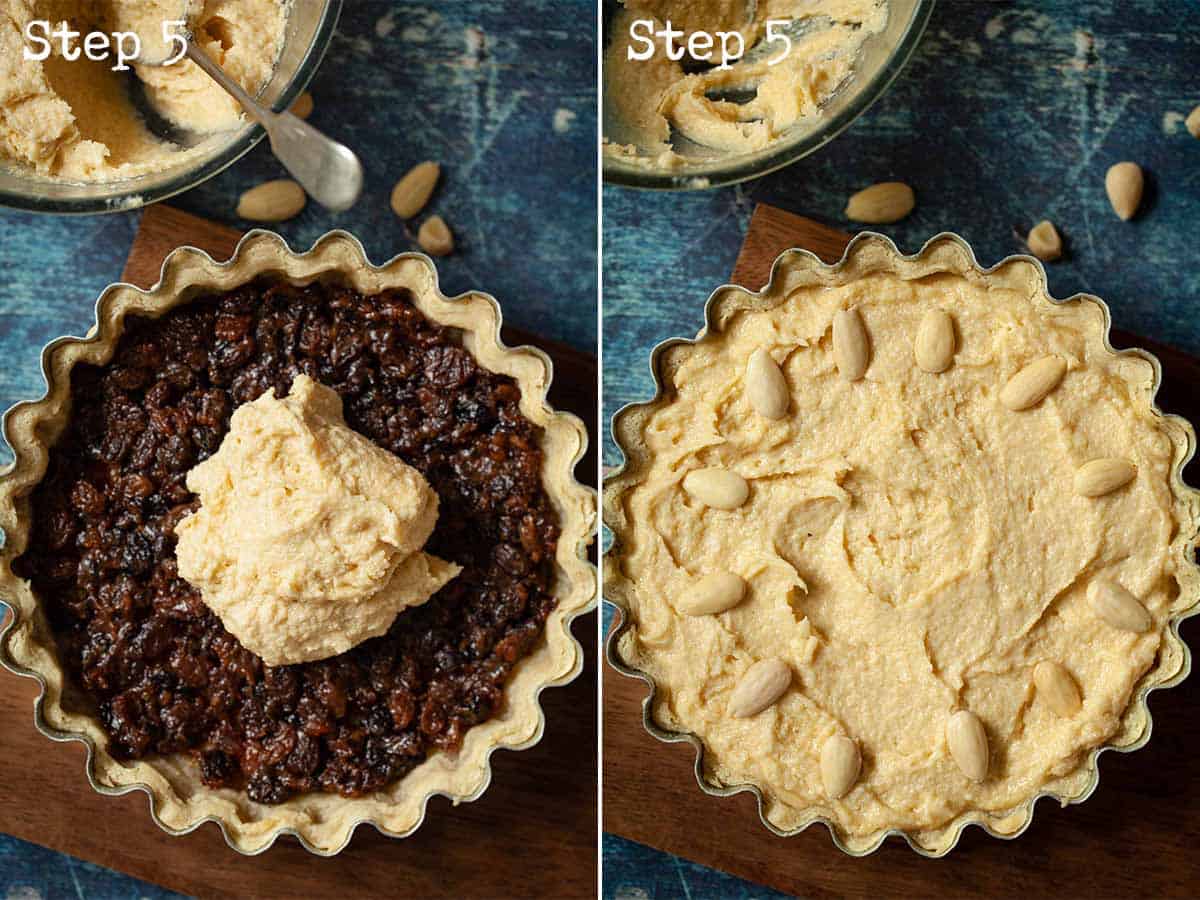 Either let it cool completely, or enjoy this large frangipane mince pie warm. Either way, dust with a little icing sugar just before serving.
Tips and FAQS
Expert Tips
There are just a handful of tips for me to share for this mincemeat tart:
Use a loose-bottomed tart tin – it will be so much easier to remove and serve on a plate
The tin for this mincemeat tart with frangipane needs to be 2-3cm in depth. Avoid using a tin that is too shallow
When making the pastry, work with cold ingredients – it's the best way to ensure premium results. Pastry that is too warm does not bake as well as pastry that is kept sufficiently cold.
Don't skip the chilling of the dough or the blind baking. Both are crucial to achieve crisp pastry and avoid that notorious soggy bottom
I find that popping a baking sheet into the oven whilst it is heating up and then sitting the tart tin directly onto the hot baking sheet helps reduce the chance of a soggy bottom
Don't overfill your tart case – the frangipane will puff up during baking, and overflow if you try cramming too much in. I recommend using an 8-inch case for the ingredients listed here
Frequently Asked Questions
Should I serve it warm or cold?

Either work fine. However you choose to serve it, a little cream, custard or ice cream rounds this mincemeat tart off very nicely indeed

Is this tart suitable for vegetarians?

The vast majority of mincemeat these days does not contain meat (historically it did). Double-check the ingredients on the jar to be on the safe side, but provided theres no trace of meat, then this tart is perfectly suitable for vegetarians
Can I freeze it?
Yes, you can freeze this frangipane mince pie. It keeps well at room temperature (wrapped) for up to 2 days, but can also be frozen for up to 3 months once cooked and cooled.

Just leave to defrost at room temperature and heat through for 10 minutes at 150C/ 300F/ GM 2 to re-crisp the pastry.

Dust with icing sugar at the point of serving.
Can I use ready to roll pastry?
You sure can. I love making my own pastry, but I know not everybody does. Pick a sweet shortcrust from the chill section and you'll soon have a wonderful mincemeat tart to dig into.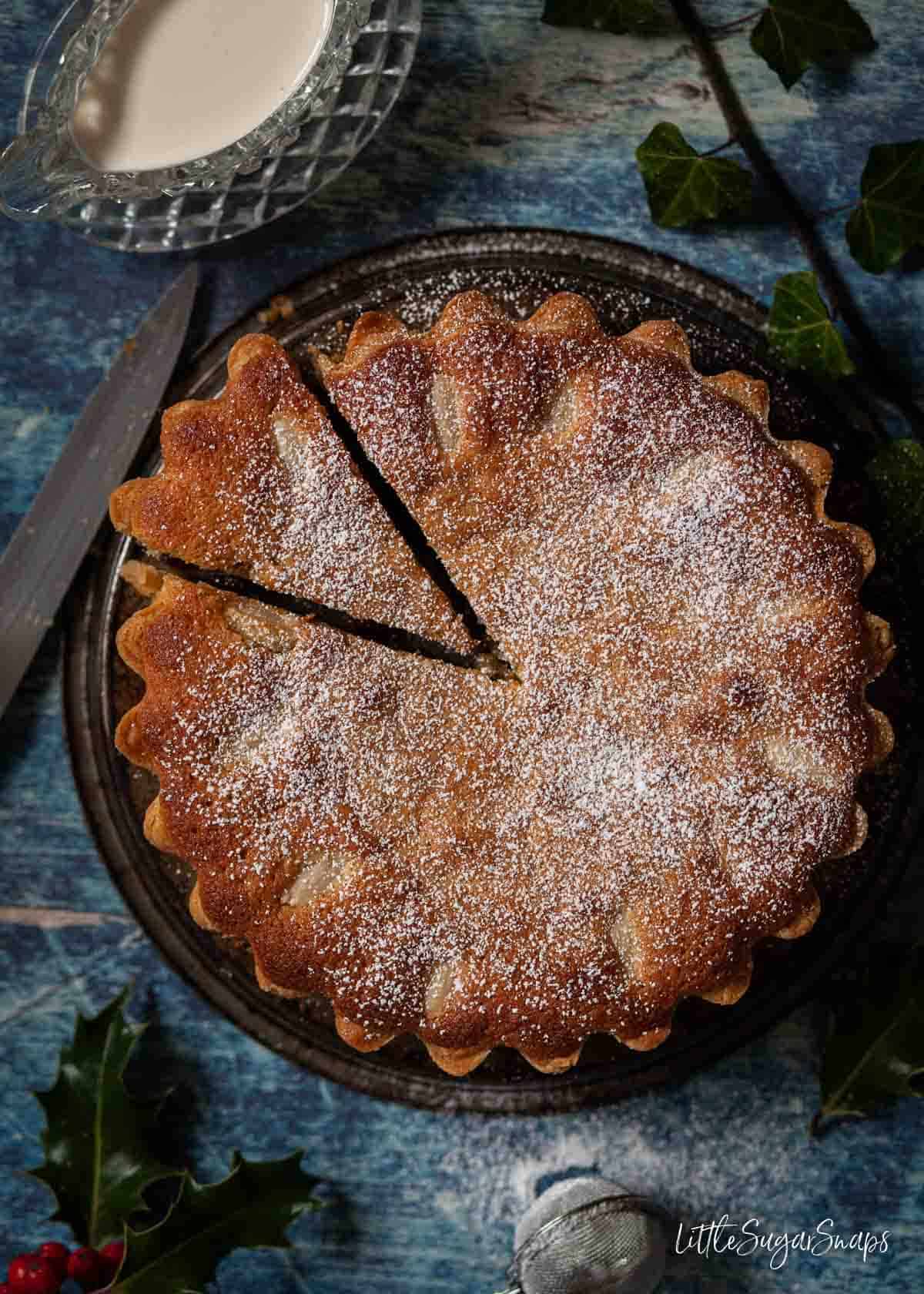 Other Wintery Desserts to Consider
Take a look at these alternative treats to grace your winter dessert table:
Have you made my mincemeat tart with frangipane? Did you know commenting and rating recipes is one of the best ways you can support your favourite food bloggers? Let me know what you thought of this recipe in the comments below and don't forget to show me a picture of it on Instagram – use #littlesugarsnaps and tag me @jane_littlesugarsnaps.
Mincemeat tart with Frangipane
This Mincemeat tart is really a giant luxury frangipane mince pie designed for sharing. Serve warm or cold for an easy and comforting Christmas dessert.
Print
Pin
Rate
Ingredients
For the Pastry
200

g

Plain flour

all-purpose

85

g

icing sugar

⅛

teaspoon

Salt

150

g

Butter

unsalted, well chilled

1

Egg yolk

large, free range

1-2

tablespoon

Iced water
Fillings
100

g

Golden caster sugar

100

g

Butter

unsalted, softened

2

Eggs

large, free range

100

g

Ground almonds

4

tablespoon

Mincemeat

12

Blanched Almonds
Instructions
Make the Pastry
Put the flour and salt into a medium-sized bowl and sieve in the icing sugar. Cube the butter, then add to the bowl. Toss together briefly using your hands then use your fingertips to rub the butter into the other ingredients until the mix resembles fine breadcrumbs

Tip the egg yolk into the bowl along with 1 tablespoon of ice-cold water. Use a blunt knife to chop and mix the dough until it comes together. Add a little more water only if absolutely necessary. The dough should easily come together to form a soft ball. Adding too much water will make the dough sticky and difficult to handle

Turn onto a lightly floured worktop and knead gently and briefly until it is smooth. Flatten the dough slightly, wrap in clingfilm and chill for 30 minutes
Roll out and Blind Bake
Once chilled, flour a work surface and roll the pastry out to around 2mm thickness and use to line your tart tin. Use a sharp knife to trim (or knock off) any pastry that overhangs the tin and use the off-cuts to patch up any tears in the pastry if necessary

Cover and chill in the fridge for at least 30 minutes – to help the dough firm up again. Meanwhile, preheat the oven to 180C/ 350F/ GM 4 and put a baking sheet in while it warms up

When the pastry has chilled, remove the cover and prick the base all over with a fork, then line with a piece of baking parchment large enough to cover the base and sides of the tin. Scrunch it up, then unroll it – this makes it easier to lay inside of the tin. Fit the parchment in the tin and fill with baking beans, spreading them out to ensure they cover the entire base

Put the tart tin onto the heated baking sheet in the oven and bake for 15 minutes, then remove the beans and parchment (careful – they will be hot) and bake for a further 5 minutes, then take out of the oven and set aside
Make the Frangipane
In a medium bowl cream the softened butter with the sugar using electric beaters

Add the eggs, one at a time, beating well between each addition

Mix in the ground almonds
Assemble the tart
Spread the mincemeat over the base of the tart and top with the frangipane, taking care to push the mix to the very edge of the tart to stop the mincemeat from bubbling up around the edge of the tart

Arrange the blanched almonds around the edge of the tart

Bake for 20-25 minutes (again on the hot baking sheet) until the topping is golden and well risen

Let cool and dust with icing sugar before serving
Notes
Use a loose-bottomed tart tin – it will be so much easier to remove and serve on a plate
The tin for this mincemeat tart with frangipane needs to be 2-3cm in depth. Avoid using a tin that is too shallow
When making the pastry, work with cold ingredients – it's the best way to ensure premium results. Pastry that is too warm does not bake as well as pastry that is kept sufficiently cold.
Don't skip the chilling of the dough or the blind baking. Both are crucial to achieve crisp pastry and avoid that notorious soggy bottom
I find that popping a baking sheet into the oven whilst it is heating up and then sitting the tart tin directly onto the hot baking sheet helps reduce the chance of a soggy bottom
Don't overfill your tart case – the frangipane will puff up during baking, and overflow if you try cramming too much in. I recommend using an 8-inch case for the ingredients listed here
Nutrition Per Serving (Approximate)
Calories:
423
kcal
|
Carbohydrates:
42
g
|
Protein:
6
g
|
Fat:
27
g
|
Saturated Fat:
14
g
|
Cholesterol:
106
mg
|
Sodium:
266
mg
|
Potassium:
37
mg
|
Fiber:
2
g
|
Sugar:
24
g
|
Vitamin A:
698
IU
|
Calcium:
37
mg
|
Iron:
2
mg
(Visited 1,011 times, 3 visits today)