Vegan apple pie with cinnamon is a cinch to make and tastes fantastic. The combination of crisp, golden pastry and a generous saucy apple filling is a cosy knockout.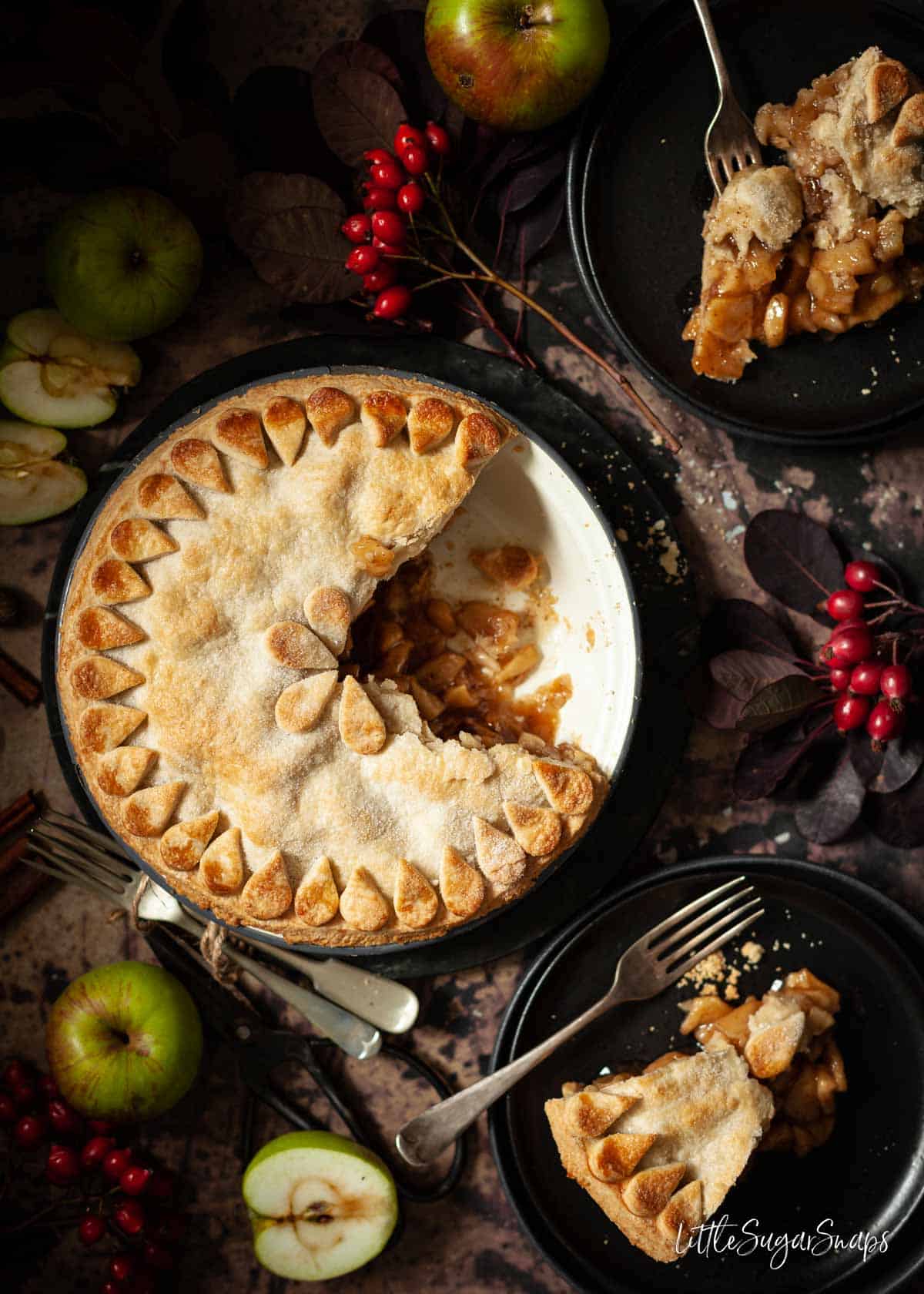 Nothing says warm hugs like a slice of pie. This vegan apple pie recipe, delicately spiced with cinnamon and nutmeg, is a great way to ramp up the cosiness factor as the cooler weather and darker evenings set in.
The vegan pastry for this pie is just as easy to make as traditional shortcrust pastry and the ingredients are all easy to obtain in a well-stocked supermarket.
What Makes this Vegan Apple Pie Special
The filling inside of this vegan apple pie is a sheer delight. Cooking apple are tossed in a mixture of brown sugar, flour and spices before baking and the result is a generous pie filling that is sweet, saucy and wholly comforting.
Paired with an easy to make crisp shortcrust pastry, this is a knockout dessert whatever the weather.
My favourite way to serve this pie is slightly warm with a scoop of vegan vanilla ice cream. Absolute bliss.
Ingredients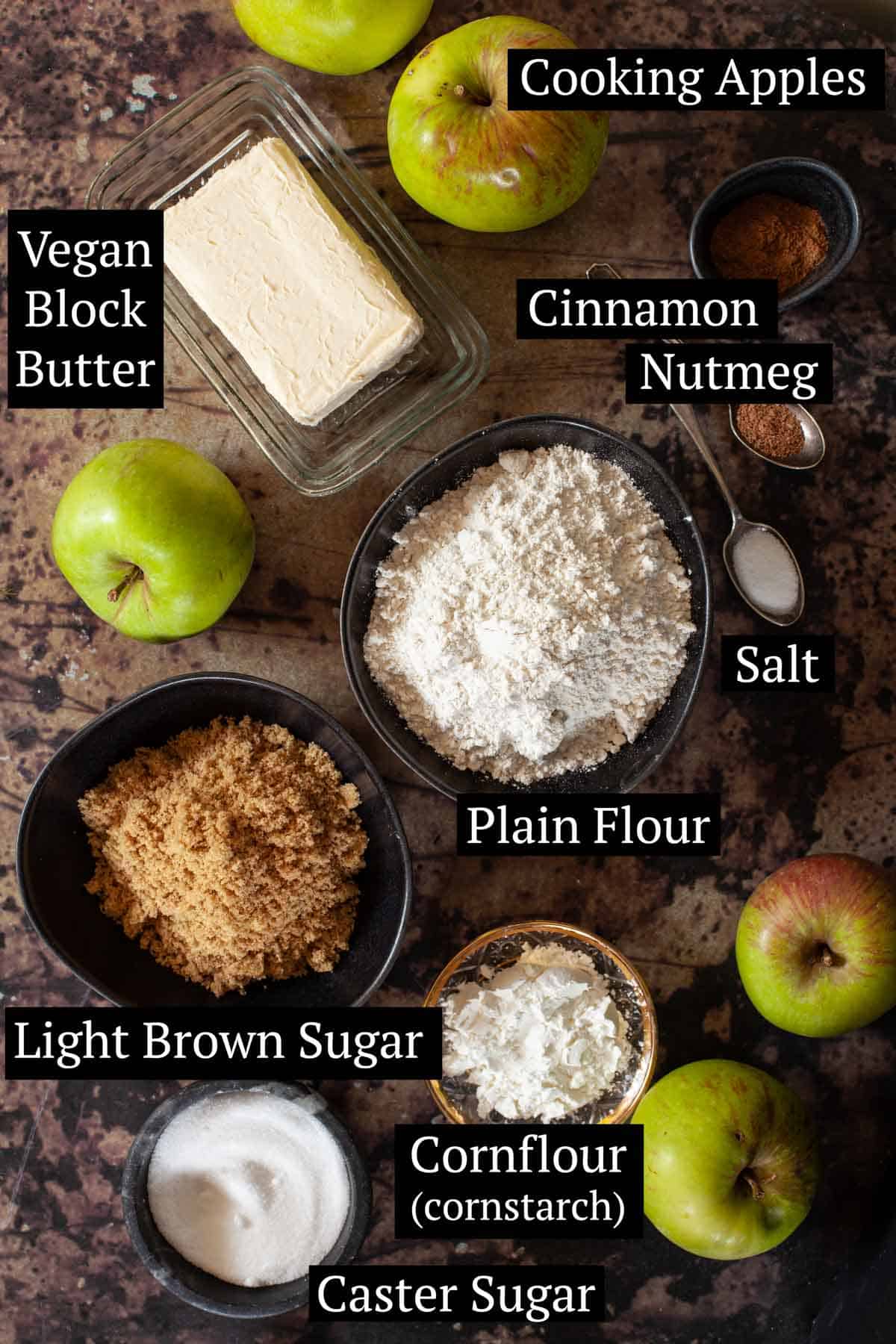 There are two noteworthy ingredients in this vegan apple pie recipe.
First of all the butter. It is vital to use a block butter alternative that is hard in the fridge in the same way that dairy butter is. Firm vegan butter (such as Tomar) is required to produce a pastry that is easy to roll and bakes up light and crispy.
Spreadable style butter alternatives are not an appropriate choice for this recipe.
Secondly, this recipe has been developed using cooking apples. For this reason, the pie filling mix includes cornflour to soak up the juices that these apples emit during cooking. Swapping in eating apples is therefore not recommended as they do not produce the same amount of liquid during cooking.
Step by Step Instructions
It takes around 40 minutes of hands on time to make this pie but there are no fancy new skills to learn. This recipe is particularly easy for such an impressive dessert.
Step 1: Put the flour, salt, and caster sugar into a medium mixing bowl, stir briefly then cube the butter and add to the bowl.
Step 2: Use your fingers to rub the butter into the other ingredients until it resembles breadcrumbs.
Step 3: Add enough iced water to form a soft dough that just binds together - use a blunt knife to mix it in. Avoid adding too much water as the dough will become sticky.
Step 4: Knead the dough very briefly on a lightly floured worktop, shape into a disc and flatten, before covering and chilling in the fridge for 30 minutes.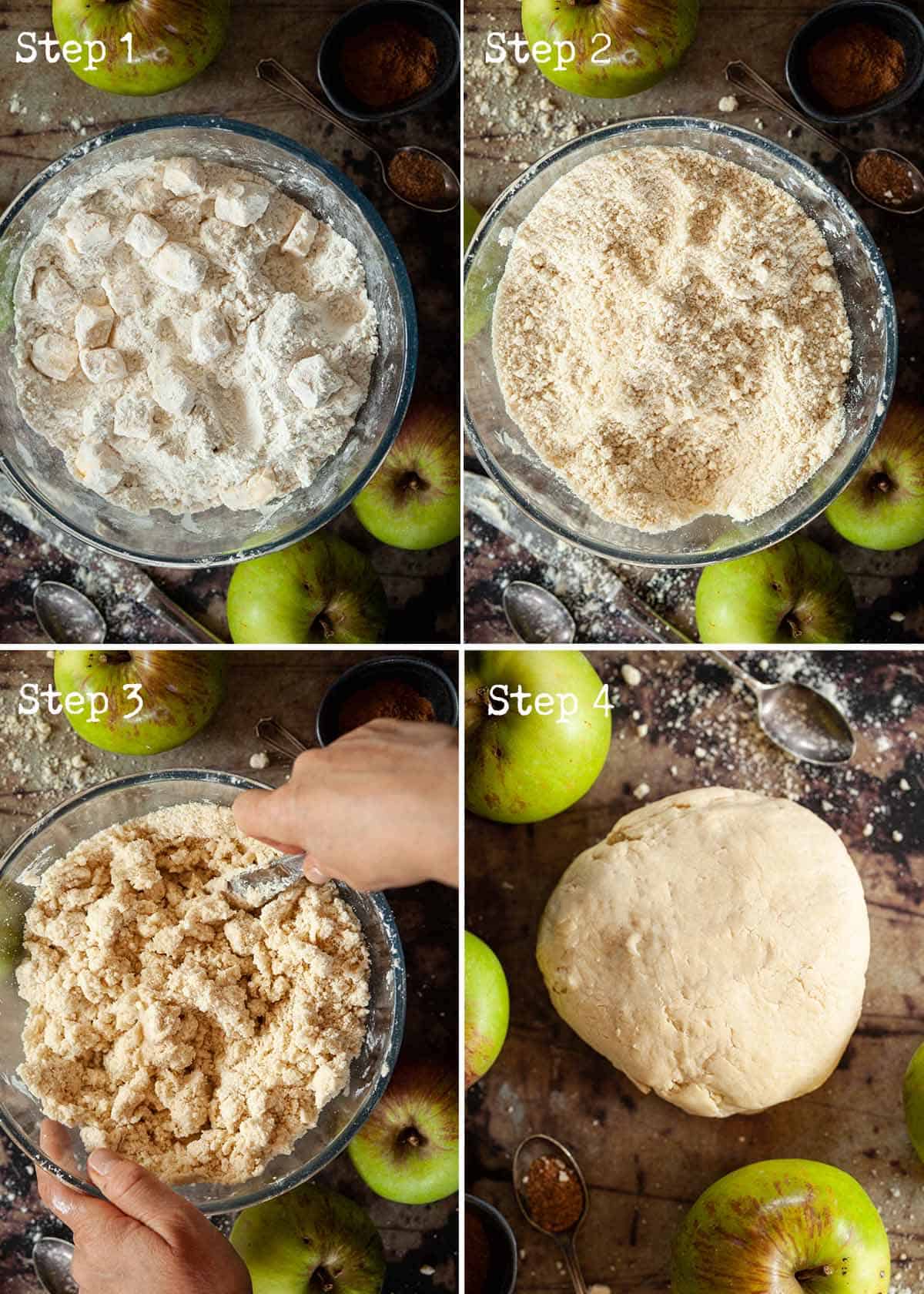 Step 5: Mix the sugar cornflour and spices together in a large mixing bowl.
Step 6: Just before the pastry is ready to roll, peel, core and roughly chop the apples, then, when you are ready to roll out the pastry, tip the chopped apples into the bowl and toss – don't do this too far in advance as the mix will get sticky (it is still usable though).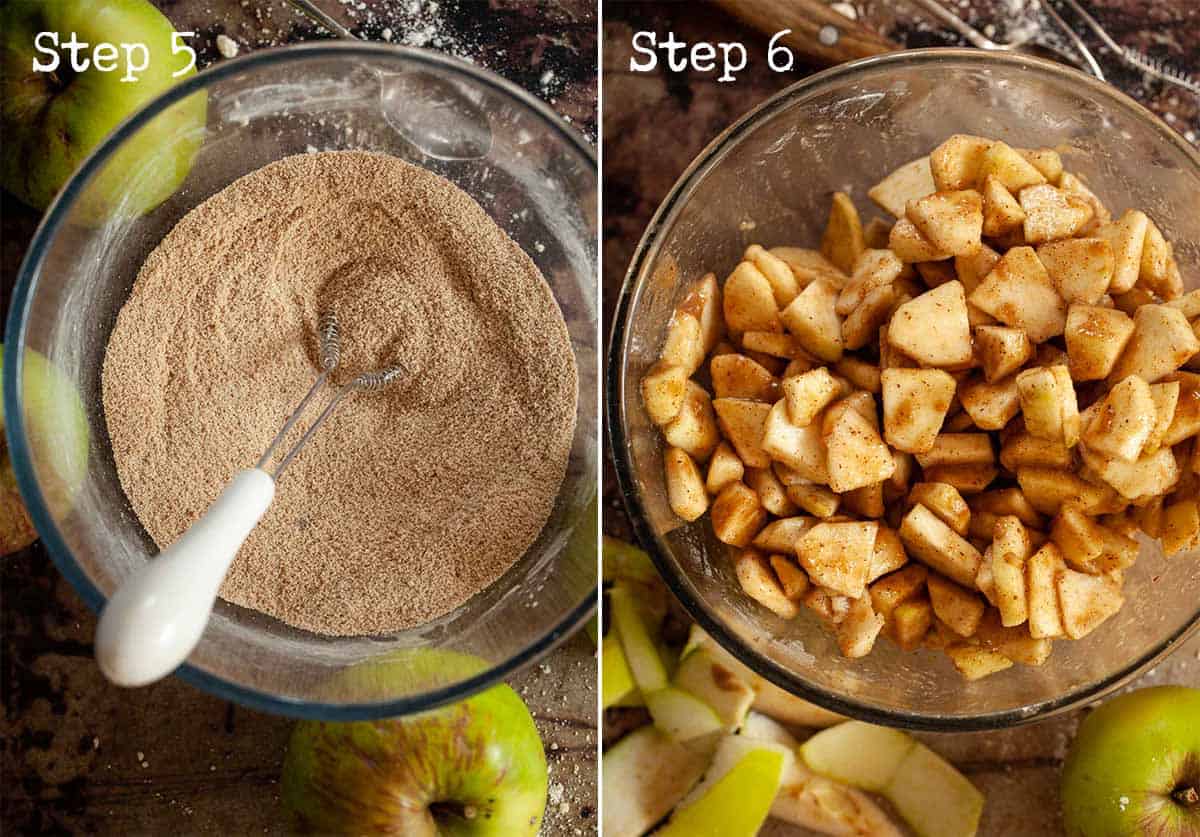 Step 7: Unwrap the pastry and divide roughly in half. Roll out one piece on a floured worktop to a depth of 2-3mm and use to line your pie tin, then pile the fruit into the tin, scraping any sugary liquid on top of the fruit once the bowl is empty. Brush the edge of the pastry base with milk.
Step 8: Roll out the remaining piece of pastry until large enough to cover your pie and use to cover the pie. Press down firmly with your thumbs all the way around the edge of the pastry to seal firmly. Trim away the overhanging pastry and slit a small hole into the centre to allow steam to escape. Use any scraps of pastry to add embellishments as desired.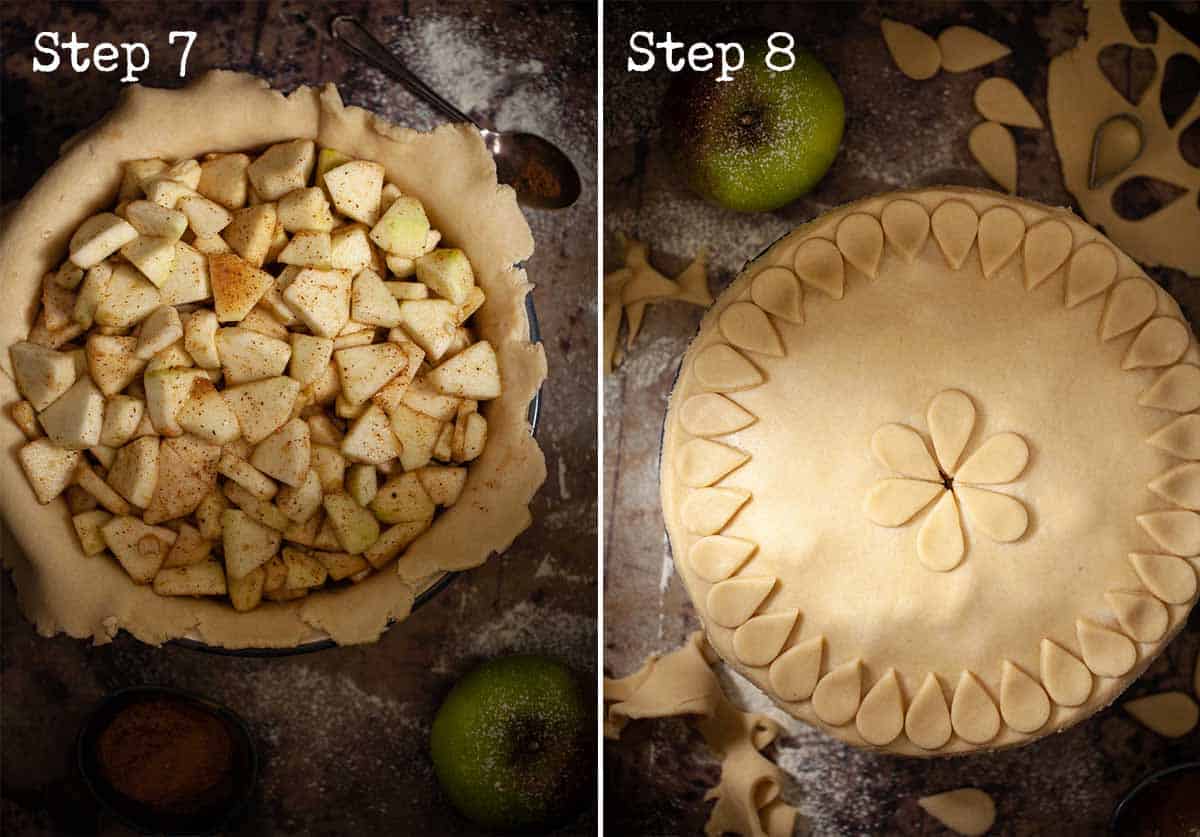 Step 9: When ready to bake, brush the top with more milk and scatter with the remaining caster sugar. Bake for 30 minutes then cover loosely with foil and bake for a further 15 minutes.
Expert Tips and FAQs
Tips
Though this vegan apple pie recipe is particularly simple, do keep the following points in mind to ensure tip-top results:
As with all pastry making, aim to keep the ingredients as cold as possible whilst making the dough and chill it before rolling out. Pastry that is allowed to get too warm will be difficult to handle and will likely bake-up denser than intended
It is essential to slit the pie to allow steam to escape as the apples give off a great deal of moisture during cooking
Don't be tempted to assume that the pie is fully baked even though it looks nicely golden after 30 minutes. It needs the full 45 minutes in the oven to ensure the filling cooks through and thicken as it should. After 30 minutes cover the pie loosely with foil and bake for 15 more minutes
Apple skin can occasionally be tough to chew, so remember to peel the apples to guarantee a deliciously soft filling
Vary the spice level by adding more or less. Alternatively, switch out the listed spices for pumpkin or chai spice instead
Raisins make a great addition too - try adding a handful for a change
Frequently Asked Questions
Can I use spreadable vegan butter?
I'm afraid not. This recipe does require a block style of butter to achieve firm pastry that holds together well and is not too sticky. I use Tomar as when used straight from the fridge, it has a firm consistency similar to regular butter.
Can I use coconut oil to glaze this pie instead of non-dairy milk?
I tested this recipe first time around using a coconut oil glaze, but I found the pastry browned far too quickly. If you do not have non-dairy milk to hand, I'd suggest using water instead.
Can I leave out the cornflour in the filling?
As this recipe uses cooking apples, flour is an essential ingredient for the filling. Cooking apples release alot of liquid when they are cooked and the flour helps to thicken this liquid, creating a wonderful sauce that surrounds the apple. Do not leave it out.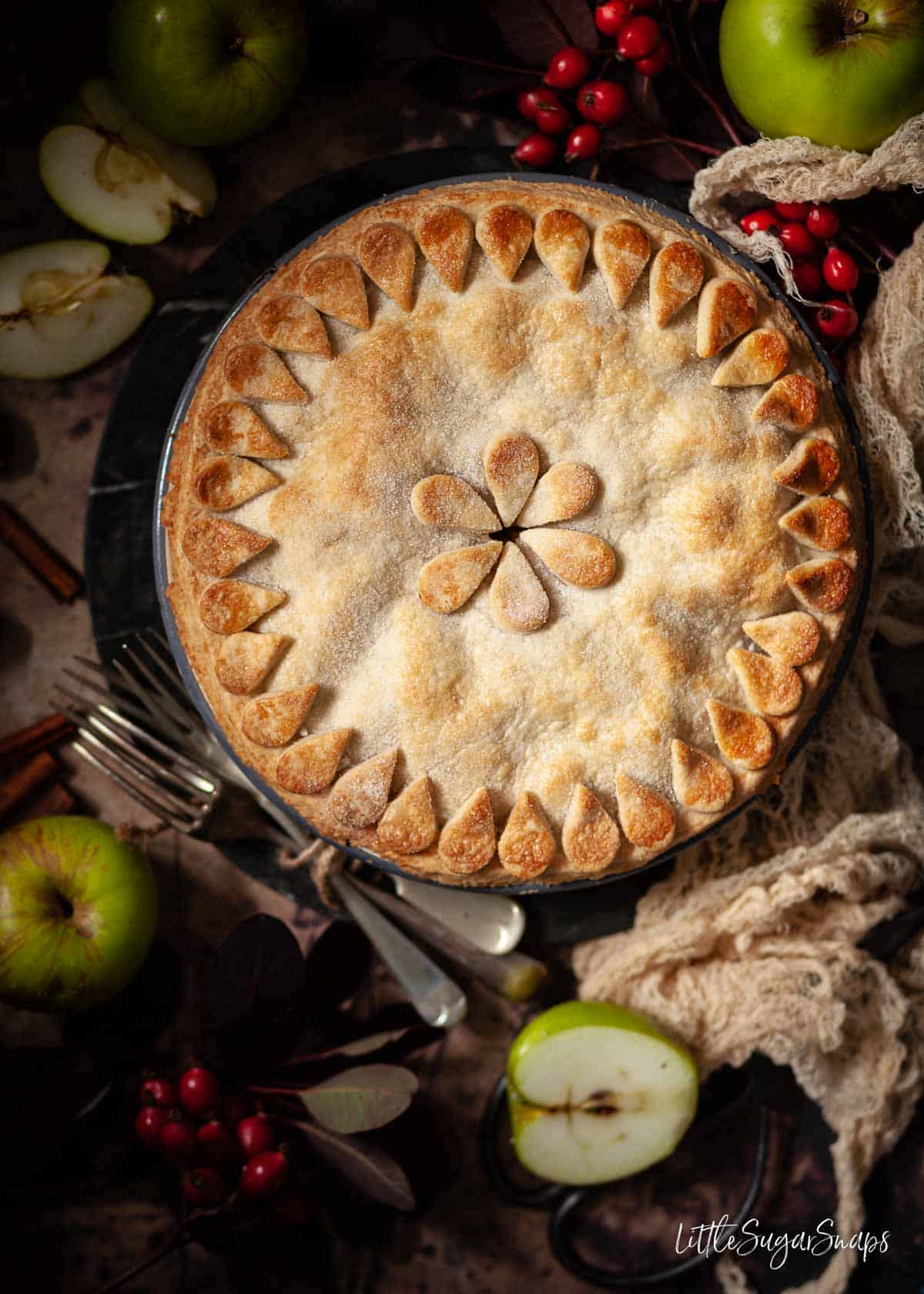 More Vegan Desserts to Try
I've got a growing collection of vegan recipes, but if you're just here for the sweet stuff, try these:
Have you made my vegan apple pie? How did you get along - feel free to drop me a line below to let me know.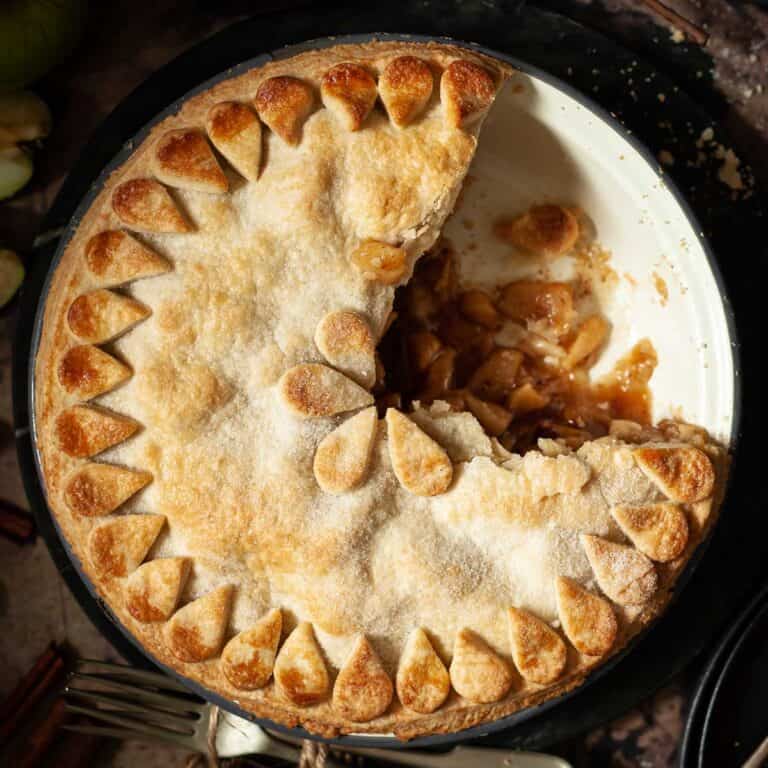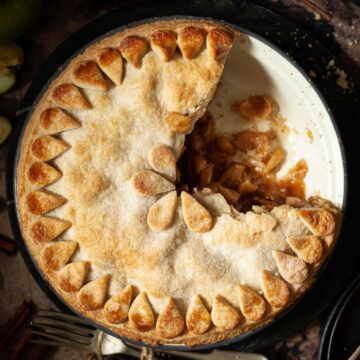 Vegan Apple Pie with Cinnamon
Vegan apple pie with cinnamon is a cinch to make and tastes fantastic. The combination of crisp, golden pastry and a generous saucy apple filling is a cosy knockout.
Print
Pin
Rate
Ingredients
For the Pastry
400

g

Plain flour

all-purpose

½

tsp

Salt

4

tbsp

Caster sugar

golden is best

200

g

Vegan block butter

chilled

6-8

tbsp

water

iced

1

tbsp

Vegan milk

1

tsp

Caster sugar

for sprinkling
For the Filling
1

kg

Cooking apples

e.g Bramleys

125

g

Light brown soft sugar

1

tsp

Ground cinnamon

½

tsp

Ground nutmeg

2

tbsp

Cornflour

cornstarch
Instructions
Make the Pastry
Put the flour, salt, and caster sugar into a medium mixing bowl, stir briefly then cube the butter and add to the bowl

Use your fingers to rub the butter into the other ingredients until it resembles breadcrumbs

Add 4 tbsp of the iced water and stir with a blunt knife to form a soft dough that just binds together. Add a little more water if necessary but take care not to add too much to avoid the dough becoming sticky

Knead the dough very briefly on a lightly floured worktop, shape into a disc and flatten, before covering and chilling in the fridge for 30 minutes

Preheat the oven to 180C/ 350F/ GM 4 whilst the pastry is chilling
Prepare the Filling
Mix the sugar cornflour and spices together in a large mixing bowl

Just before the pastry is ready to roll, peel, core and roughly chop the apples, then, when you are ready to roll out the pastry, tip the chopped apples into the bowl and toss - don't do this too far in advance as the mix will get sticky (it is still usable though)
Assemble the Pie
Unwrap the pastry and divide roughly in half

On a floured worktop, roll out one piece of pastry to 2-3mm depth and use to line your pie tin

Pile the fruit into the tin, scraping any sugary liquid on top of the fruit once the bowl is empty and brush the edge of the pastry base with milk

Roll out the remaining piece of pastry until large enough to cover your pie (again 2-3mm in depth) and use to cover the pie. Press down firmly with your thumbs all the way around the edge of the pastry to seal firmly, then trim away the overhanging pastry. Use a sharp knife to slit a small hole into the centre to allow steam to escape

Use any scraps of pastry to add embellishments as desired, using more of the milk to secure them. When ready to bake, brush the top with more milk and scatter with the remaining caster sugar

Bake for 30 minutes, then cover loosely with foil and bake for a further 15 minutes. Serve either warm or cold
Notes
Use block style vegan butter, not the soft spreadable variety
Use cooking apple, not eating apples in this recipe
As with all pastry making, the aim is to keep the ingredients as cold as possible whilst making the dough and to chill it before rolling out. Pastry that is allowed to get too warm will be difficult to handle and will likely bake-up denser than intended
It is essential to slit the pie to allow steam to escape as the apples give off a great deal of moisture during cooking
Don't be tempted to assume that the pie is fully baked even though it looks nicely golden after 30 minutes. It needs the full 45 minutes in the oven to ensure the filling cooks through and thicken as it should. After 30 minutes cover the pie loosely with foil and bake for 15 more minutes
Apple skin can occasionally be tough to chew, so remember to peel the apples to guarantee a deliciously soft filling
Vary the spice level by adding more or less. Alternatively, switch out the listed spices for pumpkin or chai spice instead
Raisins make a great addition too - try adding a handful for a change
Nutrition Per Serving (Approximate)
Calories:
417
kcal
|
Carbohydrates:
64
g
|
Protein:
5
g
|
Fat:
17
g
|
Saturated Fat:
3
g
|
Sodium:
254
mg
|
Potassium:
170
mg
|
Fiber:
4
g
|
Sugar:
28
g
|
Vitamin A:
60
IU
|
Vitamin C:
5
mg
|
Calcium:
27
mg
|
Iron:
2
mg
(Visited 117 times, 1 visits today)