Vegan Lemon Elderflower Cupcakes combine classic early summer flavours in cupcake form. Light and delicate elderflower sponge cakes are adorned with homemade vegan lemon curd and a tangy, fresh & sweet lemon curd frosting.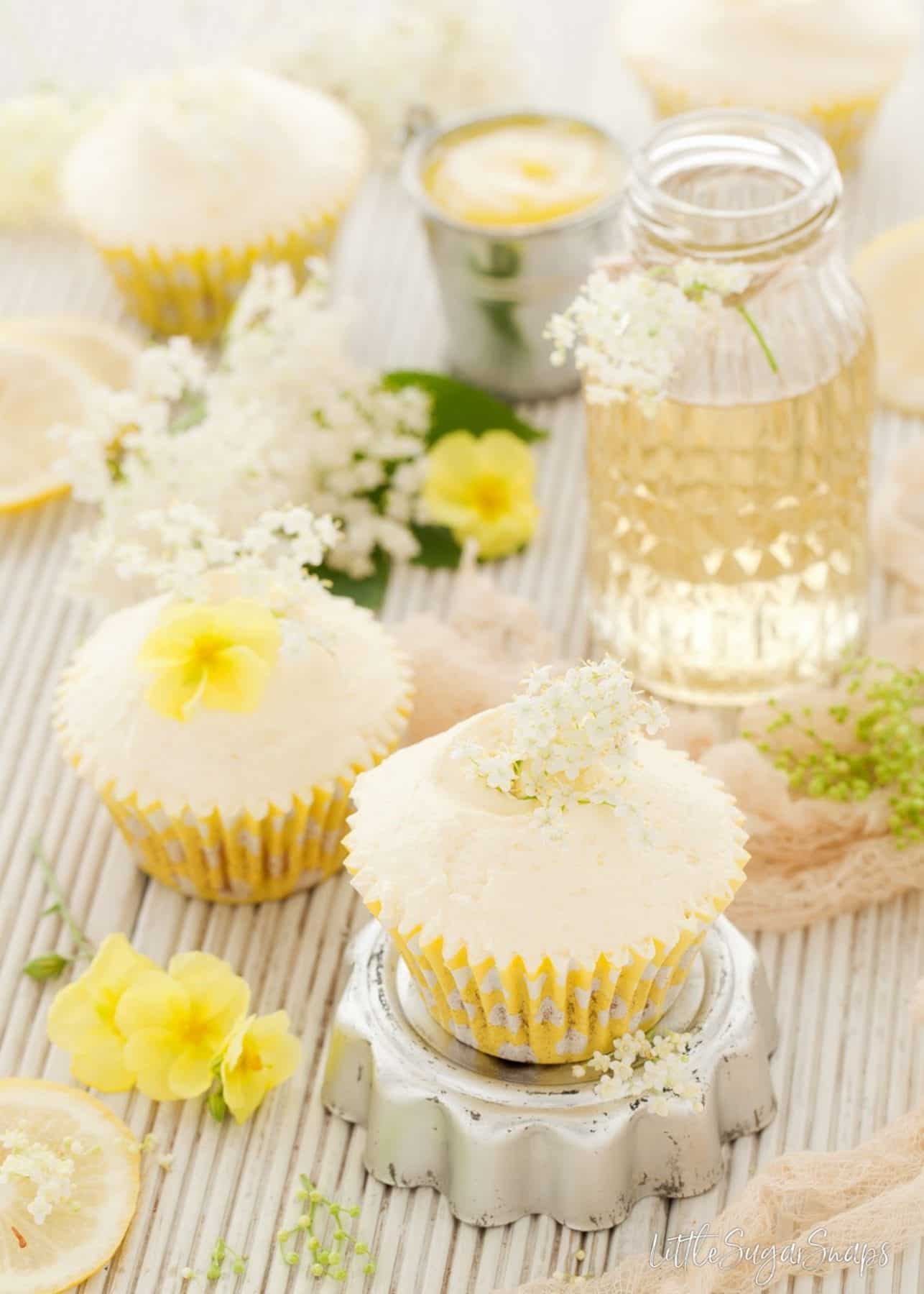 At the very start of 2018 I made a promise to myself and my readers to develop some baking recipes that catered for specialist diets – notable gluten free and vegan diets. Regardless of whether or not I need to follow a certain diet, it's always handy to have a supply of recipes and baking skills to hand to cater for everybody who tumbles through my front door. A few months ago, a few health issues of my own flagged up gluten intolerance as a potential candidate behind a few niggling ailments. Fortunately for me, it was a fleeting false alarm, but it helped reinforce my desire to learn a few more tricks in the kitchen.
Later this year I'll be sharing several gluten free bakes, but today my focus is vegan baking. In the form of Vegan Lemon Elderflower Cupcakes.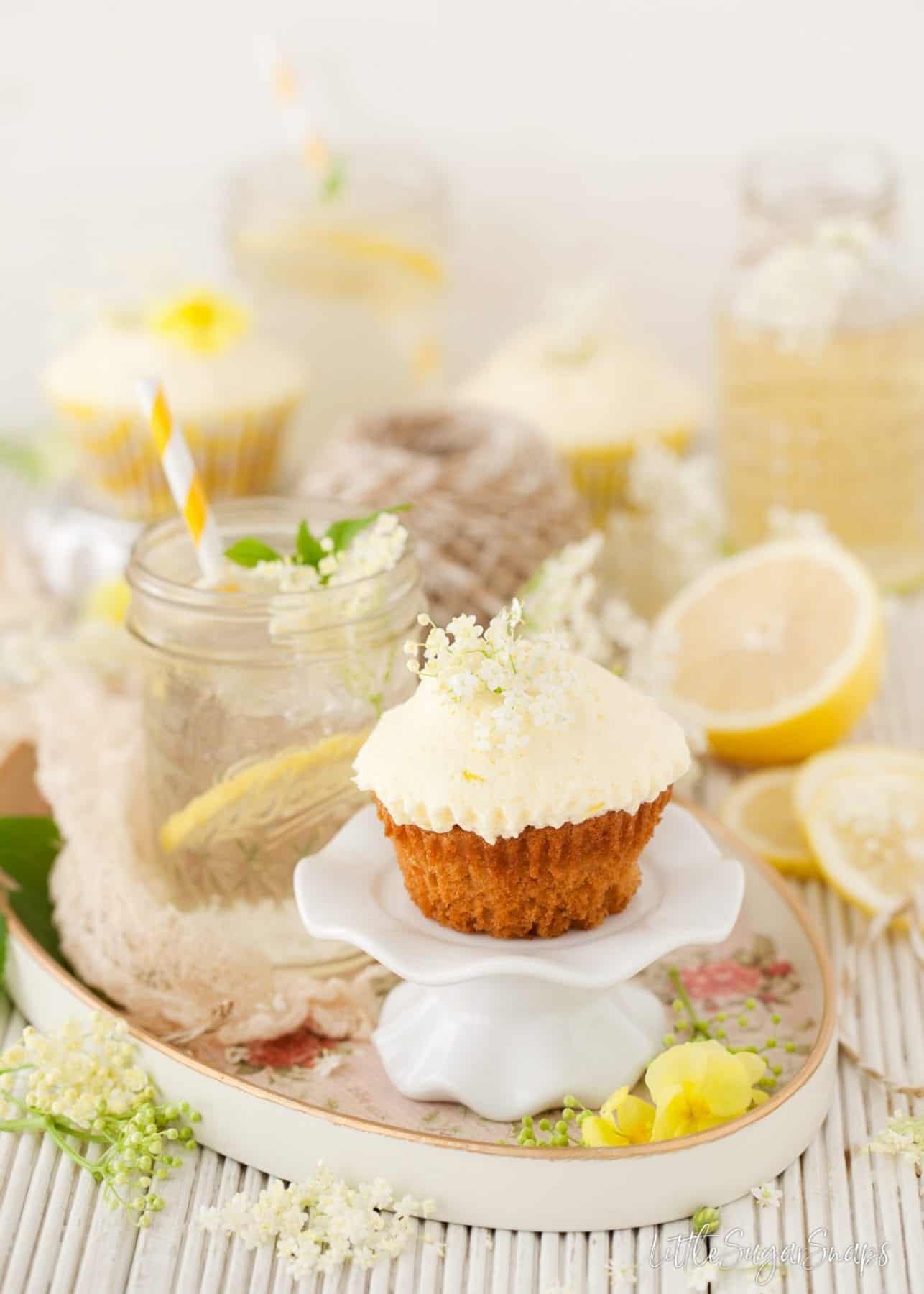 Confession I: the thought of baking a cake without eggs was more than a little daunting for me.
Confession II: When I presented my family with the first batch of these Vegan Lemon Elderflower Cupcakes and announced that they were vegan they were intrigued – I had to explain to my kids that vegan means no eggs and no dairy. After that, everybody was sceptical. They poked. They prodded….
But they were very pleased with the result. Each cupcake is light and bouncy – just like any cupcake should be.
I kept the flavouring of the actual sponge cakes very simple, letting the elderflower take the spotlight, with just a hint of lemon from a scant sprinkling of zest into the mix.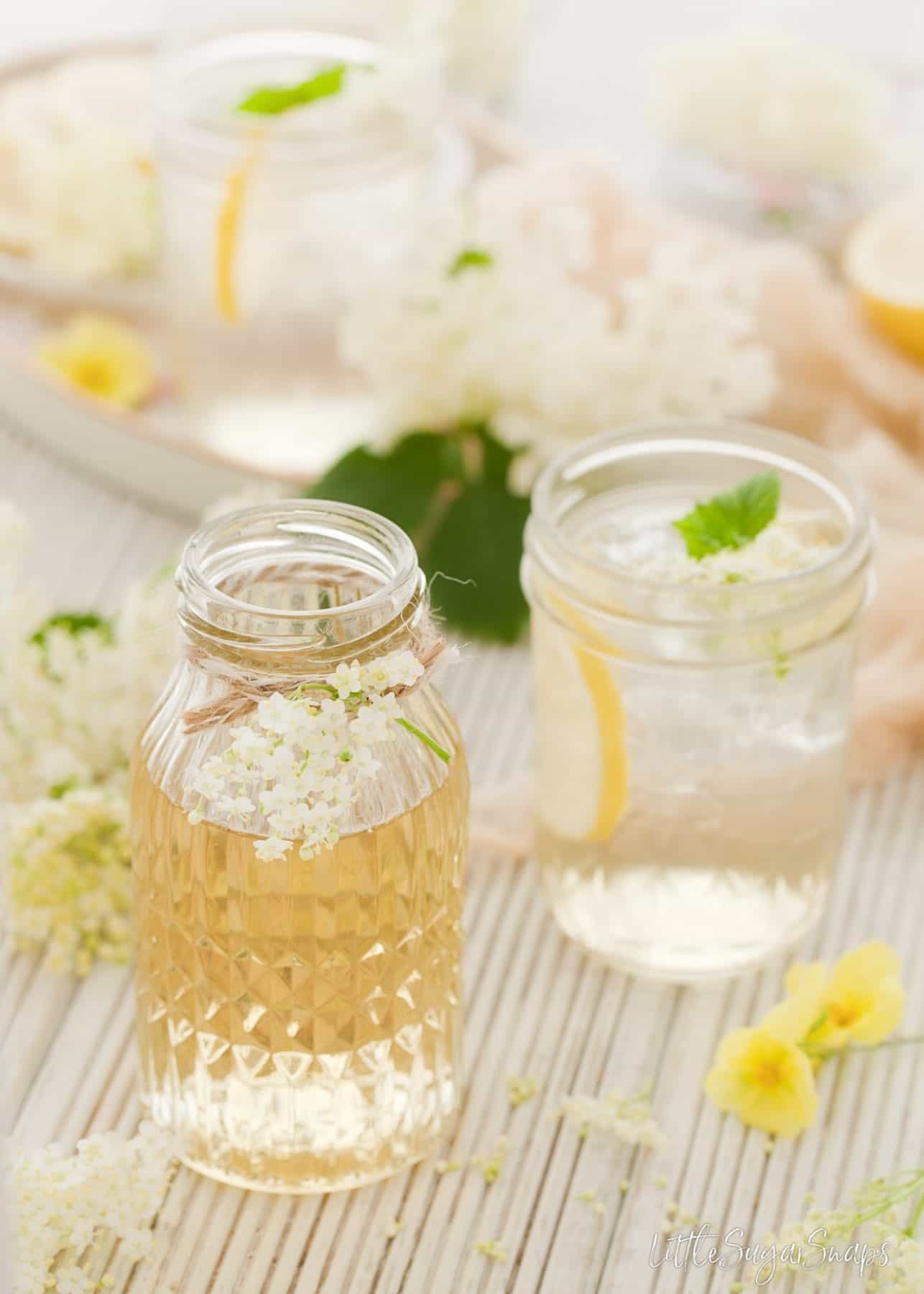 But that's where any subtlety ends. I've used homemade vegan lemon curd to fill the centre of each cupcake and I've added a generous helping of curd to the 'buttercream' frosting to ramp up the lemon flavour.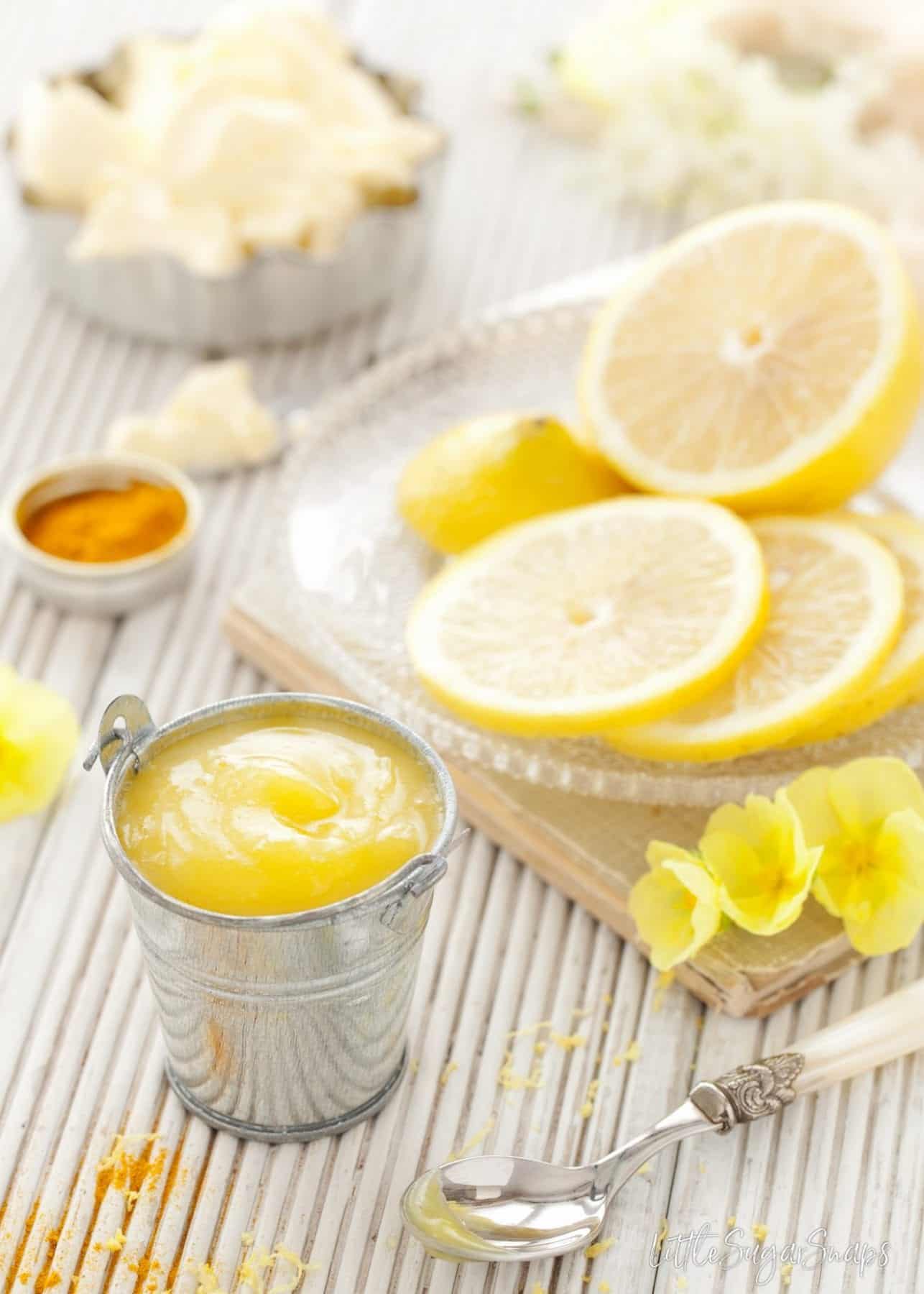 The overall result is lip-smackingly good. Lemon and elderflower are naturals together. I liken them to a comedy duet – elderflower is quiet and thought provoking whilst lemon is loud and in your face. It's a well versed contrast of characters.
Overall these Vegan Lemon Elderflower Cupcakes are a wonderful teatime treat. Classic flavours combine with incredibly soft, fluffy cupcakes and a generous pile of sweet, creamy frosting. Heaven.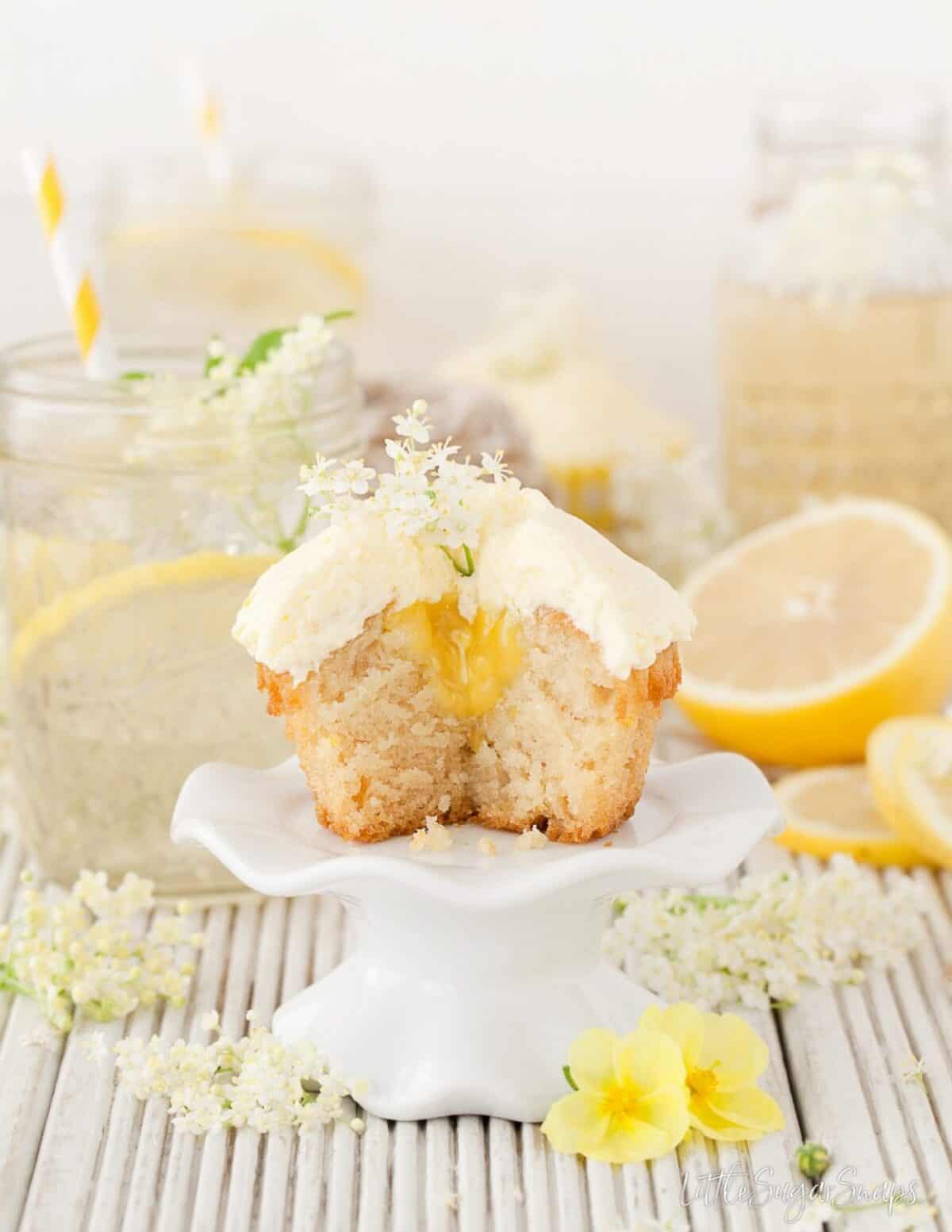 I've learned that vegan baking is not as scary as I thought it would be. Baking vegan cakes is actually quite a speedy process too and the results can be just as dreamy as regular baking. I did cheat and use a store bought elderflower cordial in these cupcakes, but if you have time to make your own, I recommend a visit to Anna Banana for her rendition. But be quick, before the blooms vanish for another year.
Have you seen my vegan biscoff cake? It's a beauty.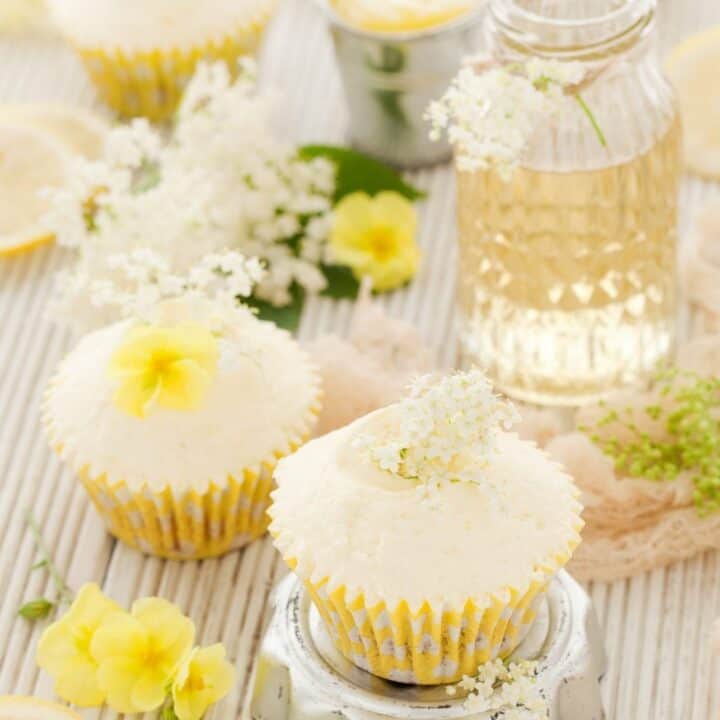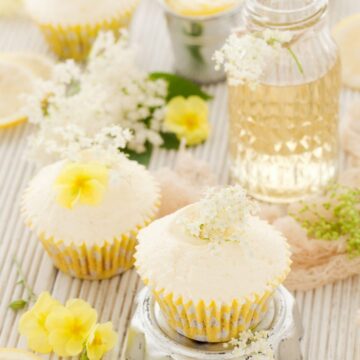 Vegan Lemon Elderflower Cupcakes
Vegan Lemon Elderflower Cupcakes combine classic early summer flavours in cupcake form. Light and delicate elderflower sponge cakes are adorned with homemade vegan lemon curd and a tangy, fresh & sweet lemon curd frosting.
Make the curd well before the cakes as it does take time to cool and set.
Print
Pin
Rate
Ingredients
For the Vegan Lemon Curd (see notes)
1 ½

tablespoon

Cornflour (cornstarch)

75

ml/ 5 tbsp

Lemon juice (freshly squeezed)

1

tablespoon

Finely grated lemon zest (fresh)

45

ml/ 3 tbsp

Cold water

1

Pinch

Turmeric

30

g/ 1oz

Vegan butter substitute
For the Cupcakes
220

g/ 1 ¾ cups

Plain (all purpose) flour

150

g/ ¾ cup

Golden caster sugar

½

teaspoon

Baking powder

1

teaspoon

Baking soda (Bicarbonate of Soda)

¼

teaspoon

Salt

1

tablespoon

Finely grated lemon zest (fresh)

240

ml/ 1 cup

Almond milk

80

ml/ ¼ cup

Groundnut oil (or other flavourless oil)

30

ml/ 2 tbsp

Elderflower cordial

10

ml/ 2 tsp

White wine vinegar
For the Vegan Buttercream
225

g / 1 cup

Vegan butter substitute

375

g/ 3 cups

Icing (confectioner's) sugar

Vegan lemon curd

1

Pinch

Salt
Instructions
Make the Vegan Lemon Curd
Put the cornflour into a small saucepan with the lemon juice. Stir with a wooden spoon (or mini balloon whisk) until combined

Add the zest, water and turmeric

Cook on a medium heat, stirring constantly until the mix begins to thicken. Turn the heat down to low and continue to cook for 4-5 minutes, stirring constantly. By this time the flour should have cooked through (take a tiny spoonful (blow to cool it) to ensure it does not taste floury – if it does continue to cook for a minute or two longer and test again)

When cooked, the sauce will very thick – drag your wooden spoon through the centre of the pan and it will take at least 3 seconds for the curd to spread back over the base of the pan

Take off the heat and beat in the vegan butter with a mini balloon whisk

Set aside to cool completely, then refrigerate until ready to use
Make the cupcakes
Preheat oven 175C/ 350F/ GM 3 ½ and line a 12-hole muffin tin with paper cupcake cases

Sieve the flour, baking powder and baking soda into a medium sized mixing bowl

Add the sugar & salt and mix using a balloon whisk

Sprinkle the lemon zest over the dry ingredients

Measure the wet ingredients (almond milk, oil, elderflower cordial & vinegar) into a jug and stir to combine

Pour the liquid into the dry ingredients and mix with the balloon whisk until just combined – take care not to over-mix as this will result in a heavy, dense cake

Divide the batter between the cupcake cases – each one should be filled approx ⅔ full

Bake for around 20 minutes until golden and a cocktail stick/ toothpick inserted into the centre of the cupcakes emerges clean
Make the Vegan Buttercream
Put the vegan butter substitute and the salt into a medium mixing bowl and beat with an electric whisk until smooth

Sift ⅓ of the icing sugar into the bowl and beat well. Add another ⅓ of icing sugar and beat again. Repeat with the remaining icing icing

Reserve 15 teaspoon of the lemon curd and add the rest to the buttercream. Beat well. The icing should be soft but spreadable. If it is too thick add a little almond milk to loosen it up. If it is too loose add a little more icing sugar
Decorate the Cupcakes
Cut a small hole in the centre of each cupcake – large enough to take approx 1tsp lemon curd

Divide the reserved lemon curd between the cakes

Frost the cupcakes with the buttercream and garnish with edible flowers or other suitable decorations

Store in an airtight container at room temperature for up to 3 days
Notes
I've made the lemon curd deliberately thick to fill the cakes and hold up in the buttercream. If you are wanting to make lemon curd on it's own, adding 1-2 tablespoons of almond milk will give a looser curd. Personally, this thick texture is how I like my curd for toast anyway, but I appreciate a looser curd might be more your style.
(Visited 1,302 times, 1 visits today)