This vegan lentil shepherd's pie recipe is pure comfort food. Loaded with nutritious ingredients all snuggled under creamy mashed potatoes. This is one hearty, comforting and easy to make veggie-loaded meal that is sure to delight your tastebuds.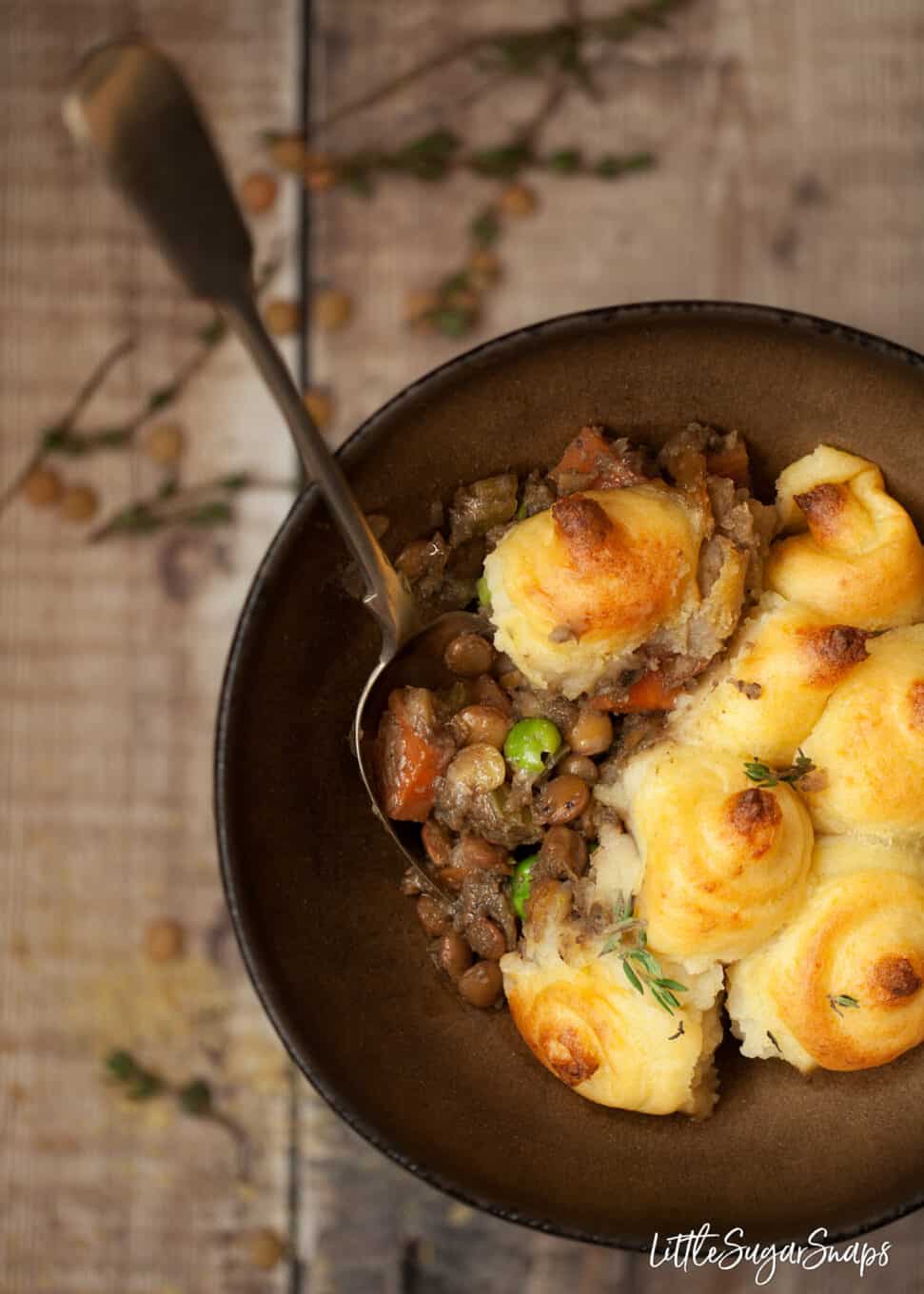 THIS POST IS SPONSORED BY INDIGO HERBS
Vegan shepherd's pie with lentils is a dish that I could serve up to my family year-round. It's hearty and comforting, making it an ideal choice for winter. But served with a crisp green salad it can easily lapse into summer food too.
This is the kind of food that can plant a smile on everybody's weary midweek faces or make a surprise guest appearance in place of a traditional Sunday meal.
Though I have included lentils in this recipe, I have not overdone them. Instead, I've used minced aubergine and mushrooms to bulk out the base and provide a robust texture not dissimilar to that of a classic shepherd's pie.
If hearty, wholesome meat-free comfort food is what you are craving, this vegan lentil shepherd's pie should be what you wrap up warm with.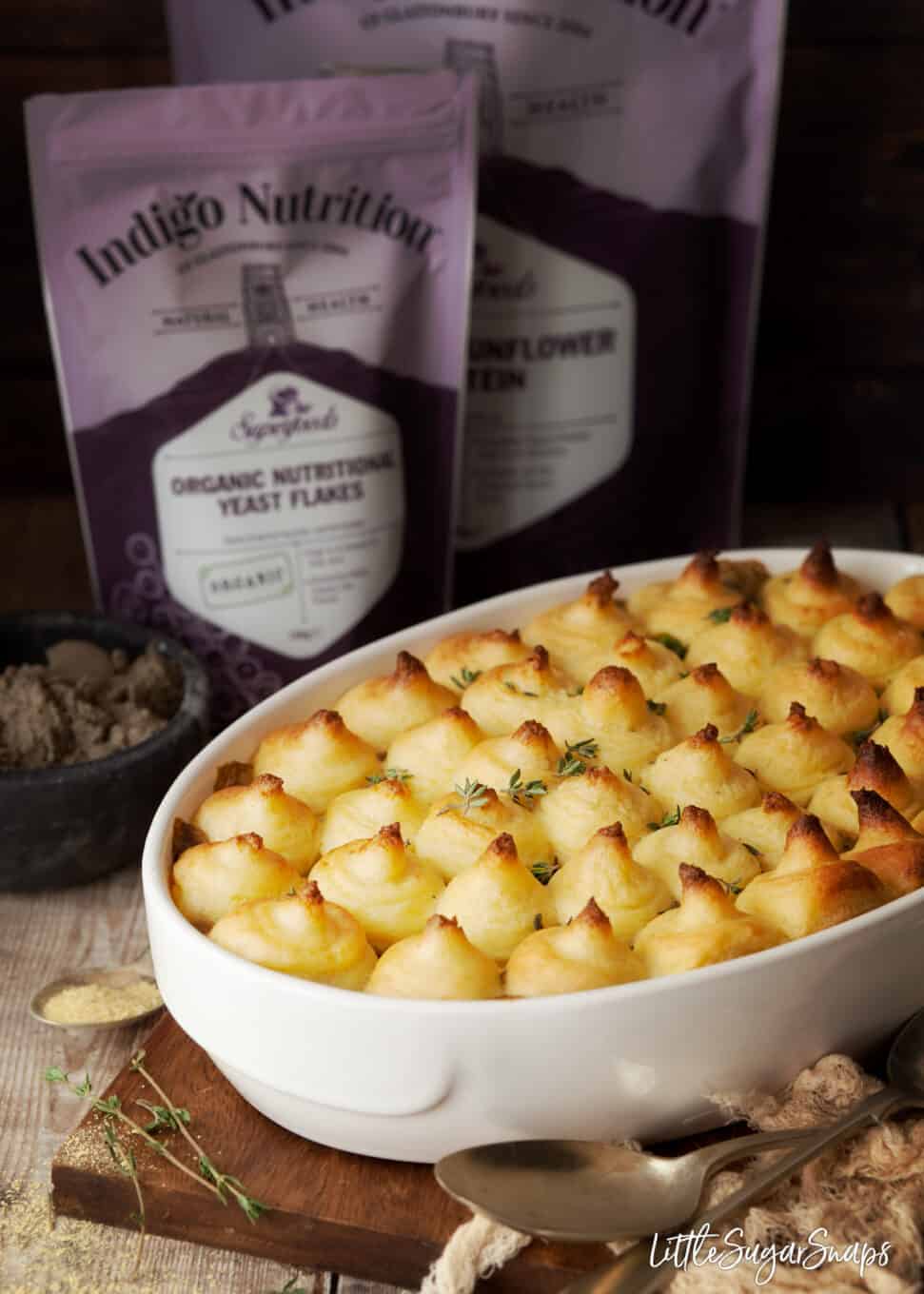 Vegan vs Classic
Shepherd's pie is a longstanding comfort food classic that many a child has grown up eating. The classic version, sometimes called cottage pie, contains minced red meat and usually a medley of vegetables such as celery, onion, carrot and peas, all cooked in a gravy and topped with mashed potato. Baked until golden, it's a great recipe to make to satisfy a hungry family.
I was very keen to keep my vegan lentil shepherd's pie recipe in tune with the classic version as much as I could. Here are my modifications:
I've removed the meat, replacing this protein source with a blend of plant-based proteins, aubergine & mushrooms instead
The usual dairy products in the mashed potato topping have been replaced with vegan alternatives
I've created a vegan broth that the base ingredients cook in
The result is a nourishing pie that contains plenty of mouthwatering flavour in each spoonful.
Sources of Vegan Protein in this Recipe
I'm always mindful of incorporating adequate plant-based protein in my vegan main meals. But it can sometimes be a fine balance when using lentils as that protein source:
Too many lentils piled into a recipe can lead to a stodgy plate that nobody is really excited by
But leaving them out altogether seems remiss
Indigo Herbs got in touch with me at just the right time. I'd already begun testing this vegan shepherd's pie recipe and the feedback my family delivered was that there were too many lentils in it.
So when Indigo Herbs told me about their organic sunflower protein powder, it was the obvious way to take my recipe. I cut back slightly on the lentils and added a little protein powder instead.
Sunflower protein powder is a versatile ingredient with a delicious nutty taste. Along with the protein boost, it serves up plenty of B vitamins and minerals, so it's a great addition to vegan meals all around. Take a look at their recipe ideas for more ways to incorporate this ingredient into your diet.
For those not able to tolerate seeds in their diet, the sunflower powder can be left out or replaced with mushroom powder. Nutritional content will vary though.
Ingredients for this Vegan Recipe
The list of ingredients for this vegan lentil shepherd's pie recipe is fairly straightforward:
aubergine
mushrooms
celery
onion
thyme
green lentils
sunflower seed protein powder
carrots
peas
nutritional yeast
potatoes
vegan butter
With the exception of the protein powder and nutritional yeast, the ingredients are wholesome, fresh and likely to be hanging around your kitchen cupboards anyway.
I know it's been around for quite some time, but nutritional yeast is a new ingredient to me. In fact, I purchased my first jar of it just a few months ago. But now I'm hooked.
I use it to add a cheesy, nutty taste to plenty of vegetarian and vegan meals, from a simple meat-free ragu to this vegan pie. It also injects more plant-based protein into vegan meals, which is great news.
It's a storecupboard ingredient I would not be without now.
How to Make this Recipe
Step 1: Reduce the aubergine and mushroom to mince in a food processor
wipe clean the mushrooms
roughly chop the mushrooms and aubergine
place in a food processor and process until finely chopped
This gives great texture to the pie filling and bulks out the lentils really well:
Step 2: Cook the filling:
Put some olive oil into a cooking pot or saucepan and fry the minced mushroom and aubergine for a few minutes
Add finely diced onion and celery and cook until softened
Next toss the lentils, diced carrot, nutritional yeast and sunflower seed powder into the pan along with some thyme
Pour in the stock and let simmer for 25 minutes, adding a little extra stock if the mix gets too dry
Toss in the frozen peas and take off the heat
Step 3: Prepare the mashed potatoes:
Peel and chop the potatoes
Place in a large saucepan and cover with water
Simmer for around 20 minutes until tender
Drain, reserving the cooking liquid
Mash, using a handheld masher or a potato rice
Stir in vegan butter, nutritional yeast and a little reserved cooking liquid if required
Season to taste
Step 4: Assemble the pie:
Spoon the cooked filling into a large pie dish
Spread or pipe the mashed potato over the top
Bake for 30 minutes
Serving Suggestions
This vegan lentil shepherd's pie is a complete meal in itself, but a crisp green salad would make an ideal side to serve alongside it. Keep the dressing light and to a minimum.
Alternatively, wilted greens make a fine hot side dish. Like the salad, this is not too heavy.
This recipe can also be turned into individual portions - simply divide the filling and potato between 4 individual pie dishes and cook for 2--25 minutes.
Can I freeze this pie?
Undoubtedly, this vegan pie will always have the best flavour, texture and consistency if eaten fresh. But it is possible to reheat leftovers or to freeze this pie if making in advance.
Please bear in mind that lentils do continue to absorb liquid as they sit and mashed potatoes will dry out if they keep getting reheated.
For these reasons, I suggest freezing this pie as soon as it has been fully assembled and cooled, but before it has been baked. Defrost at room temperature for 3-4 hours and proceed to bake as per the recipe instructions.
Leftovers can be reheated. Consider serving with a little vegan gravy to account for any lost moisture during the storing and reheating processes.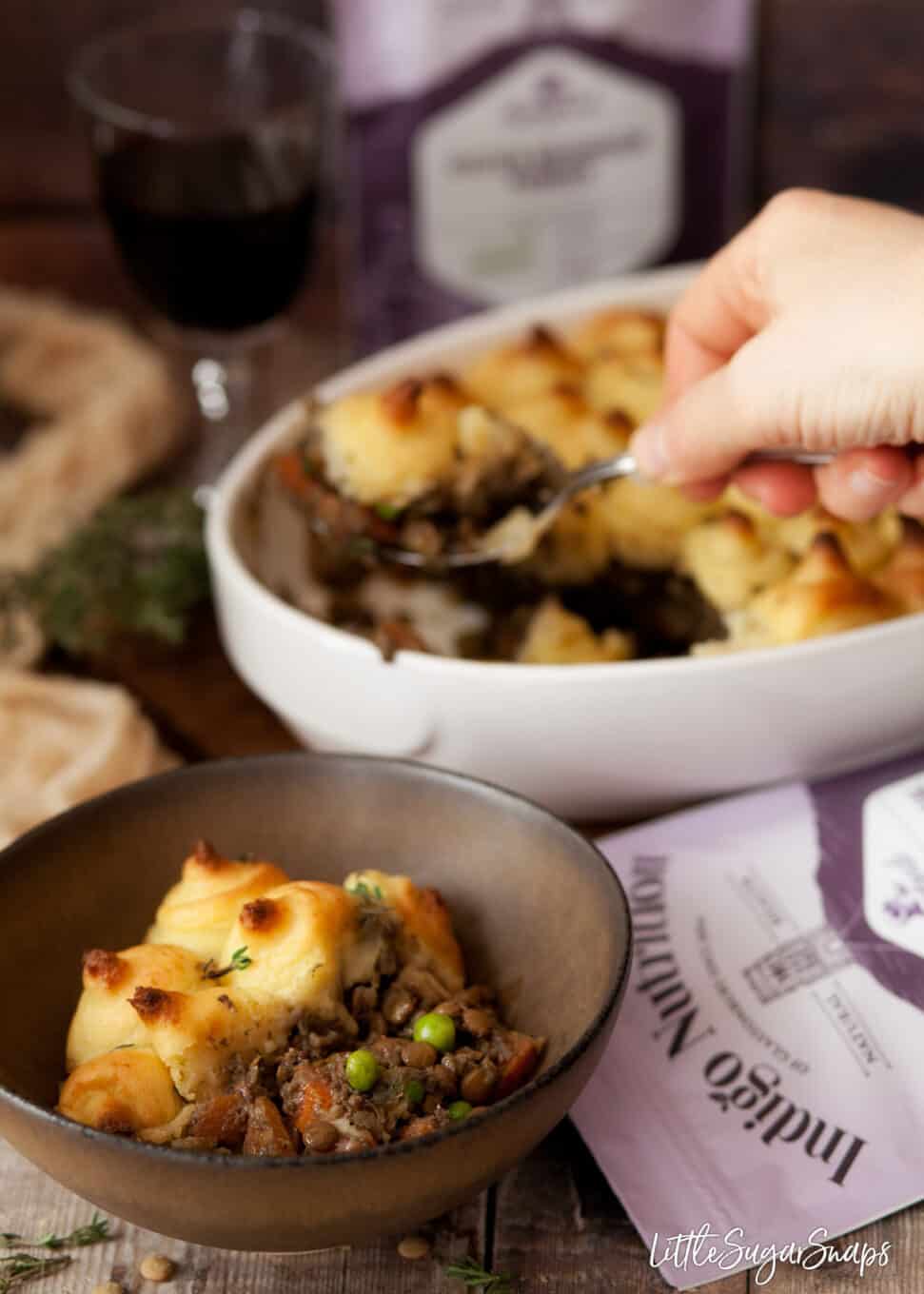 More Vegan & Vegetarian Meals: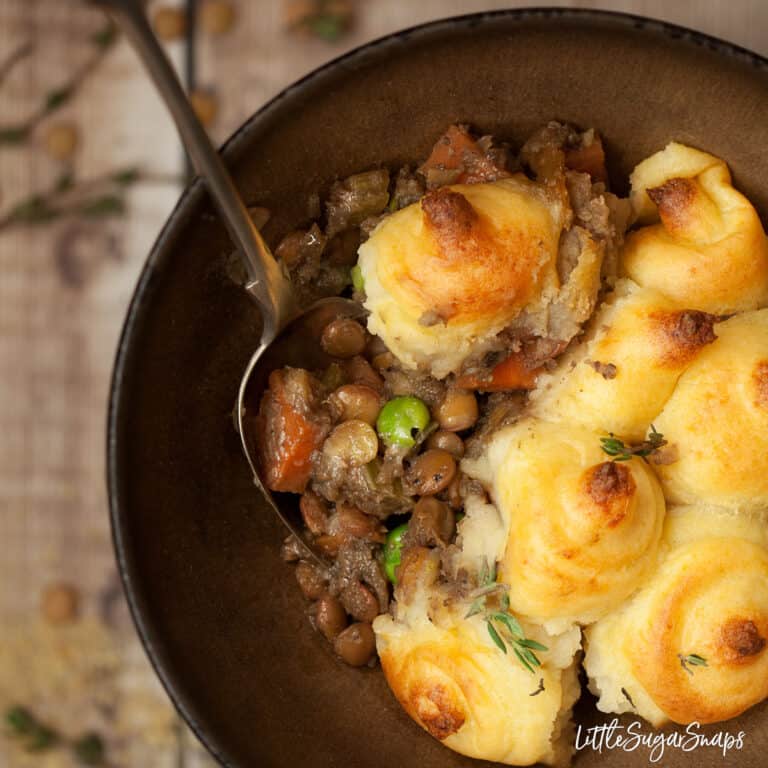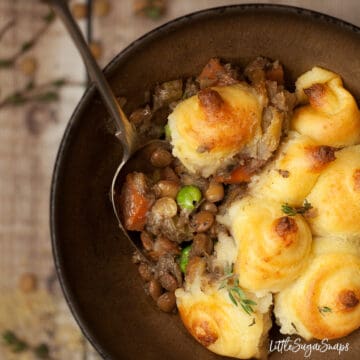 Vegan Shepherd's Pie with Lentils
Vegan shepherd's pie with lentils is pure comfort food. Loaded with nutritious ingredients all snuggled under creamy mashed potatoes. This is one hearty, comforting and easy to make veggie-loaded meal that is sure to delight your tastebuds
Print
Pin
Rate
Ingredients
For the Base
1

Onion

1

Celery stick

200

g

Aubergine

100

g

Mushrooms

120

g

Green lentils

dried

300

g

Carrots

120

g

Peas

frozen

500

ml/ 2 cups

Vegetable stock

4

tsp

Nutritional yeast

4

tsp

Sunflower protein powder

or mushroom powder

1

tbsp

Soy sauce

4

Thyme sprigs

⅛

tsp

Ground black pepper

Salt
For the Mashed Potatoes
1

kg

Floury potatoes

King Edward or Maris Piper are great

2

tbsp

Nutritional yeast

3

tbsp

Vegan butter

e.g. Flora Buttery

Salt & pepper

to taste
Instructions
Make the Filling
Wipe clean the mushrooms and roughly chop along with the aubergine

Place in a food processor and process until finely minced

Put some olive oil into a cooking pot or saucepan and fry the minced mushroom and aubergine for a few minutes

Add finely diced onion and celery and cook for 3-4 minutes until softened

Dice the carrot and toss into the pan along with the lentils, nutritional yeast, sunflower protein powder and thyme

Pour in ¾ of the stock and let simmer for 25 minutes, stirring occasionally and adding more stock if the pan gets too dry

When the lentils are cooked through add the pepper and season with salt to taste then toss in the frozen peas and take off the heat
Make the Mashed Potato
Preheat oven to 200C/ 400F/ GM6

Peel and chop the potatoes

Place in a large saucepan and cover with lightly salted water

Put a lid on the pan and bring to a gentle simmer. Cook for around 20 minutes until tender (poke with a sharp knife to check)

Drain, reserving the cooking liquid

Mash, using a handheld masher or a potato ricer

Stir in vegan butter, nutritional yeast and seasoning to taste

If the potato is too stiff add a little of the reserved cooking liquid
Assemble the Pie
Spoon the cooked filling into a large pie dish

Spread or pipe the mashed potato over the top

Bake for 25 minutes in the preheated oven
Nutrition Per Serving (Approximate)
Calories:
435
kcal
|
Carbohydrates:
71
g
|
Protein:
23
g
|
Fat:
9
g
|
Saturated Fat:
2
g
|
Sodium:
441
mg
|
Potassium:
2061
mg
|
Fiber:
22
g
|
Sugar:
10
g
|
Vitamin A:
13208
IU
|
Vitamin C:
52
mg
|
Calcium:
144
mg
|
Iron:
12
mg
(Visited 402 times, 2 visits today)