This vegan carrot and lentil soup with coriander manages to taste fresh and lively whilst also being deeply nourishing and gratifying.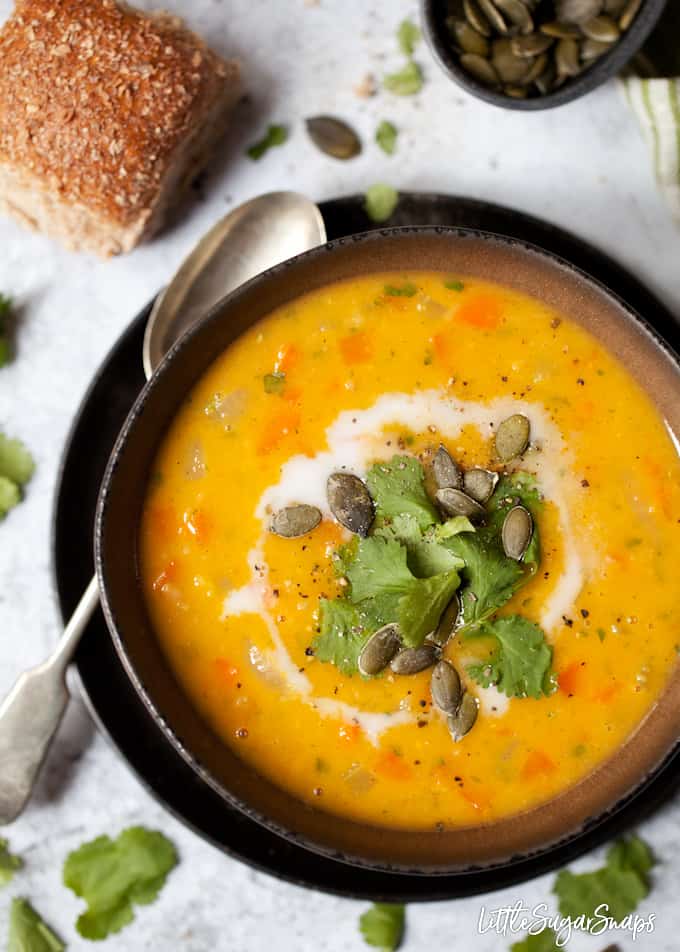 Lunch is my weak point. Despite spending my days surrounded by food, it's disappointing how often I fail to make time to feed myself properly during the day. On the hoof is my middle name when it comes to this meal.
However, soup can my saviour. I feed it to my family at least once every week, so making plenty is one way to ensure there are leftovers for me to heat up at lunchtimes.
Of course, variety is the spice of life, so I'm always playing around with new flavours. This carrot and lentil soup with coriander (cilantro) is really a cross between 2 classic soups:
carrot and coriander
lentil soup
I added red lentils to inject a little healthy plant-based protein into my daytime meals and to make an otherwise fairly light soup more substantial.
Confession: I can find the smooth as silk texture of traditional carrot & coriander soup a bit monotomous if eaten too often.
That's why I've deliberately kept this soup chunky by whizzing up only part of the soup in my blender and stirring it back into the remainder. This helps thicken the entire batch, giving the soup extra body and a great consistency whilst retaining some bright nuggets of carrot.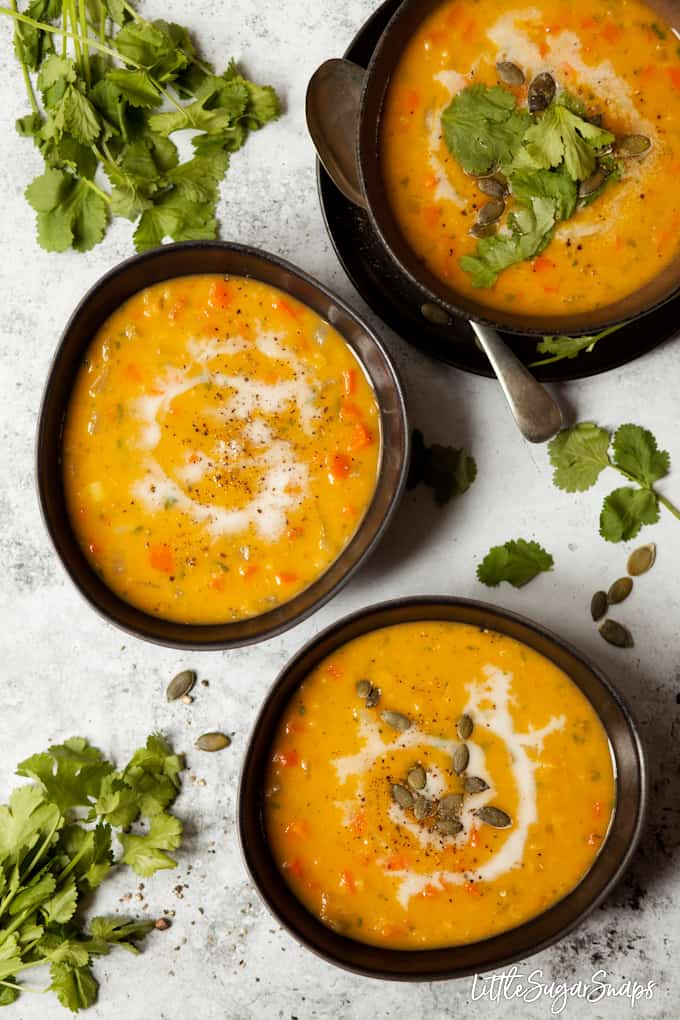 Of course, this carrot and lentil soup can alternatively be blended to a smooth (and thick) consistency. It's your choice.
What Goes into Vegan Carrot and Lentil Soup
Aside from the three key ingredients - carrots, red lentils & coriander - there are a handful of other integral components that help create a robust flavour profile in this vegan carrot soup.
The base is built from gently frying onion, celery, garlic and ground coriander. These savoury flavours are essential to round out the inherent sweetness from the carrots.
From here, quality stock, along with the carrots and red lentils are added. Once everything is cooked, fresh coriander and creamy coconut milk are blended in to boost the flavour, adding a touch of luxury to the end result.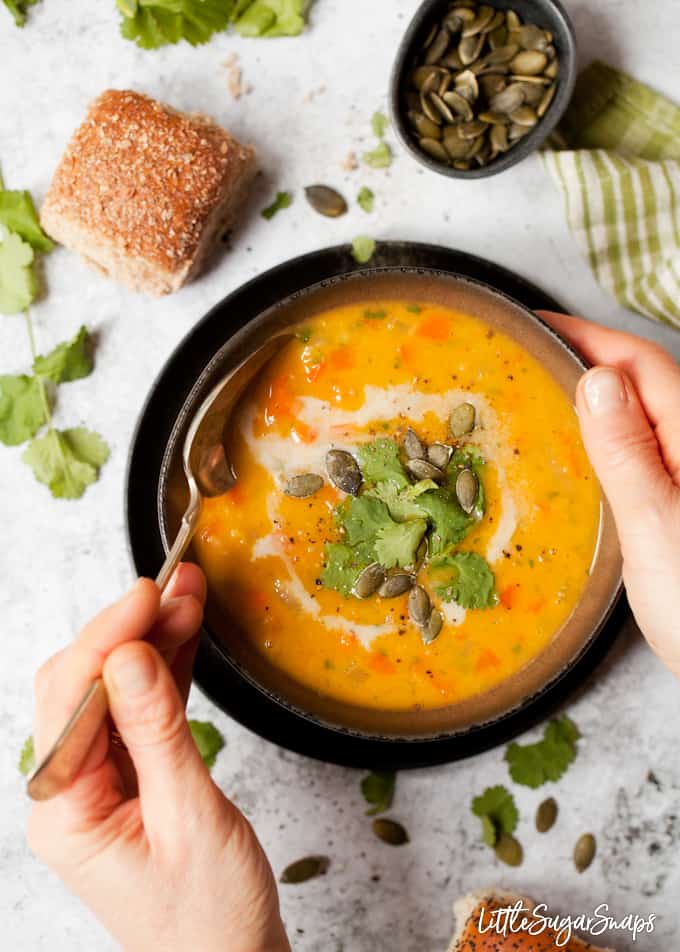 Incidentally, the coconut milk is the canned type used in Thai cuisine rather than the refrigerated version typically used as a milk replacement. Whether to use full-fat or reduced-fat is entirely your choice.
As for topping options, I like to keep it simple with a swirl of coconut milk, some fresh coriander, a little black pepper and occasionally some pumpkin seeds.
Can I Freeze Lentil Soup?
This vegan carrot and lentil soup can be frozen for up to 3 months. Here are my tips for successful freezing soup:
Allow to cool to room temperature before decanting into freezer-proof containers
Don't fill the container to the brim. Instead, leave at least a 1.5 cm space below the lid before sealing since the soup will expand as it freezes
Freeze soup in individual portion sizes. These can be pulled out as and when required for the right number of diners. It's surprising how often single servings can come in handy in a busy household
Always label the container clearly - with the soup type and the use by date to ensure it doesn't languish in the deep freeze indefinitely (says the voice of sorry experience)
Let defrost fully at room temperature or in the fridge before heating to piping hot before serving
Is Carrot and Lentil Soup Healthy?
Despite being very tasty and rather satisfying, this soup boasts a number of health benefits:
Carrots are nutrient-rich, possessing a wealth of vitamins and minerals. In particular, they are rich in beta carotene, which our bodies convert into vitamin A. In turn, vitamin A helps promote good vision and is important for growth, development, and immune system health
Coriander imparts dietary fibre, manganese, iron, magnesium Vitamin C and Vitamin K. Phew - quite a mix. And there are equally wide-ranging benefits from incorporating this herb into your diet including: lowering bad cholesterol; aiding liver functions and bowel movements; alleviating mouth ulcers and helping to remedy anaemia
Red lentils are a fantastic source of healthy, plant-based protein - pertinent for digestive health and healthy weight maintenance. But they are also an excellent source of fibre, B vitamins, iron, magnesium, potassium and zinc. Lentils are all-round good guys and so versatile. Read more about them here
To keep this soup as healthy as possible, I suggest using reduced-fat coconut milk and using homemade or low-sodium stock. These choices help to keep in check unhealthy fats and sodium levels.
Find More Lentil Recipes: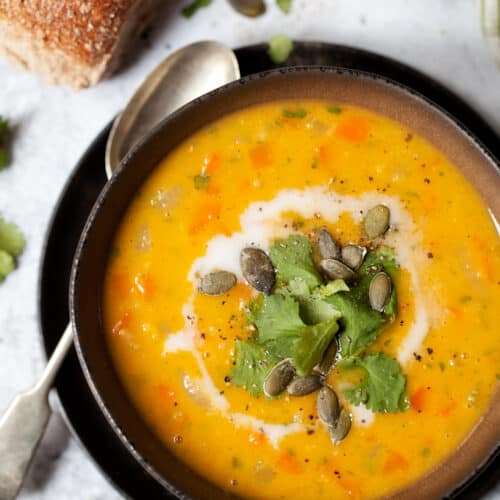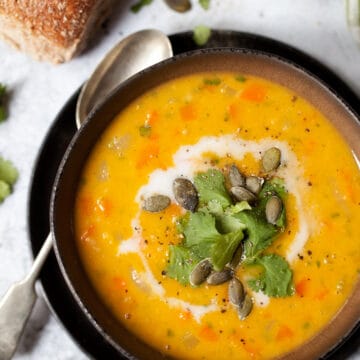 Carrot and Lentil Soup with Coriander
This vegan carrot and lentil soup with coriander manages to taste fresh and lively whilst also being deeply nourishing and gratifying.
Print
Pin
Rate
Ingredients
1

tablespoon

Olive oil

1

Onion

white & mild

1

Celery stick

1

Garlic clove

1

teaspoon

Ground coriander

450

g (16 oz)

Carrot

150

g (5 ¼ oz)

Red lentils

1250

ml (5 cups)

Vegetable stock

homemade or low sodium

200

ml (⅘ cup)

Reduced-fat coconut milk

Canned

20

g (⅔ oz)

Fresh coriander leaves

removed from the stalks

¼

teaspoon

Ground black pepper

Salt - to taste
Instructions
Peel the onion then dice both the onion and celery stick finely. Fry in the oil over a moderate heat for around 5 minutes until beginning to soften

Peel and finely chop the garlic and add to the pan, along with the ground coriander

Next peel and dice the carrot. Aim for ½ cm cubes. Drop into the pan, stir everything together and cook for 3 minutes

Pour in the lentils and stock, bring to a gentle simmer and cook, covered for 20 minutes, by which times the lentils should begin to break down and the carrot should be tender

Pour the coconut milk into the base of a heatproof blender jug and ladle in around ¼ of the soup (see notes). Cover and blitz until smooth. Add ¾ of the fresh coriander and pulse 3-4 times until the herb is finely chopped

Pour the pureed soup back into the pan, taste & season as necessary (see notes) and reheat before serving, garnished with the fresh coriander leaves and perhaps a swirl of coconut milk and some pumpkin seeds if desired
Notes
The thickness of this soup will depend how much of it is pureed in the blender. For a very thick and smooth soup, the whole lot can be blended, but for a thinner soup, as pictured, aim for ¼ - ⅓ of it being blended.
If you are not sure, try blending a bit at a time until you achieve a consistency you are happy with.
The exact amount of salt required will depend on the saltiness of your stock. I used ½ teaspoon salt, but this will need adjusting up or down in accordance with your stock - taste, taste and taste some more.
Nutrition Per Serving (Approximate)
Calories:
316
kcal
|
Carbohydrates:
42
g
|
Protein:
18
g
|
Fat:
10
g
|
Saturated Fat:
4
g
|
Sodium:
220
mg
|
Potassium:
1053
mg
|
Fiber:
15
g
|
Sugar:
8
g
|
Vitamin A:
19146
IU
|
Vitamin C:
12
mg
|
Calcium:
84
mg
|
Iron:
4
mg
Pin this recipe:
(Visited 2,377 times, 6 visits today)