This quick & easy one pot Lentil Olive Stew packs alot of punch with juicy olives, salty capers, feta, fiery chilli and a generous portion of lentils. Makes a tasty & healthy weeknight supper.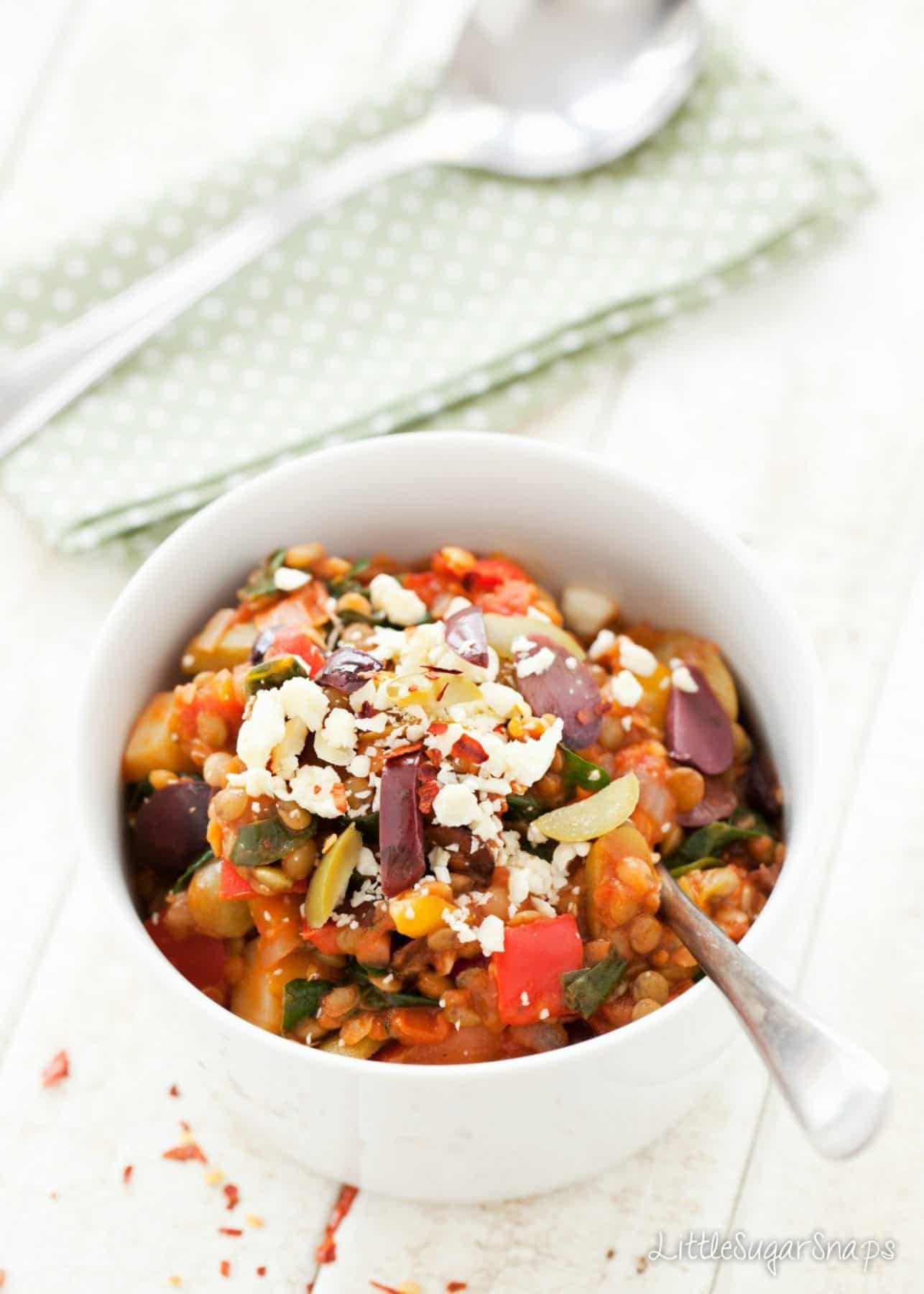 I'm hoping that you like big flavours as that's exactly what you'll get from my Lentil Olive Stew. It is one big bowlful of punchy, delicious, veggie delight. There are so many bold ingredients in this pot that, come suppertime, you and your mouth will wake up and have a little party together – even if it is just midweek.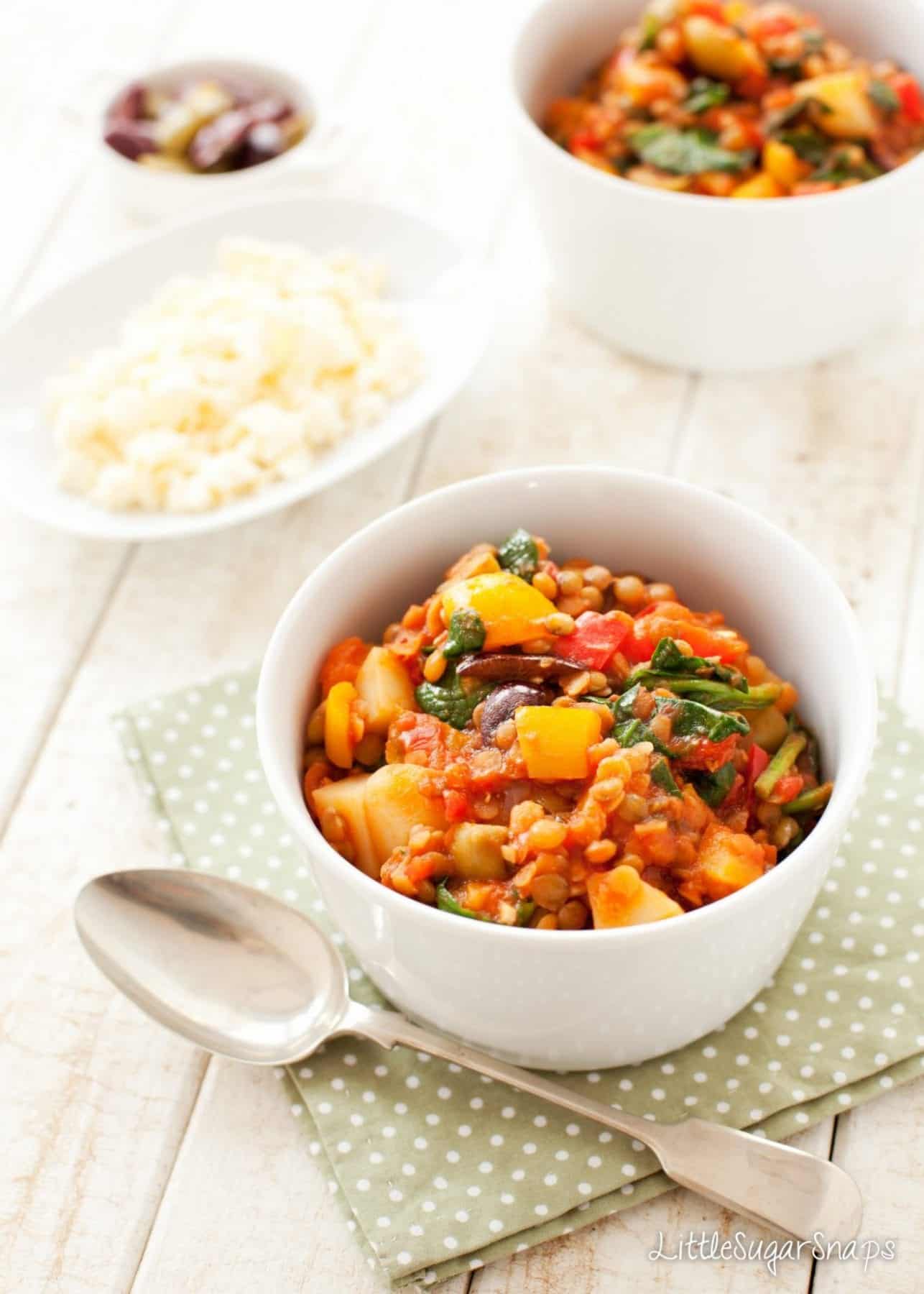 This recipe has been a long time coming. For years I've been admiring lentil recipes in cookbooks and magazines, but up until recently Chris has been really, really, really opposed to beans & pulses. Especially pulses. Including lentils….grrr. I have to confess, until 6 months ago, I'd barely ever eaten lentils. They were just not cooked at home as I grew up and then I married Chris – case closed.
However, keen to make my daughters' diets as rich and varied as possible, last autumn I made a curry that contained a small proportion of lentils in it and kept quiet as I served it up. After a few mouthfuls, Chris gave his verdict…
Big hit – he loved it. 🙂 🙂
Even after I confessed about those teeny-tiny, oh so innocent, little lentils. 🙂 🙂
From that point on, as a family, we have grown to love lentils entirely. We've all eaten the 'test' curry and a pile of other lentil recipes so much over the winter. This is great news as lentils are so utterly good for you. They are:
very high in protein
low in fat
low in sodium
easy to digest
high in cholesterol lowering fibre
As if all of those benefits weren't enough, there's more:
lentils are incredibly cheap
they come in a rainbow of colours
Anyway, leaving the virtues of lentils aside, um, back to the Lentil Olive Stew.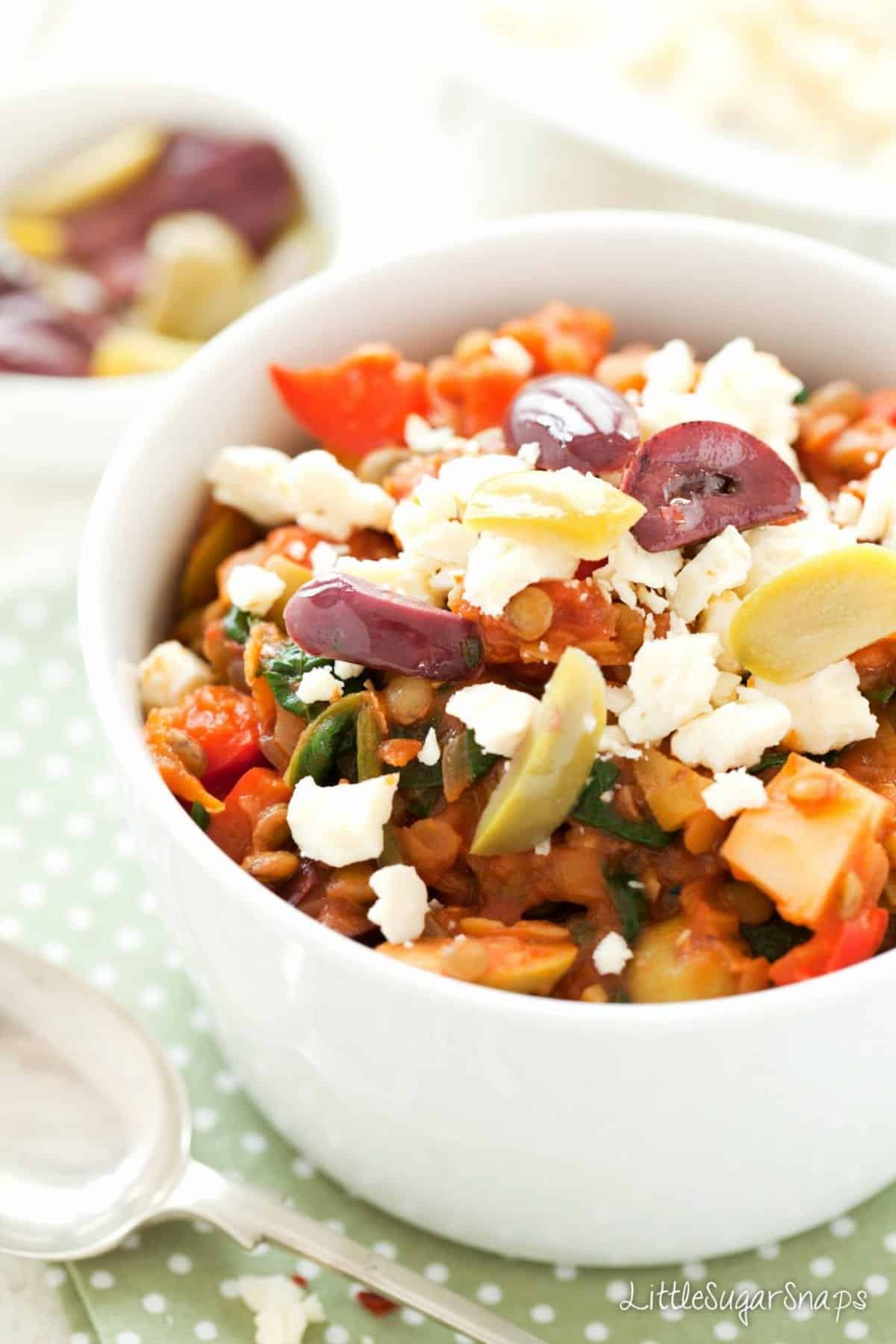 Having completely overcome household lentil phobia (hooray), I decided to create this flavour-bomb of a supper. It is quick & simple to make – you just keep adding ingredients to the same pan. What you get at the end is very little washing up (bonus) and a large bowlful of so many wonderful veggies and satisfying flavours to enjoy. There are: juicy olives, salty capers & feta, fiery chilli flakes and a generous portion of lentils. It is a commotion in your mouth.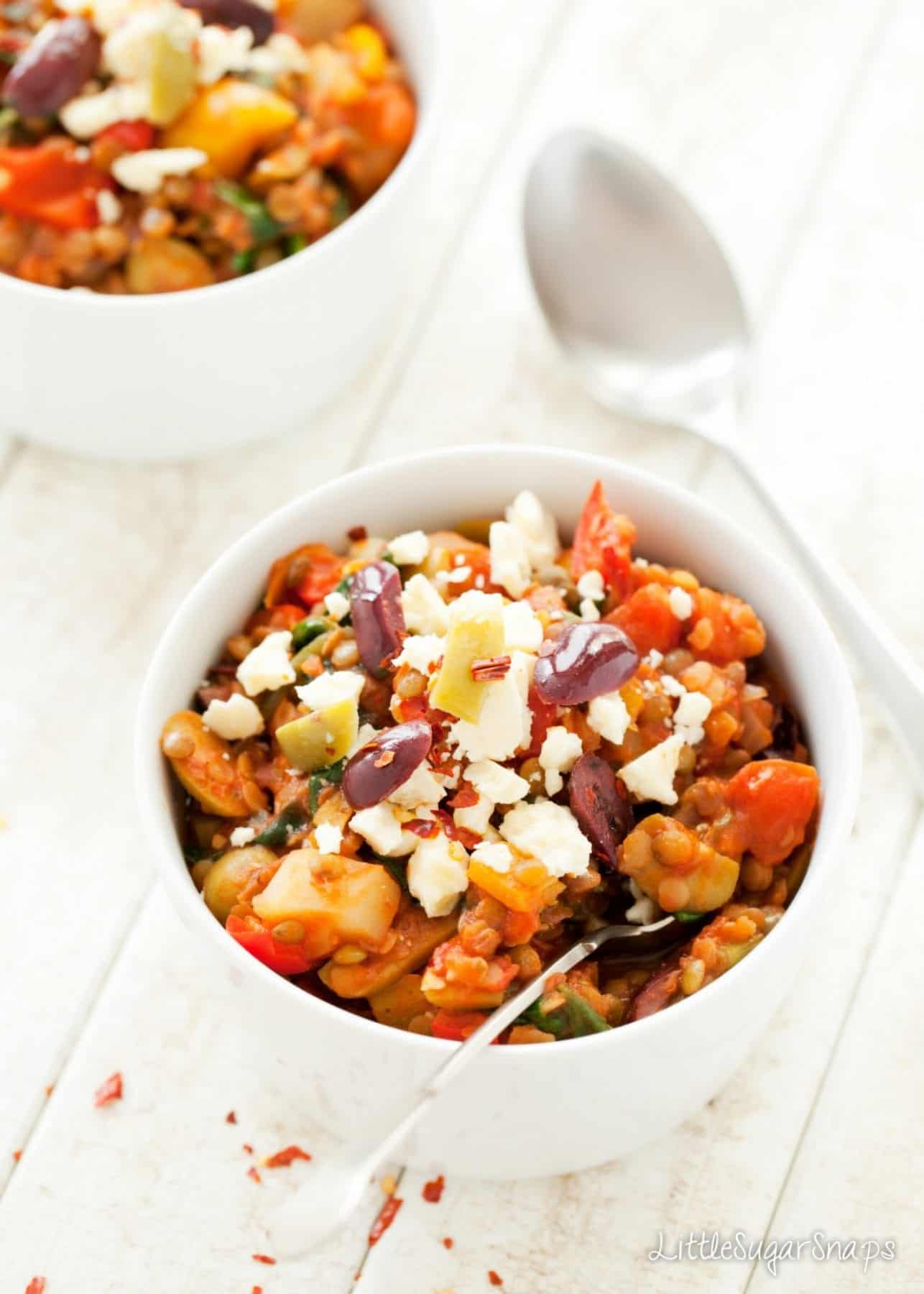 If you've enjoyed this post, please share it and make me very happy. You can also follow along to get notified of my future blog posts by email.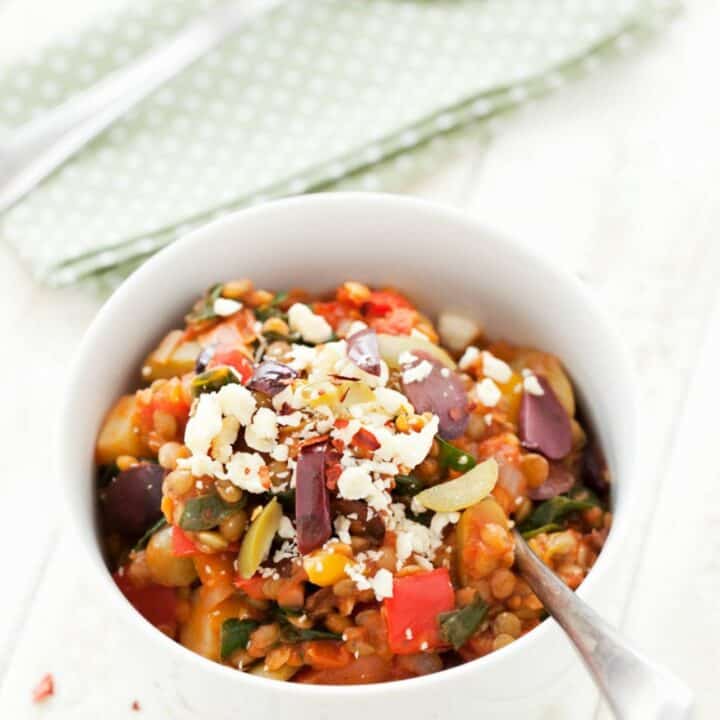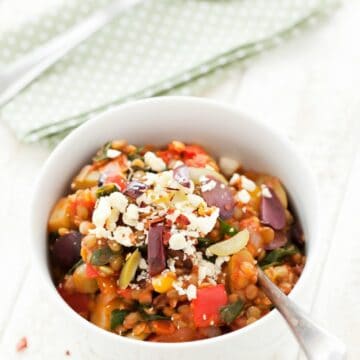 Lentil & Olive Stew
This quick & easy Lentil Olive Stew packs alot of punch with juicy olives, salty capers, feta, fiery chilli and a generous portion of lentils. Makes a tasty & healthy weeknight supper. Lentil Olive Stew
Print
Pin
Rate
Ingredients
3

shallots

2

garlic cloves

2

tablespoon

olive oil

1 ½

large red peppers

1 ½

large yellow pepper

600

g/ 2 ⅔ cups

tinned tomatoes

(chopped)

375

g/ 13oz

new potatoes

(peeled)

120

g/ ⅔ cup

green lentils

(look for ones that cook in 20ish minutes)

65

g/ ⅓ cup

red lentils

375

ml/ 1 ½ cups

vegetable stock

175

g/ 6oz

mixed pitted olives

(drained)

1 ½

teaspoon

sundried tomato paste

1 ½

tablespoon

capers in brine

(drained)

¼ – ½

teaspoon

chilli flakes

(to taste)

2

medium handfuls spinach leaves

(about 100g/ 3 cups)
To Serve:
100

g/ 4oz

feta cheese – crumbled

Extra olives

Extra chilli flakes
Instructions
Finely dice the shallots and garlic cloves, then fry them in the olive oil in a large saucepan over a low – medium heat for 3-4 minutes, until they begin to soften

De-seed the peppers and chop into 1 cm chunks, then add to the pan and continue to fry for 2 more minutes

Peel and cube the potatoes, then add to the pan along with the tomatoes, green lentils and stock. Season with pepper only (see notes). Turn up the heat and bring to gentle simmer. After 5 minutes, stir in the red lentils. Cook for 15-20 minutes until the potatoes and lentils are all cooked through

Meanwhile, quarter the olives and slice the spinach leaves

When the potatoes and lentils are cooked, add the olives, capers, sundried tomato paste and chilli flakes. Stir and heat through for a minute

Finally add the spinach to the pan, and stir in until it just wilts

Serve in bowls and top with the feta, extra olives and chilli flakes if desired
Notes
I find that this recipe does not need additional salt as the olives, capers and feta all provide a salty hit. Feel free to taste just before serving and add salt if you feel it is needed though.
(Visited 838 times, 2 visits today)