This Black Lentil & Beetroot Pie is a fantastic vegetarian meal option that can be made in advance. It is full of nutritious ingredients and also supremely delicious.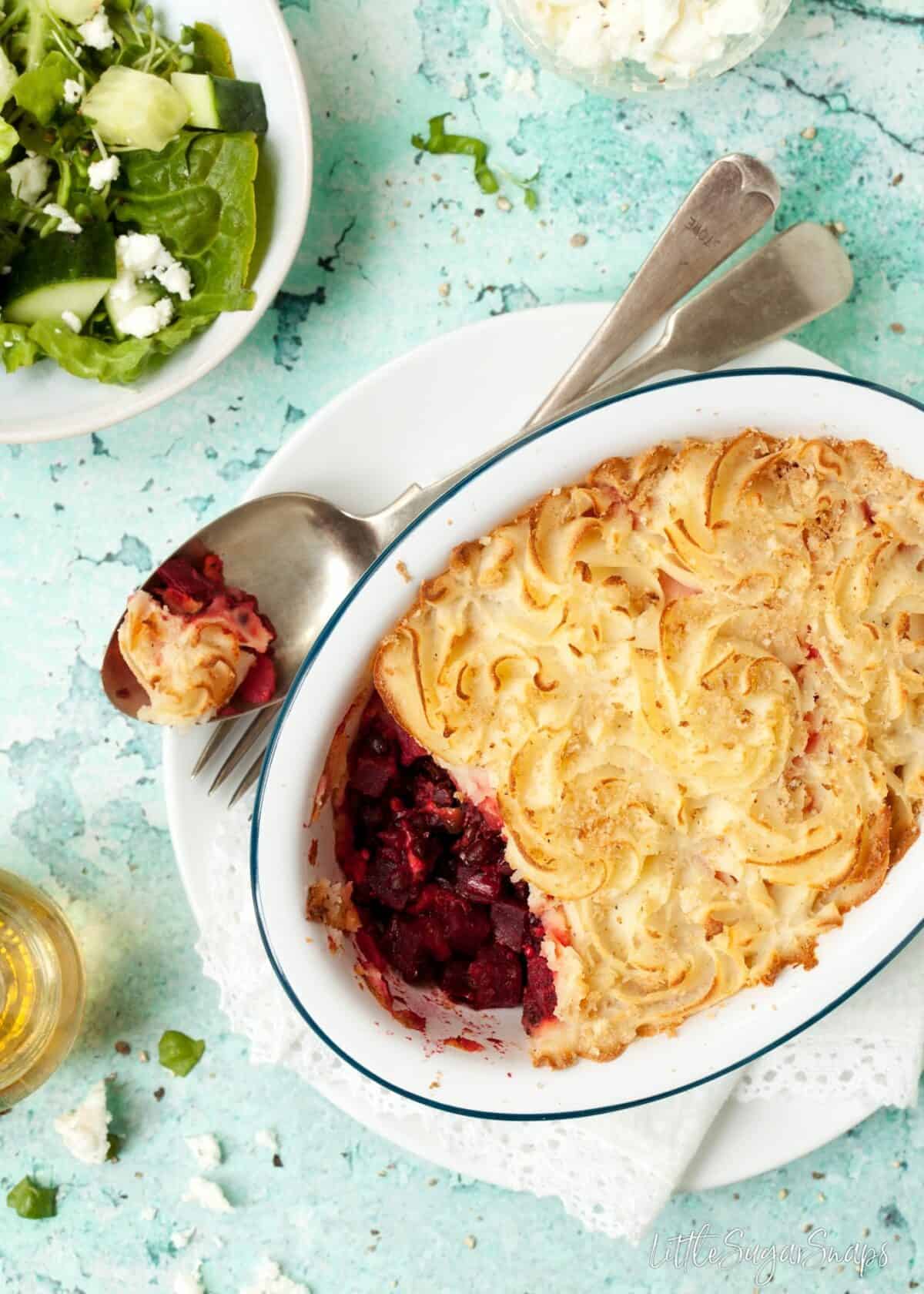 This post contains affiliate links. As an Amazon Associate, I earn from qualifying purchases.
A few weeks back I shared my family's all-time favourite lamb pie on LittleSugarSnaps with the promise that a meat-free pie would follow shortly. Well, the wait is over, please welcome my Black Lentil & Beetroot Pie.
Unbelievably, I had not come across black lentils (aka beluga lentils) until around this time last year. Now they are a firm family favourite, regularly featuring in our dhals, salads and now pie. What I like about them is their firm texture. They hold their form well and do not turn to mush easily. Black lentils are also a fantastic source of healthy plant-based protein. These attributes make them an ideal candidate for a veggie pie.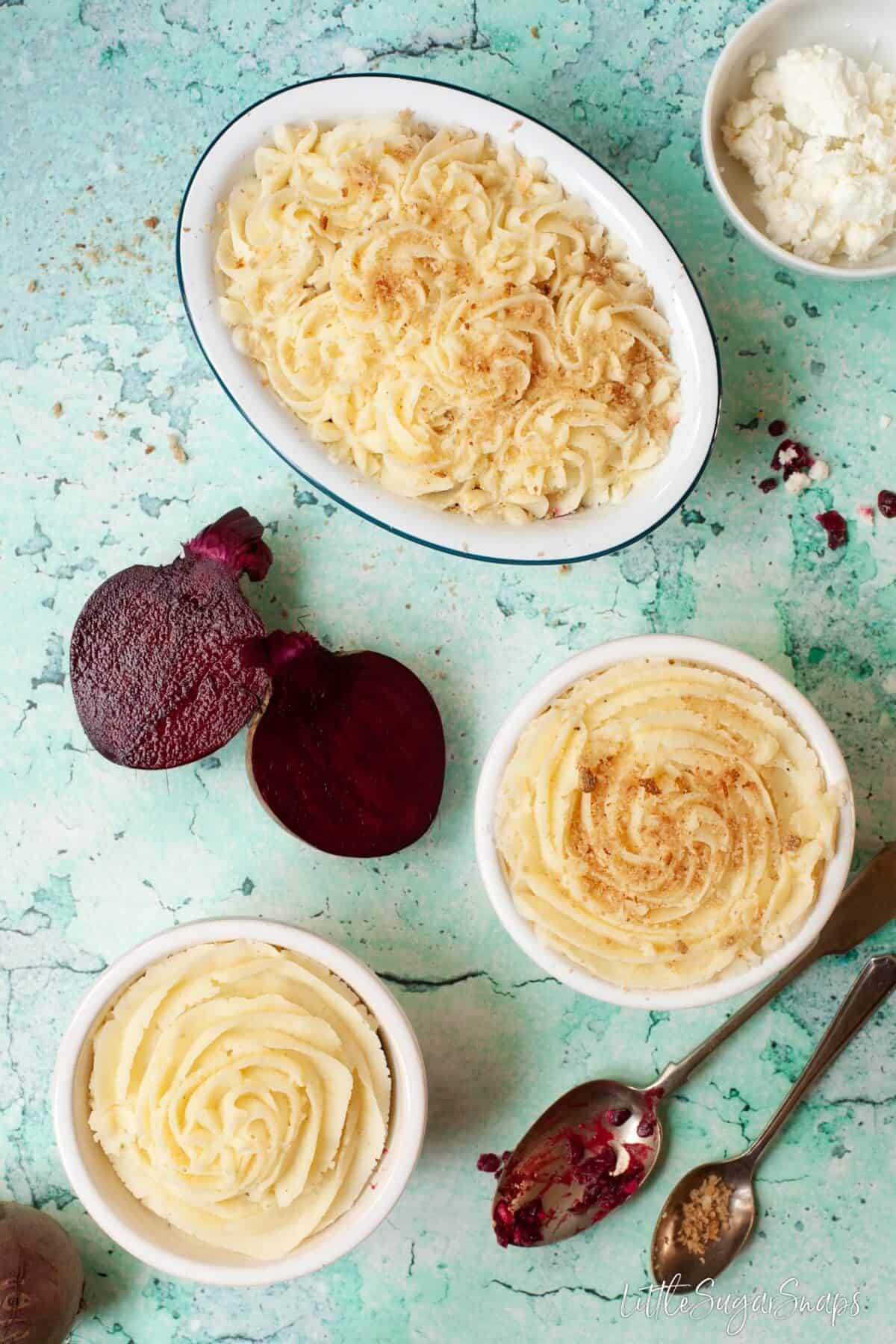 Pre-cooked black lentils are now readily available in sachets and tins, but dried black lentils are harder to find in stores. For this reason, I've listed my lentils as pre-cooked for this recipe.
I finally laid my hands on a rather large bag of dried beluga lentils online – it seems better & cheaper to buy in bulk and cut down on the packaging as a bonus. Next time I make this pie I'll update the recipe with some dry measures and cooking times. I promise!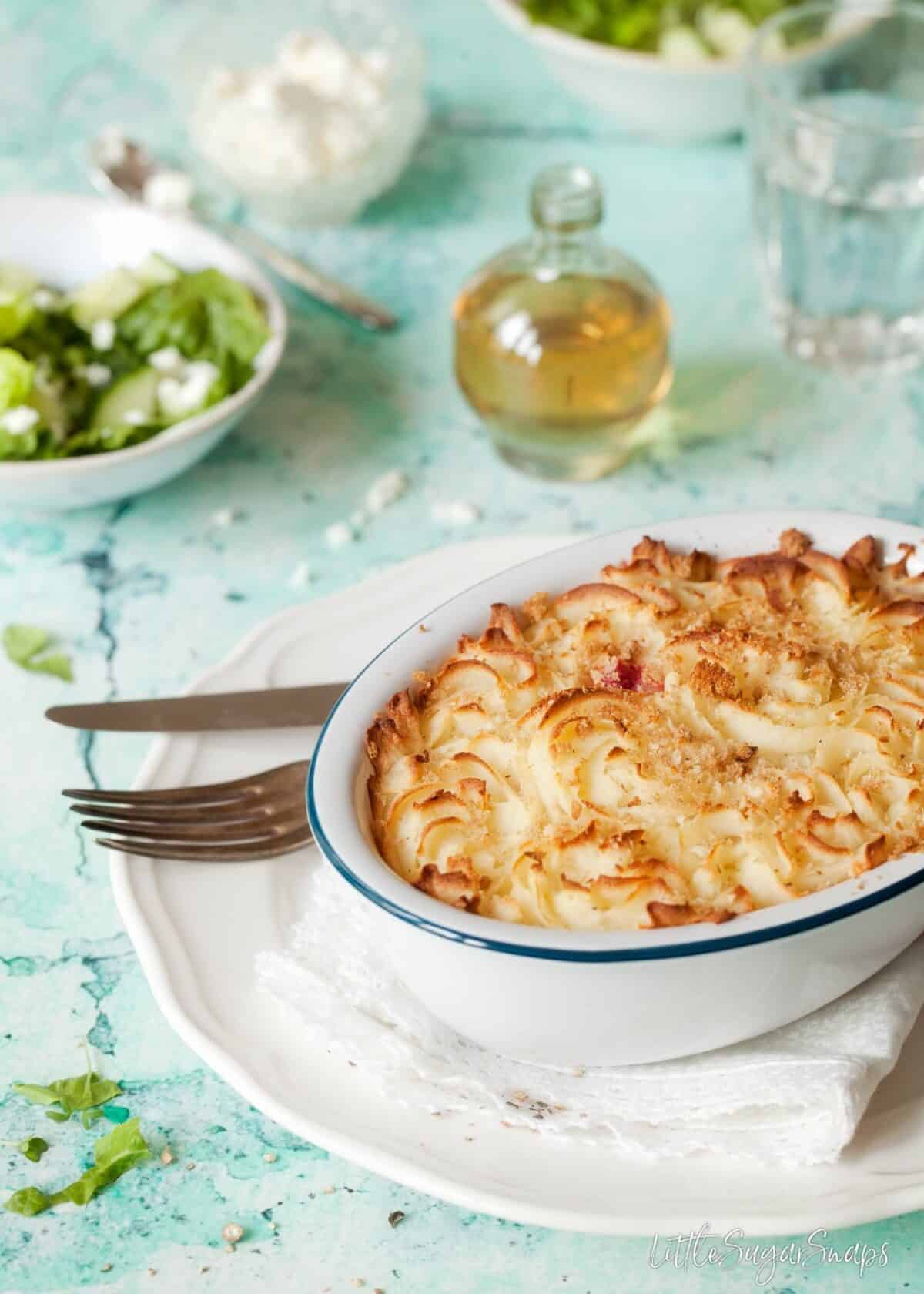 So, let's get to this gloriously coloured Black Lentil & Beetroot Pie. Let's be honest, beetroot seems to be one of those foods that people either love or hate. I'm a beetroot lover (obviously). Those earthy flavours do need a boost to make an exciting and nourishing pie filling though, so I've added the following:
black lentils (protein)
capers (flavour)
feta (protein, calcium, flavour)
oregano (flavour)
All in all, it's a relatively healthy filling as far as typical pie fillings go. Yes, I've included cheese, but not a crazy amount. It is there to ramp up the flavour with a rich, sharp & slightly salty bite. It's just what beetroot calls for and it makes a great playmate for those lentils.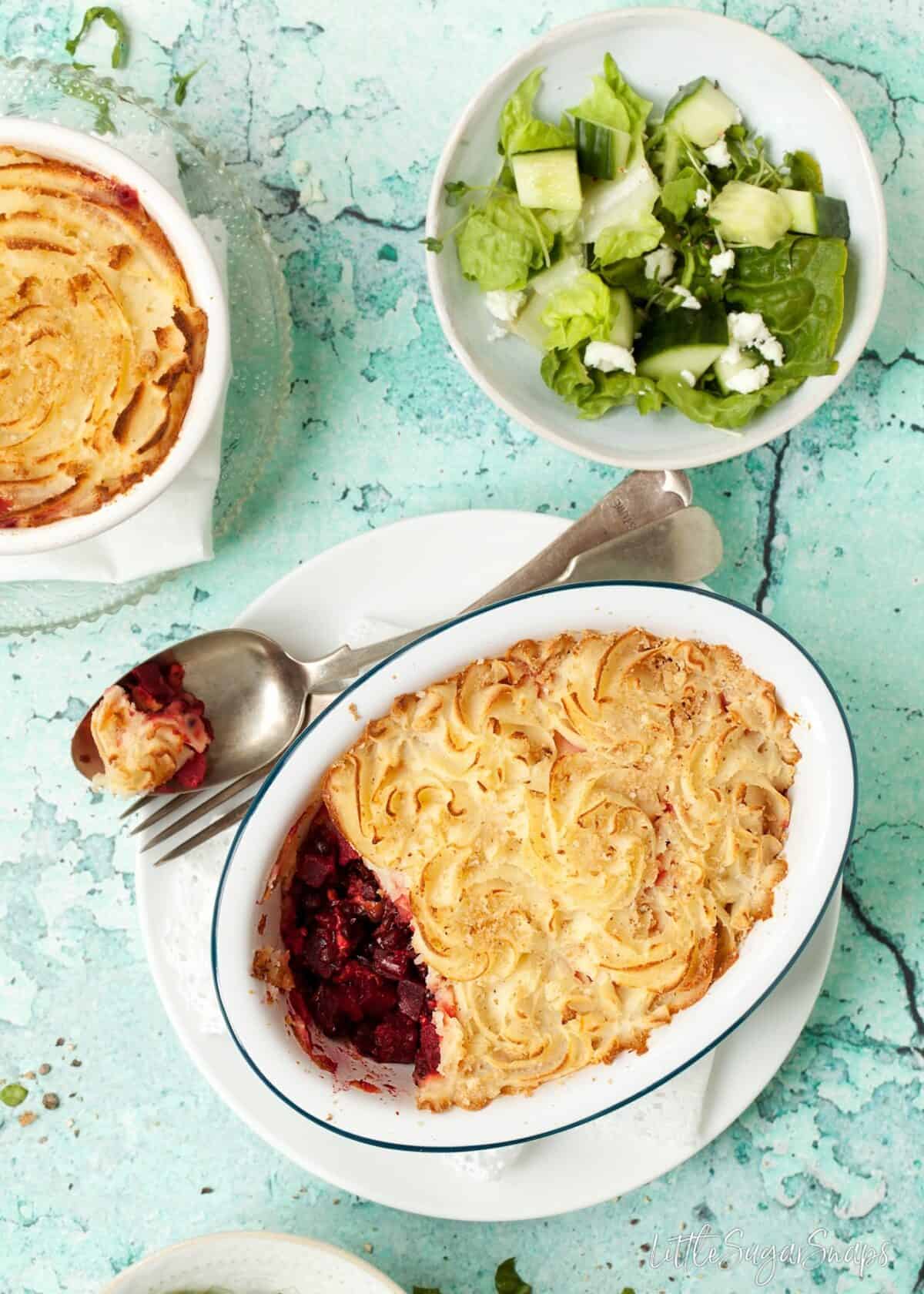 These pies are hearty vegetarian food. Choose whether to serve them in smart individual portion dishes or in one large dish to share.
Just before I sign off, I thought I'd try and answer a couple of questions that frequently crop up for pies.
Can I Make Black Lentil & Beetroot Pie Ahead of Time?
That's the beauty of this pie. All the hard work can be done in advance. Once ready, just refrigerate until ready to bake. It can also be frozen – just defrost at room temperature prior to baking. This pie is really the perfect meal for entertaining on a weeknight. And talking of assembly, it's really 3 easy steps:
Make the black lentil & beetroot filling
Make the potato topping
Assemble & store/ bake
What should I Serve with Black Lentil & Beetroot Pie?
Clearly, this is not the type of pie that calls for gravy.
Since the filling of this pie is soft (but not mushy) I recommend a hearty green salad with plenty of crunchy leaves. Failing that, try some lightly cooked green vegetables – green beans and broccoli spring to mind. Keep a pleasant bite to the vegetables to balance the texture of the pie.
Black Lentil & Beetroot Pie can be served through most of the year. Aside from the blazing days of summer, this pie should be well received by all who dine at your table… assuming they are fellow beetroot lovers.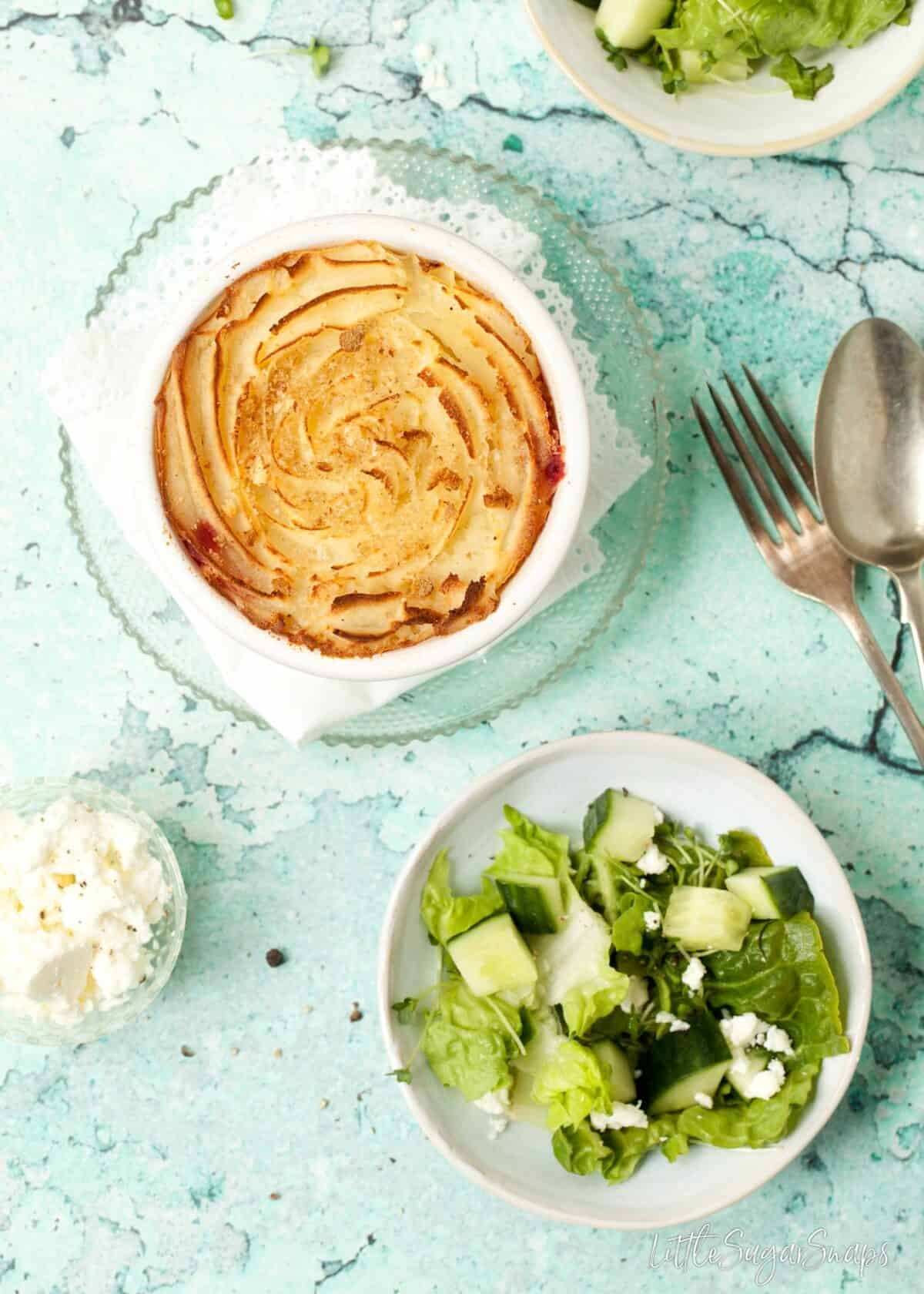 Looking for more pies? Try these: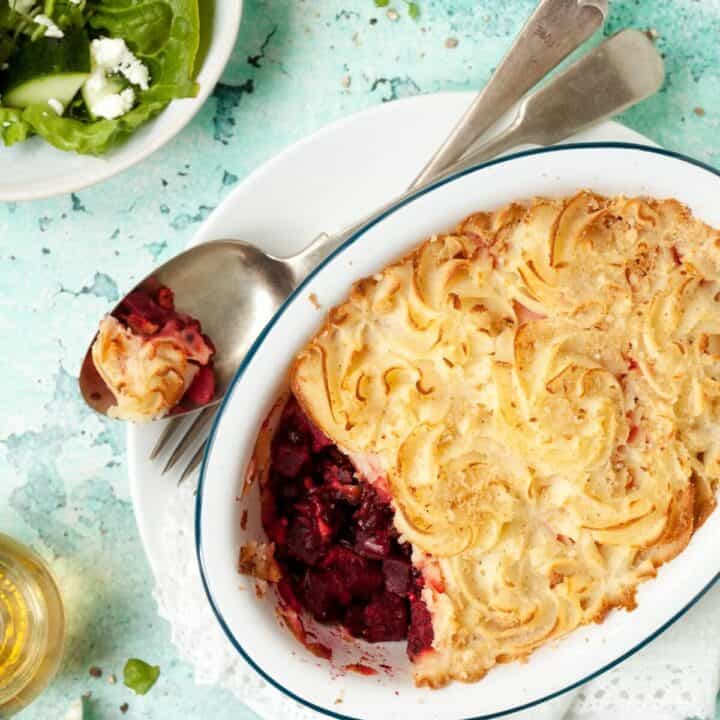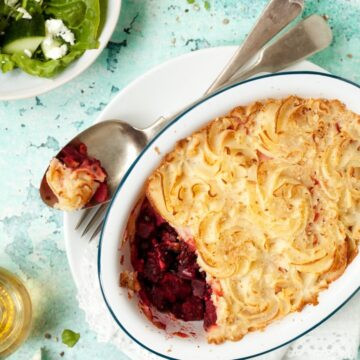 Black Lentil & Beetroot Pie
This Black Lentil & Beetroot Pie is a fantastic vegetarian meal option that can be made in advance. It is full of nutritious ingredients and also supremely delicious.
Print
Pin
Rate
Ingredients
For the Black Lentil & Beetroot Filling
½

White onion

1

Celery stick

1

Garlic clove

250

g/ 9oz

Beluga (black) lentils

cooked (not dried)

350

g/ 12 ½ oz

Raw beetroot

180

ml/ ⅔ cup

Vegetable stock

100

g/ 4 oz

Feta cheese

1

tablespoon

Capers (salted not brined)

1

teaspoon

Dried oregano
Potato Topping
1

kg/ 2 lb 3 oz

Potatoes (suitable for mashing) See notes

2

tablespoon

Greek yoghurt

Butter

Salt & Pepper

30

g/ 1 oz

Feta

2

tablespoon

Fresh breadcrumbs (I used sourdough)
Instructions
Finely dice the onion and celery and put in a medium saucepan with a little olive oil. Cook over a medium heat for around 5 minutes until the vegetables soften

Mince the garlic, add to the pan and cook for a further minute

Peel and dice the beetroot and add to the pan along with the stock and a good grind of black pepper. Don't be tempted to add salt yet – the feta and capers are salty

Cover with a lid and let cook for 10-15 minutes until the beetroot is fork tender

Add the lentils and continue to cook on a high heat until most of the liquid has evaporated, then take off the heat

Rinse the capers in fresh water and mince roughly. Add to the pan along with the oregano

Crumble the feta into the pan and give everything a good stir. Taste and add more salt/ pepper as desired

Spoon into 1 large pie dish or 4 individual dishes
For the Potato topping (see notes)
Preheat oven to 180C/ 350F/ GM 4

Peel & chop the potatoes and cook in boiling water until tender, then mash until smooth

Stir through the Greek yoghurt and some butter to create a creamy mash (exactly how much butter will depend on the potatoes and your preferences

Season to taste and use to top the pie/ pies. I piped mine for a neat look, but it's fine to use a fork to spread it out.

Scatter some breadcrumbs and a little crumbled feta over the pies and bake for 40 minutes
Notes
Don't forget, you can bake your potatoes, slit them open, scoop out the flesh and proceed to mash them instead of boiling peeled potatoes in a pan.
This recipe can be made in advance. Once the pies are assembled, let cool to room temperature, then cover and refrigerate until ready to cook. They will need 40-45 minutes from chilled.
These pies can also be frozen. Defrost at room temperature before cooking.
(Visited 849 times, 1 visits today)