Mediterranean Lamb Pie is richly flavoured with olives, chorizo, oregano and red pesto. Serve nestled in crisp golden pastry or under creamy mash. Either way, this pie is delicious.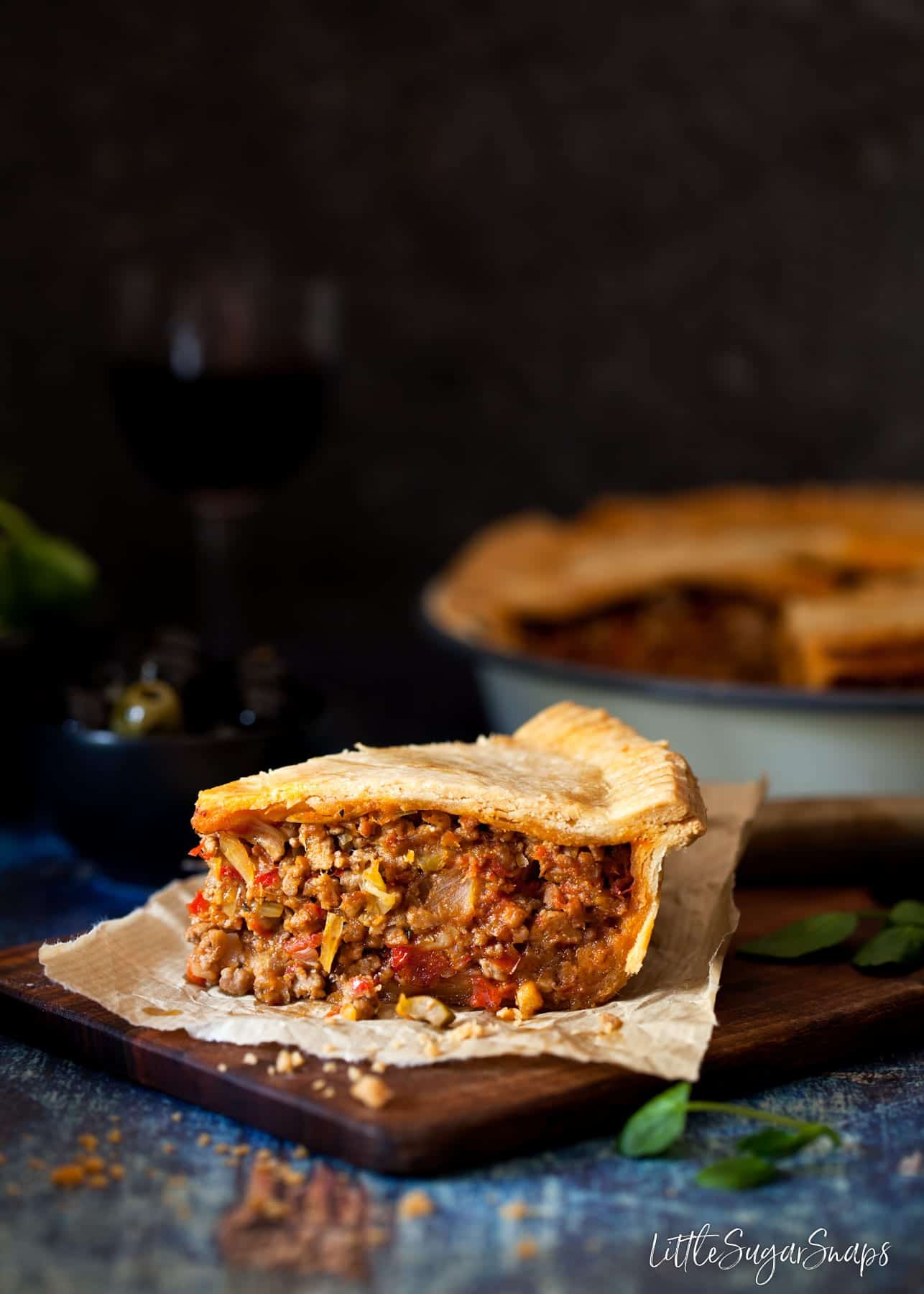 For a person who hankers after pastry as much as I do, this Mediterranean Lamb Pie has been a long time coming to LittleSugarSnaps. It's been in my arsenal of family favourites for around 5 years, so I don't really have any justifiable excuses.
But the good news is that this pie is ready for you today and I have instructions for 2 ways to serve it. Choose between crisp & golden shortcrust pastry or an equally comforting potato topped version. The choice is yours.
And if you like the look of this pie I think you'll also enjoy my classic minced beef and onion pie.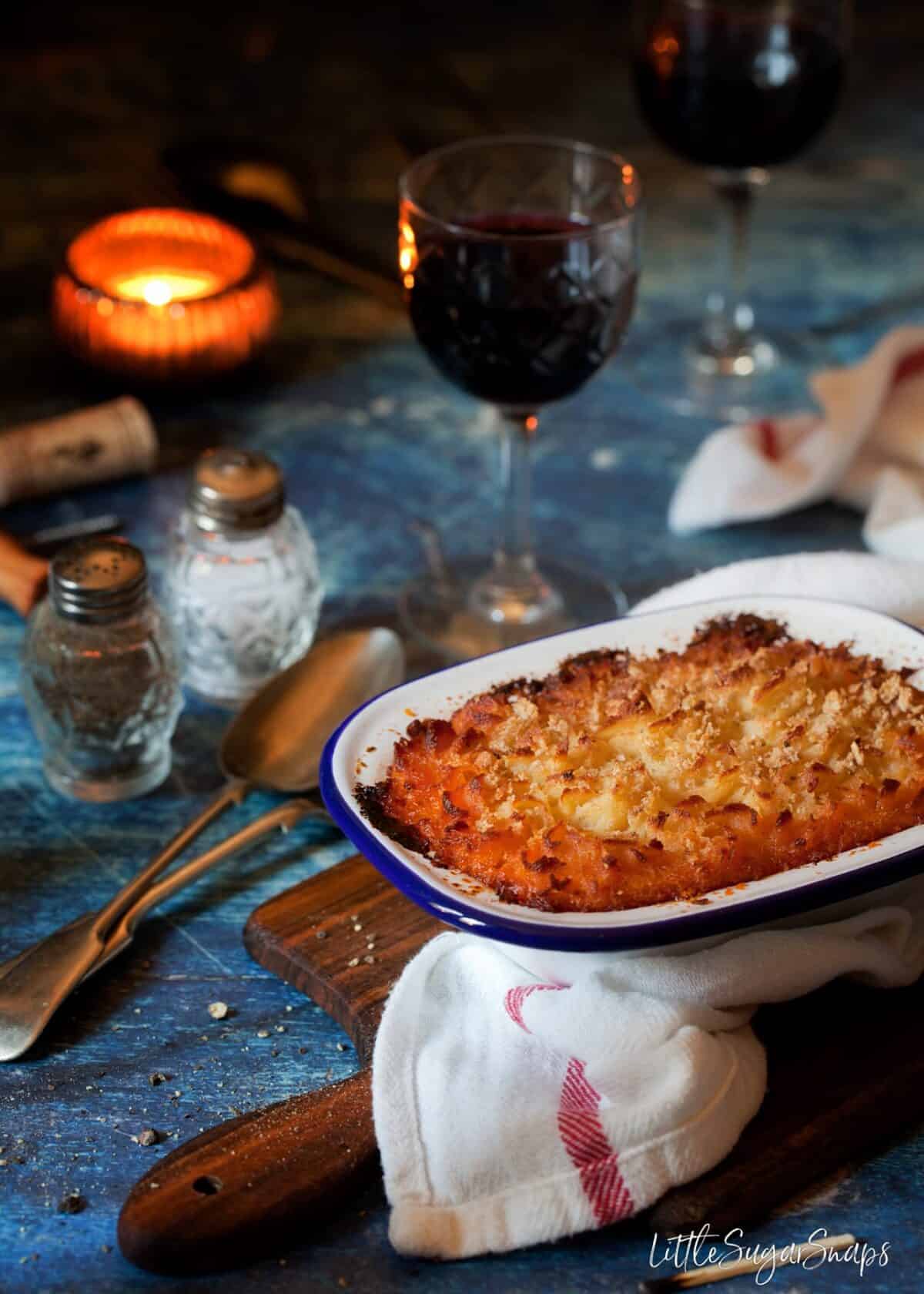 Obviously, being the pastry fiend that I am, I would always pick the shortcrust option – that's a proper pie in my view. However, one of my daughters strongly favours the potato version. Honestly, both are excellent choices and come loaded with the same flavour-packed lamb filling fuelled with:
chorizo
olives
oregano
sundried tomato pesto
There are also some juicy veggies nestled amongst these goodies, just to bulk things out, add an extra element to the flavour and give a nutritional boost.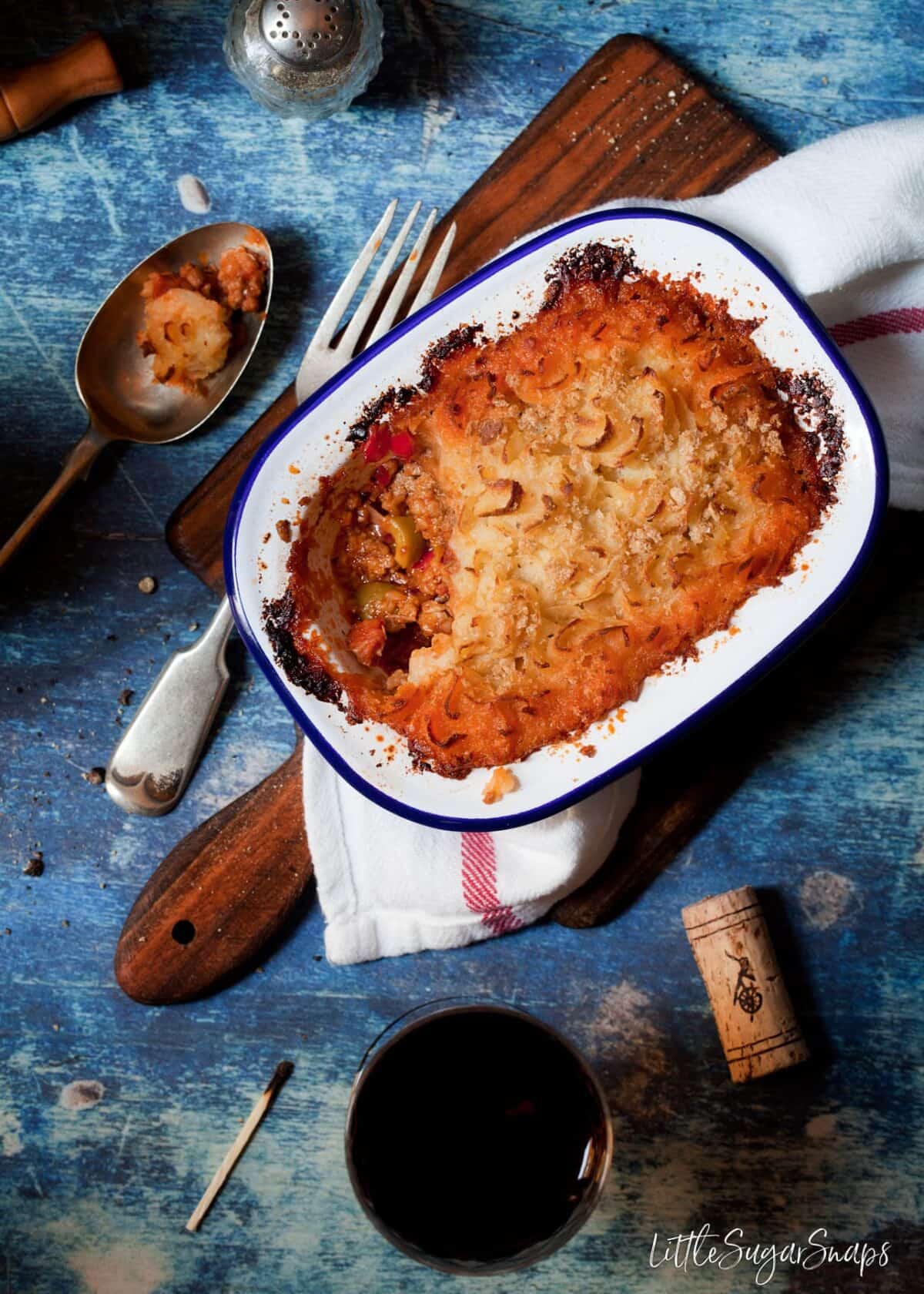 Confession: I don't have any story to tell you about my Mediterranean Lamb Pie. It's been in my Red Book (a leather notebook for recipes that my Husband bought for me on our 3rd wedding anniversary) for such a long time that I can't recall how I came up with it. It is a plain and simple family favourite without any baggage.
What I can tell you are my favourite ways to serve this pie. If it's the dead of winter, then I go for heaps of lightly buttered green vegetables. But in the summer, a bountiful side salad is the order of the day – perhaps with a red pesto dressing.
And my one tip when making these pies is to source your lamb carefully – get the leanest you can lay your hands on. Lamb is generally fatty meat, and too much free-flowing fat in the dish will ruin an otherwise splendid pie. My local butcher serves up exceptional minced lamb at the moment. I would put the fat content at less than 10% and that means that for the first time ever, I do not typically need to spoon off the unhealthy fat that would make this pie unpleasantly greasy. If you struggle to get lean lamb, do take the time to remove the excess fat. Your pie and your taste buds will thank you for it.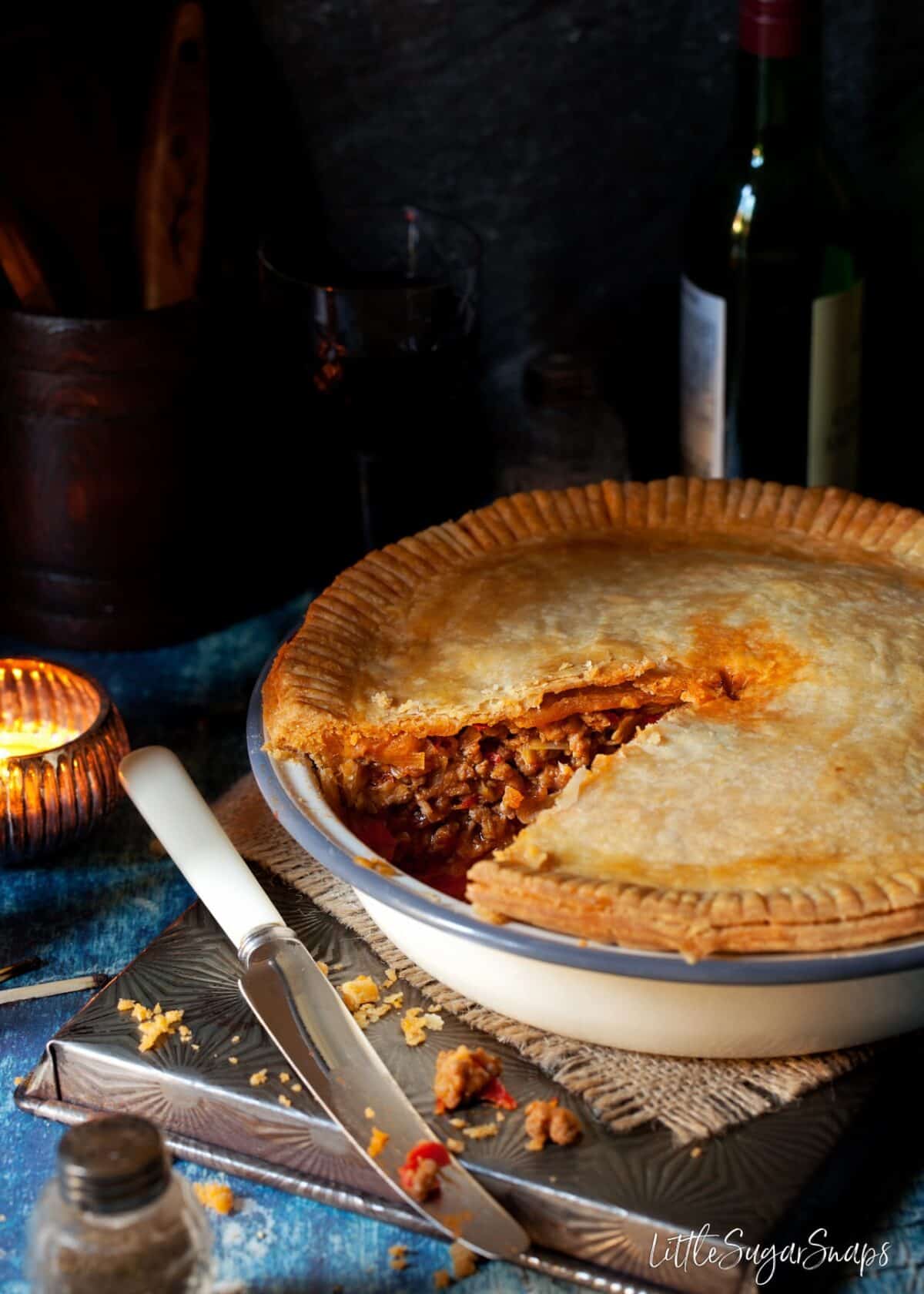 As I'm sitting here typing, I'm recalling my obsessive pastry addiction whilst expecting my older daughter – sausage rolls and Cornish pasties featured heavily for a good 2 months. I was a woman possessed. Whenever I make pastry these days, I think back to that happy time. Now, I'm wondering if I could turn out some Mediterranean Lamb Pasties – you know, purely for lunchtime convenience. Race you to them….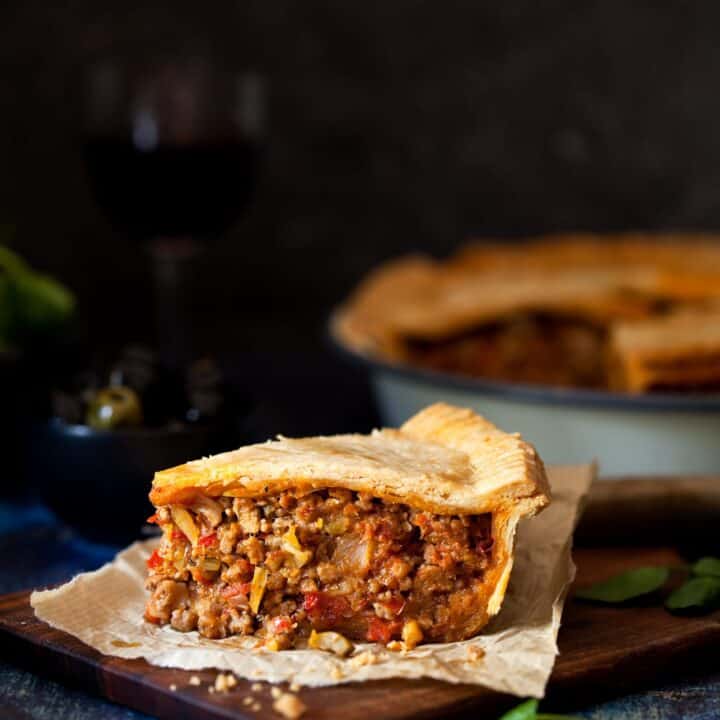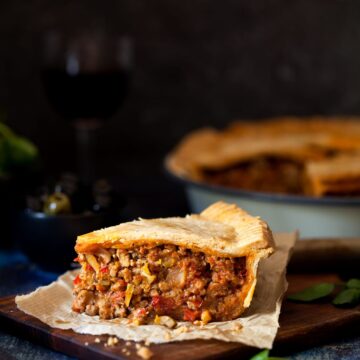 Mediterranean Lamb Pie
Mediterranean Lamb Pie is richly flavoured with olives, chorizo, oregano and red pesto. Serve nestled in crisp golden pastry or under creamy mash. Either way, this pie is delicious.
Print
Pin
Rate
Ingredients
Makes enough to fill a 20cm pie dish
For the Mediterranean Lamb
500

g/ 17 ½ oz

Lean minced (ground) lamb

mine was <10% fat

75

g/ 3 oz

Cooking chorizo

2

Shallots

1

Celery stalk

1

Leek (medium)

1

Garlic clove

1

Red pepper (medium)

15

Green Olives (de-stoned)

2

teaspoon

Dried oregano

200

g/ 7 oz

Tinned tomatoes (chopped)

1

tablespoon

Red pesto

Salt & pepper – to taste
For the Shortcrust Pastry
350

g/ 12oz

Plain (all purpose) flour

175

g/ 6oz

Butter – unsalted, cold

¼

teaspoon

Salt

120

ml/ ½ cup

Water – ice cold
For the Alternative Potato Topping
1

kg/ 2 lb 3 oz

Potatoes (suitable for mashing)

30

g/ 1oz

Butter

Milk

Salt & Pepper – to taste

2

tablespoon

Breadcrumbs
Instructions
For the Mediterranean Lamb
Finely chop the shallot, celery and leek and fry in 2 tablespoon oil until beginning to soften. Mince the garlic, add to the pan and cook for a further 2 minutes. Remove the vegetables from the pan

Add the lamb to the hot pan and cook, stirring frequently, until browned.

Dice the chorizo, add to the lamb and cook for 3 minutes. Drain off any excess fat from the pan

Return the vegetables to the pan, along with the red pepper (chopped small), the green olives (quartered) and the oregano, cook for 5 minutes

Pour in the tomatoes and let everything bubble away for 10-15 minutes until most of the liquid has evaporated

Stir the red pesto through the mixture, season to taste and set aside to cool completely (spoon off any pools of oil as they form (or use a piece of kitchen towel to absorb it)
For the Shortcrust Pastry
Put the flour and salt into a large mixing bowl and stir briefly

Cube the butter and add to the bowl. Rub the butter into the flour, using the tips of your fingers, until the mixture looks like fine breadcrumbs and all large chunks of butter have been broken down

Add half the water and stir with a blunt knife, until the dough just comes together – add more water, little by little, as necessary. Aim for a soft, but not sticky dough

Tip onto a lightly floured work surface, knead very briefly, form into a ball, wrap in clingfilm and chill for 30 minutes
Assembling the Pastry Pie
Preheat (fan) oven to 180C/ 350F/ GM4

When the meat is completely cool, take the pastry out of the fridge and chop in half (with one 'half' being slightly larger than the other 'half')

Roll the pastry out on a floured work surface to 2-3mm thick and use to line the pie tin. Brush the edges with a little beaten egg

Pile the lamb filling into the pastry case

Roll out the remaining pastry and use to top the pie. Press the edge of the pastry to seal the pie and trim the excess pastry with a blunt knife. Use a sharp knife to make slash lines around the edge of the pie for decoration (see images) or, if you are feeling fancy, re-roll any off-cuts of pastry and use to decorate the pie (e.g. leaves, lettering etc…)

Brush the top of the pie with beaten egg, make a slit in the centre of the pie to allow steam to escape and bake for around 40 minutes until the pastry is crisp and golden
Assembling the Potato Pie
Preheat (fan) oven to 180C/ 350F/ GM4

Peel and boil the potatoes in salted water, then mash until smooth, adding the butter and sufficient milk to create a soft & creamy consistency. Season to taste

Divide the lamb between 4 individual pie dishes and top with the potato (pipe it on for a neat finish). Alternatively, use a 20 cm circular pie dish.

Scatter a few breadcrumbs over the potato and bake for 30-40 minutes until golden
Serve either pie with fresh salad or buttered green vegetables
Notes
Use the leanest minced (ground) lamb you can find for this recipe. If your meat seems to release a lot of fat as it cooks, do take the time to drain it from the meat, to ensure the pie is not too greasy.
At the end of the cooking time for the meat, either use a spoon to lift any oil out of the pan or lay a sheet of kitchen paper over the oil to absorb it. Again, the final pie will be more tasty as a result.
(Visited 1,098 times, 4 visits today)