These beef and horseradish pasties are stuffed full of root vegetables and beef with a generous peppery seasoning. Horseradish adds a gentle boost to the flavour, making these handheld savoury pies a delight to devour.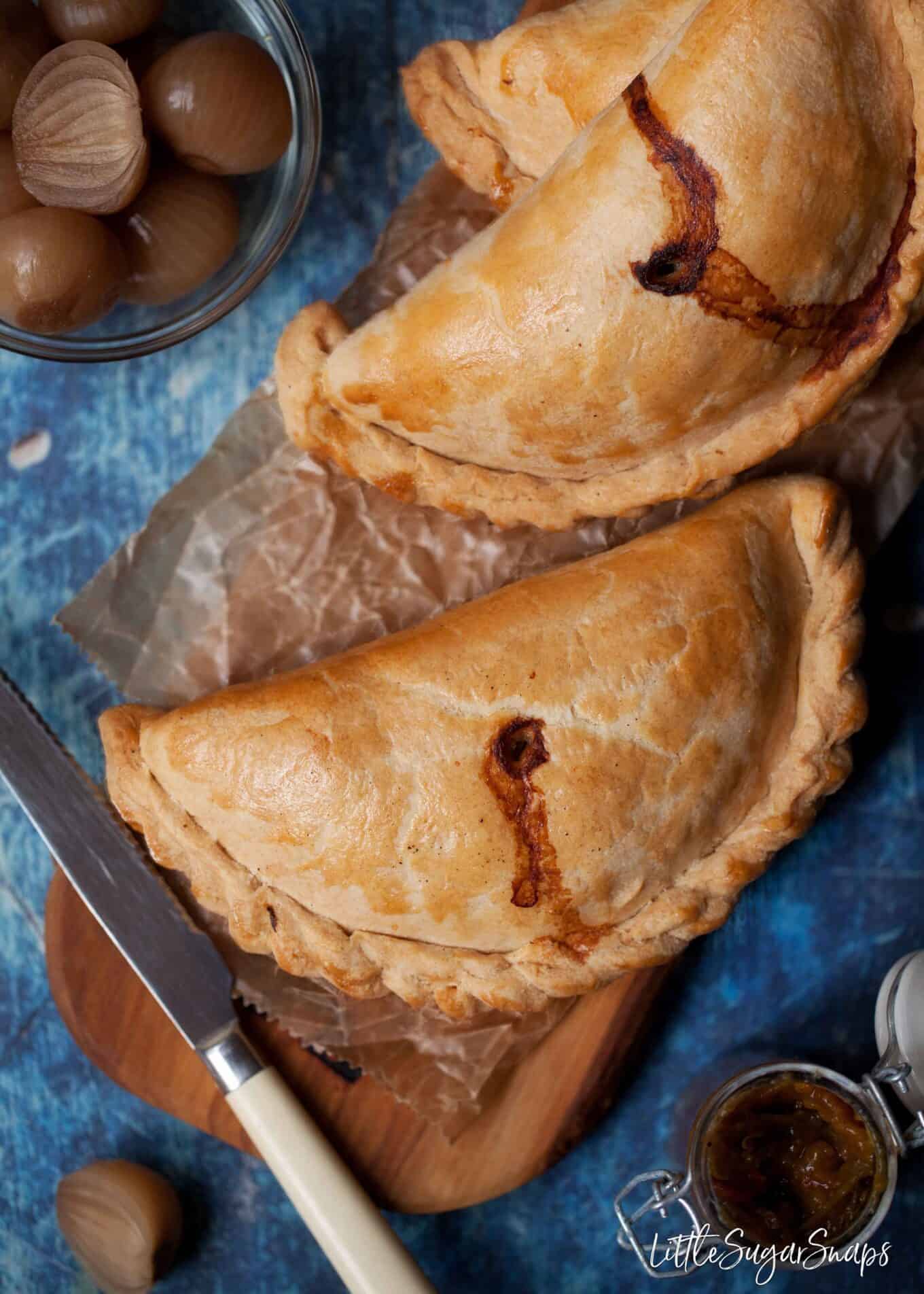 Once upon a time, c14 years ago, I developed massive cravings for Cornish pasties. I was pregnant. First child. Until that point, I truly believed that pregnancy-related food cravings were completely psychological. What did I know?
Back then, my homemade attempts – under-researched and often rushed through sheer craving-related urgency – didn't always satiate my desperate needs. Fast forward numerous years and I've very proud to showcase my homemade beef and horseradish pasties here.
They are well-filled, peppery and rather generous morsels with a fantastic, yet robust shortcrust pastry case. These pasties are sure to tick the comfort box on many a rainy day.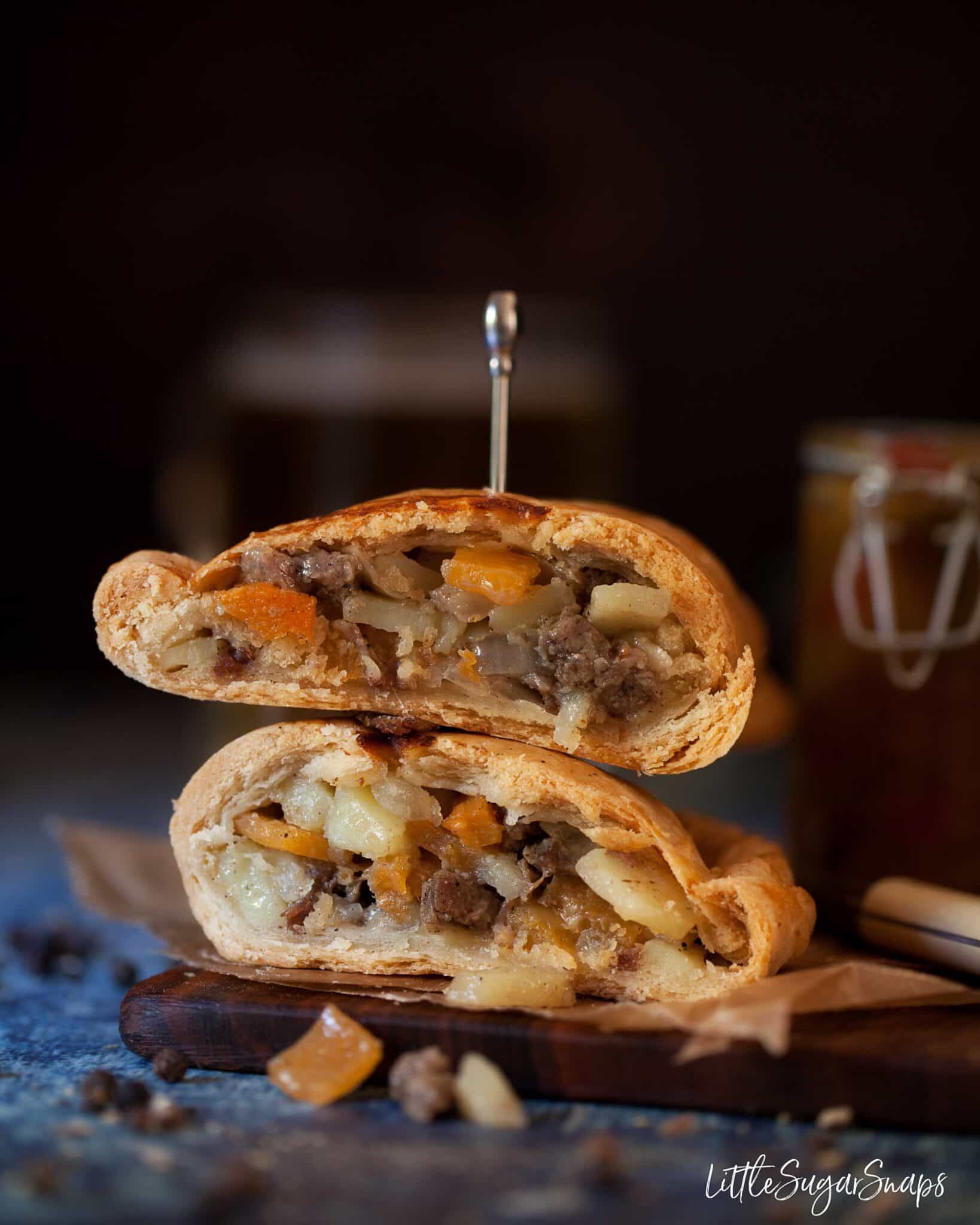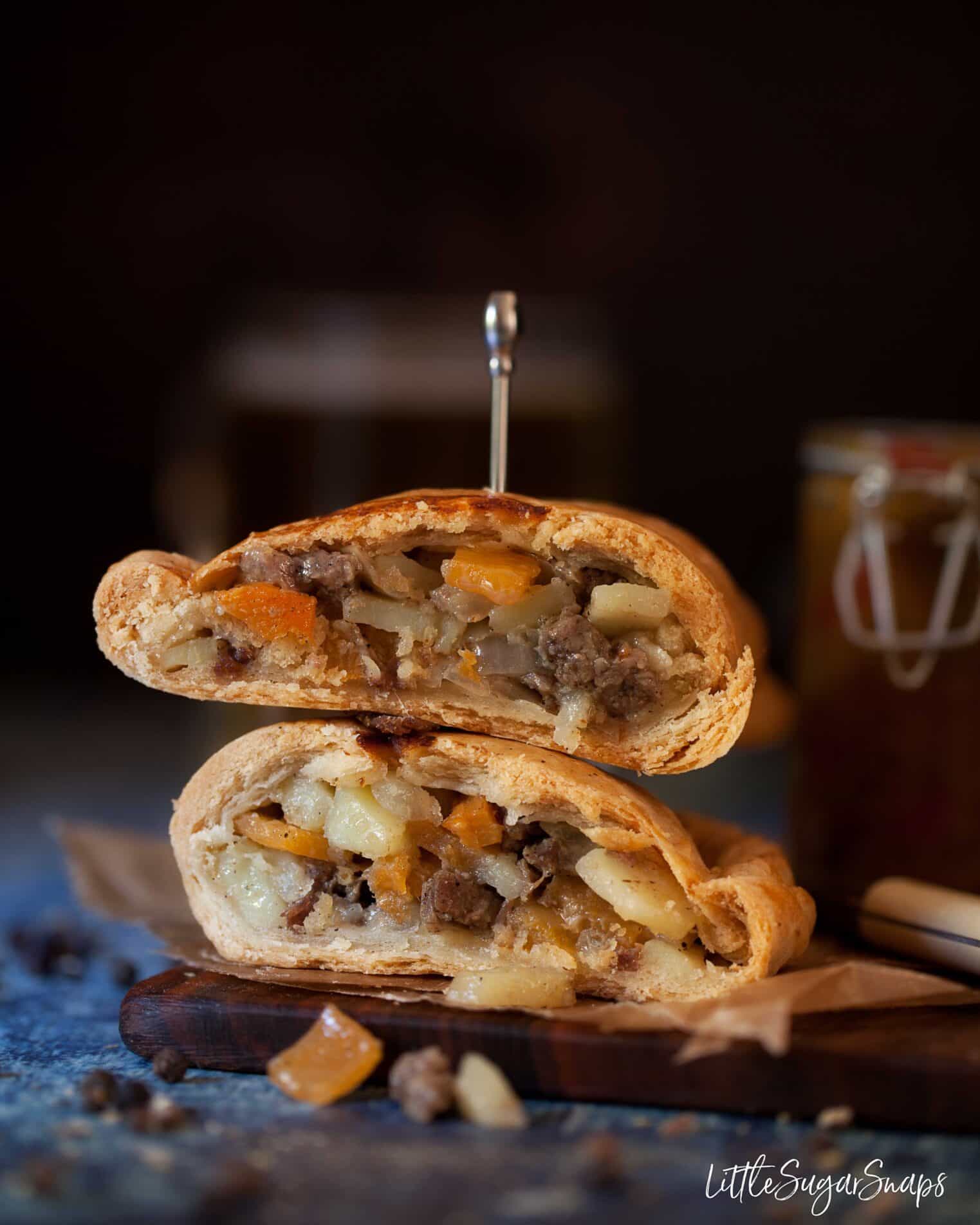 Hang onto your hats though, there's a fair amount of detail and tips in this post to help you achieve to die for beef and horseradish pasties. And a video to help you crimp your way to pasty success – don't miss it.
What is a Traditional Cornish Pasty
A traditional Cornish pasty is one of the finest culinary creations ever to have emerged on the British Isles. That's my humble opinion anyway.
I adore buying a Cornish pasty on holiday and eating it fresh from the bakery – still warm and straight from the bag it comes served in. The blend of soft root vegetables and tender beef liberally seasoned with pepper and encased in gloriously golden pasty is simply too hard for me to ever resist.
The Cornish have been enjoying versions of these pastry delights since the 14th century. By the 18th century, pasties were firmly established as a way to feed a poor family cheaply, with the tin mining of the 19th century and the tourism of the 20th century cementing the pasty's importance in the life of Cornish men and women forever.
Back in the day, tin miners' wives would prepare a pasty as a portable yet substantial meal to keep the workers (men and children alike) going during the long, hard shifts down in the mines.
A typical pasty of that era would incorporate:
onion
potato
swede (rutabaga)
Only occasionally would a little meat, from a cheap cut, be included.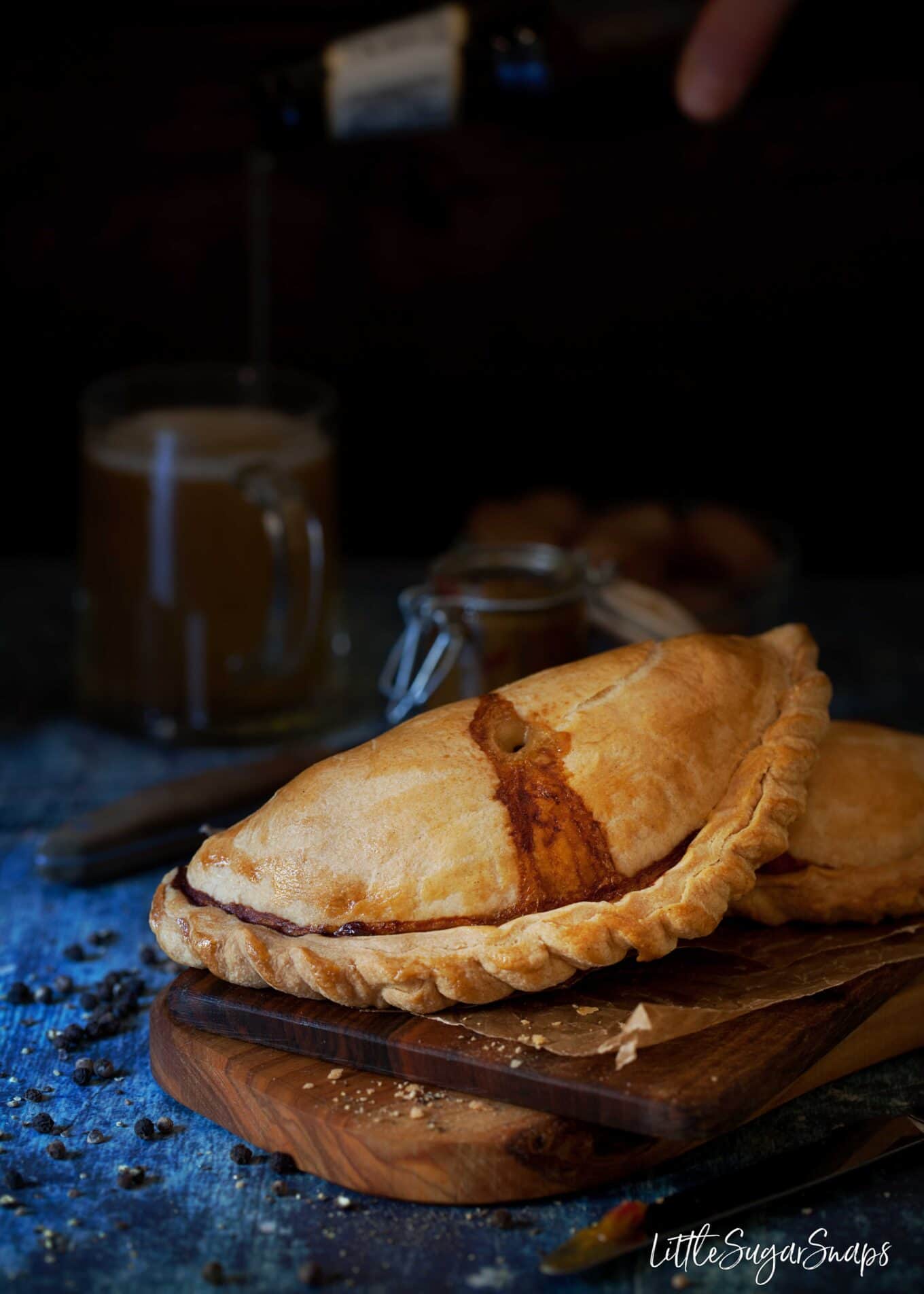 Times change and our modern-day genuine Cornish pasty, adored by all who visit Cornwall, always includes beef (at least 12.5%) and the vegetables listed above (at least 25%).
Nevertheless, bakeries have expanded the range of pasties on offer to include lamb & mint plus various other meaty and vegetarian delights. These are not genuine Cornish pasties though – just to be clear.
A pasty can only be labelled a genuine Cornish Pasty if it contains the correct proportions of beef, onion, potato and swede and it must be made to the west of the river Tamar. In other words, it must be made in Cornwall.
If you'd like to find out more about genuine Cornish pasties, head over to The Cornish Pasty Association.
Star Ingredient for Beef and Horseradish Pasties
My pasty is fairly traditional. I've kept all of the components found in a traditional Cornish pasty, but I've added a hint of horseradish too.
Horseradish is a longstanding partner for beef, so I thought it would make a delightful diversion from the classic beef pasty.
What is horseradish, I hear a few people asking. Well, it's a fiery root vegetable, often likened to wasabi. It is used in small quantities to add flavour directly to a main dish or served in a sauce as a side order, such as horseradish cream.
I've been creating a few horseradish recipes lately and I wrote a more detailed account of horseradish in another recently published post – hop over to discover more.
Of course, since I do not live in Cornwall, I am not able to claim that my pasties are Cornish pasties. That's despite my husband being 1/4 Cornish.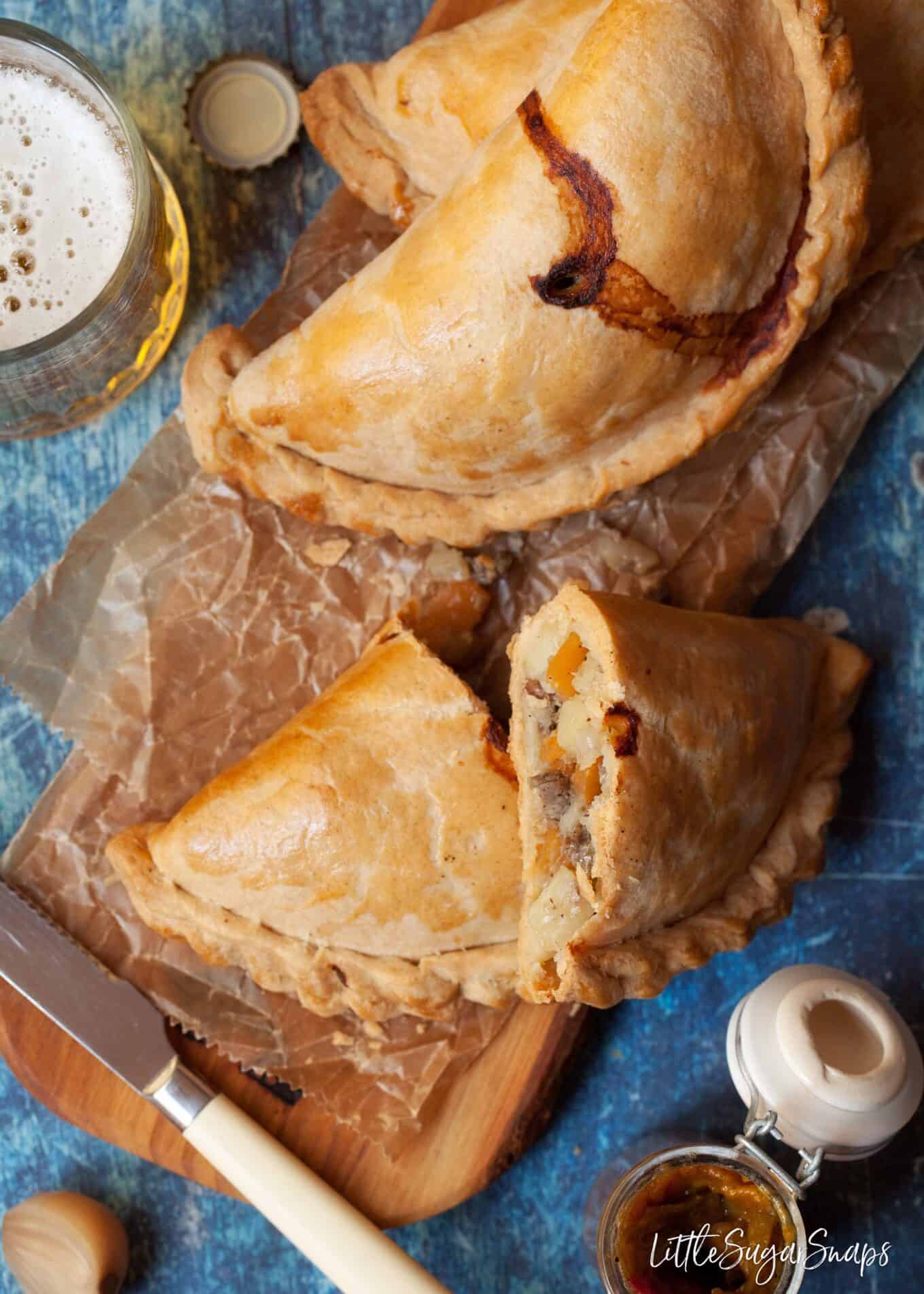 How to Make Beef and Horseradish Pasties
There are a few tricks to learn to achieve success here, but I've done my best to give you all the tips I know. My top suggestion is to read through the instructions well ahead of time and before you start to make the pasties.
Begin by preparing the pastry:
unlike normal shortcrust, pasty shortcrust pastry needs to be more robust, so bread flour is used in place of plain (all-purpose) flour
because of this, once mixed, the pastry has to be kneaded for several minutes until it begins to feel elastic
it then needs to rest for at least 3 hours
Next prepare the filling:
slice and dice the swede, onion and potato as required- rather than cubes, I slice my potatoes and swede into thin pieces (see my step by step images for guidance)
cut the beef skirt into small pieces – see more details below
mix all vegetables and beef together, using your hands, in a large bowl
season and add the grated horseradish, then mix in a little flour and melted butter
Finally, assemble the pasties:
divide the dough into 4
roll each piece out to approx 2mm thick and cut a 22cm circle from it
share the filling btween the 4 circles
brush egg wash around the edge of half of the circle and fold the dough over to encase the filling, pushing any stray pieces back inside
crimp the edge (see my written instructions below and watch my video)
slit the top with a knife and glaze each pasty with egg wash
bake
How to Cut Beef Skirt
Beef skirt is the cut traditionally used for Cornish pasties. Why? Three reasons:
it's cheap. Remember, pasties were originally the food of the poor
though cheap, skirt has no gristle and very little fat – I've never had to pick over my meat in a pasty and I'm quite fussy on that front
skirt cooks in the same amount of time as the raw vegetables and its juice produces wonderful gravy
It is, however, very important to cut beef skirt correctly. When I ordered my fillet from my local butcher he took pride in reminding me how to cut it:
… always start by slicing beef skirt against the grain.
Apparently, cutting along the grain results in tough meat. My mind has a hard time fathoming the difference that makes when I then proceed to cut my against the grain strips into chunks, but I value my butcher's opinion, since he's the expert.
Also, I took his advice and my beef and horseradish pasties delivered very tender meat indeed.
How to Crimp a Pasty
How do you crimp a pasty? It's a very good question and one that is hard to explain in words. Here goes:
Put the filling into the centre of the pastry circle, brush the edge of the pastry with beaten egg, fold over and press down to seal, ensuring all filling is tucked up inside
Now use your index fingerand thumb to push down and twist the edge of the pastry over to form a crimp
Repeat this process along the entire length of the pasty then tuck the ends underneath
I told you it's hard to visualise from words! But it's okay since I made a video to help out – be sure to watch it for clarity.
Crimping makes the world of difference, locking in the filling as the pasty bakes and eliminating ungainly leakage onto the baking sheet.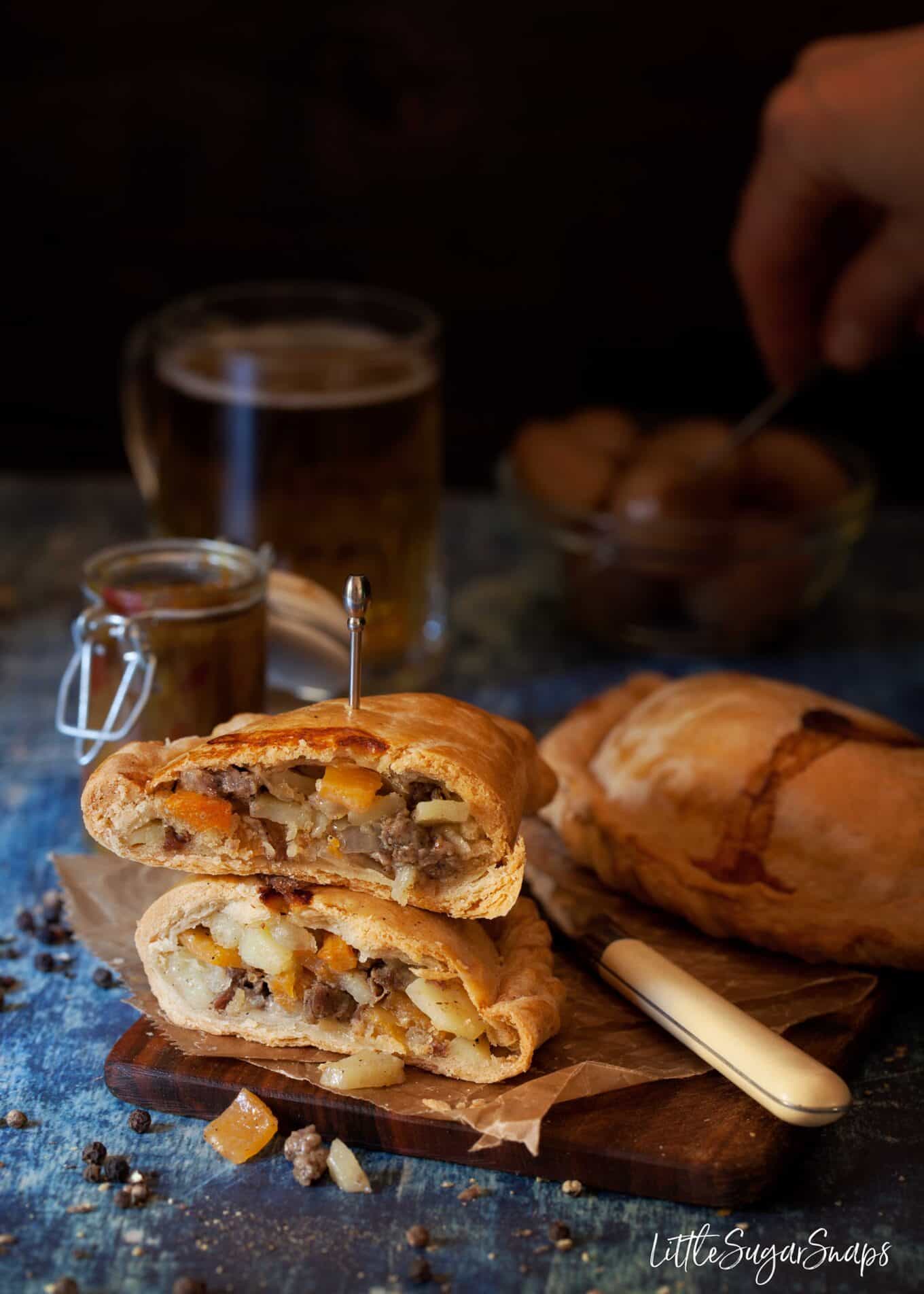 Once baked allow the pasties to cool for around 20 minutes before attempting to eat them. By this time you should be able to hold them comfortably in your hand and not burn your mouth as you bite into it.
If you do need to reheat these pasties, please do so in the oven rather than in the microwave to avoid the pastry turning soft and soggy.
These beef pasties can be frozen. To do so, cool completely, before wrapping and labelling clearly. Defrost fully at room temperature and then reheat in the oven until piping hot.
Finally, would it be rude of me to insist that you eat these pasties warm? It really is the best way to enjoy them. The paper bag is optional (but recommended for that true Cornish holiday vibe).
More Horseradish recipes:
I've been having a bit of a thing for horseradish recipes lately. I published a wonderful salmon and horseradish salad a few weeks ago and I've got a horseradish soup on the horizon. If you need even more inspiration try these horseradish recipes too: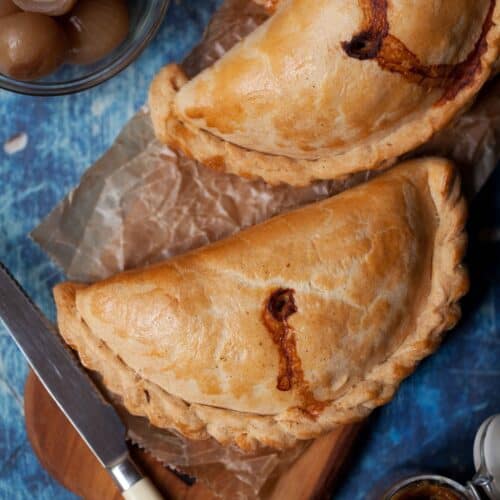 Beef and Horseradish Pasties
These beef and horseradish pasties are stuffed full of root vegetables and beef with a generous peppery seasoning. Horseradish adds a gently boost to the flavour, making these handheld savoury pies a delight to devour.
Makes either 4 x 22 cm pasties or 5 x 20cm pasties
Use the toggle button for U.S. measurements
Print
Pin
Rate
Total Time:
1
hour
40
minutes
Ingredients
For the Shortcrust Pastry
500

g

Strong bread flour

125

g

Lard or vegetable shortening

chilled

125

g

Butter

chilled

1/2

tsp

Salt

1

Egg yolk

150

ml

Water

ice cold
For the Filling
300

g

Beef skirt

250

g

Waxy potato

125

g

Swede (rutabaga)

125

g

Onion

3/4

tsp

Ground black pepper

1/2

tsp

Salt

1 1/2

tbsp

Horseradish – freshly grated

1

tbsp

Plain flour

1

tbsp

Melted butter

1

Beaten egg

to glaze
Instructions
Make the Pastry
Weight the flour and salt into a large mixing bowl

Cube the lard and butter, toss into the flour and then rub in until the mixture resembles breadcrumbs

Add the egg and 3/4 of the water. Bring the mixture together using a blunt knife, adding more water as necessary to create a soft but not wet or sticky dough

Tip onto a lightly floured work surface and knead until the pastry becomes elastic. This will take 3-4 minutes, but it is an essential step to give the pastry the strength that is needed to hold the filling and retain a good shape.

Wrap the dough in cling film and leave to rest for 3 hours in the fridge. Bring out of the fridge 30 minutes prior to rolling out
Prepare the Filling
Dice the onion then either slice or dice the peeled potato and swede into small pieces (see my step by step images for a size guide). I like to slice my vegetables thinly – approx 2mm thick

Chop the beef into equally small pieces. Remember to cut the beef skirt first against the grain before dicing

Using your hands mix the vegetables and beef together in a large bowl along with the seasoning, grated horseradish, flour and melted butter and grated
Assemble the pasties
Preheat the oven to 200C/ 400F/ GM 6 and line 2 baking sheets with baking parchment

Divide the dough into 4 each pieces and roll each out to a thickness of 2mm. Cut a 22cm circle from each (find a suitably sized plate as a guide to cut around)

Spoon a quarter of the filling into the centre of one pastry circle

Brush a little beaten egg around the edge of half of the circle then carefully fold the pastry over to form a semi-circle, join the dry and egg brushed edges together. Tuck any stray bits of filling back in as you go and then press down around the pastry edge to seal. Repeat with the remaining circles

Crimp the edges of each pasty to seal firmly and avoid any leakage during cooking: use your index finger and thumb to push down and twist the edge of the pastry over to form a crimp. Repeat this process along the entire length of the pasty then tuck the ends underneath (see my video for visual guidance)

Place the pasties on the baking sheets and make a small slit on the top of each one using a sharp knife, brush all over with beaten egg

Bake for 15 minutes then turn down the heat to 150C/ 300F/ GM 2 and bake for a further 45 minutes

Remove from the oven and transfer the pasties to a wire rack to cool for 20 minutes before eating
Nutritional Information Per Serving (Approximate)
Calories:
1237
kcal
|
Carbohydrates:
108
g
|
Protein:
34
g
|
Fat:
75
g
|
Saturated Fat:
32
g
|
Cholesterol:
218
mg
|
Sodium:
895
mg
|
Potassium:
751
mg
|
Fiber:
5
g
|
Sugar:
4
g
|
Vitamin A:
998
IU
|
Vitamin C:
16
mg
|
Calcium:
70
mg
|
Iron:
3
mg
Pin this Recipe: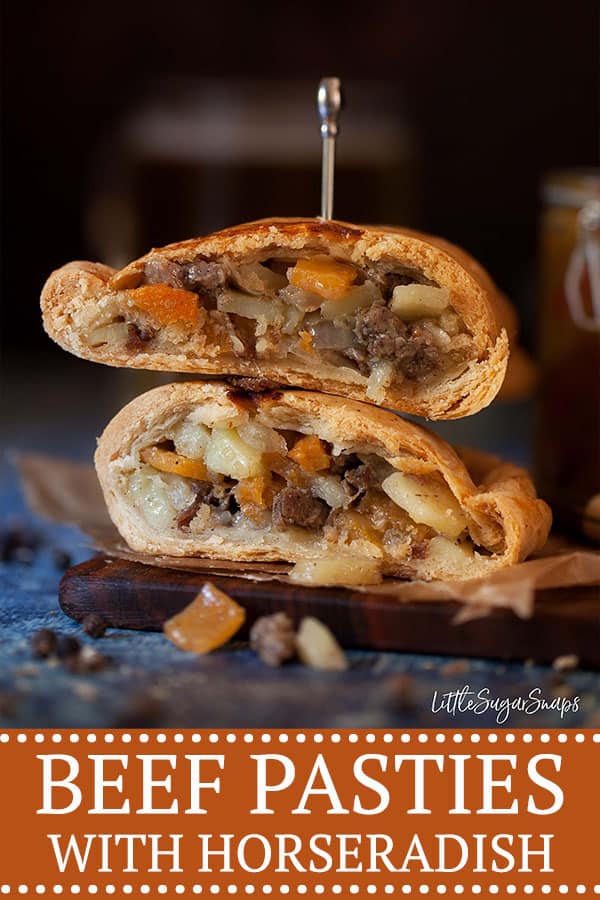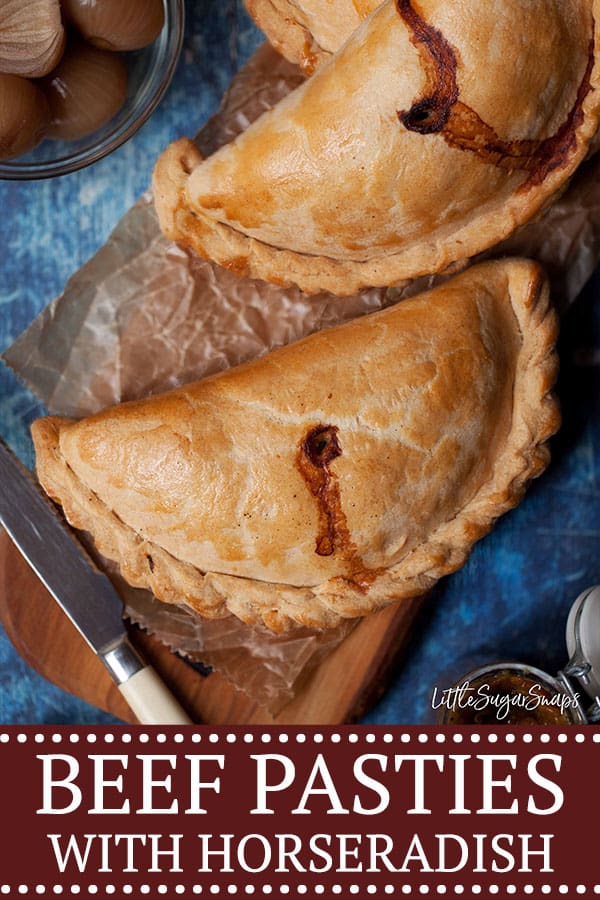 (Visited 251 times, 1 visits today)