Potato Tarts with Brie make a great appetiser or party snack. Creamy cheese, wafer-thin potatoes and a hint of rosemary make a tantalising filling to accompany the crisp & golden rough-puff pastry.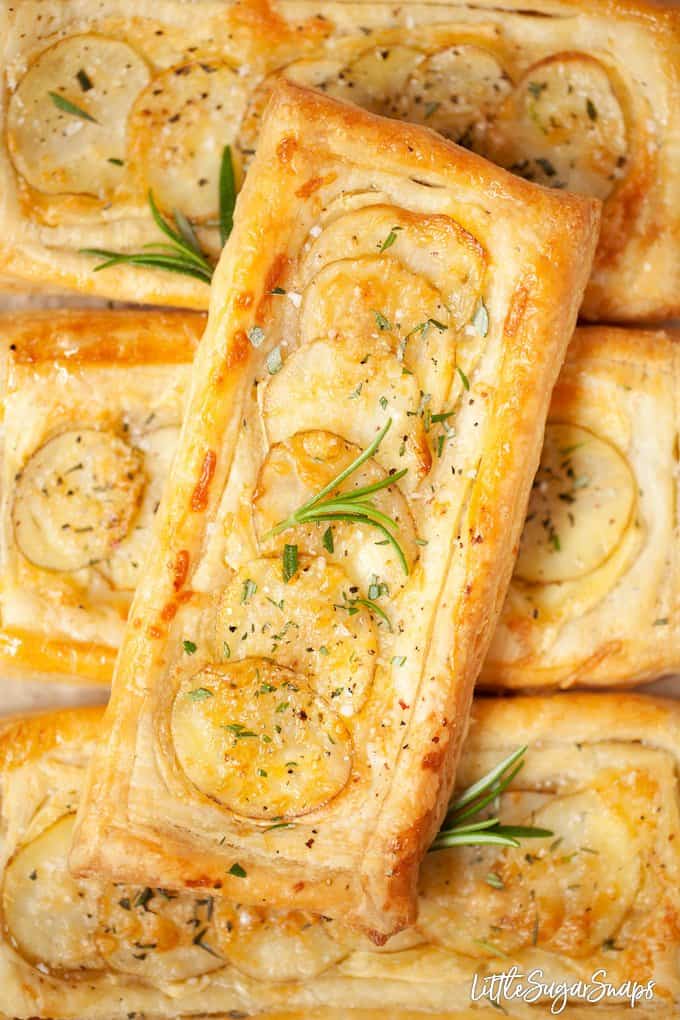 It's been a while since I treated my blog to a savoury pastry, so I'm correcting that today with some simple potato tarts with brie.
Honestly, if you've never tried potato on a tart – or a pizza, for that matter – then you need to give it a go. It's a revelation. The trick is to keep the potato wafer-thin so the slices cook perfectly.
Homemade pastry is my weakness. Or should I say downfall? I adore making it as much as I love to eat it. But when it comes to knocking up a pastry treat, I'm way more into savoury than I am sweet. Don't get me wrong, I'd be hard-pushed to refuse a serving of homemade fruit pie, but my deep pastry affection is for all things savoury – pies, pasties, rolls and tarts.
What's in These Pastries?
These cheesy potato tarts are loaded up with:
a base of creamy brie
some pre-blanched slivers of new potato
a little parmesan
a touch of rosemary
All in all, this is quite the package. The crisp pastry adds plenty of texture to these soft and creamy ingredients.
Serve these brie and potato tarts as party snacks or with a salad as a lunch or appetiser.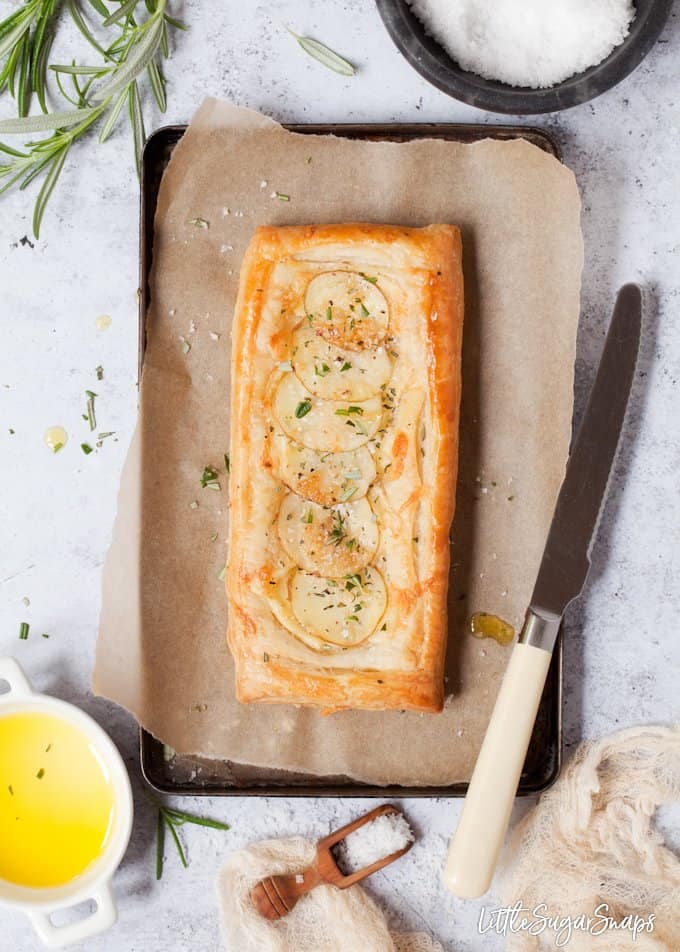 What Kind of Pastry do I Need?
As I've admitted to, I do have a deep love for making my pastry from scratch. I'll confess that the only pastry I ever buy ready-made is filo pastry.
However, I'll also confess that I seem to be the anomaly here. Most people I know do not enjoy pastry making. Either because they lack the time or because they find it a little intimidating. On both counts, I hear you.
The good news is that these cheesy potato tarts can be made using store-bought puff pastry and nobody is going to judge you.
But there's more good news. The pastry I'm advocating today is rough puff pastry. It takes 15 minutes to pull together and is one of the easiest pastries to master.
If you're in the intimidated by pastry camp, then I seriously urge you to give this recipe a go. It's inexpensive and quick – what's the worst that can happen?
How to Make Rough Puff Pastry
I learned how to make rough puff pastry when I was 11 or 12. I know because I was taught at school and for some ludicrous reason, I did not take home economics as a G.C.S.E. so gave it up. Umm…..
Anyway, if I'm after a speedy puff pastry recipe, the technique I was taught 3+ decades ago is the one I always turn to:
Put the flour and salt into a medium-sized mixing bowl and stir
Cube the butter (½-1cm), drop into the flour and toss to coat – do not rub in
Add ¾ of the ice-cold water and stir, using a blunt knife, until a firm dough forms – add more water as necessary, but do not allow the dough to become wet or sticky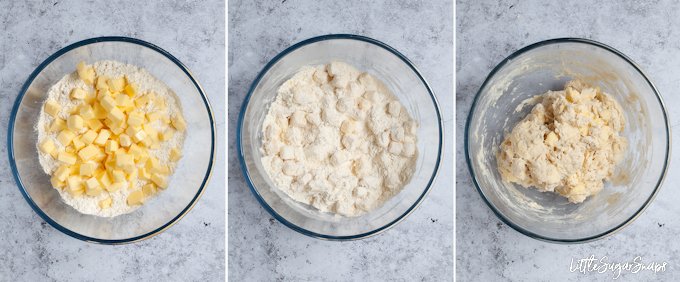 Flour your worktop and roll the dough out into a long oblong with the short sides facing you
To fold, imagine that the pastry is divided into thirds. Now fold the top third over the middle third, then fold the bottom third over the middle also – like folding a letter
Turn the pastry 90 degrees and roll out again into a long oblong. Fold as before and turn another 90 degrees, before repeating the rolling and folding process for the third time
Wrap in clingfilm and chill in the fridge for 30 minutes
The rolling and folding in this technique traps air within the pastry and that helps give a crisp, light and layered texture to the pastry once baked.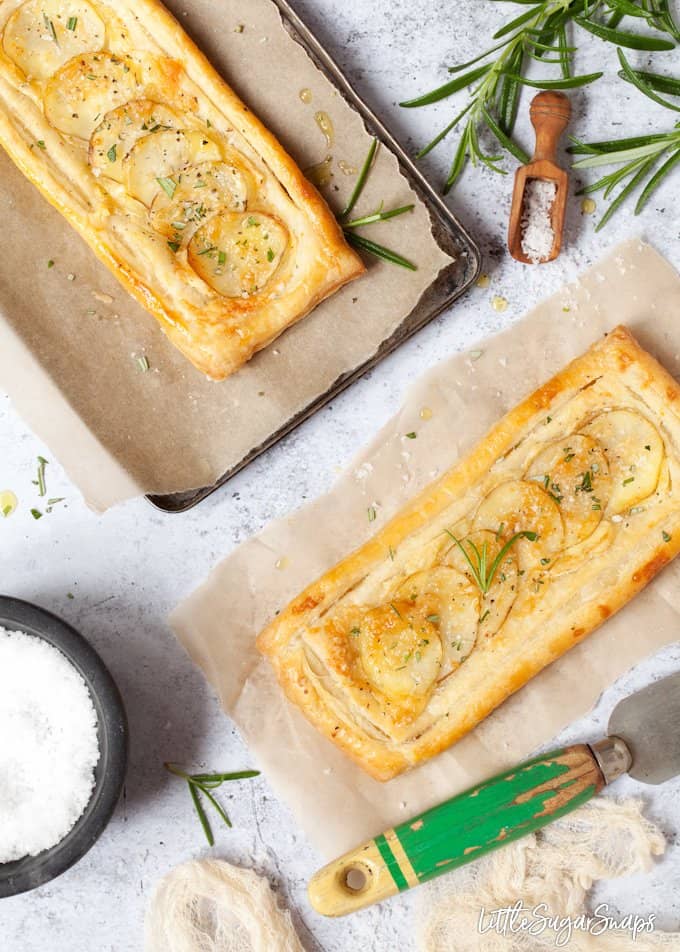 Extra Tips for Making Rough Puff Pastry
The key to most pastry making is to keep your ingredients cold. Use butter straight from the fridge and chill your water with an ice cube or two. The colder you are able to keep your ingredients, the better your pastry will be
Likewise, do not skimp on the chilling time. Pastry that is warm will be much easier to roll, but ultimately, harder to work with and it will not give the best results. Wait for your pastry to firm up properly – especially on hot days
Keep your worktop and rolling pin well floured to prevent the pastry from sticking to them when rolling out
Similarly, keep the pastry on the move – every few rolls check that it has not stuck to the worktop and re-flour the worktop and/ or rolling pin as necessary
How to Assemble These Tarts
If you have decided to use store-bought pastry, this is the point at which you can jump into the recipe for these potato tarts. Just follow the defrost instructions on the pastry pack if bought from the freezer section.
Once the pastry is ready, making these cheesy brie tarts is straightforward:
Use a mandoline to finely slice the potatoes to approximately 1mm thickness. They need to be wafer-thin to ensure they cook properly in the oven. Once sliced, blanch in boiling water, refresh and set aside to drain
Roll the pastry out to a rectangle approximately 15 cm wide and 48cm long. Neaten wonky edges and cut into 6 equal rectangles
Score around the edge of each tart approx ¾ cm in and prick the base all over with a fork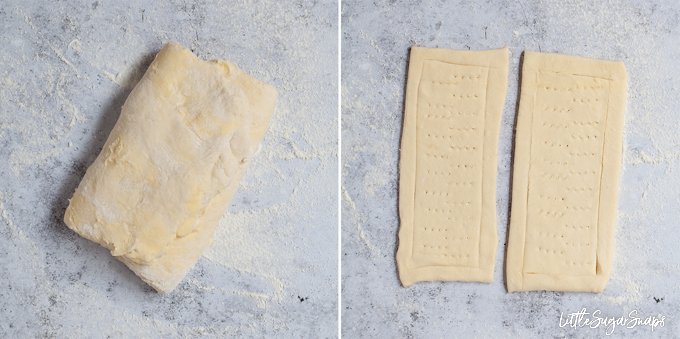 Transfer to the baking sheet, spacing 2 cm apart
Thinly slice the brie and divide between the tarts, placing inside of the scored lines
Overlap slices of potato over the brie, down the centre of each tart
Brush the potato with a little olive oil
Brush the tart edges with egg wash
Scatter the parmesan cheese over the tarts
Bake for 20-25 minutes until the pastry is golden and crispy
Finely chop the rosemary and scatter over the tarts along with a pinch of sea salt flakes
These brie and potato tarts with easy rough puff pastry are quick and easy to make and deliver a sophisicated and wonderfully savoury flavour profile. Rather like a white pizza, but in tart form.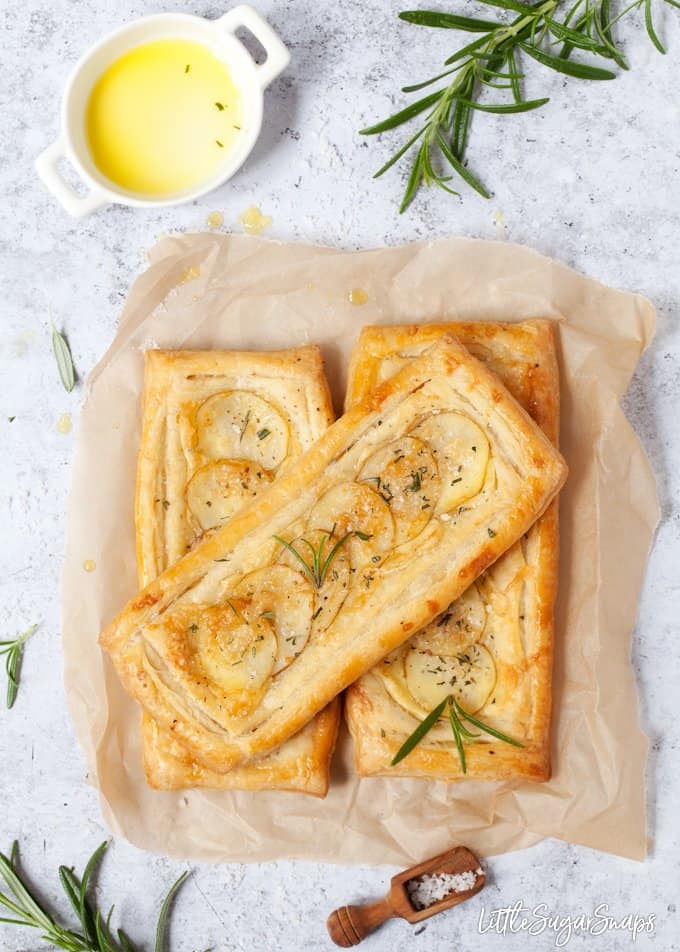 Have you seen my other savoury pastry recipes?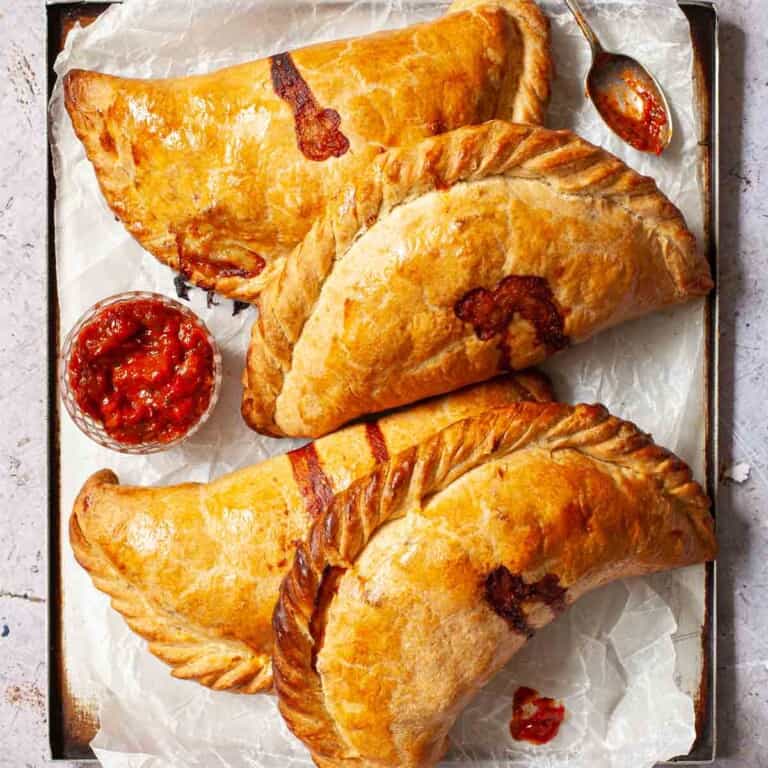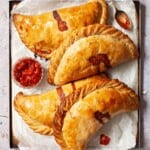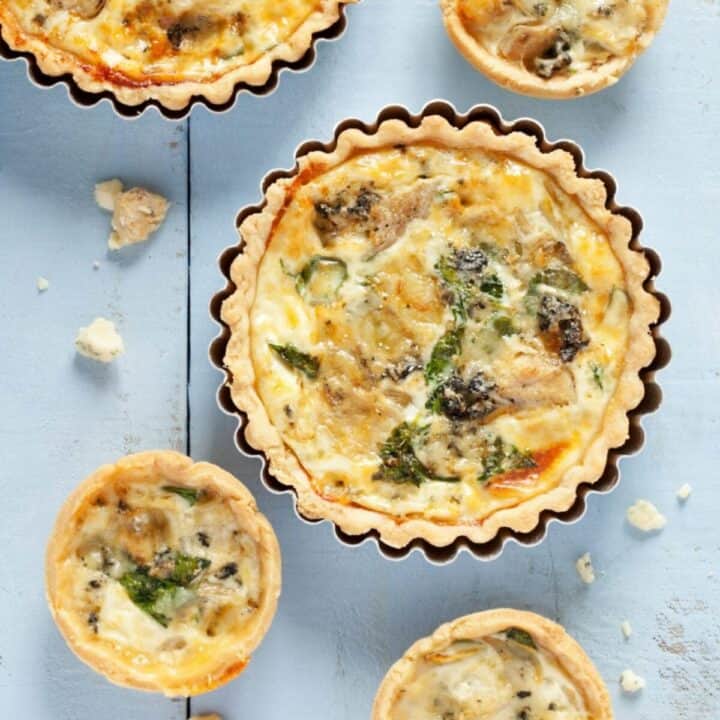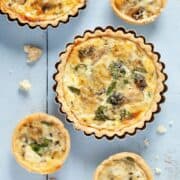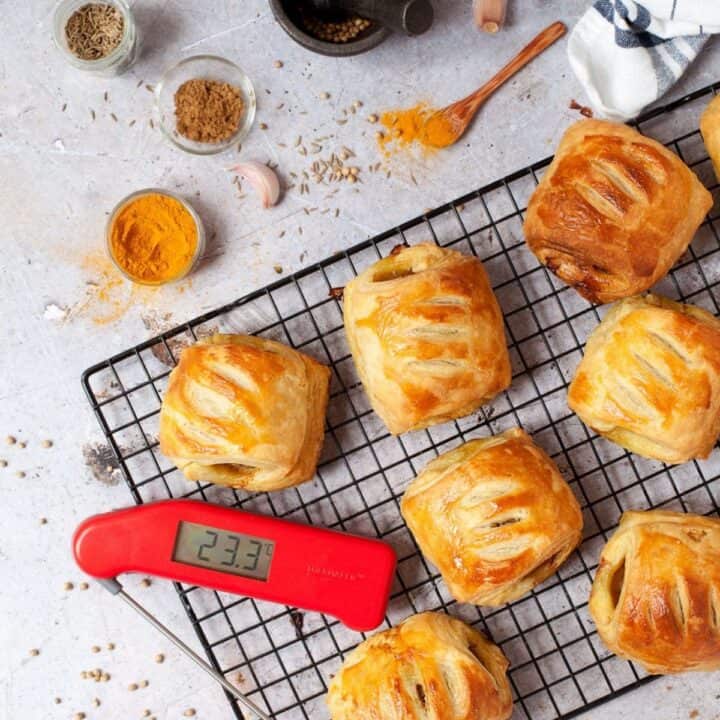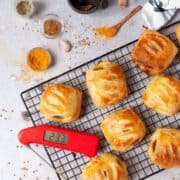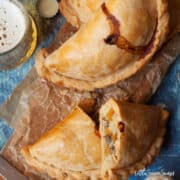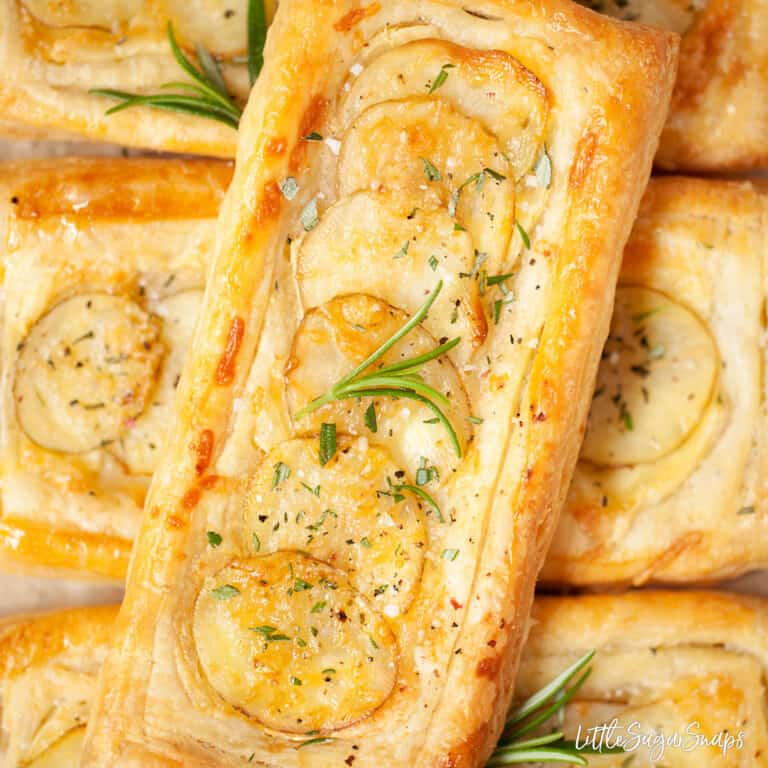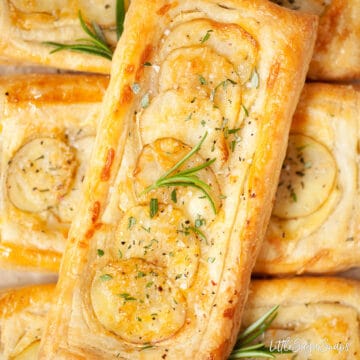 Brie & Potato Tarts with Easy Rough Puff Pastry
Brie and Potato Tarts with Easy Rough Puff Pastry make a great appetiser or party snack. Creamy cheese, wafer-thin potatoes and a hint of rosemary make a tantalising filling to accompany the crisp, golden pastry.
Print
Pin
Rate
Ingredients
For the Rough Puff Pastry
(using store-bought instead? Pick up a 500g pack)
225

g/ 1 ¾ cups

Plain (all-purpose) flour

175

g/ ¾ cup

Butter

unsalted, chilled

¼

teaspoon

Salt

150

ml/ 5 fl oz

Water

icy cold
For the Brie & Potato Tarts
6

New potatoes

small

90g

/ 3 oz

Brie

1

tablespoon

Olive oil

2

tablespoon

Parmesan cheese

(finely grated)

Sea salt

1

sprig

Rosemary

1

egg

beaten
Instructions
Make the Rough Puff Pastry
Put the flour and salt into a medium-sized mixing bowl and stir

Cube the butter (½-1cm), drop into the flour and toss to coat – do not rub in

Add ¾ of the ice-cold water and stir, using a blunt knife, until a firm dough forms – add more water as necessary, but do not allow the dough to become 'wet' or 'sticky'

Flour your worktop and roll the dough out into a long oblong with the short sides facing you

To fold, imagine that the pastry is divided into thirds. Now fold the top third over the middle third, then fold the bottom third over the middle also – like folding a letter

Turn the pastry 90 degrees and roll out again into a long oblong. Fold as before and turn another 90 degrees, before repeating the rolling and folding process for the third time

Wrap in clingfilm and chill in the fridge for 30 minutes
Make the Brie & Potato Tarts
Preheat the oven to 200C/ 400F/ GM 6 and line a baking sheet with baking parchment

Bring a pan of salted water to the boil, slice the potatoes with a mandoline to approx 1mm thickness and blanch in the water for 30 seconds. Drain and refresh in a bowl of cold water. Drain again and set aside

Roll the pastry out to a rectangle approximately 15 cm wide and 48cm long

Neaten any wonky edges then cut the pastry strip into 6 equal rectangles

Score around the edge of each tart approx ¾ cm in and prick the base all over with a fork. Transfer to the baking sheet, spacing 2 cm apart

Thinly slice the brie and divide between the tarts, placing inside of the scored lines

Lay 6-8 slices of potato over the brie, down the centre of each tart, overlapping as you go. Brush the potato with a little olive oil

Brush the edge of the tarts with beaten egg, scatter the parmesan cheese over the tarts and bake for 20-25 minutes until the pastry is golden and crispy

Finely chop the rosemary and scatter over the tarts along with a pinch of sea salt flakes
Nutrition Per Serving (Approximate)
Calories:
481
kcal
|
Carbohydrates:
42
g
|
Protein:
9
g
|
Fat:
31
g
|
Saturated Fat:
18
g
|
Cholesterol:
79
mg
|
Sodium:
433
mg
|
Potassium:
386
mg
|
Fiber:
3
g
|
Sugar:
1
g
|
Vitamin A:
831
IU
|
Vitamin C:
15
mg
|
Calcium:
69
mg
|
Iron:
2
mg
(Visited 3,509 times, 2 visits today)