These Blue Cheese Watercress Artichoke Tarts combine some strong & classic flavours with rich, buttery pastry. Ideal for supper alongside a crisp green salad or made into mini tartlets for parties.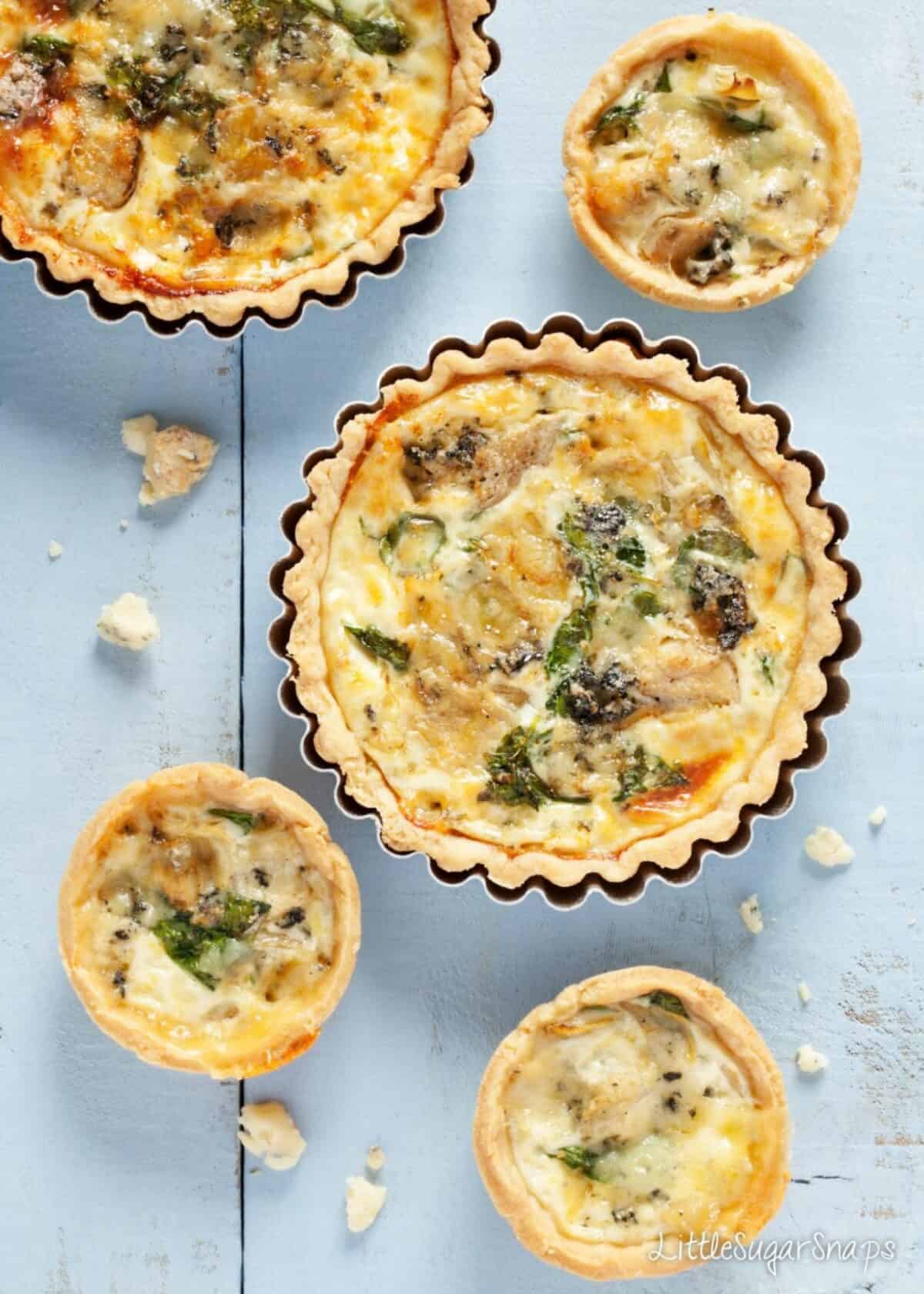 Homemade tarts. Love them – especially ones with cheese in them. These Blue Cheese Watercress Artichoke Tarts combine some quite strong flavours. The blue cheese and watercress is a classic, but I've added some marinated artichokes to add a bit of extra depth. And don't you just love the dark golden colour of the cooked cheese against the pastry shell? They are certainly rich and luxurious, what's not to like? Che-e-e-e-sy.
I can't give you this recipe without making a confession. But, before I divulge, you must believe me when I tell you I do actually have a life. I really do.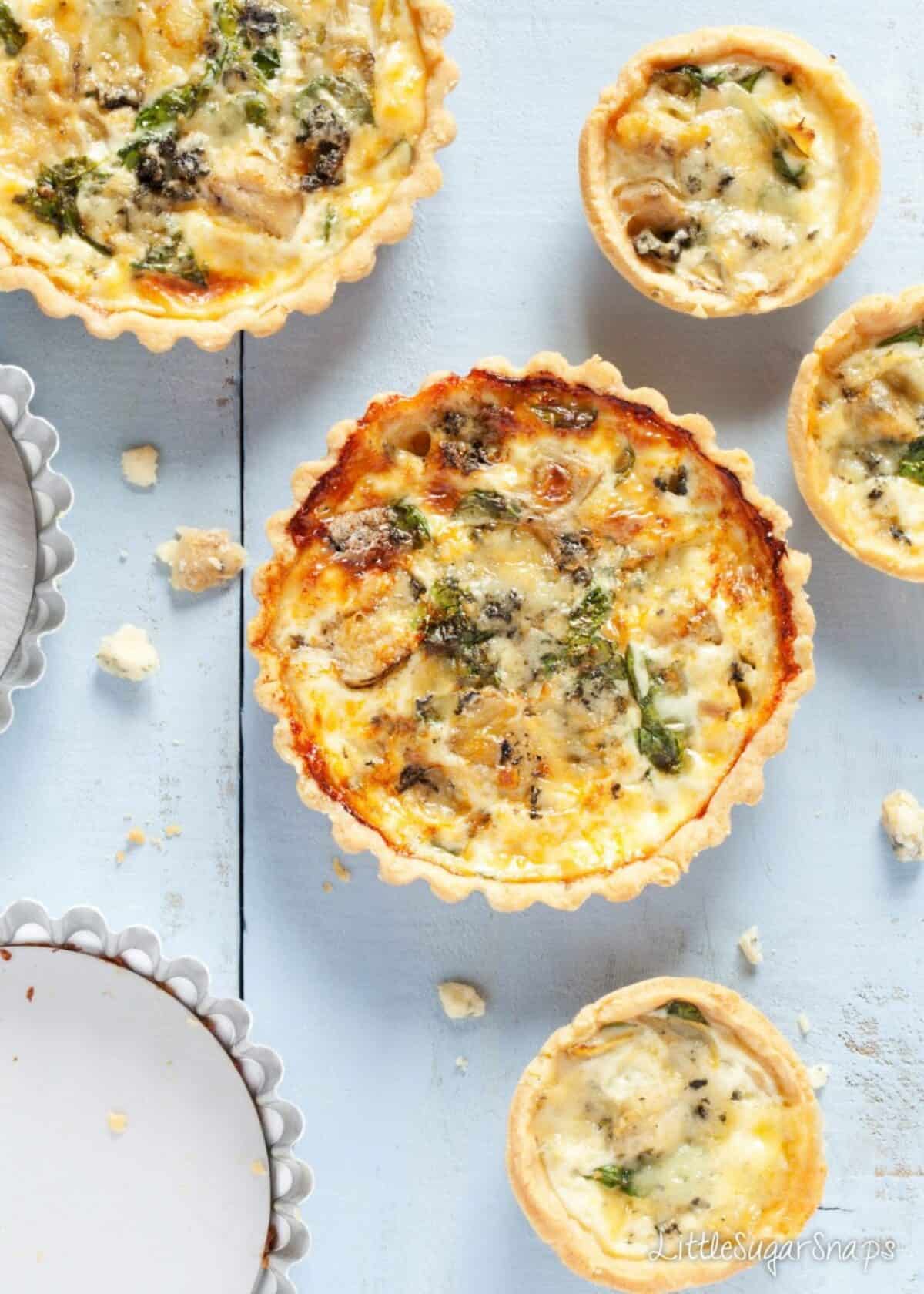 Okay, here goes:
I have never used a food processor to make pastry. Not once. I don't even own a food processor. Actually, two confessions – I also never buy ready-made pastry (with the exception of Filo – I'm not totally insane).
I quite understand why people do process & buy, so I'm not judging – especially since I've never given it a go – but the thing is, when I bake it's about me doing something. So I'm making no excuses for sticking with traditional techniques – it's my way of relaxing. I particularly love pastry making and feeling the changing textures within the bowl. It also takes me back… way back… to my secondary school days and home economics classes…
When it came to pastry making, my teacher would wander around the room checking our hands – flour on our palms meant we had not been rubbing in correcting. All you heard as she walked from table to table was 'fingertips, girls! Use only your fingertips!' (I went to an all girls school). As soon as she was out of vision, our eyes would roll at each other in the way that only kids can manage. But her words stuck and I clearly learned something. To this day I always check my palms during pastry making – old habits die-hard. The other thing I always do – again, thanks to the same teacher – is give my bowl a shake towards the end of the rubbing in stage. Any large lumps of fats tend to rise to the top so you can see what still needs to be worked on. Thanks Mrs E.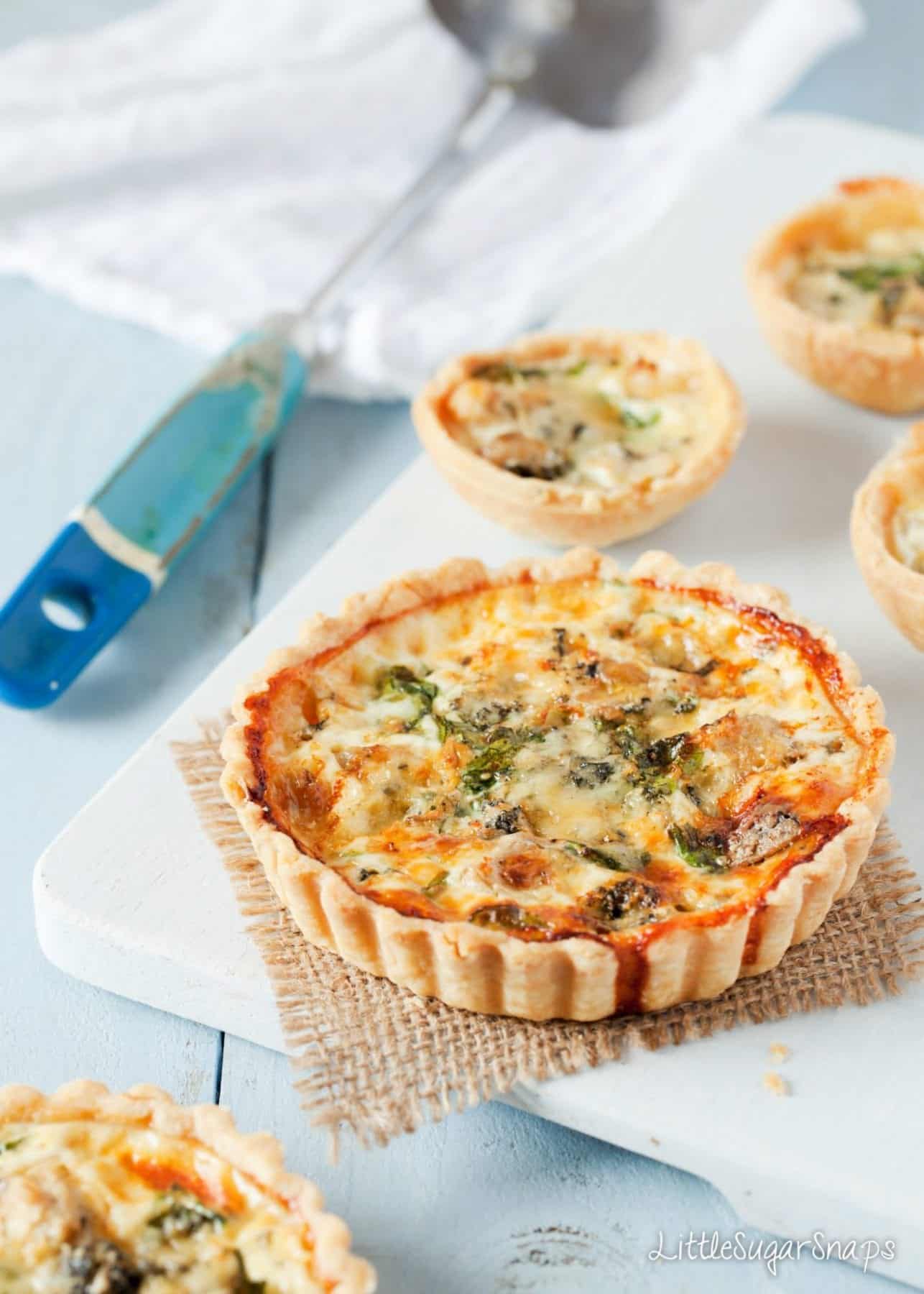 Moving back to the present day, I don't know about you, but I get serious baking envy when I watch chefs on TV preparing immaculate tart cases. They make it look so easy and give great advice. Every time, I convince myself that if I use their technique mine will come out looking just as good. In reality, it takes me quite a while to prep the cases. And even then, I struggle to get them super neat and sometimes have to do a bit of a patch up job here and there. I'm slowly improving though and do have a few tips to help if you're struggling too:
Do chill the pastry dough before rolling out (but not for too long else it will be hard to roll out – 30 minutes should do)
Roll out evenly, to a thickness of around 3-4mm
If lining a large tin loosely wrapping the rolled out pastry around a rolling pin can help you move it into place. Carefully unfold the pastry once positioned over the tin
Carefully push the pastry into the corners of the tin using a small piece of pastry – rolled into a ball & wrapped in cling film – rather than your fingertips to minimise the risk of tearing your pastry
Trim the edge of the pastry case by folding back the excess pastry over the outside of the tin and using your rolling pin to 'cut' the pastry – simply roll firmly from the middle outwards in both directions then remove the excess pastry
Finally, gently push the pastry back into the grooves around the side of the tin. This should allow the pastry to also gain height. Aim for the pastry to sit slightly proud of the tin to allow for shrinkage during cooking
Pastry done, these cheesy little Artichoke Tarts are straightforward. The beauty of all tarts is not only the endless combination of flavours you can fill them with, but also the ability to make bite size, individual or sharing tarts to suit your occasion. I love to serve these Blue Cheese Watercress Artichoke Tarts for lunch with a pile of dressed green salad leaves at the side. I think they would also be great as canapés with a glass of champagne. I just need a justifiable reason to open a bottle to test this theory.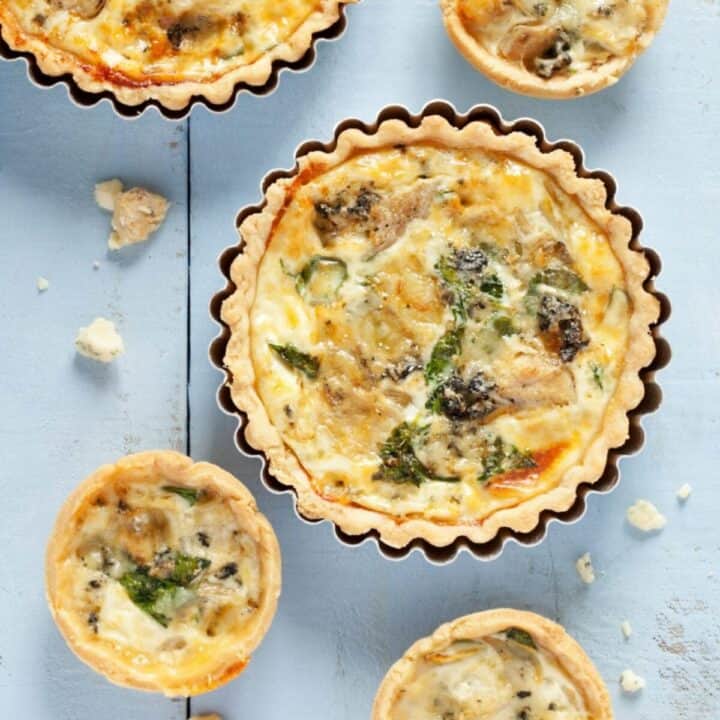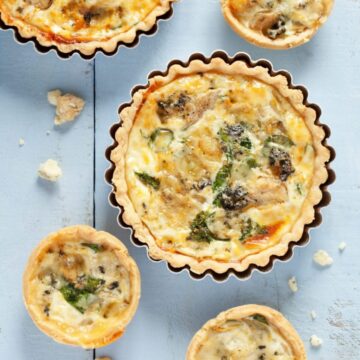 Blue Cheese, Watercress & Artichoke Tartlets
These Blue Cheese Watercress Artichoke Tarts combine some strong & classic flavours with rich, buttery pastry. Ideal for supper alongside a crisp green salad or made into mini tartlets for parties.
I make my pastry by hand but I won't cry if you decide to make the pastry in a food processor or substitute bought shortcrust.
Print
Pin
Rate
Servings:
1
8 inch tart/ 4 individual tarts
Ingredients
Pastry
225

g/ 1¾ cups

plain (all purpose) flour

115

g/ ½ cup

unsalted butter (chilled) – cut into small cubes

Pinch of salt

2

egg yolks mixed with 2 tablespoon ice cold water
Filling
100

g/ 1 cup

Blue cheese

(stilton is great) – crumbled

50

g/ 1 cup

Watercress leaves – no stalks please

2

Whole artichoke hearts marinated in olive oil

(drained & chopped into smallish pieces)

300

ml/ 1 ¼ cup

Single cream

(18% fat)

2

Eggs

¼

teaspoon

Freshly grated nutmeg

Salt & Pepper
Instructions
Put the flour, salt & butter into a large bowl and, using your fingertips, rub together until the mixture looks like sand/ breadcrumbs and there are no large lumps of fat left in the bowl (don't forget to shake the bowl gently to check this)

Make a well in the centre and add the egg & water mixture. Use your hands to fold the dry ingredients into the egg mix, until just combined. Knead gently until a smooth consistency is attained. Press into a disc shape, then wrap in clingfilm and chill in the fridge for 30 minutes

On a floured surface, roll the pastry out to an even thickness of 3-4mm, then gently easy into the tart tin(s) and press into the base. Trim away the excess pastry and neaten up the pastry sides by pressing gently into the sides of the tin until the pastry sits just above the top of the tin. Prick the base with a fork. Cover in clingfilm and chill for 30 minutes. Meanwhile preheat the oven to 170°C/325°F/GM3

Remove the clingfilm and line the pastry case with tin foil, pressing lightly into the corners. Pour in some uncooked rice/ baking beans and bake (15 minutes for the 8 inch tart and 10 minutes for the smaller tarts). Remove the rice/ beans and the foil and cook for 5 more minutes

Turn the oven temperature up to 180°C/350°F/GM4

Mix together the filling ingredients (reserving 20g of the blue cheese). Divide the mix between the pastry cases and sprinkle with the remaining cheese. Bake the 8 inch tart for 35-40, the 4inch tarts for 15-17 minutes and the small tarts for 12-15 minutes. When ready to take out of the oven they should be golden and set fairly firm with just a slight wobble

Serve either warm (allow to cool for 10 minutes) or at room temperature

These tarts can be stored in the refridgerator and reheated (170°C/135°F/GM3) for 10 minutes to re-crisp the pastry.
Notes
1.The ingredients listed are sufficient to make 1 large tart in an 8 inch tin or 4 individual tarts in 4 inch tins plus a couple of extra small tarts. It could also make 15-18 small tarts depending on the tins you use. 2.The filling quantity is generous – there may be some left over – but I didn't want to risk leaving the tarts half full by using the 1 egg version. Try folding left over filling into the mashed flesh of baked potatoes, piling back into the skins and baking (200°C/400°F/GM6) for around 15 minutes until set.
(Visited 380 times, 1 visits today)