Pizza bianca is a classic style of Italian pizza without tomato sauce. This white pizza with potatoes recipe comes topped with Camembert, rosemary, bacon and artichokes. It's a delicious bake and, as this sauceless pizza is less messy finger food than typical pizza, it makes a great sharing option at parties.
This recipe was first published in April 2020 and updated in March 2022 with tips and a frequently asked questions section.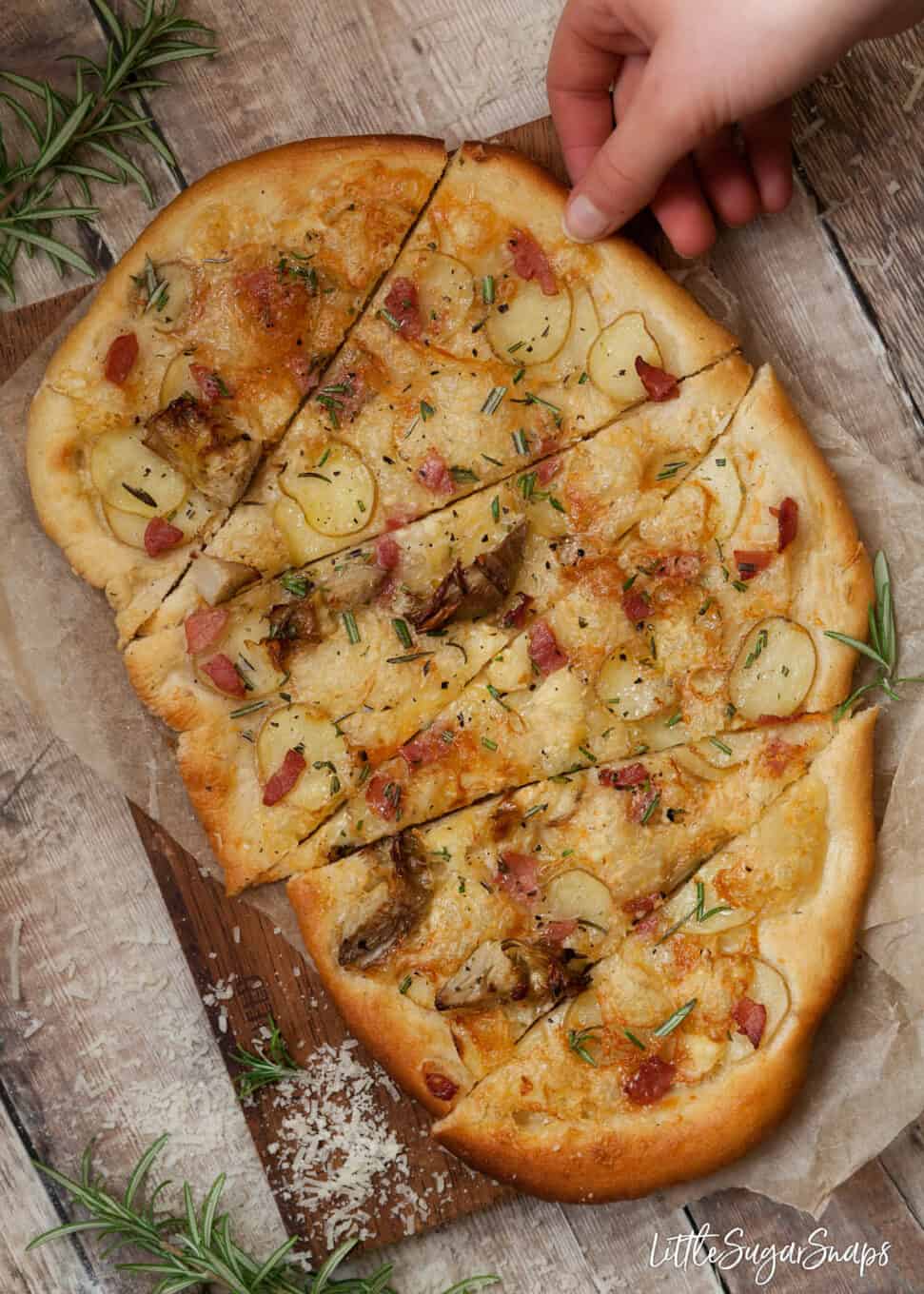 This post contains affiliate links. As an Amazon Associate, I earn from qualifying purchases.
Pizza bianca translates as white pizza. Essentially, it is a Roman pizza without tomato sauce. In its simplest form this sauceless pizza comes drizzled with just olive oil, garlic, salt and perhaps a little rosemary. Other common additions to a white pizza recipe are white cheeses, such as ricotta and mozzarella. Some versions alternatively include béchemal sauce.
I've taken my pizza a step further and transformed it into a white pizza with potatoes. I've added a few extra ingredients but I've been mindful not to add too much colour, to be in keeping with the name pizza bianca.
Why this sauceless pizza is worth making
I've devised two pizza bianca recipes for this post today. The first version of this white pizza with potatoes incorporates Camembert cheese and rosemary. The second version simply adds to this already delectable base with the inclusion of artichoke slices and bacon.
Whichever way you take the toppings, this pizza bianca is well worth making because:
It's a great sharing dish.
The flavour is savoury, cheesy and deeply satisfying.
And it makes a fantastic change to typical tomato-based pizza.
Honestly, you'd be hard-pressed not to crave a second slice.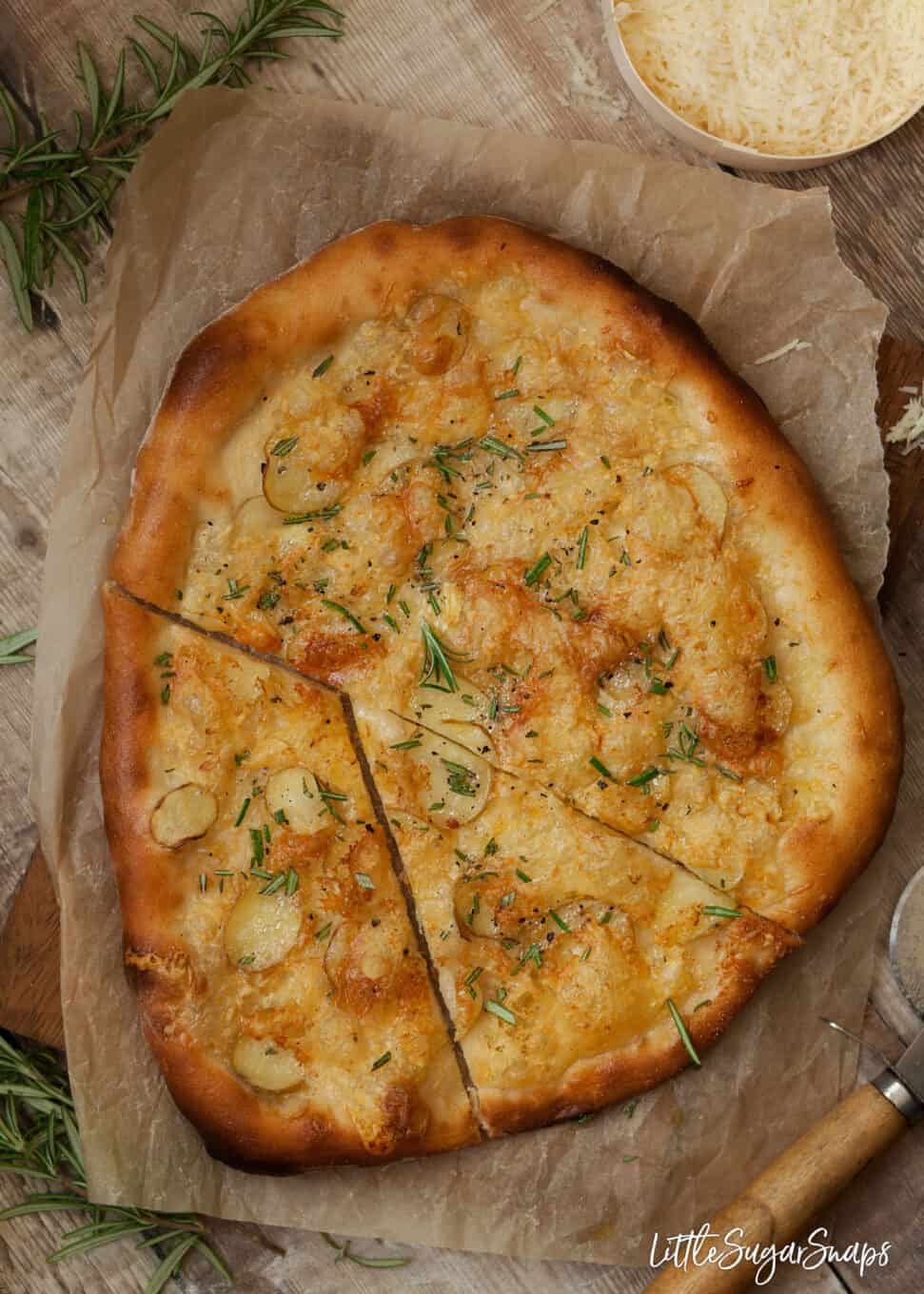 Try it with a sneaky Spritz Bianco cocktail served alongside.
Ingredients notes
All good pizza requires a trustworthy dough that can be relied upon to delivery a tasty, light and crispy crust. I highly recommend using my beer pizza dough. I've been using this dough for over a decade. The recipe I give is enough for 2 pizzas but it can easily be scaled up or down to match your needs.
Aside from the dough, the toppings on this sauceless pizza are as follows:
New potatoes – pick waxy potatoes as these will hold together well as they cook.
Parmesan cheese – for a robust taste.
Camembert cheese – alternatively a good Brie can be used instead.
Fresh rosemary.
Olive oil.
Bacon – streaky is ideal. Leave this off to turn it into a veggie white pizza
Artichokes preserved in oil (optional).
All of these ingredients are typically easy to get hold of in supermarkets.
Step-by-step instructions
Since this pizza with potatoes is only in the oven for 5-8 minutes, there is a risk that raw potato slices placed on top would not be sufficiently cooked.
For this reason, blanching the potatoes prior to cooking on the pizza is an essential step in this recipe. It's the best way to ensure that the potatoes are nicely cooked on the baked pizza.
How to Blanch Potatoes
To be certain the potatoes are cooked to perfection I double blanch them:
Begin by slicing each potato as finely as possible – 1mm thick only (a mandolin is by far the best way to achieve this.
Place in a bowl and cover entirely with boiled water – leave for 3 minutes (the water will go cloudy as the potato starch is released).
Drain, place back in the bowl and pour more boiled water over them – leave for a further 2-3 minutes.
Drain.
The potatoes are now ready to use. They will finish cooking in the oven and will retain a firmly tender texture.
Assembling & Cooking Pizza bianca
I give full instructions for cooking pizza in my dough recipe. I urge you to read this blog post as the same technique should be used for cooking pizza bianca:
Put the baking sheet(s) inside of your oven and heat as hot as the oven will go. For me that is 275C/ 525/ GM11.
Roll the pizza out and place on a cold baking sheet dusted with coarse semolina
Working quickly, top with grated parmesan, the potato slices, camembert cheese & chopped rosemary. Bacon and artichoke slices are optional extras.
Brush the potatoes with olive oil.
Sprinkle the hot baking sheet with semolina and slide the topped pizza onto it. Don't let the pizza sit around on the baking sheet while you prepare more – it will stick and become difficult to transfer to the oven.
Cook for around 7-8 minutes until golden and bubbling.
Once cooked, brush the edge of the pizza with olive oil, sprinkle with salt (optional), slice and serve.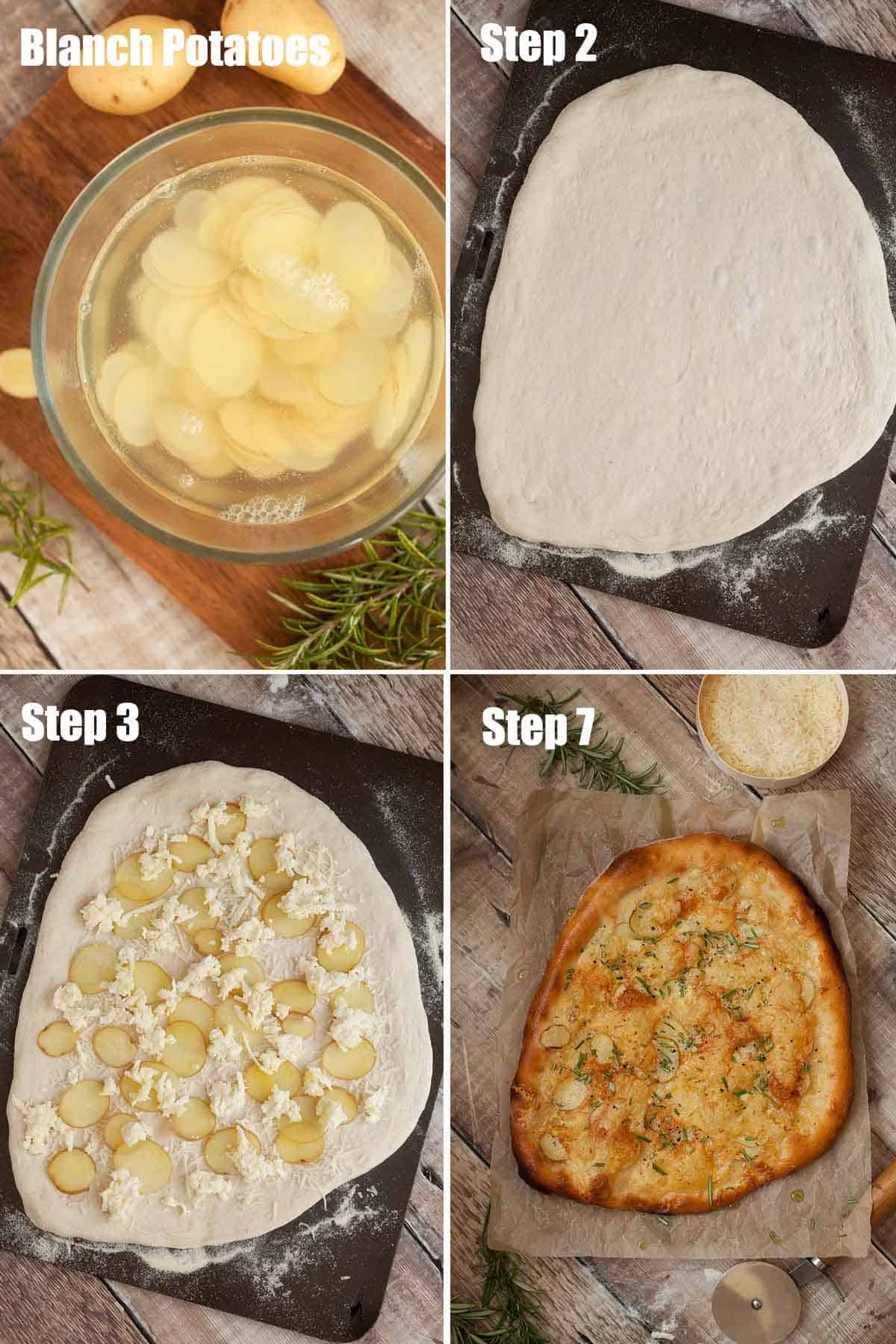 Expert Tips
Give the oven plenty of time to heat to maximum temperature.
And if you have a pizza stone use it (pop it in to heat up as the oven does).
I cannot stress enough how important it is to work quickly when assembling pizzas and getting them into the oven.
Don't prepare multiple pizzas with the aim of getting them into the oven at the same time. The longer they sit on the baking sheet the more likely they are to stick to it.
It's worth remembering though that food tends to cook slightly slower on a lower shelf in the oven, so perhaps slide the first pizza into the lower shelf if you are trying to serve 2 pizzas at the same time. If you can get the second pizza onto the top shelf within a couple of minutes, they will most likely end up cooked at the same time.
Frequently asked questions
Can I make the dough in advance?
Yes you can. Simply prepare and let prove in the fridge overnight. Check it in the morning and knockback if using in the evening – it will rise again. Remove from the fridge 1-2 hours before cooking to let come to room temperature.
Can white pizza be made in advance and reheated?
Yes, it can. Simply let cool, wrap loosely and store in the fridge for up to 24 hours. Reheat at 150C/ 300F for 5-10 minutes
Can I make it gluten-free?
Of course. To do this use a suitable gluten-free pizza dough such as this one.
More topping ideas for pizza without tomato sauce
Since white pizza merely refers to a pizza without tomato sauce, it follows that there are plenty of ways to vary the toppings for such a pizza. Try topping with:
Ricotta, mascarpone & clams
Blue cheese, caramelised onion & sage
Mushrooms, goats cheese & thyme
Mascarpone, parmesan, smoked salmon & chives
For a splash of colour, green vegetables, such as grilled courgette or asparagus work well too on sauceless pizza.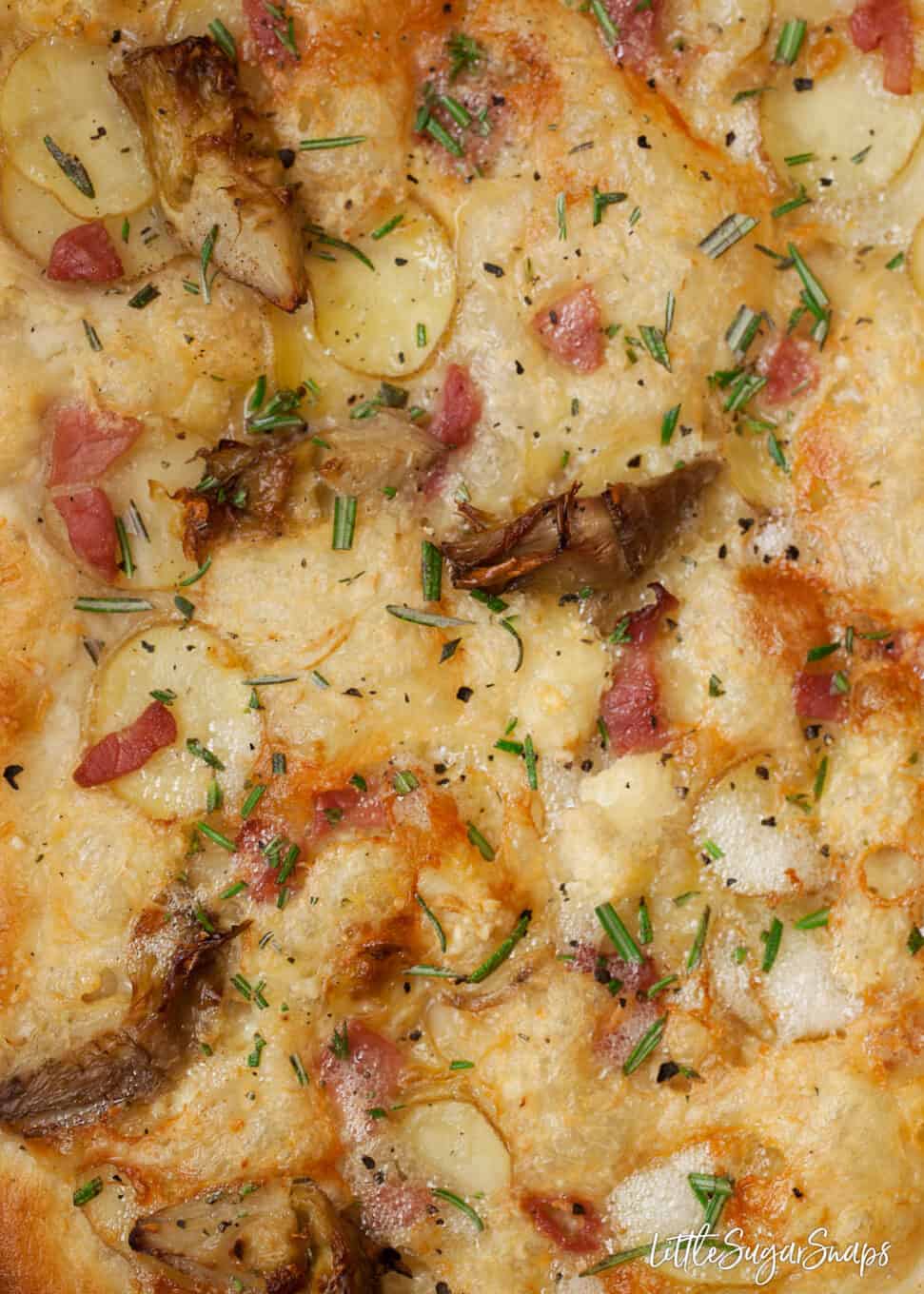 More pizza recipes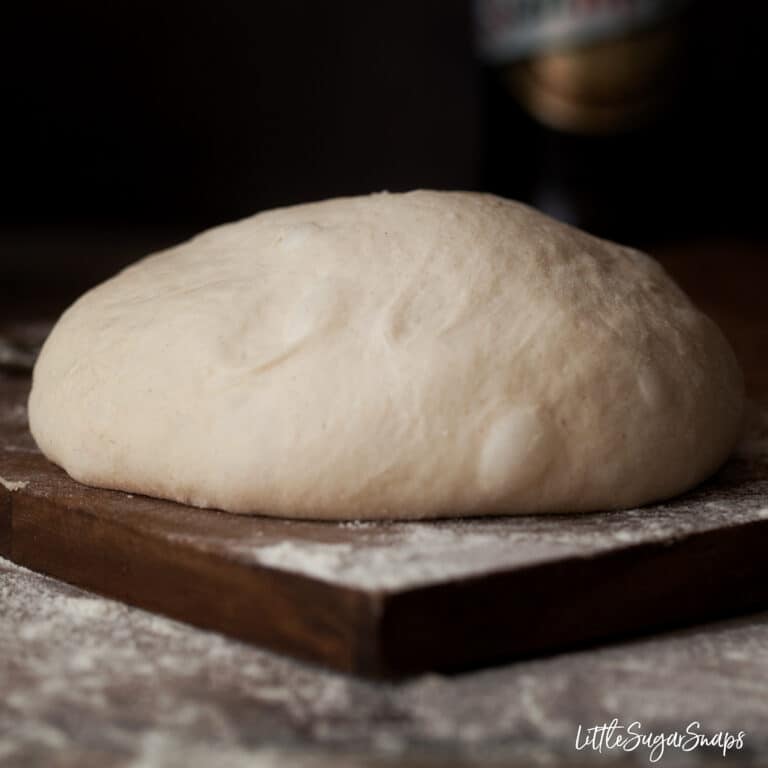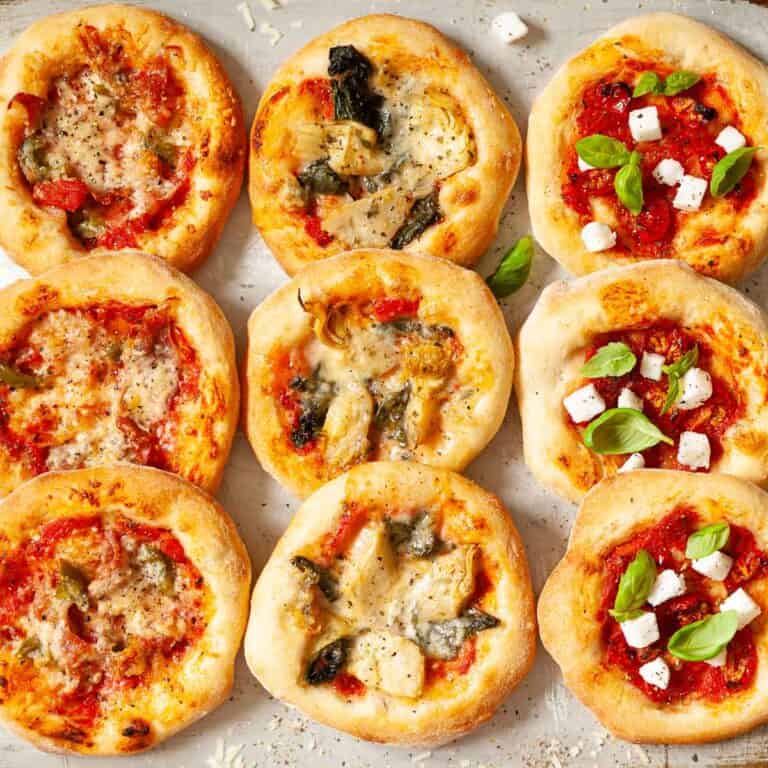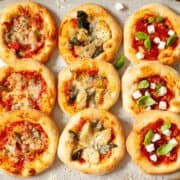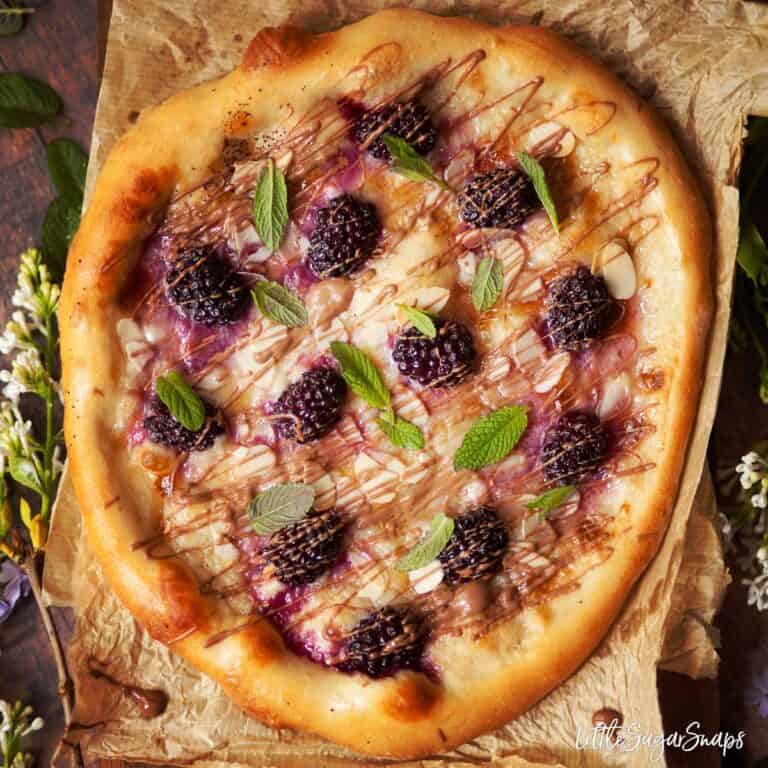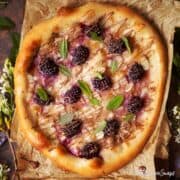 How would you top this pizza bianca recipe? Let me know by leaving me a comment. And if you make it, please rate the recipe – I love to hear how you've got along with my recipes.
Before you dive into the recipe, why not sign up to receive LittleSugarSnaps newsletters. You'll hear firsthand when new recipes are published. Plus there's a free welcome e-book with my top baking tips and 5 favourite cake recipes waiting for you. You're welcome to stay in touch on Facebook, Instagram and Pinterest too.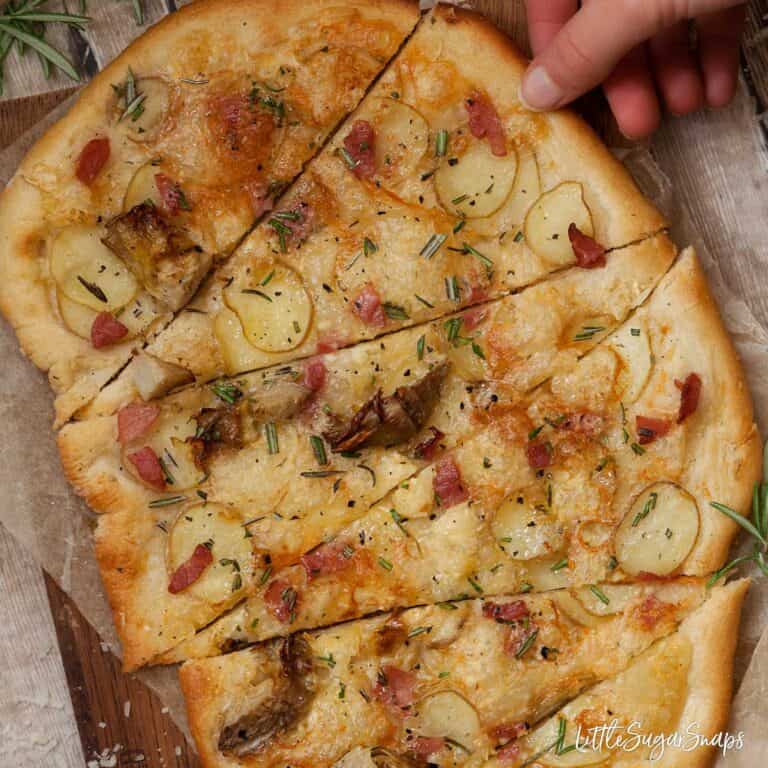 Pizza Bianca (White Pizza) with Potato & Camembert
pizza with potatoes recipe comes topped with Camembert, rosemary, bacon and artichokes. It's a delicious bake and, as this sauceless pizza is less messy finger food than typical pizza, it makes a great sharing option at parties.
Print
Pin
Rate
Ingredients
425

g

Beer pizza dough

(equivalent to 2 portion recipe)

125

g

New potatoes

30

g

Parmesan cheese

finely grated

120g

Camembert

Fresh Rosemary

2 sprigs

1 ½

tablespoon

Olive oil

2

Streaky bacon rashers

2

Artichoke hearts

preserved in oil
Instructions
Preparation
Preheat the oven (with 2 baking sheets inside) to 275C/ 525F/ GM 11 or as hot as your oven will go

Put a full kettle on to boil

Coarsely grate the Camembert cheese and finely grate the parmesan

Roughly chop the bacon and quarter the artichoke hearts

Strip the rosemary from the step and chop roughly
Blanch the Potatoes
Begin by slicing each potato as finely as possible – 1mm thick only (a mandolin is by far the best way to achieve this

Place in a bowl and cover entirely with boiled water from the kettle – leave for 3 minutes (the water will go cloudy as the potato starch is released)

Drain, place back in the bowl and pour more boiled water over them

Leave for a further 2-3 then drain and set aside
Aseemble and Cook the Pizzas
Divide the dough into 2, put one piece aside and roll out the other piece on a floured worktop

Place on a baking sheet dusted with coarse semolina

Working quickly, top with half of the topping ingredients – first the parmesan, then the potatoes and Camembert

If using bacon and artichoke hearts add them now, then sprinkle the rosemary over

Brush the potatoes with olive oil

Don't let the topped pizza sit around on the baking sheet while you prepare more – it will stick and become difficult to transfer to the oven

Instead, transfer it to the oven straight away – sprinkle one of the hot baking sheets (in the oven) with semolina and slide the topped pizza onto it

Repeat steps 1-5 with the remaining portion of pizza dough and topping. When ready to bake, sprinkle semolina onto the remaining hot baking sheet and slide the prepared pizza onto it

If cooking 2 pizzas at once put the first pizza on a lower shelf where it will cook slower, then work hard to get the second pizza in within 2-3 minutes of the first and put this one on the top shelf.

Cook each pizza for around 7-8 minutes until golden and bubbling

Once cooked, brush the edge of each pizza with olive oil, sprinkle with salt (optional), slice and serve
Notes
Give the oven plenty of time to heat to maximum temperature.
And if you have a pizza stone use it (pop it in to heat up as the oven does).
I cannot stress enough how important it is to work quickly when assembling pizzas and getting them into the oven.
Don't prepare multiple pizzas with the aim of getting them into the oven at the same time. The longer they sit on the baking sheet the more likely they are to stick to it.
It's worth remembering though that food tends to cook slightly slower on a lower shelf in the oven, so perhaps slide the first pizza into the lower shelf if you are trying to serve 2 pizzas at the same time. If you can get the second pizza onto the top shelf within a couple of minutes, they will most likely end up cooked at the same time.
Thew dough can be made in advance. Simply prepare and let prove in the fridge overnight. Check it in the morning and knockback if using in the evening – it will rise again. Remove from the fridge 1-2 hours before cooking to let come to room temperature.
The entire pizza can also be made in advance. Once cooked, let cool, wrap loosely and store in the fridge for up to 24 hours. Reheat at 150C/ 300F for 5-10 minutes
Nutrition Per Serving (Approximate)
Calories:
966
kcal
|
Carbohydrates:
114
g
|
Protein:
36
g
|
Fat:
41
g
|
Saturated Fat:
16
g
|
Cholesterol:
60
mg
|
Sodium:
2428
mg
|
Potassium:
395
mg
|
Fiber:
5
g
|
Sugar:
14
g
|
Vitamin A:
809
IU
|
Vitamin C:
17
mg
|
Calcium:
418
mg
|
Iron:
7
mg
(Visited 3,348 times, 11 visits today)