Beer pizza dough takes homemade pizza to a whole new level. It's way better than the average take-out and of course, toppings are entirely customisable. This small-batch beer pizza crust recipe can easily be scaled up to feed more people or down to feed one.
This recipe was first published in April 2020 and updated in March 2022 with step-by-step instructions, tips and frequently asked questions guidance.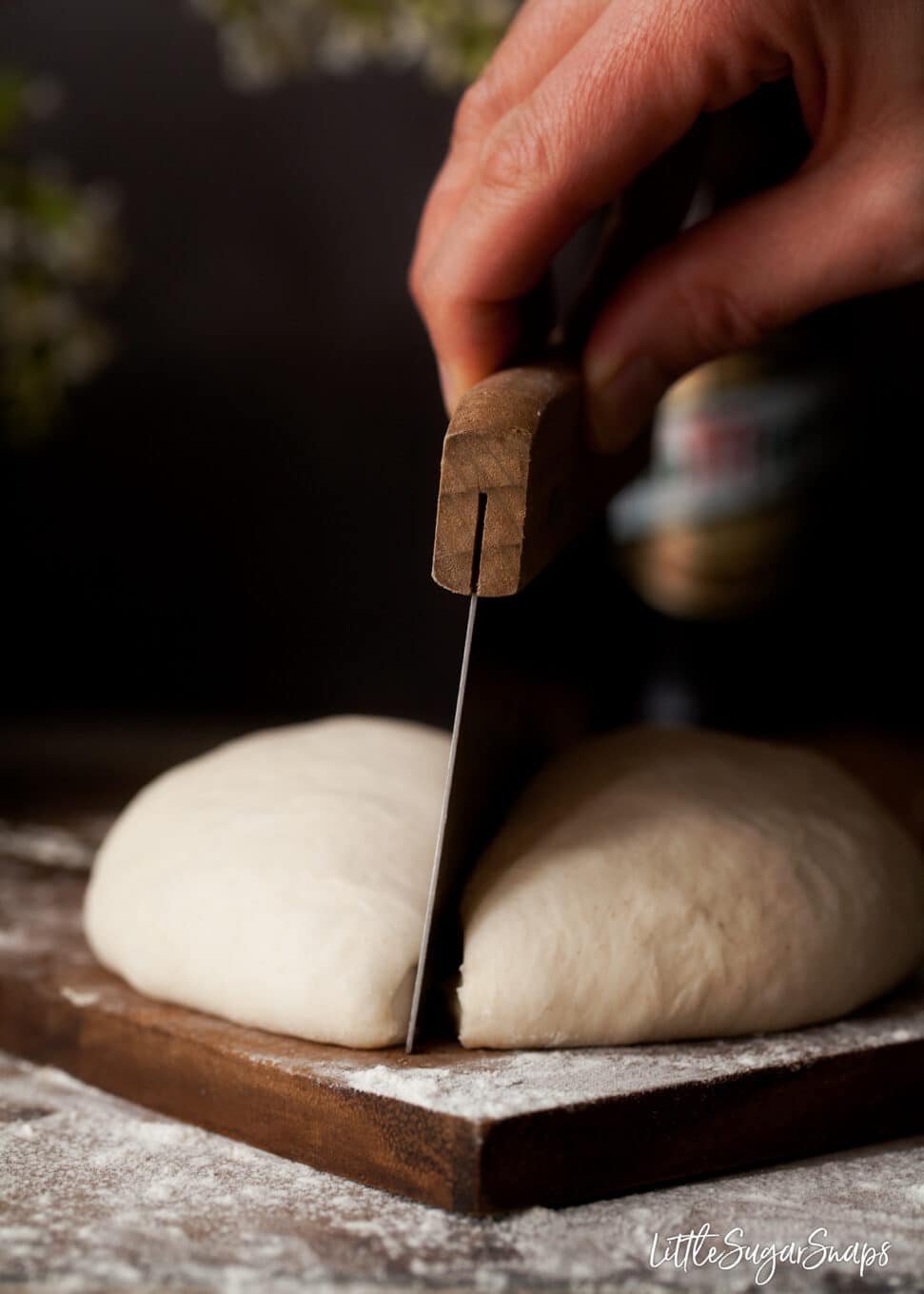 This post contains affiliate links. As an Amazon Associate, I earn from qualifying purchases.
A quality pizza base is an essential recipe to have to hand. I've been making the beer pizza dough I'm presenting today for in excess of a decade. It tastes so good and it is consistently reliable, so I never feel the need to deviate from it.
This small-batch pizza dough is made using beer, which lends a certain lightness and crispiness to the dough whilst also ensuring that it is wonderfully chewy too. It's perfect for thin-crust pizzas.
In what follows I provide plenty of detail not just about the beer pizza dough but also guidance on how to roll and cook it to ensure the best homemade beer pizza crust possible. I've also included details on how to adapt this recipe to feed 1, 3, 4 or more hungry diners.
Use this easy recipe to make my pizza bianca or a half batch of my pizzette (mini pizzas).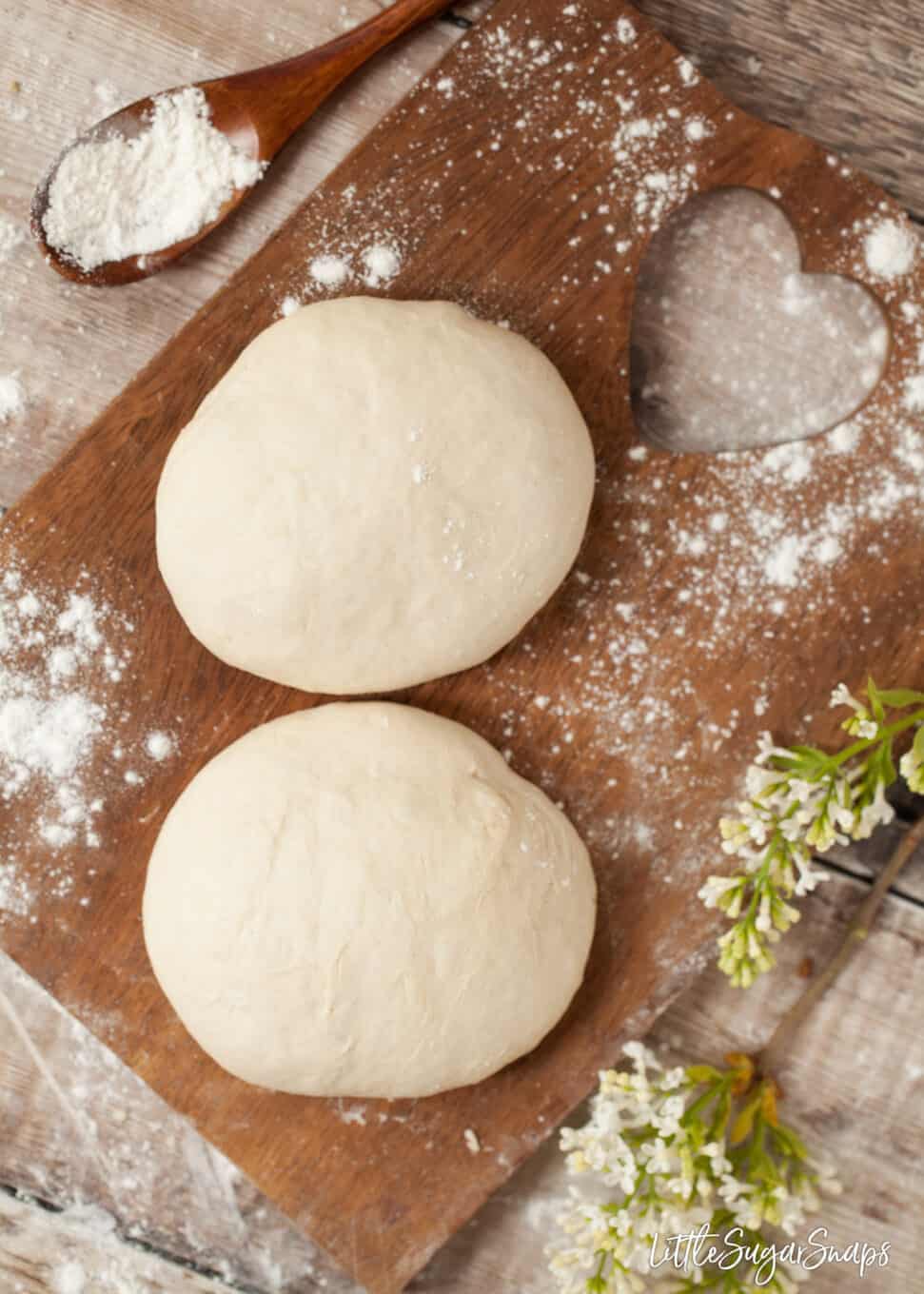 Why beer pizza crust is worth making
Quite simply, the addition of beer adds robustness to the flavour of pizza dough. It also helps to produce a crisp exterior whilst the interior of the crust will display a lovely chewiness about it. All in all, this simple addition is a winning strategy.
And if you're concerned that your pizza crust will taste strongly of beer, worry no more. The alcohol burns off during the cooking process, making the flavour mellow considerably. Although beer definitely adds depth to the flavour of the pizza crust, on the whole, only a slight hint of beer (if any) will be detectable.
Ingredients notes
The components of my pizza dough with beer are not glamorous, so most homes probably keep them generally in stock:
Strong bread flour
Light beer
Water
Salt
Fast action yeast
Strong bread flour has a high protein level which helps create rise and structural support in the dough along with a chewy texture. '00' flour (pasta flour) can be used as an alternative but plain or self-raising flours are not suitable substitutions.
Instant dried yeast does not need to bloom in water before using. Instead, it is activated when mixed directly into the flour and liquid. It's a very easy yeast to use (try Doves Farm Quick Yeast). If you prefer to use fresh yeast, try using 5g in place of the quick yeast.
My top choice of beer for this beer pizza crust is Birra Moretti – an Italian lager.
Step-by-step instructions
Beer pizza dough can be kneaded by hand or in a stand mixer fitted with a dough hook. Regardless of which method you use, I suggest initially mixing the dry and wet ingredients together with a wooden spoon in order to ascertain when enough liquid has been incorporated:
Put the flour into a mixing bowl then add the salt to one side and the yeast to the other.
Mix the beer and water together and pour ¾ into the bowl.
Using a wooden spoon mix the ingredients together, adding more water as necessary until a soft dough forms that incorporates all of the flour. You may not need all of the liquid or you may, just occasionally, need a splash more – this is largely dependent on the flour. Aim for a dough that is soft but not wet or sticky.
Knead, either by hand or in a machine, for 5-10 minutes until the dough is smooth and elastic. Wipe a little olive oil around the base and sides of a clean medium-large bowl. Place the dough in the bowl.
Cover with a clean tea towel and leave to rise for 60-90 minutes, or until doubled in size.
When risen, knockback, fold the dough over itself a few times, shape it into a ball, then divide it into two. Your dough is ready to use.
Expert tips
If using fresh yeast don't forget to let it bloom – just crumble it into the liquid with a teaspoon of sugar, whisk to combine and let stand for around 10 minutes until it starts to turn bubbly. Proceed with the recipe.
Resist the urge to pour all of the liquid into the flour straight away. Flours can vary and some will need more liquid than others to produce a dough with great consistency. It's better to add ¾ and splash in more as required to produce a soft but not sticky dough.
It is important to use room temperature beer and lukewarm water since dough takes far longer to rise when made with cold ingredients.
Dough also takes longer to rise in a chilly environment. A room around 20C/ 40F is ideal.
Don't rush the proving. Sometimes dough takes quite a while to rise – it can depend on many factors.
Make it vegan – just ensure that your beer is vegan and proceed with the recipe.
This recipe is not suitable for those on gluten-free diets as it contains wheat flour. Remember too that many beers contain gluten, so you would need to select carefully. I highly recommend the gluten-free pizza dough recipe from the Loopy Whisk. Of course, if you do come across a good gluten-free beer you could always try adding some into this recipe in place of some of the water.
If you have a bread machine you can let this gadget do all the mixing and proving.
How to shape pizza dough
The true Italian way to shape pizza is by hand stretching it and twirling it up in the air. I'll be honest and confess that this is one skill I have yet to master. Take a look at this video if you would like to give this technique a go.
Instead, I've adopted a 2-stage method to stretch my pizza crust. I use a rolling pin (part 1) and my hands (part 2) to shape my dough. It's not an authentic technique, and my pizza may not always be a perfect circle, but that just adds to the rustic charm of homemade in my view. Here's my method for shaping my beer pizza crust:
Part 1: Rolling Pin
To begin, flour your worktop and rolling pin and put one portion of the beer pizza dough onto the worktop.
Press it out slightly with your hands to form a circle.
Use the rolling pin to begin stretching it out. To do this, position the edge of the roller inside of the circle of dough, about ½ inch from the edge. Roll once, taking care to apply pressure to the left-hand side of the disc only.
Turn your dough clockwise by ⅛ of a circle, position your rolling pin again and roll once more.
Keep on rotating and rolling the dough until a full circle has been completed.
By constantly positioning your rolling pin inside of the edge of the dough the raised edge of the pizza should begin to be visible. Once you have worked your way around the edge of the pizza with the rolling pin, it's time to put this tool aside and use your hands.
Part 2: Hands
Pick up the dough and begin to stretch the dough gently using both your hands
Again, work your way around the pizza, stretching outwards.
As the pizza gets larger and thinner you may prefer to lay it on the worktop and gradually tease the dough out further, rotating it around as you work.
Notice that the ridge created around the edge remains.
Once ready place onto a baking sheet dredged with coarse semolina.
For a visual representation of this hands-on action take a look at this video – the latter half demonstrates how I shape my pizza once I've completed the initial rolling out.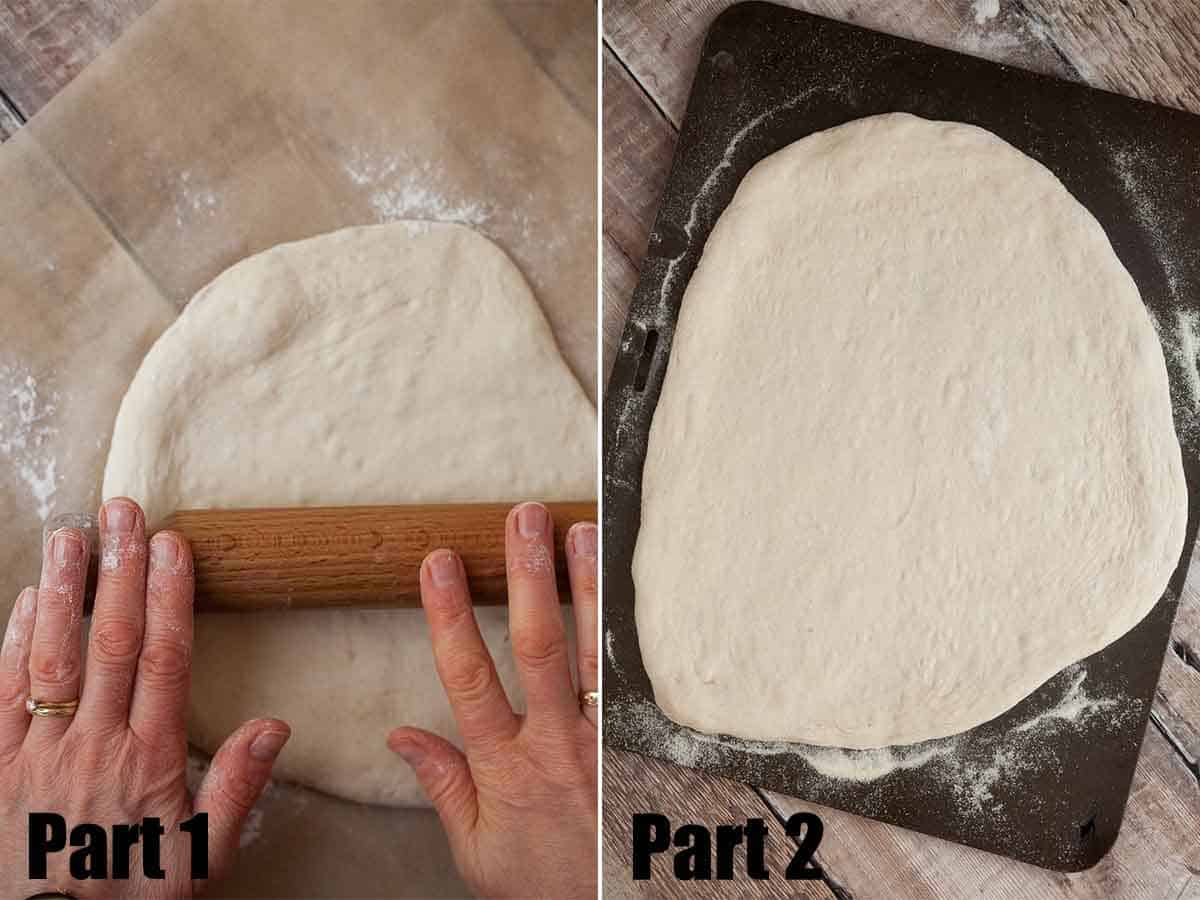 How to cook pizza in the oven
When it comes to cooking beer pizza dough I have 5 tips to keep in mind:
Oven temperature is key to success in pizza making, so dial up that temperature as far as your oven will allow. In my case, that is 275C (525F). Wood-fired pizza ovens get far hotter – more like 400C (750F), so it makes sense to aim for as hot as possible in our home ovens to achieve a good rise and crisp base on our homemade beer pizza crusts.
Heating a pizza stone/ baking tray prior to adding the pizza follows on from this train of thought – it helps to create intense heat. To do this just pop your pizza stone/ baking sheet into the oven as it heats up and leave it there. Slide your prepared pizza onto the hot stone/ sheet to cook it.
Coarse semolina scattered across the heated baking tray/ pizza stone prior to sliding the raw pizza onto it will help keep the dough from sticking during cooking. Semolina is a much better bet than flour since it doesn't char as easily and any residue on the pizza will be better texturewise than loose flour. Dust the baking sheet just before sliding the pizza onto it to avoid the semolina charring too much. And if cooking multiple pizzas it may be necessary to replace or renew the semolina if it looks burnt.
Add toppings with moderation. Don't overload your pizza crust as this will weigh it down, making it hard to transfer to the hot baking sheet/ stone in the oven.
Working with speed is also essential once the pizza is rolled out. I typically place my rolled base onto a baking sheet sprinkled with coarse semolina, quickly add on my toppings and slide it into the oven, all in around 90 seconds. A raw pizza that sits around too long once rolled and topped will be hard to slide off of one baking sheet onto the other hot one.
Frequently asked questions
What kind of beer is best for pizza crust?
Any – within reason! It's worth keeping in mind that the fuller-flavoured the beer the more pronounced the taste of it will be in the pizza crust, so you may want to think carefully before splashing in the likes of Guinness. I really enjoy using light beers such as Birra Moretti or San Miguel in this beer pizza dough recipe.
Can children eat beer pizza crust?
Yes, they can. The pizza is cooked at a very high temperature, so the alcohol present in the dough evaporates as it cooks, making beer pizza crust safe for children to eat.
I can't consume beer, what should I use instead?

If you are not able, or just not keen, to add beer to your pizza dough feel free to replace it with water.
Can I Make this Dough Ahead of Time?

This pizza dough with beer can be made in advance. Once the dough is mixed and kneaded it can be put in the fridge to rise for 12-18 hours. Once ready to use, simply take it out of the fridge and let it sit at room temperature for an hour before using.
Make this Recipe for 1, 2, 4 or More
It's easy to scale up or down this beer pizza dough recipe. I've presented quantities for 2 servings but keep the following measures per person in mind and just multiply by the number of diners:
125g/ 1 cup strong bread flour
42.5ml/ 8.5 teaspoon light beer
42.5ml/ 8.5 teaspoon Water
¼ teaspoon salt
⅜ teaspoon fast action yeast
Remember to use an appropriately sized bowl for larger numbers – perhaps even dividing between several large bowls if making for more than 4 people.
Pizza Topping Ideas
Do you have a favourite topping? Do you have a few you loath too? You can throw ham and pineapple into the latter camp for me, but here are my suggestions for topping this flavourful pizza dough with beer:
Buffalo mozzarella, slow-roasted tomatoes and pepperoni.
Blue cheese, diced red chilli, caramelised pear & rocket.
Goats cheese, slow-roasted tomatoes & green pesto.
Salami, artichoke & taleggio cheese.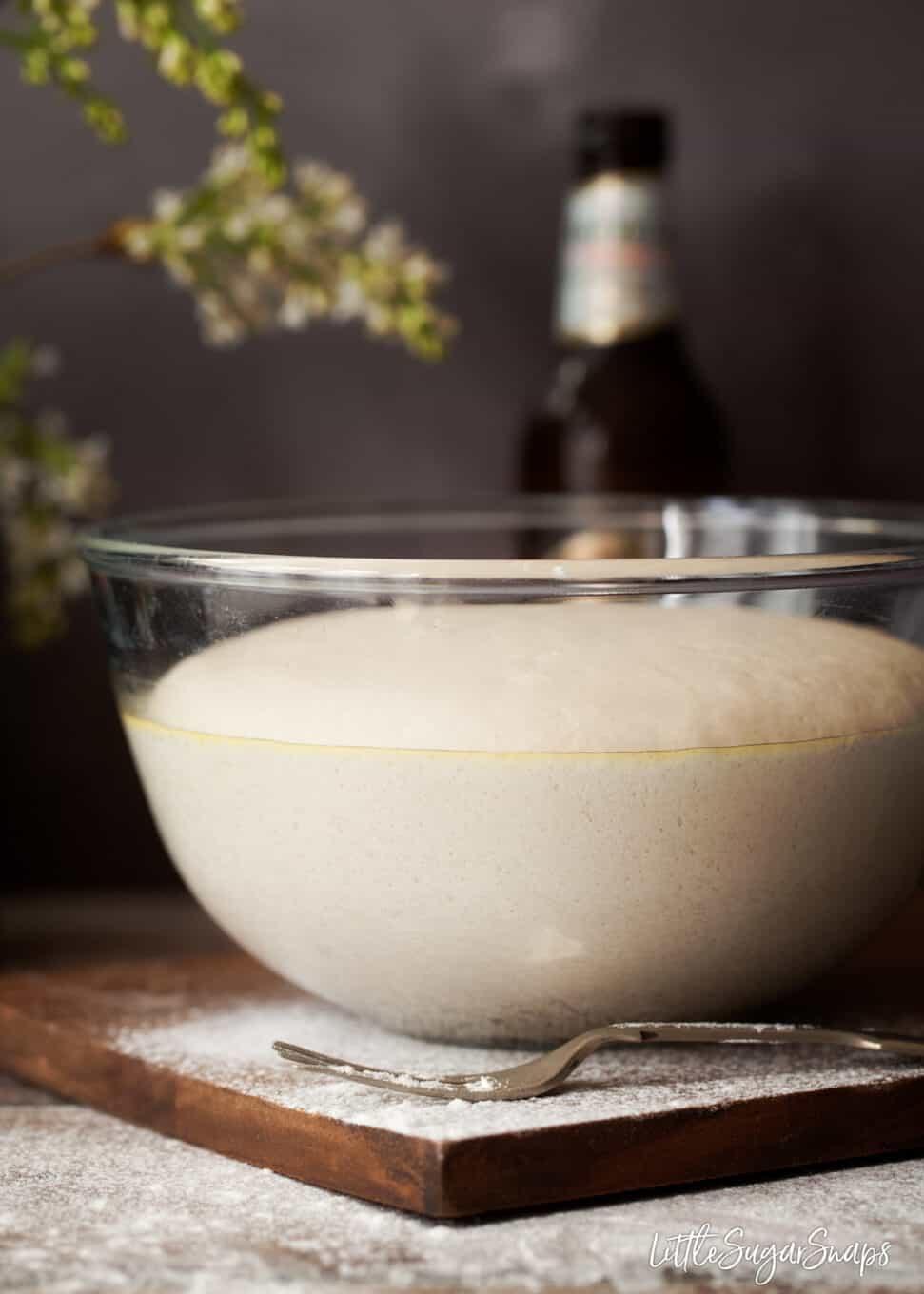 More pizza inspiration: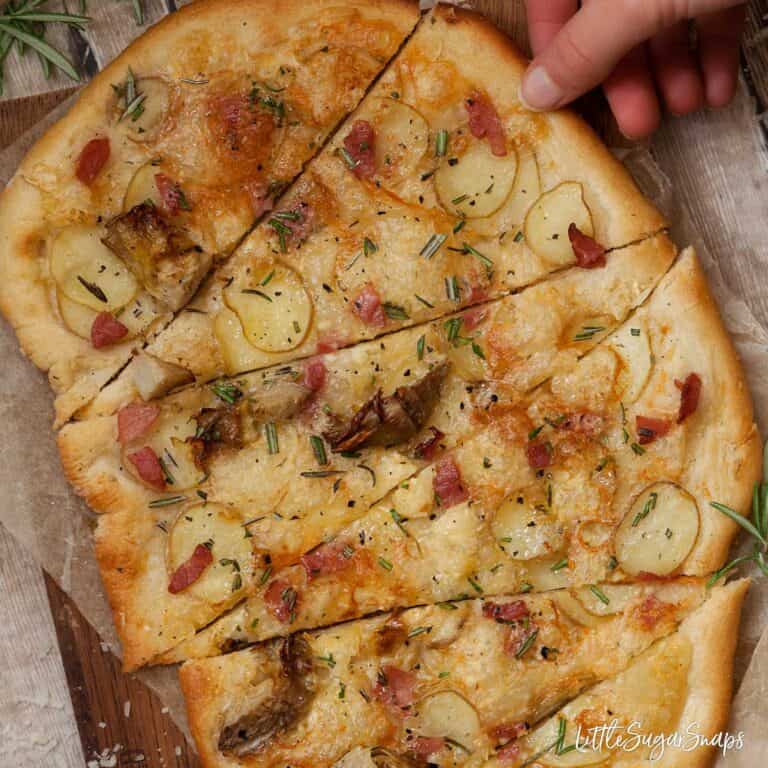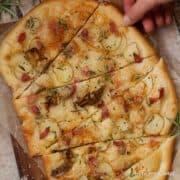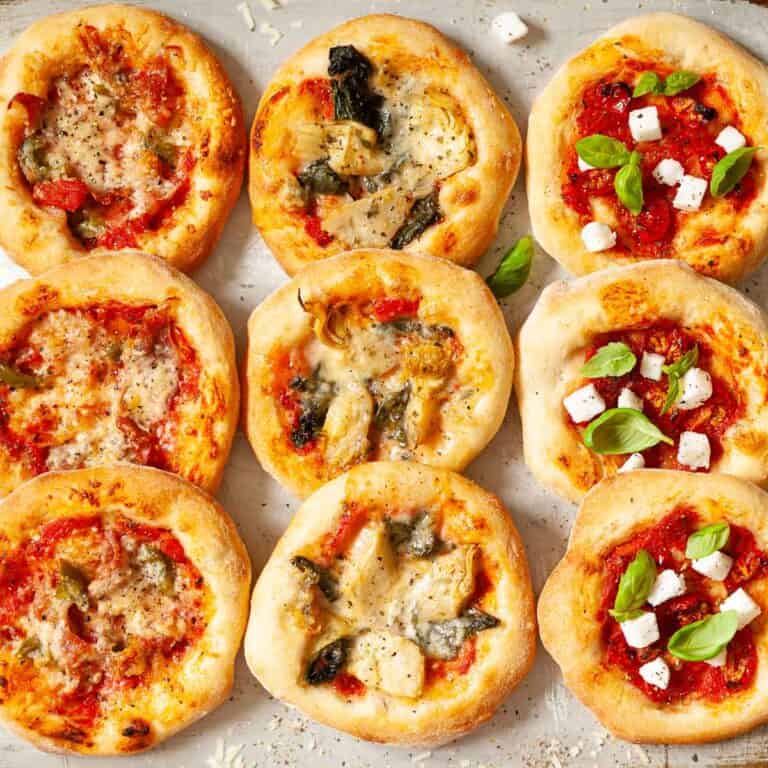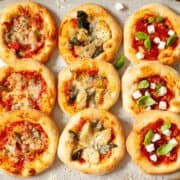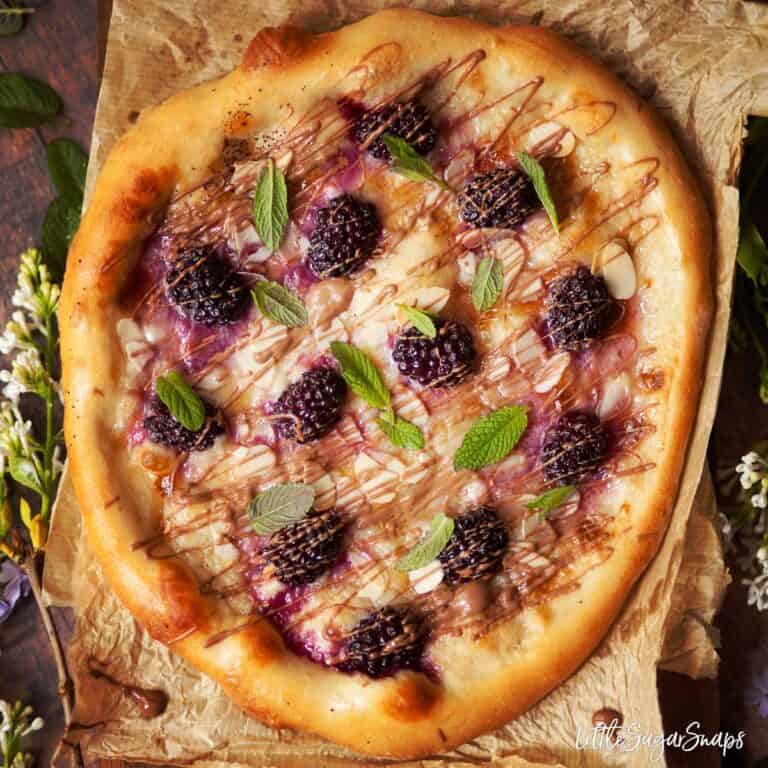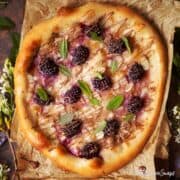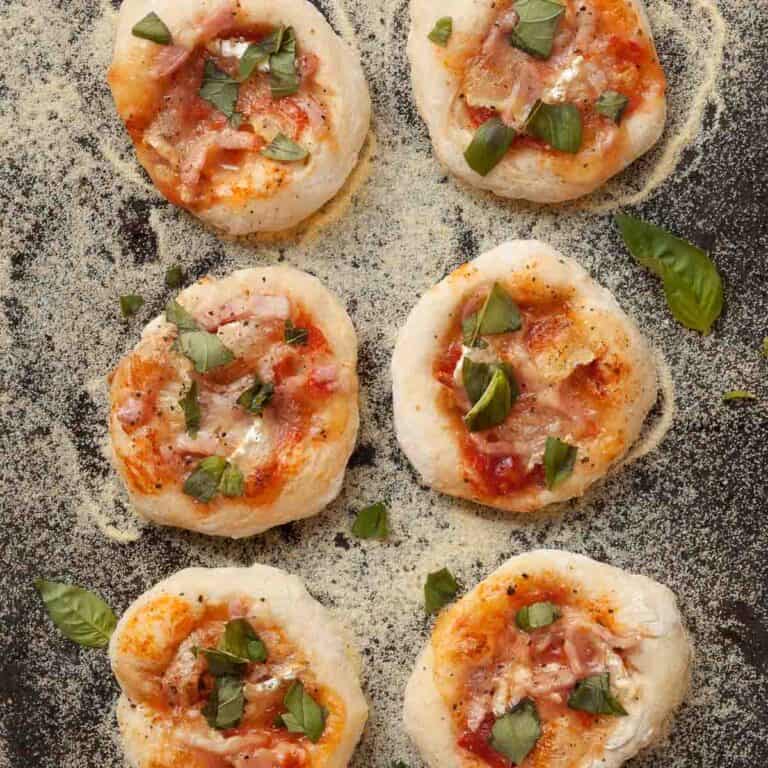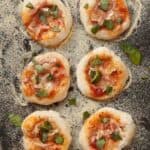 Have you made this pizza dough with beer? If so please let me know how you got along with the recipe by leaving a comment and/ or rating below. I always love to hear from my valued readers.
Before you dive into the recipe, why not sign up to receive LittleSugarSnaps newsletters. You'll hear firsthand when new recipes are published. Plus there's a free welcome e-book with my top baking tips and 5 favourite cake recipes waiting for you. You're welcome to stay in touch on Facebook, Instagram and Pinterest too.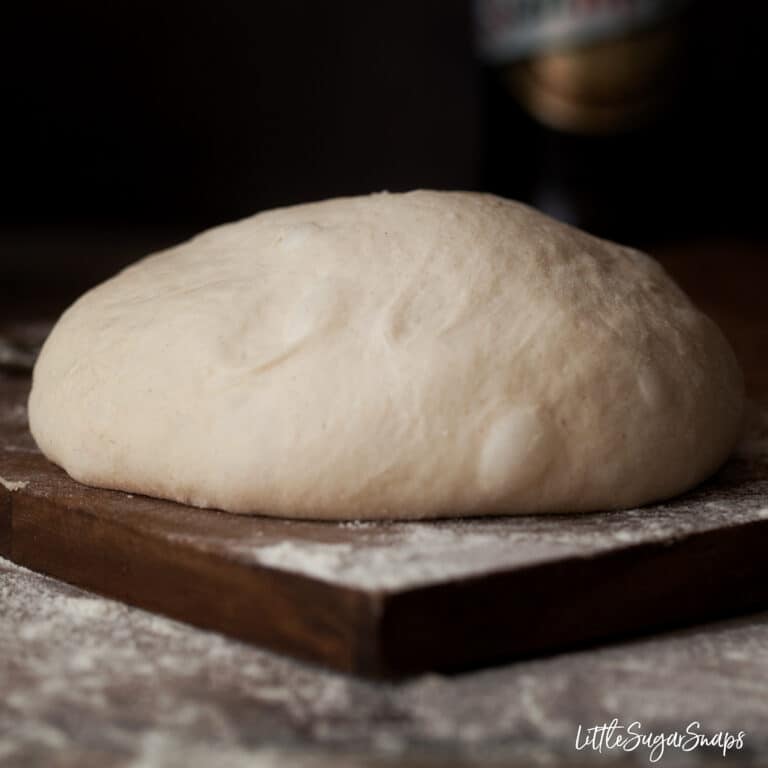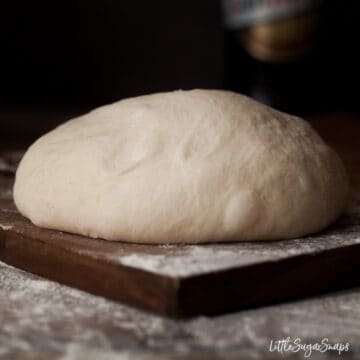 Beer Pizza Dough (Small Batch)
Beer pizza dough takes homemade pizza to a whole new level. It's way better than the average take-out and of course, toppings are entirely customisable. This small-batch pizza dough can easily be scaled up to feed more people. (see notes for how to scale this recipe up or down)
Print
Pin
Rate
Ingredients
250

g

Strong bread flour

85

ml

Light beer

room temperature (e.g. Moretti, San Miguel)

85

ml

Water

luke warm

½

teaspoon

Salt

¾

teaspoon

Fast action yeast
Instructions
Put the flour into a medium-sized bowl then add the salt to one side and the yeast to the other

Mix the beer and water together and pour ¾ into the bowl

Using a wooden spoon mix the ingredients together, adding more water as necessary until a soft dough forms that incorporates all of the flour. You may not need all of the liquid

Knead, either by hand or in a machine, for 5-10 minutes until the dough is smooth and elastic

Put a teaspoon of olive oil into a clean bowl, spread it around the base and sides with your fingers, then place the dough in the bowl, cover with a clean tea towl and leave to rise for 60-90 minutes, or until doubled in size

When risen, knock back, knead briefly, then divide into two. Your dough is ready to use
To Cook the Pizza Dough
Preheat your oven to as hot as it will go (mine can heat to 275C/ 525F/ GM 11) and put 2 large baking sheet into the over to heat up too

On a floured surface, roll out/ hand stretch the first piece of dough to approx 9 inch

Scatter course semolina or polenta onto another baking sheet and lay the prepared pizza base on top. Scatter the toppings of your choice over the pizza base and transfer to the oven as soon as possible to prevent it sticking to the baking sheet (don't be tempted to prepare the second pizza before transferring the first to the oven – it will most likely end up stuck to the sheet)

Open the oven, scatter a teaspoon of the semolina/ polenta over the pre-heated baking sheet and slide the prepared pizza onto it. Allow the pizza to cook for 5-8 minutes, turning the pizza round midway to ensure even cooking if necessary

As soon as the first pizza goes into the oven, roll out the remaining dough and get it into the oven as fast as you can
Notes
How to Scale this recipe up/ down
It's very simple. Each single portion of pizza requires the following measures:
125g/ 1 cup Stong bread flour
42.5ml/ 8.5 teaspoon Light beer
42.5ml/ 8.5 teaspoon Water
¼ teaspoon salt
⅜ teaspoon Fast action yeast
So to make enough dough for 3 people, simply multiply these measures by 3 or for 4/5/6 people, multiply them by 4/5/6 respectively. Here are the measures required for 4 portions:
500g/ 4 cup Stong bread flour
170ml/ 11.5 tablespoon Light beer
42.5ml/ 11.5 tablespoon Water
1 teaspoon salt
1.5 teaspoon Fast action yeast
Of course, the bowls needed will increase in size the more dough is made. I would suggest a large mixing bowl to let the dough for 4 rise and I would split the dough across several bowls if making larger quanties.
Nutrition Per Serving (Approximate)
Calories:
478
kcal
|
Carbohydrates:
93
g
|
Protein:
17
g
|
Fat:
2
g
|
Saturated Fat:
1
g
|
Sodium:
590
mg
|
Potassium:
168
mg
|
Fiber:
4
g
|
Sugar:
1
g
|
Calcium:
19
mg
|
Iron:
1
mg
(Visited 4,795 times, 14 visits today)