Cioccolata calda (aka thick Italian hot chocolate) is pure heaven for chocoholics. It is rich and thick, but still liquid enough to class as a drink not a dessert. And sweet joy, it takes just 10 minutes to make.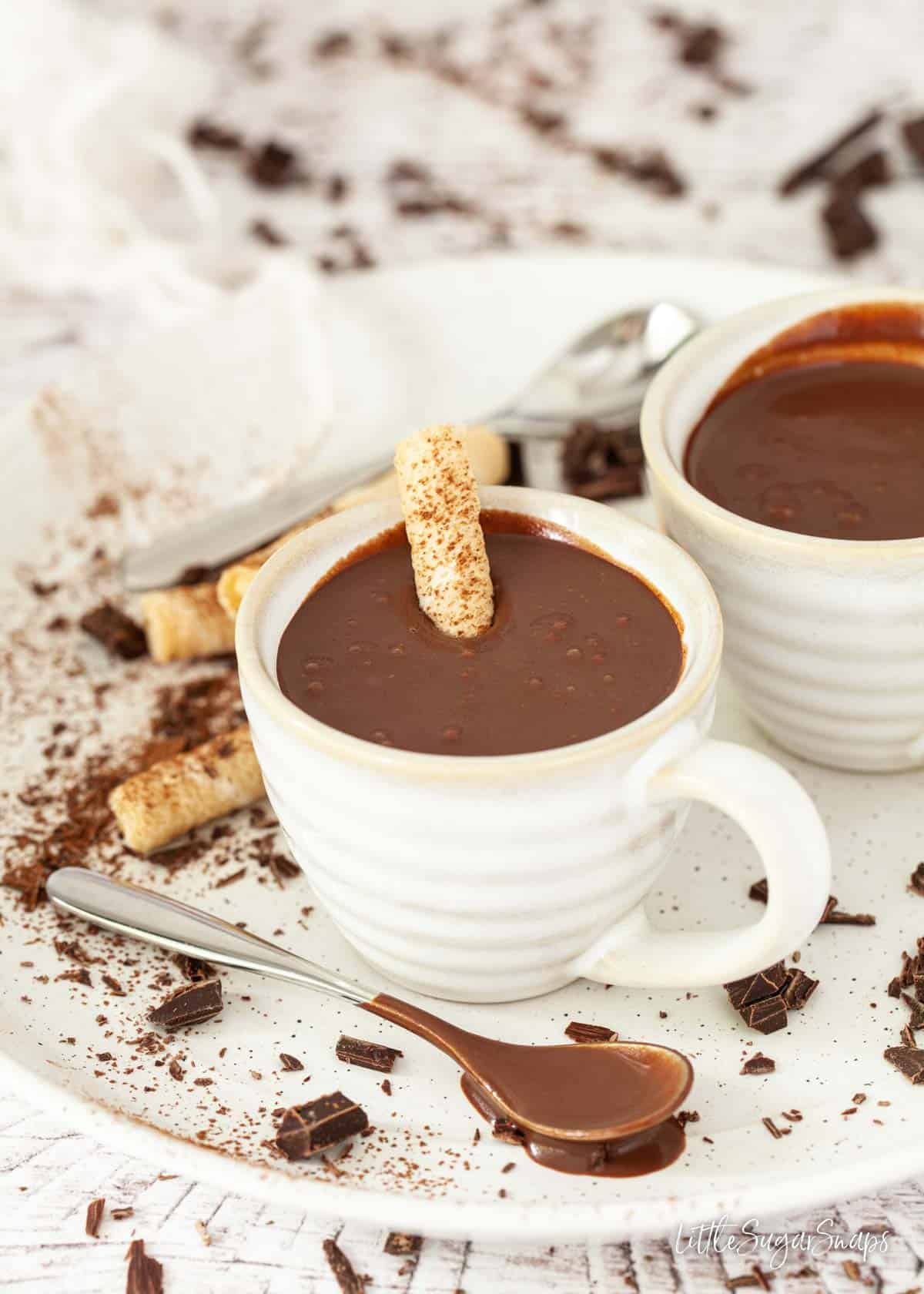 I fell in love with Cioccolata Calda (aka Italian hot chocolate) on my honeymoon in Florence many years ago. Truthfully, it was a bit warm to be drinking hot chocolate at the time. But it was my first time in Italy, I'd ready a guide book and I was buzzing from being newly-wed. I was definitely going for it.
Unsurprisingly, it did not disappoint. Italians seem to know a thing or two when it comes to hot chocolate.
The memory of this culinary holiday delight has stayed with me over the years. But it's only recently that I've realised how easy it is to make thick Italian hot chocolate at home.
Why You Should Make Italian Hot Chocolate
Italian hot chocolate is liquid heaven for chocoholics. It is thick, but still fluid enough to class as a drink not a dessert. And it is intensely chocolate rich with just a hint of sweetness about it.
Cioccolata calda is also very simple to make and can be adjusted easily to accommodate your personal taste preferences. Seriously, what is not to love.
Ingredients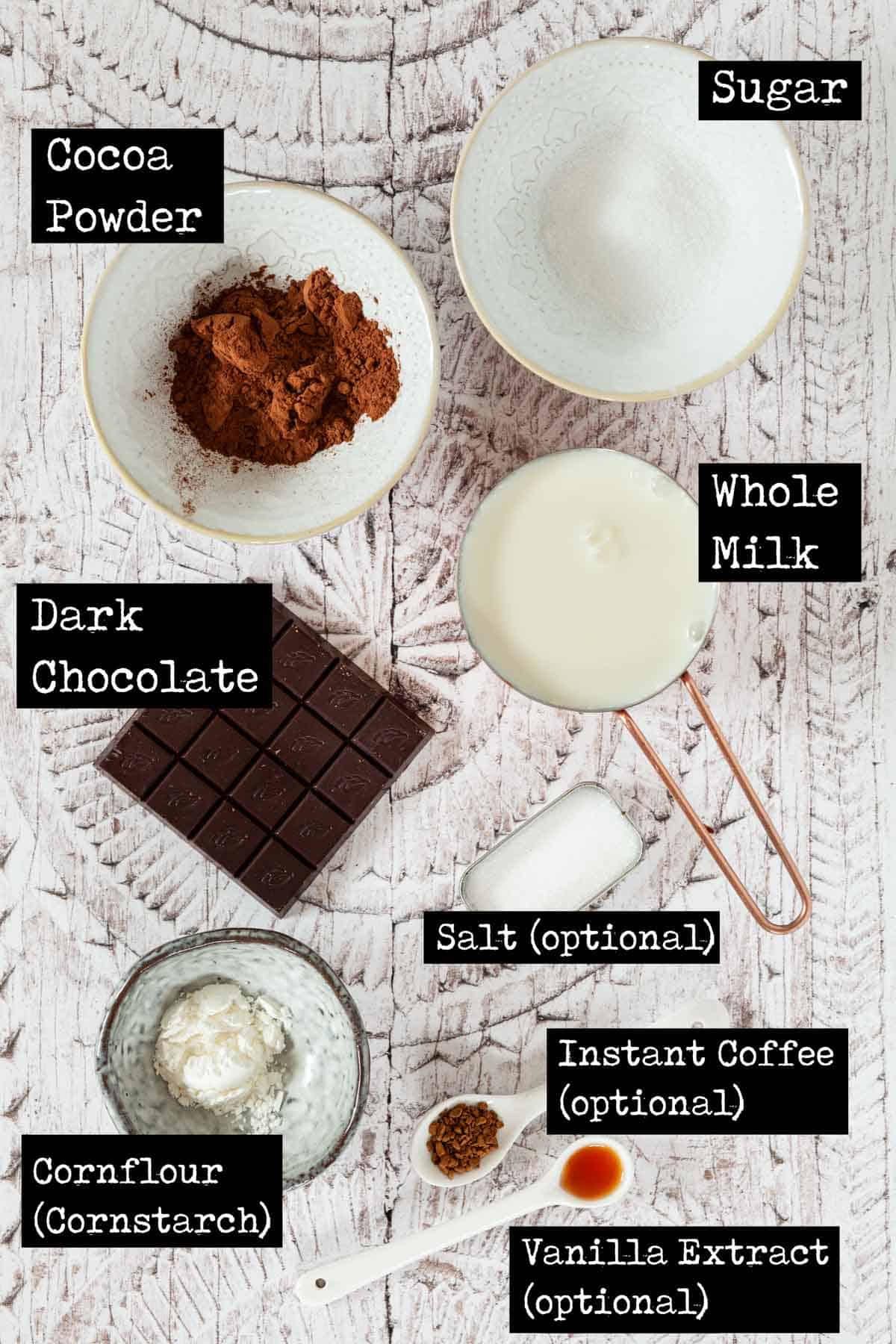 Though my list of ingredients pictured above stands at 8, three of these are entirely optional. There are just 5 ingredients that are essential for cioccolata calda: chocolate, cocoa powder, milk, cornflour and sugar.
Step by Step Instructions
This thick Italian hot chocolate is a particularly easy drink to make. Follow the 5 steps below and it will be ready in 10 minutes:
Step 1: Begin by chopping the chocolate finely and measuring the cornflour, cocoa and sugar into a saucepan. Add the salt and coffee granules if using
Step 2: Add 3 tablespoons of the milk to the pan and whisk until smooth - a small handheld whisk is ideal for this task
Step 3: Pour in the rest of the milk and the vanilla extract (if using) and heat, stirring constantly until hot but not boiling.
Constant stirring is vital as the recipe include cornflour which will turn lumpy if not kept continuously on the move whilst it is cooking.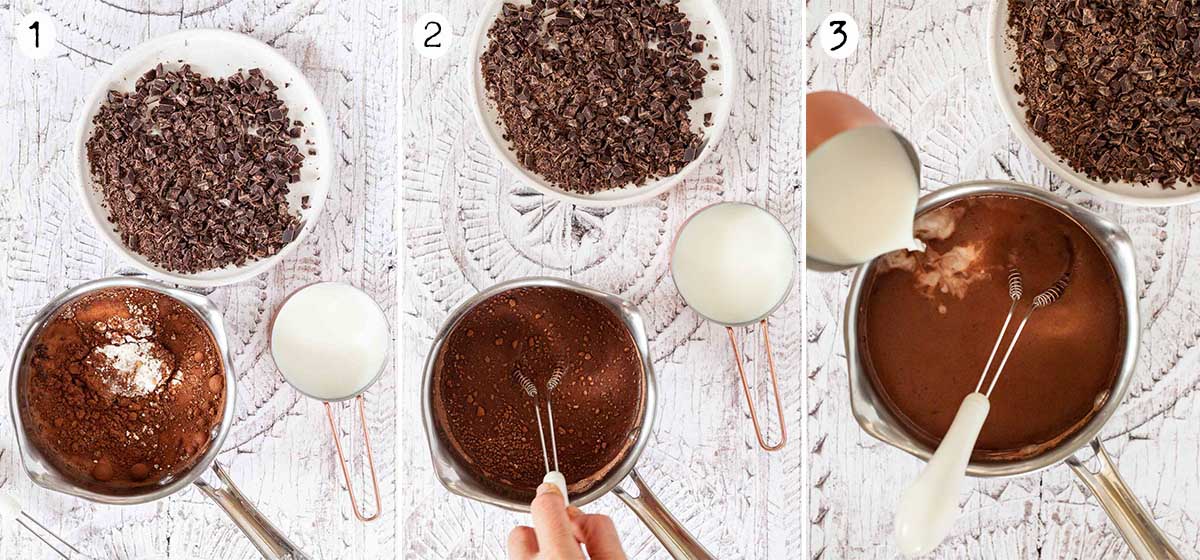 Step 4: Slide the chopped chocolate into the pan, return to a low-medium heat and keep on stirring until the chocolate has melted and the drink has thickened.
Step 5: Take off the heat and give a really good stir. Pour the cioccolata calda into 2 small cups and serve the cioccolata calda straight away with a spoon and biscuits for dunking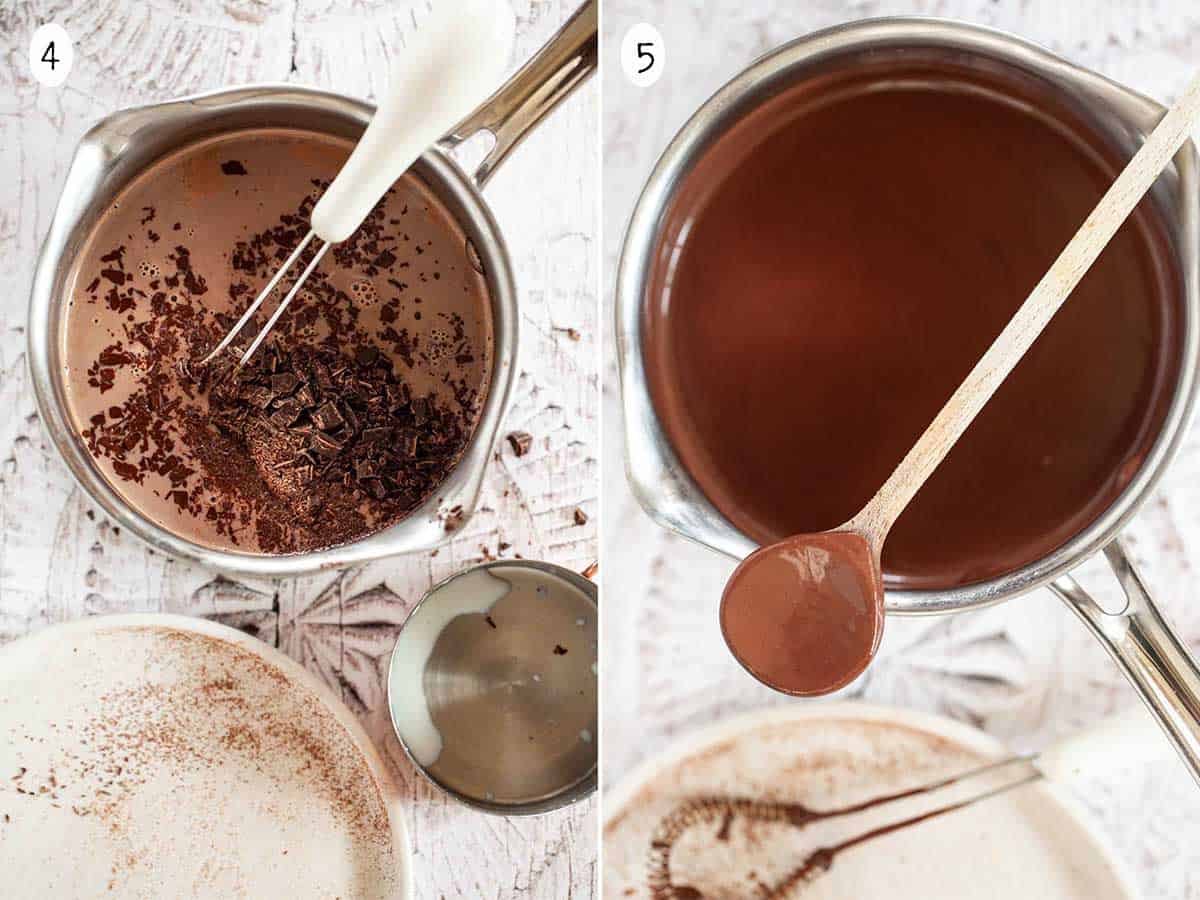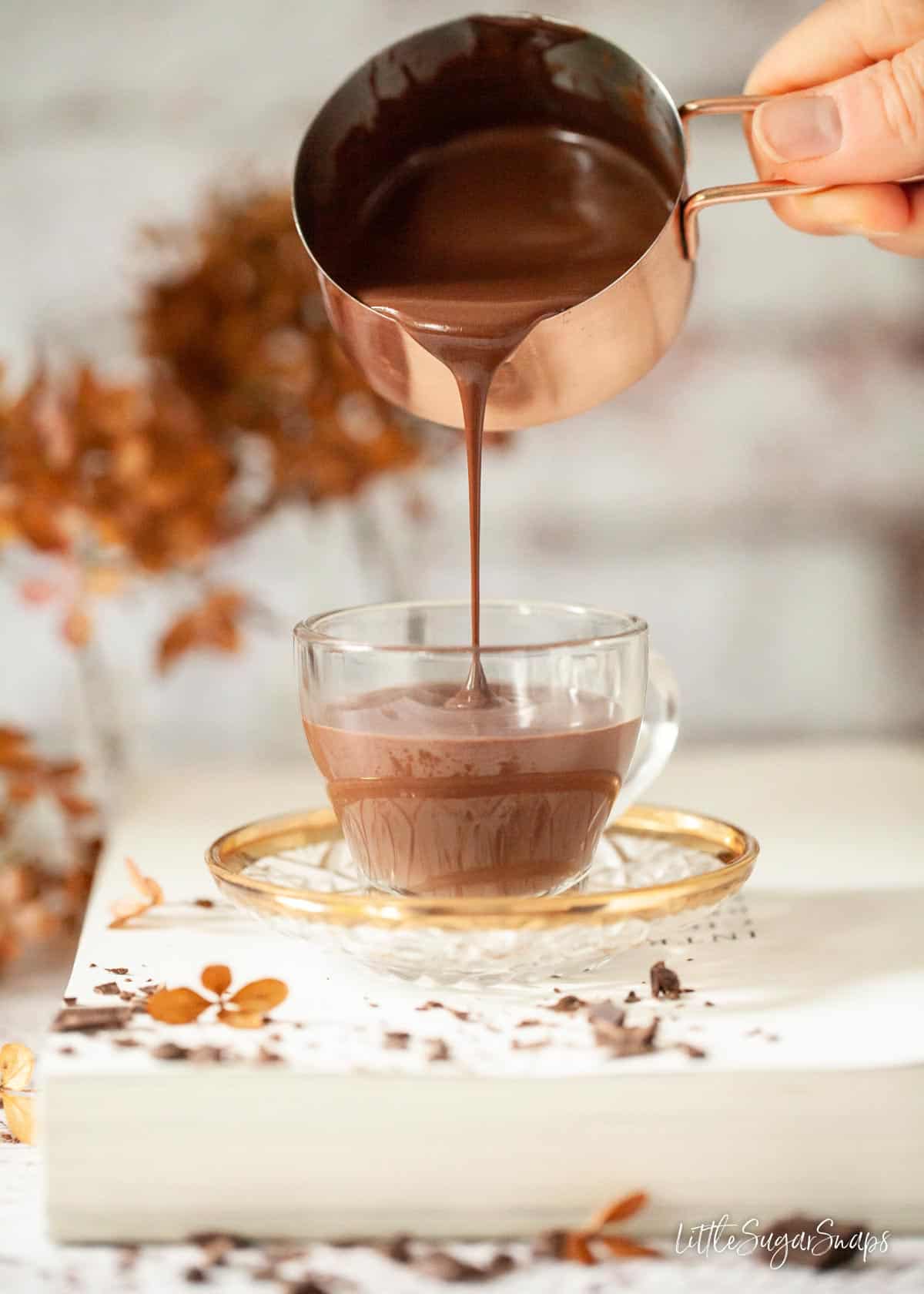 Expert Tips and FAQs
Tips
This thick and indulgent cioccolata calda is incredibly easy to make. Follow the instructions and you can't go far wrong. But here are a few extra pointers to help you achieve your ideal Italian hot chocolate drink:
the precise taste of this drink is entirely dependent on your choice of chocolate. Go for quality, but do ensure that the level of cocoa solids present is one that you are happy with. The higher the percentage of cocoa solids, the darker, less sweet and more intense the drink will be
dark chocolate is the best option for this drink, but if you are set on using milk chocolate, you can omit the sugar - it really won't be necessary
Cioccolata Calda is an incredibly rich and luxurious drink designed to be served in small quantities, so pull out some suitably small yet elegant serving cups for this beautiful creation
I urge you to try out the base recipe first and then try it with my optional extras - small quantities of salt, vanilla and coffee. These extras are by no means traditional but they do pull the flavours around in a rather lovely fashion
Similarly, if you want to inject a little flavour into your cioccolata calda the most natural way to do this is by using flavoured chocolate. It's easy to pick up mint and orange variations of dark chocolate for instance
Remember that adding liquids (such as alcohol or syrups) to the drink will alter the thickness and sweetness of the final drink. If doing so consider increasing the amount of cornflour slightly and reducing the amount of sugar
Frequently Asked Questions
Can I use non-dairy milk
By all means the whole milk can be replaced with a non dairy alternative. My top choice would be almond milk.
If using coconut milk, you may need to reduce the quantity of cornflour used (try 1 tsp) as coconut milk is naturally thicker than regular milk.
What should I serve with this drink?
To add cream or not to add cream? That is the question. Honestly, this drink is so rich and decadent that a swirl of cream on top just seems like overkill to me. That's just me though - you may feel differently.
My preference is to serve this rich and thick Italian hot chocolate with a small spoon and some simple biscuits or wafers to dunk. Try biscotti, cantuccini or even some Viennese fingers.
Can I make it in advance and reheat?
Yes, this drink can be reheated. You may find it is thicker after being heated up again, so an extra splash of milk might just be required to return it to premium consistency.
Don't forget to keep on stirring as the drink heats through to avoid those nasty lumps forming - remember this recipe has cornflour in it.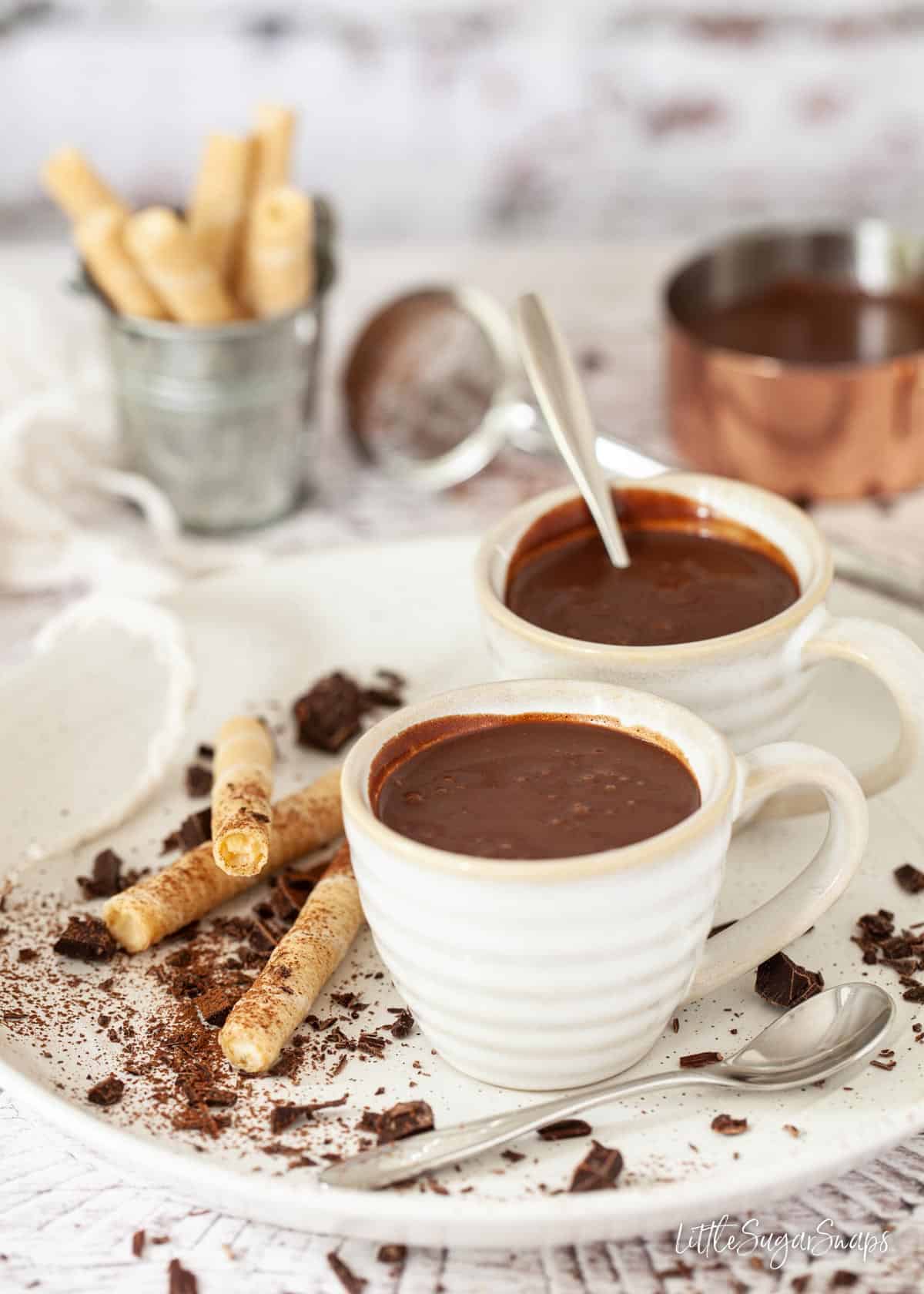 More Hot Chocolate Recipes to Try Out
I've quite a collection of hot chocolate recipes on here now. Reader favourites include:
If you have tried this flourless orange cake recipe please give it a rating below. Don't forget to share your creations with me on Instagram too - I love to hear how you've got along. Use #littlesugarsnaps and tag me @jane_littlesugarsnaps.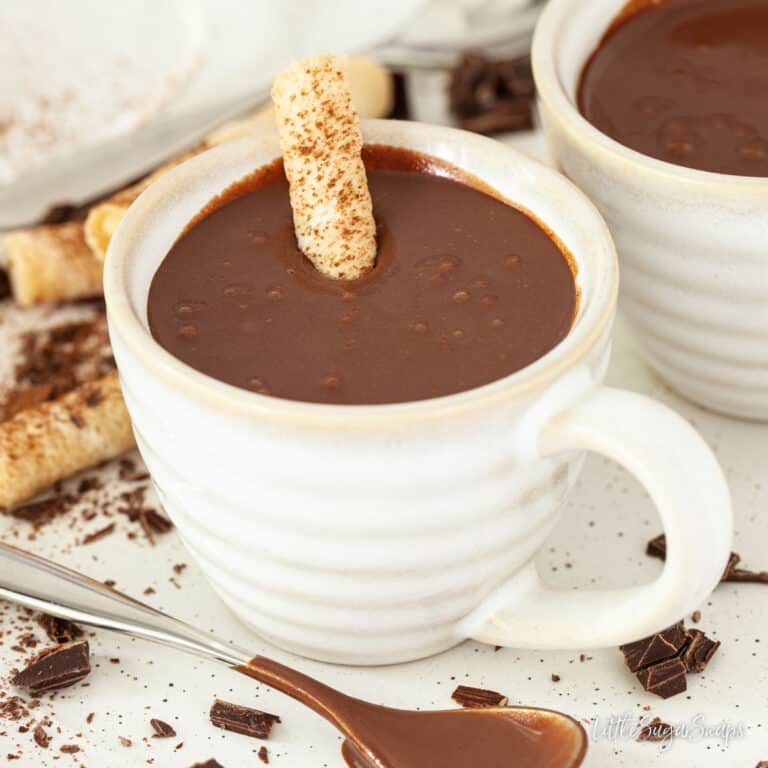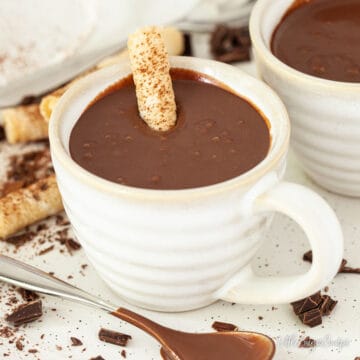 Cioccolata Calda (Italian Hot Chocolate)
Cioccolata calda (aka Italian hot chocolate) is pure heaven for chocoholics. It is rich and thick, but still liquid enough to class as a drink not a dessert. And sweet joy, it takes just 10 minutes to make.
Print
Pin
Rate
Ingredients
250

ml/ 1 cup

Whole milk

full-fat

2

tsp

Cornflour

cornstarch

50

g/

Dark chocolate

at least 70%

15

g/ ½ oz

Cocoa powder

15

g/ ½ oz

White sugar
Optional extras
⅛

tsp

Salt

½

tsp

Vanilla extract

¼

tsp

Instant coffee granules
Instructions
Begin by chopping the chocolate finely and measuring the cornflour, cocoa and sugar into a saucepan. Add the salt and coffee granules if using

Add 3 tablespoons of the milk to the pan and whisk until smooth

Pour in the rest of the milk and the vanilla extract (if using) and heat, stirring constantly until hot. Constant stirring is vital as the recipe include cornflour which will turn lumpy if not kept continuously on the move whilst it is cooking.

Slide the chopped chocolate into the pan, return to a low-medium heat and keep on stirring until the chocolate has melted and the drink has thickened

Pour into 2 small cups and serve straight away with a spoon and biscuits for dunking
Notes
The precise taste of this drink is entirely dependent on your choice of chocolate. The higher the percentage of cocoa solids, the darker, less sweet and more intense the drink will be. Use quality chocolate, but do ensure that the level of cocoa solids present is one that you are happy with
Dark chocolate is the best option for this drink, but if you are set on using milk chocolate, you can omit the sugar – it really won't be necessary
Cioccolata Calda is an incredibly rich and luxurious drink designed to be served in small quantities, so pull out some suitably small yet elegant serving cups for this beautiful creation
I urge you to try out the base recipe first and then try it with my optional extras – small quantities of salt, vanilla and coffee. These extras are by no means traditional but they do pull the flavours around in a rather lovely fashion
Similarly, if you want to inject a little flavour into your cioccolata calda the most natural way to do this is by using flavoured chocolate. It's easy to pick up mint and orange variations of dark chocolate for instance
Remember that adding liquids (such as alcohol or syrups) to the drink will alter the thickness and sweetness of the final drink. If doing so consider increasing the amount of cornflour slightly and reducing the amount of sugar
The whole milk can be replaced with a non-dairy alternative. My top choice would be almond milk. If using coconut milk, you may need to reduce the quantity of cornflour used (try 1 tsp) as coconut milk is typically thicker than regular milk
This drink can be reheated. You may find it is thicker after being heated up again, so an extra splash of milk might just be required to return it to premium consistency. And don't forget to keep on stirring as the drink heats through to avoid those nasty lumps forming
Nutrition Per Serving (Approximate)
Calories:
283
kcal
|
Carbohydrates:
31
g
|
Protein:
7
g
|
Fat:
16
g
|
Saturated Fat:
9
g
|
Cholesterol:
13
mg
|
Sodium:
206
mg
|
Potassium:
458
mg
|
Fiber:
5
g
|
Sugar:
20
g
|
Vitamin A:
203
IU
|
Calcium:
169
mg
|
Iron:
4
mg
(Visited 375 times, 1 visits today)