Calling all chocoholics. You'll enjoy this guide to making the best hot chocolate at home and my collection of 28 gourmet hot chocolate recipes to peruse. Go Continental. Get Fruity. Crack open the fun or get boozy. It's up to you.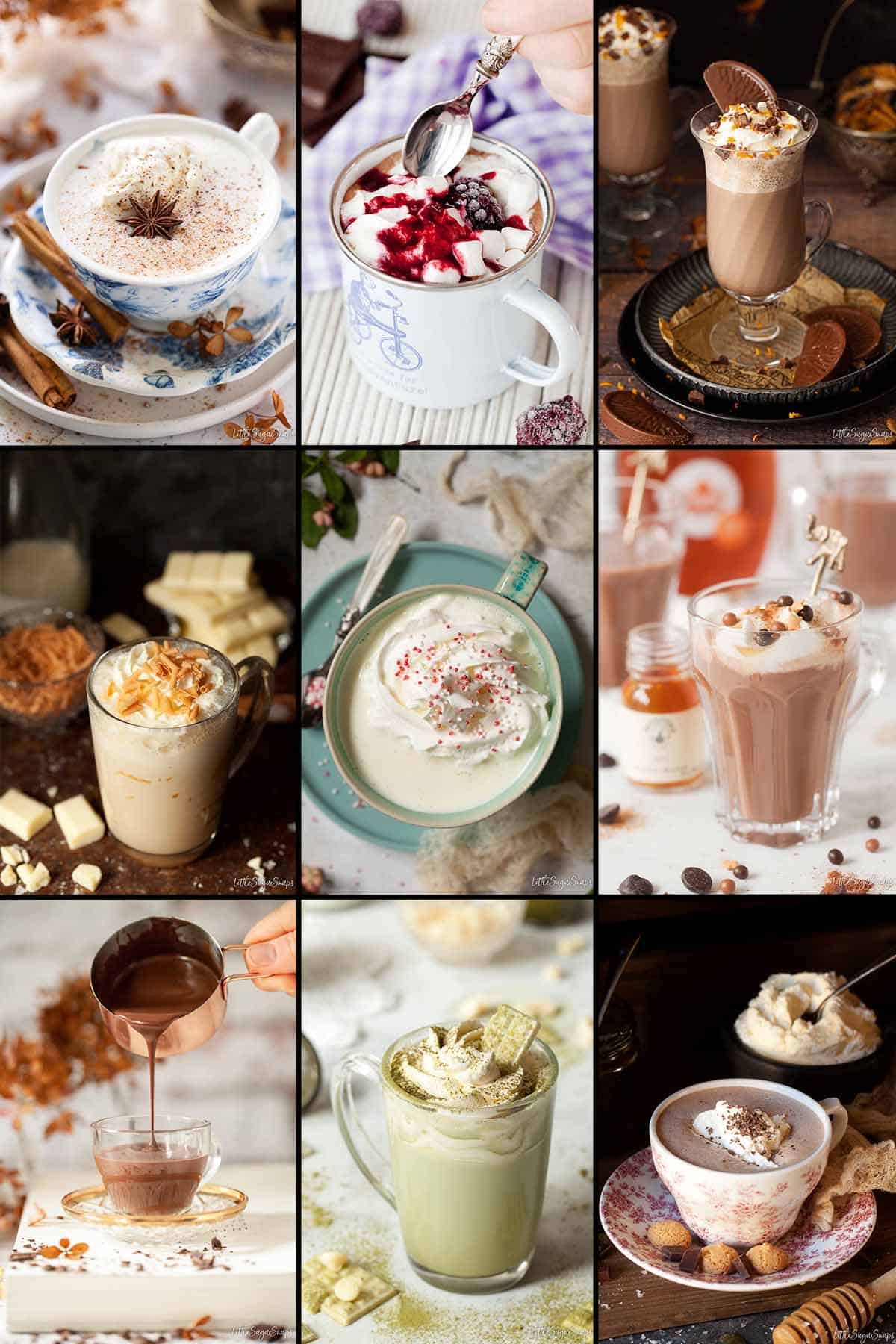 This post contains affiliate links. As an Amazon Associate, I earn from qualifying purchases.
Hot chocolate is the ultimate comfort drink. Warm, sweet and often decadently topped, it's really little wonder that this drink is popular the world over.
But when it comes to homemade hot chocolate, how do we ensure it's the best it can be? Read on to find out what ingredients to use, the best way to make it and how to present it for the ultimate chocolate drink experience.
Sprinkled throughout this guide to homemade hot chocolate are some of the best gourmet hot chocolate recipe ideas around too. There's something to entice all tastes.
What's the difference between hot cocoa and hot chocolate?
What do you call your warm chocolate drink – hot cocoa, hot chocolate or something else entirely? When I was a child I would only ever refer to it as drinking chocolate.
Although all three of these terms are often used interchangeably, there are some differences between these drinks. So let's get a little clarification on those variations.
Hot cocoa
Hot cocoa is usually made from cocoa powder blended with either water or milk. This makes it a relatively bitter chocolate drink so it's often sweetened with a little sugar.
It's made by mixing the cocoa powder with a little cold water to make a paste. Freshly boiled water or milk is then whisked in until the powder dissolves.
Hot cocoa is cheap, quick and relatively healthy, depending how much sweetener is added.
Drinking chocolate
Cadbury's Drinking Chocolate was the go-to warm chocolate drink of my youth. It is nothing more than cocoa powder pre-mixed with sugar. It should always be made with milk, never water, so the resulting drink is milkier, smoother, creamier and somewhat sweeter than many hot cocoa counterparts can be.
Note: Drinking chocolate is also an alternative name for hot chocolate.
Hot chocolate
This chocolate drink is hot cocoa's more opulent and flamboyant cousin. For this, real chocolate is melted into milk for a luxurious chocolate drink. Sweetness levels depend on the type of chocolate used, so sugar is not always necessary.
Continental hot chocolate
It would be remiss not to also mention continental style chocolate drinks here too as they are quite different again from a typical mug of hot cocoa or drinking chocolate served in the UK or US.
The likes of Italy and Spain blend real chocolate with milk and a little cornflour to create a rich and thick drinking chocolate served in espresso-sized cups. This decadent drink is called cioccolata calda in Italy or chocolate caliente in Spain and is wonderful served with biscotti or churros (respectively) for dunking in.
Does it matter what chocolate I use?
The best chocolate to use for homemade hot chocolate is usually the highest quality one you can afford. That said, most chocolate melts well when combined with hot milk, so never let a small budget hold you back. Cheaper chocolate leans towards the sweeter side of the taste spectrum, so taste before committing to any additional sugar in your drinking chocolate.
But perhaps the biggest dilemma when making a chocolate drink at home is what type of chocolate the base should be made from – dark, milk or white? They each give quite different results, so let's explore these options further.
Dark chocolate hot chocolate
Dark chocolate is known for being more intense and less sweet than milk chocolate, but it is highly suitable to use in warm chocolate drinks.
The intensity of the cocoa flavour depends on the percentage of cocoa solids present – the higher the percentage, the more intense and less sweet the flavour. Anything containing about 55% cocoa solids or more is generally classed as dark chocolate.
For a truly magnificent rich and intense drinking chocolate experience, opt for a bar with at least 70% cocoa solids. Sweeten (or not) according to your own taste preferences.
Milk chocolate hot chocolate
Made with milk, sugar and a much lower percentage of cocoa solids (usually around 20%-25%) milk chocolate is a firm favourite for munching on. But it can also be used to make a sweet and deliciously creamy chocolate drink.
I'd advise against adding sugar to this version, as most milk chocolate is sweet enough.
Look out for specialist milk chocolate bars with higher levels of cocoa solids. Hotel Chocolate make a 40% bar which is definitely going to help your drink rank amongst the best hot chocolate you've made.
White chocolate hot chocolate
Resoundingly popular with children and adults with a particularly sweet tooth, white chocolate can also feature in warm chocolate drinks. This version definitely will not need any sugar or other sweetener added to it.
Do yourself a favour and look out for white chocolate with a minimum of 20% cocoa solids. Any less than this and it really will be an inferior product.
What's the best way to make it?
Always use full-fat milk for the best hot chocolate with a rich, creamy and full flavour. Hot chocolate is an indulgent drink, so swapping the milk for semi-skimmed or skimmed milk is not the best course of action. Anybody watching their calories would be wiser to skip the whipped cream and toppings or opt for a hot cocoa drink instead.
The easiest way to make hot chocolate is on the stovetop but it can also be made in the slow cooker or the microwave. Whichever method is adopted, the milk should never be allowed to boil as this can cause any chocolate on the bottom of the pan to burn.
Stovetop method
Simply pick a suitably sized pan pour in the milk and begin to heat
Add chopped chocolate and let fully melt as the milk is heating, stirring or whisking frequently.
Once the chocolate has melted and the milk is hot use an emersion blender or a dedicated milk frother to whip the liquid to achieve a particularly smooth, creamy and bubbly finish.
Microwave method
Put the milk into a large microwave-safe jug and warm on moderate heat for 45 seconds then add the chopped chocolate.
Heat again for another 30 seconds then stir well.
Repeat twice more. By now the chocolate is likely to be melting well.
If necessary, continue to heat in 15-second bursts (stirring each time) until the chocolate has completed melted and the drink is hot enough.
Whip the drink until frothy and serve.
Slow cooker method
Most drinking chocolate recipes are very quick to make, and unless you are making a large batch, it is rarely sensible to make it using a slow cooker. The one exception is when intending to serve it at a party, when the slow cooker can then keep the drink warm.
To make hot chocolate in a slow cooker ensure at leave 8 servings are to be made, then put all ingredients into the pan and cook on low for 2½ hours, stirring several times. Froth using a stick blender before serving.
What can I add to my basic hot chocolate?
Flavour enhancers
If you are keen to explore beyond a basic chocolate flavour consider adding any of the following to your homemade hot chocolate:
Extracts – vanilla, orange, almond and peppermint can all lift the base chocolate flavour profile significantly. It's best to add in small increments to ensure the added flavour is not overpowering.
Rosewater – a few drops can add an exotic hint of Turkish delight. This works particularly well with a dark chocolate base.
Syrups – gingerbread, chai spice, hazelnut and cinnamon syrup are just a few options amongst many. Use store-bought or homemade and use it to replace any added sugar in your recipe.
Coffee – dissolve coffee granules into the hot drink or mix in a shot of espresso to turn your drink into a mocha.
Tea – matcha tea is a common partner to chocolate but Earl Grey and peppermint tea should not be overlooked.
Fruit – yes this sounds quirky, but some fruits, especially berries and orange partner exceedingly well with chocolate. Not all fruits are contenders though as some will cause the drink to coagulate, so do your research first.
Alcohol – not only can it add an extra flavour dimension, a small kick of booze can add a cosy, deeply comforting grown-up buzz to the drink.
Toppings and accessories
Part of the thrill of enjoying this indulgent drink is the embellishments gracing the top. Whipped cream is fine and dandy as the only adornment on a mug of drinking chocolate, but there are endless possibilities for anybody wishing to extend the extravagance further. Here are a few topping ideas:
Marshmallows – full-sized or mini, these always hit the spot. They can also be served directly in the drink for those wishing to omit the cream. Bonus points for homemade.
Toasted marshmallows – for the full-on s'mores effect.
Sweet sauces or fruit coulis – drizzle a little over the top of the cream for a burst of colour and interest.
Sprinkles – there are so many choices here. Keep them generic or match the season e.g. pumpkins for Halloween or snowflakes for Christmas.
Mini gingerbread men – perch a little guy on top of the cream for a cute festive touch. Mini gingerbread houses hanging on the side of the mug also look super-cute.
Ground cinnamon – simple and classic but highly effective, especially in the cooler months.
Crushed cookies – Oreos and Biscoff work well.
Grated chocolate or caramel curls.
Small sweets – try M&Ms, Jazzles or Jelly Tots!
Candy canes – either crush and crumble over the top or hang a mini candy cane over the rim of the mug.
Popping candy – wildy popular with kids. Sprinkle just before serving and listen as the pops start to sound.
Cadbury's Flake 99s – this is straight out of my childhood. Pick up a pack of Cadbury's flakes for ice cream and wedge one into the cream.
Cinnamon sticks – a healthier option than the Flake. Again, poke it into the cream.
Gourmet hot chocolate ideas
The low-down on how to brew drinking chocolate at home is complete, so let's get on with perusing some of the best hot chocolate drinks around.
Unusual hot chocolate flavours
Chocolate drinks with alcohol
Best hot chocolate recipes for kids
Christmas Eve hot chocolate ideas
Try jazzing up your favourite drinking chocolate recipe by decorating with a marshmallow snowman for a festive transformation or try your hand at one of these dedicated Christmas recipes.
Healthier chocolate drink recipes
If you have enjoyed this gourmet hot chocolate recipe compilation then take a look at some of my other collections:
And feel free to leave a comment below – why not let me know which recipe you can't wait to try out.
(Visited 472 times, 8 visits today)