Candy Cane Hot Chocolate is flavoured with peppermint candy canes and topped with cream, candy cane pieces & popping candy. They are crazily fun and make the perfect cosy festive treat.
Let's get something straight from the outset: Candy Cane Hot Chocolate is crazily fun. If you're feeling grumpy, look away. Actually no, keep reading – this mugful of joy might just be what you're in need of to get you back on track.
Obviously, there's nothing not to like about a steaming mug of peppermint hot chocolate on a frosty day… must drink hot chocolate…. must drink hot chocolate… That's in the winter rulebook, right?
Good. Now we are in agreement, so consider melting some peppermint candy cane into that wonderful mug of molten chocolate. Now, give it some toppings. Whipped cream (mmm). Chunks of smashed-up candy cane. Popping candy. Yeeees – this candu cane hot chocolate literally talks to you, crackling away in your ears as you savour that smooth, minty liquid chocolate.
I promised my children that I would make some Candy Cane Hot Chocolate for them after seeing it on the specials board of a nearby café on the way out. Duh, always check the specials board before you order. That's another thing that should be in the rulebook.
How to Make Candy Cane Hot Chocolate
The key to this drink is to perfect the peppermint hot chocolate that is the star in this drink. The toppings are mere window dressing. Granted, they are fun. And in the eyes of a child (and me) essential. But there's no popint in having fun festive style if the drink itself is not up to scratch.
Initially, I tried making the peppermint hot chocolate with peppermint extract, then peppermint chocolates melted in. But, in all honesty, I do like the subtle effect achieved by melting in the candy cane itself. It seems to balance the powerful hit of peppermint from the chunks resting on top of that big pile of cream. And also, it would be rude for the peppermint to shout louder than the popping candy. That's just bad etiquette.
melted candy canes into hot chocolate is easy. Just crush the canes first in a pestle and mortar and stir into the hot chocolate whilst it is cooking in the pan. Slowly it will melt.
Once the peppermint hot chocolate is prepared, I fully recommend serving it with a pile of whipped cream, crushed candy cane pieces and that all-important popping candy for an extra helping of fun.
For those of you interested (verging on slightly obsessed) by candy canes at this time of year, head over to Candy Cane Facts for erm… some interesting facts. For instance, did you know that the first candy cane was made 350 years ago? Yeah, I was surprised too.
Recipe perfected, I can't wait to surprise my kids with this candy cane hot chocolate at teatime on Friday (designated treat zone). Also, a huge thank-you to the kind staff at the Windsor branch of the Chocolate Theatre Café – they made my girls' day by giving them a complimentary candy cane to make up for my oversight.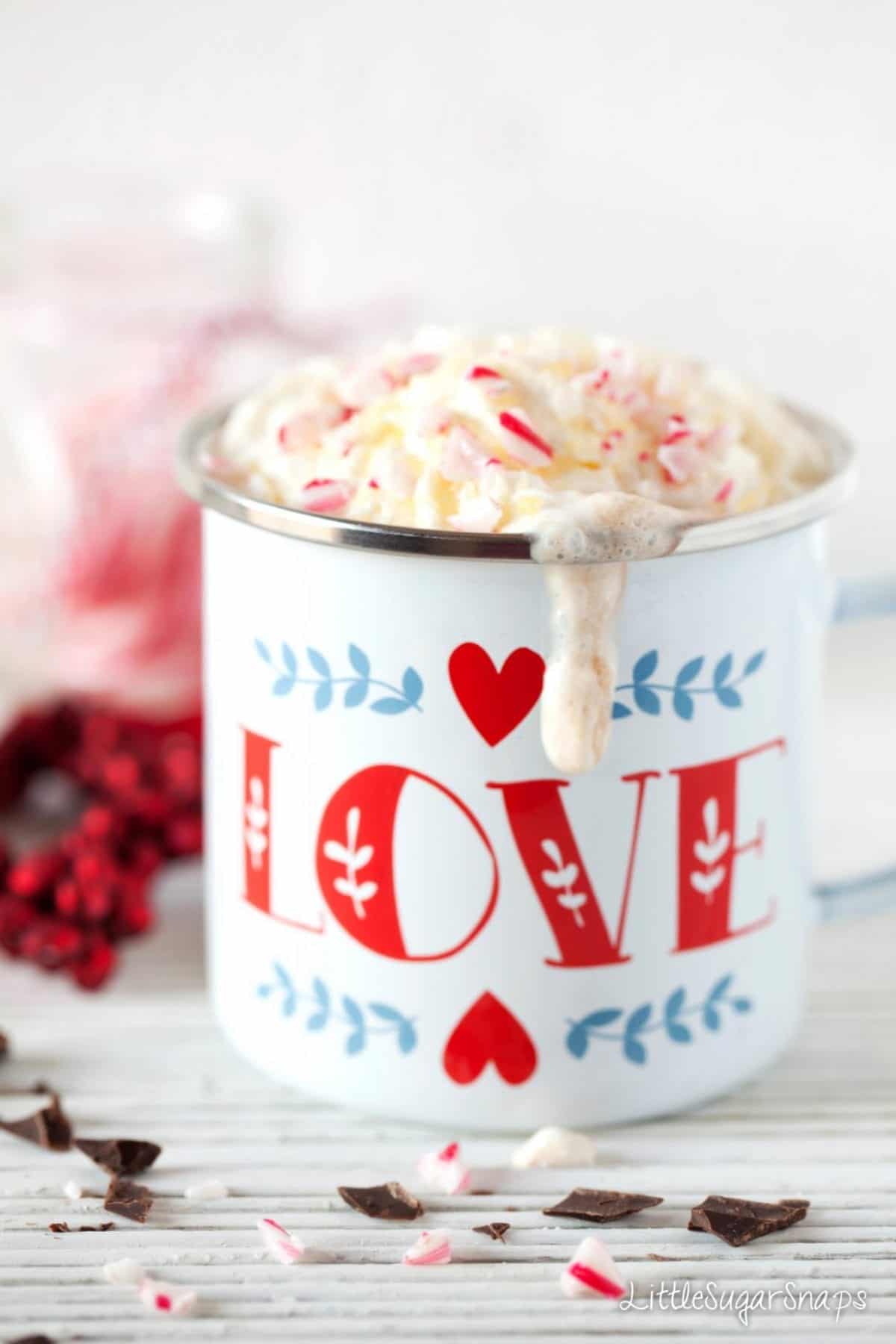 Can I Tempt You with More Chocolate Drinks?
(Visited 160 times, 1 visits today)