This creamy maple & bourbon hot chocolate is the perfect treat for adult hot chocolate fans. It's easy to prepare and, with just a gentle buzz of alcohol, it tastes incredibly mellow and decadent.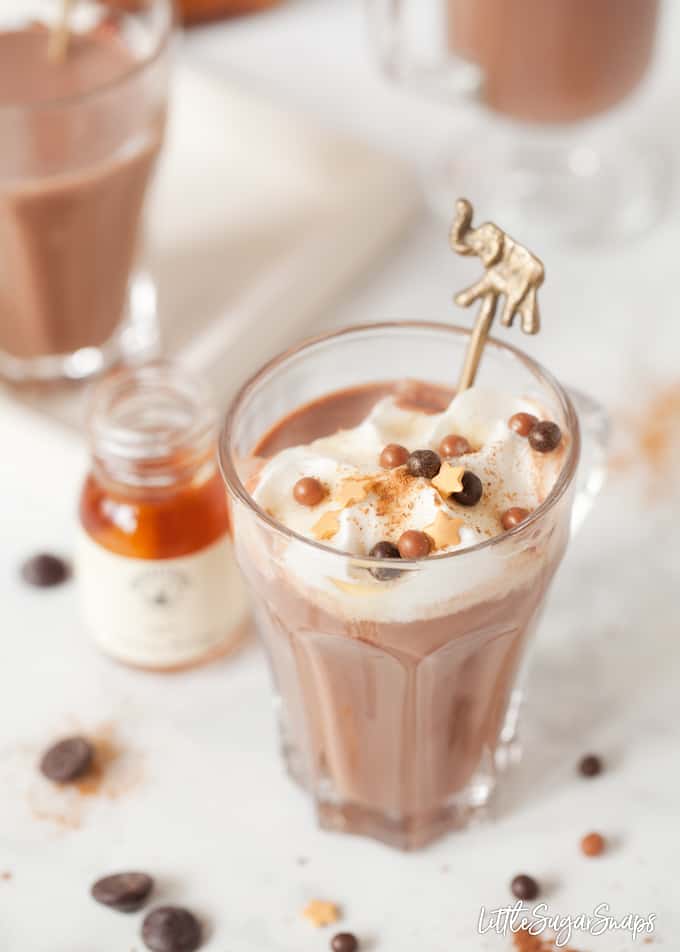 THIS POST CONTAINS AFFILIATE LINKS. AS AN AMAZON ASSOCIATE I EARN FROM QUALIFYING PURCHASES.
Hot chocolate will never go out of fashion. It is one of the most comforting drinks to serve and there are so many variations of the classic around that it's virtually impossible to get bored with this drink.
I'm adding to the list of variations with this maple & bourbon hot chocolate.
I created this drink shortly after the excesses of the Christmas period. Needless to say, I've gone light on the alcohol and pure chocolate in this drink, instead adding some cocoa powder, cinnamon and vanilla alongside a small amount of dark chocolate to guarantee a robust flavour.
Believe it or not, each serving of this maple & bourbon hot chocolate comes in at less than 200 calories. That's not bad for a soothing chocolate-based drink.
But make no mistake – this drink does not taste skinny. I've used whole milk (I insist on it for all my hot chocolate drinks) and I've added viscosity to the liquid by blending some cornflour into the mix.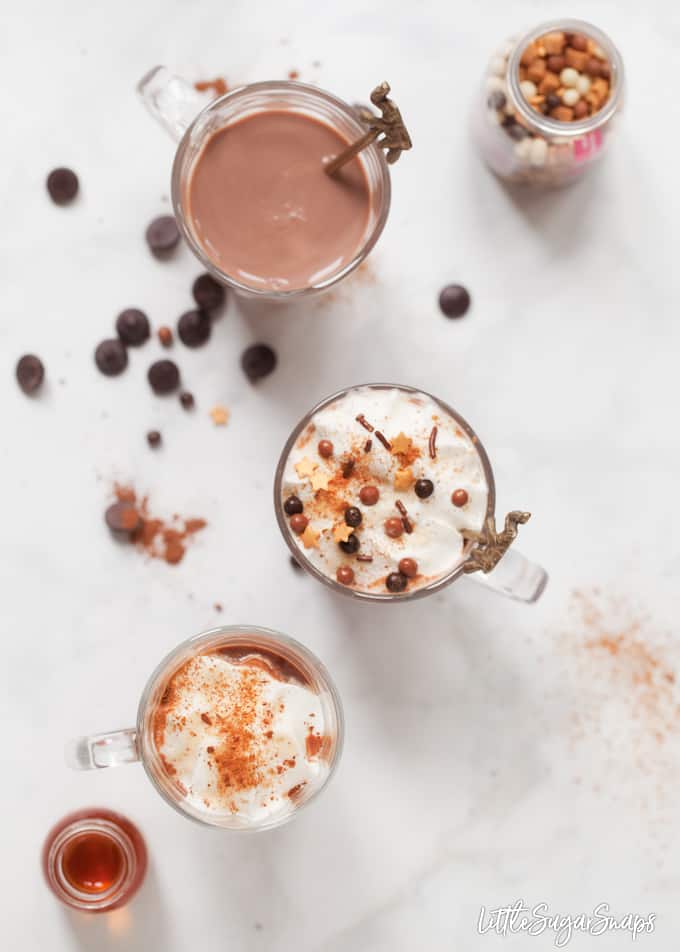 When the maple syrup and bourbon are tumbled in the result is a mellow and creamy hot chocolate that is sure to delight adult hot chocolate enthusiasts.
Slightly thicker than typical hot chocolate, with a viscosity akin to coconut milk, this drink tastes far more luxurious than it actually is.
Incidentally, I used amber maple syrup for this drink, enticed by its suitably rich and mellow qualities.
How to Make Maple & Bourbon Hot Chocolate
This boozy maple and bourbon hot chocolate is quick and easy to make but I'd like to draw your attention to a few noteworthy points:
since this drink contains cornflour it is vital that the liquid is stirred continuously as it cooks, to avoid lumps forming. For this reason, this recipe cannot be made in a microwave
similarly, I do not recommend reheating leftovers in a microwave. Instead, pour the liquid back into a milk pan and reheat gently, stirring continuously
finally, to ensure that a smooth and creamy texture is achieved, I suggest pouring the liquid through a nut bag or filter paper. This quick step helps hold back any annoying grains of ground cinnamon from the final drink
Provided you keep these tips in mind, the following instructions should give you a delectable drink in no time at all:
Begin by measuring the cocoa powder, ground cinnamon and cornflour into a small pan
Add 4 tbsp of the milk and whisk the ingredients together until completely smooth
Pour in the rest of the milk and heat on a moderate heat, stirring continously, until steaming
Lower the heat, add the chocolate chips & salt and continue to stir for 2-3 minutes until the liquid is piping hot and has thickened very slightly (like the thickness of coconut milk)
Optional (but recommended) step – pass through a nut sieve or filter paper to remove any undissolved cinnamon. Discard the solids left behind and return the filtered hot chocolate to the pan
Pour in the maple syrup, bourbon and vanilla extract, give one last stir and pour into 4 small cups or heatproof glasses, each able to hold approx 100ml of liquid
Serve as it is or top with cream, a drizzle of maple syrup, a dusting of cinnamon and/ or sprinkles as desired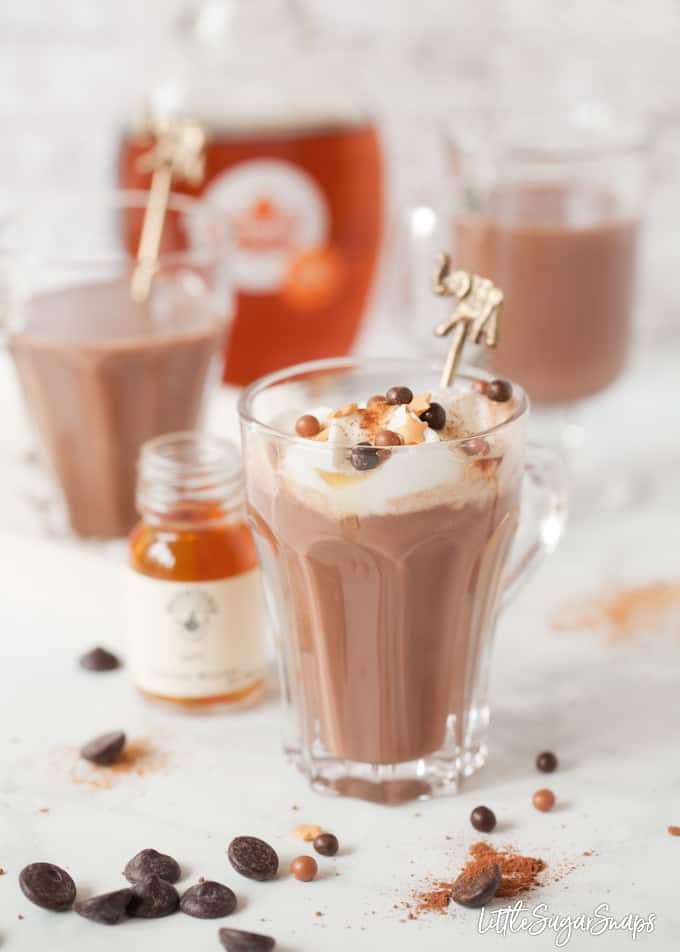 Can I Add More Bourbon?
You'll notice that there is only 40ml of bourbon in the entire recipe – that's just 2 tsp per serving. It doesn't seem a lot but it's enough to balance the richness of the chocolate and the sweetness of the maple syrup.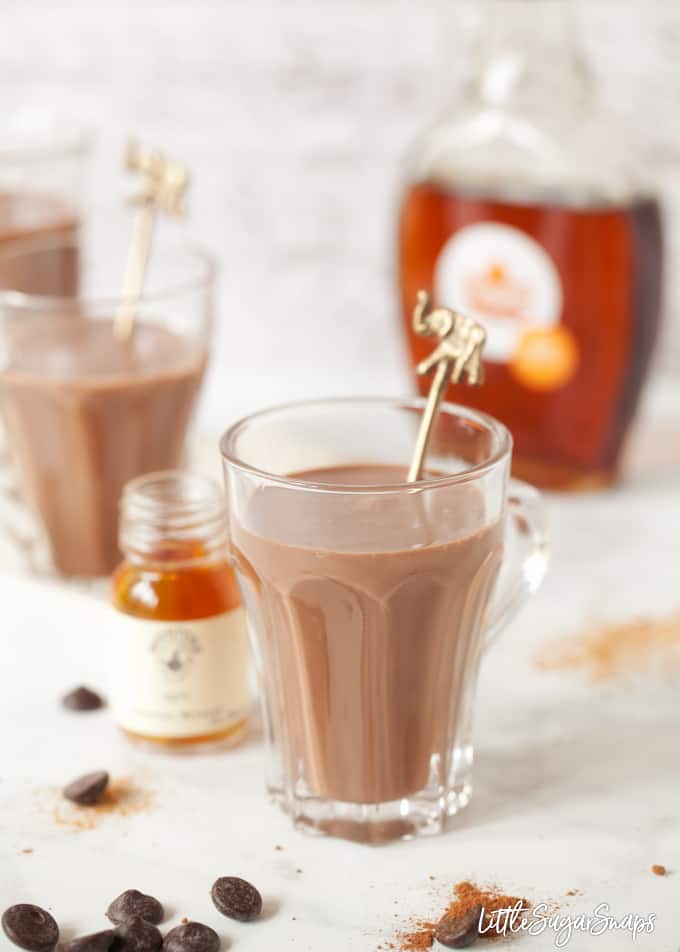 In terms of how alcoholic this boozy hot chocolate tastes, I would liken it to a well-made sherry trifle. There should be a definite kick of warmth from the alcohol and enough flavour to know it's present but not enough to overpower the entire recipe.
If you do find yourself wanting a more zealous punch of alcoholic flavour, by all means you can play around with the volume of bourbon. Find a level that suits your tastes and go with it. Try adding an extra teaspoon per serving and re-assess.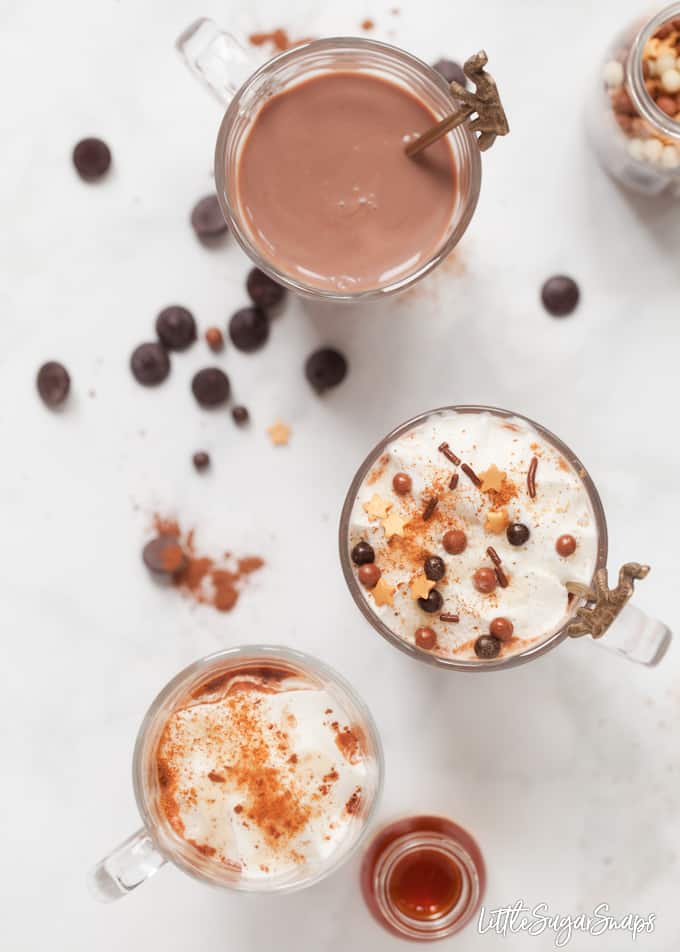 What to Serve with Maple & Bourbon Hot Chocolate
This boozy hot chocolate is great on its own but a little side treat never hurts in my world. Here are my top suggestions: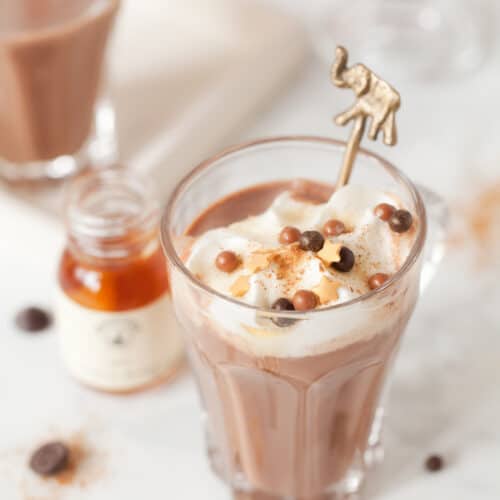 Maple Bourbon Hot Chocolate
This thick and creamy maple bourbon hot chocolate is the perfect treat for adult hot chocolate fans. It's easy to prepare and, with just a gentle buzz of alcohol, it tastes incredibly mellow and decadent.
Print
Pin
Rate
Ingredients
400

ml/ 1 3/5 cups

Whole (full fat) milk

2

tsp

Cocoa powder

2

tsp

Cornflour (cornstarch)

1/2

tsp

Ground cinnamon

30

g/ 1 oz

Dark chocolate chips

1/8

tsp

Salt

8

tsp

Maple syrup

8

tsp

Bourbon

1

tsp

Vanilla extract
Instructions
Begin by measuring the cocoa powder, ground cinnamon and cornflour into a small pan

Add 4 tbsp of the milk and whisk the ingredients together until smooth

Pour in the rest of the milk and heat on a moderate heat, stirring continously, until steaming

Lower the heat, add the chocolate chips & salt and continue to stir for 2-3 minutes until the liquid is piping hot and has thickened very slightly (like the thickness of coconut milk)

Optional step- pass through a nut sieve or filter paper to remove any undissolved cinnamon. Pour the filtered hot chocolate back into the pan and discard the solids left behind. I highly recommend this step to ensure the drink is as smooth and creamy as can be

Pour in the maple syrup, bourbon and vanilla extract, give one last stir and pour into 4 small cups or heatproof glasses, each able to hold approx 100ml of liquid

Serve as it is or top with cream, a drizzle of maple syrup, a dusting of cinnamon and/ or sprinkles as desired
Nutritional Information Per Serving (Approximate)
Calories:
171
kcal
|
Carbohydrates:
20
g
|
Protein:
4
g
|
Fat:
6
g
|
Saturated Fat:
4
g
|
Cholesterol:
10
mg
|
Sodium:
125
mg
|
Potassium:
211
mg
|
Fiber:
1
g
|
Sugar:
16
g
|
Vitamin A:
162
IU
|
Calcium:
151
mg
|
Iron:
1
mg
Pin This recipe: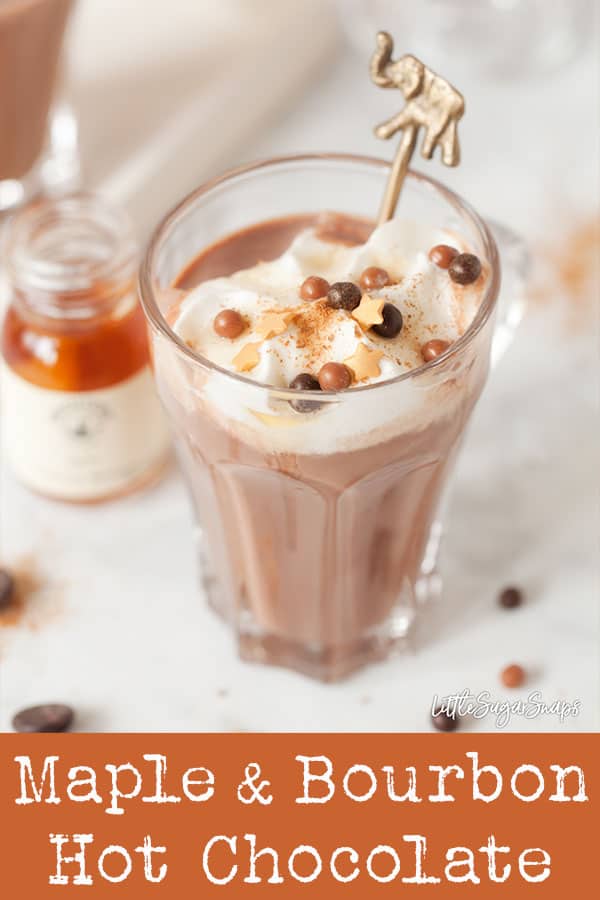 (Visited 231 times, 1 visits today)