This Cinnamon Apple Cake is a light and bouncy sponge cake loaded with nuggets of home dried apple. Adorned by delectable salted maple buttercream, this is one elegant cake to fall in love with.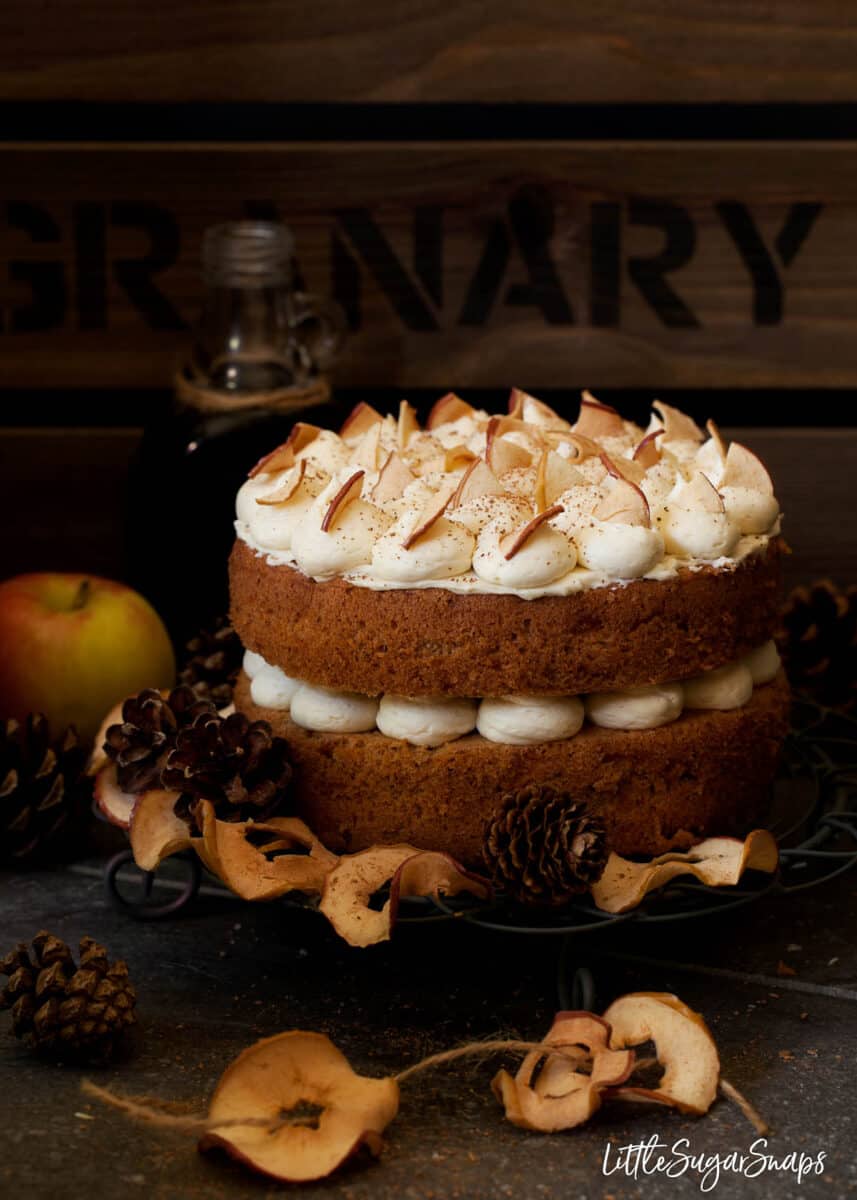 This post contains affiliate links. As an Amazon Associate, I earn from qualifying purchases.
A few weeks back I ended up leaving some apples in the fruit bowl for a bit too long. By the time I got around to looking at them, they had lost their firm and crisp appeal. These apples were destined for a fruit compote until I developed the urge to bake a fancy cake.
Now, apple cakes are a very lovely treat and there are plenty of versions available. A great many recipes use uncooked apple stirred directly into the cake mix. Since apples give off a lot of liquid during cooking, these cakes will be squidgy and very moist – almost wet, but in a good way. This kind of apple cake is screaming out for a generous pouring of custard and they make the pudding of my dreams following a Sunday Roast.
But I wanted to create an apple cake that was more in-keeping with afternoon tea. Something that could tolerate a little buttercream and withstand an elegant garnish. So, I took those apples, sliced them and packed them off to the oven to take a long slow cook.
How to Make Apple and Cinnamon Cake
Using dried apple is the perfect way to incorporate this fruit into a traditional sponge cake. Once the fruit has been baked, making this apple cinnamon cake is as easy as making a regular sponge cake.
The result is a light and bouncy sponge with nuggets of apple in every bite. It's moist but definitely not wet.
Cinnamon and a little nutmeg, both firm friends with apples, tumbled into my mixing bowl too. And, since we are now well and truly into autumn, they are especially welcome in this apple cinnamon cake.
To accentuate these seasonal flavours further, I paired my apple and cinnamon cake with salted maple buttercream. That's regular, fluffy buttercream with a dollop of maple syrup and a touch of finely ground salt partying hard in there. The salty undertones temper the overall sweetness of the buttercream and the maple syrup adds a mellow dimension to it. This is the kind of buttercream that is hard to resist.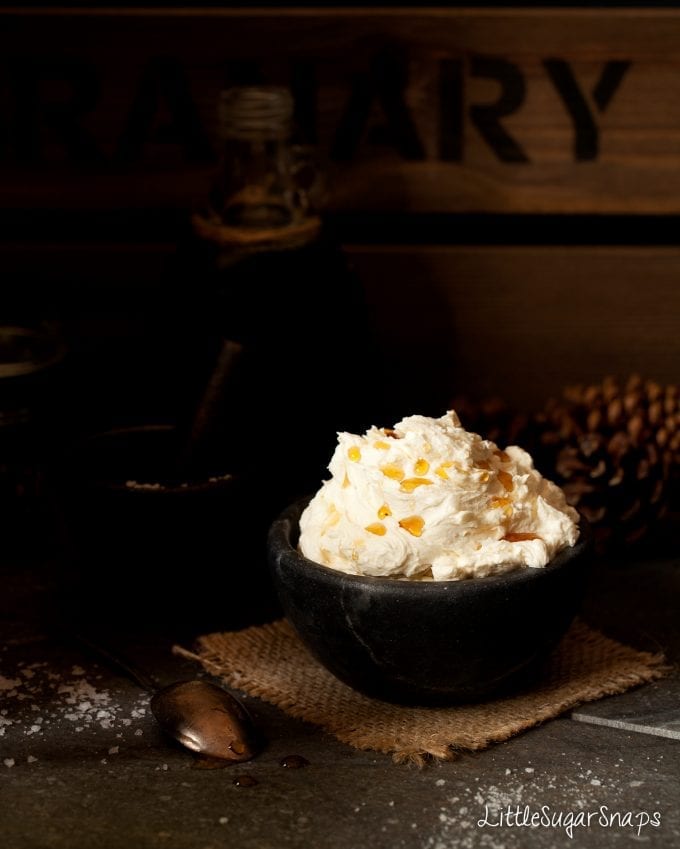 Easy Cake Decorating
Being truthful, my cake decorating skills are not top-notch. I can just about decorate a layer cake and get it looking reasonable. Just don't ask me to get it perfectly smooth or do anything too fancy. Am I resonating with a few of you here? Well, you'll be pleased to hear that the look I've achieved on this apple and cinnamon cake is incredibly easy to replicate. If you like easy cake decorating, this is the way you should go:
You'll need a piping bag fitted with a nozzle with a round opening approx. 1.3cm wide (I used a

Wilton 1A

)
On the base layer, pipe little mounds of buttercream around the edge in a circle and then fill in the centre in the same way
Place the top layer of cake over the piped buttercream
Smooth a thin layer of buttercream over the top and spread with a palette knife
Pipe a circle of buttercream mounds around the edge of the cake and then fill in the centre – just like you did in the centre
Push a slice of dried apple into each mound
Dust lightly with ground cinnamon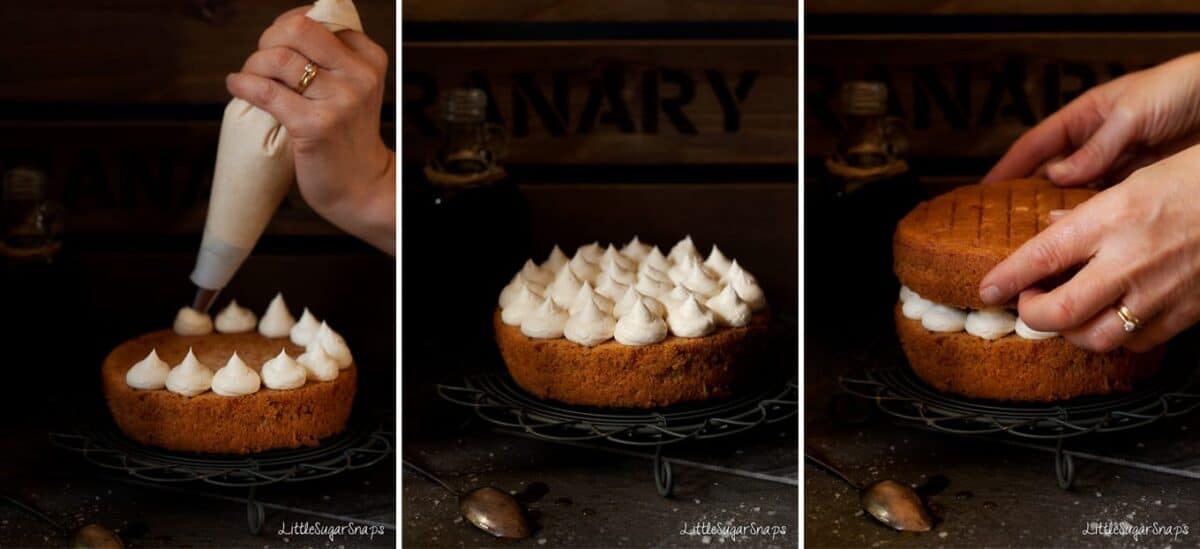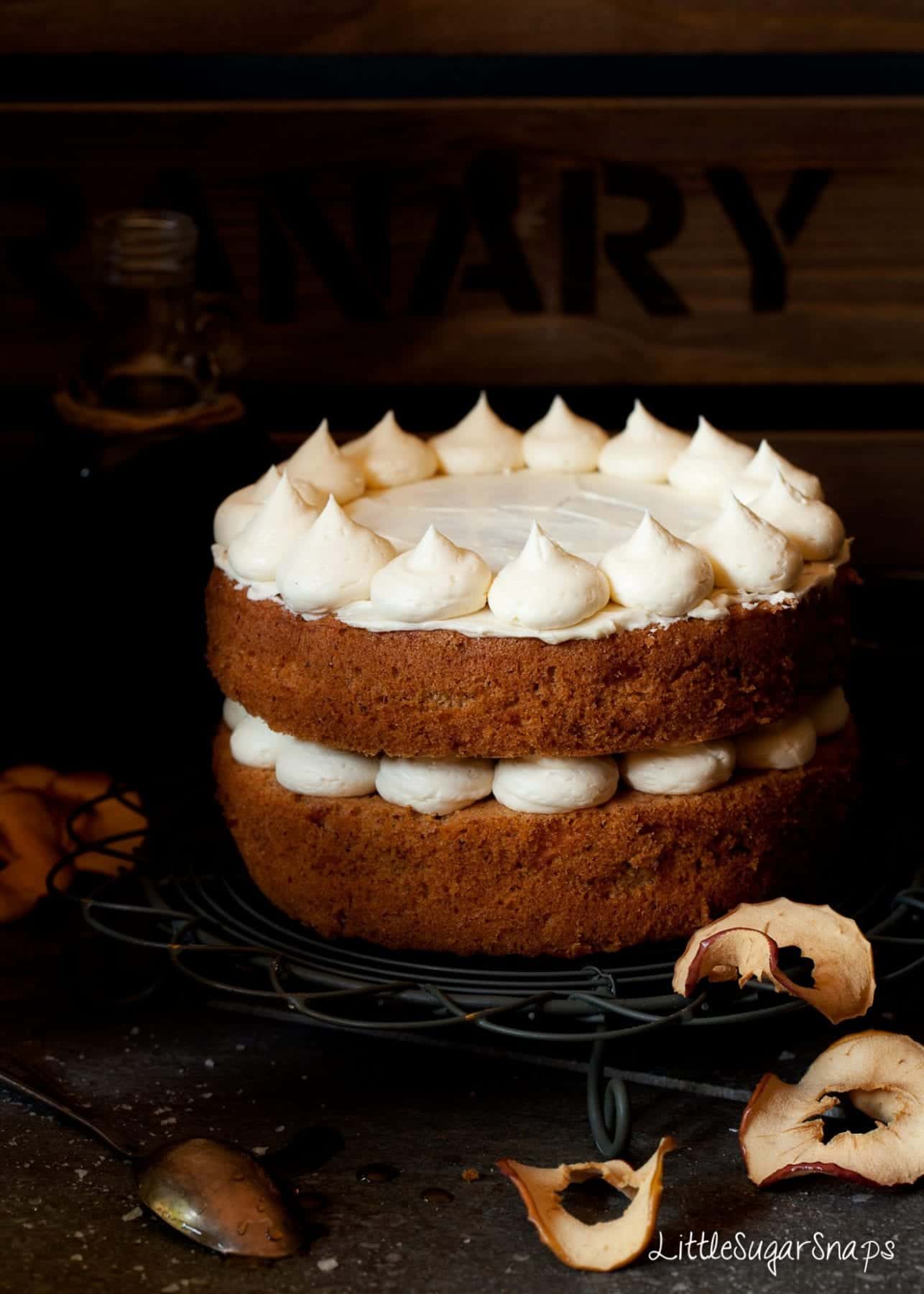 And if you really hate piping, you can of course just pile your buttercream onto your cinnamon apple cake and spread it out with a knife. You are in a judgement-free zone here.
It's also perfectly acceptable to use store-bought dried apple. I made my own because I had apples to use up but the perk of homemade is that you can select the apples to use. I'm particularly fond of Pink Lady apples because they are crisp, sweet and slightly tart and the blush skin colour adds a little extra beauty to the look of the cake. The flavour really shone through once I'd dry baked them too.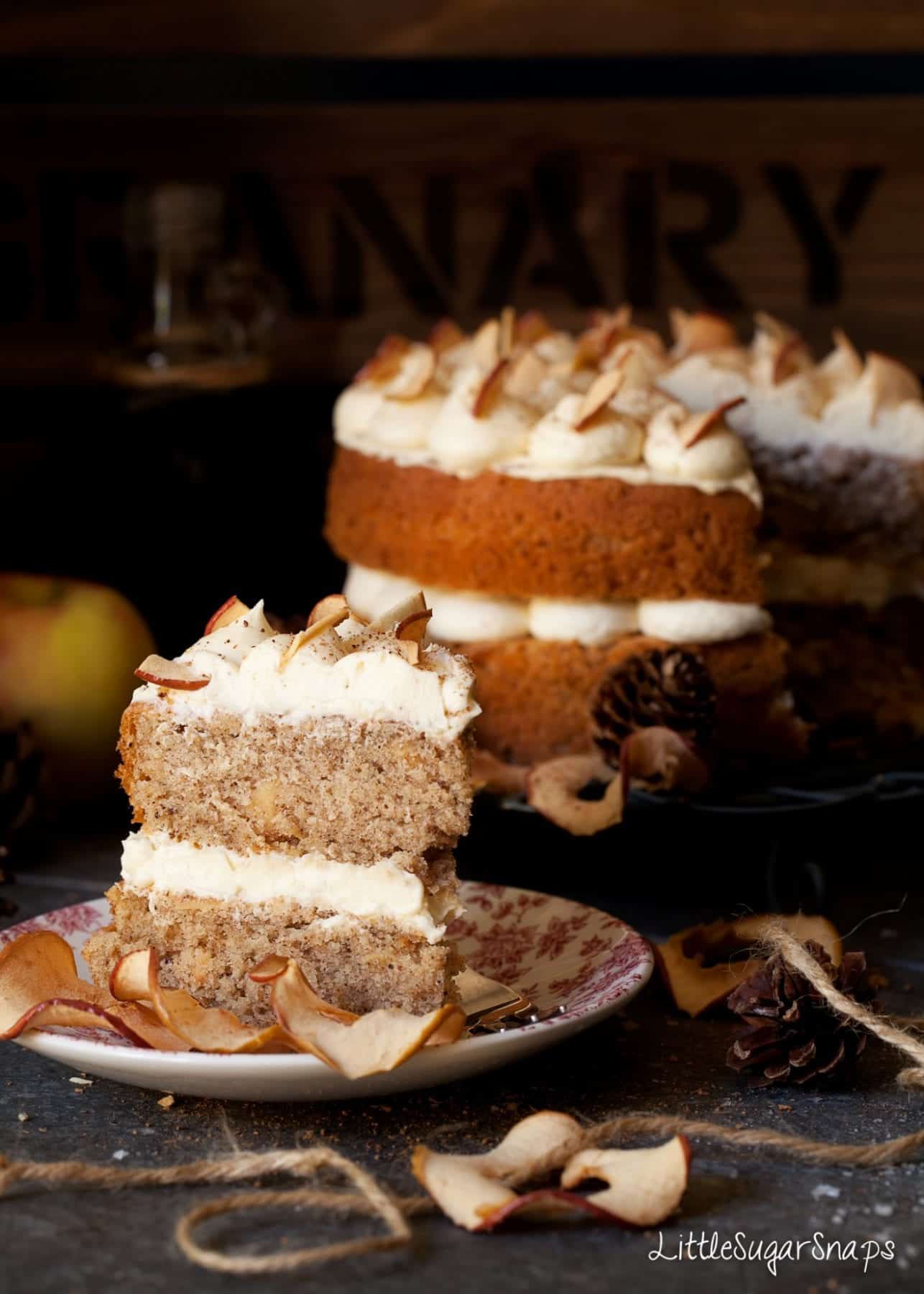 You can also use the batter for this apple cinnamon cake to make cupcakes. I did bake one when I remade this cake for the photographs recently. I left all the cakes to cool whilst I took my daughters to their swimming club. When I got home the cupcake had been scoffed by my husband, innocently thinking I'd baked a treat just for him. Hmm. So, no photo but they do make lovely cupcakes – so I'm told anyway.
If you like this apple and cinnamon cake you may also like these bakes too: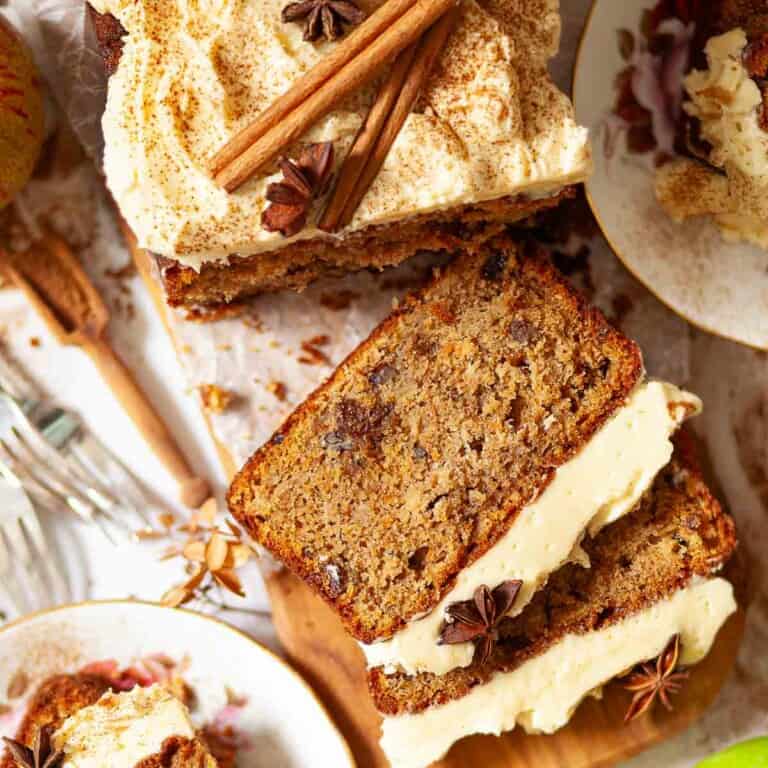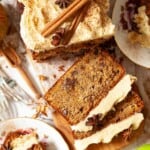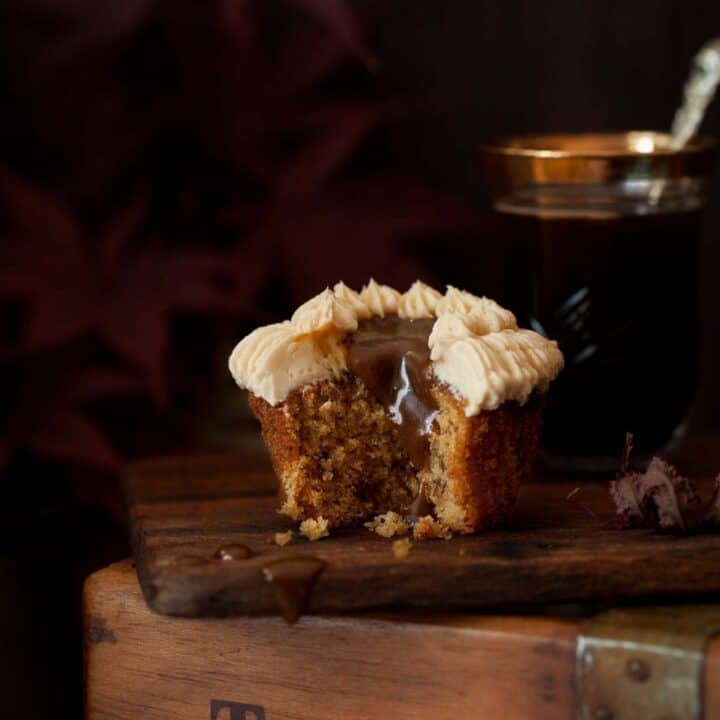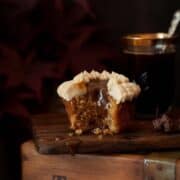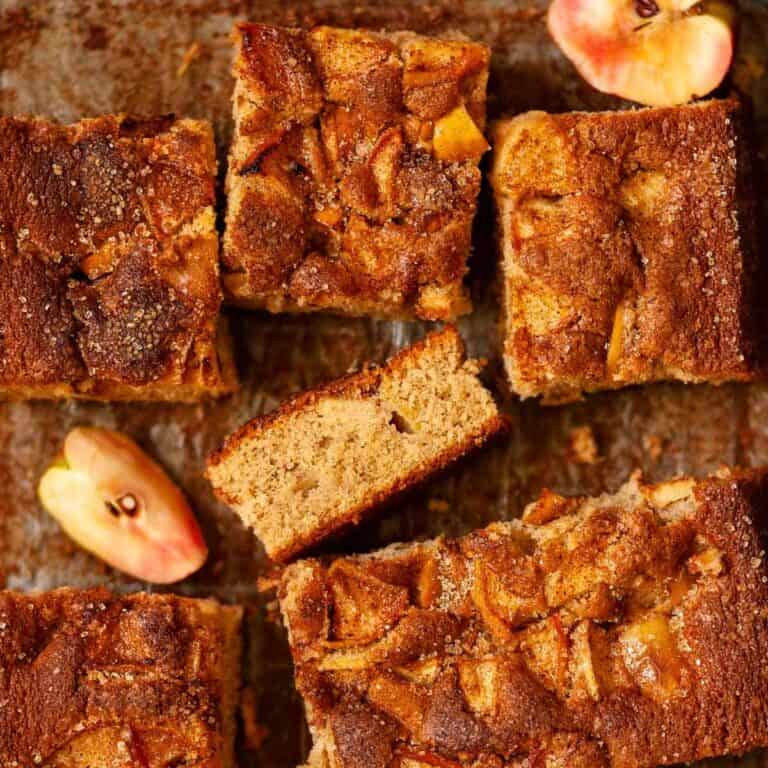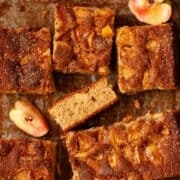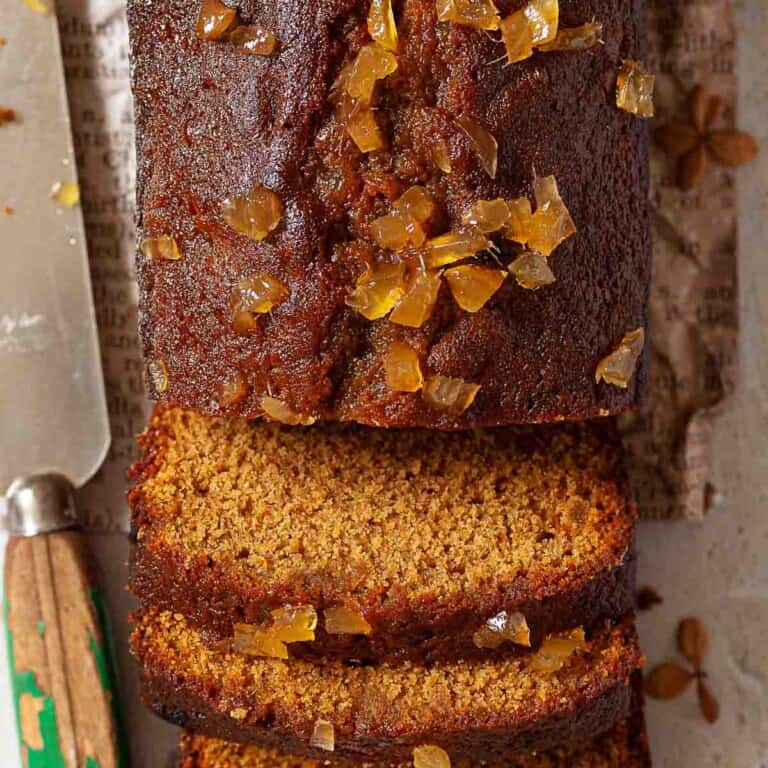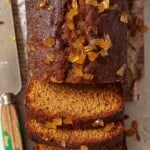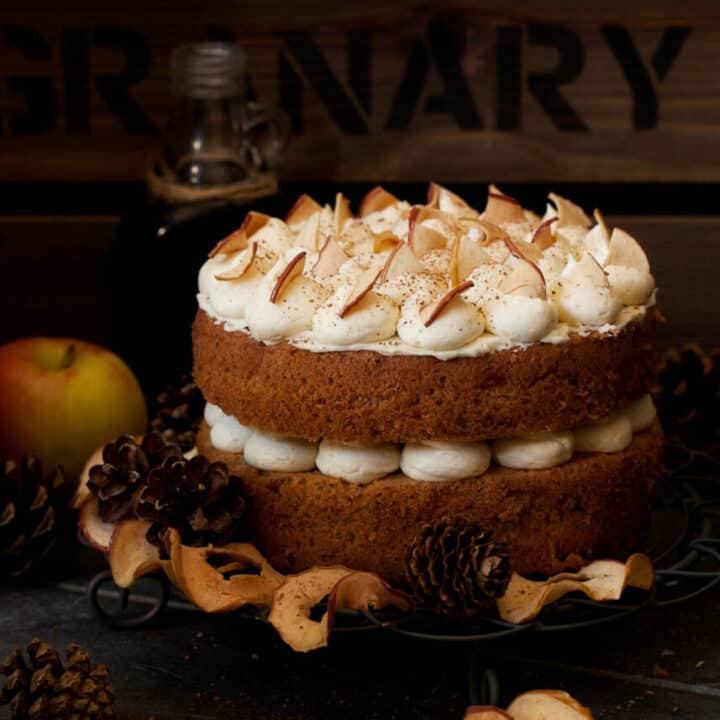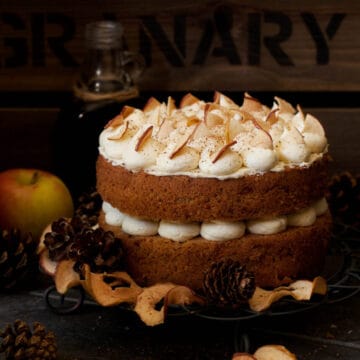 Cinnamon Apple Cake with Salted Maple Buttercream
This Cinnamon Apple Cake is a light and bouncy sponge cake loaded with nuggets of home dried apple. Adorned by delectable salted maple buttercream, this is one elegant cake to fall in love with.
Please note: this recipe uses 6 inch cake tins. Please see recipe notes if you wish to use 8 inch tins
Print
Pin
Rate
Ingredients
For the Dried Apples
4

crips & tart apples (I used Pink lady)

(see notes)
For the Cake
150g/ ⅔ cup

butter (unsalted, room temperature)

150g / ¾ cup

Golden caster sugar

150g/ 1 ¼ cups

Plain (all purpose) flour

3

large eggs

3 tsp

Ground cinnamon

½ tsp

Ground nutmeg

1 tsp

Baking powder

4 tsp

Whole (full fat) milk
For the Salted Maple Buttercream
150g/ ⅔ cup

butter (unsalted, room temperature)

165g/ 1 ½ cups

icing (confectioner's) sugar

2 tbsp

Maple Syrup

¼ tsp

Sea salt flakes (optional)
Instructions
Make the dried apples
Preheat the oven to 120C/ 240F/ GM ½ and line several baking trays with parchment paper

Carefully core and peel 3 of the apples and slice into rounds approx 3-4mm thick. Lay the slices out on the baking sheet

Do not peal the final apple. Core it and slice into very thin rounds – no thicker than 2mm. Add to the baking sheet

Put the tins in the oven and cook for 1 hour, turning after 30 minutes

Remove from the oven, let cool, then store in airtight containers until ready to use. The thinner slices will be crisper than the thicker slices – store in separate containers. The apple slices will darken over time, but will keep for several days once cooked
Make the Cinnamon Apple Cake
Preheat oven 170C/ 325F/ GM3 and grease & line two 6 inch/ 15cm cake tins

Finely chop the thick, skinless dried apple slices.

Weigh the flour, baking powder, cinnamon and nutmeg into a bowl and stir briefly

Put the butter and sugar into a medium sized bowl and cream, using electric beaters, until fluffy and pale in colour

Separate the egg yolks and whites. Add the yolks to the cake batter and put the whites into a small mixing bowl

Add the milk to the cake batter and beat until the milk and egg yolks are incorporated

Sieve the flour mix into the cake batter and, using a large metal spoon, gently mix it all into the cake batter

Stir the chopped dried apples into the mix

Whisk the egg white to stiff peaks. Take a large spoonful and fold into the cake batter then fold in the rest of the egg whites very gently

Divide the batter between the tins filling to ⅔ full. Avoid the temptation to overfill your tins – just use any excess batter make a cupcake or two

Bake for approx 25 minutes until

the sponge springs back when lightly pressed or a skewer comes out clean

Let cool in the tins for 2 minutes, then remove from the tins, peal off the baking parchment from the bottom of each sponge cake and let cool completely on a wire rack before decorating
Make the Buttercream
Use a pestle and mortar to crush the sea salt to a powder

Using electric beaters whip the butter and icing sugar together – add the icing sugar 1 tablespoon at a time

Beat in the maple syrup, followed by the powdered salt

Taste – add a little more powdered salt to suit tastes
Assembling the Cake
Put one layer of the cake onto a board/ plate and pipe blobs of buttercream around in a circle. Fill in the middle in the same way – use just under half of the buttercream

Carefully top with the remaining layer of cake. Pipe a couple of blobs of buttercream onto the top and spread it out thinly to just cover the top of the cake

Pipe neat blobs onto the top of the cake in a circle and again, fill in the centre in the same way

Take a few of the remaining apple rings and, using scissors, cut into wedges. Use to decorate the top of the cake – poke one into each buttercream peak. Sprinkle with a little ground cinnamon

Any remaining slices of apple can be served alongside the cake
Notes
If using store bought dried apple use 75g/ 3 oz in the cake mix. They are not so good for decorating the top of the cake, so perhaps just dust with the cinnamon powder
There is just enough buttercream to decorate this cake as pictured. Do ensure you do not use too much buttercream in the middle and run out on the top. If you want to decorate the sides of the cake too, scale up the buttercream recipe as per instructed in note 4 below.
You can also use the batter to make cupcakes – you'll get 12-16 from the mix. Bake for 18-22 minutes.
This recipe is for 2 x 6 inch cake tins. If you would like to bake this cake in 8 inch cake tins please use the following measurements: 5 apples (thickly slice 4) ⋅ 200g/ 1 cup sugar ⋅ 200g/ ⅞ cup butter ⋅ 200g/ 1 ⅔ cup flour + 1 ½ teaspoon baking powder + 4 teaspoon cinnamon + ¾ teaspoon nutmeg ⋅ 4 eggs ⋅ 6 teaspoon milk
Scale up the buttercream (there may be a little leftover): 225g/ 1 cup butter ⋅ 250g/ 2 cups icing sugar ⋅ 3 tablespoon maple syrup ⋅ ⅜ teaspoon sea salt flakes
Nutrition Per Serving (Approximate)
Calories:
580
kcal
|
Carbohydrates:
71
g
|
Protein:
5
g
|
Fat:
32
g
|
Saturated Fat:
20
g
|
Cholesterol:
142
mg
|
Sodium:
368
mg
|
Potassium:
224
mg
|
Fiber:
3
g
|
Sugar:
52
g
|
Vitamin A:
1075
IU
|
Vitamin C:
4
mg
|
Calcium:
72
mg
|
Iron:
1
mg
(Visited 6,155 times, 8 visits today)