Apple and blackcurrant crumble is a knockout dessert. It's an easy to make and utterly irresistible pudding that can be enjoyed all year round. Sweet yet tart, try serving this blackcurrant crumble with warm and soothing custard in the colder months, cream as the weather picks up or with a scoop of vanilla ice cream on hot summer days.
If I want to make all of my family equally happy at the dinner table, then this apple and blackcurrant crumble is my go-to option for dessert.
Of course, like the majority of the UK, I'd be hard-pushed to serve up a crumble my family didn't like, but this blackcurrant crumble is their favourite.
The combination of tart yet sweet blackcurrant compote nestled amongst tender apple slices and that buttery, crumbly topping is enough to get main course plates polished off in record time and minds excitedly racing towards pudding.
Why you'll love this crumble recipe
Apple crumble is a much-loved pudding throughout the UK, but the inclusion of blackcurrants really takes this classic treat up a notch or two. Here are a few reasons to fall in love with this blackcurrant crumble:
It's quick and easy to make (you'll need just 30 minutes of hands-on time).
And it can be made in advance (it can even be frozen).
The tart blackcurrants are a welcome addition to those soft and sweet apples.
Together these fruits provide plenty of sweet, jammy flavour.
And it's piled high with a classic oaty crumble topping.
If you can't get hold of blackcurrants try my apple and blueberry crumble instead or opt for another classic British treat, gooseberry crumble.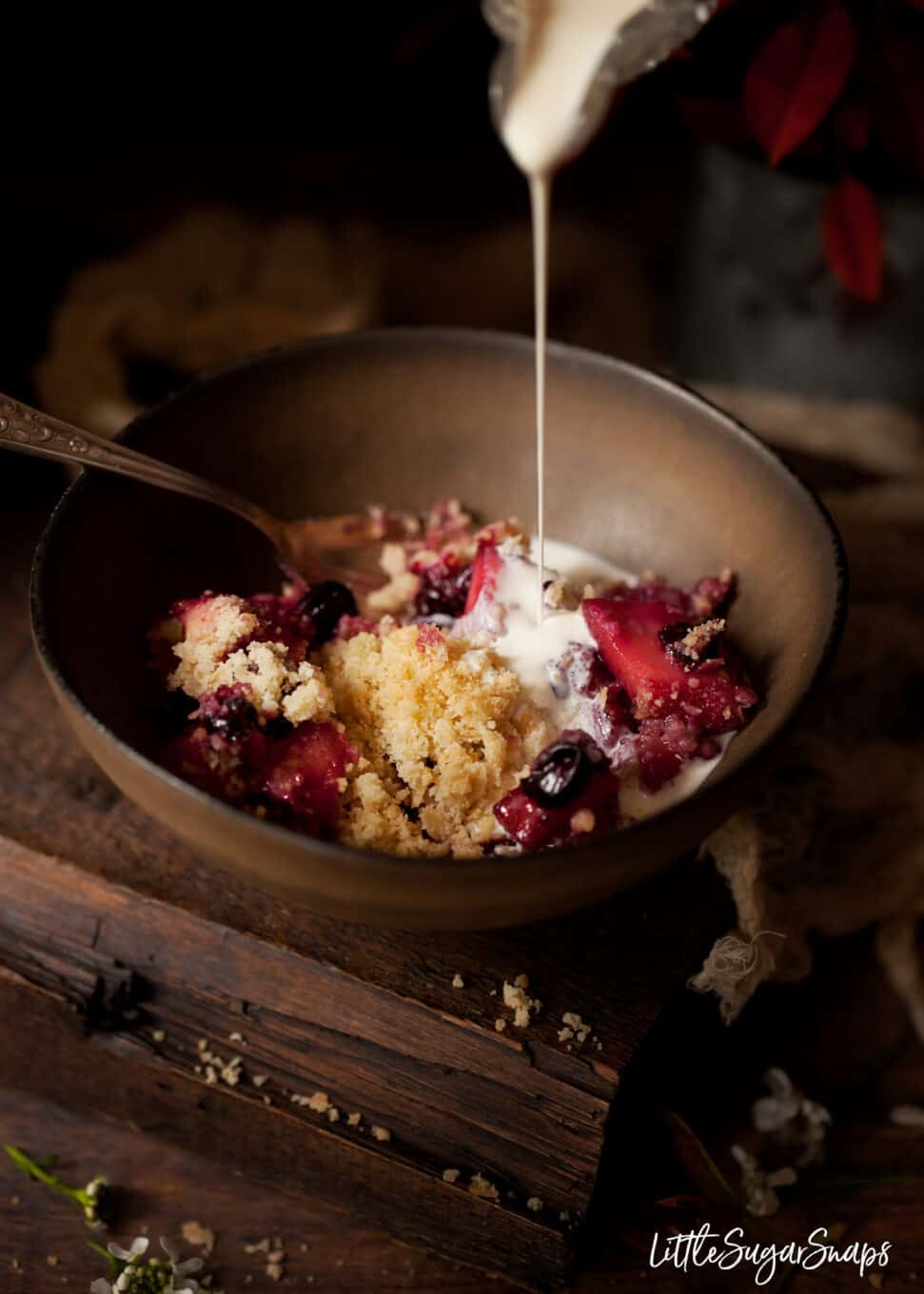 Are blackcurrants good for me?
Technically, yes, blackcurrants are full of health benefits. I've been following The Blackcurrant Foundation on Instagram recently and discovered that amongst other things, this zingy fruit is good for:
keeping your gut healthy by increasing the levels of good bacteria, in there.
maintaining eye health.
providing soluble and insoluble fibre as well as important carbohydrates to give you energy.
providing a good source of vitamin C (this crumble alone provides a full portion of the adult daily requirement).
helping to fight certain skin disorders such as eczema and psoriasis.
Of course, being a particularly sour fruit, blackcurrants usually end up being sweetened considerably before consumption. Please keep this in mind when scoffing down these nutritious berries and claiming it's all good stuff.
Needless to say, this sugar and butter-laden apple and blackcurrant crumble could never claim to be healthy, despite its vitamin C contribution.
Ingredients notes
Blackcurrants: fresh blackcurrants are the best option for this recipe but if you cannot get hold of them use frozen blackcurrants instead. Please don't use tinned fruit as it tends to have been canned in syrup rather than juice, so the sugar content of the compote would be too high.
Apples: this recipe uses eating apples as they keep their shape during the cooking process and do not turn mushy. Pick firm, crisp apples with plenty of zesty flavour such as Braeburns or Pink Lady apples.
Butter: real butter gives the best flavoured crumble topping but baking margarine or vegan block butter can alternatively be used. You may benefit from adding an extra pinch of salt to the topping mix to boost the flavour if you are using an alternative to real butter.
Flour: use plain flour for this blackcurrant crumble recipe. There's no need for a raising agent.
Oats: a few oats really boost the texture of the crumble topping. Use whatever size you have to hand. These can be omitted if you do not have any in your pantry.
Demerara sugar: this is one of my favourite ingredients in a crumble topping. Not only does it boost the flavour, it also adds extra bite and texture.
How to Make Blackcurrant Crumble
There are 3 very simple stages involved in the making of this apple and blackcurrant crumble:
Make a blackcurrant compote.
Prepare the apples.
Make the crumble topping and bake.
Here is each stage in turn.
Make the Blackcurrant Compote
If using fresh blackcurrant pick them over and remove any stems then rinse in cold water and drain.
Put the blackcurrants and sugar in a pan and heat gently to allow the sugar to dissolve. Stir often.
Once the pan starts to get a little liquid in it, turn the heat to medium and cook for 5-10 minutes until the blackcurrants are soft and a definite sauce has developed.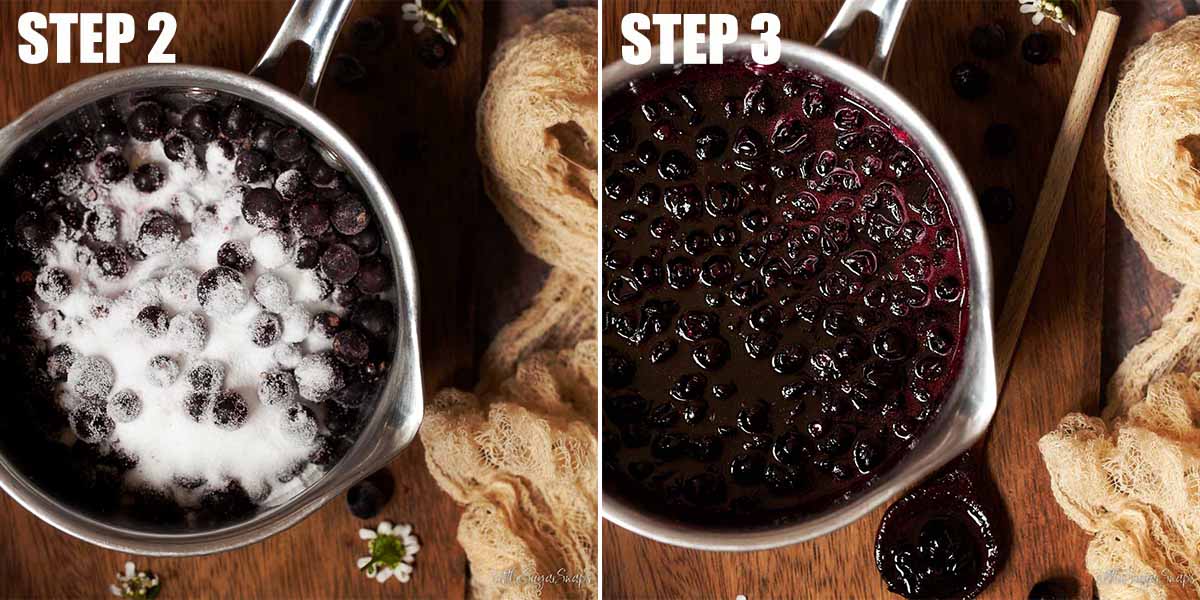 Prepare the apples
Put the butter into a large pan and heat to just melt it. Add the sugar, stir and set aside.
Peel, core and chop the apples roughly.
Add them to the butter and sugar in the pan, then return to the heat and cook, stirring frequently, for 5 minutes.
Tip the apples into a large baking dish. and spoon the blackcurrant compote evenly over the top.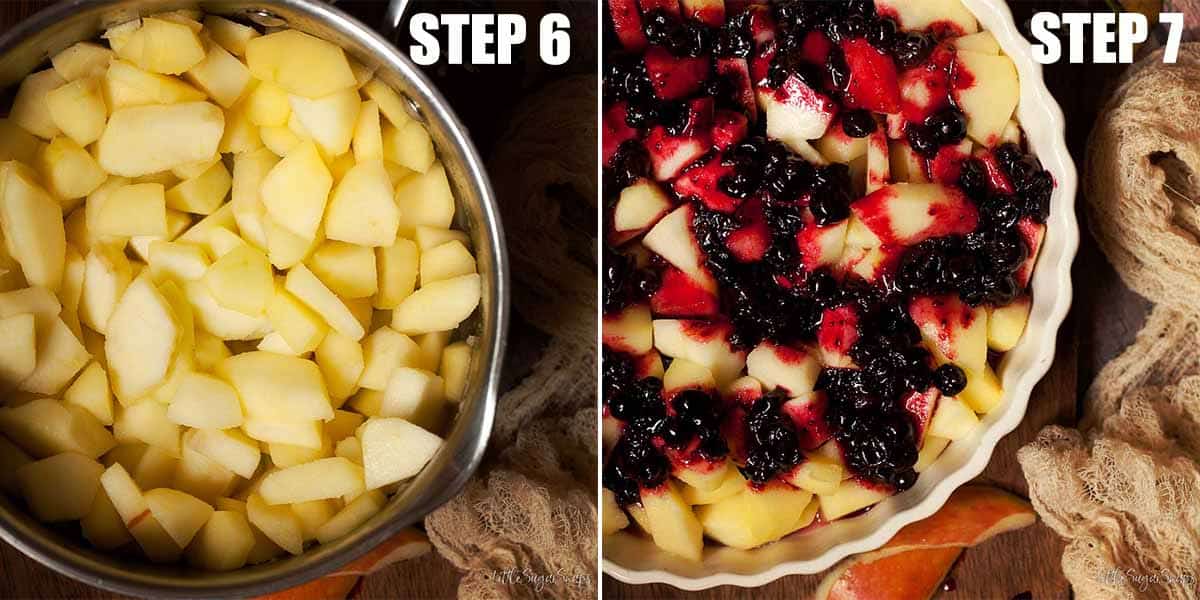 Make the Topping
In a large bowl measure out the flour, granulated sugar and salt. Stir to combine.
Cube the butter, add to the bowl, then rub in: use your fingertips to rub the flour and butter together until it resembles breadcrumbs.
Stir through the oats and demerara sugar.
Tip the crumble over the fruit and spread out roughly.
Bake for 30-40 minutes until the top is golden.
Remove from the oven and let cool for 5 minutes before serving.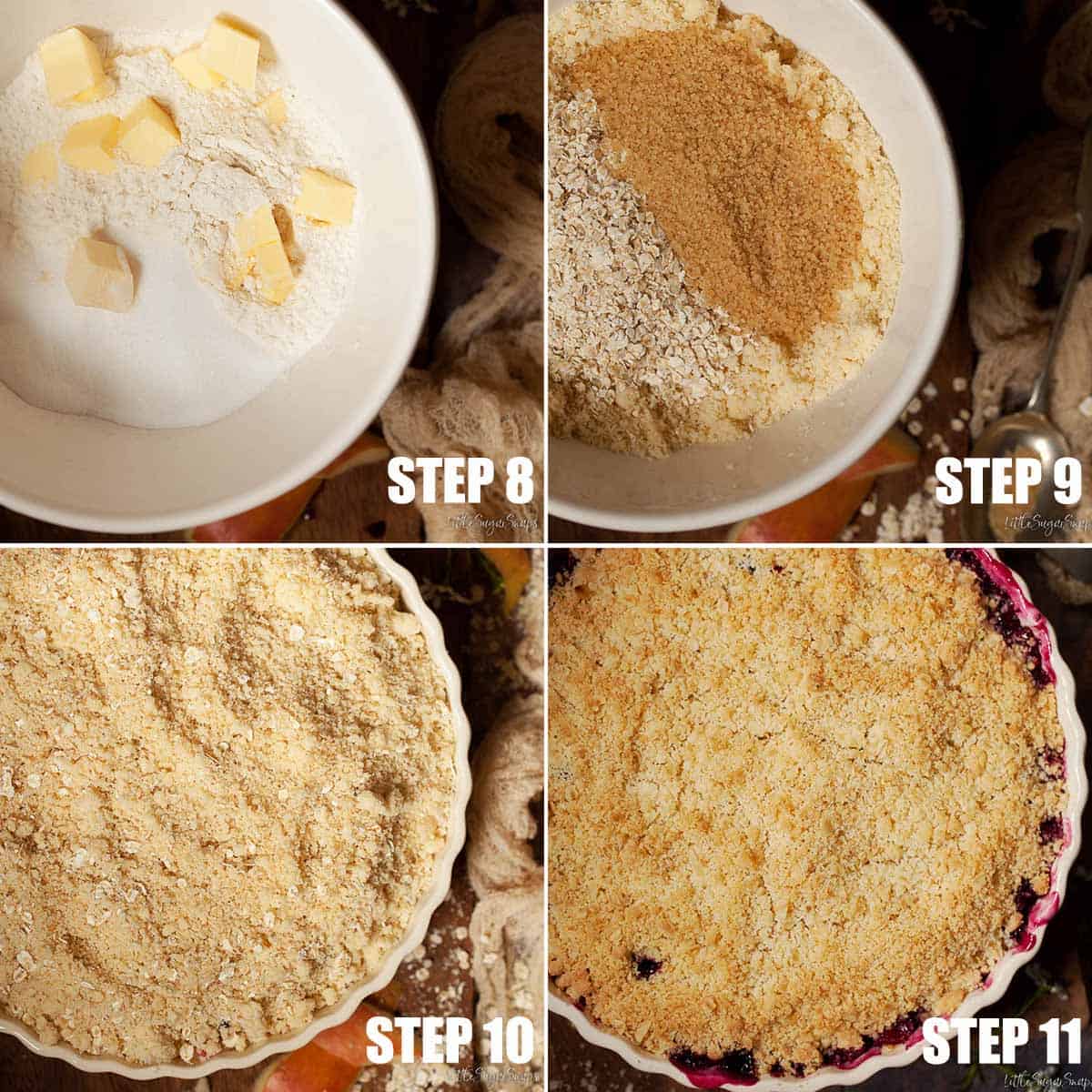 Expert tips
Use digital scales and gram measurements as they are so much more accurate than cup measurements and will give better results.
This recipe has been developed using eating apples. Cooking apples, such as Bramleys, are not a suitable substitute.
Vary the flour – try using spelt flour for a hint of nutty flavour in the crumble topping.
Bake the crumble on an old baking sheet so that if any liquid bubbles over the edge of the dish as the crumble cooks, it is caught on the tray. It's far easier to clean a baking sheet than the oven bottom and shelves.
Frequently asked questions
Can I Make it Vegan?
Yes, you can easily make a vegan version of this apple and blackcurrant crumble. Simply replace the butter with a vegan-friendly alternative, check the sugars you are using are vegan (not all of them are) and you are good to go.
Can I make it gluten-free?
To make a gluten-free blackcurrant crumble exchange the topping for this one.
Can I Reheat leftovers?
If there are any leftovers, they can be stored in the fridge (covered) for up to 3 days. Just reheat in the oven for 15 minutes or so.

Leftovers can also be frozen for up to 3 months. Defrost fully before reheating in the oven.
What if I can't find fresh blackcurrants?
Fresh blackcurrants are typically in season during August in the UK. So look out for them in supermarkets, or, more likely, your local pick-your-own field or farm shop. That's assuming you haven't got a neat little blackcurrant bush tucked away in your garden.

Blackcurrants are also available year-round in the freezer department – again, farm shops are a good bet for finding them. A little goes a long way flavour-wise, so I always keep a small bag of them in my freezer.

These dark currants are easy to come by in England, France and Germany but elsewhere, they can be tricky to find. In fact, in America, farmers were once banned from growing them. If your search for this tart treat winds up fruitless, please don't despair. Blackberries make a fabulous substitute here.
Serving suggestions
What if I told you that this apple and blackcurrant crumble is good enough to eat just as it is? Trust me, the juicy fruit evident in the photos makes this pudding a delight to eat on it's own. No accompaniments are strictly necessary.
However, this tasty treat also pairs well with a great number of other toppings for the ultimate dessert:
custard (especially in the cooler months).
single cream.
vanilla ice cream (my top choice on hot summer days).
evaporated milk (for that authentic 1970's vibe).
whipped cream.
creme fraiche.
clotted cream (oh my days).
How will you eat yours?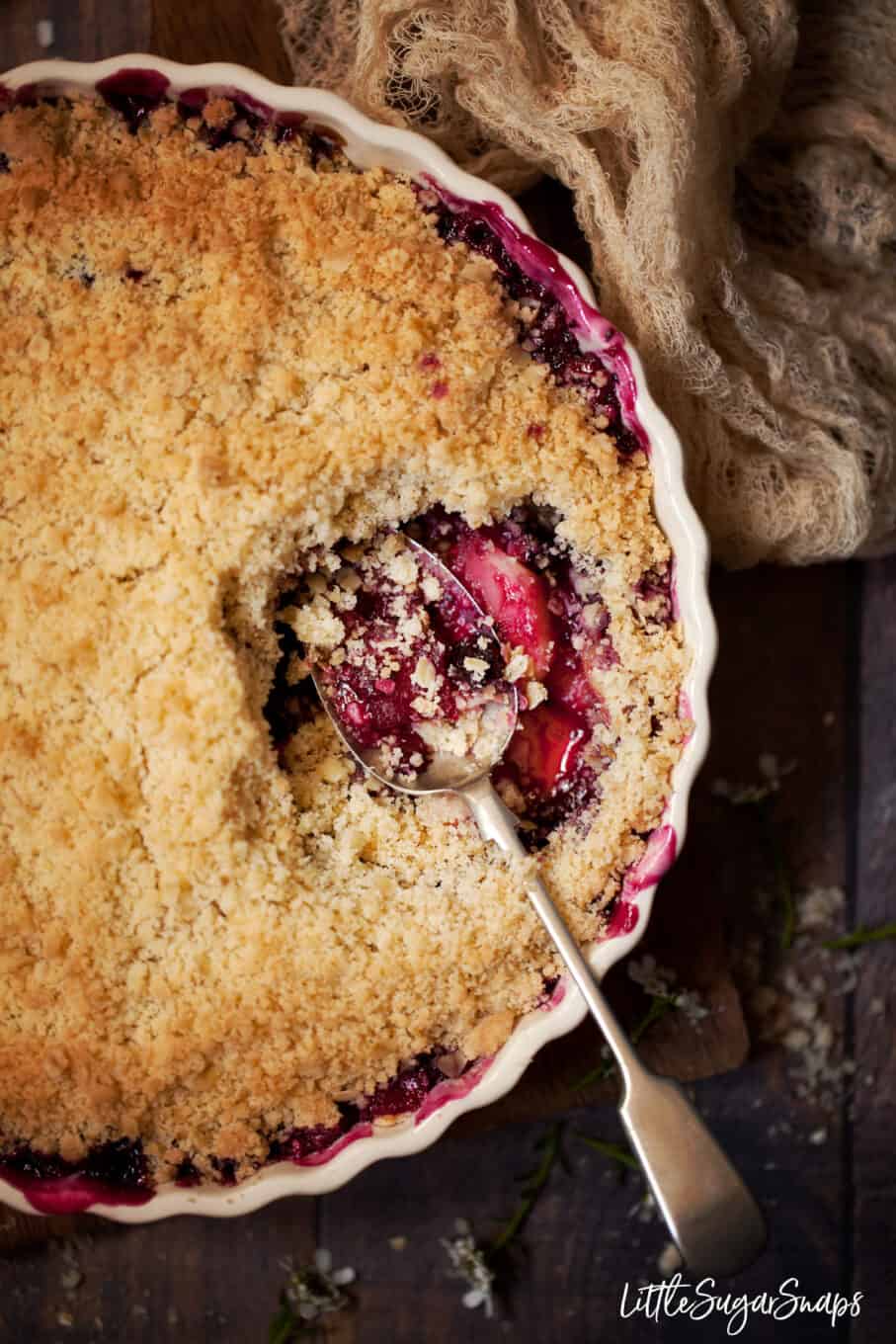 Find More tempting Blackcurrant Recipes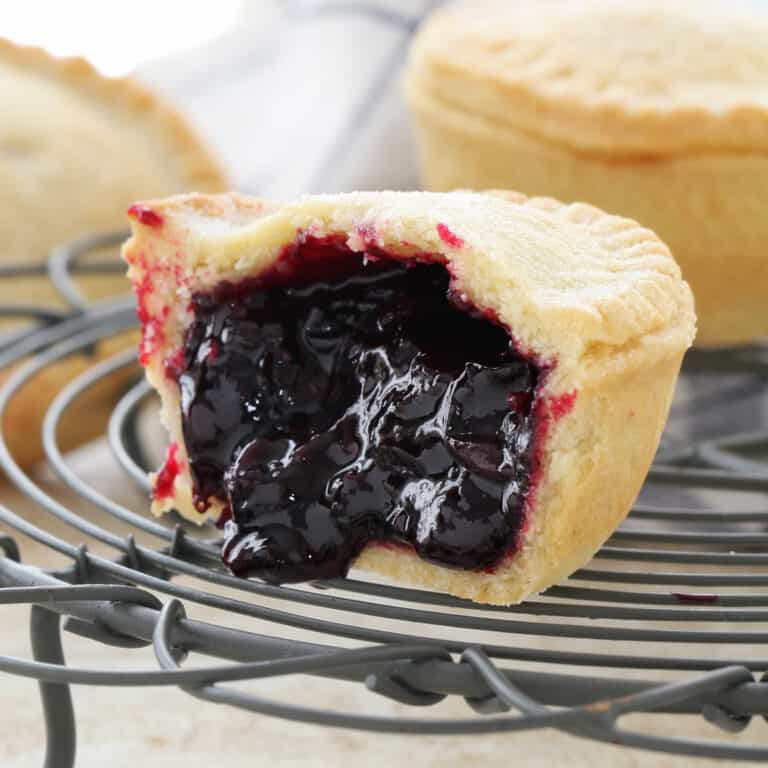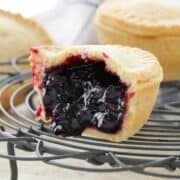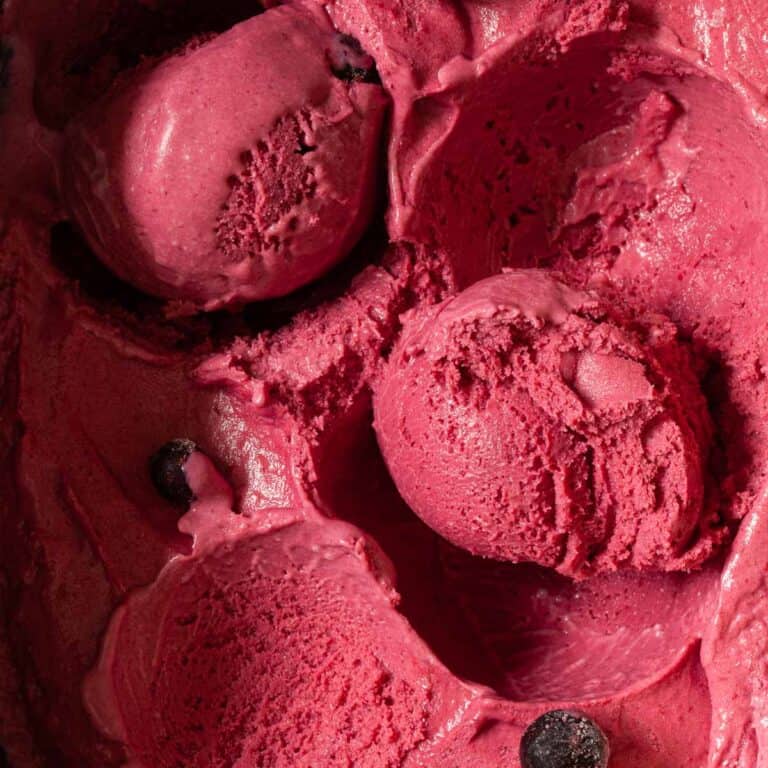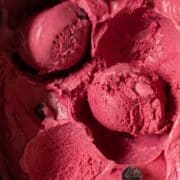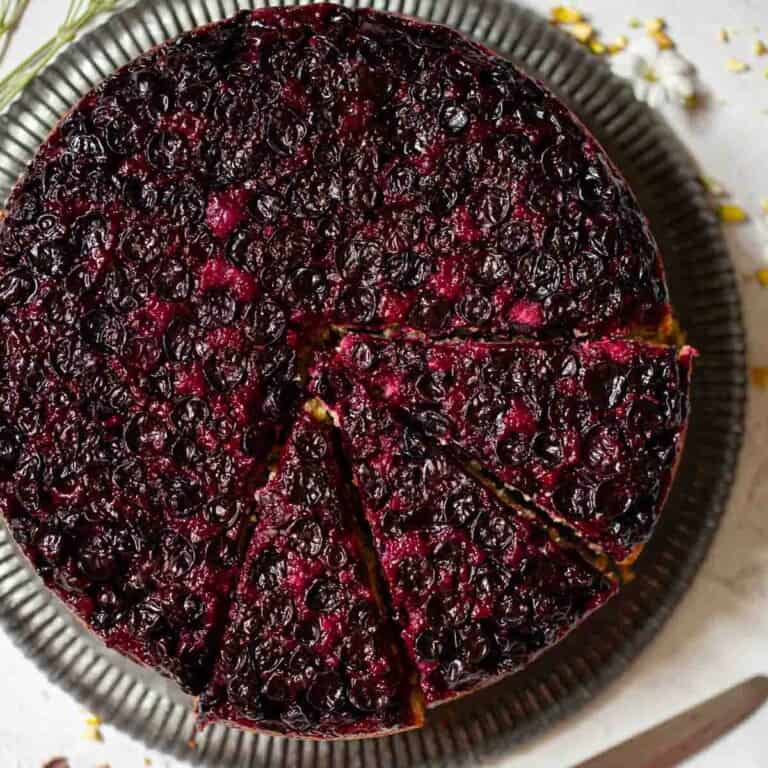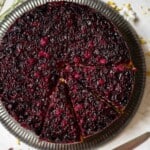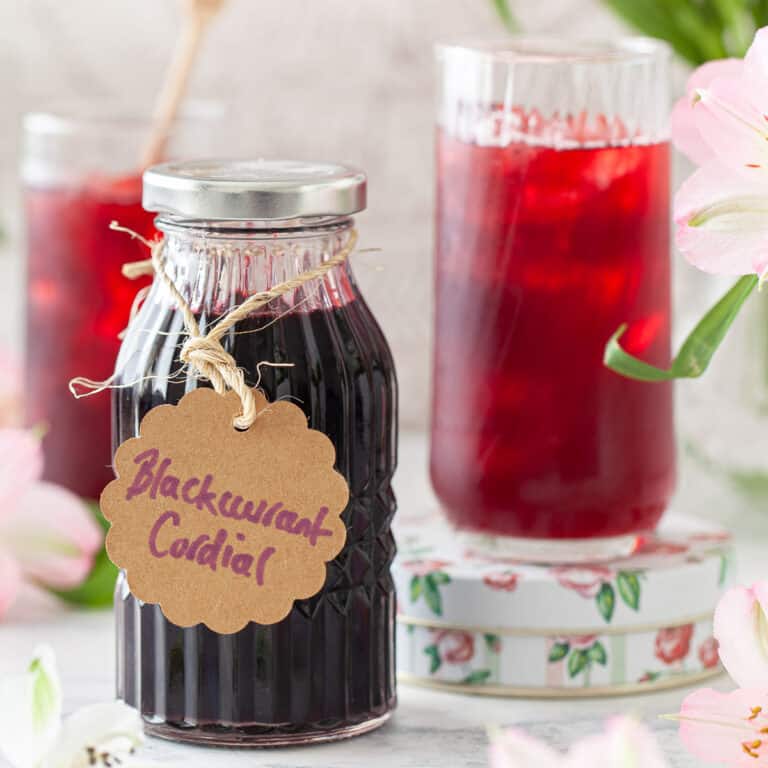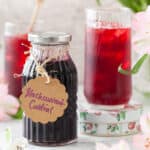 Have you made this recipe for apple and blackcurrant crumble? Please do let me know how you got along by leaving a comment and/ or a rating. It really does help other readers know that they can trust this recipe (and I always love to hear from my readers).
Why not sign up to receive LittleSugarSnaps newsletters to hear when new recipes are published? You'll get a free welcome e-book with my top baking tips and 5 favourite cake recipes. Or stay in touch on Facebook, Instagram or Pinterest.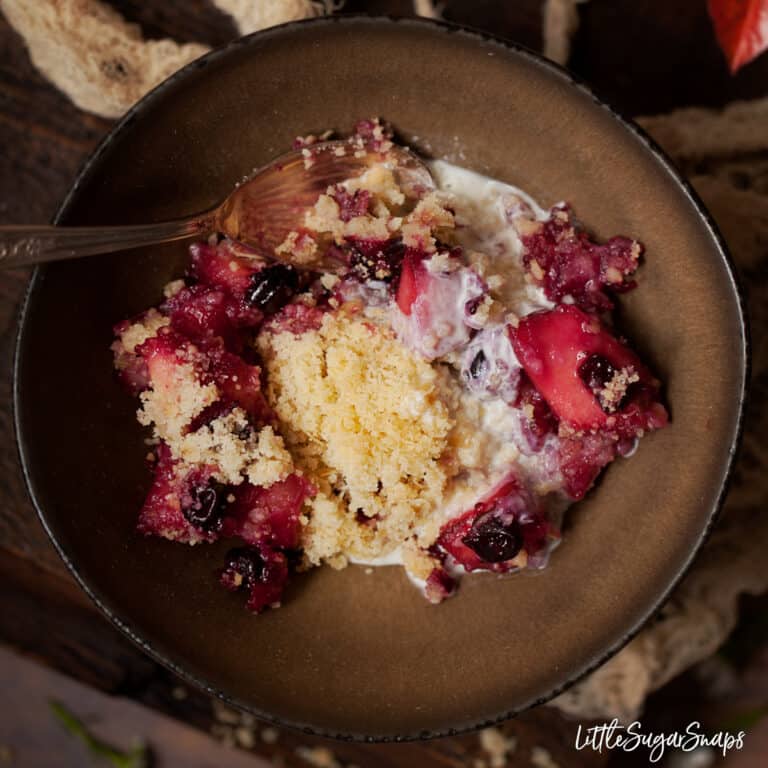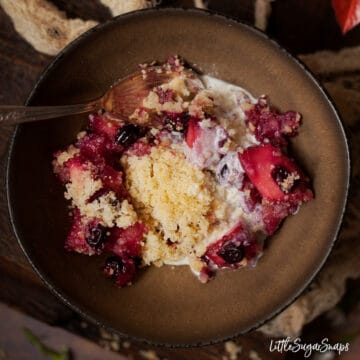 Blackcurrant and Apple Crumble
Blackcurrant crumble with apple is a knockout dessert. It's an easy to make and utterly irresistible pudding that can be enjoyed all year round. Sweet yet tart, try serving it with warm and soothing custard in the colder months, cream as the weather picks up or with a scoop of vanilla ice cream on hot summer days.
Print
Pin
Rate
Equipment
)1 x large ovenproof dish (pictured circular dish is 24cm diameter)
Ingredients
For the Blackcurrant Compote
150

g

Blackcurrants

Frozen or fresh

75

g

White sugar

Granulated or caster
For the Apples
4

Crisp eating apples

such as Pink Lady/ Braeburn/ Jazz

15

g

Butter

15

g

White sugar
For the Crumble Topping
160

g

Flour

3

tablespoon

Granulated sugar

100

g

Butter

30

g

Oats

3

tablespoon

Demerara sugar

⅛

teaspoon

Salt
Instructions
Make the Blackcurrant Compote
If using fresh blackcurrant pick them over and remove any stems. Rinse in cold water and drain

Put the blackcurrants and sugar in a pan and heat gently to allow the sugar to dissolve. Stir often

Once the pan starts to get a little liquid in it, turn the heat to medium and cook for 5-10 minutes until the blackcurrants are soft and a definite sauce has developed

Take the pan off the heat and set aside
Prepare the apples
Put the butter into a large pan and heat to just melt it. Add the sugar, stir and set aside

Peel, core and chop the apples roughly

Add to the butter and sugar in the pan, then return to the heat and cook, stirring frequently, for 5 minutes
Make the Topping
Preheat the oven to 180C/ 350F/ GM 4

In a large bowl measure out the flour, granulated sugar and salt. Stir to combine

Cube the butter, add to the bowl, then rub in: use your fingertips to rub the flour and butter together until it resembles breadcrumbs

Stir through the oats and demerara sugar
Assemble and Bake
Tip the apples into a large baking dish

Spoon the blackcurrant compote evenly over the apples

Tip the crumble over the fruit and spread out roughly

Bake for 30-40 minutes until the top is golden

Remove from the oven and let cool for 5 minutes before serving
Nutrition Per Serving (Approximate)
Calories:
437
kcal
|
Carbohydrates:
71
g
|
Protein:
4
g
|
Fat:
16
g
|
Saturated Fat:
10
g
|
Cholesterol:
41
mg
|
Sodium:
188
mg
|
Potassium:
257
mg
|
Fiber:
4
g
|
Sugar:
40
g
|
Vitamin A:
602
IU
|
Vitamin C:
51
mg
|
Calcium:
32
mg
|
Iron:
2
mg
(Visited 11,584 times, 1 visits today)