Blackcurrant Cordial is fruity, tart, sweet and laced with vanilla. A step up from regular squash that will please kids and adults alike. Top with water, soda or Sparkling wine to make a variety of blackcurrant drinks . Easy to make, freezable and a great way to use up surplus fruit.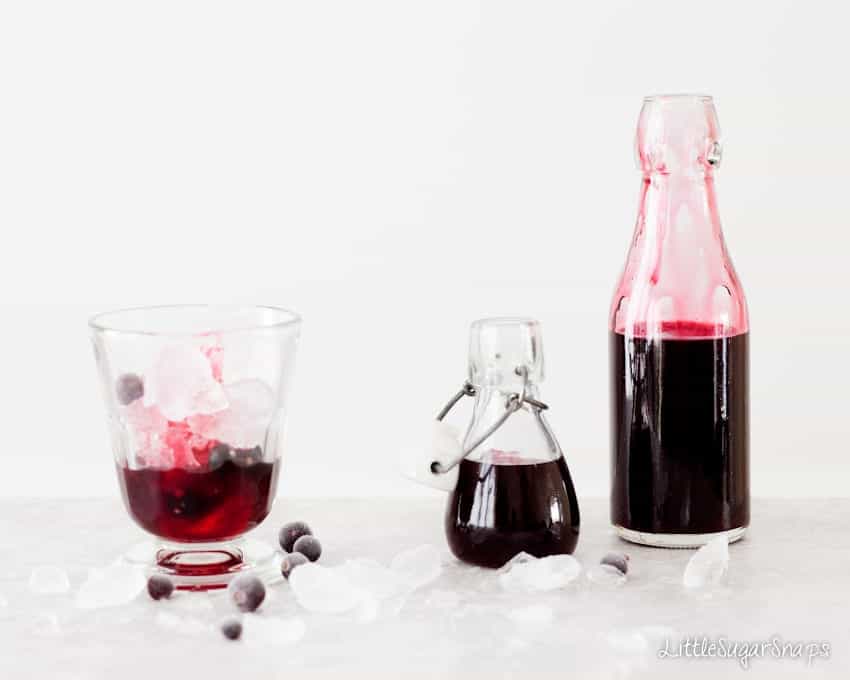 The long summer break from school is only a few weeks away now, so my attention is turning to the fun that's in store for my family this summer. I'm also thinking back to the things we've got up to together over the last few summers.
For the last two years we've headed to France for our holiday. As a family we have a soft spot for the syrups that often appear on café menus in France. Technically, these syrups are not much different to our traditional cordials (aka squash). I say technically, because these French syrups just seem much more of a treat. They seem richer and fuller in flavour. And, unlike the UK, these syrups come in a dazzling array of flavours.
In fact, one of my favourite parts of holidaying in France is watching my girls, on their first café visit of the holiday, trying to decide between those flavours. Will they pick lemon, lime, raspberry, peach, mint, strawberry, blackcurrant, cherry, grenadine or grapefruit… phew? It's quite a list to choose from and when you're a kid, isn't being spoiled for choice and completely unable to decide the best part of picking out a treat?
This year we are not hopping over the Channel to France, so I decided to make my own version of these fruit syrups. I plumped for a variation on our national hero, Blackcurrant Cordial, since blackcurrants are so synonymous with the British Summer (which, incidentally, is still in hiding).
My Blackcurrant Cordial is fruity, tart & sweet all in one go. And I've laced it with sweet, mellow vanilla to make the flavour a little more exciting. It is dark, punchy and vibrant – definitely a step up from regular blackcurrant squash.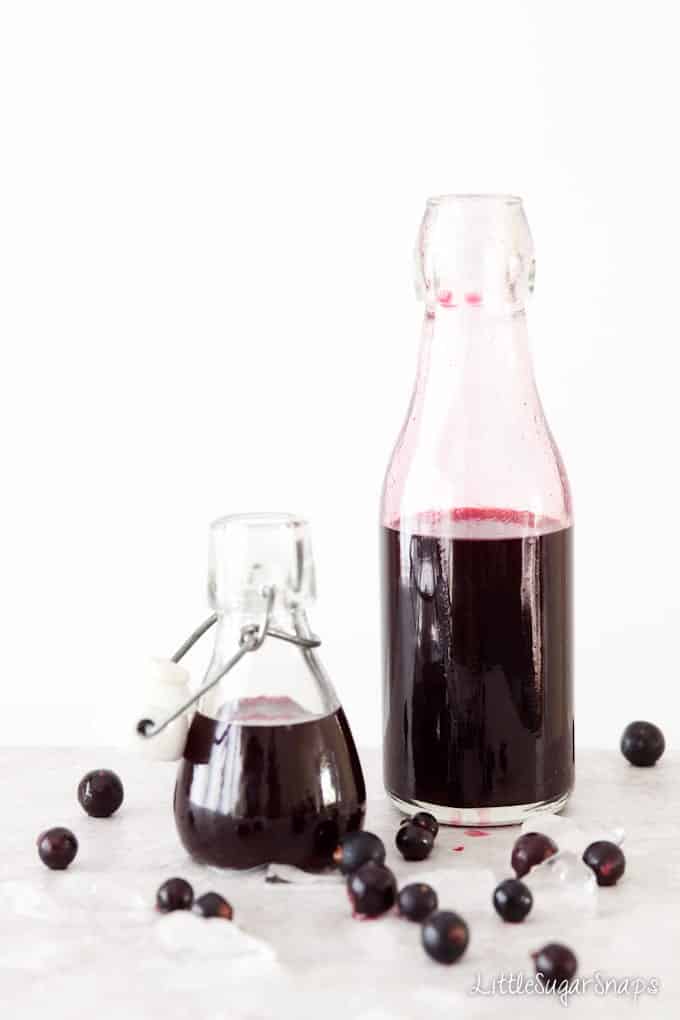 What is Blackcurrant Cordial?
Blackcurrant cordial (aka blackcurrant squash) is a non-alcoholic fruit drink concentrate made from fruit, sugar and water.
Fruit cordials are intended to be diluted with water, soda water or other soft drinks before being consumed.
How to Make a Fruit Squash
My Blackcurrant squash is a great way to use up a surplus of fruit that would otherwise go to waste. It can even be made with blackcurrants that have previously been frozen or ones that are getting a little on the squishy side
simply cook the fruit with the sugar and water over a moderate heat
bring to a simmer, squash the fruit against the side of the pan as it cooks
cool and strain to remove any fruit pulp
Once made, the cordial will keep, refrigerated, for around a month. And bonus – it can also be frozen and defrosted for later use.
How to Use Blackcurrant Cordial
This cordial can be used to create a multitude of different blackcurrant drinks:
go traditional and serve it over ice topped up with water
try adding sparkling water or cream soda for a change
get swish – make ice cubes with edible flowers in them or drop a few fresh blackcurrants into the glass to bob around
top with hot water for a comforting warm blackcurrant drink on a chilly day
if you fancy a tipple, drop a little into a champagne flute and top with sparkling wine (or champagne)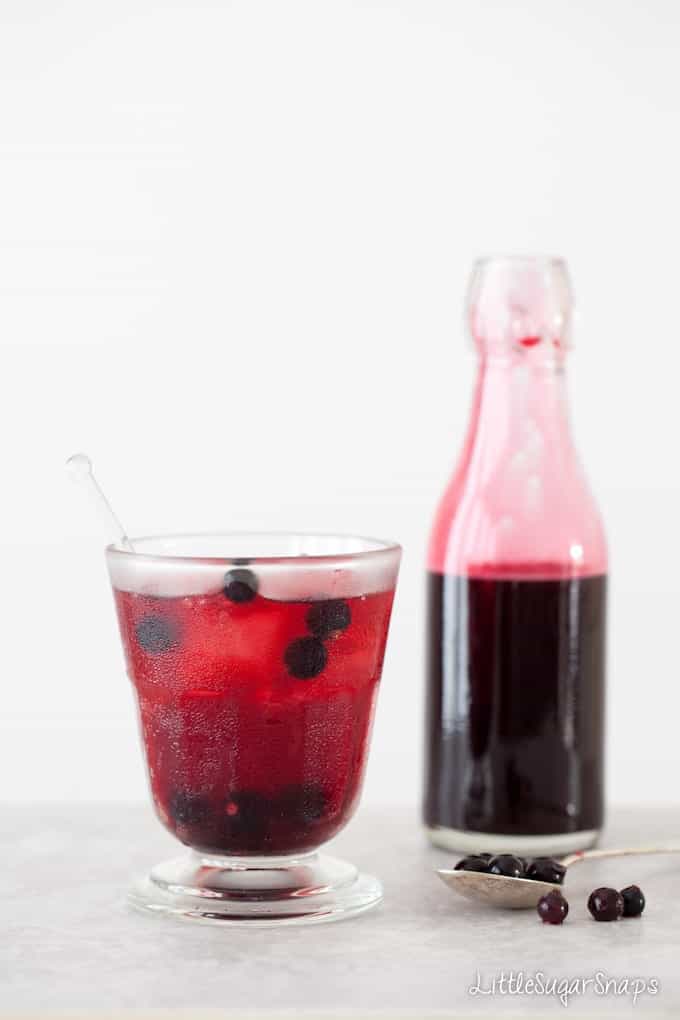 Just one more thing – did I mention that this Blackcurrant Cordial can also be used to make a particularly stylish Blackcurrant & Vanilla Mojito?
If you love blackcurrants, take a look at my other blackcurrant drinks: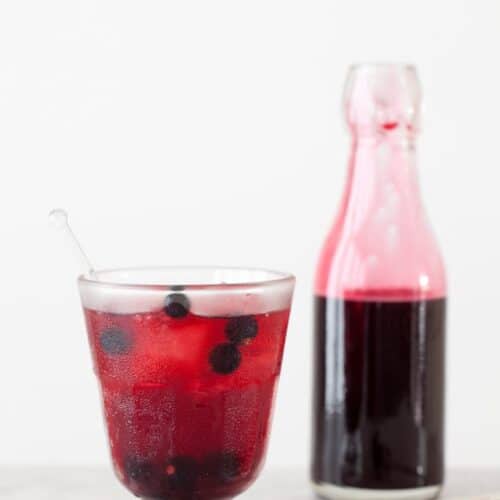 Blackcurrant Cordial with Vanilla
Blackcurrant Cordial: fruity, tart, sweet and laced with vanilla. A step up from regular squash that will please kids and adults alike. Top with water, soda or Sparkling wine. Easy to make, freezable and a great way to use up surplus fruit. Makes approx 450ml
Print
Pin
Rate
Ingredients
300

g/ 10 1/2 oz

Blackcurrants

(fresh or frozen)

160

g/ 5 1/2 oz

Caster sugar

320

ml/ 1 1/3 cup

Water

2

Vanilla pods

(optional)
Instructions
Put the blackcurrants into a saucepan

If using - split the vanilla pods and scrap the seeds into the pan. Add the pods

Sprinkle the sugar over the fruit

Pour in the water

Allow the sugar to dissolve over a moderate heat, then bring the liquid to simmering point, squashing the fruit with the back of a wooden spoon as it heats

Remove from the heat and cool for 20 minutes before straining through a sieve

Optional: Strain the liquid through a muslin cloth to remove any small pieces of fruit that may have passed through the sieve

Let cool completely, the store in the fridge for up to 1 month or freeze in small batches
Nutritional Information Per Serving (Approximate)
Serving:
25
ml
|
Calories:
46
kcal
|
Carbohydrates:
12
g
|
Protein:
1
g
|
Fat:
1
g
|
Saturated Fat:
1
g
|
Sodium:
1
mg
|
Potassium:
54
mg
|
Sugar:
9
g
|
Vitamin A:
38
IU
|
Vitamin C:
30
mg
|
Calcium:
9
mg
|
Iron:
1
mg
(Visited 75 times, 1 visits today)