Pumpkin Spice Marshmallows are the ultimate autumnal treat. Soft, fluffy and warmly spiced, these treats are a welcome sight on their own or as part of a dessert dipping bar at Halloween and Bonfire Night parties.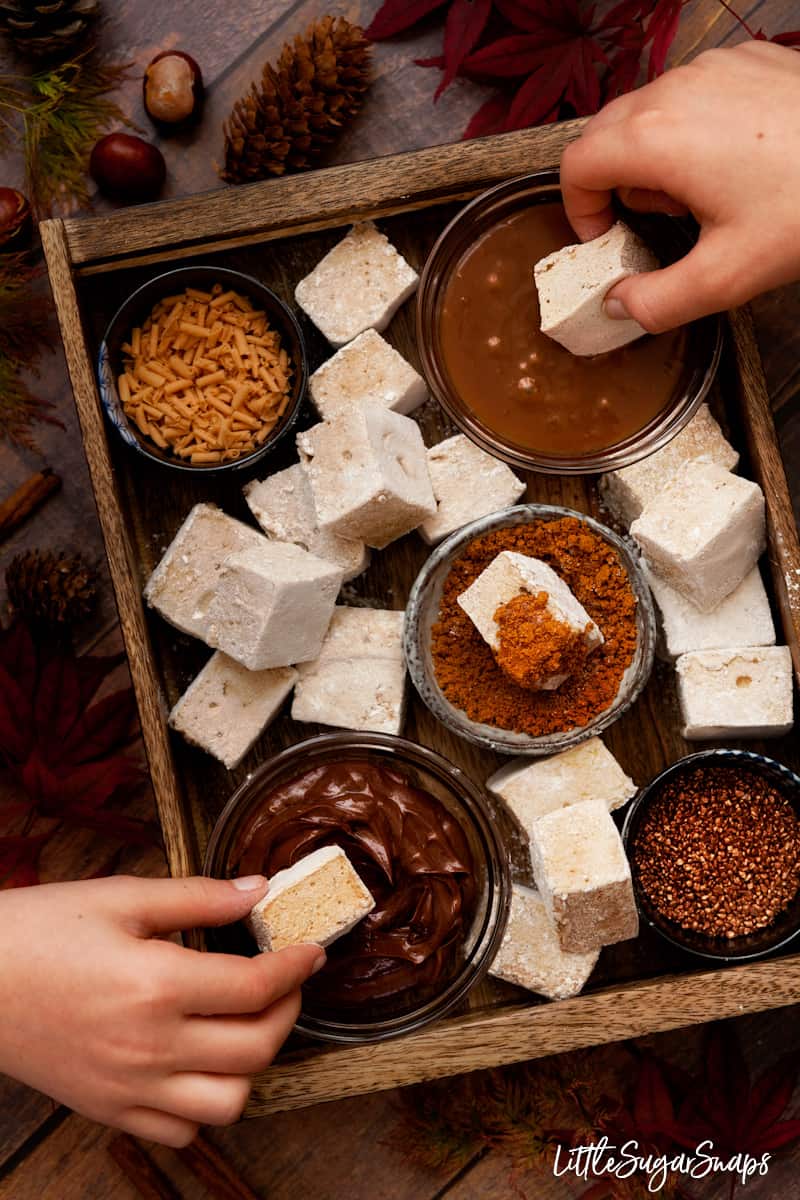 THIS POST IS SPONSORED BY THERMAPEN
When recently I asked my kids if they would be willing to help me do some photos involving pumpkin spice marshmallows, it was hard to hold them back. Homemade marshmallows only happen once or twice a year with me, so when I casually mentioned that there was also going to be a dessert dipping bar involved, they couldn't believe their luck.
I created this recipe with the festivities of autumn in mind. Over in the US, that's Halloween and Thanksgiving. But here in Blighty, though we do now seem to have fully embraced Halloween, my heart always has a softer spot for Bonfire Night. Perhaps because I have so many recollections of wonderful family times on this night when I was small. And by memories, I do of course mean food memories. We had steaming cups of soup, buttery potatoes cooked on the bonfire, mushy peas and my Gran's fabulous bonfire toffee. All consumed around a mesmerizing fire in our back garden.
My children, however, have added to all of these treats by adopting another US tradition – toasting marshmallows on the fire. So, in creating these pumpkin spice marshmallows I'm giving a nod to two countries' autumnal celebrations and the evolving whims of my family.
Expect light, airy, fluffy little pillows of joy and a genty hit of autumnal pumpkin spice. I've included treacle (molasses) in my recipe to add extra depth of flavour and to provide a little seasonal colour.
These pumpkin spice marshmallows are hard to resist just as they are but they are also prime candidates for dipping. So I've put together the instructions for a dessert dipping bar, featuring chocolate and caramel sauces and various additional toppings to add a little bite and crunch to the mix.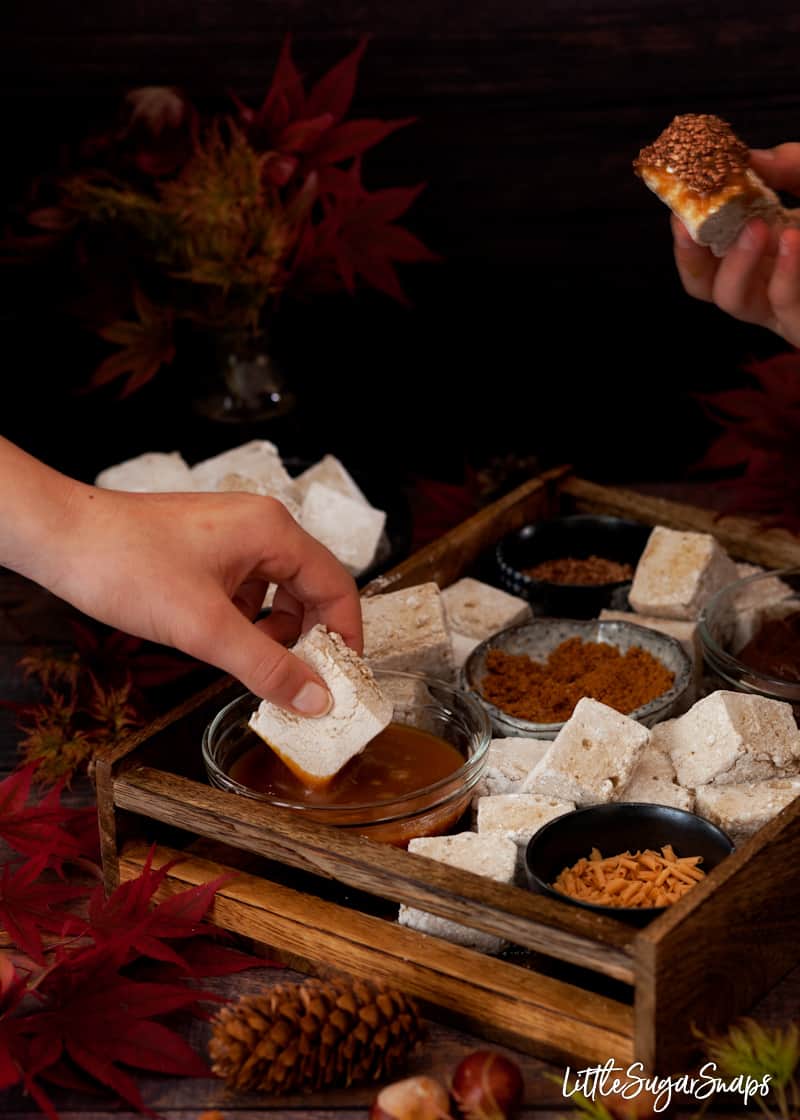 Tips for Making Marshmallows at Home
If you have a stand mixer then making your own marshmallows is certainly achievable. It does take a little time and patience, but there is nothing inherently complex about the process. Homemade marshmallows are far superior to the average marshmallow available to purchase in the supermarket, so I highly recommend giving them a go.
There are 2 pieces of equipment I endorse using for marshmallow making.
First of all, a stand-mixer. It does most of the hard work for you and you can potter around whilst it is busy whisking the ingredients. I have been known to make marshmallows using a handheld whisk. It is do-able, but you will work your equipment hard. For more on this technique head over to my recipe for Cinnamon Apple Marshmallows.
Secondly, a reliable food thermometer, such a Thermapen is a must. It is very important to heat the sugar syrup to 120C/ 248F before pouring it into the whisked egg whites. I used my Thermapen Professional to take the guesswork out of this task since it can accurately read the temperature in less than 3 seconds. The auto-rotating display can be used in any position, in either hand and the motion-sensing sleep mode which automatically turns the Thermapen on/off when set down/ picked up means there's no need to fiddle around to turn it back on between temperature readings. Easy.
For a limited time (19th Nov 2021 – 19th Dec 2021) Thermapen are offering my readers a 20% discount on full-priced items bought directly from them. Just use the code SUGAR20 at the checkout.
How to Make Pumpkin Spice Marshmallows
Whether you are using a handheld or stand mixer, the process is the same. if you are new to marshmallow making then my advice is to read the recipe through and get yourself organised before starting – I've written a few tips on this subject before. Once ready, follow these steps:
Begin by lightly greasing the base and sides of a baking tin with a small quantity of oil. Neatly line the tin with baking parchment (non-stick) and sift a blend of icing sugar and cornflour lightly over the baking parchment
Put the gelatin leaves into a bowl of cold water and leave to soften (5-10 minutes)
Tip the egg white and 1 tablespoon of the caster sugar into the bowl of your stand mixer
Pour the rest of the caster sugar, the treacle and the water into a medium-sized heavy-based saucepan and cook over a moderate heat to allow the sugar to dissolve. Bring to the boil and continue to cook until the syrup reaches 120°C/ 248°F on a sugar thermometer, such as a Thermapen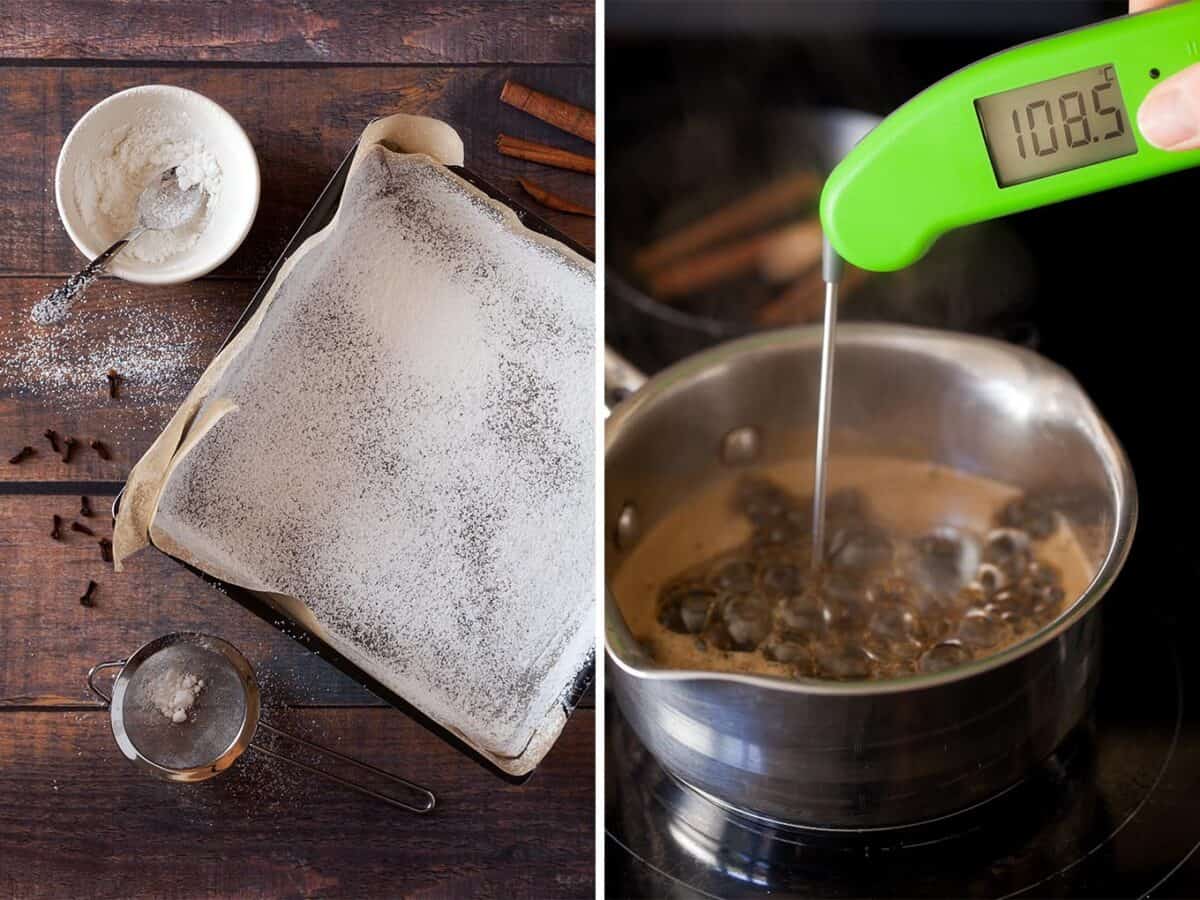 Meanwhile, whisk the egg whites until stiff
When the syrup reaches the right temperature, take it off the heat, drain the gelatin and add it to the syrup. Stir until completely dissolved
With the whisk running, steadily pour the syrup into the egg whites, taking care not to pour it onto the whisk. It will take around 1 minute to pour the syrup in at a steady pace
Once the syrup has been added, continue to whisk for 5 minutes
Add the pumpkin spice and whisk for a further 5 minutes (more like 8 minutes if using hand-held beaters)
The marshmallow should be thick & glossy and it should leave a definite trail that does not melt away after 30 seconds. If this consistency has not been reached whisk for a few more minutes and check again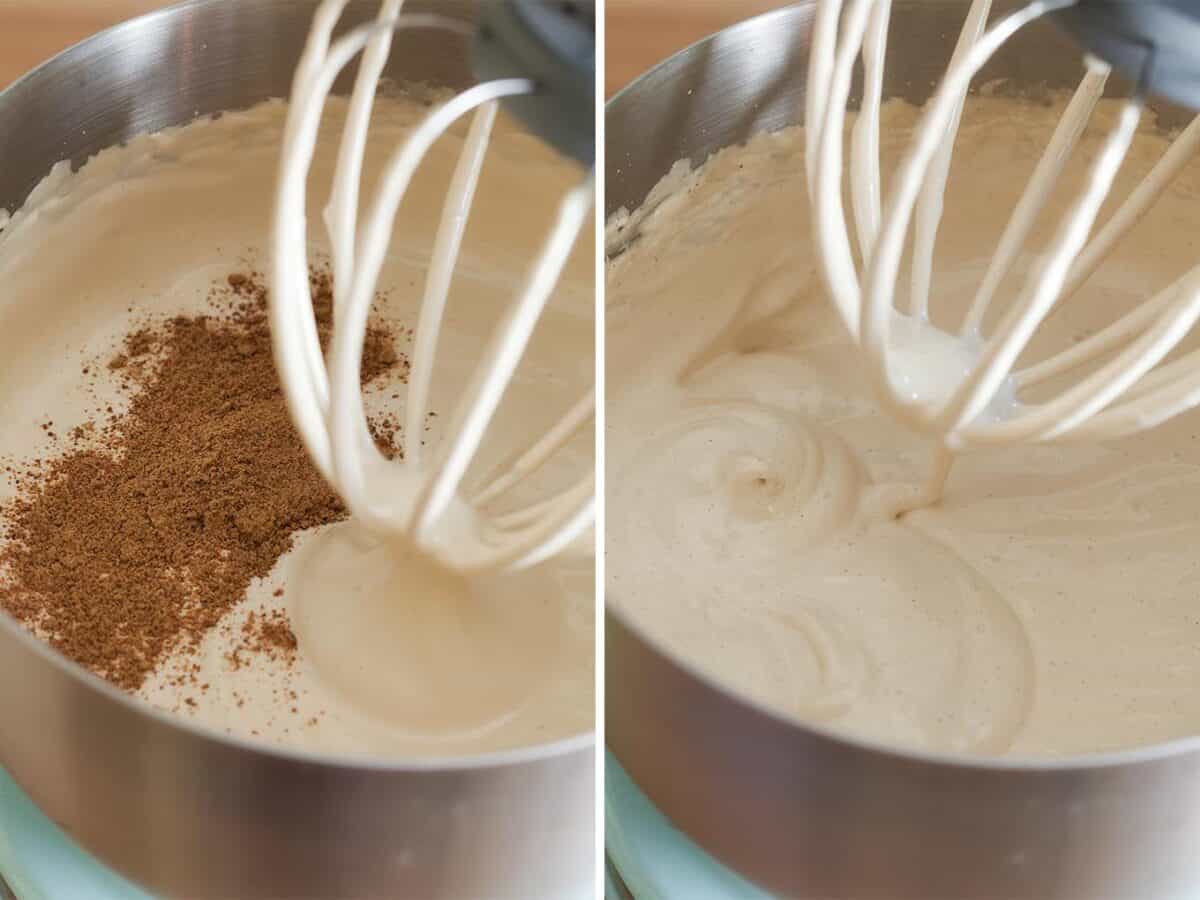 Once the correct consistency has been reached, use a rubber spatula to spoon the marshmallow into the prepared tin and level the top with a palette knife
Leave to set in a cool place for 2 hours, then cover with clingfilm and leave for 4 more hours
Dust a large board with the remaining icing sugar & cornflour mix. Tip the set marshmallow onto this and peel off the baking parchment. Use a sharp knife to cut it into squares and dust all sides in the sugar & cornflour
Leave to dry-out for a further hour, then store in an airtight container for up to 5 days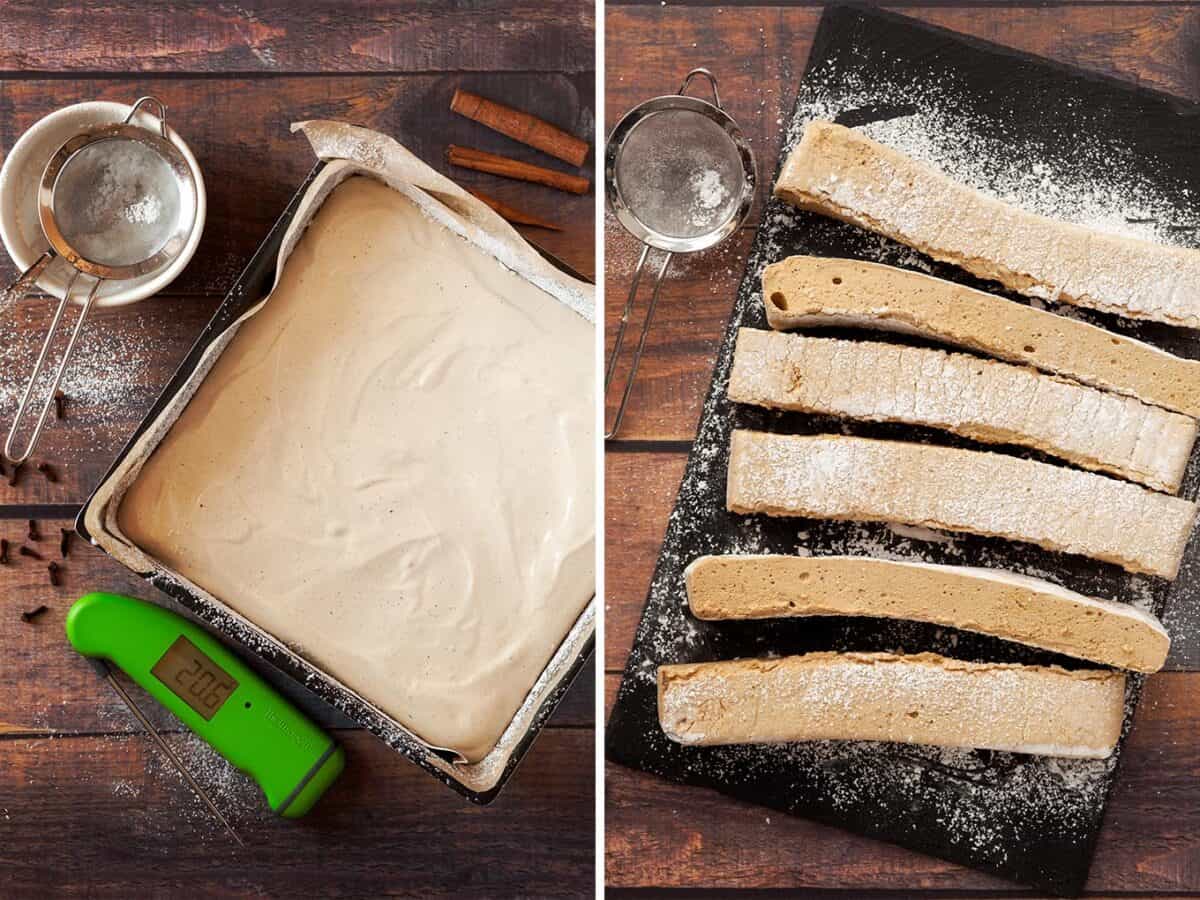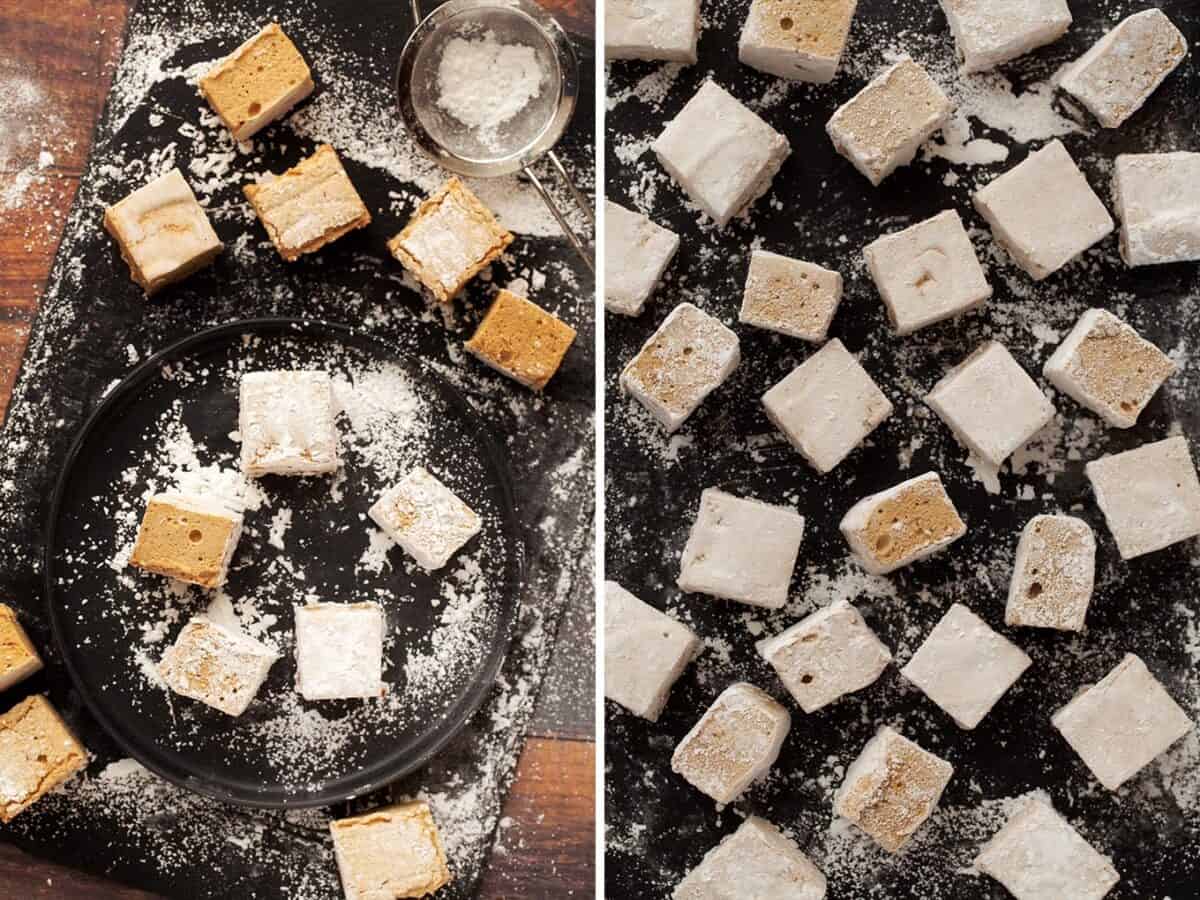 How Long Does Homemade Marshmallow Stay Fresh?
Marshmallows benefit from a drying-out period to give them their subtle signature crust. Once ready, marshmallows can be stored at room temperature in an airtight container for around 1 week – if they could ever last that long.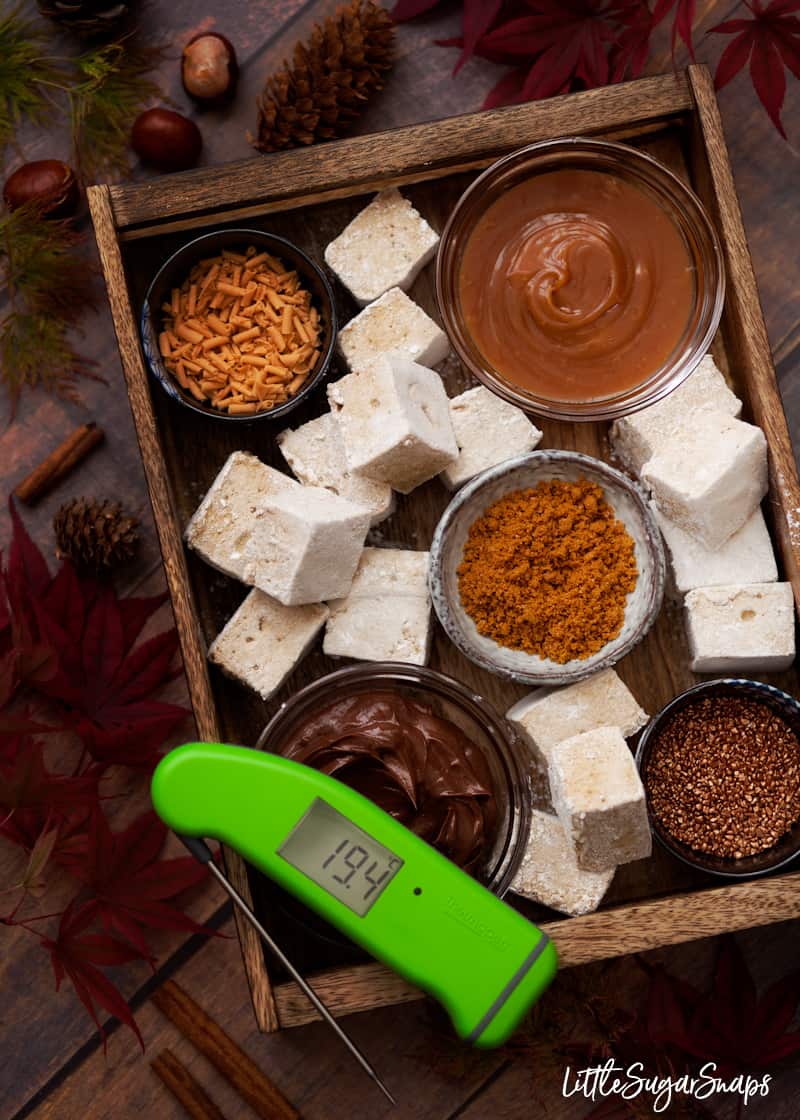 Are Marshmallows Freezable?
Here's a little known fact – homemade marshmallows are freezable. In the unlikely event that there are leftover marshmallows, try packing them in layers (parchment in between) in an airtight container and freezing them. Marshmallows can be stored like this for up to 3 months. Defrost at room temperature for several hours before serving.
How to Create a Dessert Dipping Bar
Once you have a batch of homemade marshmallows, the world is your oyster as far as dessert dipping bars are concerned. Pick a tray and 5-6 bowls that will fit onto it and start compiling your dream dipping bar.
For my pumpkin spice marshmallow dipping bar I included the following:
dark chocolate sauce sweetened with maple syrup
caramel sauce
bronze coloured sprinkles
caramel candy curls
Biscoff cookies – crushed into tiny pieces
All of these flavours were chosen to marry well with the pumpkin spice flavour of my marshmallows.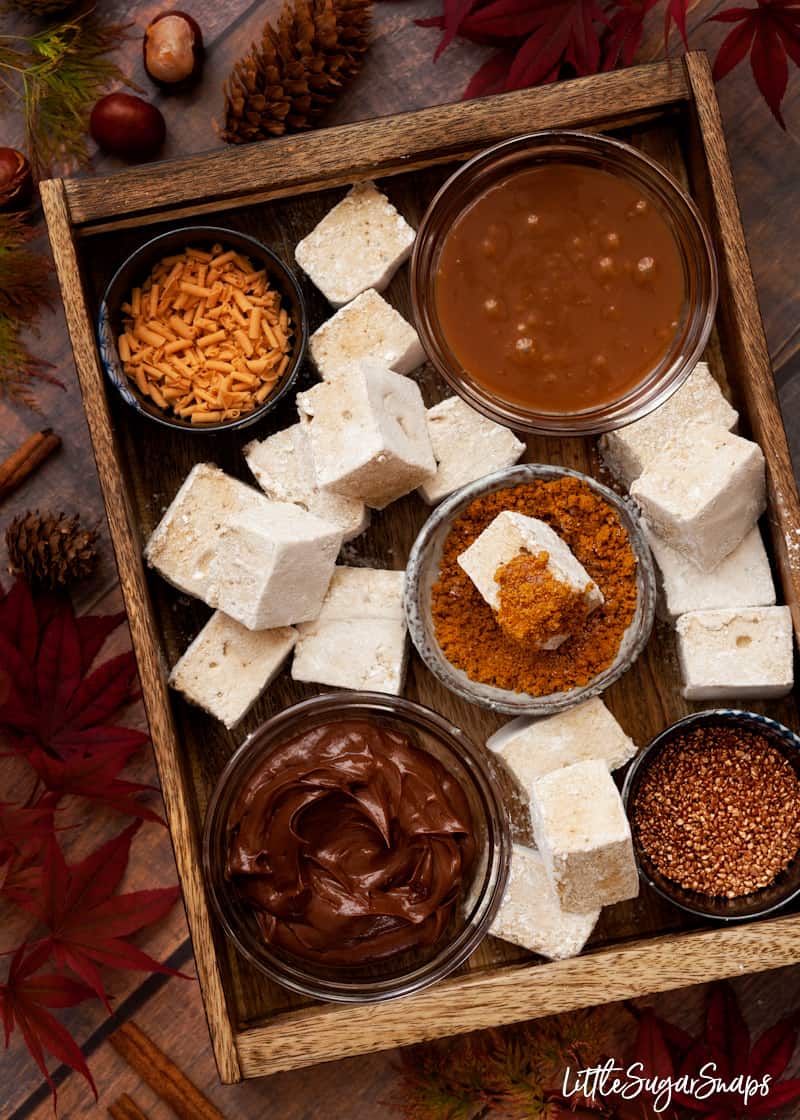 However, the following would all make great options to pair with alternative marshmallow flavours:
white or milk chocolate sauce
salted caramel sauce
fruity sauces – especially raspberry, strawberry or cherry
ginger biscuits (again, crushed)
dark/ milk/ white chocolate curls
finely chopped nuts
popping candy (So. Much.Fun.)
You could even add a few healthy chunks of apple or banana to the bar to balance out all of that sweetness.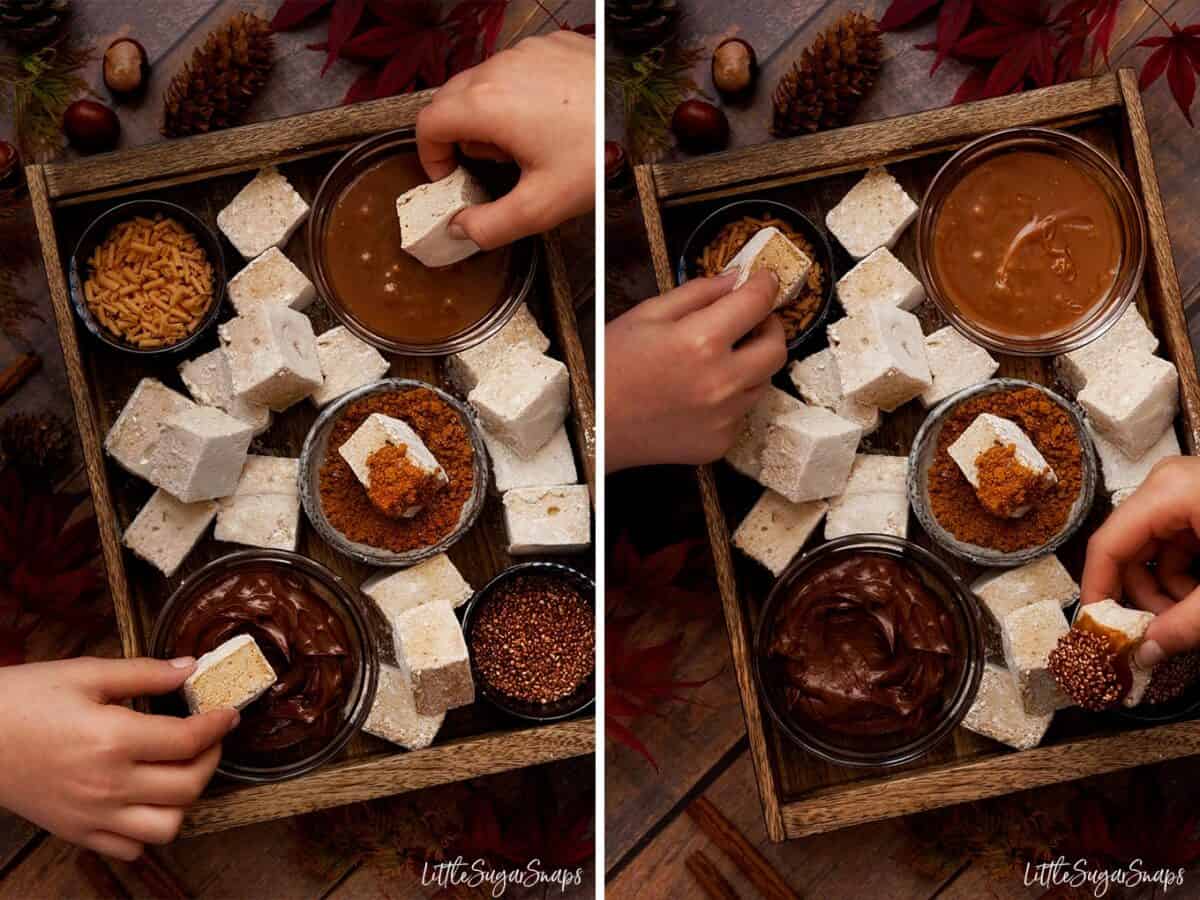 Whatever you decide to include, dessert dipping bars are an entertaining and inclusive dessert to serve up. My pumpkin spice marshmallow dessert dipping bar is very well suited to autumnal parties such as Halloween and Bonfire Night.
For more autumnal treats take a look at: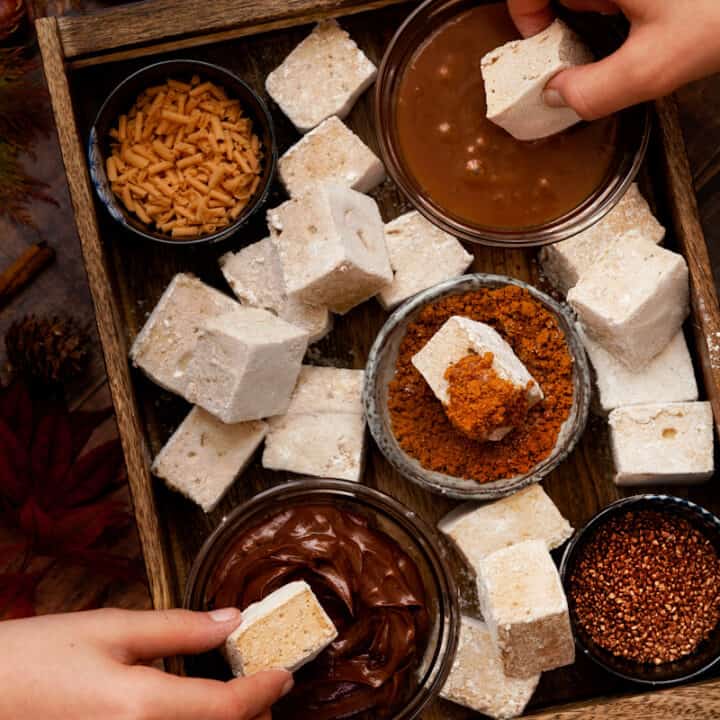 Pumpkin Spice Marshmallows & Dipping Bar
Pumpkin Spice Marshmallows are the ultimate autumnal treat. Soft, fluffy and warmly spiced, these treats are a welcome sight on their own or as part of a dessert dipping bar at Halloween and Bonfire Night parties.
Print
Pin
Rate
Ingredients
For the Pumpkin Spice
1

teaspoon

Ground Cinnamon

¼

teaspoon

Ground Nutmeg

¾

teaspoon

Ground Ginger

⅛

teaspoon

Ground cloves

⅛

teaspoon

Ground Allspice
For the Pumpkin Spice Marshmallows
2

tablespoon

Icing Sugar

2

tablespoon

Cornflour

(cornstarch)

6

Leaves Gelatine

75

g/ 3 oz

Egg whites

350

g/ 1 ¾ cups

Caster Sugar

1

tablespoon

Black treacle

or dark corn syrup

150

ml/ ⅗ cup

Water
For the Chocolate Dipping Sauce
50

g/ ⅓ cup

Dark Chocolate Chips

140

ml/ ½ cup + 1 tbsp

Double Cream

2

teaspoon

Maple Syrup
For the Caramel Dipping Sauce
100

g/ ½ cup

Caster Sugar

50

g/ ½ stick

Butter

60

ml

Double Cream
Toppings of Choice
White/ Milk/ Dark Chocolate Curls

Caramel Curls

Sprinkles

Crushed Cookies – Biscoff or ginger work well

Chopped nuts
Instructions
Make the Pumpkin Spice
Mix all ground spices in a small bowl and set aside
Make the Marshmallow
Begin by lightly greasing the base and sides of a 20cm square baking tin with a small quantity of oil. Neatly line the tin with baking parchment (non-stick)

Sift the icing sugar and cornflour together and use approximately ¼ to lightly dust the baking parchment

Put the gelatin leaves into a bowl of cold water and leave to soften (5-10 minutes)

Tip the egg white, 1 tablespoon of the caster sugar and the salt into a large bowl

Pour the rest of the caster sugar and the black treacle into a medium-sized heavy-based saucepan. Over a medium heat, allow the sugar to dissolve, stirring occasionally. Bring to the boil and continue to cook until the syrup reaches 120°C/ 248°F on a sugar thermometer – I used my Thermapen Professional

As the syrup approaches 115°C/ 240°F, whisk the egg whites with electric beaters until stiff

As soon as the syrup reaches the specified temperature, take the pan off the heat. Drain the gelatin, add to the syrup and stir until completely dissolved

With the electric whisk running, steadily pour the syrup into the egg whites, taking care NOT to pour it onto the whisk. It will take around 1 minute to pour the syrup in at a steady pace

Once the syrup has been added, continue to whisk for 5 minutes

Add the pumpkin spice and whisk for a further 5 minutes. The marshmallow should be thick, glossy and stiff – it should leave a definite trail that does not melt away after 30 seconds.

If this consistency has not been reached whisk for a few more minutes and check again Once the correct consistency has been reached, use a rubber spatula to spoon the marshmallow into the prepared tin and level the top with a palette knife

Leave to set in a cool place for 2 hours, then cover with clingfilm and leave for 4 more hours

Dust a large board with the remaining icing sugar & cornflour mix. Tip the set marshmallow onto this board and peel off the baking parchment. Use a sharp knife to cut it into squares and dust all sides in the sugar & cornflour

Leave to 'dry out' for a further hour, then store in an airtight container for up to 5 days
Make the Chocolate Dipping Sauce
Put the chocolate and cream into a heatproof bowl and microwave for 1 minute on full power (or heat over a bain-marie until the chocolate has melted)

Stir until smooth and then mix in the maple syrup
Make the Caramel Dipping Sauce
Put the caster sugar (in an even layer) in a heavy-based saucepan and let cook over a moderate heat, swirling around the pan a couple of times to cook evenly. The sugar should first melt, then turn a lovely amber colour

Once the sugar has dissolved and the colour is deep amber, carefully add the butter and cream. Take care as the mixture may bubble up. Don't worry if the caramel solidifies in places. Put the pan back on a gentle heat and cook for around 2 minutes more, stirring frequently until it is smooth.

Set aside to cool to room temperature
Assembling the Dipping Bar
Pick a few sprinkles such as chocolate curls, caramel curls, sprinkles or crushed cookies (I used Biscoff). Put them into small bowls

Pour the caramel and chocolate sauces into bowls – if the sauces are a little thick, then pop them in the microwave on the defrost setting for 15-second bursts until they loosen

Lay everything out on a tray and fill the gaps with the pumpkin spice marshmallows
Nutrition Per Serving (Approximate)
Calories:
337
kcal
|
Carbohydrates:
54
g
|
Protein:
3
g
|
Fat:
13
g
|
Saturated Fat:
9
g
|
Cholesterol:
38
mg
|
Sodium:
65
mg
|
Potassium:
89
mg
|
Fiber:
1
g
|
Sugar:
50
g
|
Vitamin A:
419
IU
|
Vitamin C:
1
mg
|
Calcium:
43
mg
|
Iron:
1
mg
(Visited 774 times, 1 visits today)