Delicately flavoured Apple Cinnamon Marshmallows are the ultimate treat: soft, bouncy, squidgy, squishy, light as air, cloud-like. Gorgeous hunks.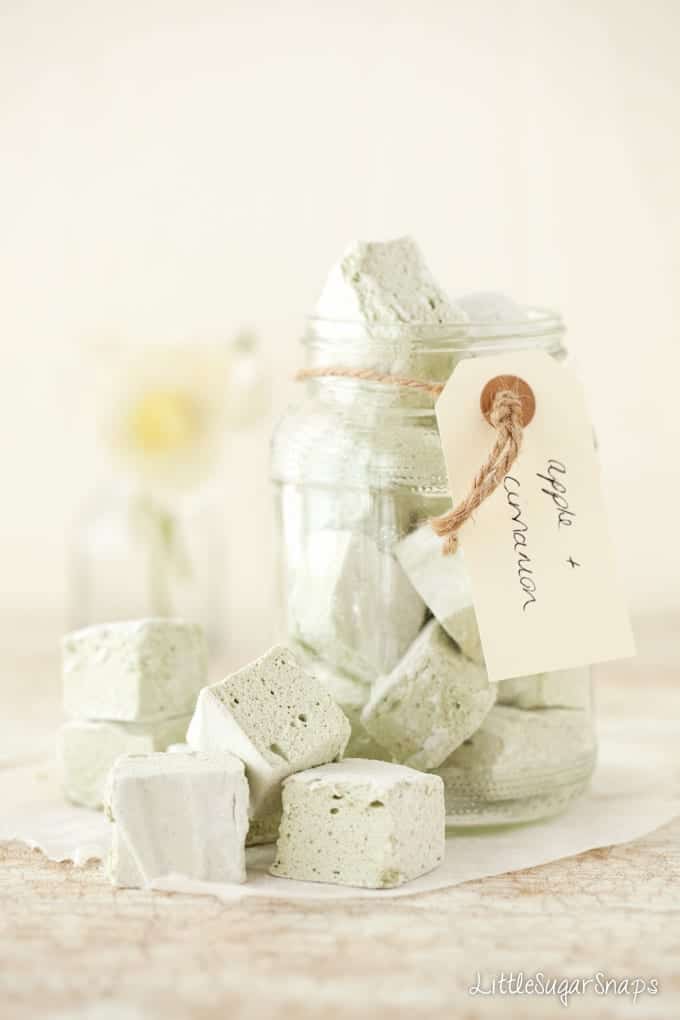 Drum roll please…. Apple Cinnamon Marshmallows are finally here. If you have never made marshmallow before, I'm going to make you a promise: if you make these you will not be disappointed. Homemade marshmallows are big, soft, gorgeous hunky chunks that are the ultimate bouncy, squidgy, squishy, light as air, cloud-like sweet treat. My version just happens to include a hint of apple & a kick of cinnamon. Resistance is futile.
THIS POST CONTAINS AFFILIATE LINKS. AS AN AMAZON ASSOCIATE I EARN FROM QUALIFYING PURCHASES.
Up until a year ago I'd never made marshmallow. I hadn't even realised that a homemade version was remotely achievable or sensible to attempt.
Then I bought Sweet Things by Annie Rigg and well, I couldn't stop myself. The book is full of achingly beautiful photography and quality recipes. I started off with Annie's vanilla marshmallows dunked in chocolate & various toppings. Then I moved onto her gingerbread mallows which are divinely spiced clouds of sweet joy, perfect for topping a cosy hot chocolate during the autumn. After these successful dalliances with marshmallow, I confess, I was hooked.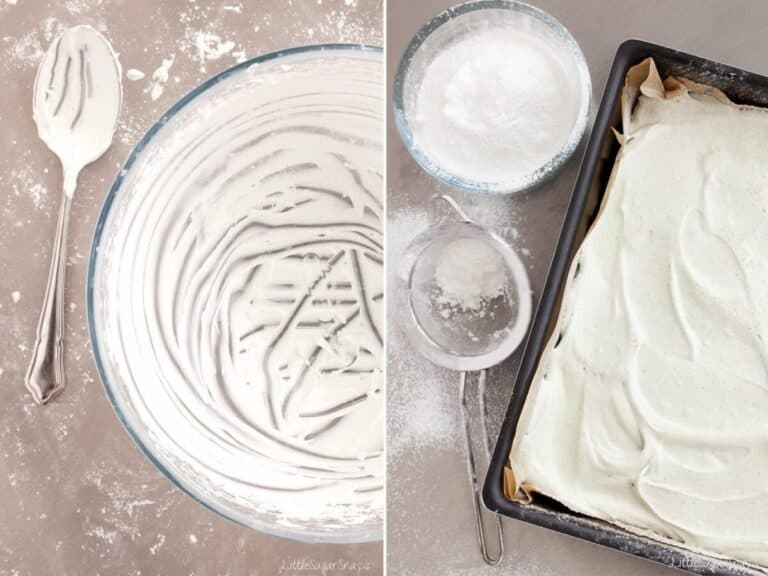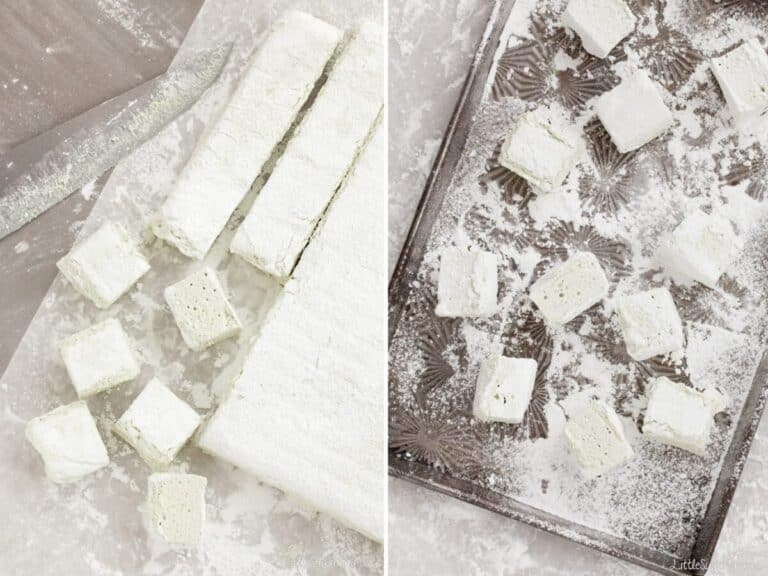 The difference between regular shop bought and homemade marshmallow is startling. Homemade wins hands down on every level – looks, taste, texture. There really is no comparison.
Of course, homemade can also be tweaked to suit your latest whim. You can:
create your own flavours
colour them how you wish
dip them in chocolate and toppings
You can even make marshmallow lollipops. The one thing that is for sure is that you'll never look back.
Before I go further, let me make it clear that you do not need fancy equipment to make these Apple Cinnamon Marshmallows at home.
I'm a self-confessed owner of very few kitchen gadgets. The most noteworthy gap in my kitchen accessories is that of a free-standing mixer. This is mainly by choice. I like to do most things the old-fashioned way – by hand. I have, however, promised myself a freestanding mixer one fine day, and it will be this one. In that exact colour. But not until I have a kitchen big enough to proudly display it on a dedicated shelf, surrounded by lots of pretty vintage baking accessories (la la la….).
However, since the only things I will ever make in this mixer are marshmallows and very wet, sticky doughs, that's a luxury I cannot justify…. yet.
Until that dream materialises, whenever I need to whisk anything, I use my trusty Kenwood K-Mix and all of its' 350w of power.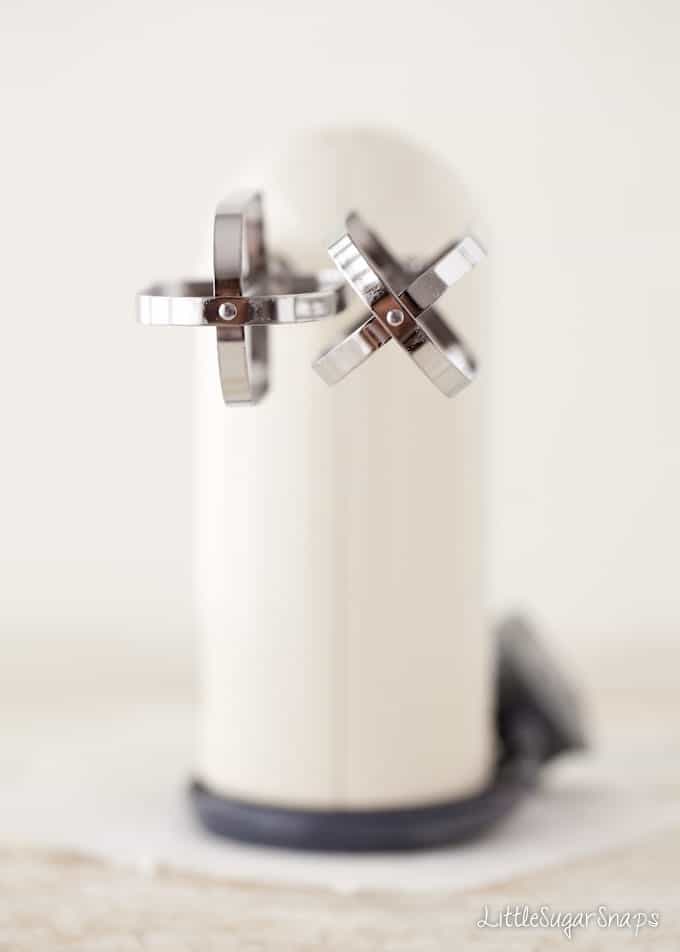 A sturdy set of electric beaters is the only piece of equipment needed to make these Apple Cinnamon Marshmallows with success. Oh, and a touch of patience. I do however, have a few tips to share with you to help you enjoy totally blissful chunks of Apple Cinnamon Marshmallows asap.
Tips for Making Marshmallows
Be organised. Read the instructions fully before you start and prepare as much as you can before you start cooking
Measure everything out into bowls & pans before you begin
Do not get side-tracked. Marshmallows demand around 30 minutes of your undivided attention. Pick a time of day when you will not get distracted by family, emails, telephone calls, etc….
Expect a little mess. Put on some old clothes and tie up long hair (honestly, do tie up that hair… speaks the voice of sticky experience)
Do not attempt to make marshmallows with small children. This is not a child-friendly recipe as you will be making a very hot sugar syrup
How to Make Marshmallows
You can make marshmallows with either hand-held or free-standing mixers. However, please bear in mind that some mixers are more powerful than others. I used a handheld Kenwood K-Mix with 350w power (full speed all the way). If your mixer is more or less powerful than this, you may need to whisk the marshmallow batter for less or more time accordingly
Do respect your equipment – if you think your mixer is too old or low on power be careful – you don't want it to overheat
Make the effort to find liquid glucose. It is the addition of this that prevents the sugar in the marshmallows from crystallising
Do take care not to pour the syrup onto your whisk since this could cause your whisk to seize as the syrup sets and you'll get sharp pieces of set syrup in your marshmallow
You must ensure that you whisk the marshmallow batter sufficiently. If you do not whisk it for long enough then the resulting marshmallow will 'weep' after it has been cut and dusted. Yuck
Work quickly and whisk the marshmallow batter until it is glossy and relatively thick, but still workable – you need to be able to transfer it to a tin and level off the surface before it cools too much
Once the marshmallows are cut and dusted, allow them to sit for around an hour to 'dry out' further before storing them
As these tips suggest, there's really nothing much to making marshmallows apart from organisation and the patience to whisk the batter sufficiently.
Armed with these skills, you'll soon be enjoying delicately flavoured, light as a feather hunky chunks of Apple Cinnamon Marshmallows too. They are pillows of joy.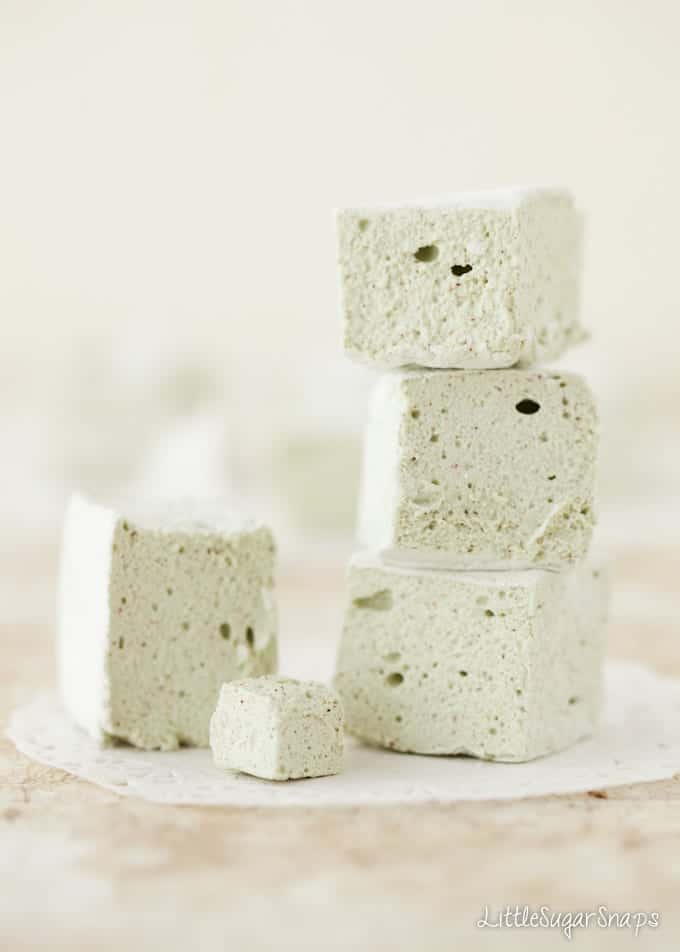 Next time I'll be sharing my recipe for Spiced & Roasted Chickpea Salad with you. If you don't want to miss out why not sign up for my email updates? You'll get all my new recipes delivered straight to your inbox. Perfect.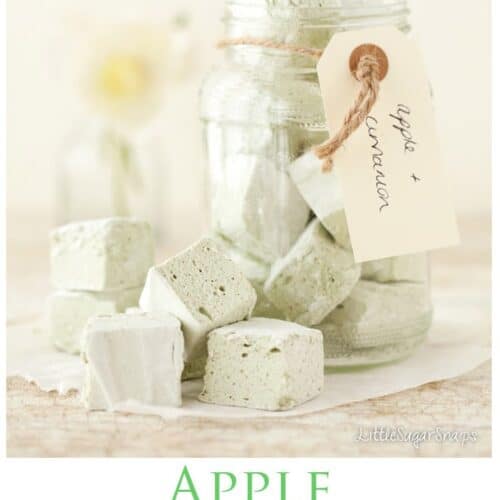 Apple Cinnamon Marshmallows
Delicately flavoured Apple Cinnamon Marshmallows are the ultimate treat: soft, bouncy, squidgy, squishy, light as air, cloud-like. Gorgeous hunks.
This recipe is an adaptation of Annie Rigg's Double Dipped Marshmallows from her book Sweet Things.
Print
Pin
Rate
Ingredients
Flavourless oil for greasing (e.g. vegetable or sunflower oil

2

tbsp

Icing (confectionary) sugar

2

tbsp

Cornflour

6

leaves

Platinum grade leaf gelatine

75

g

Egg whites

(approx 2 large eggs)

pinch

Salt

350

g/ 1 3/4 cups

Caster sugar

1

tbsp

Liquid glucose

150

ml

Apple juice

1

tsp

Ground cinnamon

(or a little more if you prefer a stronger hit)

Green gel food colouring

(optional)
Instructions
Begin by lightly greasing the base and sides of a 20cm square baking tin with a small quantity of oil. Neatly line the tin with baking parchment (non-stick)

Sift the icing sugar and cornflour together and use approximately 1/4 to lightly dust the baking parchment

Put the gelatin leaves into a bowl of cold water and leave to soften (5-10 minutes)

Tip the egg white, 1 tablespoon of the caster sugar and the salt into a large bowl

Pour the rest of the caster sugar, the liquid glucose and the apple juice into a medium sized heavy based saucepan. Over a medium heat, allow the sugar to dissolve, stirring occasionally. Bring to the boil and continue to cook until the syrup reaches 120°C/ 248°F on a sugar thermometer

As the syrup approaches 115°C/ 240°F, whisk the egg whites with electric beaters until stiff

As soon as the syrup reaches the specified temperature, take the pan off the heat. Drain the gelatin, add to the syrup and stir until completely dissolved

With the electric whisk running, steadily pour the syrup into the egg whites, taking care NOT to pour it onto the whisk. It will take around 1 minute to pour the syrup in at a steady pace

Once the syrup has been added, continue to whisk for 4 minutes with a handheld whisk (3 minutes with a free standing mixer)

Add the cinnamon and a dab of food colouring (if using) and whisk for a further 2 minutes (1-2 minutes with a free standing mixer). The marshmallow should be thick, glossy and stiff - it should leave a definite trail that does not melt away after 30 seconds. If this consistency has not been reached whisk for a few more minutes and check again

Once the correct consistency has been reached, use a rubber spatula to spoon the marshmallow into the prepared tin and level the top with a palette knife

Leave to set in a cool place for 2 hours, then cover with clingfilm and leave for 4 more hours

Dust a large baking tin with the remaining icing sugar & cornflour mix. Tip the set marshmallow onto this tin and peel off the baking parchment. Use a sharp knife to cut it into squares and dust all sides in the sugar & cornflour

Leave to 'dry out' for a further hour, then store in an airtight container for up to 5 days
Notes
1. I've specified 1 teaspoon of cinnamon as I feel this balances the flavour of the apple perfectly. Both flavours are delicate. If you want to add some extra kick you could add an extra 1/2 or full teaspoon of cinnamon, but you will lose some of the sweet apple flavour. 2. Some people like to grease both the tin and the baking parchment with oil. Greasing the baking parchment helps the icing sugar & cornflour to stick, but I prefer the consistency attained by not greasing the baking parchment. It's really up to you.
(Visited 17 times, 1 visits today)