For the G&T enthusiast in your life rustle up a few of these Gin and Tonic Truffles. These gin chocolates are very easy to prepare and make a thoughtful homemade food gift.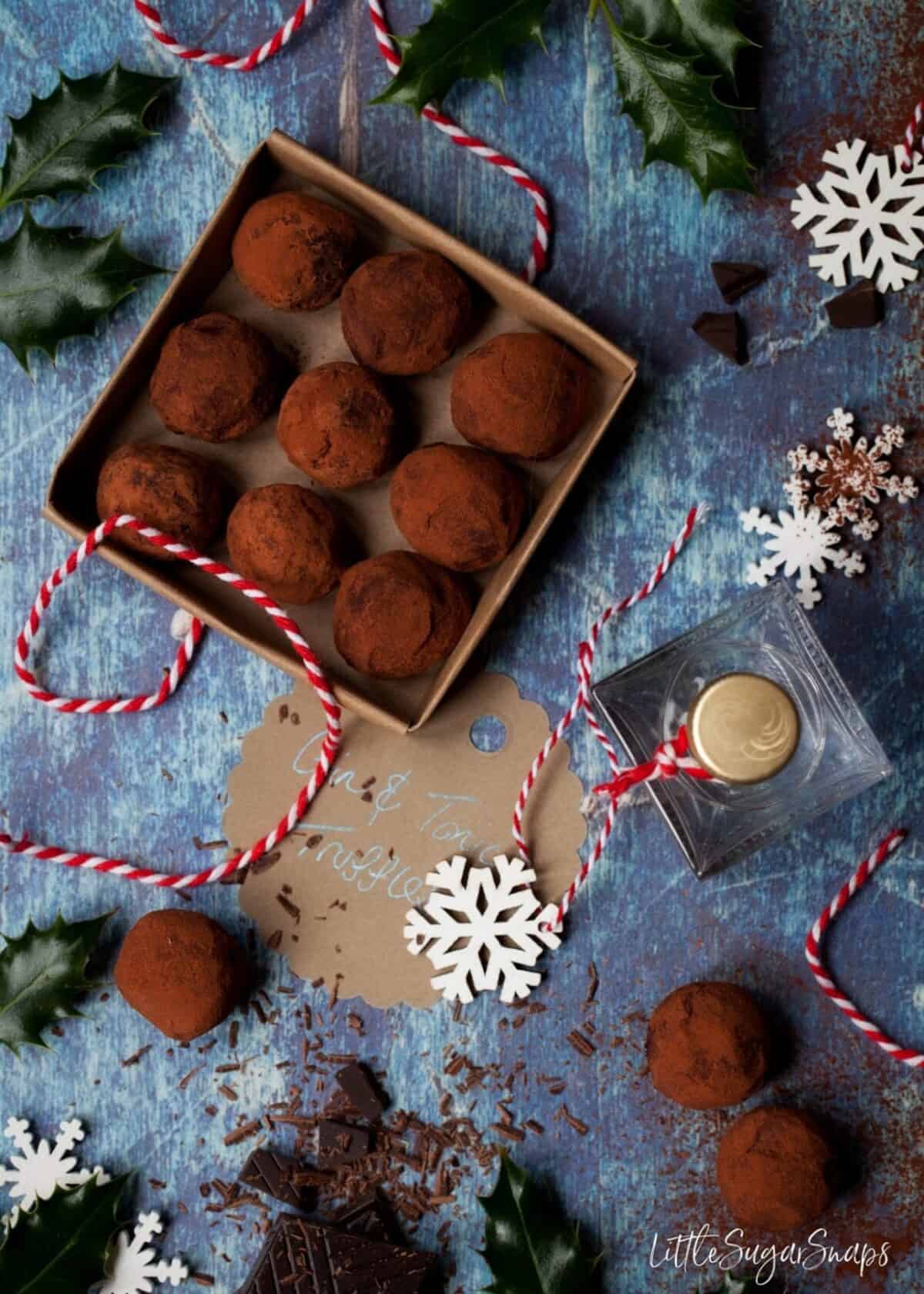 This post contains affiliate links. As an Amazon Associate, I earn from qualifying purchases.
This time a year ago I was seriously overdosing on chocolate truffle making to pull together a truffle collection inspired by cocktails. In the end, I came up with 6 recipes. This year, I have allowed my Christmas preparations to get only slightly derailed by the alluring mix of chocolate, cream and alcohol. I have just 1 recipe to add to my cocktail truffle collection. But it's a good one and I feel my choice of pre-Christmas chocolate truffle this year could not be more fitting.
I have talked a lot about gin on LittleSugarSnaps this year and so far shared 6 G&T recipes (hint: my Christmas G&T will follow very soon). Do gin and tonic truffles really did have to happen.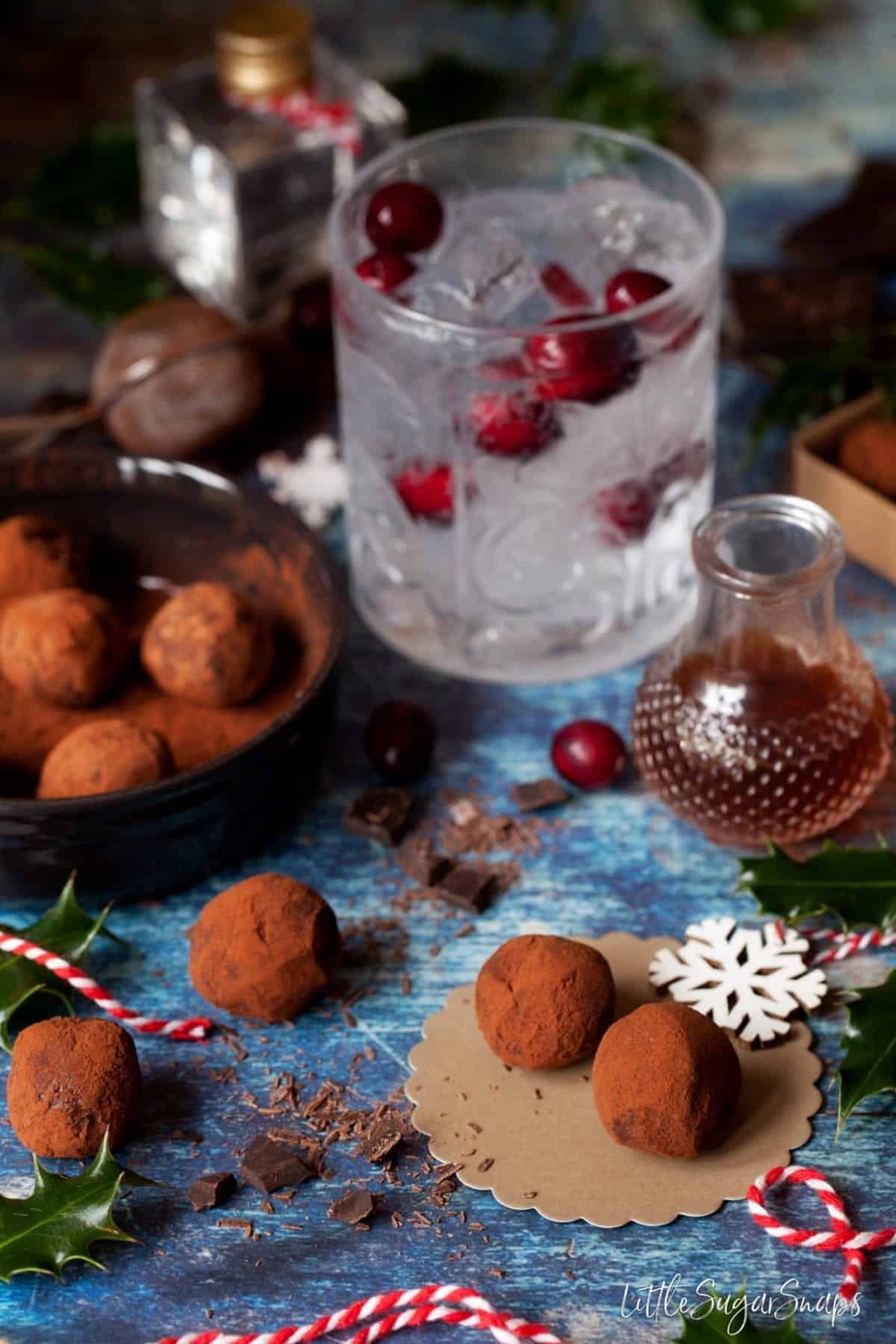 Have you spotted Tonic Syrup in the shops yet? I found myself face to face with a bottle about a month ago. It looked interesting and I was very tempted. However, I was on a mission to behave myself and buy only what I really needed that particular day. So I demonstrated some self-restraint and left the store without it.
Of course, it wasn't long before my whirring mind had devised several recipe ideas that called for tonic syrup – that's apart from the blindingly obvious one for a G&T. Self-restraint out of the window, I made the purchase a few days later.
Last year I seriously debated Gin and Tonic Truffles for my collection. But I've never quite got on with adding fizz to my truffles. For some reason, it all goes horribly wrong. The truffles end up either too firm or too soft. I just can't get it right.
What is Tonic Syrup?
Tonic Syrup is a quinine based bitter syrup designed to be mixed with other drinks.
Quinine comes from the bark of the Chinchona tree, native to South America. Syrups can be made from powdered bark, but using actual bark generally gives a more complex and pleasing result. Though using bark instead of powdered bark is more expensive, the colour and flavour of the resulting tonic syrup are generally far superior.
Check the list of syrup ingredients so you know what you are buying.
How to Make Gin & Tonic Truffles
This syrup is the answer to my gin and tonic truffle making dreams. It gives all the bitter cinchona taste associated with tonic water but without the bubbles. Oh sweet joy.
These gin chocolates are very easy to prepare:
begin by melting the chocolate and stirring in butter & cream to make a ganache
next, team the ganache with a glug of gin, a splash of tonic syrup and a squirt of lime juice
let cool and then refrigerate until set
scoop small amounts of the ganache out, roll into balls and dust in cocoa powder
Absolute child's play – a plateful of Gin & Tonic Chocolates can be yours for the taking in no time at all.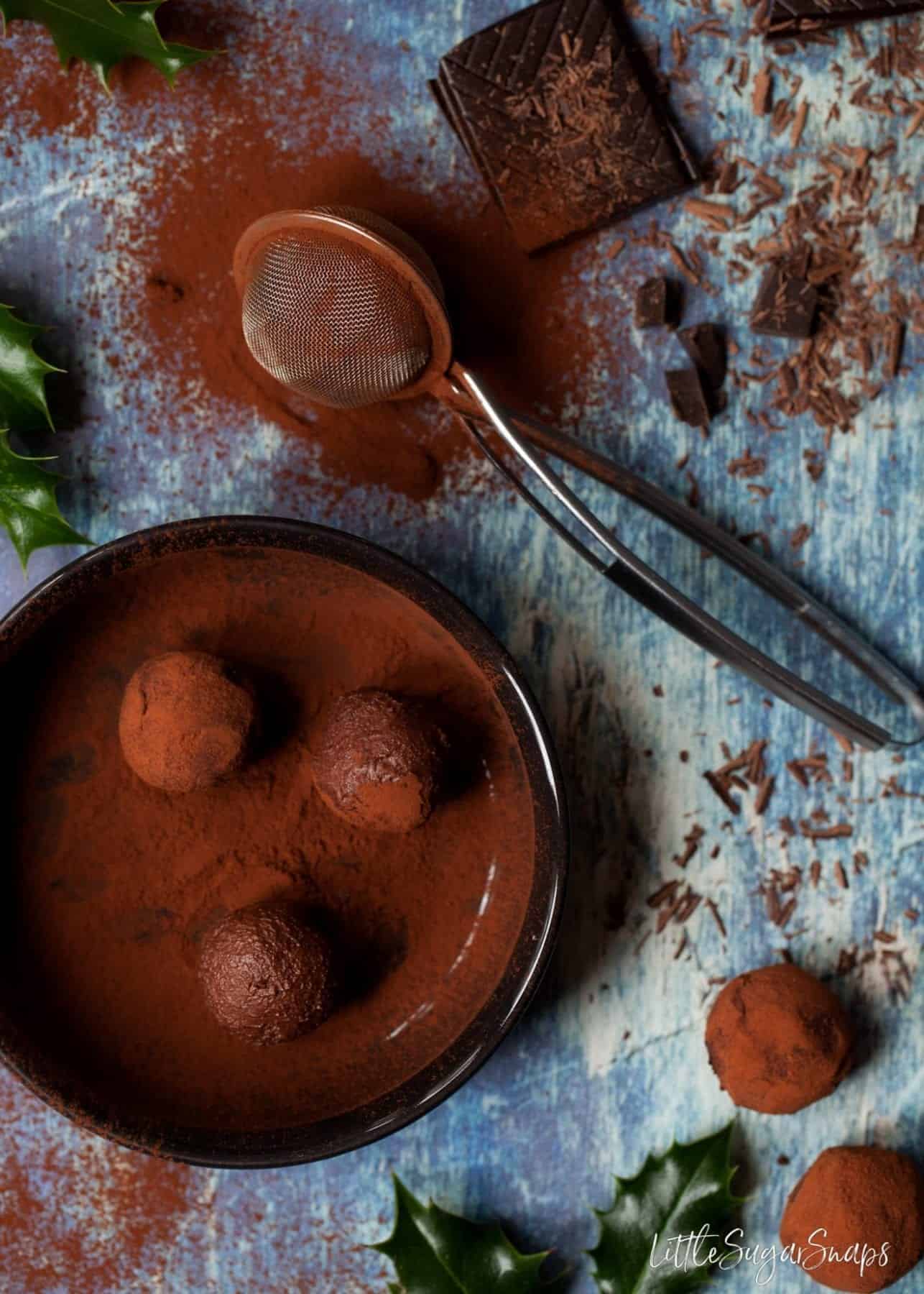 If, however, you are in the mood for a culinary adventure, you can also try your hand at making your own tonic syrup and using it in these gin and tonic truffles.
How to Store Chocolate Truffles
These gin chocolates can be stored at room temperature (approx 20C/ 68F) if they are to be eaten within 48 hours. Stash them away in an airtight container away from direct sunlight and heat sources.
To extend the shelf life of homemade chocolate truffles, I recommend storing them in an airtight container in the fridge. It is important to bring them back to room temperature before serving to enable the full flavour profile to be enjoyed.
On hot summer days, it will be necessary to store homemade chocolate truffles in the fridge since they may soften a little too much if left on the side.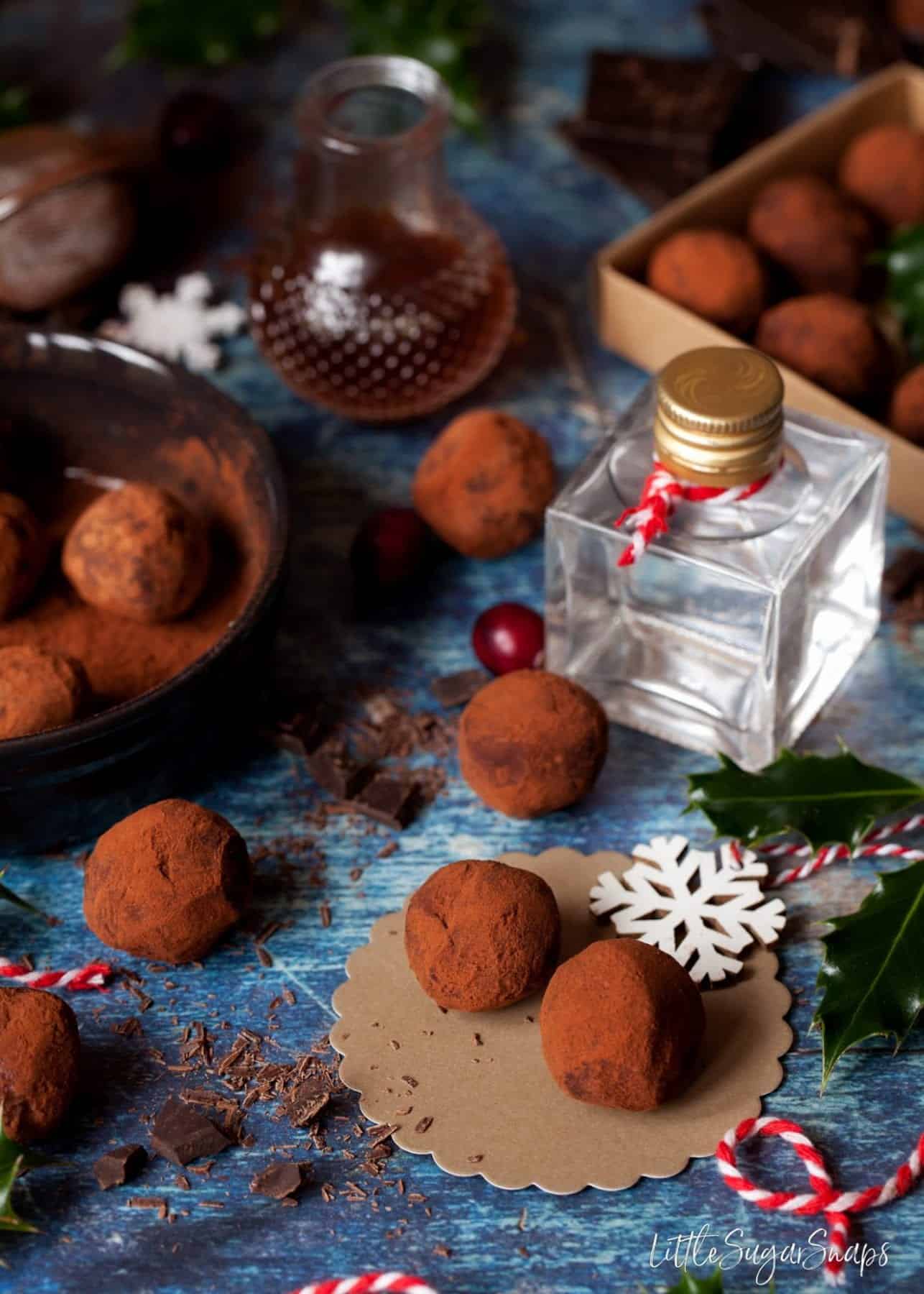 These gin and tonic truffles make fine after-dinner treats to serve with coffee. They also make a thoughtful gift to a gin-loving friend. I've been enjoying mine on a weekend evening snuggled up by the fire. Well, it is December.
Oh and if you fancy more boozy truffles to keep you company by the fireside, try my Christmas pudding chocolates or hop over to my cocktail truffle collection for further inspiration. You'll find Manhattans, Negronis, Snowballs, Brambles, Dark and Stormy's and Black Russians. Sweet.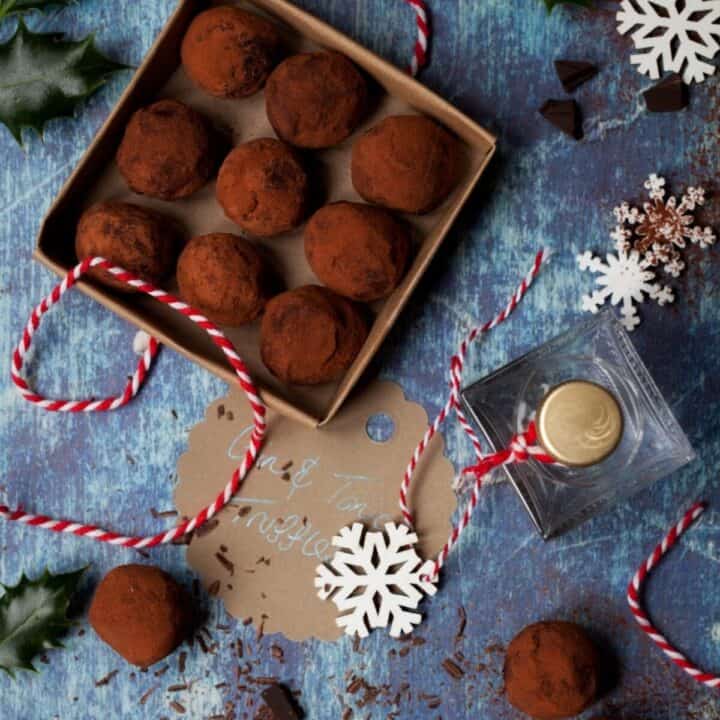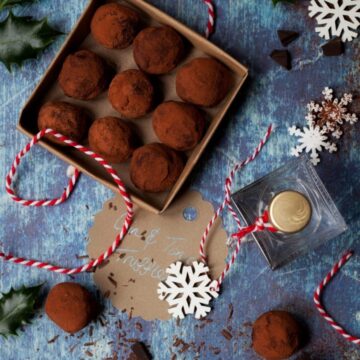 Gin and Tonic Truffles
For the G&T enthusiast in your life rustle up a few of these Gin and Tonic Truffles as a thoughtful homemade food gift.
Print
Pin
Rate
Ingredients
55

g/ 2oz

Dark chocolate (at least 72% cocoa solids)

55

g/ 2oz

Milk chocolate

50

g/ ½ stick

Butter – room temperature

40

ml/ 8 tsp

Double (heavy) cream

30

ml/ 2 tbsp

Gin

1

teaspoon

Lime juice

1 ¼

teaspoon

Tonic syrup

Cocoa Powder for dusting
Instructions
Finely chop the chocolate and melt over a bain Marie (or in short bursts in the microwave). Take off the heat and stir until smooth

Cube the butter and mix into the chocolate, then add the cream and stir again until fully blended

Pour in the gin and mix again

Add the tonic syrup, mix and add the lime juice. Stir until completely smooth

Let cool, cover and refrigerate for 2-4 hours until set

Sieve the cocoa powder into a flat bowl. Take a teaspoon of truffle ganache, roll it into a ball and then roll in the cocoa to cover (see notes). Set aside and repeat until the mixture is used up (aim for 16-20 truffles

Store in an airtight container in the fridge for up to 2 weeks. Let come to room temperature before serving
Notes
I recommend using quality chocolate for truffle making. Do not use cooking chocolate since it has added stabilisers that can affect the set of the ganache. Likewise, be careful with chocolate chips – some also have added ingredients.
You can use all dark chocolate if preferred.
Add the ingredients in the order stated in the recipe. Do not be tempted to pile all the liquids in together as there is a risk the ganache will split.
If the ganache is too firm to roll initially, let it rest out of the fridge for 15 minutes and try again.
(Visited 730 times, 8 visits today)