Christmas pudding chocolates are a fantastically fun and easy way to use up leftover Christmas pudding. Eat them plain or opt for festive decorations, these truffles will be ready in less than 30 minutes.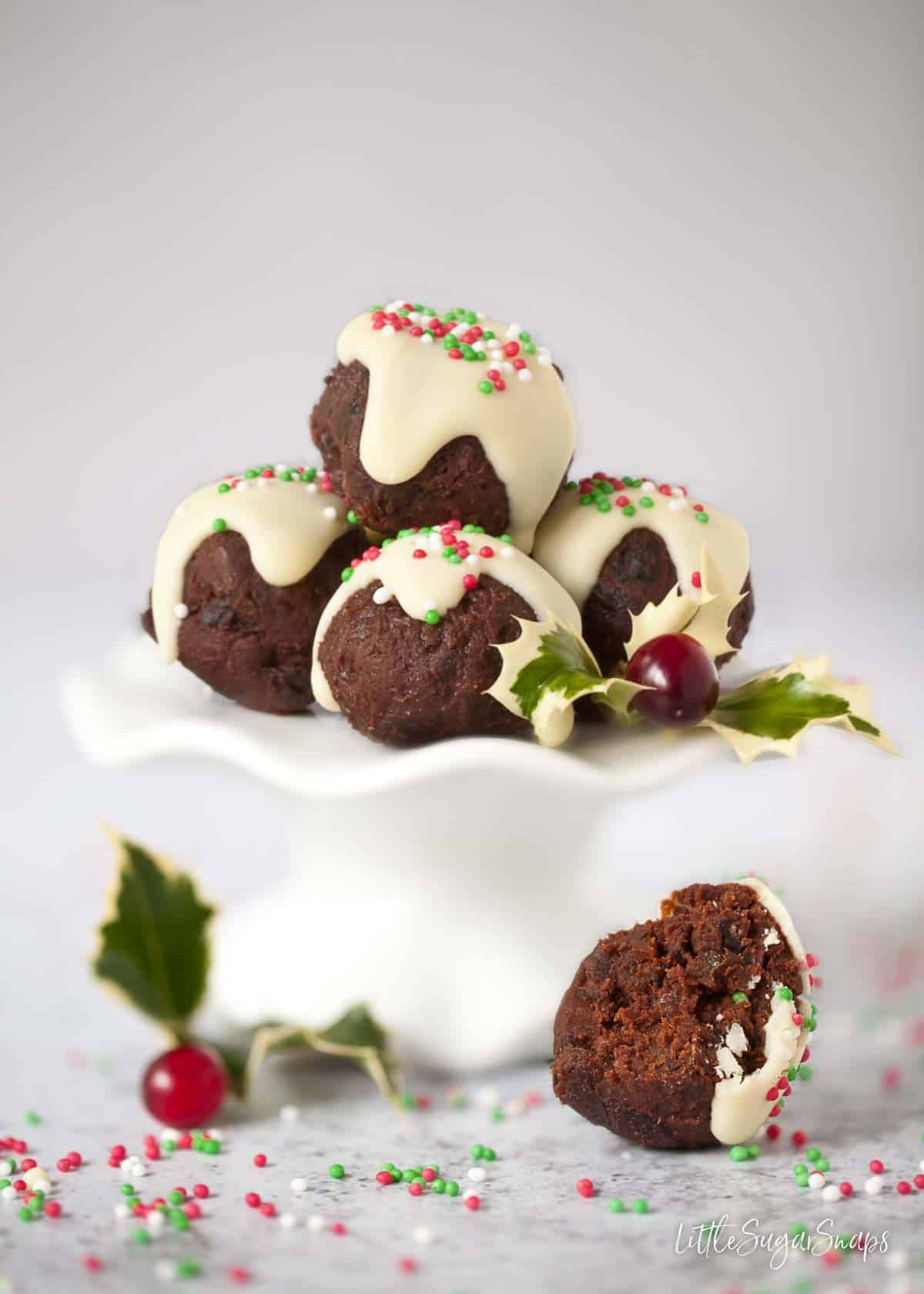 I'm not the first person to advocate the pairing of leftover Christmas pudding and chocolate. Nigella lawson put me in touch with that marriage years ago.
Since discovering this partnership, over a decade ago, I've unintentionally tweaked the recipe substantially. Today I'm presenting my favourite version.
What Makes These Truffles So Good?
What makes these Christmas pudding chocolates so good? Worthy of being made? Let's see:
chocolate
Christmas pudding
alcohol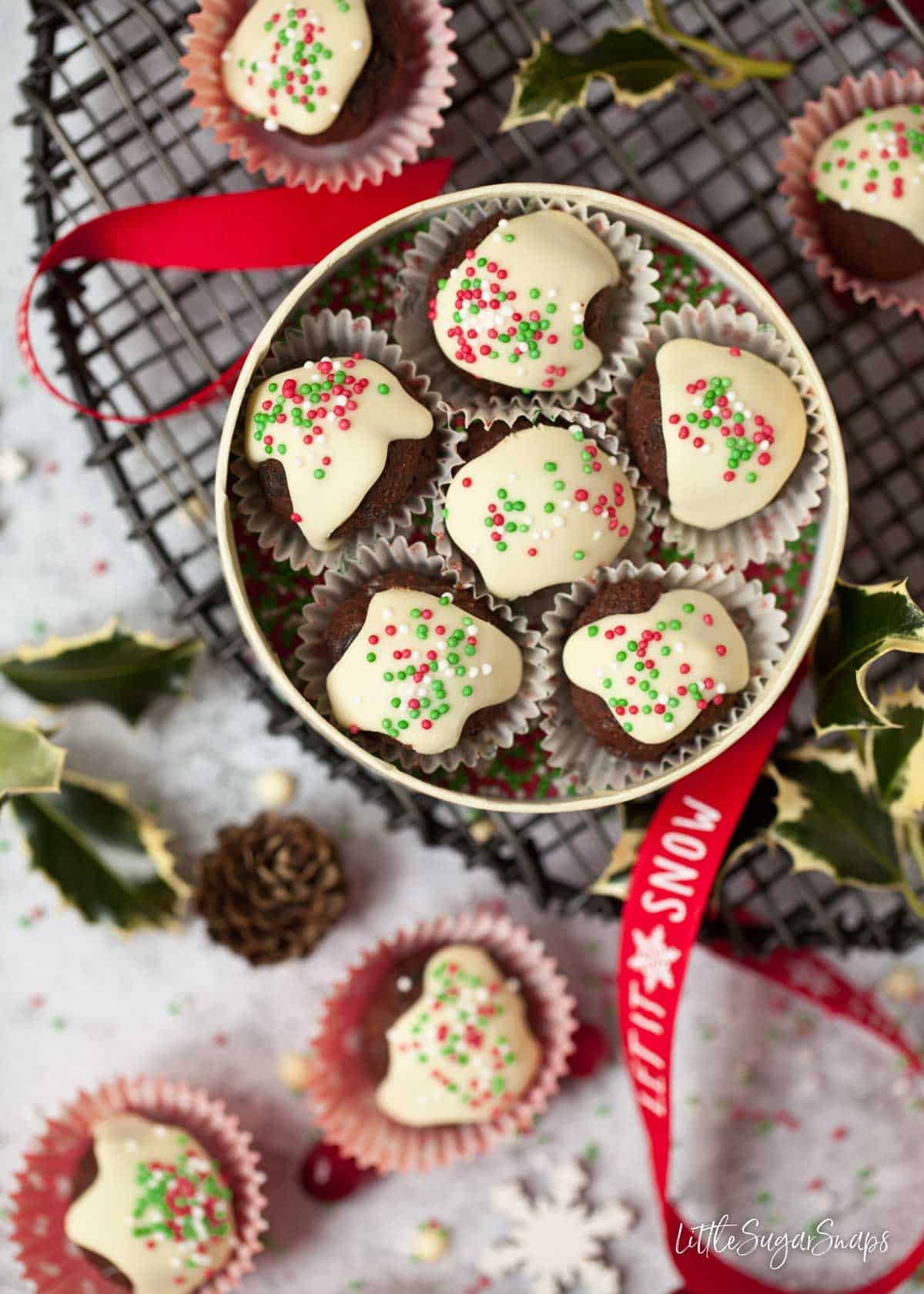 They are also a breeze to make, rather fun to style (get the kids involved) and downright delicious. To the point of irresistible, if I'm being brutally honest.
This recipe is also a fantastic way to re-purpose leftover Christmas pudding. Scale the recipe up or down depending how much you have left.
I think that covers it.
Ingredients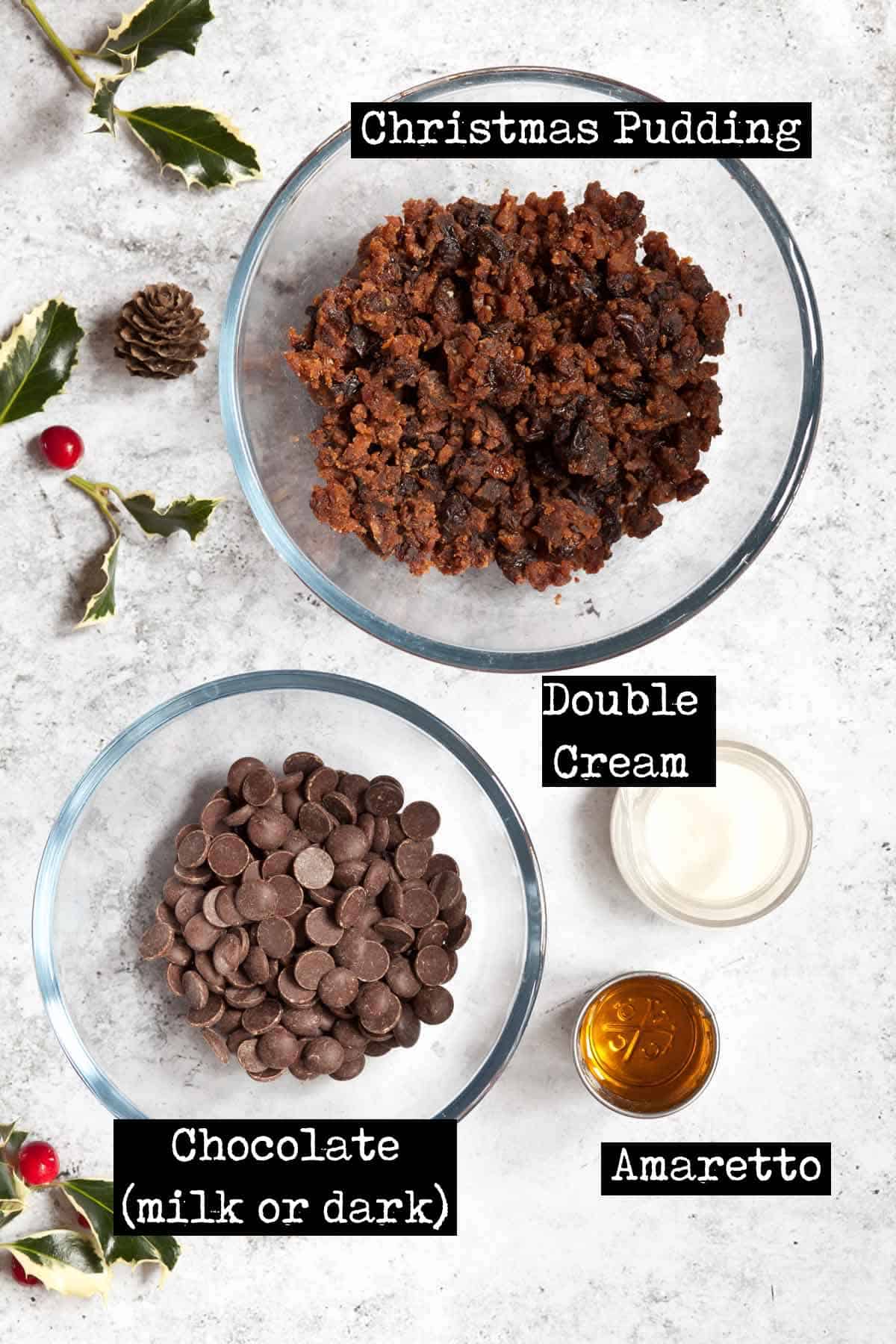 If it's Christmas, I think the majority of households will have all the essential ingredients, pictured above, in stock.
Decorations on these Christmas pudding chocolates are really an optional extra. If you like your chocolates plain and simple, just mix them, roll them and leave it at that.
For those looking for a fancier finish, white chocolate and your choice of frivolous decoration is entirely encouraged.
Step By Step Instructions
The instructions that follow could not be simpler. In fact, you could leave making these Christmas pudding chocolates in the safe hands of children old enough to melt chocolate. They will love getting creative at the decorating stage.
Step 1: Crumble the pudding up then chop it into small pieces. Tip into a bowl, pour the alcohol over and stir
Step 2: In a separate bowl melt the chocolate and stir in the cream to form a ganache
Step 3: Stir the ganache into the Christmas pudding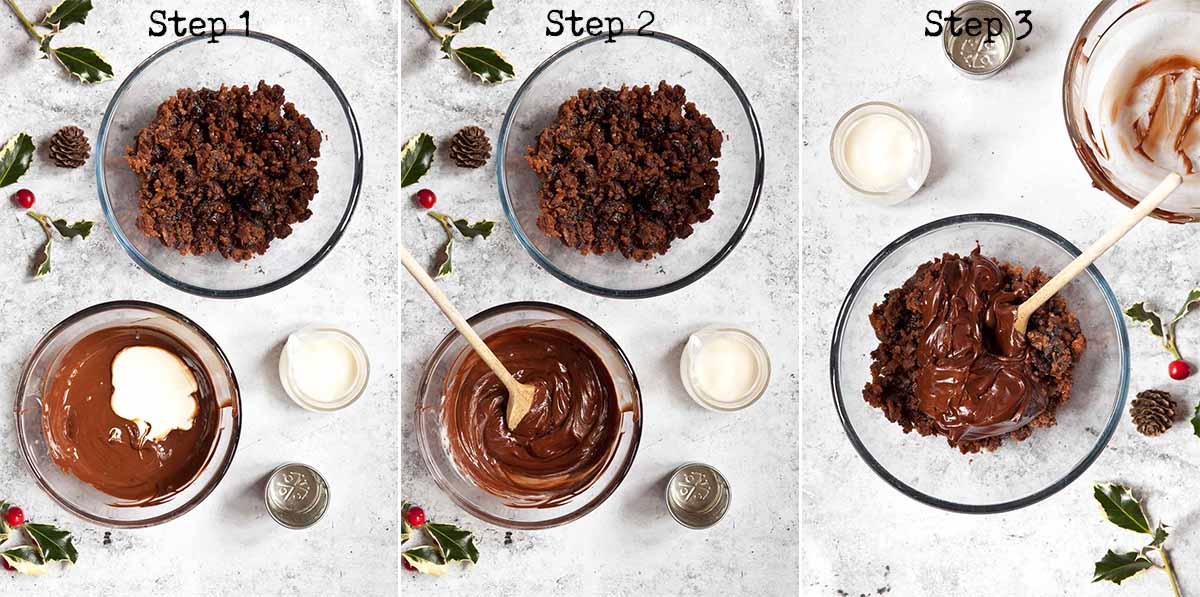 Step 4: After 2 minutes the mixture will be firm enough to handle. Scoop out a small portion (around 15g) and firmly roll it in in the palms of your hands to form a ball. Repeat, using up all of the mixture to form around 20 balls. (If the mix firms up too much, heat in the microwave on the defrost setting in 10 second bursts until it loosens up again)
Step 5: Melt the white chocolate and drizzle a small amount over the top of each chocolate, topping with a few sprinkles before the chocolate sets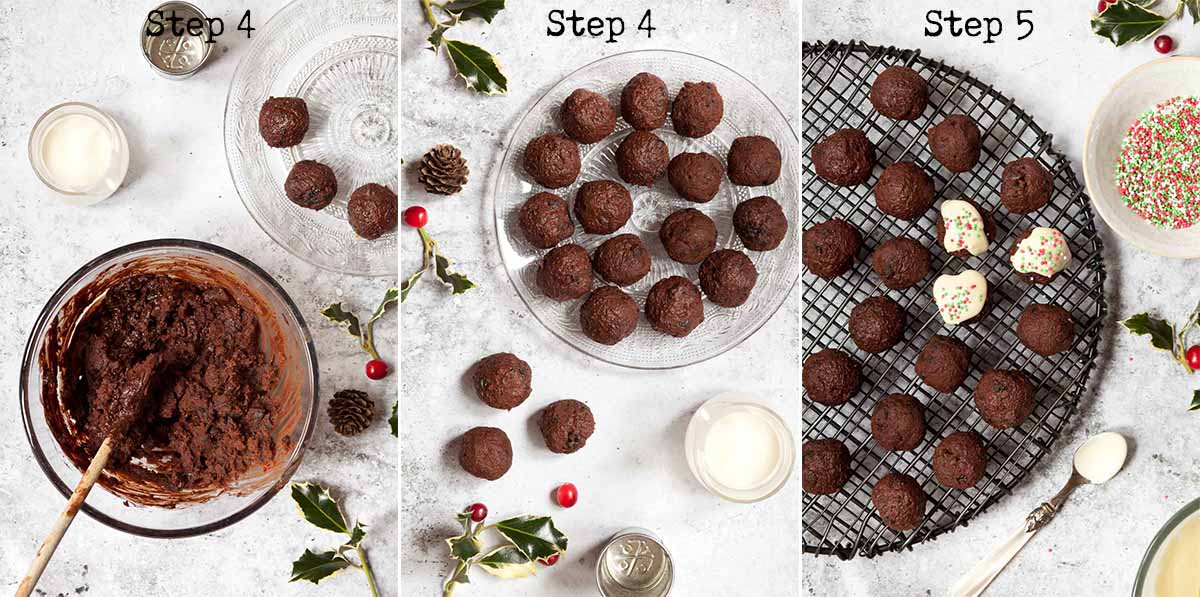 Tips and FAQs
Expert Tips
These truffles are a quick and easy way to use up leftover Christmas pudding. There's really very little that can go wrong, but here are my tips to help you along the way:
It's entirely up to you whether to choose milk, dark or a mix of milk and dark chocolate, depending how sweet/ chocolate rich you would like to make these chocolates
If the mixture begins to firm up too much, don't be afraid to use the microwave to loosen it again – this is a very forgiving recipe. Try warming on the defrost setting, in 10-second bursts, stirring frequently
Put the melted white chocolate into a piping bag to create a good drip effect (I did not and, in hindsight, wish I had)
Jazz them up any way you fancy. Try colourful sprinkles, holly sugarcraft pieces, edible snowflakes or even a dusting of edible gold glitter. Go to town!
These Christmas pudding chocolates do not need to be refrigerated. They are best stored at room temperature and keep well for 3 days, not that they will last that long
Frequently Asked Questions
Do I use fresh or leftover Christmas pudding?
This recipe is designed to use up leftover Christmas pudding, but if you have a fresh one that you don't know what to do with, go for it!
What other alcohol can I use?
Seriously, anything your little heart desires. My favourites are Amaretto (obviously), cherry brandy and Cointreau. These liqueurs just scream of Christmas to me. But play around and see what works for your tastebuds.
Can I leave out the alcohol?
Yes you can. Just replace with an equal quantity of freshly squeezed orange juice.
Can I freeze them?
I don't recommend freezing them.

If you fancy making these Christmas pudding chocolates, but won't need them straight away, just slip the leftover Christmas pudding into the freezer and make them at a later date.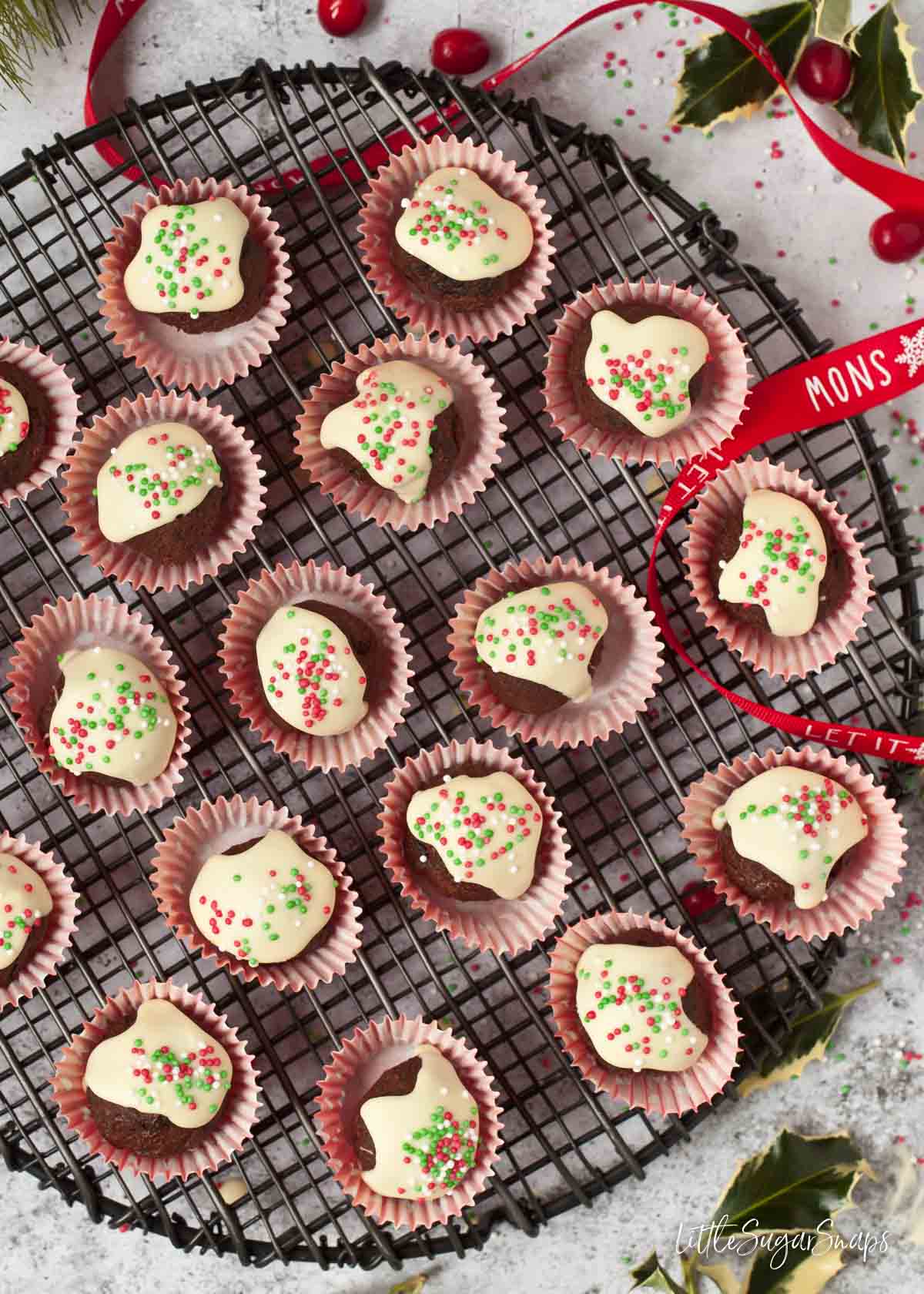 More Tempting Chocolate Truffles to Try
Have you noticed my collection of cocktail truffles? I've got quite a selection to pick from including bramble, snowball and negroni truffles.
If you are not in the mood for alcohol and chocolate I've got (to die for) custard cream truffles and some decadent caramel truffles too.
Have you made these Christmas Pudding Chocolates? Did you know commenting and rating recipes is one of the best ways you can support your favourite food bloggers? Let me know what you thought of this recipe in the comments below and don't forget to show me a picture of it on Instagram – use #littlesugarsnaps and tag me @jane_littlesugarsnaps.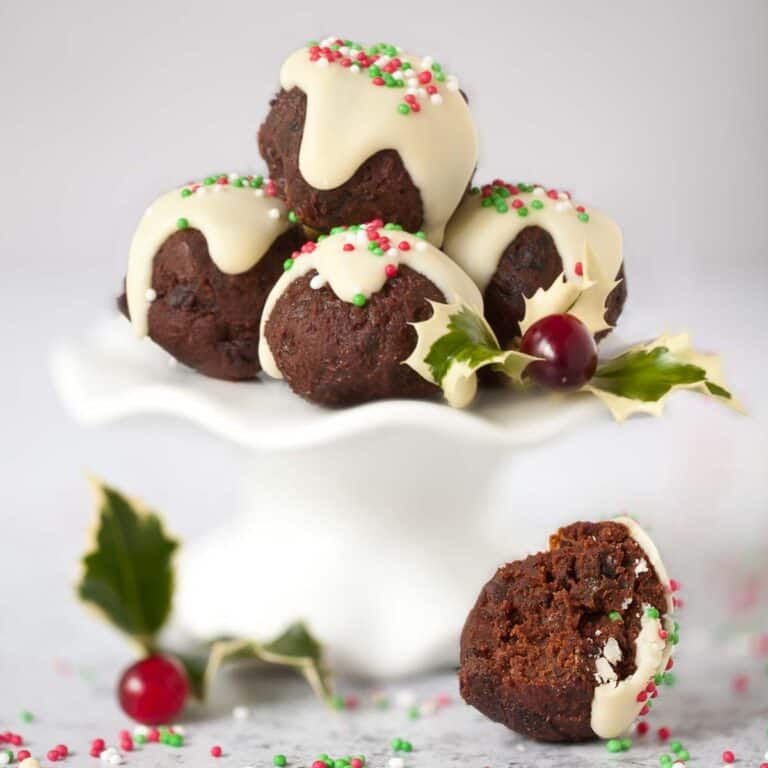 Ingredients
200

g

Christmas pudding

cooked but cold

100

g

Chocolate

milk, dark or a mix

2

tablespoon

Double cream

2

tablespoon

Amaretto liqueur

30

g

White chocolate

Sprinkles/ edible sugarcraft shapes/ edible gold dust
Instructions
Crumble the Christmas pudding up then chop it into small pieces – the finer it is chopped the better the chocolates will hold together. Tip into a bowl, pour the alcohol over and stir

In a separate bowl melt the milk/ dark chocolate and stir in the cream to form a ganache

Stir the ganache into the Christmas pudding

After 2 minutes the mixture will be firm enough to handle. Scoop out a small portion (around 15g) and firmly roll it in in the palms of your hands to form a ball. Repeat, using up all of the mixture to form around 20 balls. (If the mix firms up too much, heat in the microwave on the defrost setting in 10 second bursts until it loosens up again)

Melt the white chocolate and drizzle a small amount over the top of each chocolate, topping with a few sprinkles before the chocolate sets
Notes
It's entirely up to you whether to choose milk, dark or a mix of milk and dark chocolate, depending how sweet/ chocolate rich you would like to make these chocolates
If the mixture begins to firm up too much, don't be afraid to use the microwave to loosen it again – this is a very forgiving recipe. Try warming on the defrost setting, in 10-second bursts, stirring frequently
Put the melted white chocolate into a piping bag to create a good drip effect (I did not and, in hindsight, wish I had)
Jazz them up any way you fancy. Try colourful sprinkles, holly sugarcraft pieces, edible snowflakes or even a dusting of edible gold glitter. Go to town!
These Christmas pudding chocolates do not need to be refrigerated. They are best stored at room temperature and keep well for 3 days, not that they will last that long
Vary the alcohol – try cherry brandy or Cointreau in place of the Amaretto
Nutrition Per Serving (Approximate)
Calories:
70
kcal
|
Carbohydrates:
9
g
|
Protein:
1
g
|
Fat:
3
g
|
Saturated Fat:
2
g
|
Cholesterol:
2
mg
|
Sodium:
3
mg
|
Potassium:
19
mg
|
Fiber:
1
g
|
Sugar:
4
g
|
Vitamin A:
22
IU
|
Calcium:
5
mg
|
Iron:
1
mg
(Visited 681 times, 5 visits today)