These rum cake balls are indulgently large and chocolatey. Also known as chocolate rum balls, they are no-bake and a great way to use up leftover chocolate cake.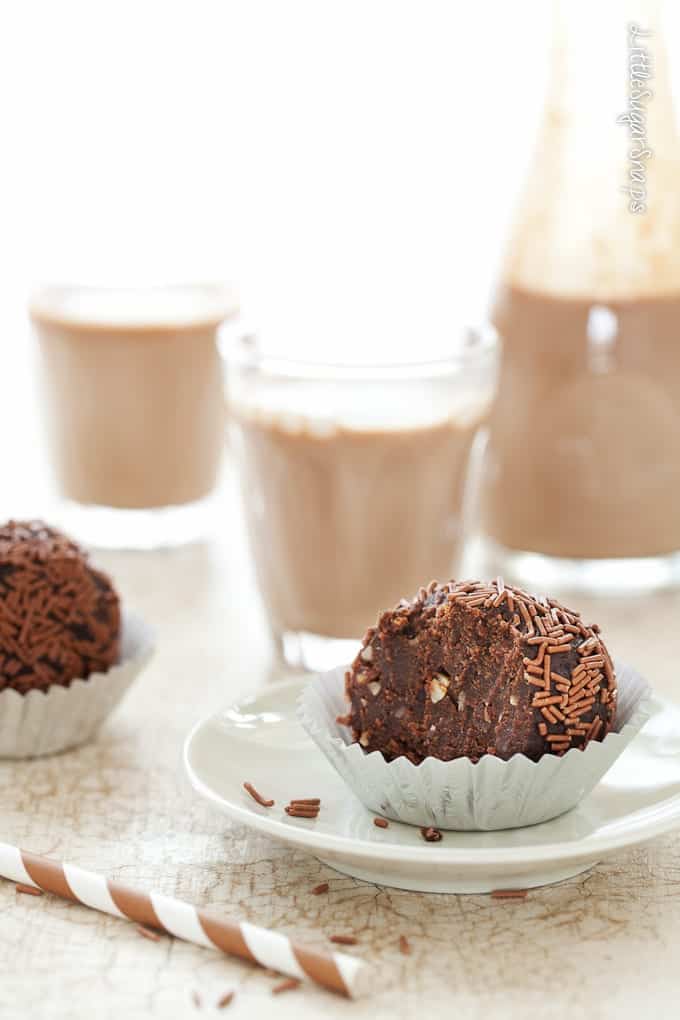 These chocolate rum balls are large, dense, fudgy and perfect for sinking your teeth into. They are not to be mistaken with the small, ganache based delicacies truffle balls served alongside coffee after a civilised dinner party. No, no, no. They are definitely not related.
These rum cake balls are based on a childhood memory of mine, that goes all the way back to the late 1970's and early 1980s. Um, yikes, that's an old memory.
Anyway, around this time, I used to go and help out at my Dad's supermarket in the school holidays. Too small to work alone, I latched onto a particular member of staff, whom I would help out (um, in a shy, six-year-old kind of way). We would work all morning, then, at lunchtime, sneak out for some fun. Sometimes we had fish & chips. Sometimes we visited the playground. Ocassionally we would wander down to the local bakery. On those bakery days, I would always order something called a 'truffle ball'.
These truffle balls looked just like the rum cake balls I have created here. They sometimes claimed to include rum – presumably based on the German Rumkugeln – but since it was the 1970s/ 1980's I think we could safely assume that would be a minute dash of artificial rum flavouring rather than the real thing (hic).
Anyway, these chocolate rum balls used to sit side-by-side with mountains of traditional English cream cakes and floured baps – aka cobs, rolls or buns, depending which part of England you are from. The bakery would sell out and, when that happened, it would close up for the day whatever time that happened to be. Those were good days.
Looking around today, there are not that many of these traditional bake houses left. There are the chains that stay open even when they have sold their last dodgy sausage roll because that's what head office have told them to do (?). But the real, traditional baking industry has clearly been hard hit by the growth of supermarkets and fancy sandwich shop chains.
That means there are less places to find these amazing chocolate rum balls. In the world of bakeries and truffle balls, these are gloomy times.
Confession: I still look for these treats of my childhood (mildly obsessively), even though it's several decades later and I'm supposedly grown up. A few months ago, I finally stumbled across some in an artisan bakery close to where I live now, in the South of England. However….
the price was ridiculously expensive
the chocolate rum balls lay side-by-side with continental delicacies – not a cream cake in sight
the bakery clearly had a set closing time
Despite all these issues, I still I could not resist. What's more, even with my more immature taste buds, my chocolate rum ball tasted as good as ever.
I knew that I couldn't go another two decades before having another one. However, I also knew that I could not pay that crazy price again. I had to make my own. Hmm…. What I recalled most about the balls of my childhood was:
the size – enormous (like a pool/ snooker ball)
a chocolatey-fudgy texture with a bit of crunch (nuts)
Vermicelli strands
The recent one I ate actually reminded me of a cake pop – but without the fussy decoration (bonus). With that in mind, I've used very simple ingredients to recreate my own version – cake crumbs, hazelnuts, a splash of real rum (hic-hic) and buttercream to hold it all together.
The result is these simply decorated, but nostalgically lovely, fudgy, nutty, rum cake balls. I like to think of them as the c1980 precursor to the modern-day cake pop.
Enjoy these chocolate rich rum cake Balls with a glass of milk or a chocolate milkshake (artificial flavourings, platform heals, flares, ra-ra skirts and large shoulder pads optional).
If you've enjoyed this post, please share it – you would make me very happy. You can also follow along to get notified of my future blog posts by email.
(Visited 3,263 times, 1 visits today)