If you want to impress your dinner guests, serve up these easy to make Aztec Chocolate Truffles at coffee time. They are decadent, rich, full of complex flavours and pack one massive punch of chocolate into each little bite.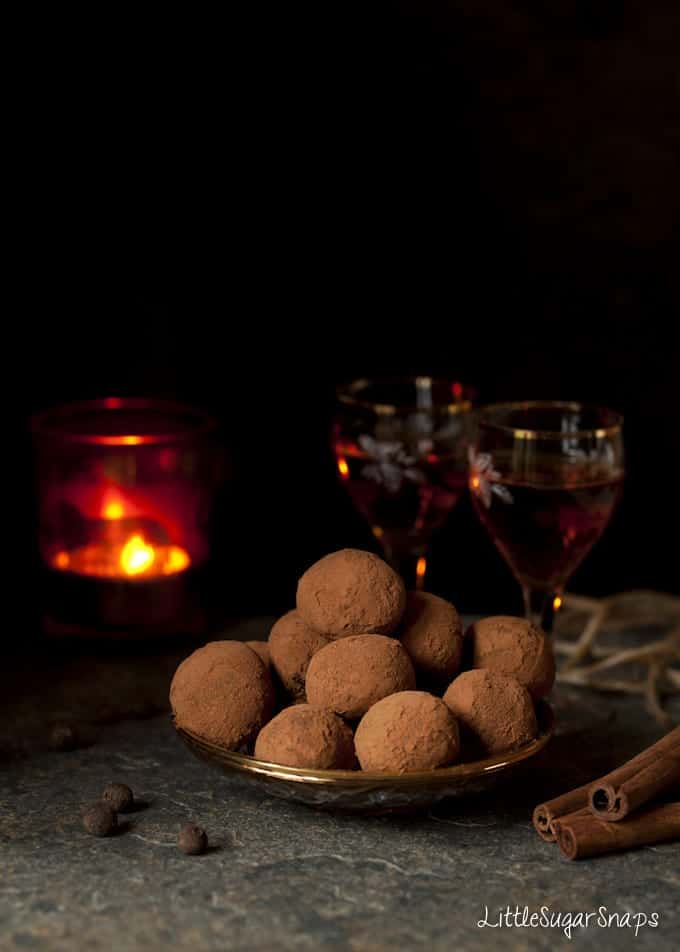 Nothing says Christmas to me more than making some homemade chocolates to share with my family. This year I'm serving up these Aztec Chocolate Truffles.
All wrapped up in these neat little balls of chocolate heaven is a wickedly alluring blend of:
Rum
Honey
Allspice
Orange zest
Vanilla
Cinnamon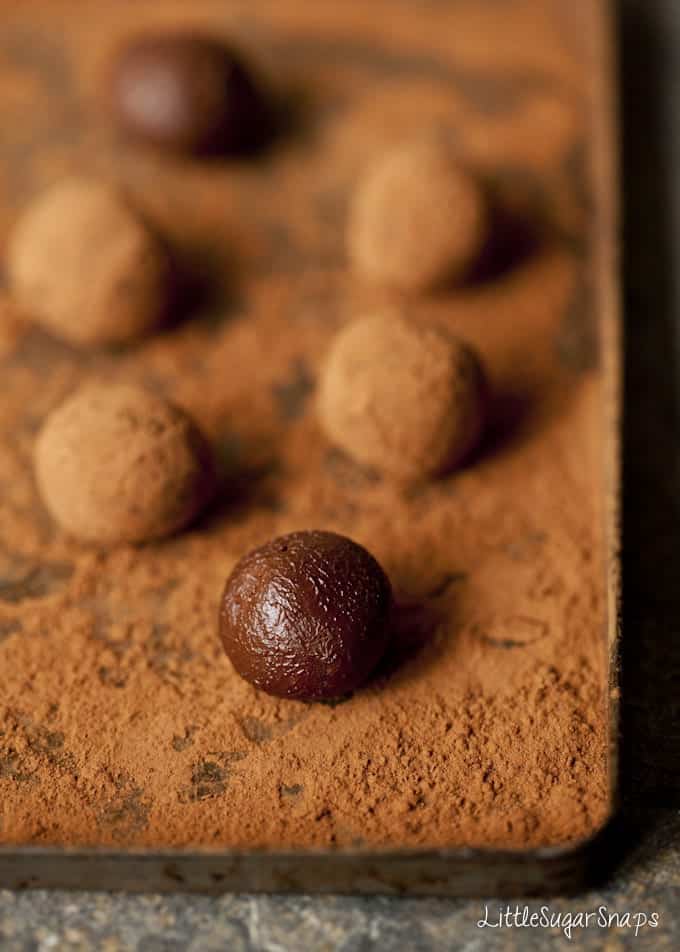 I know that chilli is often touted as the Aztec spice, but there are plenty of other spices that should not be overlooked. I've chosen to leave aside the chilli and instead include one of those lesser-knowns: allspice.
If you're new to allspice think of cloves, nutmeg & cinnamon muddled together and you'll be on the right track, Sounds good, doesn't it? It marries with the other ingredients in these truffles superbly well, so I'd advise you to hunt some down if you don't already have some in your store cupboard.
The fragrant mix of ancient spices with the honey, zest and alcohol makes these chocolates the truffles of your best dreams. The flavour is complex and rich. They are:
gently spiced
slightly citrusy
hinting at alcoholic
with notes of tender honey
Aztec Chocolate Truffles are also downright chocolatey, making them the perfect after dinner treat to linger over whether you've skipped dessert or already eaten it (who, me?).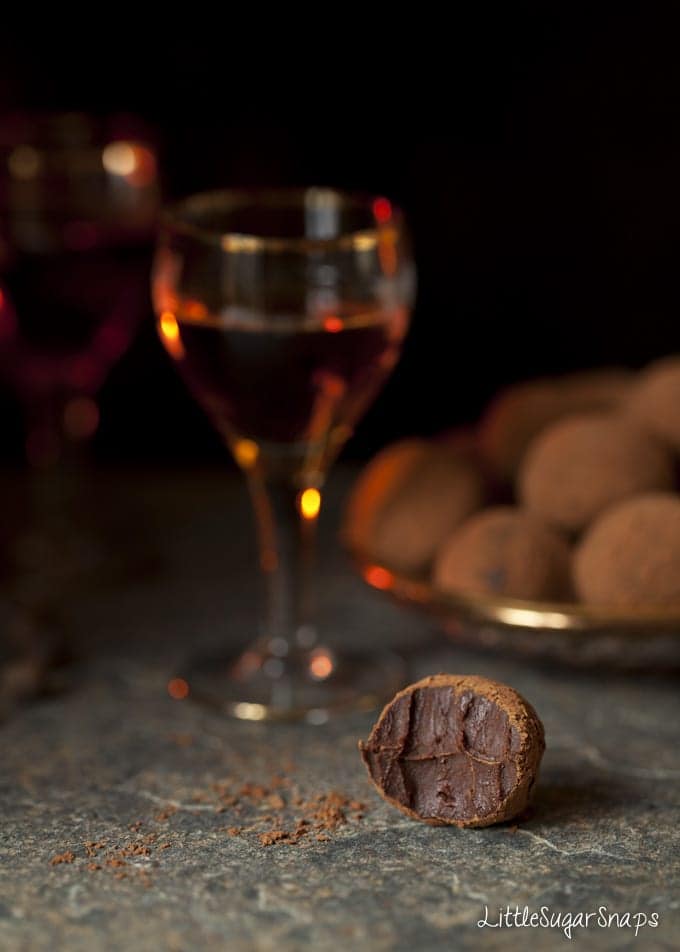 Truffles are also a great treat that children can easily get involved in making. So if you're a busy parent, now you've no excuse not to treat yourself – whip up the ganache and leave your little helpers to do the rest.
My girls will be rolling the ganache into balls and dusting them in cocoa powder for me. I'll be standing by with a large, wet, soapy cloth to clean their lovely little mitts before they wipe them anywhere…. white.
Wish. Me. Luck.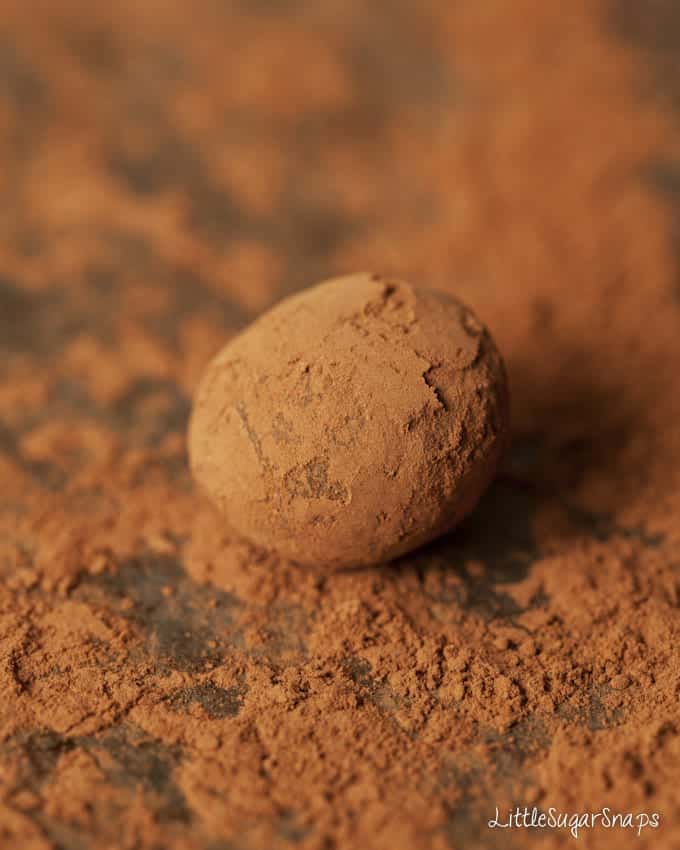 And on this decadent, chocolate-fuelled note, I'm signing out of 2015. I'll be back in the New Year with at least one healthy recipe for January 2016.
Wishing you the jolliest of Christmas' filled with love, happiness and…. excellent food.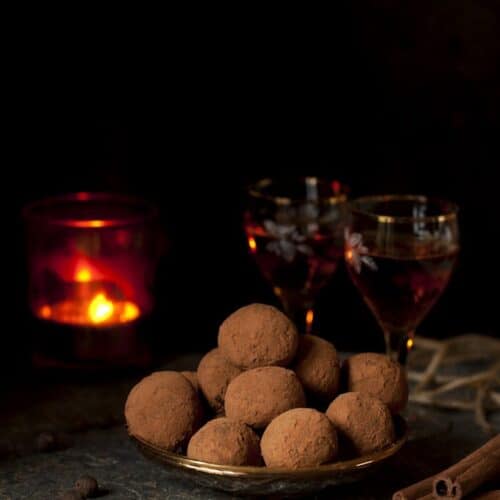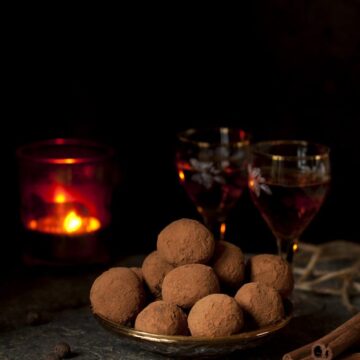 Aztec Chocolate Truffles
Aztec Chocolate Truffles are so easy to make & taste sensational. Gently spiced. Hints of citrus, honey & rum. They are little bites of chocolate heaven.
Print
Pin
Rate
Ingredients
110

g

Dark chocolate

(I used 72%)

40

g

Milk chocolate

150

ml

Whipping cream

(36% fat)

4

teaspoon

Honey

½

Vanilla pod

1

Small cinnamon stick

(about 7.5cm/ 3 inches long)

2

Strips fresh orange peel

2

Allspice berries – lightly crushed

1

tablespoon

Dark rum

Cocoa powder – for rolling
Instructions
Put the cream into a small saucepan with the honey, vanilla, cinnamon, peel and allspice. Heat until scalding (but not boiling). Take off the heat and let infuse for 20 minutes

Meanwhile chop the chocolate finely and put into a small mixing bowl

Strain the cream and reheat until scalding again

Pour the cream over the chocolate, give it a quick stir and then let it sit for 2 minutes for the chocolate to melt

Keep stirring the ganache until there are no lumps of chocolate left. Beat in the rum and chill in the fridge for 2-3 hours until set

Remove the ganache from the fridge 30 minutes before you are ready to roll

Sieve a tablespoon of cocoa powder into a flat bowl or saucer

Take teaspoonfuls of the ganache and roll into balls. Gently roll the truffles in the cocoa powder until fully coated

Store in the fridge for up to 5 days. Bring the truffles out an hour before serving to bring them back to room temperature
Notes
I use a mix of milk and dark chocolate but you can use all dark if you prefer.
(Visited 393 times, 1 visits today)