The Black Russian Cocktail has been transformed into dark & intense chocolate truffles. These Black Russian Truffles are worthy of serving up after dinner or just with drinks on a cosy night in. My Gingerbread Black Russian is a great choice.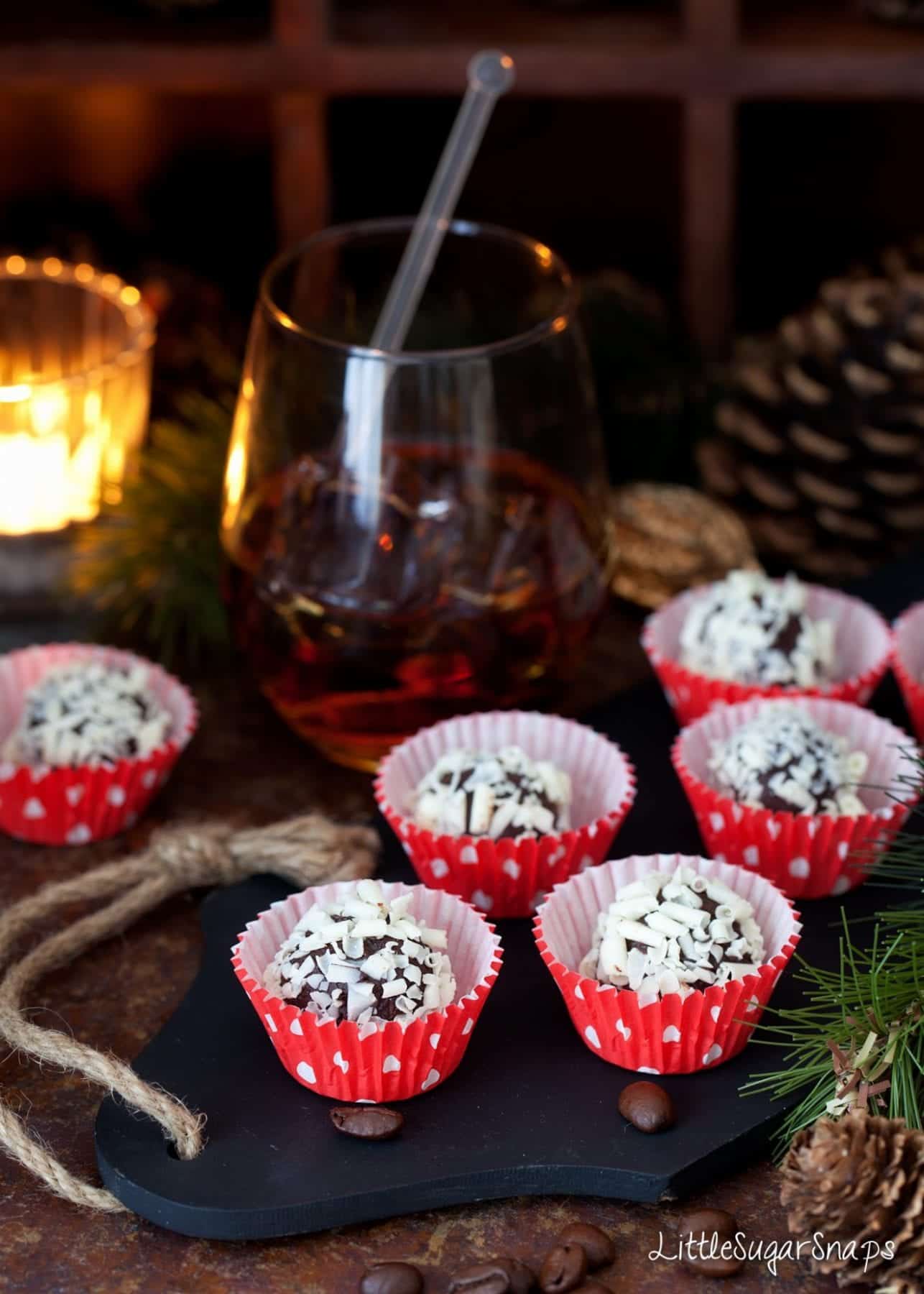 THIS POST CONTAINS AFFILIATE LINKS. AS AN AMAZON ASSOCIATE I EARN FROM QUALIFYING PURCHASES.
I'm quite impressed with myself. I had my doubts about my ability to pull this off, but when I finish typing this post I will have completed 5 recipe posts in 5 days. That is the most I've ever done in 1 week. It's maybe not something I'll be repeating for a while to come, but I did it. I have earned the weekend that is just around the corner.
And I'm ending my busy week in style since I've got a double whammy for you tonight. Along with my Black Russian Truffles, I'll also be sharing the recipe for some gingerbread syrup which can be slipped in alongside vodka and coffee liqueur to make a Gingerbread Black Russian. That's just in case you fancy adding some festive spice to the classic Black Russian cocktail. Actually, that's really a triple whammy, but who's counting?
Let's start with the Black Russian Truffles.
How to Make Black Russian Truffles
There are only two ingredients for a Black Russian cocktail - vodka and coffee liqueur.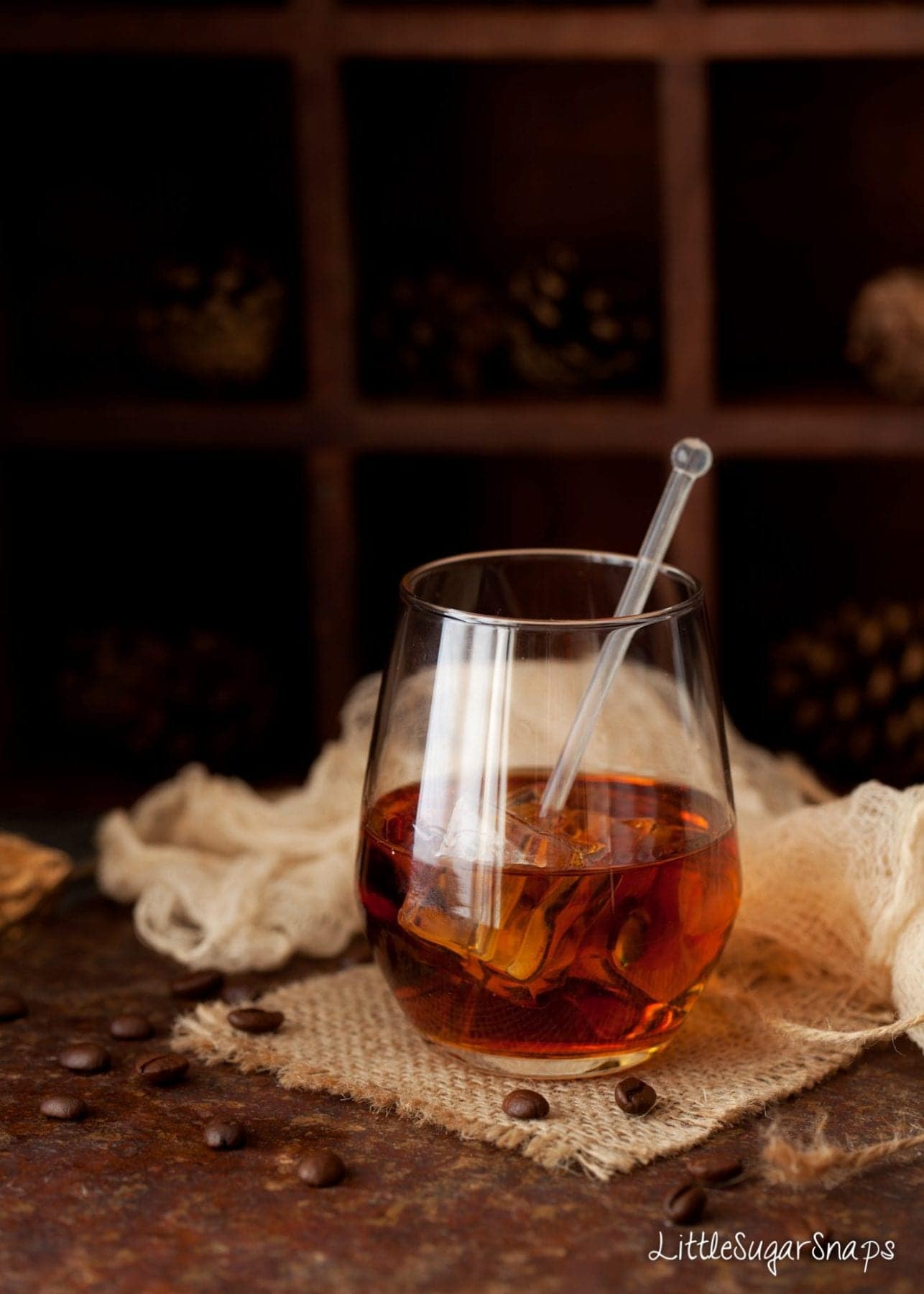 In my opinion, these two ingredients cry out to be paired up with dark chocolate, so that's the way my truffles rolled this time. I used Tia Maria coffee liqueur but Kahlua would be a good alternative. I also sprinkled in a little espresso powder to boost the coffee hit too and I lifted the look of these dark, intense truffles by rolling them in grated white chocolate.
These Black Russian Truffles would quite clearly be a good match for an after dinner drink - either the Black Russian itself or a glass of coffee liqueur. Alternatively, they would pair well with a cup of your favourite coffee.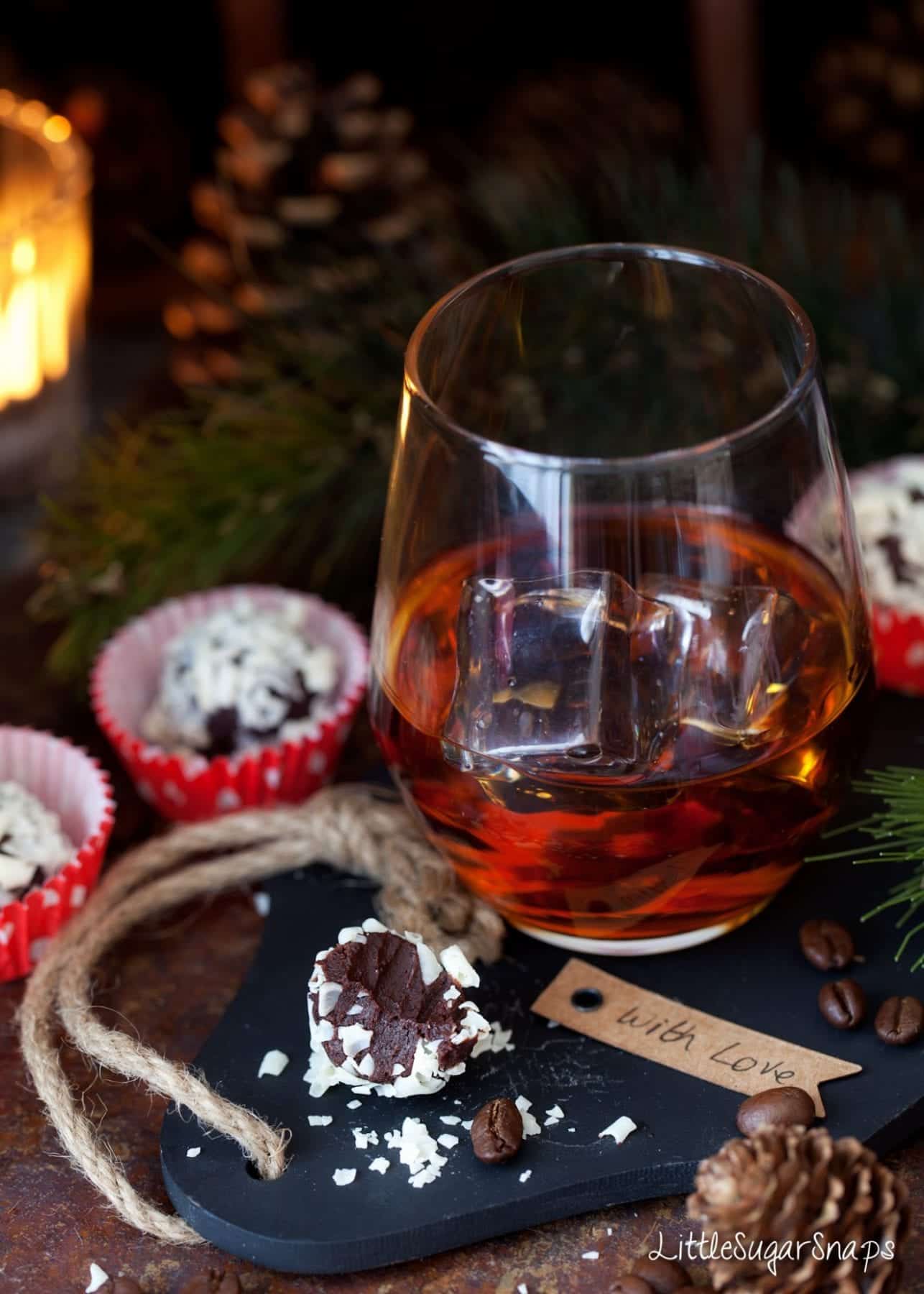 Ingredients for Gingerbread Syrup
I love it when a recipe idea pops into my head and I'm able to work on it straight away. It's even better when I get the recipe spot on first time around and that's exactly what happened when I started to think about ways to vary the Black Russian.
I really felt that gingerbread would work so created a gingerbread syrup that can be used to spice up any drink - hot chocolate, warm milk or even a milkshake. And of course, this gingerbread syrup can easily be slipped into cocktails.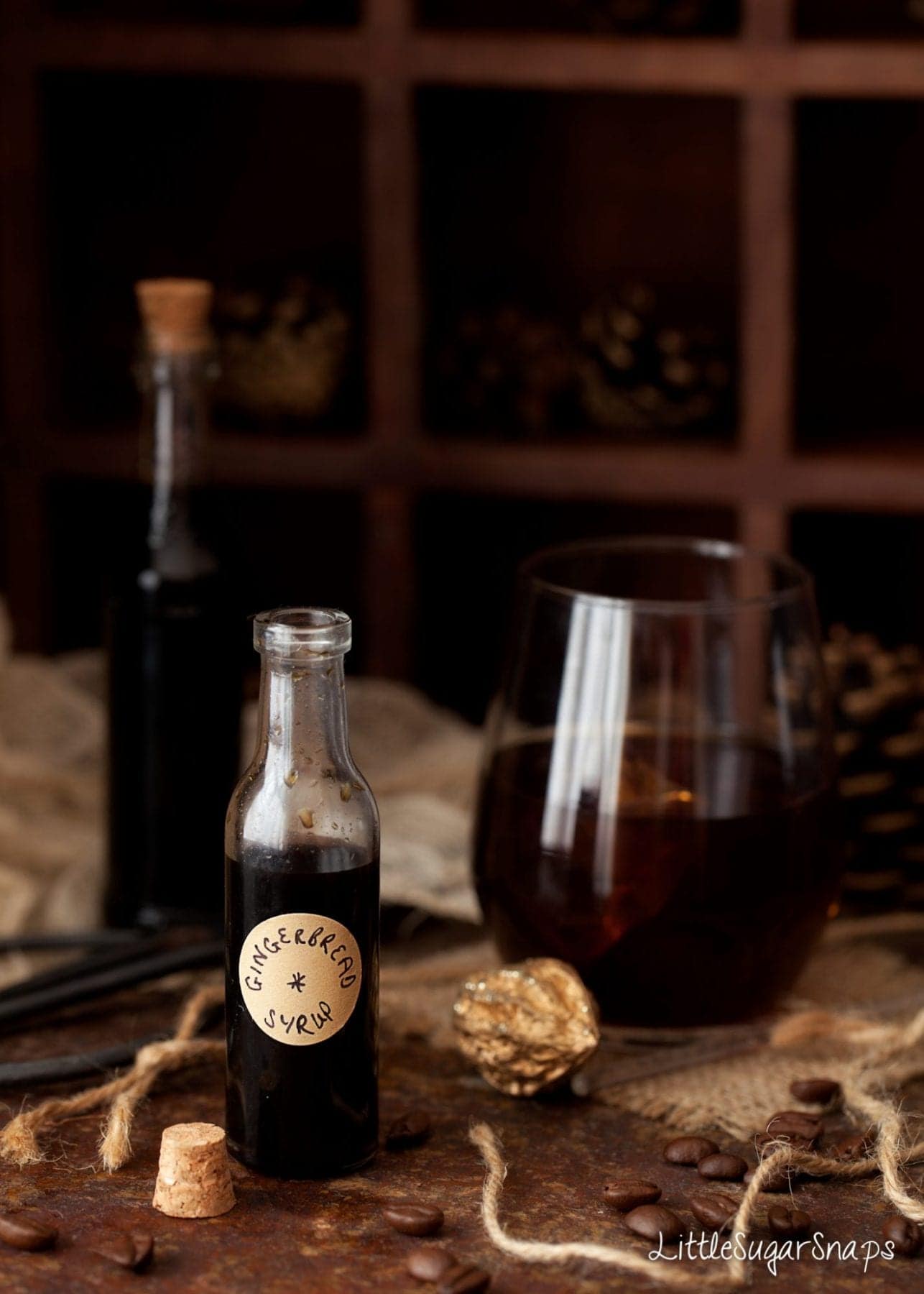 This syrup is simple and quick to make and combines dark musvovado sugar & black treacle with a handful of seasonal spices to create that nostalgic gingerbread flavour in liquid form.
Of course, I couldn't wait to slip some gingerbread syrup into the Black Russian and hand it over to my husband for his comments. I never tell him what to expect. So it's a little like Russian Roulette for both of us:
I'm thinking will he like it...or... will he hate it so much he accidentally spits it across the room
and he's wondering what the heck I'm about to inflict on him this time around
This time it was a win-win situation. The cocktail got a massive seal of approval from my resident perfectionist.
The Gingerbread Black Russian is a semi-sweet drink, served on the rocks, with a lovely warming spice to it. I say this often, but it's the kind of drink that calls for a roaring fire to sit beside, in big comfy armchairs and your favourite film on the TV.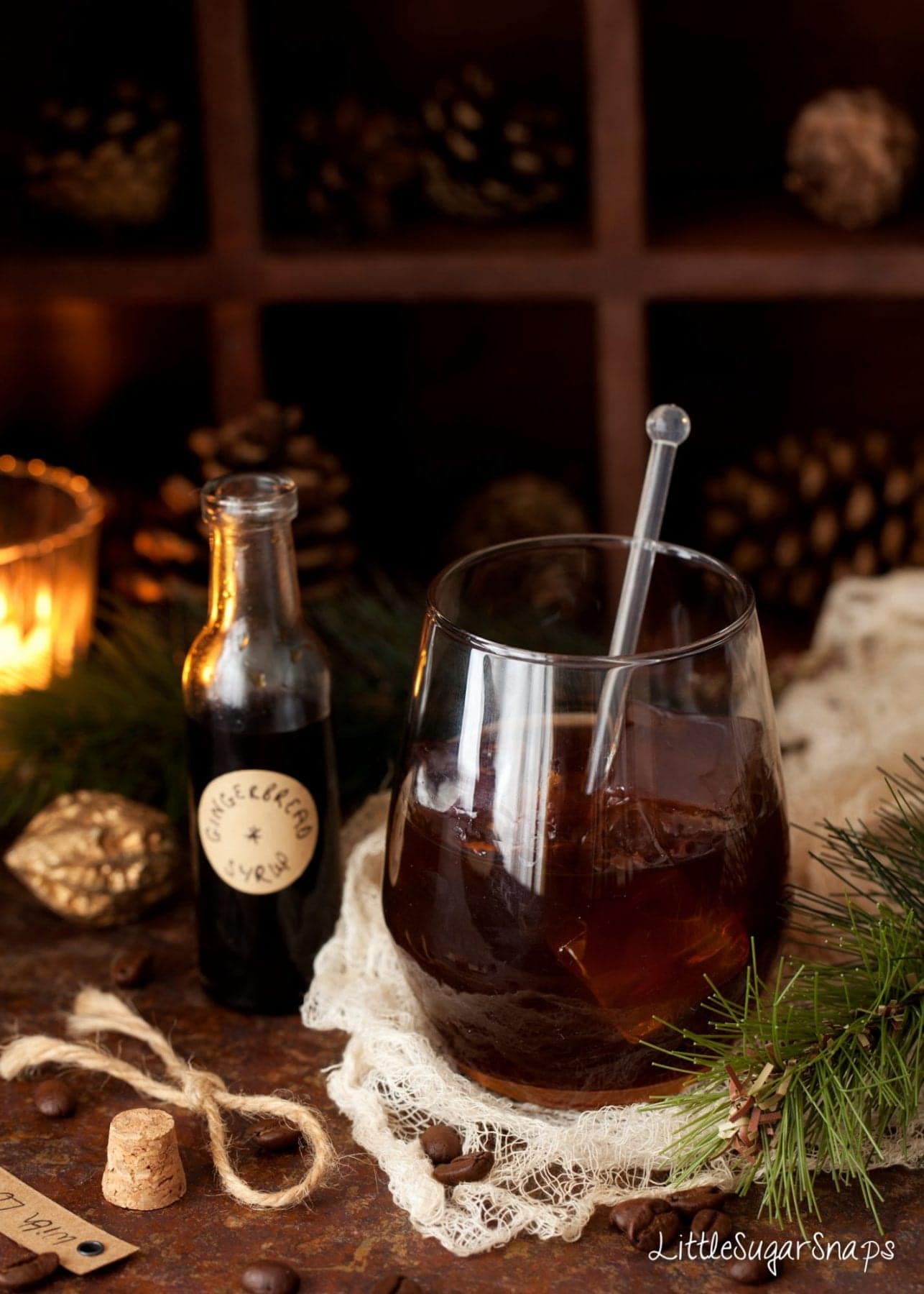 And that is me and this little cocktail-inspired truffle series of mine, just about finished.
Here are the rest of the recipes:
I'm off to lie down in a quiet place now, away from words...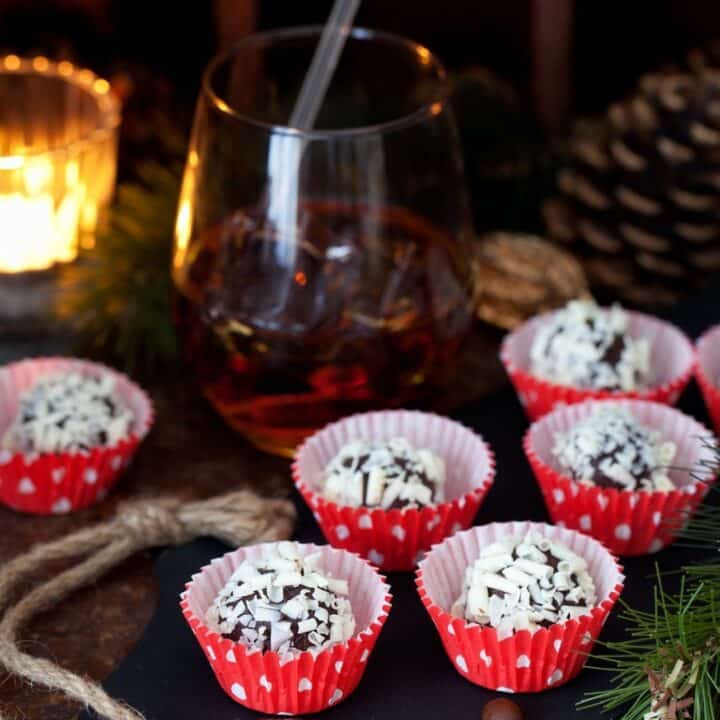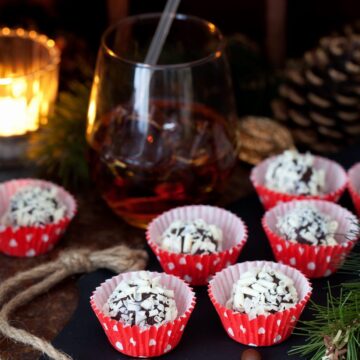 Black Russian Truffles
The Black Russian Cocktail has been transformed into dark & intense chocolate truffles. These boozy bites are worthy of serving up after dinner or just with drinks on a cosy night in by the fire with your favourite film playing.
Print
Pin
Rate
Ingredients
120

g/ 4 ¼ oz

Dark chocolate

20

g/4 ¼ tsp

Butter

5

tbsp

Double (heavy) cream

½

tsp

Espresso powder (fine)

2

tsp

Vodka

3

tsp

Coffee liqueur (e.g. Tia Maria or Kahlua)

45

g/ 1 ½ oz

Grated white chocolate
Instructions
Gently melt the chocolate over a Bain Marie. Once melted stir until completely smooth

Cut the butter into small chunks and stir in until fully melted and incorporated

Stir in the cream followed by the espresso powder then the alcohols

Let cool, cover and transfer to the fridge to firm up for at least 4 hours

Sprinkle the grated chocolate into a small shallow bowl

Take teaspoonfuls (approx 10g each) of the ganache and roll into balls. Gently roll the truffles in the grated chocolate until fully coated. Wash & dry your hands after rolling a few truffles if your hands get too sticky to roll the remaining truffles well

Store in the fridge for up to 5 days. Bring the truffles out an hour before serving to bring them back to room temperature
Nutrition Per Serving (Approximate)
Calories:
90
kcal
|
Carbohydrates:
6
g
|
Protein:
1
g
|
Fat:
7
g
|
Saturated Fat:
4
g
|
Cholesterol:
10
mg
|
Sodium:
15
mg
|
Potassium:
65
mg
|
Fiber:
1
g
|
Sugar:
4
g
|
Vitamin A:
100
IU
|
Calcium:
14
mg
|
Iron:
1
mg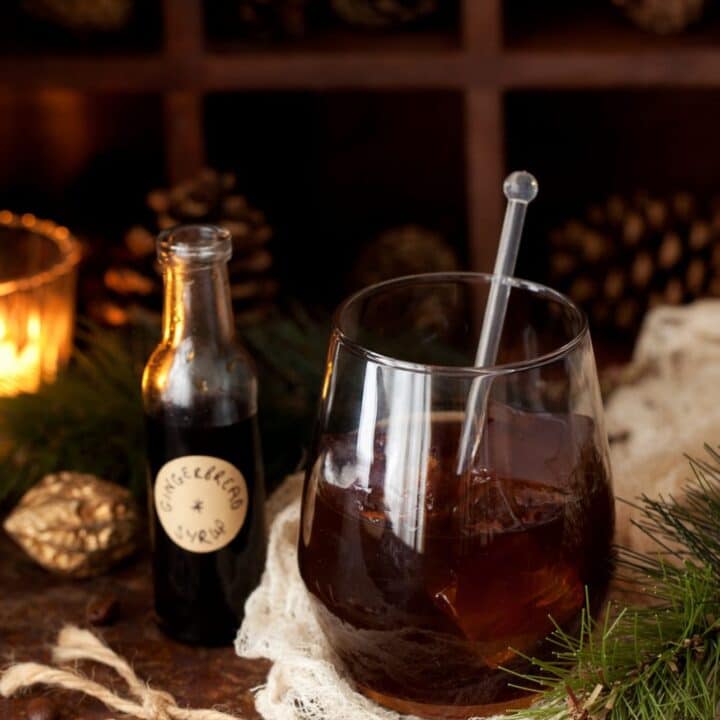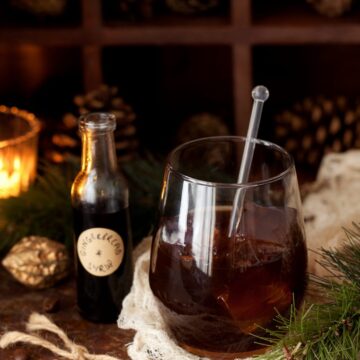 Gingerbread Black Russian
The classic Black Russian is spiced up with a homemade gingerbread syrup - adding some toasty notes perfect for winter and Christmas-time.
I used Tia Maria but Kahlua would work nicely too.
Print
Pin
Rate
Ingredients
For the Gingerbread Syrup
100g

/ 3 ½ oz

Dark muscovado sugar

100ml

/ ⅜cup + 2tsp

Water

1

tbsp

Black treacle (molasses)

¾

tsp

Ground cinnamon

1 ½

tsp

Ground ginger

⅛

tsp

Ground nutmeg

⅛

tsp

Ground clove

¼

tsp

Vanilla extract
For each serving of Gingerbread Black Russian
40

ml/ 4 parts

Vanilla Vodka

20

ml/ 2 parts

Coffee Liqueur

10

ml/ 1 part

Gingerbread syrpu
Instructions
To make the syrup
Put all ingredients into a heavy based saucepan and warm on a medium heat , stirring frequently until the sugar has dissolved

Raise the heat and bring to almost boiling them remove the pan from the hob and let infuse for 15 mniutes

Strain the syrup through a fine muslin cloth (over a bowl or jug. Be prepared to get a little messy - give the cloth a squeeze if necessary to help the liquid pass through

Bottle and keep in the fridge for up to 1 month
Make the cocktail
Pour all ingredients into a tumbler filled with ice and stir for 20 seconds
Nutrition Per Serving (Approximate)
Calories:
188
kcal
|
Carbohydrates:
17
g
|
Protein:
1
g
|
Fat:
1
g
|
Saturated Fat:
1
g
|
Sodium:
8
mg
|
Sugar:
17
g
|
Iron:
1
mg
(Visited 407 times, 1 visits today)