These Snowball Truffles are a cheeky spin on the 1970's classic cocktail The Snowball. Advocaat and citrus flavours blend with white chocolate to create soft & creamy treats. They are festive and perfectly suited to Christmas.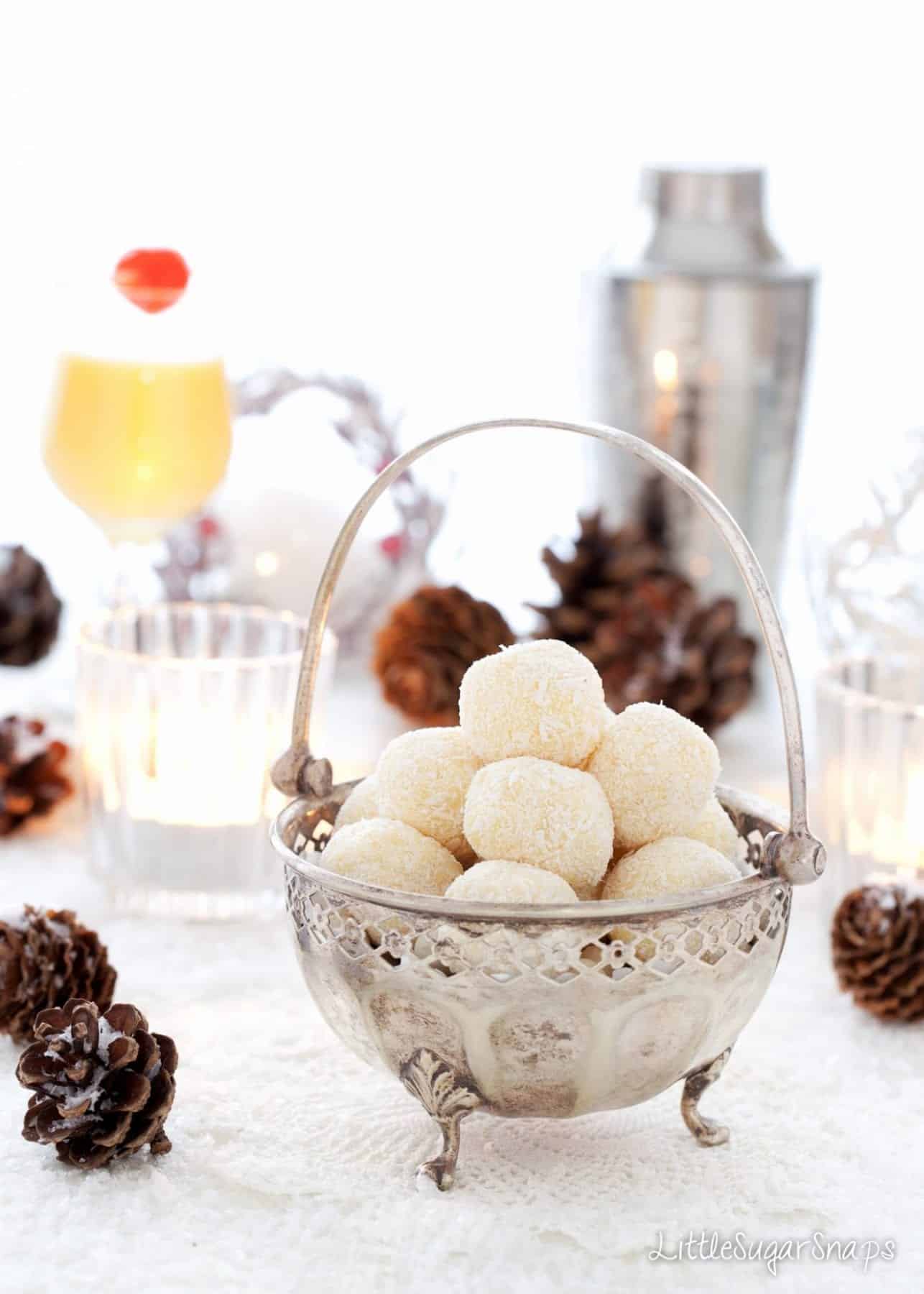 This post contains affiliate links. As an Amazon Associate, I earn from qualifying purchases.
I've had a lot of fun working on this mini series of cocktail inspired truffles. Half the joy has been dreaming up the list of cocktails to transform into chocolate form. In fact, I started off with a shortlist of ten well known and loved cocktails and whittled my way down to five. My aim was to select those cocktails that would offer up sufficiently different ingredients to each other and that I could see working well with chocolate. Yesterday I tackled Campari and still to headline in this series are truffles based on whiskey, coffee liqueur and gin (sigh). But before I get around to talking about these, I'd like to introduce my Snowball Truffles, featuring today's star ingredient – Advocaat.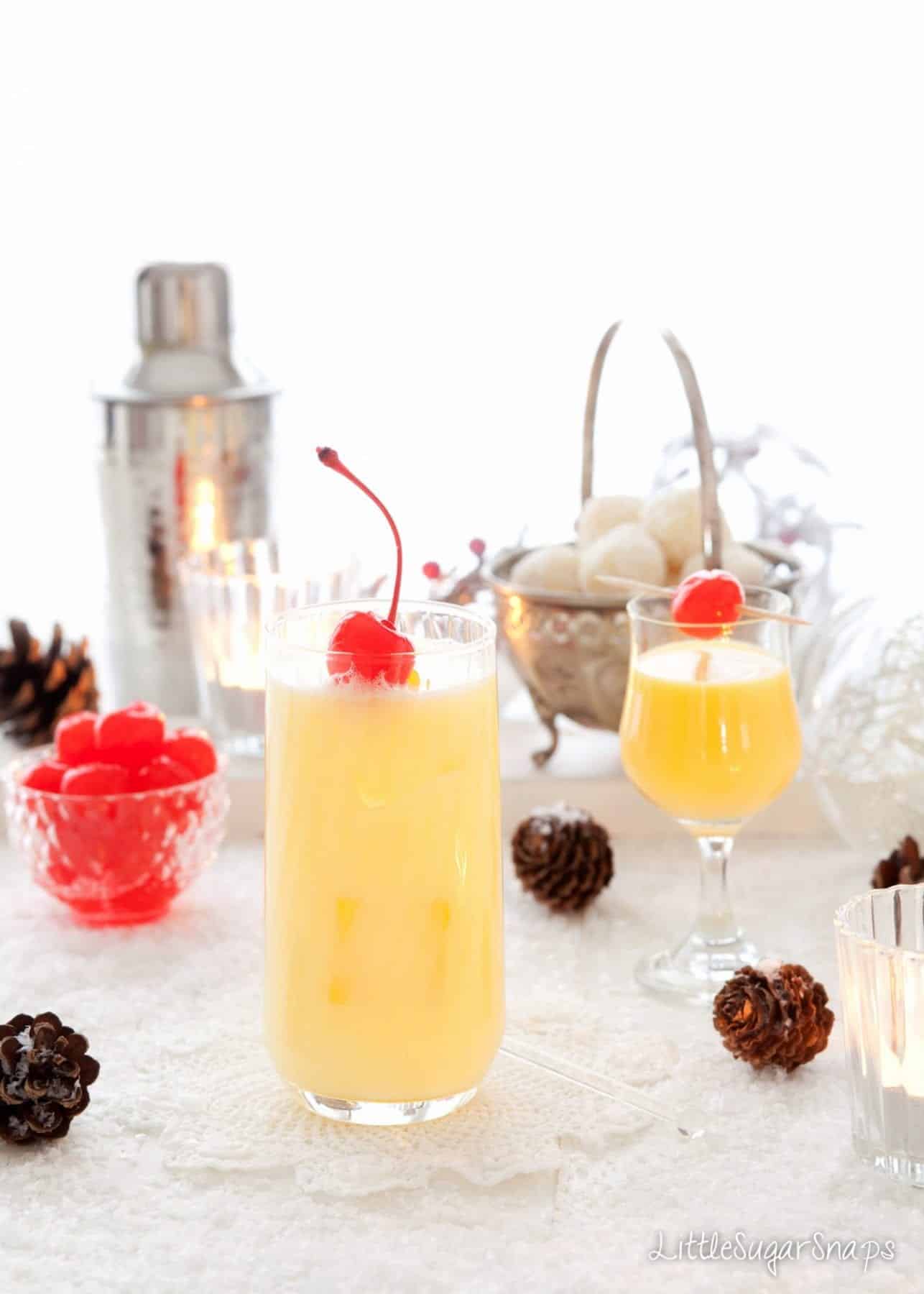 When I hit upon the idea of turning the 1970s cocktail party icon The Snowball into a truffle I knew there would be white chocolate involved and I knew I would be rolling each truffle in desiccated coconut. Those 2 elements were non-negotiable. My theory was that if I was going to use a retro ingredient and a retro cocktail as the inspiration for these truffles then I might as well go the whole hog and create a retro visual snowball effect to match.
Fortunately, the resulting Snowball Truffles do justice to these ingredients. With a splash of lemon and just a subtle hint of lime these little bites shine a new light on the humble Snowball.
That's probably just as well since the Snowball, and Advocaat in general, are no longer as fashionable as they once were. Personally, I've always had a soft spot for both drinks. Perhaps because they come served with a maraschino cherry and I'll do more or less anything for one of those scarlet beauties. But I know several people who cannot bear either drink. My husband falls into that category but even he has tried my Snowball Truffles and been more than happy to come back for more.
In case you're not sure, Advocaat is a Dutch liqueur made from eggs, sugar, and brandy. It is amazingly rich, thick and creamy, with a taste not dis-similar to custard. It is also astonishingly yellow. Honestly, this liqueur is no wallflower. But all of those ingredients, tastes and textures do make advocaat an exceptional candidate for mixing with chocolate.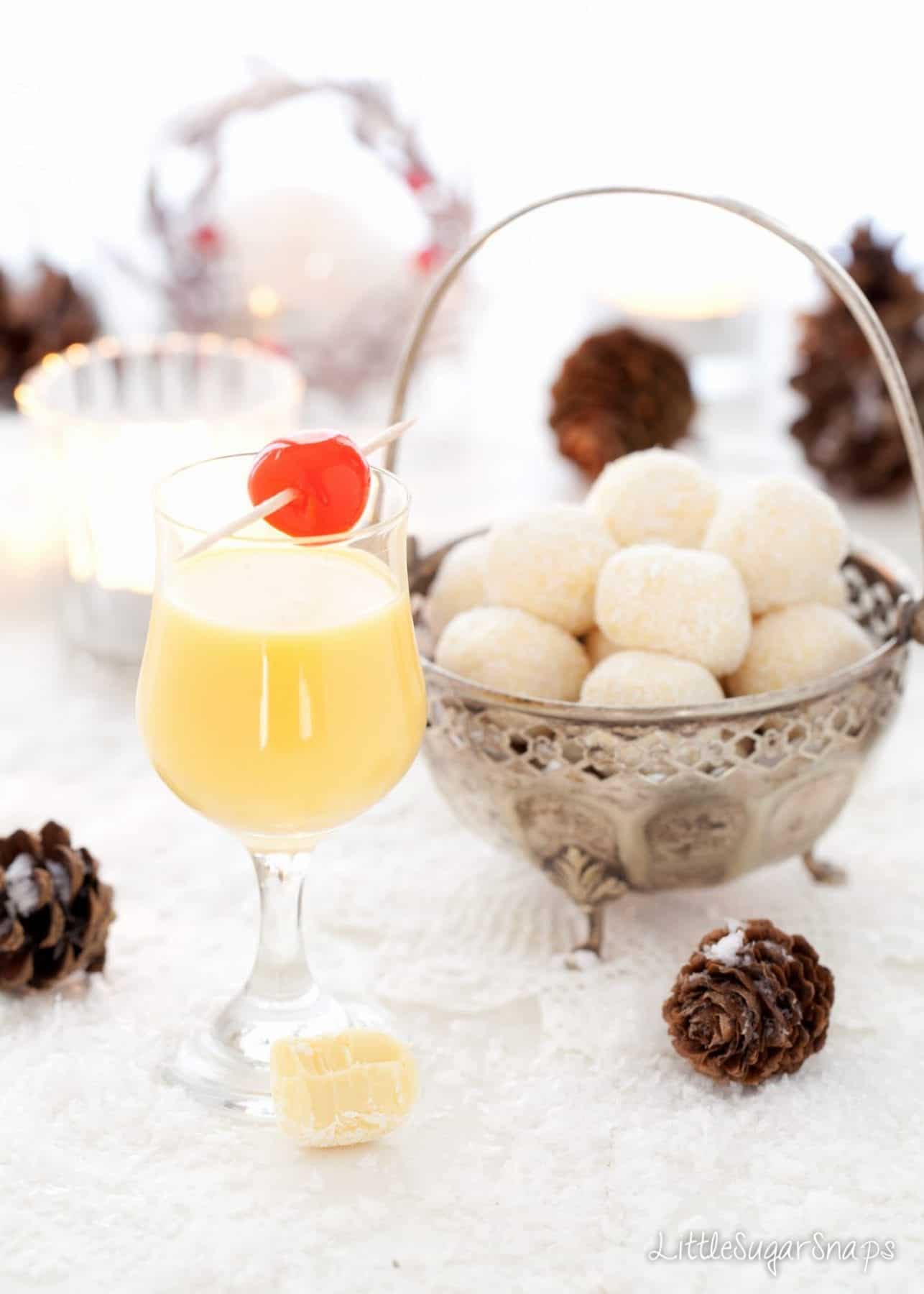 Talking of mixing advocaat, I've got a tiny twist on the snowball to share with you too. I've upgraded the lemonade to Prosecco to create a slightly shorter sparkling drink. It's a little more potent than the original and slightly drier. If you like the classic Snowball, I think you'll like my version.
And don't miss out on my fiery ginger beer Snowball either.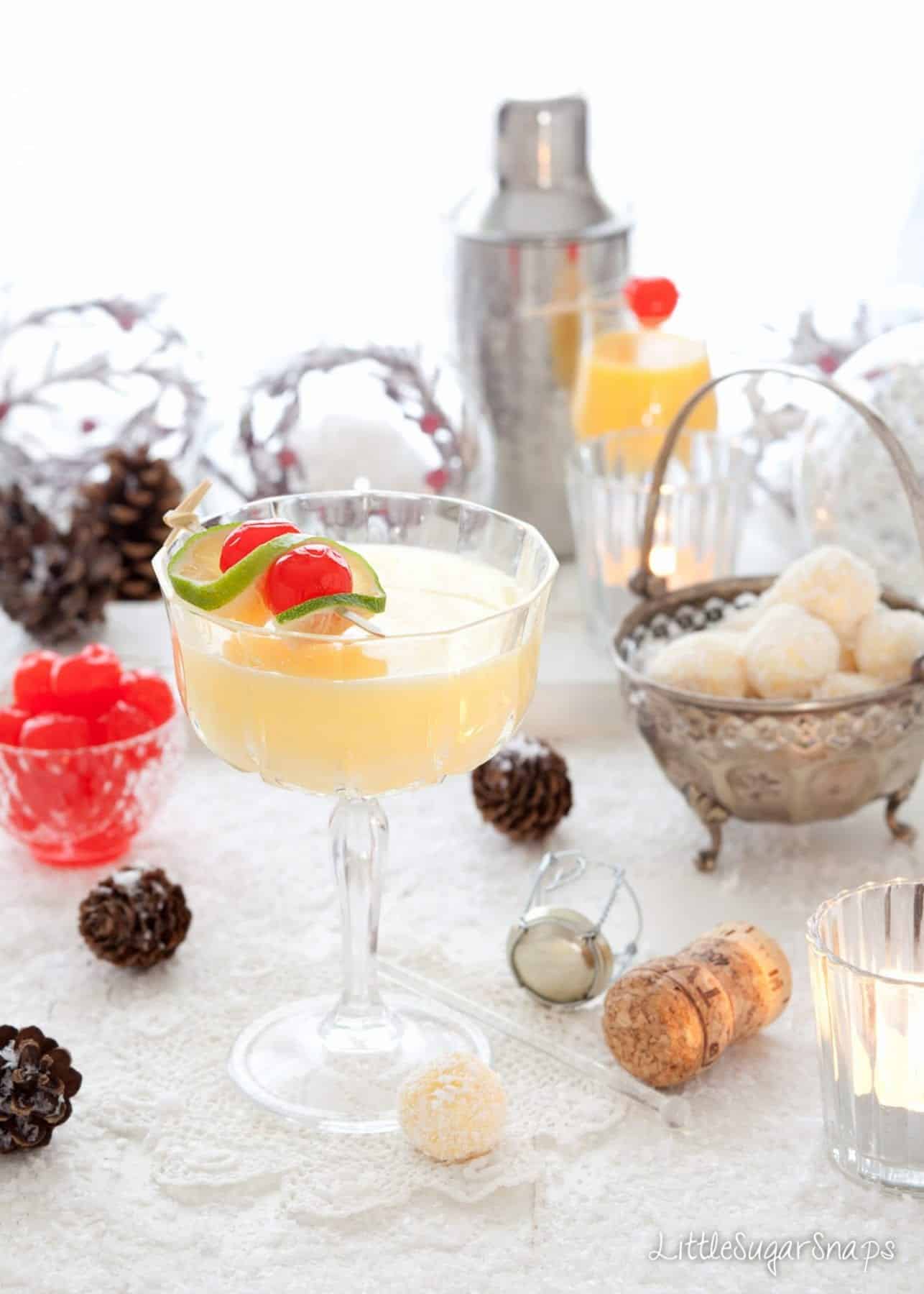 Okay. So that's the Snowball Truffles chalked up. Have you found the other cocktail inspired truffles in this series: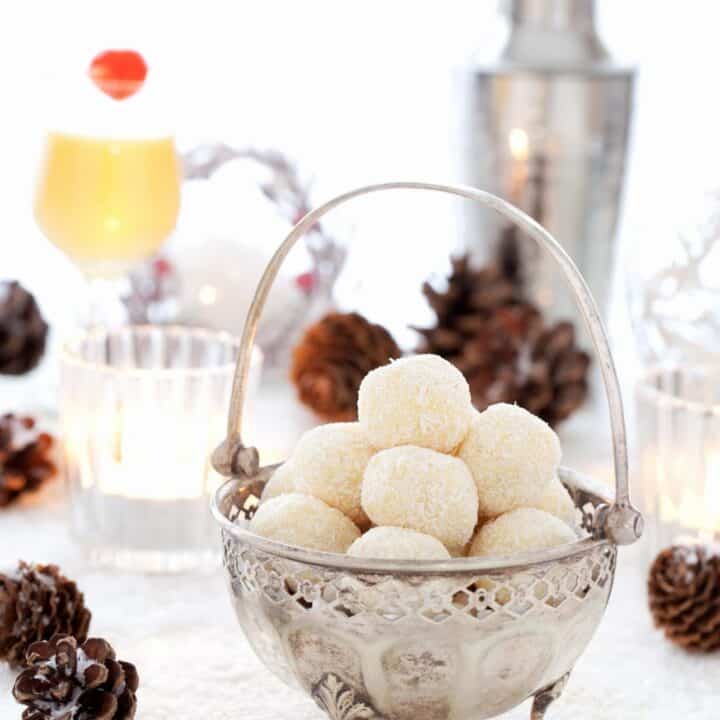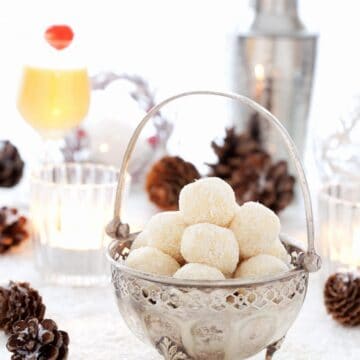 Snowball Truffles
These Snowball Truffles are a cheeky spin on the 1970's classic cocktail The Snowball. Advocaat and citrus flavours blend with white chocolate to create soft & creamy treats. They are festive and perfectly suited to Christmas.
Print
Pin
Rate
Ingredients
For the Truffles
100

g/ ⅔ cup

White chocolate – finely chopped

5

teaspoon

Advocaat

¾

teaspoon

Lemon juice

¼

teaspoon

Lime juice

2

tablespoon

Desiccated coconut
For the Cocktail
30

ml/ 2 tbsp

Advocaat

2

teaspoon

Lime juice

60

ml/ 4 tbsp

Prosecco (or other sparkling wine)
Instructions
Make the Truffles
Gently melt the chocolate over a Bain Marie (I don't recommend the microwave method as white chocolate can quickly seize)

Once melted stir until completely smooth

Stir in the Advocaat followed by the lemon and lime juice

Let cool, cover and transfer to the fridge to firm up for at least 4 hours

Sprinkle the coconut into a small shallow bowl

Take teaspoonfuls of the ganache and roll into balls. Gently roll the truffles in the coconut until fully coated. Wash & dry your hands after rolling a few truffles if your hands get too sticky to roll the remaining truffles well

Store in the fridge for up to 5 days. Bring the truffles out an hour before serving to bring them back to room temperature
Make the Cocktail
Put the advocaat and lime juice into a cocktail shaker with 2 ice cubes. Shake vigorously for 20 seconds

Strain into a martini glass, champagne flute or coupe glass and top with Prosecco

Garnish with the slice of lime and cocktail cherries and serve immediately
Notes
Refrigerators operate at various temperatures. If your ganache is too firm to scoop and roll, simply leave the ganache at room temperature for 30-60 minutes until it has softened sufficiently to roll.
Nutrition Per Serving (Approximate)
Calories:
57
kcal
|
Carbohydrates:
6
g
|
Protein:
1
g
|
Fat:
3
g
|
Saturated Fat:
2
g
|
Cholesterol:
2
mg
|
Sodium:
8
mg
|
Potassium:
28
mg
|
Fiber:
1
g
|
Sugar:
5
g
|
Vitamin C:
1
mg
|
Calcium:
17
mg
|
Iron:
1
mg
(Visited 332 times, 1 visits today)