This Baileys espresso martini is the ideal cocktail for coffee lovers. Slightly sweet and slightly creamy, but still full of deep coffee flavour, this espresso martini with Baileys is quick and easy to make and it's loved by all who try it.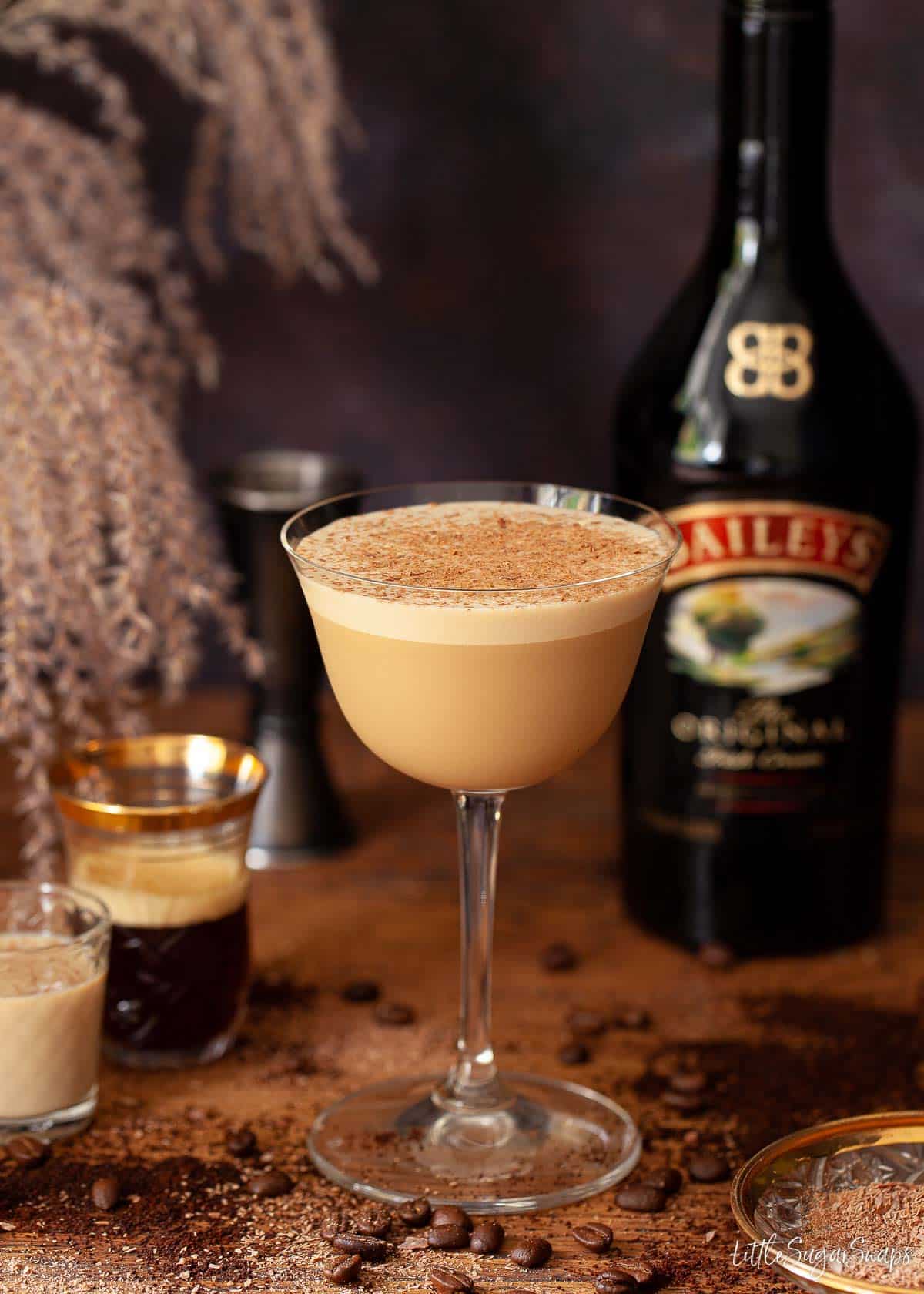 This post contains affiliate links. As an Amazon Associate, I earn from qualifying purchases.
A glass of Baileys always takes my mind way back and involves fond memories I hope never fade, so I do have a soft spot for cocktails using this liqueur. This Baileys espresso martini makes the most of the wonderful partnership that coffee and Irish cream have to offer. It's not to be missed.
If you love coffee cocktails as much as I do, then don't miss my rum espresso martini, coffee and brandy Alexander. or my coffee crème Drambuie cocktail. And if you're partial to a drop of Baileys in warm drinks too then take a look at my Irish hot chocolate and my Irish mocha.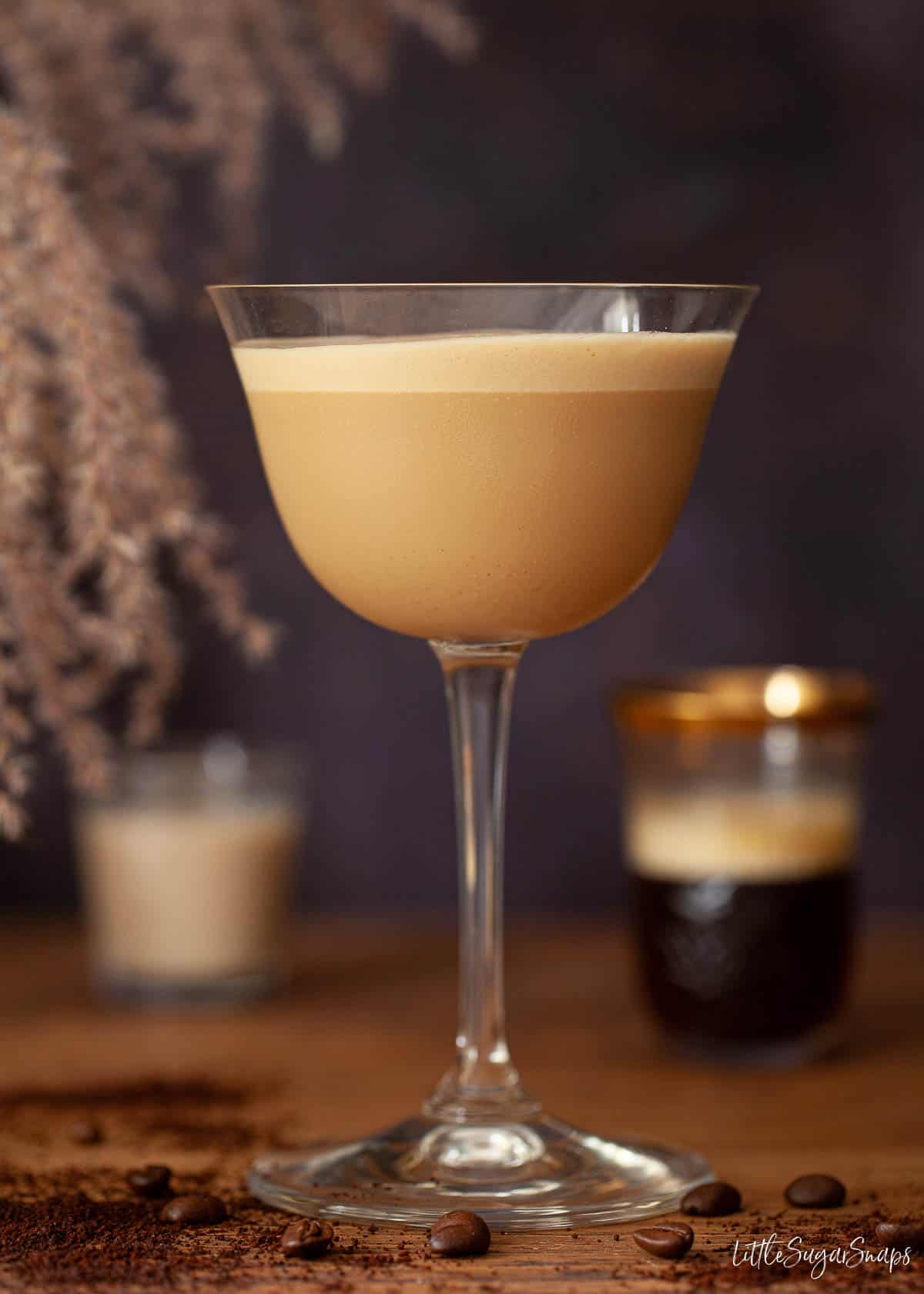 What is a traditional espresso martini like?
A classic espresso martini contains espresso coffee, vodka and coffee liqueur in varying proportions. The coffee flavour is pronounced and the best versions have only a hint of sweetness about them.
Technically, this drink is not a true martini as it contains neither gin nor vermouth. The world seems happy to turn a blind eye to this small fact and I'm happy to run with this notion too.
Why make this Baileys version?
The espresso martini with Baileys is a slightly more indulgent version of the classic coffee cocktail. It is marginally sweeter than the original, with a pleasant level of creaminess about it too. But neither of these additional qualities are over the top – the drink is still full of sensational coffee flavour.
And with only 4 ingredients, this is still a quick and easy cocktail to make.
This cocktail partners well with a slice of Baileys Irish coffee cake.
Ingredients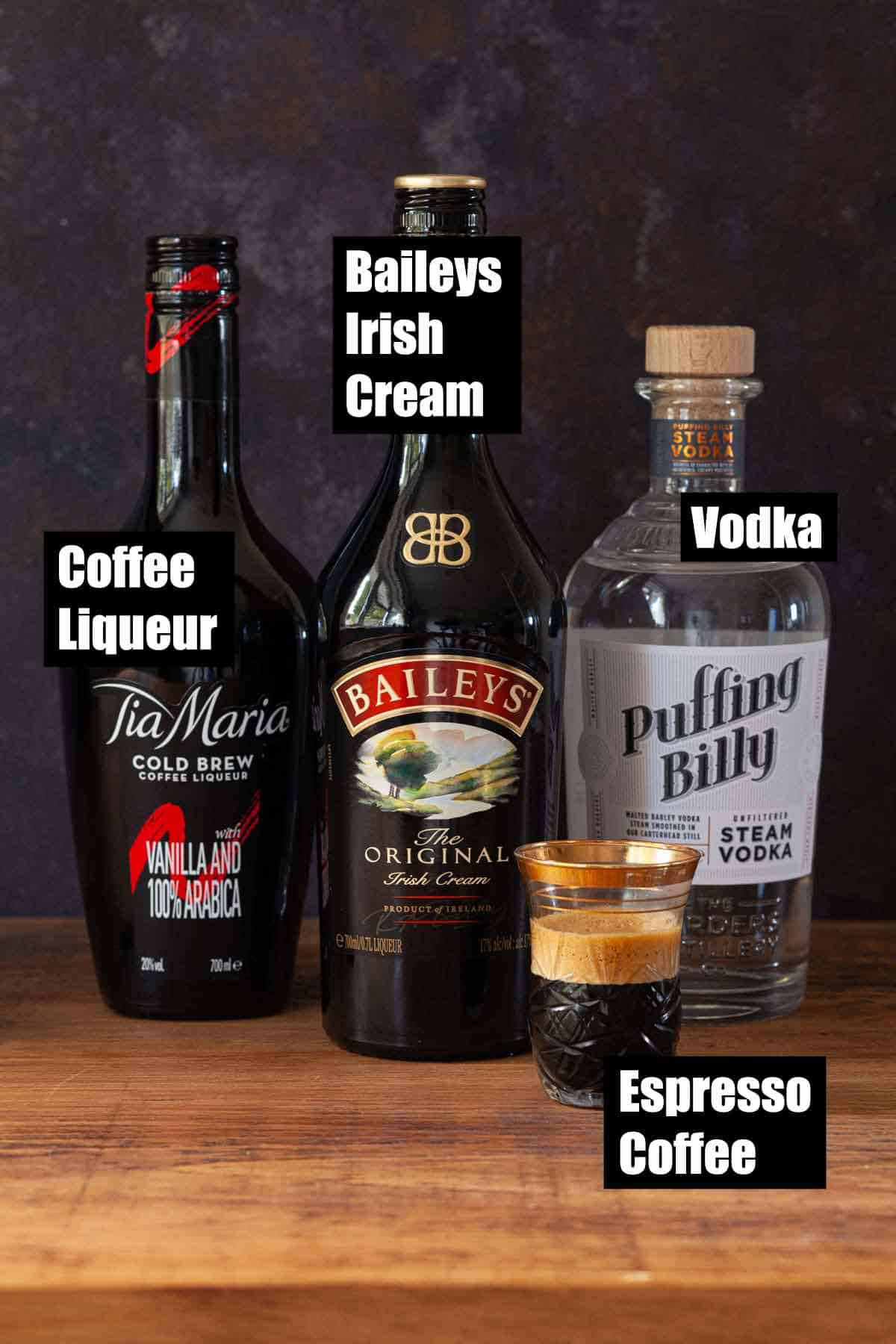 The star of the show in this espresso martini recipe is of course the Baileys Irish Cream. I'm a self-confessed brand snob when it comes to certain alcoholic drinks and I'm afraid Baileys Irish Cream is one such brand I've yet to find a close rival for.
Baileys manages to be smooth, creamy and warming with a great balance of flavour along with a pleasant kick of alcohol. It's a beautiful blend of Irish whiskey and spirits, Irish dairy cream, rich chocolate and vanilla flavour. All of those partner with the coffee in this recipe extremely well. Use inferior versions at your own peril.
It's up to you which brand of espresso coffee you use and you can even use decaffeinated coffee if preferred.
As for the vodka, only a small amount is used, and it's not a key flavour, so use your favourite affordable brand. Oh and avoid any flavoured vodkas as they are not welcome here.
I've tried making this recipe with Tia Maria, Kahlua and an artisan cold brew coffee liqueur. In my opinion, the best coffee liqueur for this espresso martini is Tia Maria. It added just the right level of sweetness to the drink and pushed the coffee flavour up a touch. I found Kahlua too sweet alongside the Baileys but the artisan liqueur was too bitter for this cocktail.
Step-by-step instructions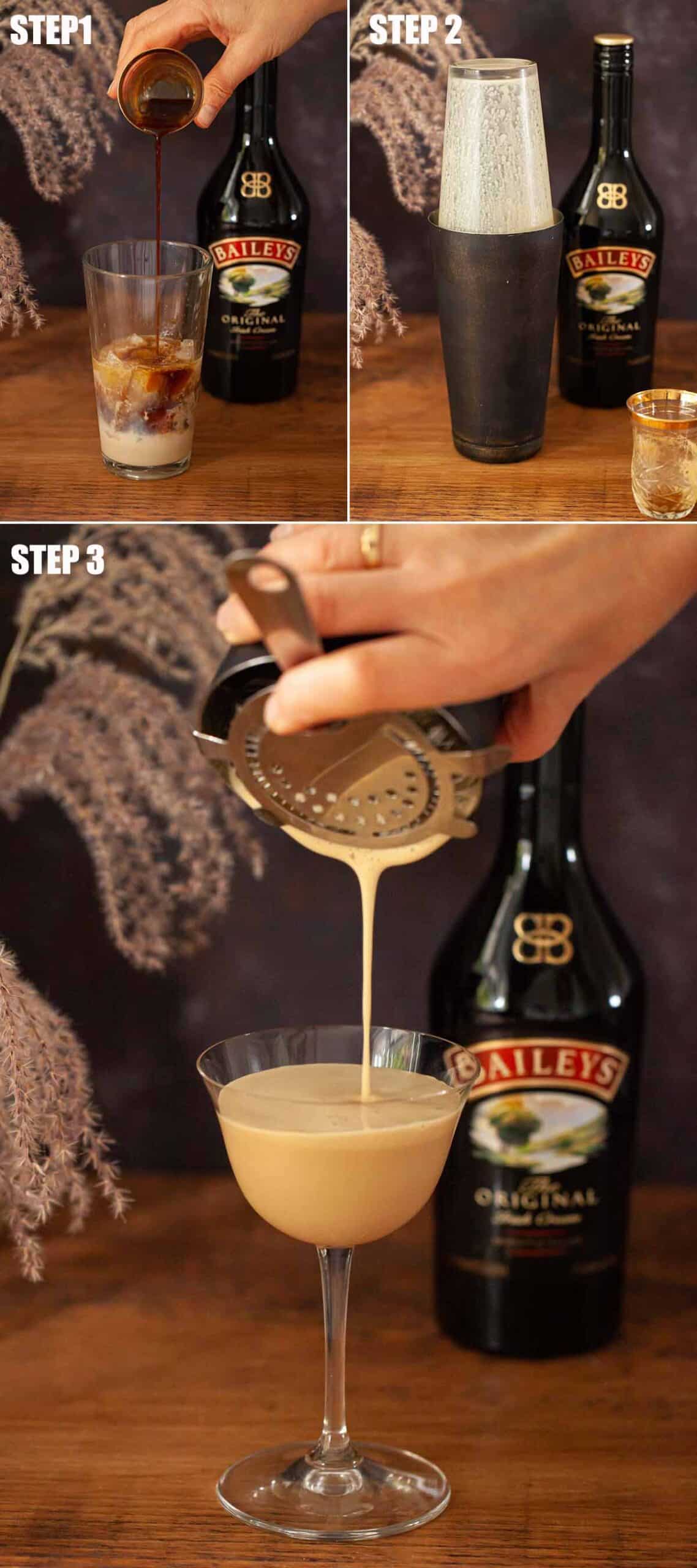 Half fill a cocktail shaker with ice
Pour in the coffee, vodka, Baileys and coffee liqueur
Secure the lid and shake for 30-40 seconds until the drink is well-chilled
Strain into a cocktail glass and serve
Expert tips
This espresso martini recipe with Baileys is practically foolproof. There's very little that can really go wrong but here are a few pointers:
Make sure your equipment (cocktail shaker, measurer and glass) are all scrupulously clean. The Irish Cream will curdle if it comes into contact with even a small trace of anything acidic such as lemon juice
Freshly brew your coffee (and add it to the shaker warm) for the best frothy top on this drink
Use plenty of ice – this espresso martini with Baileys is intended to be served well-chilled
Chill your glass for 15 minutes to ensure this drink is served ice-cold
Frequently asked questions
What coffee is best for an espresso martini?
Espresso coffee is best for this Baileys cocktail. It offers a rich and full flavour that stands up to the other ingredients well.

I use 15g ground espresso and brew it in a coffee machine to produce a 40ml shot of espresso with a rich creme. It's the creme that helps produce that enviably creamy yet frothy top to the drink.

If you do not own a coffee machine try brewing it in a cafetiere (French press). At a push use strong instant coffee – try dissolving 1 teaspoon in 40ml hot water. You will struggle to achieve the foamy top but the espresso martini will still taste great with either of these options.
When should I serve this drink?
Truthfully? Anytime you like – it's your drink. I have a preference to serve it later in the evening as a nightcap style cocktail though as it is sweeter and creamier than other drinks.

Just a word of warning though – don't drink too many before going to bed, unless you want to be awake all night due to the caffeine in the strong espresso coffee.
Can I make it in advance?
Yes, you can. But the creme and the frothy top are always superior when made fresh. If you can live with this slightly inferior finish to your Baileys espresso martini then feel free to mix a batch of all ingredients, chill and then shake with the ice at the point of serving.
Variations
You'll notice that this espresso martini with Baileys contains only a small amount of vodka. That's because the stars of the show in this drink are both the espresso coffee and the Baileys. The vodka is there to add depth and robustness to the cocktail without it dominating. Trust me, it's a great balance.
However, for anybody looking for a more potent version of this cocktail, feel free to use 40ml of vodka instead.
Other ways to take this Baileys cocktail include:
Baileys espresso martini with vanilla vodka in place of regular vodka
Espresso martini with Baileys and Kahlua – Tia maria is popular in the UK but perhaps less so elsewhere in the world. Kahlua is slightly sweeter and has a less pronounced coffee flavour than Tia Maria but works well in this Baileys cocktail
Baileys espresso martini without vodka – use rum in place of vodka for an even deeper flavour profile
Make it vegan by using Baileys Almande in place of classic Baileys Irish Cream
Try a Salted Caramel Baileys espresso martini by using Salted caramel Baileys
Or opt for a Chocolate Baileys espresso martini using Baileys Chocolat Lux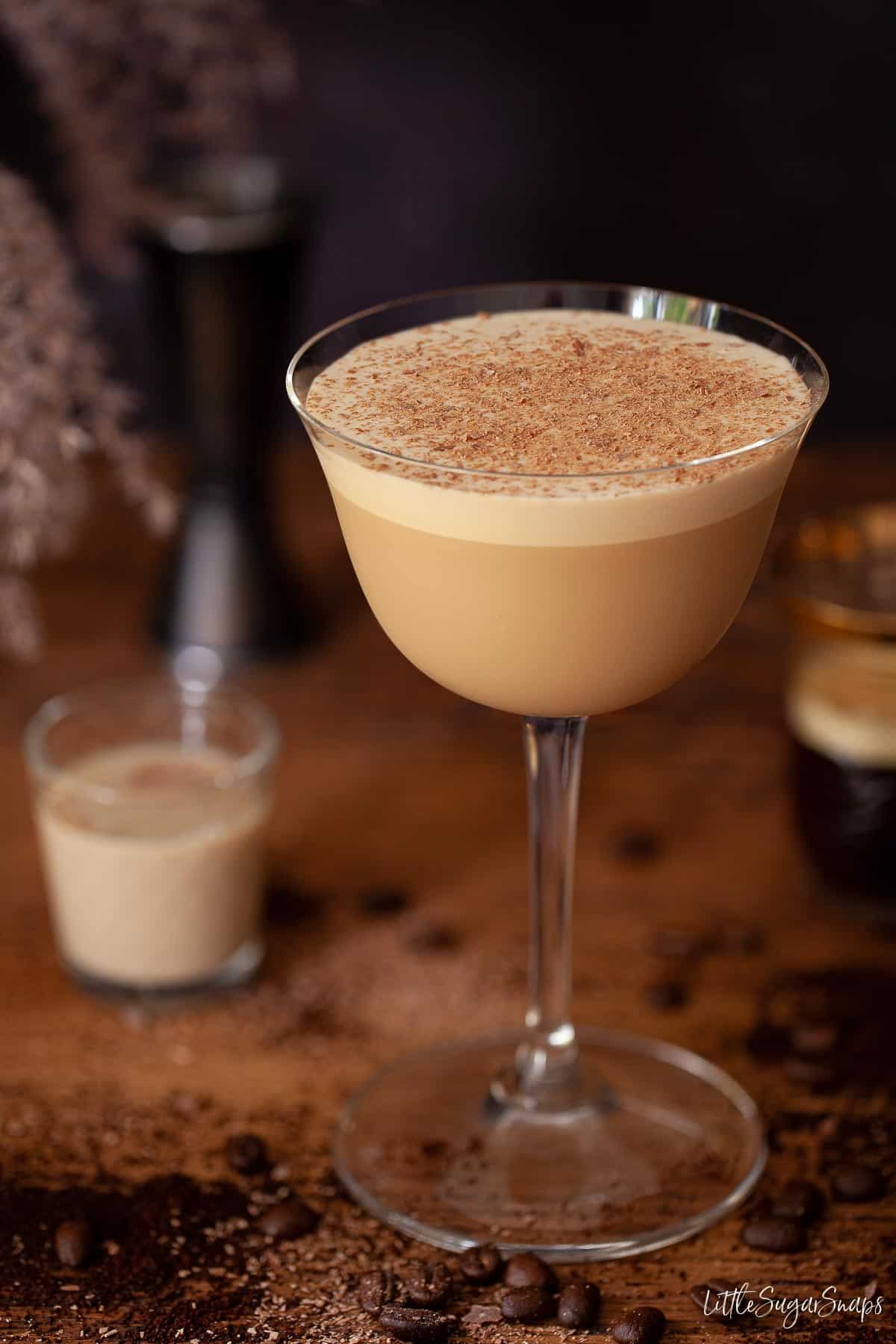 More Baileys recipes to try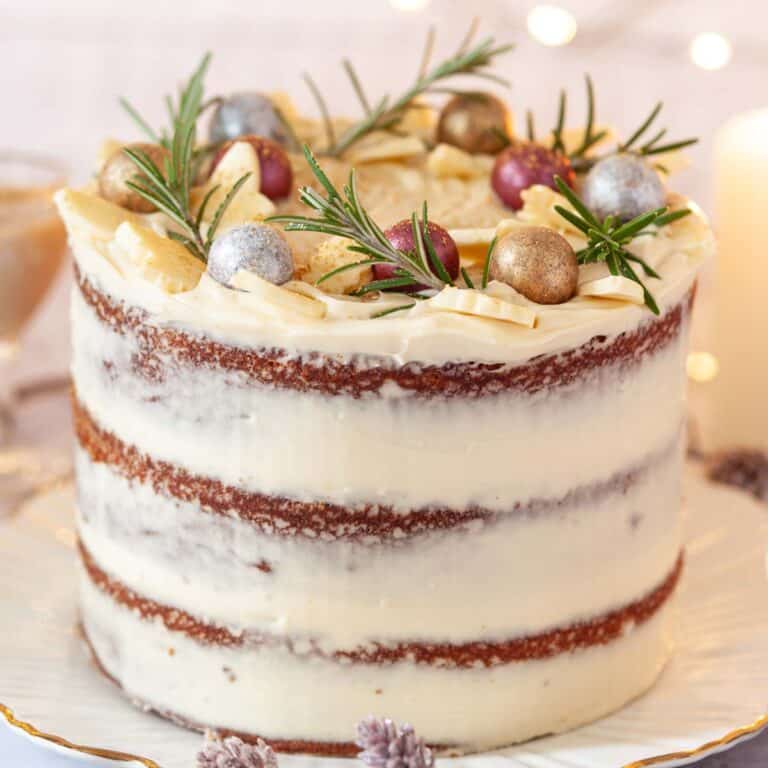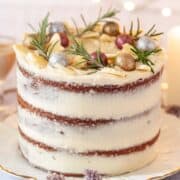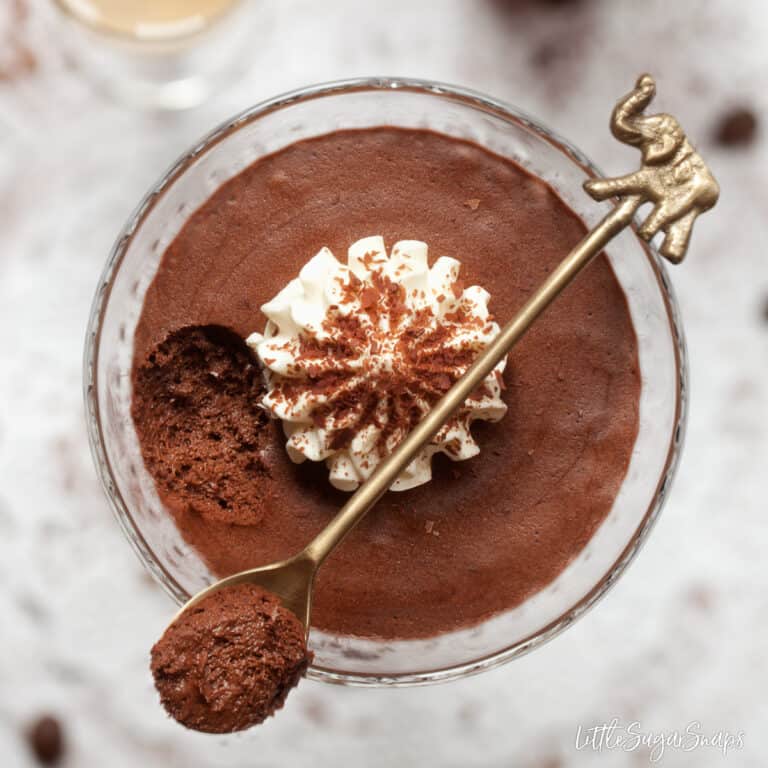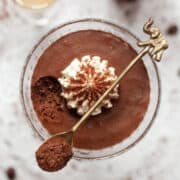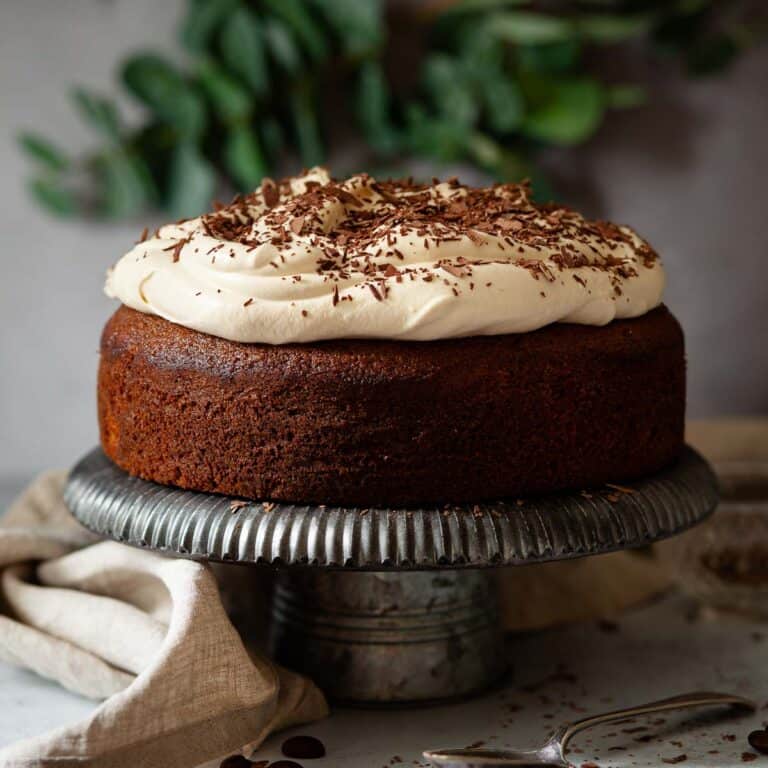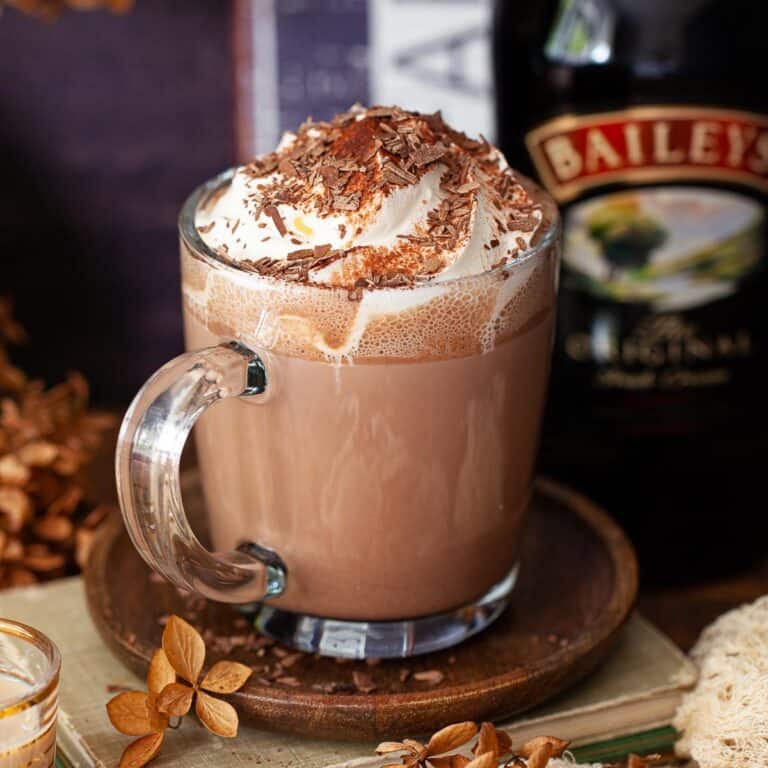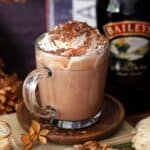 Have you made this espresso martini with Baileys? If you have please give it a rating or leave a comment – I love to hear how you get along with my creations.
Why not sign up to receive LittleSugarSnaps newsletters to hear when new recipes are published? You'll get a free welcome e-book with my top baking tips and 5 favourite cake recipes. Or stay in touch on Facebook, Instagram or Pinterest.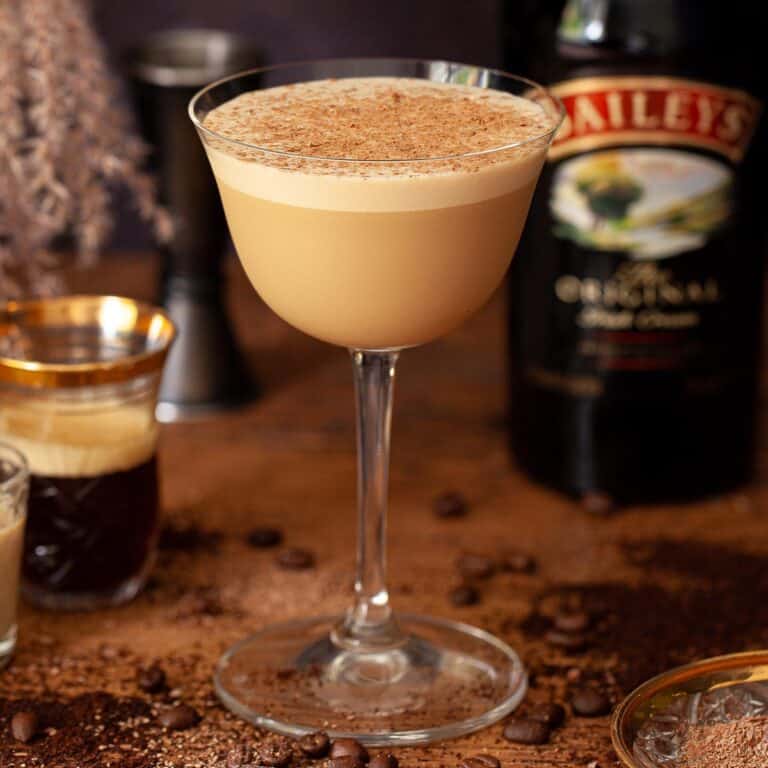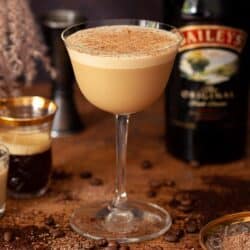 Baileys Espresso Martini
This Baileys espresso martini is the ideal cocktail for coffee lovers. Slightly sweet and slightly creamy, but still full of deep coffee flavour, this espresso martini with Baileys is quick and easy to make and it's loved by all who try it.
Print
Pin
Rate
Ingredients
40

ml

Espresso coffee

freshly brewed using 15g ground espresso coffee

40

ml

Baileys Irish Cream

20

ml

Vodka

10

ml

Coffee liqueur

Tia Maria works really well
Instructions
Half fill a cocktail shaker with ice

Pour in the coffee, vodka, Baileys and coffee liqueur

Secure the lid and shake for 30-40 seconds until the drink is well-chilled

Strain into a cocktail glass and serve
Notes
Make sure your equipment (cocktail shaker, measurer and glass) are all scrupulously clean. The Irish Cream will curdle if it comes into contact with even a small trace of anything acidic such as lemon juice
Freshly brew your coffee (and add it to the shaker warm) for the best frothy top on this drink
Use plenty of ice – this espresso martini with Baileys is intended to be served well-chilled
Chill your glass for 15 minutes to ensure this drink is served ice-cold
Variations
Baileys espresso martini with vanilla vodka – in place of regular vodka
Espresso martini with Baileys and Kahlua – Tia maria is popular in the UK but perhaps less so elsewhere in the world. Kahlua is slightly sweeter and has a less pronounced coffee flavour than Tia Maria but works well in this Baileys cocktail
Baileys espresso martini without vodka – use rum in place of vodka for an even deeper flavour profile
Make it vegan by using Baileys Almande in place of classic Baileys Irish Cream
Try a Salted Caramel Baileys espresso martini by using Salted Caramel Baileys
Or opt for a Chocolate Baileys espresso martini using Baileys Chocolat Lux
Nutrition Per Serving (Approximate)
Calories:
215
kcal
|
Carbohydrates:
15
g
|
Protein:
1
g
|
Fat:
5
g
|
Saturated Fat:
3
g
|
Polyunsaturated Fat:
1
g
|
Cholesterol:
1
mg
|
Sodium:
7
mg
|
Potassium:
46
mg
|
Sugar:
13
g
|
Vitamin C:
1
mg
|
Calcium:
1
mg
|
Iron:
1
mg
(Visited 9,688 times, 4 visits today)