This Coffee Brandy Alexander recipe creates a luscious yet serious creamy cocktail to savour. A hint of coffee and a waft of chocolate accentuate the silky cream and mellow brandy in this remake of the classic drink.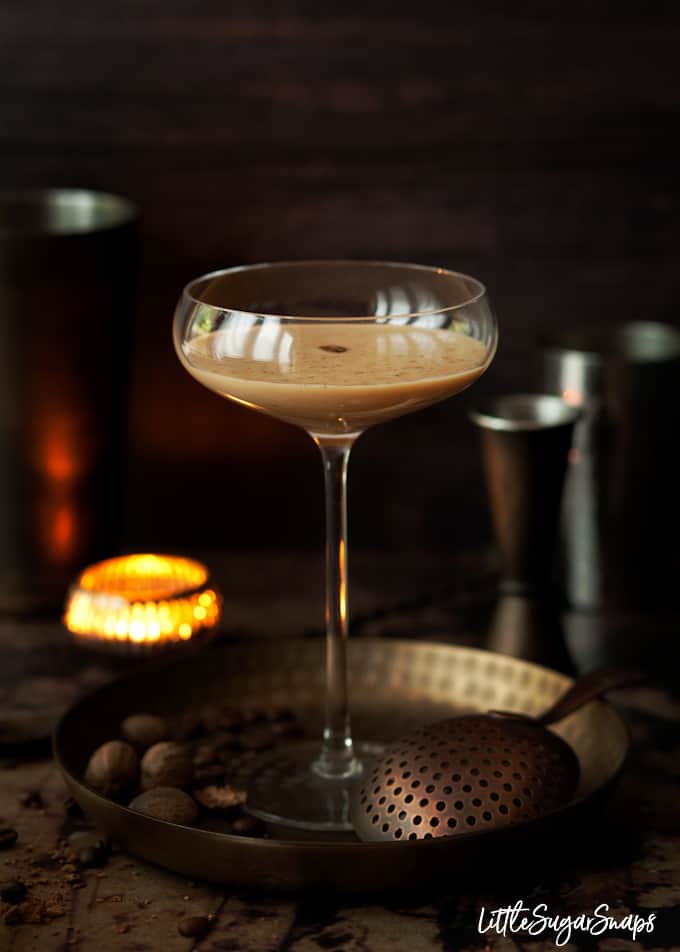 THIS POST CONTAINS AFFILIATE LINKS. AS AN AMAZON ASSOCIATE I EARN FROM QUALIFYING PURCHASES.
I do have a soft spot for the occasional creamy cocktail in the cooler months and this Coffee Brandy Alexander is my idea of Friday night heaven right now. What's not to enjoy about the combination of coffee with brandy?
Mixing coffee with brandy is not a new pairing. It's a popular choice, especially in hot coffee drinks. But today, I've taken it in a cool and creamy direction, basing it on the classic Brandy Alexander.
What is a Brandy Alexander
The first noteworthy point to take away about the rather vintage Alexander drink is that there are two types of classic Alexander cocktails:
The Alexander – made with gin
The Alexander #2 – made with brandy or Cognac
The gin version was the original, first blended around 1915. The original recipe comprised equal parts gin, white creme de cocoa and cream.
Egg white, though not compulsory, is often added but a light dusting of grated nutmeg to round off this libation with a sweetly spiced aroma is more or less considered mandatory.
As the years rolled by, bartenders got experimental with other spirits and it wasn't long before the Alexander #2 knocked the original drink off its pedestal.
The brandy riff appears to have emerged around 1937 and was originally called the Alexander #2. It enjoyed a revival in popularity in the 1970s and remains highly regarded today. It's a true classic.
Brandy Alexander Ingredients
This classic cocktail contains:
Cognac or other quality brandy
Brown creme de cacoa
Cream (I use unsweetened single cream with 18% fat content)
Unlike the original recipe, there tends to be a heavier measure of cognac compared to the sweet liqueur and cream. This enables the mellow undertones of the brandy to continue to shine thorough rather than getting overpowered by the other sweet and decadent ingredients.
It's pure bliss.
My coffee brandy Alexander recipe substitutes 3/4 of the creme de cocoa for coffee liqueur. This simple swap means that the sweetness and creaminess of the cocktail are both unaffected.
There's still a hint of chocolate in the mix, but the flavour of coffee with brandy definitely comes through brightly.
Lookswise, these drinks are virtually identical since coffee liqueur and dark creme de cacao are both very dark brown. Believe it or not, there's one of each in the following image.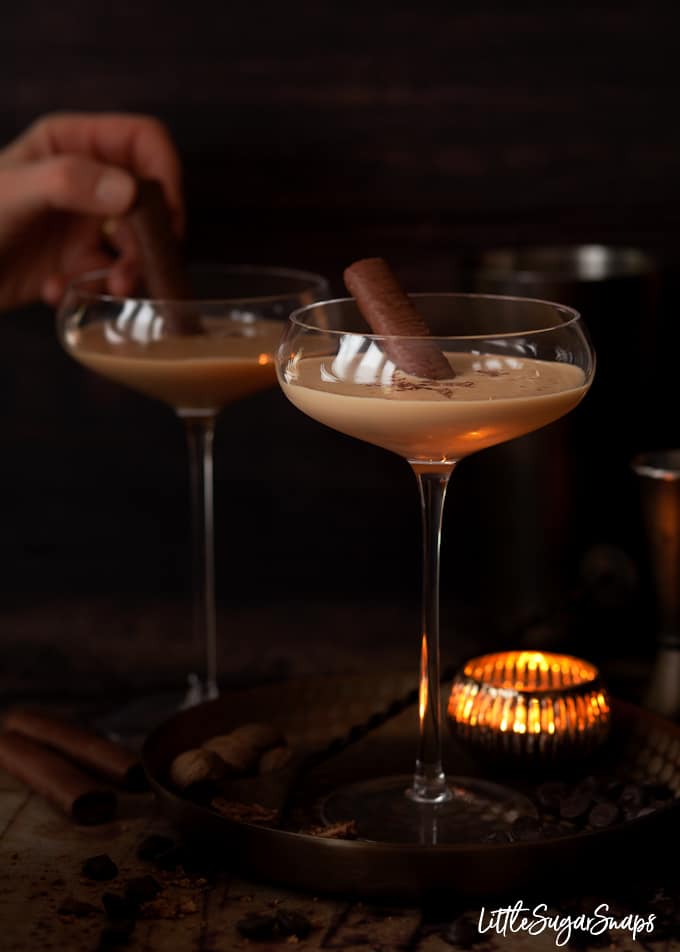 To mark the difference, I suggest adding a coffee bean to the coffee brandy Alexander along with the nutmeg. I went slightly wild and added a chocolate wafer to my classic brandy version.
How to Make a Coffee Brandy Alexander
This is an incredibly easy and straightforward drink to make. Simply add a large handful of ice to a cocktail shaker and pour in the alcohols and cream.
Put the lid on and shake vigorously for 30 seconds to ensure the ingredients are both well chilled and suitably diluted.
Pour into a cocktail glass and garnish with a grating of nutmeg. Add optional embellishments such as coffee beans or a chocolate wafer if desired.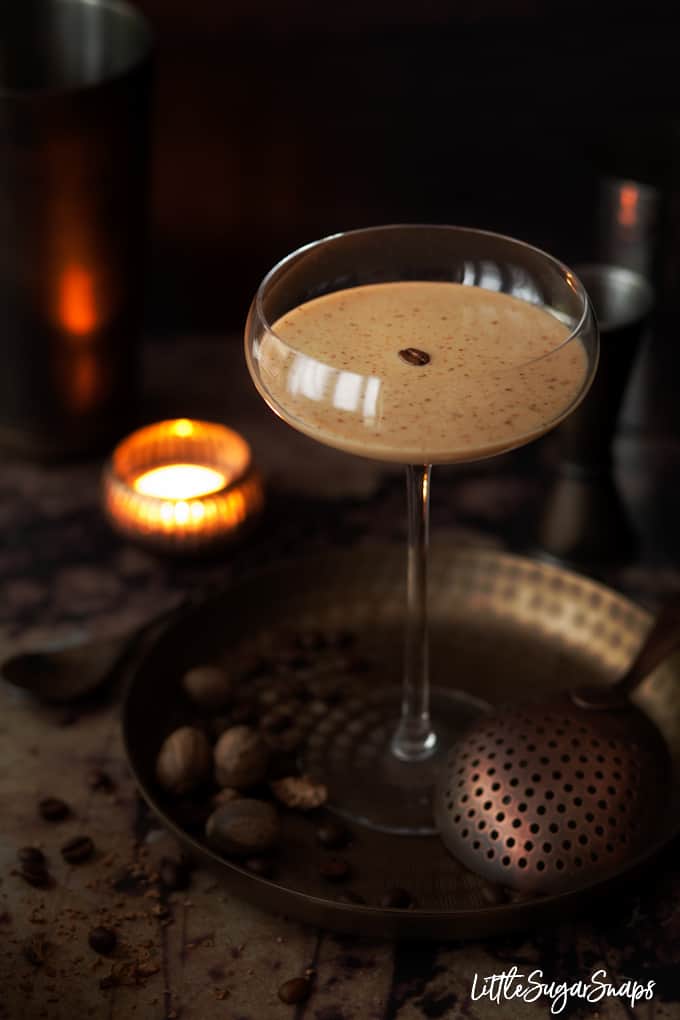 What's the Difference Between Brandy and Cognac?
Brandy refers to a distilled spirit made from fermented fruit juice. It can be produced using grapes or other fruit. (think of the apple brandy Calvados for example). It can also come from anywhere in the world.
Cognac, however, is a brandy that must be made from white grapes and it must come from the Cognac region in Southwest France where the natural growing conditions, or terrior, are known for their superiority. Cognac must be aged for at least 2 years in French oak.
In a nutshell, Cognac is brandy but not all brandy is Cognac.
Both brandy and cognac can be sipped neat but they do also lend themselves to plenty of cocktails. Have you tried the Sidecar yet?
With spirits, I always recommend buying the best you can afford and for this creamy coffee & brandy cocktail I selected Martell VSOP Red Barrel Cognac.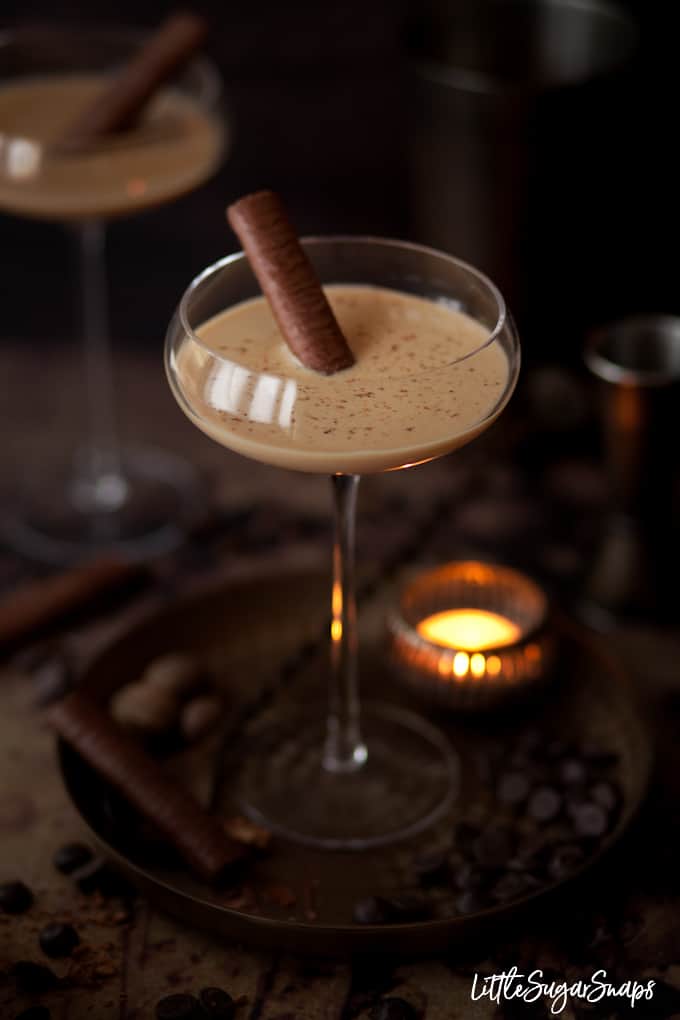 Brandy Alexander Recipe Variations
Aside from adding different flavours to the drink such as coffee, it's also not uncommon for bartenders to play around with the base spirit in this drink. In other words, replacing the brandy with another potent liquor.
Here are a few of my favourite riffs on the Brandy Alexander drink: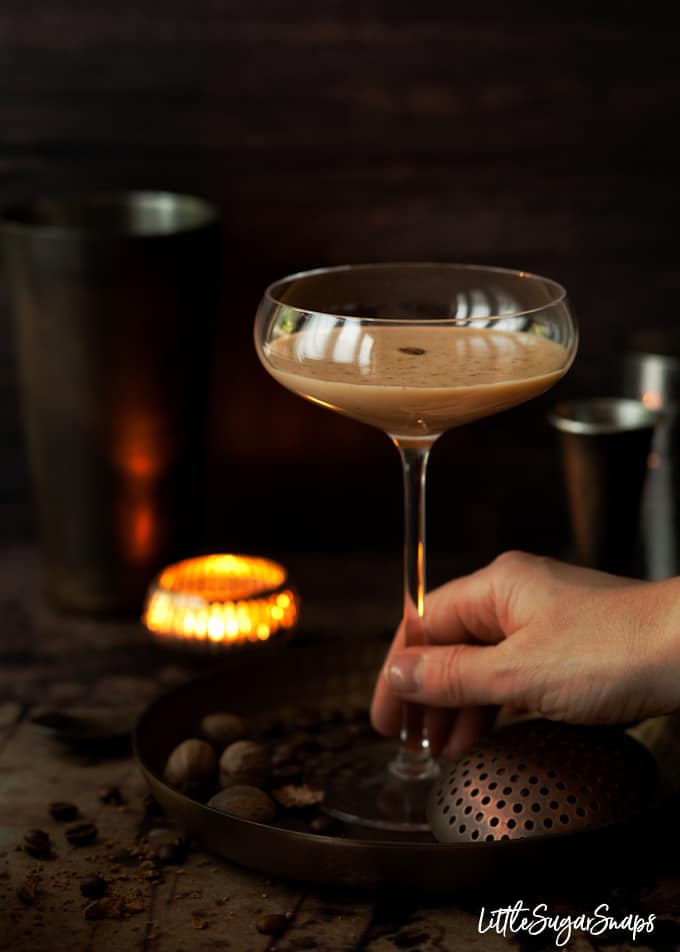 In the Mood for More Creamy Cocktails? Try these: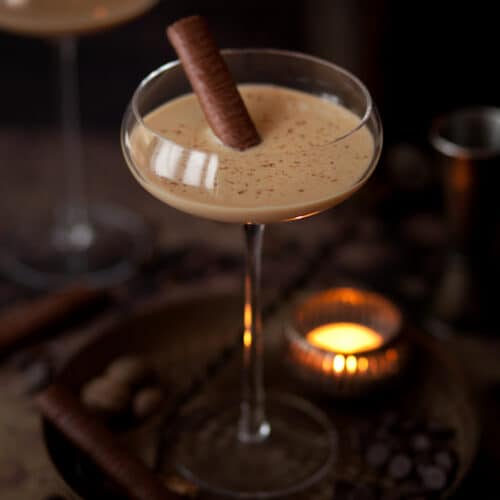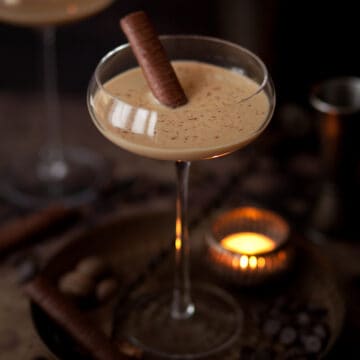 Coffee Brandy Alexander
The coffee brandy Alexander is a luscious yet serious creamy cocktail to savour. A hint of coffee and a waft of chocolate accentuate the silky cream and mellow brandy in this remake of the classic drink.
Print
Pin
Rate
Ingredients
For the Coffee Brandy Alexander
30

ml/ 2 tbsp

Brandy

15

ml/ 1 tbsp

Coffee Liqueur

5

ml/ 1 tsp

Crème de Cacao

Dark

20

ml/ 4 tsp

Cream

Single (18% fat)
For the Classic Brandy Alexander
30

ml/ 2 tbsp

Brandy

20

ml/ 4 tsp

Crème de Cacao

Dark

20

ml/ 4 tsp

Cream

Single (18% fat)
Garnish
Ground Nutmeg

Chocolate stick/ wafer if desired
Instructions
For Both Cocktail Variations
Put a handful of ice into a cocktail shaker

Add all liquid ingredients, push on the lid and shake vigorously for 30 seconds to mix the ingredients together and ensure the drink is well chilled and sufficiently diluted

Strain into a cocktail glass, sprinkle with a little grated nutmeg and add any chocolate embellishments as desired
Nutrition Per Serving (Approximate)
Calories:
207
kcal
|
Carbohydrates:
10
g
|
Protein:
1
g
|
Fat:
7
g
|
Saturated Fat:
5
g
|
Cholesterol:
27
mg
|
Sodium:
9
mg
|
Sugar:
8
g
|
Vitamin A:
294
IU
|
Calcium:
13
mg
(Visited 3,557 times, 20 visits today)