Salted Honey Ice Cream combines mellow sweetness with a subtle twang of salt. It can be scooped straight from the freezer and it is exceptionally creamy. Chilly bliss.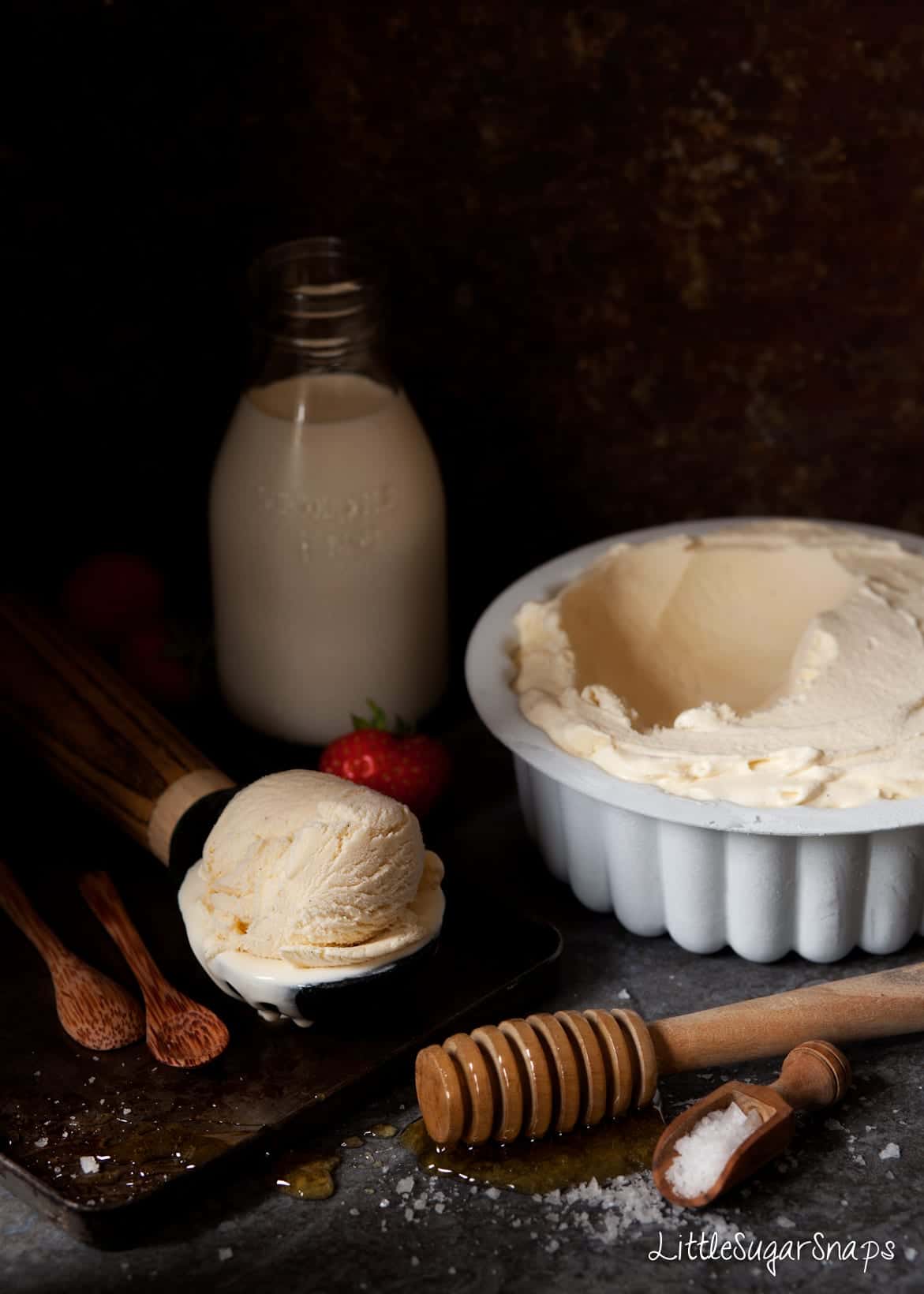 Just in case you've any doubt about the season, I'm coming at you with another ice cream recipe. Salted Honey ice cream is a spin-off from a cake I shared earlier this year, which was ludicrously well received – remember my Cinnamon Chocolate Cake with Salted Honey Buttercream?
I was thinking about that cake in the heat wave a couple of weeks ago – when it was too stifling to move, let alone bake. Being ever so slightly food minded and far too hot, I started wondering what would happen if I took that buttercream flavour pairing and ran it through an ice cream maker.
And Salted Honey Ice Cream was born.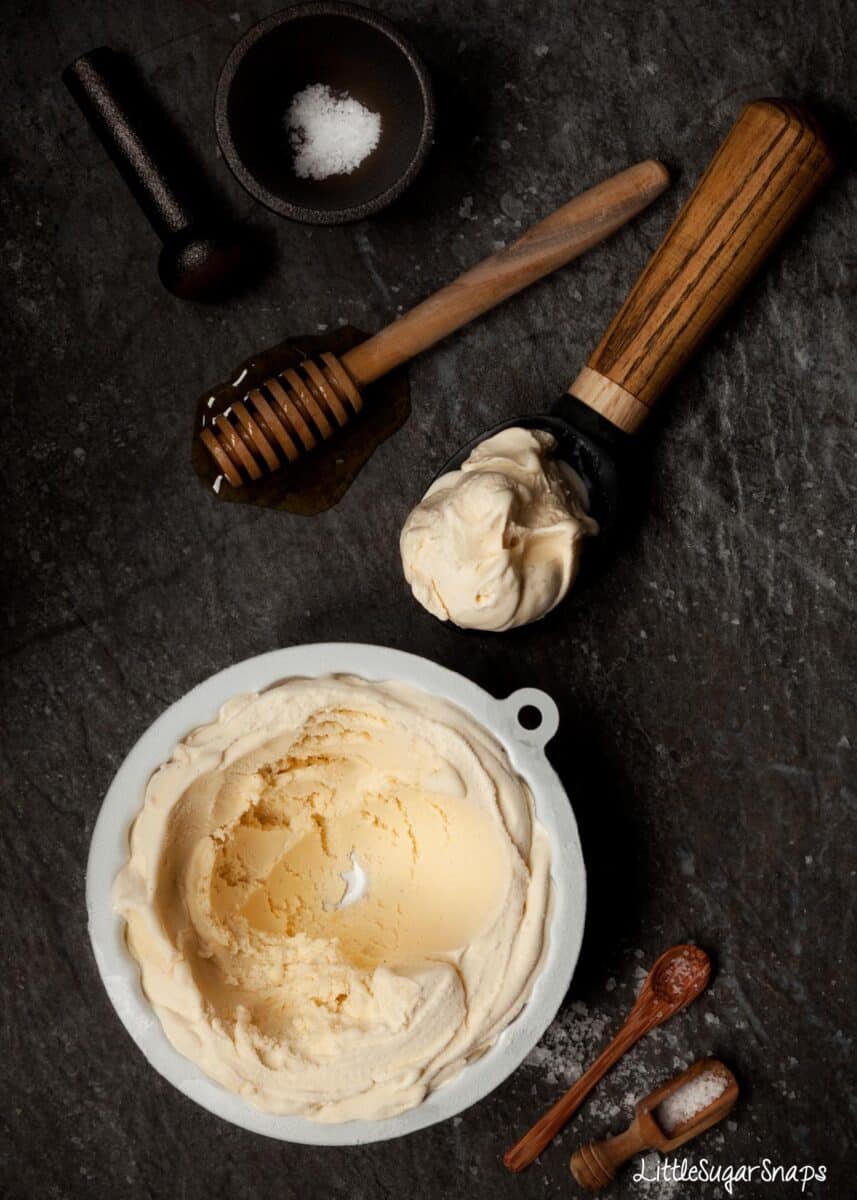 This ice cream is made using just 6 ingredients and the result is one of the creamiest, most sublime flavour combinations I've come across in ice cream form. Ever. The honey lends a mellow sweetness to the ice cream and duets perfectly with the subtle twang of salt. Chilly bliss.
Until I made Salted Honey Ice Cream, there were two contenders for my all-time favourite ice cream flavour:
Mint Choc Chip (what can I say – I'm a true 1970's child)
Salted Caramel
But these two flavours are no longer top dog. They have been firmly ejected from the top spot. Salted Honey Ice Cream is my new best friend in frozen form.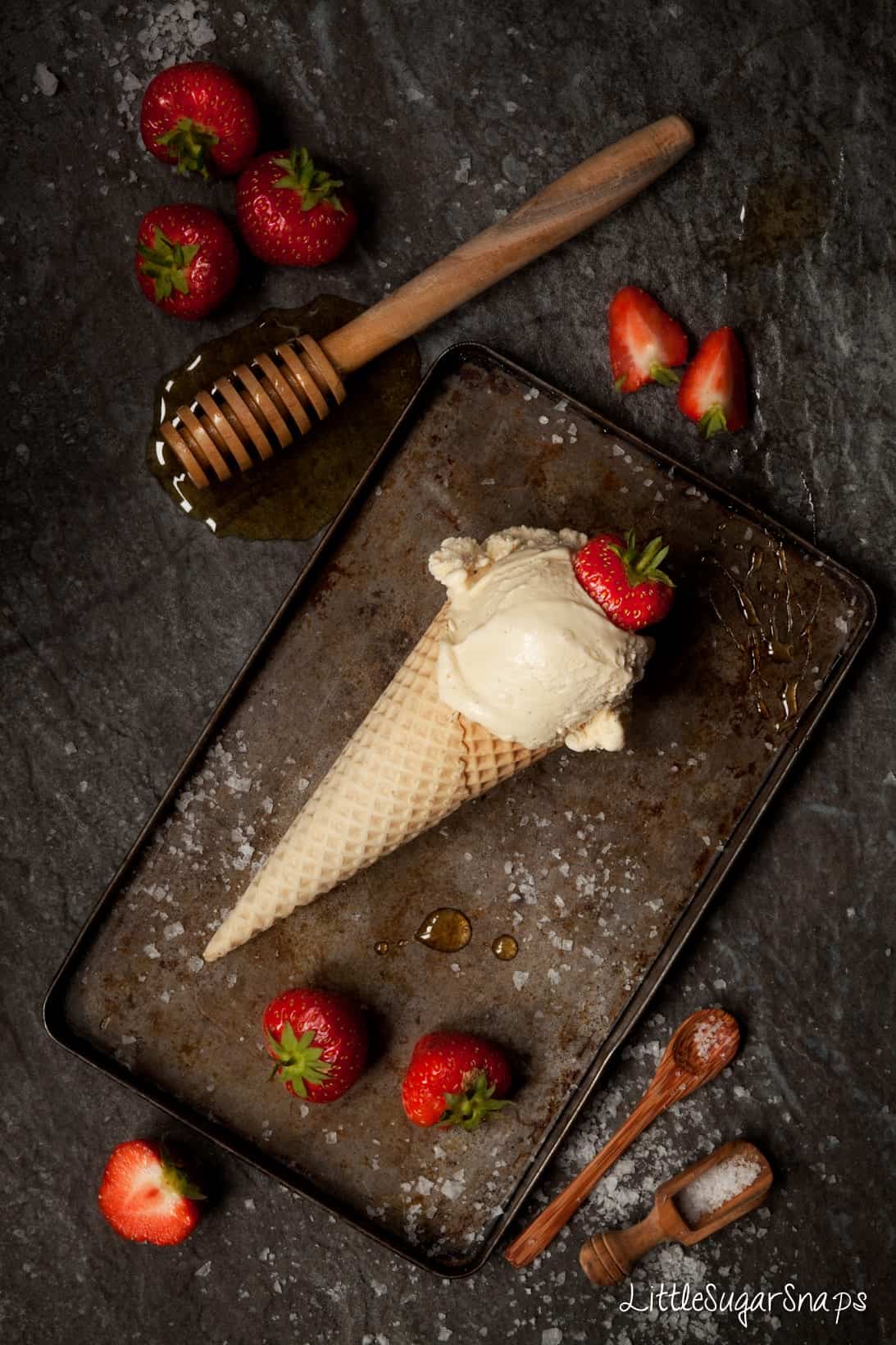 Before we go further, I feel obliged to warn you that this frozen treat is a dangerous friend to make. My recipe replaces all white sugar with honey. Honey – classified as liquid sugar – does several things to ice cream:
It gives a little extra body and creaminess to the ice cream
It also lowers the freezing point of ice cream, so the mix doesn't freeze rock solid
Alarm bells should now be ringing in your head. That's creamy, scoopable ice cream direct from the freezer. No waiting for it to soften.
I smell danger.
Assuming you are exactly like me and can manage to never accidentally slide a spoon into the tub each and every time you reach into the freezer for the frozen peas, then I have a few serving suggestions. Although Salted Honey Ice Cream is a delight to eat on it's own I can recommend the following:
Serve alongside fresh strawberries – the honey-salt-strawberry combination is magical
Go a step further and pile those strawberries and the ice cream on top of

Muscovado Meringues

Pair it with chocolate cake or a warm chocolate brownie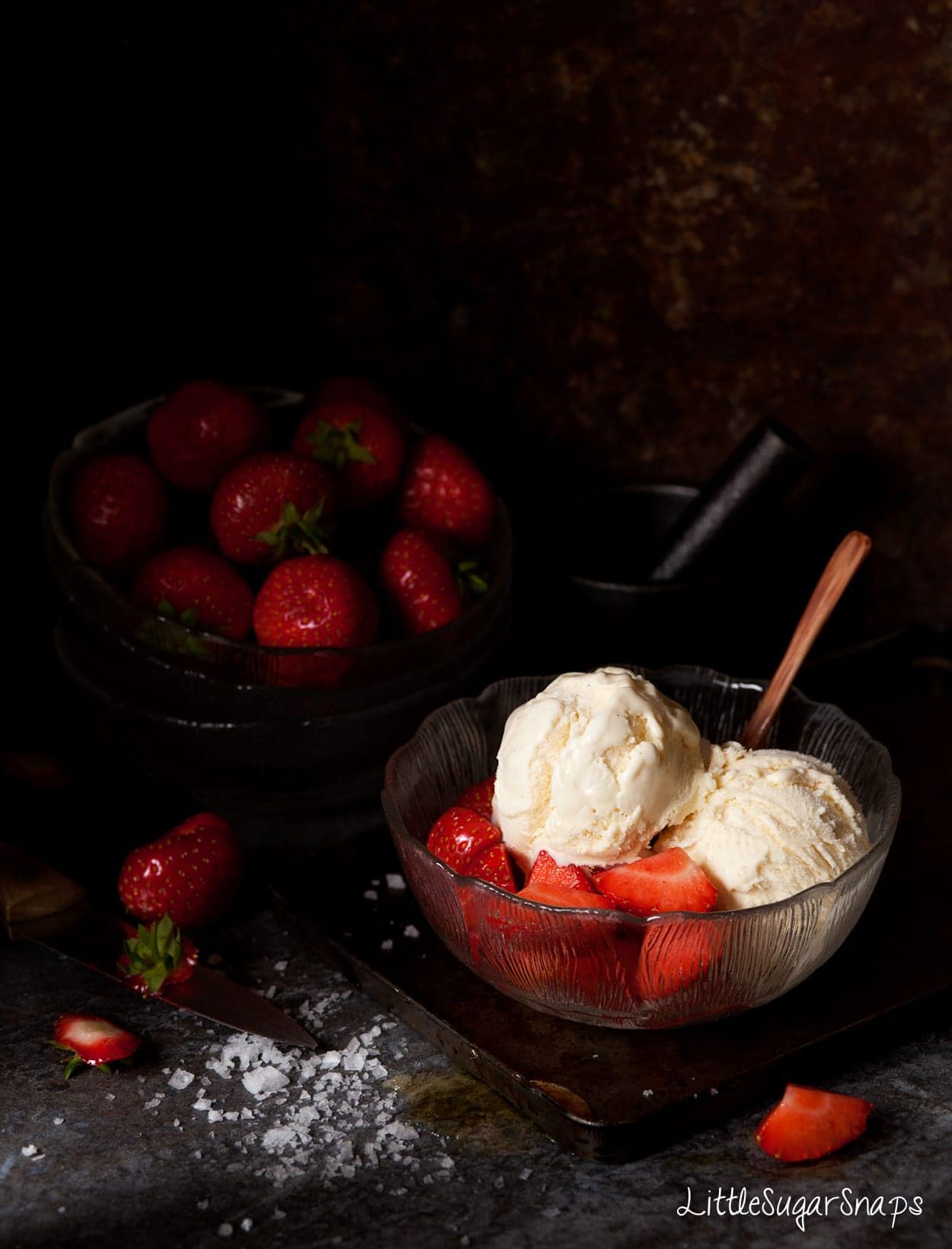 That's all. I'm leaving you to think happy thoughts about honey and salt for the rest of the day. Oh and don't miss my dark chocolate version of this ice cream – it's magical. And should salted honey not be your bag, then take a look at the rest of my ice cream recipes for alternative inspiration. There's Blackcurrant Ice Cream and Stroopwafel Ice Cream for a start.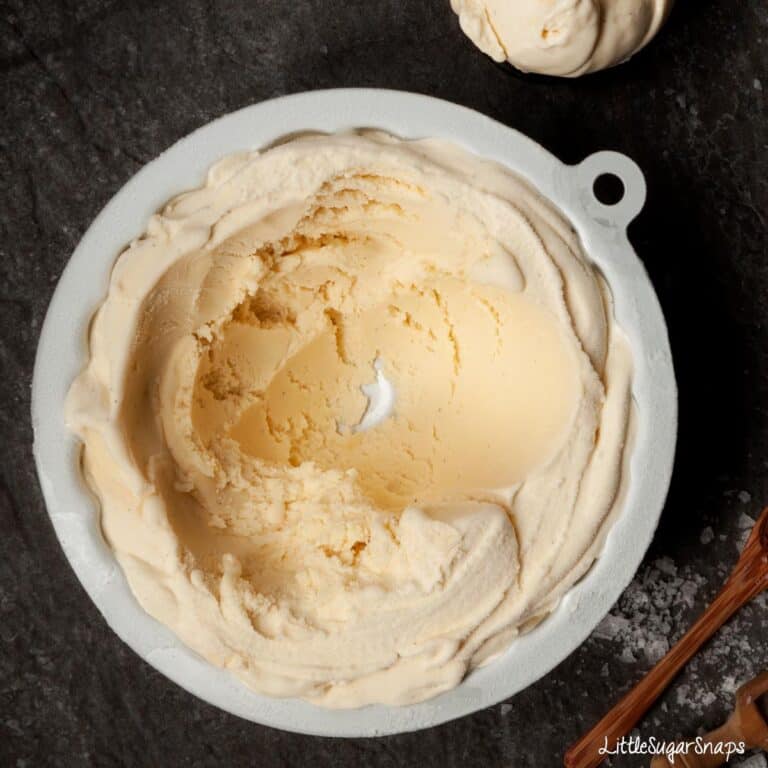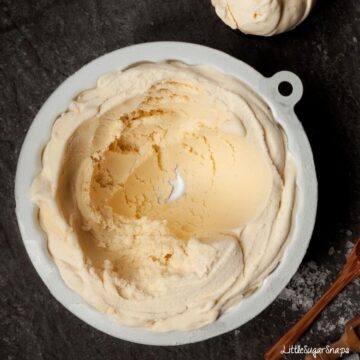 Salted Honey Ice Cream
Salted Honey Ice Cream combines mellow sweetness with a subtle twang of salt. It can be scooped straight from the freezer and is exceptionally creamy. It is chilly bliss.
Print
Pin
Rate
Ingredients
150

g

( 3 ½ fl oz) honey

250

ml

(1 cup) whole milk

1

vanilla pod

5

egg yolks

1 ¼

teaspoon

sea salt crystals

250

ml

(1 cup) double (heavy) cream
Instructions
Put the milk into a medium sized pan (heavy based) over a medium heat. Split the vanilla pod and drop into the pan. Heat until warm

Add the honey a stir through until dissolved. Take off the heat

Whisk the egg yolks in a medium bowl for 2-3 minutes until thicker and paler

Pour the warm milk onto the yolks, whisking continuously

Pour the custard mix back into the pan and cook, stirring constantly with a wooden spoon, until the custard is thick enough to coat the back of the spoon

Take off the heat. Remove the vanilla pod. Scrape out the seeds and add back into the custard

Grind the salt in a pestle and mortar until fine. Tip into the custard and mix well

Pour the custard into a bowl or jug, cover with clingfilm (to stop a skin forming) and cool. Once cold, transfer to the fridge to chill overnight (or for at least 4 hours)

When ready to churn remove the clingfilm, pour in the cream and stir until thoroughly combined
Making the ice cream using an ice cream maker
Pour the custard into your ice cream maker and churn according to the manufacturer's instructions

Serve immediately or transfer the ice cream into a freezer-proof container, cover the surface directly with greaseproof paper or foil and store in the freezer. (It should be scoopable straight from the freezer – unless your freezer is exceptionally cold)
Making the ice cream by hand
Pour the ice cream into a suitable freezer-proof bowl, cover and put it in the freezer for 1-1 ½ hours. The sides should be beginning to freeze, but the centre will be soft and slushy

Remove from the freezer and, working quickly, use electric beaters to beat the ice cream until the ice crystals are uniform. Cover and place back in the freezer

Repeat this process 4-8 more times at 1 hour intervals – the better the texture will be the more the process is repeated

Cover the ice cream with greaseproof paper or foil and freeze for a further 3 hours or overnight

Serve straight from the freezer
Nutrition Per Serving (Approximate)
Calories:
295
kcal
|
Carbohydrates:
25
g
|
Protein:
5
g
|
Fat:
21
g
|
Saturated Fat:
12
g
|
Cholesterol:
224
mg
|
Sodium:
526
mg
|
Potassium:
116
mg
|
Fiber:
1
g
|
Sugar:
23
g
|
Vitamin A:
896
IU
|
Vitamin C:
1
mg
|
Calcium:
94
mg
|
Iron:
1
mg
(Visited 8,450 times, 12 visits today)